Create Your Perfect Banff Vacation Itinerary in 30 Minutes
BANFF TRIP PLANNING CONSULTATION
A 1-on-1 virtual session with a travel expert who will custom-build your Banff itinerary to suit your needs and preferences!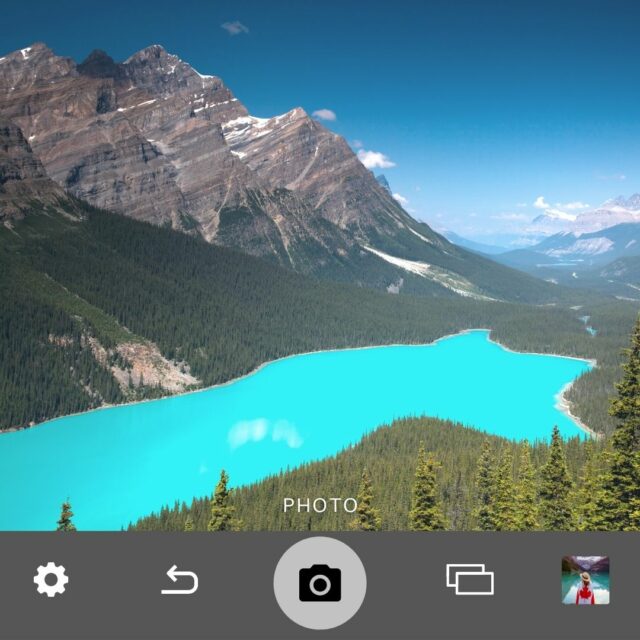 We get it, life is busy and you don't always have the time to do your own research and plan the perfect trip. In an ideal world, you would spend 5-6 relaxing hours sifting through the internet to nail down your Banff travel plan. But in reality, you don't have that luxury. But that doesn't mean you can't have an amazing, personalised trip.
Let us help out and lessen your burden on planning a trip to Banff and Lake Louise. Whether it is a solo trip, a romantic getaway, or a family vacation, we can help you craft a unique journey to the Canadian Rockies that both fits your budget and helps you make memories to last a lifetime!
As travel professionals with 5+ years of experience, we have been to Banff National Park multiple times, in every season of the year. We can share an insider's perspective on how to experience Banff like the locals and make your dream trip a reality.
What's included in this 30-min Banff Trip Planning private session?
➤ PRE-CALL
As soon as you hit the "Book" button, we will send out a short, pre-call survey to gather some basic information regarding your upcoming trip to Banff.
We will ask questions like "how many days are you planning to stay in Banff," "do you plan to drive?" "are you looking to stay at a luxury hotel or want to try glamping?" or "do you want to fill your days with adventure-type activities like snowshoeing or just want to relax and spend a day at the spa?"
Information like this is valuable in helping us prepare our call for Banff National Park trip planning.
➤ 30-MIN ONE-ON-ONE CONSULTATION
In the 30-min private session, we will start by understanding how you'd like to make use of our time. Do you want advice on a specific topic (e.g., places to eat, seasonal experiences) or need help in mapping out a day-by-day itinerary for your trip? We will also discuss the nature of your trip, budget, and preferences.
Then, your travel consultant, Cat, will work with you on a personal level to provide all the information that will make your Banff vacation smooth and successful!
We have a list of 12 lodging options (even the newest addition) to draw from to help one that fits your exact needs!
Have a dietary restriction? We've tried 20+ restaurants in the town of Banff so we can recommend food spots for any needs – vegetarian, gluten free, or just need a romantic venue to celebrate a special moment.
➤ PLUS GET THESE AMAZING BONUS RESOURCES!
After the call, we will consolidate everything we've discussed and send out a recap email so you have everything you need at hand.
If you'd like to discover the newest things to do in Banff in the summer, it is all covered in this video we've put together (English subtitle included).
To take things one step further, we include bonus documents in the recap email to answer any further questions you may have when finalising your Banff road trip itinerary. The documents you will receive are: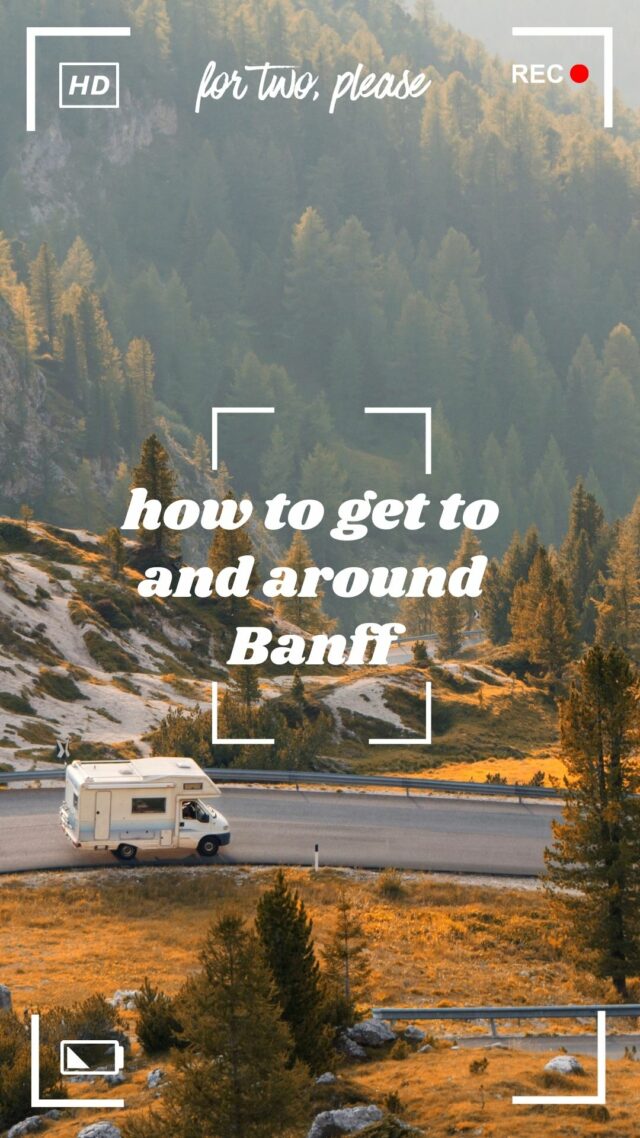 BONUS #1: How to Get to and Around Banff National Park ($15 Value)
Banff may not be close to an airport, but there are still many easy and stress-free ways to get there. This quick guide breaks down all the options for you – from driving yourself to taking public transport.
Want to make a quick stop in Canmore on your way to Banff? No problem. In this document, you can find transportation options and driving directions to top attractions in the town!
Once arriving in Banff, there are several ways to get around the mountain town. We will walk you through each option and even suggest our preferred way to explore the Bow Valley Parkway and see Moraine Lake and Fairmont Chateau Lake Louise!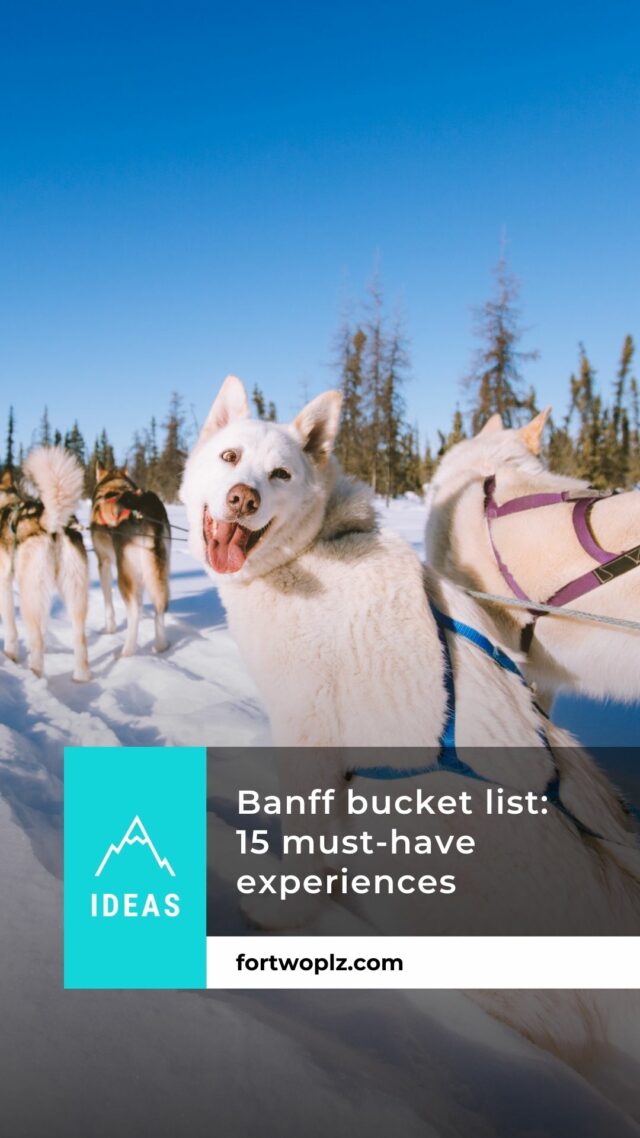 BONUS #2: Banff Bucket List: 15 Must-Have Experiences in Banff ($30 Value)
This is your only chance to visit Banff and you don't want to miss a thing.
You want to get that instagram photo of the emerald-blue Peyto Lake, take the Banff Gondola up to see the sunset on Sulphur Mountain, go on a boat cruise in Lake Minnewanka, and find the best hikes in Banff.
In this download, you'll receive 15 bucket list ideas to maximise your time in Banff and Lake Louise! That's not all, we make sure to get into details for each experience so you'll have the best time possible!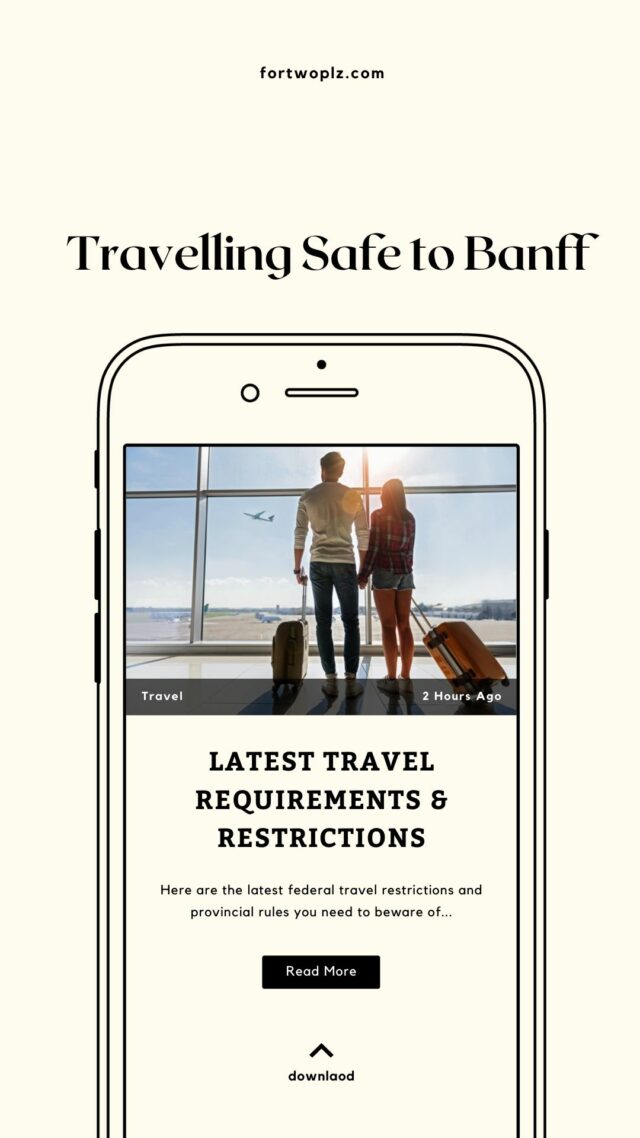 BONUS #3: Travelling Safe to Banff: The Latest Travel Restrictions and COVID-19 Updates ($15 Value)
Travel restrictions are constantly changing. To make matters worse, each province and each town has its own mandates!
This document helps you stay up-to-date with the latest travel restrictions in Canada and in Banff so that you can travel safely and explore responsibly in Canada's first national park.
That's a $135 value for just $39 when you book today!
Meet Your Travel Consultant – Cat Lin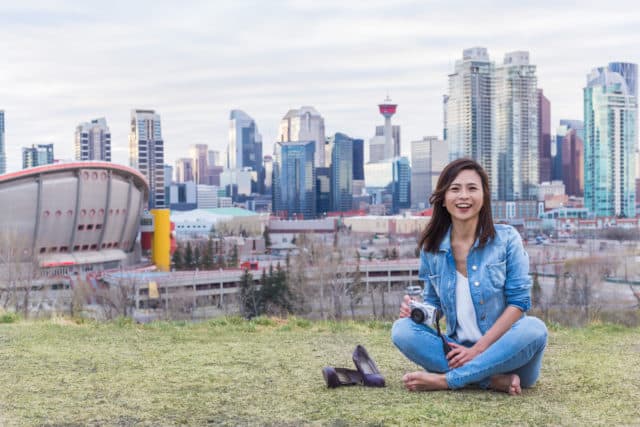 Hi, I'm Cat – a Taiwanese-Canadian travel writer and photographer based in Edmonton, Alberta. I am also the co-founder of this bilingual travel blog, For Two, Please, specialising in couples' travel and culinary experiences around the world. In 2013, I traded my consulting career in Taiwan, for a one-way ticket to Canada. Since then, I have visited many beautiful places across the country and am happy to call Alberta, Canada my home.
Seeing our travel tips and advice help young travellers find local gems and foster a deep appreciation for the local culture brings the biggest joy in my life. Because I travel often to Banff and know the area extremely well (even the newest attractions and experiences!), I decided to launch this new service to help travellers plan the best possible trip to this world-renowned destination.
I am super excited to meet you and help you plan a special trip to Banff!
Frequently Asked Questions
Who is this for?
This is for anyone wanting to experience everything Banff National Park has to offer! We want to help travellers explore Banff and Lake Louise from a locals' perspective and make memories they will cherish for a lifetime.
Whether it is your first time visiting Banff, or your 6th visit, this trip planning consultation is right for you.
Who is this NOT for?
This is NOT a tour or vacation package that follows a pre-planned, one-size-fits-all itinerary.
If you just want to pay and show up for the trip, or have a travel agent that makes all the arrangements for you, this is not right for you…
What do I need to bring for the session?
Your enthusiasm, a stable internet connection, and a device (phone/tablet) with audio and video capability.
How far in advance should I book my session?
It is always a good idea to plan well in advance for Banff, given that it is an extremely popular destination. We advise booking your consultation session with us at least 1.5 months prior for trips in the summer (June-October) and 3 weeks prior for trips throughout the rest of the year.
How many people can I bring on the call?
Please only have one person signed in for the call. As much as we'd like to include everyone in your group, we also want to make sure our conversation is focused and stays on track so that we can get through everything you want in the 30-min time slot.
If you wish to book a group session, that's no problem either. Please contact us via email at contact@fortwoplz.com and we can discuss your needs and pricing.
Do you help make reservations?
No, we don't make reservations for you for privacy and security reasons, but we will send you links to make it as easy as possible for you!
What if I need more than 30 mins?
Our 30-min session is ideal for trips that are 2-5 days in length and focused within the Banff and Lake Louise perimeter.
Many travellers visiting Banff also drive up Icefields Parkway to spend time in Jasper National Park – it is a great extension that we highly recommend if you want to see more wildlife and participate in outdoor activities!
If you need consultation on how to plan a trip to Banff AND Jasper, please email us at contact@fortwoplz.com and we can discuss how much additional time you will need and pricing.
What is your cancellation policy?
You can cancel up to 24 hours before your consultation start time for a full refund. Cancellations or no-shows outside the 24-hour window aren't eligible for the refund — nonetheless, you have a three-week window to reschedule your missed appointment. Simply contact me at contact@fortwoplz.com and we can set up a time works best for you.
---
To recap, here's everything you get with your Banff Trip Planning Consultation:
A pre-call survey ($10 Value)
A 30-min 1-on-1 consultation session ($65 Value)
How to Get to and Around Banff National Park ($15 Value)
Banff Bucket List: 15 Must-Have Experiences in Banff ($30 Value)
Travelling Safe to Banff: The Latest Travel Restrictions and COVID-19 Updates You Need to Know ($15 Value)
ARE YOU READY TO MAKE YOUR
BANFF DREAM TRIP COME TRUE?