This site uses affiliate links and we may earn a small commission when you use our links and make a purchase without incurring additional fee yourself. Many thanks for supporting this website. Please see our disclosure page for more details.
Turtle! A giant Hawksbill turtle!! I fervently signaled for Kev's attention as the 40 cm-long majestic creature chewed the coral. I was amazed at its size, its gracefulness, and how calm it remained, undisturbed by our presence.
It was only our first day in Rarotonga and we immediately went out for a dive with The Big Fish. Diving in the Cook Islands was an exhilarating exploration unlike any other. Water so blue, so clear, filled with fascinating underwater creatures!! Don't believe us? Read on and let us show you why the Cook Islands is a diver's paradise!
Scuba Diving in the Cook Islands
Rarotonga, Cook Islands – A Natural Playground
Where are the Cook Islands?
If you haven't been to the South Pacific, you'll probably wonder where the Cook Islands are located.
The Cook Islands is an island country in the South Pacific Ocean, lying between French Polynesia and American Samoa. Because of its remote location, untouched by mass tourism, the Cook Islands is a secret gem in the diving world.
As you can see from the map of Cook Islands aboved, Rarotonga is a member of the Southern group. It is the largest of the 15 Cook Islands, surrounded by a crystal clear shallow lagoon.
Dive sites dotted all sides of the island, from shallow coral gardens, drop-offs to wrecks, making it an ideal destination for exploring the beauty of the ocean. So make sure you put scuba diving on the itinerary while planning your Cook Islands holidays!

Diving With The Big Fish
As soon as we booked our flights to the Cook Islands, we knew straight away we wanted to go diving. The question is with which service provider?
Safety and professionalism are always the keys when we select the dive centre. After researching all the dive centres in Rarotonga, we decided to go with The Big Fish!
Safety Comes First
Run by the lovely German couple, Sabine and Sascha, The Big Fish prides itself on upholding the highest safety standards.
The couple moved to the beautiful Rarotonga 12 years ago and has since fallen in love with the island and its underwater world. As experienced PADI divemasters, they are passionate about introducing this little paradise to fellow divers and welcome them to explore the wonders of the ocean in a safe environment.
Not only are their boats equipped with VHF radio, mobile phone, first aid kit, and emergency oxygen, they make sure they are manned by a dive instructor whilst you are diving.
In order for everyone to have a good time, The Big Fish makes sure all divers are up-to-date on safety and regulations. If you haven't dived for more than 6 months, you will be asked to take a scuba diving refresher, just like what we did!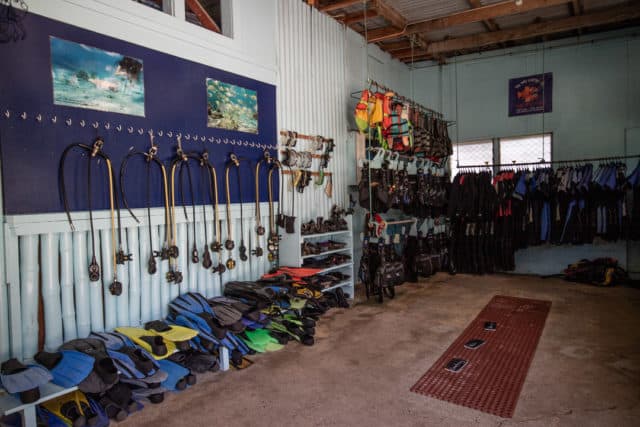 Easy Access to Dive Sites
Having their boats on trailers means they have a quick and easy access to all four launch spots in Rarotonga. This allows them to take advantage of the 20 dive sites around the island. The boat rides are no more than 20 mins away.
Although they won't be able to tell you in advance which dive site you'll go to, this accessibility gives them the ability to pick the best site with the best condition for the day, avoiding the rough sea condition on the windward side.
Rarotonga's diverse underwater topography presents incredible opportunities to explore drop-offs, canyons, caves, swim troughs, passages, and wrecks.
You won't see many soft corals here, but the reef houses a rich combination of hard coral formations and tropical fish. If lucky, you might have the chance to see eagle rays, whitetip reef sharks, sea turtles, humpback whales, barracudas, starry puffer, and even trevallies!
Dive sites vary between 5 and 30 metres deep with a visibility of 20 to 60 metres, depending on wind condition and weather in the Cook Islands.
Water temperatures are generally set between 22-28°C.
[irp posts="7126″ name="Maui Must-Do's: Whale Watching, Dolphin Sighting, Lanai Snorkelling"]
Small Group Size
All dive trips are guided in small groups, with a maximum of 6 divers per guide. So you're guaranteed an intimate experience and personalized attention from your guide.
Different from our past dives, there is no time limit on the dives. This means your dive time is not constrained by others in the group, but depends on your own air consumption and no-decompression limits!
Being Environmentally Conscious
Another amazing thing about diving in the Cook Islands with The Big Fish is their commitment to protecting and conserving the environment.
Throughout their 12 years in the Cook Islands, Sabine and Sascha have seen how climate change is taking a toll on the ocean. The fish population is on the decline. They have also been seeing fewer big fish, like sharks, on their dives.
"The biggest impact was the coral bleaching that happened 2 years ago due to unusually warm waters," Sabine recalled. The fortunate thing is that much of the bleached coral recovered. Despite that, we need to take it as a warning that our environment is fragile and vulnerable.
As part of the environmental efforts, The Big Fish supports the local NGO, Te Ipukarea Society. Donations go to coordinating and promoting environmental campaigns, e.g., advocating for the protection of marine life, waste management, and sustainable tourism.
Sabine, being an "eco-warrior" herself, put her creative energy to work and create fashionable handbags from discarded plastic wrappers!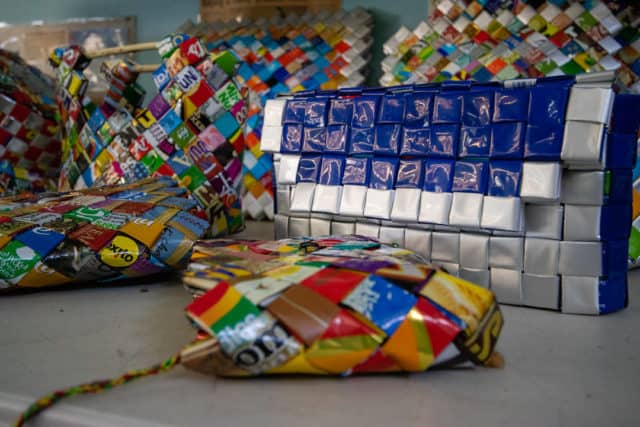 First Dive at Tupapa Sand River
A 15 min boat ride transported us off to the northeast coast of Rarotonga, to our first dive site – Tupapa Sand River.
As soon as the boat came to a stop, we were mesmerized by the cerulean blue waters.
Could this be real? I dipped my hands into the water. Yes, it is REALLY that blue!
Charged up with excitement, we quickly put on our scuba gear. One by one we jumped into the water and began our descent.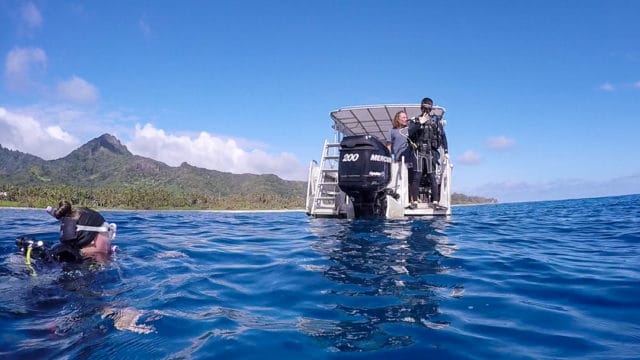 Beneath the water, a river of sand awaited us. We started at 12 metres, slowly exploring the coral reefs on both sides, following the guidance of our divemaster.
Hard corals were all that came into view. Are there any fish living among these corals? I couldn't help but wonder.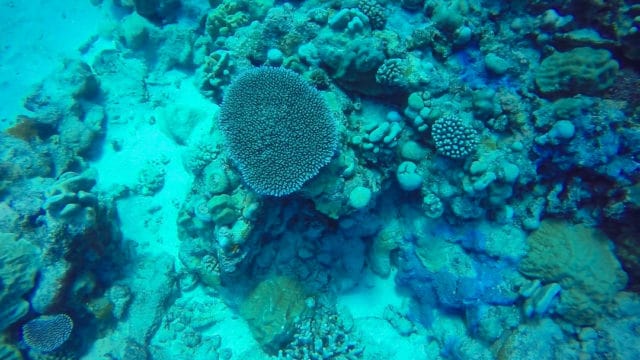 As I slowed down to observe, I began discovering creatures hidden in the crevices in the reefs. Nudibranchs, scorpionfish, orangespine unicornfish, scythe triggerfish, whitetail dascyllus, parrotfish, and teardrop butterflyfish were only a few that made their appearance.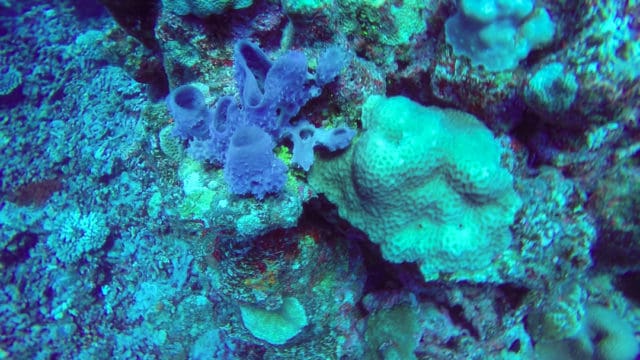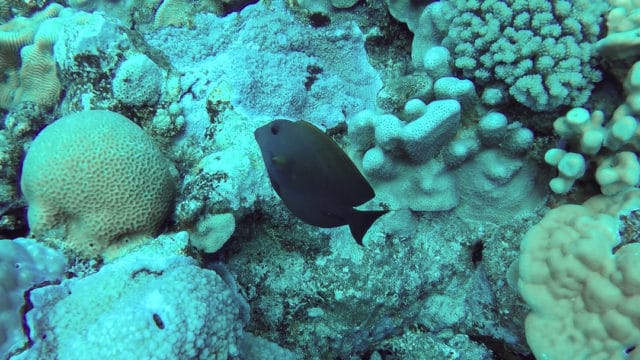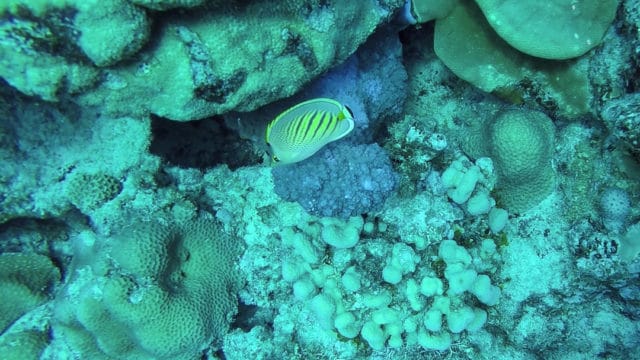 Before we knew it, we were already approaching the edge of the river. As we ventured down to about 24 metres, the ocean floor suddenly made a dramatic drop-off, extending into a deep, dark bottomless abyss.
Reportedly, Tupapa Sand River is a great spot for seeing sharks in caves. Although we didn't see any, this 40 minutes of underwater adventure gave us a good taste of what Rarotonga had to offer!
[click_to_tweet tweet="Planning your scuba diving holidays to the Cook Islands ? Use this guide! #travel #CookIslands #scubadiving" quote="Start planning your scuba diving holidays to the Cook Islands now!" theme="style3″]
Second Dive at Coral Gardens
Our second dive spot was also on the northern side, not too far away. I might have vomited a bit while the boat tackled some choppy waters, but I was ready to hop into the water and surround myself with the beautiful corals at Coral Gardens!
Right off the bat, we were greeted by a gigantic Hawksbill turtle! That already made my day!
Then, numerous marine creatures started peering out of their hard coral home, saying hello.
Sailfin tang, and moorish idol curiously swam by. Spanish dancers, boring clams, and Christmas tree worms decorated the slope.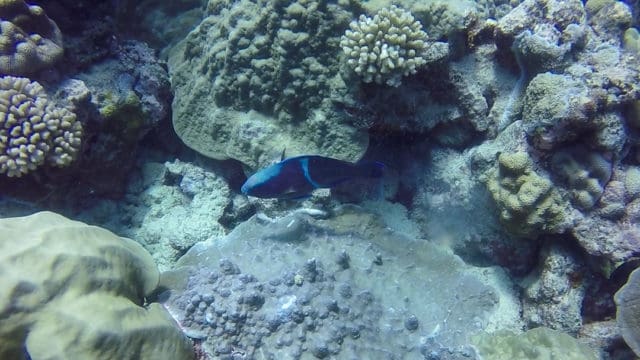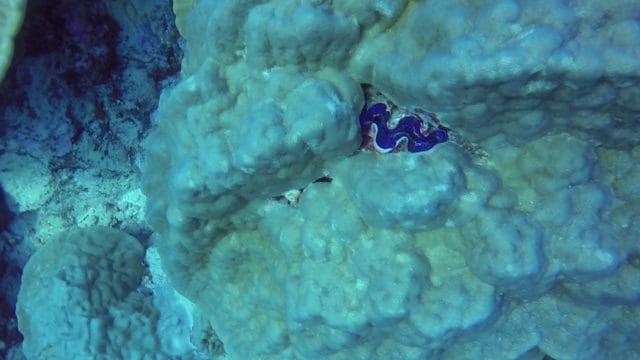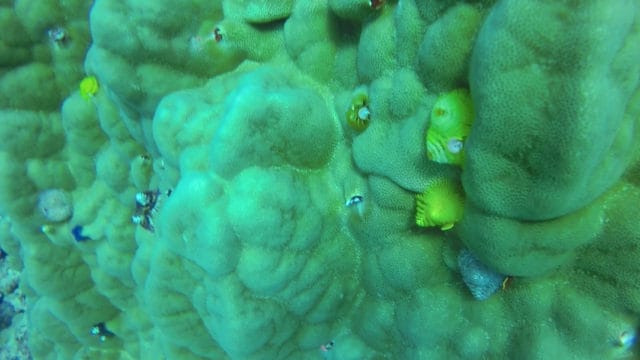 We didn't go too deep (only down to 18 metres), and it was fascinating to see the great variety of corals living here as well!
Fire corals, brain corals, table corals, you name it. We were most amazed by the color changing ability of the ghost coral!
50 minutes passed by too quickly. It was sad to say goodbye, but we knew we have to come back again soon at another time!
Essential Information For Divers
Weather in Rarotonga: It is generally warm and sunny throughout the year. Temperatures vary slightly. But if you want to be specific, the year is divided into 2 seasons. Wet season, from November to April/May, is warm, averaged at 29°C with occasional showers. June to October marks the dry season. Weather is cooler, with daily temperature averaged at 25°C.
Best time to visit the Cook Islands: Whenever you have time and when you score a good deal! Try to avoid New Zealand school holidays, i.e. the second half of April, the month of July, first half of October, and late December to late January.
Pro tip: check this calendar before you book your trip!
Best time to go diving in the Cook Islands: If you're judging it by the visibility, go during the dry season (aka the winter months). Between April to October, water temperature can go down to 23°C, but visibility can go up to 60 m!! Once the water becomes warmer in summer, the visibility drops.
Best dive sites: On the north side – because you can find healthy hard coral reefs, and swim with some of the world's rarest coral reef fish! Can you believe that you can see over 80 species of fish in Rarotonga?!
Things to bring: swimsuit, towel, and dry clothing. Everything else (mask, snorkel, snorkel fins, BCD, regulator, and wetsuits) can be rented at the dive shop.
Other Things To Do In The Cook Islands
Besides scuba diving, Cook Islands offers a wealth of water sports for you to enjoy on your holiday!
Snorkeling: One of the popular activities in Rarotonga is snorkeling. The water is calm and shallow, making it safe to go out and explore on your own.
However, not all places in the lagoon are safe. The waters on the west side are rough. The north coast is quite rocky. There are also passages around the island that are dangerous.
The best spots to snorkel in Rarotonga are the Aroa Beach, just across from The Big Fish in the south, and the stretch between Royale Takitumu and Fruits of Rarotonga.
Warning: Avoid Passages! Do not swim, snorkel or kayak at Arorangi Passage, Rutaki Passage, Papua Passage, Avaavaroa Passage.
Kayaking: Rent a kayak and explore the lagoon! It is a treat to the senses as your paddle your way through the clear blue waters.
Stand up paddle boarding: Not only is it a good workout, but a SUP excursion is the perfect way to discover the hidden corners of the beautiful lagoon. If you're looking for a challenge, sign up for a night SUP adventure. You will watch the sun go down and explore the marine life at night with your illuminated paddle board!
Surfing: It is not for the faint-hearted, but if you are an experienced reef surfer, you might want to give it a try!
Motutapu (a small island) in the Muri Lagoon is a good place to start for beginners.
Rutaki Passage is a quieter spot for surfers where you can expect 1.8-2.4m swells.
At Avaavaroa Passage, you can ride waves between 1.2-3m high.
The best spots for surfing in Rarotonga are in the north. Club Raro and Golf Course are the places to go for consistent waves.
Kitesurfing: The Cook Islands is one of the best kitesurfing locations in the world. Every August, Manureva Aquafest Kitesurfing Competition brings together kitesurfers from all over the world to Aitutaki to showcase their skills.
Why not pick up a new skill on your vacation? You can experience the fun of kitesurfing by booking a lesson at KiteSUP in Rarotonga.
Accommodations in Rarotonga
Hotels and resorts can be found all around the island of Rarotonga. For easy access to swimmable beaches, we recommend accommodations in the south and east sides.
Luxury travelers will want to look into Little Polynesian Resort, a member of the Small Luxury Hotels of the World. Sitting on the shore of the Titikaveka Beach, Little Polynesia is one of the few adults-only resorts in the Cook Islands.
[irp posts="9100″ name="Best Accommodation In Aitutaki For The Ultimate Luxury Experience"]

Car Rentals in Rarotonga
The easiest way to get around Rarotonga is by car. You can rent a car through Polynesian Rental Cars or Avis at the airport.
Polynesian also has scooters and bikes for hire. That might be a good option during the dry season, but if you're visiting in between November and May, we would recommend sticking with a car (unless you don't mind getting wet!).
---
We have no doubt that you'll love the scuba diving in the Cook Islands as much as we did. Excellent visibility, rich coral formations and a wonderful variety of fish, it has it all! Start planning your scuba diving holidays to the Cook Islands now!
Disclaimer: This post is written in partnership with The Big Fish. As always, all opinions on For Two, Please are our own and We only recommend brands that we 100% stand behind.