This site uses affiliate links and we may earn a small commission when you use our links and make a purchase without incurring additional fee yourself. Many thanks for supporting this website. Please see our disclosure page for more details.
You've booked a dream holiday to the Cook Islands. Now what? If you'd like to do more than just lying on the beach on your South Pacific Island holiday, then you're in luck – the Cook Islands offer countless opportunities to explore its unique culture and wild beauty.
Whether you're in the Cook Islands for your honeymoon or simply vacationing, consider these 10 things to do in the Cook Islands that guarantee unforgettable moments!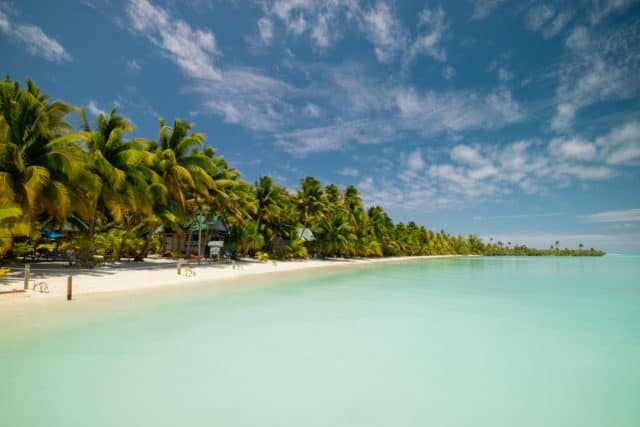 10 Exciting Things To Do On Your Cook Island Holidays
1| Go for an Adventure in the Underwater World
With the water so clear, it is a shame to not get into the water and explore the underwater world.
Diving in the Cook Islands is a fun activity that will really make your trip to the Cook Islands memorable.
Scuba diving in Rarotonga is a treat, with an abundance of beautiful hard corals and a variety of tropical fish. On a lucky day, you may encounter sea turtles, humpback whales, and reef sharks!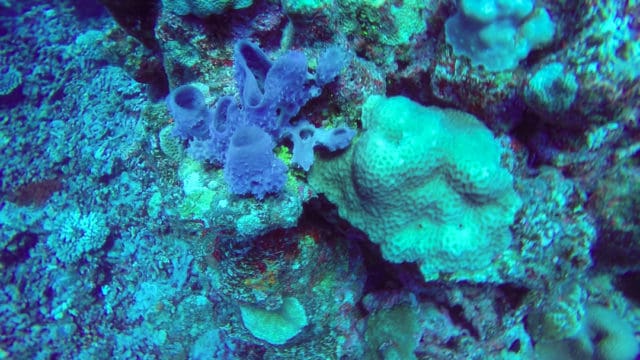 We prefer diving over snorkeling because diving is generally not affected by the rain. But when the ocean is calm, the shallow waters in the lagoon make it great for snorkeling. Cook Islands is surrounded by terrific snorkeling spots, most of which can be accessed straight off the shore.
The best snorkeling in Rarotonga can be found on the Aroa Beach, Titikaveka Beach and Tikioki Beach.
In Aitutaki, Ootu Beach and the northwest offer the best snorkeling experience.
Note: Rarotonga is the capital and the most populated island so you can find more dive shops there than on any other islands in the Cook Islands. Out of the 5 dive shops, we picked The Big Fish and had a fun, memorable experience. In Aitutaki, there is only one dive shop servicing the diving community.
[irp posts="9131″ name="Let's Go Diving! The Best Way To Explore Rarotonga, Cook Islands"]
2| Eat Like a Local
Wondering what the Cook Islanders eat on a daily basis? The best way to eat like a local is to go to local villages and eat with the locals in their homes!
In Rarotonga, we had the precious opportunity to join a progressive dinner tour where we enjoy a different course at a different local home.
Throughout the 4-hour tour, we moved from home to home to eat each course of the meal. There's music played on a ukulele, interesting stories shared about the life on the Cook Islands, and most importantly, authentic Cook Islands food!
Ika mata (raw fish marinated in coconut milk), rukau (taro leaves cooked in coconut cream), poke (fruit pudding, typically banana, made with coconut cream) were just a few specialties we tried. And you know what? They tasted better than the food we tried in some of the best restaurants in Rarotonga!
We were overwhelmed by the hospitality and kindness we received from the hosts. They invited us into their home, demonstrated how they plant and grow taro, and showed us how to cook food in an umu (underground oven).
This is a must-have experience for those who want to try local delicacies and get a glimpse into the everyday lives of local families!
Note: Transportation is included in the tour. The hosts are not always the same. It depends on their availability, but you will always visit 3 hosts – one for appetizers, one for the main, and one for desserts.
[click_to_tweet tweet="Planning a holiday to the Cook Islands and wondering what to do? See this extensive list of fun things to do that will guarantee a good time!" quote="You can't leave the Cook Islands without having these 10 magnificent experiences!" theme="style3″]
3| Find Locally Crafted Gifts
Want to bring back unique souvenirs from the Cook Islands? Forget about those duty-free shops at Rarotonga Airport. Join a backyard tour instead!
Unlike any other shopping tour where you are forced to shop, the backyard tour takes you to the local villages in Rarotonga and bring you face to face with local artisans!
Our tour guide, Ani, is a Cook Island native and is passionate about all things local. We loved her enthusiasm and appreciated the chance to see local artisans in action!
During our half day tour, we met with more than 10 vendors who are incredibly talented in creating crafted goods. We were fascinated with the efforts behind producing decorative woodcarvings. We were impressed to see how they make earrings and necklaces out of pata'apuka seeds. We had no idea how fun it was to hand paint a sarong!
These visits and interactions gave us an opportunity to learn about the culture and history of the Cook Islands. For example, the many health benefits of coconut oil and how it is incorporated into local beauty and health products, as well as the uniqueness of the Cook Islands pearls.
With Ani, shopping in Rarotonga is far more fun and engaging than usual. You will not just visit the shops in Rarotonga, you will go behind the scene and see the production process!
4| Get Creative and Make Your Own Souvenir
Instead of watching someone making crafted goods, why not make something on your own?
At Te Aranui Gallery, you can work directly with the jeweler to make your own jewelry! Regardless what you're interested in making, be it a necklace, a ring, or a pair of earrings, no experience is needed. You will be guided step-by-step on how to cut, file, wax, and finish your masterpiece!
The jewelry workshop is a fun, interactive activity to take your trip to a whole new level. It is also a great alternative when the weather doesn't hold up for outdoor activities.
Pro tip: Booking is recommended. If interested, contact Vaiana at 72927.
5| Tour Rarotonga on a Bike
A bike tour is one of the best ways to discover the rich cultural heritage of the Cook Islands.
In Rarotonga, we hopped on a bike and followed Uncle Jimmy from Storytellers Eco-Cycle Tours on a cycling adventure. Lush scenery of mountains and valleys provided a feast for our eyes as we made our way along quiet backroads passing through the local villages.
Throughout the 3 hours, we made plenty of stops to get a taste of local life. A visit to the taro fields, story about how to survive through a cyclone and a sampling of noni fruit brought us closer to the people, culture, history, and food in Rarotonga.
Depending on your physical level, you can choose between discover (easy), explore (intermediate), and excite (difficult). Transportation to/from your hotel is included. The tour will finish up with a meal or cocktail on the beach!
6| Embark on a Road Trip and Discover Rarotonga's Brilliant Landscape
Want to explore Rarotonga but don't want to put in any physical efforts? Consider Raro Safari Tours.
The guided 4×4 jeep tour is designed for travelers who are keen to experience outback Rarotonga in safety and comfort. The jeep will take you through the mountain roads to see what the inland and mountain regions of Rarotonga have to offer.
You will enjoy a clear view of Te Rua Manga (the Needle), get up close to the jungle waterfalls, and immerse yourself in the spectacular view of the turquoise lagoon. Besides all the photo opportunities, the guide will share many remarkable stories from Rarotonga's past and interesting facts about local life.
We recommend this as your first activity in Rarotonga. It is a good introduction to the island. Even if the climate in the Cook Islands doesn't cooperate, it is still a lot of fun!
[click_to_tweet tweet="Planning a holiday to the Cook Islands and wondering what to do? See this extensive list of fun things to do that will guarantee a good time!" quote="Visiting the Cook Islands? Here are 10 things you absolutely cannot miss!" theme="style3″]
7| Go on a Thrilling Offroad Adventure on an ATV
Itching for something more thrilling? We've got you covered!
Jump on a quad and discover the rugged landscape of Rarotonga!
Your ATV ride will start off at the Muri Beach Club Hotel where you will be meet the guide. After going over safety precautions and instructions, you will hit the trail for the ride of your life.
The guide will take you through villages and plantations, up the hills, and deep into Rarotonga's backcountry. On the way, you will make stops to learn about the native plants and listen to the ancient tale of forbidden love.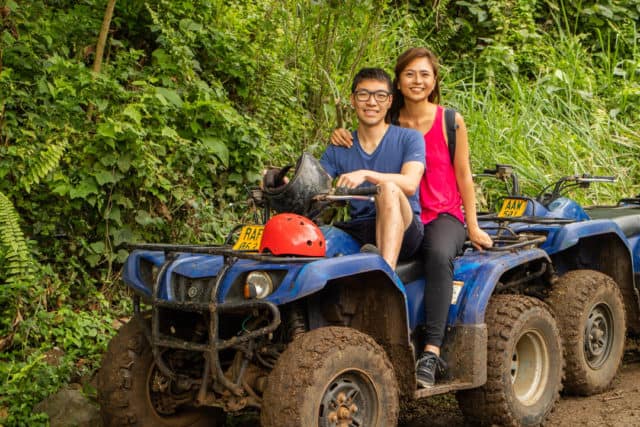 The highlight of the tour is tackling the rugged terrain, rushing up and down at high speed, giving you the adrenaline rush you need!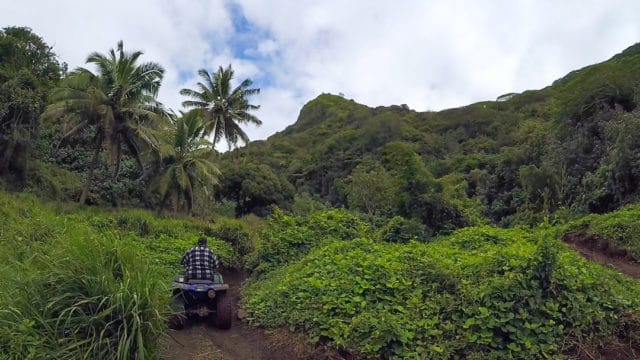 Before you end the tour at Muri Beach on the eastern coast of Rarotonga, you will make a stop at Avana Passage. This site is of great importance to the history of the Cook Islands as it was where the seven canoes set sail for Aotearoa (New Zealand) in 1350.
You can make your reservation at Raro Quad Tours for a heap of fun. Included in the tour is a quick bite at Avana Fishing Club, one of our favourite restaurants in Rarotonga!
8| Visit Aitutaki Lagoon
The Cook Islands is made up by 15 islands. So besides Rarotonga, there are 14 other islands for you to explore!
Aitutaki is the most popular island and dubbed as "the world's most beautiful lagoon." We kid you not, this little paradise is drop-dead gorgeous. It is a dream destination for those seeking to bliss out. Its paradisiacal beaches and turquoise waters make for a magnificent backdrop for an unforgettable honeymoon in the Cook Islands.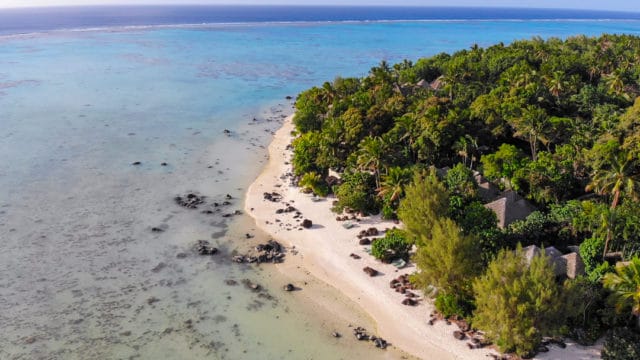 Aitutaki is only 220 km away from Rarotonga. Air Rarotonga has scheduled flights to Aitutaki from Rarotonga running almost every day. A quick 45-minute plane ride will transport you to a tropical paradise – and you will never want to leave!
[irp posts="9100″ name="Best Accommodation In Aitutaki For The Ultimate Luxury Experience"]
9| Go Island Hopping
Once you are in Aitutaki, the best way to explore the lagoon is go island hopping.
Air Rarotonga has an Aitutaki Day Tour Package, combining flights and a lagoon cruise, making island hopping in Aitutaki easier than ever! You will set sail on a vaka cruise and hopped off at several motu (small islets).
Dip your toes in the crystal clear waters. Snorkel with the giant trevallies. Get lost in the unspoiled natural beauty of One Foot Island! You are guaranteed an incredible time in Cook Islands' Aitutaki Lagoon.
Even in Rarotonga, you can island hop right off Muri Beach! Rent a kayak to paddle around the Muri Lagoon, where 4 motu, Motutapu, Oneroa, Koromiri, and Taakoka, await you. At low tide, you can even walk through the waters – it is only waist height!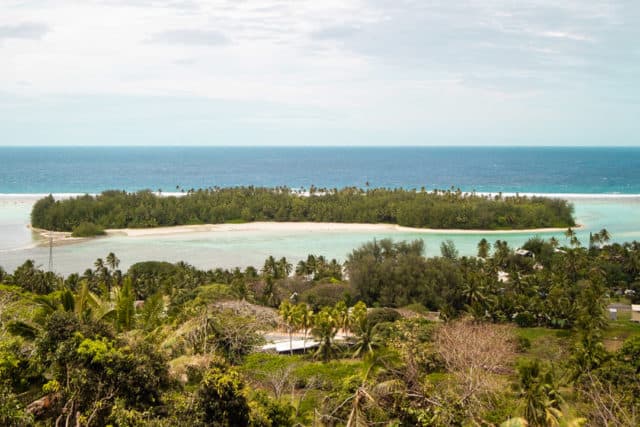 10| Indulge Yourself in Local Culture through Dance and Music
What to do on the Cook Islands when the sun goes down?
In Rarotonga and Aitutaki, Island Night is a popular activity to spice up your nights.
The high-energy show combines a buffet-style feast with music and dance. As you watch the splendid cultural performance, you will find yourselves immersed in the vibrant Polynesian culture.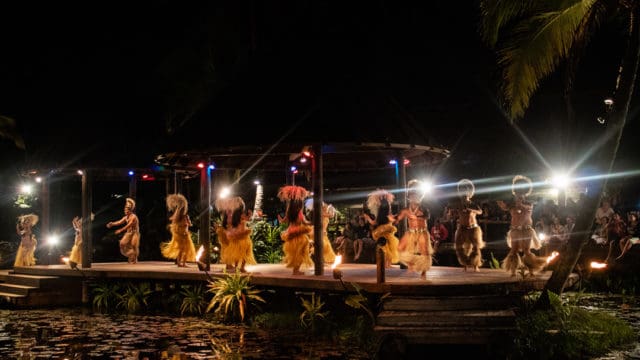 Island Nights are held from Mondays through Saturdays at various locations in Rarotonga. Highland Paradise runs dinner and performance on Mondays, Wednesdays, and Fridays, whereas Te Vara Nui Cultural Village operates on Tuesdays, Thursdays, and Saturdays. Crown Beach Resort (Thu), Edgewater Resort (Tue & Sat), Muri Beach Club Hotel (Wed), and The Islander Hotel (Tue) also have buffet and dance show available.
In Aitutaki, you can catch an Island Night at Pacific Resort Aitutaki (Wed), Tamanu Beach (Thu), and Aitutaki Village (Tue).
Pro tip: Reservation is needed. We also recommend calling for confirmation (again!) once you've arrived in the Cook Islands.
---
Adventure awaits you in the Cook Islands with a rich variety of fun activities on land and in the water. Get ready to plan a fun-filled vacation to the Cook Islands!
Disclaimer: This post is written in partnership with Cook Islands Tourism. Special thanks to The Big Fish, Backyard Tours, Storytellers Eco-Cycle Tours, Progressive Dinner, Raro Safari Tours, Raro Quad Tours, Air Rarotonga, and Vaka Cruise for hosting us. As always, all opinions on For Two, Please are our own and We only recommend brands that we 100% stand behind.