This site uses affiliate links and we may earn a small commission when you use our links and make a purchase without incurring additional fee yourself. Many thanks for supporting this website. Please see our disclosure page for more details.
Each year, we escape to a tropical destination to celebrate our wedding anniversary. This year is no exception! We flew from Canada to Aitutaki, Cook Islands and indulged ourselves by staying in Pacific Resort Aitutaki – the most romantic and the best resort in the Cook Islands! With white sandy beaches bordering Aitutaki's turquoise lagoon, this little crescent of heaven has taken our breath away and gave us a holiday we would not forget!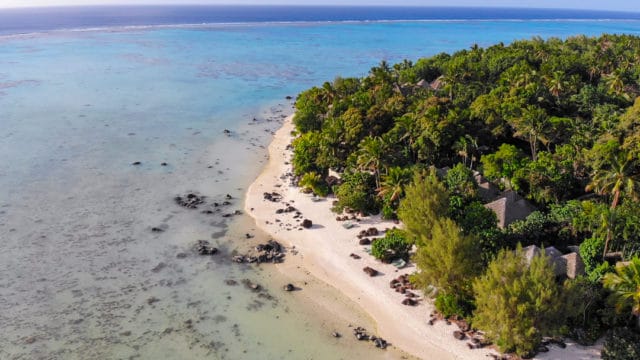 Pacific Resort Aitutaki: The Most Luxurious Resort in the Cook Islands
Aitutaki is made for love! The immaculate white sand and azure blue lagoon have attracted honeymooners and couples in search of an idyllic, sun-kissed destination to celebrate their undying love.
To make the most out of your visit to this tropical paradise, a stay at Pacific Resort Aitutaki is a must. Set amongst the purest natural landscape in the Northern-west coast of the island, this beachfront resort is a luxury oasis for those wanting to soak in the natural beauty and indulge in comfort.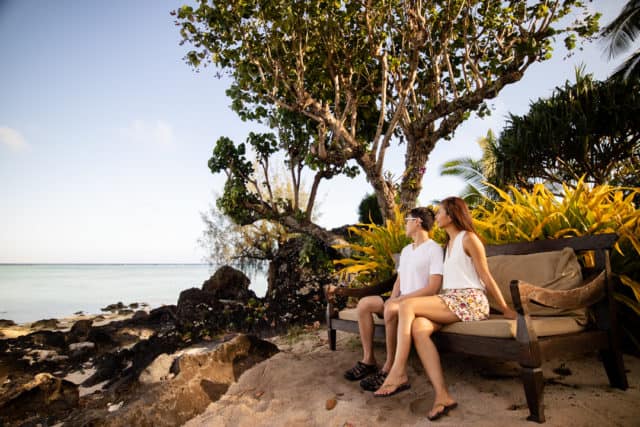 As a member of the Small Luxury Hotels of the World, Pacific Resort Aitutaki meets the highest standards of hospitality. You are guaranteed to be welcomed with high-end amenities and attentive service.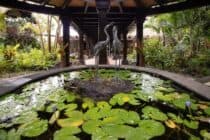 Quick Note: Wondering how to get to Aitutaki? Air Rarotonga has flights to Aitutaki from Rarotonga running almost every day. But because Pacific Resort Aitutaki has limited rooms, we recommend you check the room availability before you book your flight!
Why Is Pacific Resort Aitutaki the Best Resort in Aitutaki for Couples?
So, why is this luxury resort in the Cook Islands perfect for lovebirds?
Privacy & Seclusion
Pacific Resort Aitutaki has an intimate size, with only 27 bungalows and villas spread throughout the property. Each room is surrounded by lush tropical greenery and has its very own private sundeck looking out over the clear blue waters of the Aitutaki Lagoon. This provides a complete privacy and seclusion for its guests!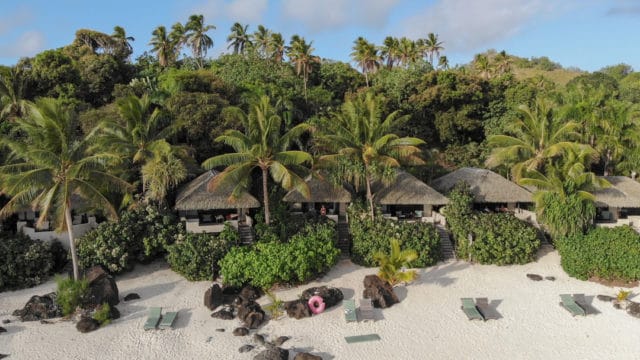 A Room of Tropical Elegance
The bungalows and villas are exquisitely designed with a tropical elegance. Rooms are decorated in contemporary island style with lush earth tones and wooden furnishing. As you enter, you will find warmth and coziness that makes you not want to leave!
The spacious interior is designed with comfort in mind. All room types come with a king-sized bed, living area, bathroom with double vanity and glass shower, and private balcony.
Modern amenities in the room will make you feel right at home. Each room is equipped with air conditioning, flat screen TV (loaded with movies and TV shows), USB charging outlet, room safe, hairdryer, and Nespresso machine. Complimentary bottles of filtered and UV-treated water provided daily.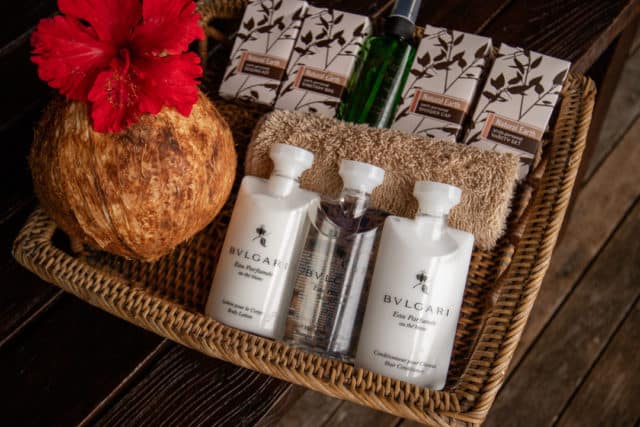 WiFi is available for purchase, but honestly, do you really need it when you're in paradise with your loved one? 😉
[click_to_tweet tweet="Planning your next romantic getaway? This luxury beachfront resort @CookIslands is exactly where you need to be! #travel #Aitutaki #Cookislands #lovealittleparadise" quote="This is the perfect place to fall in love in Aitutaki!" theme="style3″]
Access to Aitutaki Lagoon – Right From Your Room!
The beautiful Aitutaki Lagoon is literally just steps away from your room. Feel free to snorkel and explore the reefs on your own!
What's worth noting is the Aquatic Eco Trail, which consists of six different habitats in the lagoon. You can expect to meet different marine species at each site, including the green sea turtle, angelfish, butterfly fish, and white-spotted eagle ray! Just follow the white buoys to complete the tour.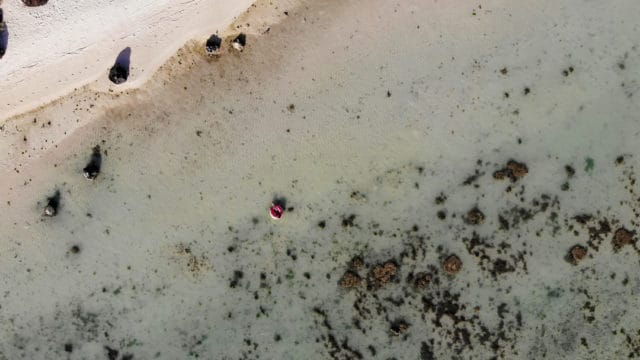 Note: Complimentary mask and snorkel sets are provided in your room – so there's no need to bring your own! Reef shoes, fins, and additional gear can be rented at the front desk.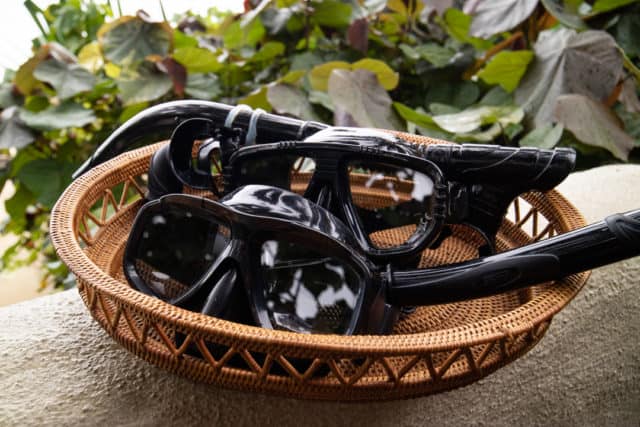 Top Notch Service
The service is nothing short of top-notch, as expected of the best luxury accommodation in Aitutaki, Cook Islands.
Complimentary shuttle to and from the airport and evening turndown service are provided to make your stay special!
Daily tours/activities are offered to connect you with the local culture.
It Has Everything You Need
Pacific Resort Aitutaki has put in great efforts to make everything easy for you during your stay. Although it is not an all-inclusive Cook Islands resort, it has everything you'll ever need on-site.
You have access to the infinity pool (for resident guests only), spa, gym, fine-dining restaurant, and poolside bar. In addition, bicycles available for your use.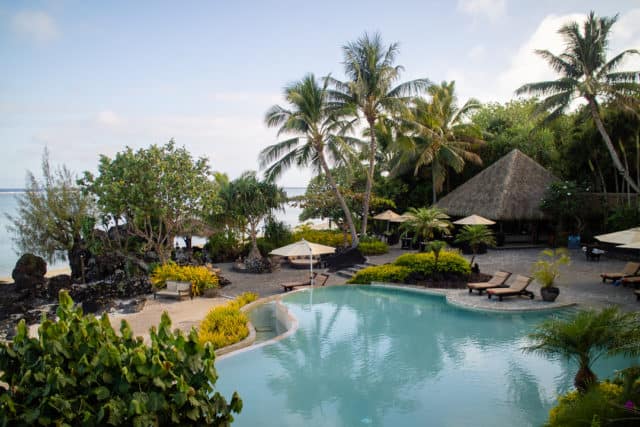 If you need further assistance, e.g., car rental and activity arrangement, the Guest Service is just a phone call away.
Weather in Aitutaki is generally sunny, but in case it rains, Nintendo Wii station and games can be borrowed from the front desk!
Can you see why Pacific Resort Aitutaki is the best hotel for a romantic escape or honeymoon in the Cook Islands?
[irp posts="7073″ name="Hotel Wailea: Luxury Adults Only Hotel in Maui"]
Things to Do While You're in Aitutaki
Days can be spent on the beach doing nothing, but there are plenty of things to do in Aitutaki! Here are some activities you can consider to add to your Cook Islands itinerary!
1| Pamper Yourselves with Spa & Massages
Lose yourselves in pure luxury with a treatment at the onsite spa facility at Pacific Resort Aitutaki! This is the best gift you can give yourself and your loved one.
Tiare Spa offers a variety of beauty and massage treatments to help you focus on your well-being.
2| Enjoy Romantic Dinner on the Beach
Dinner at the resort's Rapae Bay Restaurant is always a treat. We were impressed by how the chef utilized fresh local produce and seafood to create incredibly mouthwatering dishes.
While the restaurant already has a romantic atmosphere, you can inject a little bit more romance into your date night by having a personalized luxury dining on a secluded area of the beach!
Pacific Resort Aitutaki offers a few different set-up options and menus to plan an unforgettable night under the stars for your special someone!
[click_to_tweet tweet="Planning your next romantic getaway? This luxury beachfront resort @CookIslands is exactly where you need to be! #travel #Aitutaki #Cookislands #lovealittleparadise" quote="What a dreamy place for a love escape! Take me there right now!" theme="style3″]
3| Explore Aitutaki Lagoon & Go Island Hopping
You can't leave Aitutaki without going out and exploring its beautiful lagoon! Just look at how stunning it is!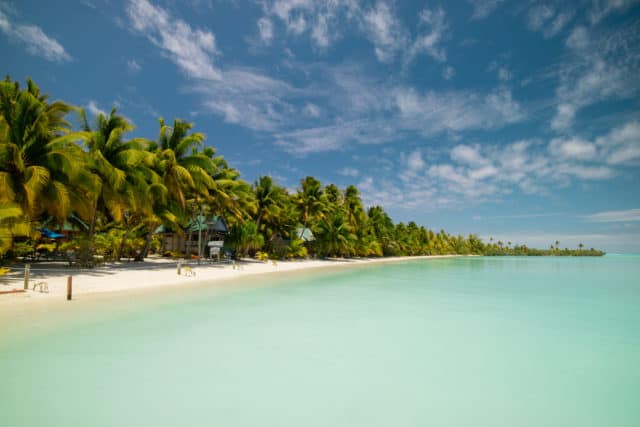 The best way to discover this tropical oasis is to go island hopping.
There are a few ways to do this. What most people do is taking a lagoon cruise. This is a full-day affair that typically includes snorkeling with giant trevallies, BBQ lunch, and visiting the famous One Foot Island in the Cook Islands! Popular lagoon cruise operators include Vaka Cruise and Bishops Cruises.
For the ultimate privacy and enjoyment, we recommend hiring a private charter. You can choose half- or full-day tour, and the captain will take you to more secluded islands, away from the crowds. You can contact Sailing Aitutaki, Bishops Cruises, Teking, Kia Orana Cruises if interested.
4| Take Part in Island Night Cultural Show
Island nights are popular for those who want to immerse themselves in authentic Cook Island culture.
This is your opportunity to feast on a sumptuous Polynesian buffet and enjoy traditional music and dancing by local Aitutakians!
Islands Nights are available every Wednesday night at Pacific Resort Aitutaki and Thursday night at Tamanu Beach Resort. Reservation is highly recommended.
5| Try Water Sport Activities
There are all sorts of water sports activities you can indulge in. Believe it or not, Aitutaki is the perfect place to try scuba diving, kitesurfing, and windsurfing!
6| Go Fishing
Why not give fishing a try? If you're lucky, you can take home a tasty fare!
The fact that you can catch gigantic yellowfin tuna, mahi-mahi, and wahoo makes Aitutaki (or the Cook Islands in general) a fisherman's dream.
7| Join the Punarei Cultural Tour
Follow the local field Archaeologist and explore the sacred sites of Aitutaki! On the tour, you will learn about the traditional cooking process using Umu (eath-oven), and enjoy scenic views of the lagoon on the highest point of Mt Maungapu!
Tours operate on Mondays, Wednesdays, and Fridays. Private tours are available on Tuesdays and Thursdays.
---
Pacific Resort Aitutaki is a dream destination for a love escape. Are you ready to plan your next romantic getaway?
[one_half]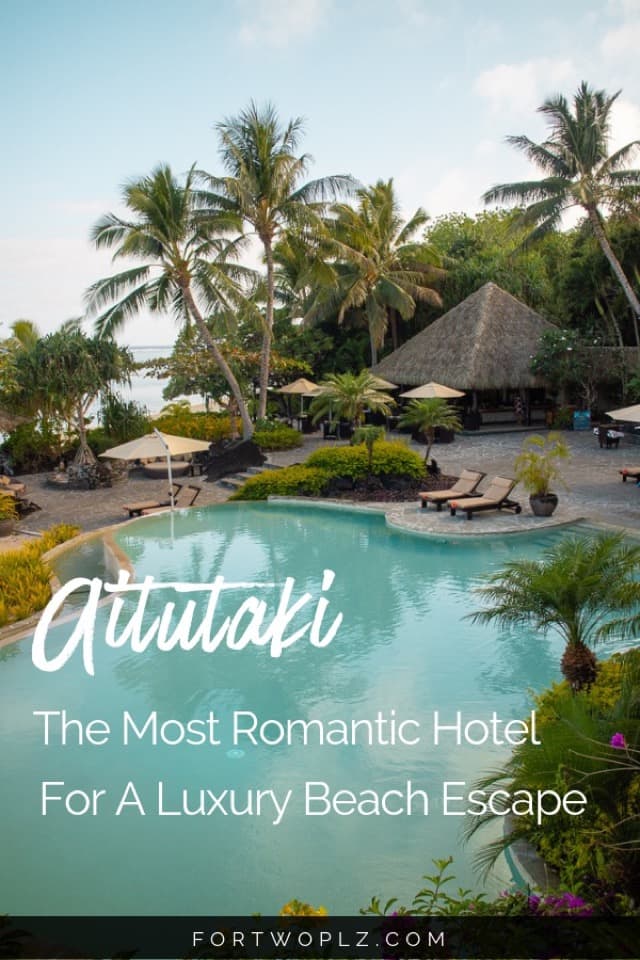 [/one_half]
[one_half]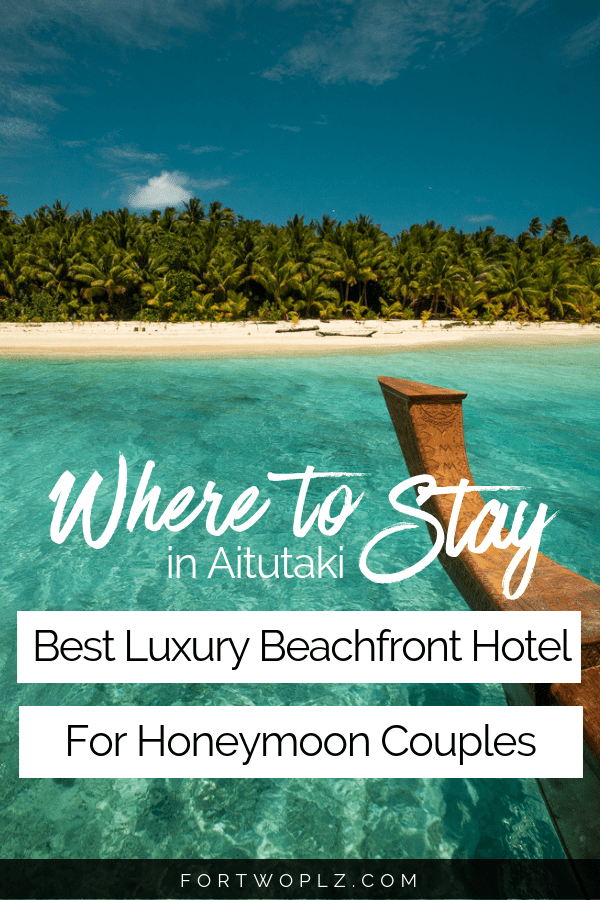 [/one_half]
Disclaimer: This post is written in partnership with Pacific Resort Aitutaki. As always, all opinions on For Two, Please are our own and We only recommend brands that we 100% stand behind.