This site uses affiliate links and we may earn a small commission when you use our links and make a purchase without incurring additional fee yourself. Many thanks for supporting this website. Please see our disclosure page for more details.
Victoria, one of the most beautiful cities in British Columbia, Canada, boasts magnificent architecture, colourful gardens and a picturesque Inner Harbor – with yachts, seaplanes and small ferries!
When it comes to deciding where to stay in Victoria BC, you'll be spoiled for choice. From apartment rentals and quirky boutique hotels, to floating guest houses, there are many unusual places to stay in Victoria to choose from.
If you are the type of traveller that wants more amenities and services, then staying in one of the city's luxury hotels is the way to go!
For those of you looking for a high-end lodging experience, we've curated a list of unique places to stay in Victoria BC that will make your Victoria trip extra special!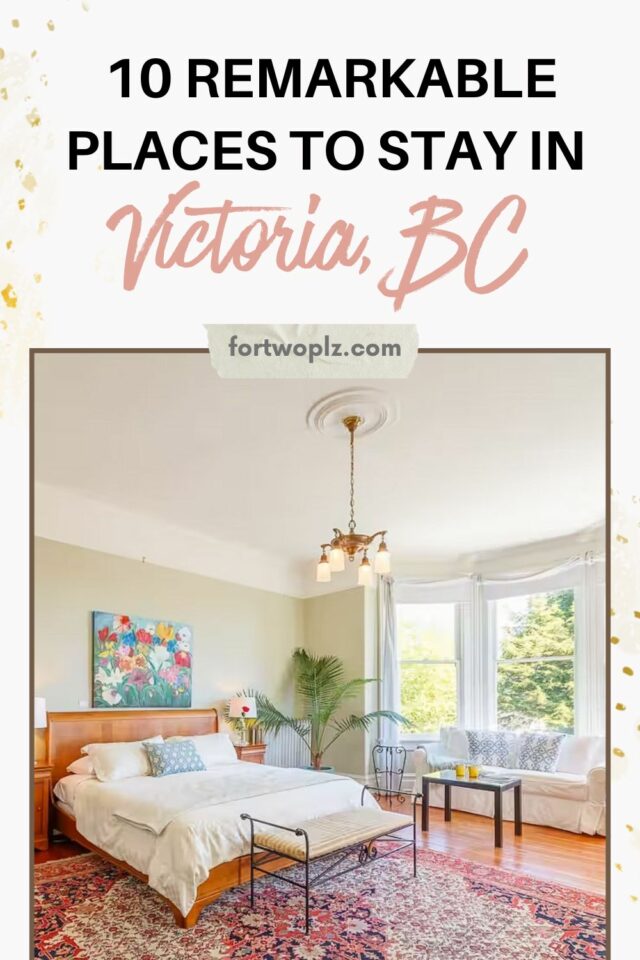 About Victoria BC
Victoria is the capital city of British Columbia, Canada, located on the southern tip of Vancouver Island off Canada's Pacific coast.
The harbourfront city enjoys lovely panoramic views, a temperate climate and a charming old English ambience.
First time visiting Victoria? These travel resources will make your trip planning a breeze:
→ eSIM: Knowroaming and Airalo both have affordable Canada data plans.
→ VPN: Boost your privacy and internet security with NordVPN.
→ Car rental: Discover Cars is great at finding and comparing the best car rental deals.
→ Going hiking? Explore nearby trails and use offline maps with AllTrails.
→ Visiting other parts of BC? Search for flight deals on Expedia.
→ Tours: Here are some of our favourites…
❋ Guided bike tour of the greatest parts of Victoria
❋ Fully guided whale watching cruise
❋ Downtown Victoria food & history walking tour
❋ Cowichan Valley wine & food tour
Is Victoria BC worth visiting?
Beautiful and historic, Victoria is a fantastic place to visit!
Known as the Garden City, in spring and summer you will see beautiful blooms everywhere you look. We visited Victoria once during the cherry blossom season and it was spectacular!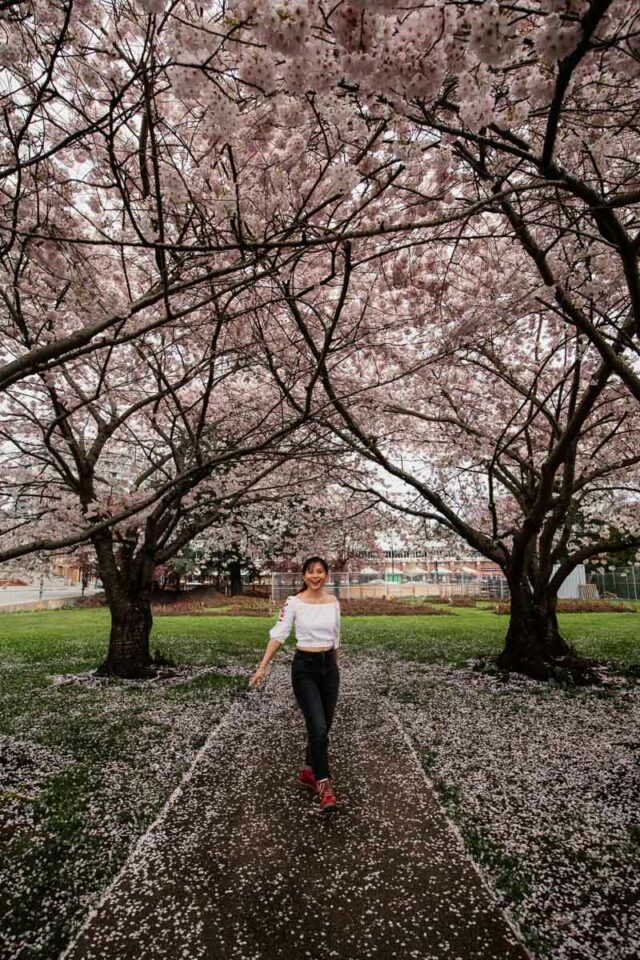 Victoria is also home to majestic orcas and humpback whales who make grand appearances in the summertime.
Known for its classy and luxurious treatment, Victoria is a perfect place to treat yourself like royalty – with high tea, horse-drawn carriages, and spa treatments!
How many days do I need in Victoria?
It depends on what you plan to see in Victoria and if other parts of Vancouver Island interest you.
Easily accessible from Vancouver, Victoria makes a perfect weekend trip.
However, if this is your first time visiting Victoria, we recommend planning a minimum of 3 days to explore the main attractions in downtown Victoria.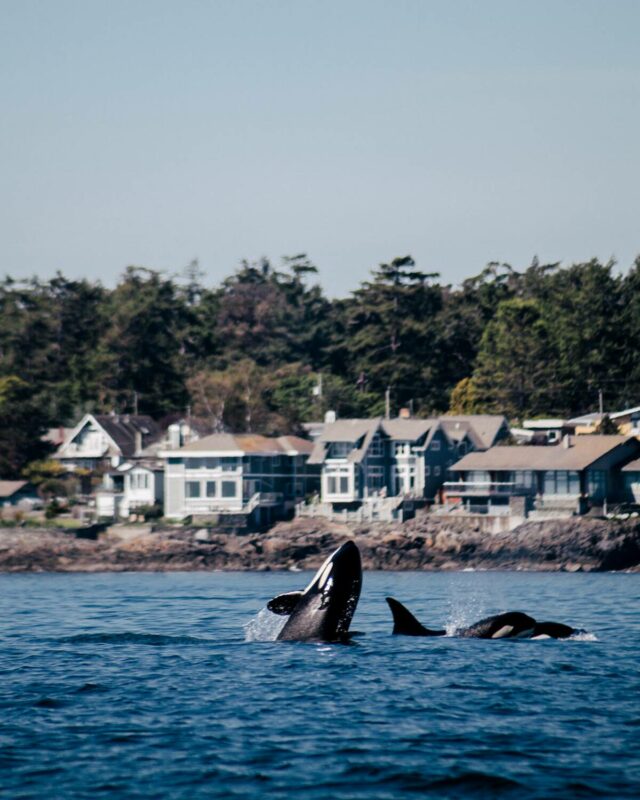 How to get to Victoria BC?
Victoria is extremely accessible. Here are some of the easiest ways to get to Victoria BC:
★ Flying to Victoria
Coming from out of the country or other provinces of Canada? Flying into Victoria International Airport (YYJ) is the quickest and easiest option.
Several major airlines fly into YYJ, including Air Canada, WestJet, Alaska Airlines.
Once you arrive at Victoria International Airport, you will need to arrange transportation to Victoria.
A taxi ride to downtown Victoria takes about 30-45 minutes and costs around CAD$60-70. There is no Uber or Lyft available in Victoria.
Alternatively, you can book a rental car and pick it up at the airport.
★ Seaplane to Victoria from Vancouver
A more scenic and fun way to get to Victoria is by seaplane!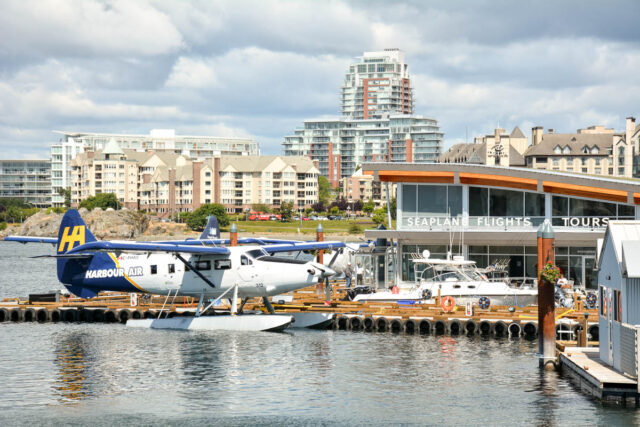 Harbour Air flies you from downtown Vancouver Coal Harbour directly to downtown Victoria to start your Victoria adventure. Enjoy a heart-pumping seaplane flight over Vancouver's downtown and Stanley Park and create a memorable experience as you soar over the Salish Sea and the Gulf Islands.
The total time required is 50 mins (35-minute flight, 15-minute advance check-in time).
Save yourself the frantic drive out to the airport or long waits at the ferry terminal by booking this Vancouver to Victoria Seaplane Flight.
★ Seaplane to Victoria from Seattle
Seaplane adventures are also available from Seattle.
Kenmore Air takes you from Seattle Lake Union to Victoria's Inner Harbour in a mere 45 mins! It is definitely a splurge, but comes with the best bird's-eye views of Seattle, and it is a fast and unique way to get to Canada!
★ Driving to Victoria from Vancouver
Planning to take your car to Victoria?
The drive from Vancouver to Victoria takes approximately 4 hours and involves 95-mins sailing on BC Ferries (see below for more details).
To reach the BC Ferries terminal, you'll need to drive to the Tsawwassen Ferry Terminal which is about 45 minutes from downtown Vancouver.
Upon arriving at Vancouver Island, you'll then have to drive 40 minutes south from Swartz Bay to downtown Victoria.
★ Ferries to Victoria from Vancouver
BC Ferries offers 95-minute sailings to Vancouver Island's Swartz Bay terminal from the Tsawwassen terminal south of downtown Vancouver.
Ferries run at least every two hours (at the top of the hour), increasing to hourly during peak season (late May-early October). These ferries take both vehicles and walk-on passengers.
We recommend arriving at the terminal 30 to 60 minutes prior to the scheduled departure.
For a smoother journey, book your tickets in advance on BC Ferries' website.
★ Ferries to Victoria from Washington
The Victoria Clipper Ferry is a foot passenger-only high-speed catamaran that runs between Seattle and Victoria.
The Seattle to Victoria Clipper ferry ride takes 2 hours and 45 minutes, travelling between Pier 69 in downtown Seattle and the Belleville Terminal in downtown Victoria, BC's Inner Harbor. It takes you through Puget Sound and into the Juan de Fuca Strait.
NOTE: Bikes are permitted for a small handling fee. Because bike space is limited and there are limitations on the types of bikes permitted aboard, be sure to book in advance and coordinate with the Clipper.
The Black Ball Company's MC Coho Ferry runs from Port Angeles across the Juan de Fuca Strait with foot and car-driving passengers disembarking in downtown Victoria.
The total time at sea is roughly 90 mins from dock to dock.
Where are the best areas to stay in Victoria BC?
Downtown Victoria
For first time visitors, we recommend sticking to accommodations in downtown Victoria.
It is is close to many of the top tourist attractions — Victoria's Inner Harbor, Fairmont Empress Hotel, Parliament Buildings, whale watching tours, float plane tours, and Victoria's Chinatown which includes Fan Tan Alley.
Staying in downtown Victoria will also put you within walking distance of some of the best restaurants and bars in the city!
James Bay
James Bay on the other side of the downtown area is another centrally located pick. This is the oldest and probably the most English feeling part of town.
Because of its position on the port, you will have incredible views out to sea and of the Olympic Mountain Range. The pier is a great place to watch the sunset and spot seals in the water!
Oak Bay
If you like the idea of being on the water, but want to be more off centre, away from the crowds, then Oak Bay might be right for you.
It's a fairly residential neighbourhood with a beautiful waterfront of numerous bays and many parks. The romantic setting on the coast, the intimate dining with oceanfront views, and charming boutique stores make this the perfect escape for couples!
We will recommend accommodations in each of these areas in the section below. So read on as we cover the best places to stay in Victoria BC!
Unique places to stay in Victoria BC for luxury travellers
1| Inn at Laurel Point
For stunning waterfront views, we love the Inn at Laurel Point. The 4-star eco hotel in the Inner Harbour has serene surroundings and promises to make your stay a remarkable one!
One of the best hotels in Victoria BC, Laurel Point is polished with modern furnishings. Most of the rooms offer large patios, overlooking the waterfront or the Japanese gardens, and spacious bathrooms featuring a deep bathtub and a walk-in shower.
The onsite restaurant, AURA, is one of the most innovative restaurants in Victoria that serves breakfast, lunch and dinner with a Pacific Rim twist.
Since it is located right by the water, it's a convenient spot to enjoy the great outdoors. You can take part in activities like kayaking, sailing, scuba diving (yes, you can do that!), or easily hop on one of the tours.
When you want to go downtown, don't worry, it's not too far off. A short 10-min walk will take you to the Fisherman's Wharf and Victoria's downtown area!
2| Delta Hotels by Marriott Victoria Ocean Pointe Resort
Integrating modern design and harbour views, Delta Hotels by Marriott Victoria Ocean Pointe Resort earns a place on the list of nice places to stay in Victoria.
This highly-rated resort sits across the harbour from downtown Victoria, affording views of the Parliament Buildings and the lively Inner Harbour.
Rooms are newly renovated with sleek modern decor and modern amenities, though you will probably find yourself spending most of your time relaxing at the spa or heated indoor swimming pool.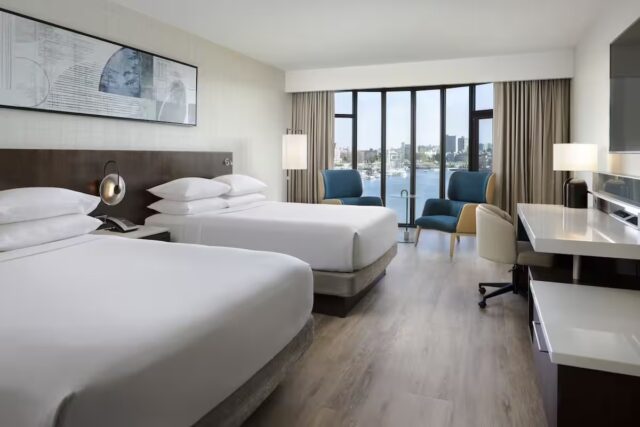 If you want to be a bit more active you can stay fit at the health club or on the tennis/racquet courts.
The onsite LURE Restaurant & Bar is not to be missed. They serve amazing local bites and the Island's best cocktails.
3| Fairmont Empress
You've probably seen Fairmont Empress on one of the Victoria postcards.
The castle-like exterior and prime location right at the harbour make it hard to go unnoticed. It is within walking distance of so many of Victoria's top attractions like the Royal BC Museum.
Walking into Fairmont Empress makes you feel like royalty. This Chateau-style 4-star hotel is in fact an iconic tourist attraction, as it is a National Historic Site of Canada and one of the oldest buildings in Victoria!
Many visitors come to the hotel just to try the famous afternoon tea, a long-standing tradition lasting over 100 years at the Empress. The loose-leaf tea is served with antique royal china, a gift from Queen Elizabeth in 1939. Also, the honey and jam come straight from their honey bee apiary and rooftop gardens!
The elegantly decorated rooms come in a range of sizes and classes, each offering views of Victoria, the hotel's fine courtyard or the dazzling Inner Harbour.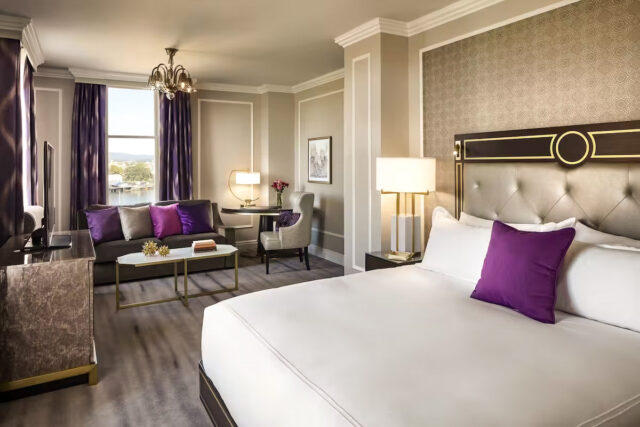 In terms of amenities, you'll find the award-winning Willow Stream Spa (home to signature West Coast experiences available nowhere else), and be able to dine at the Q featuring Pacific Northwest cuisine and regionally focused cocktail culture.
4| Magnolia Hotel & Spa
If you aren't interested in a harbour view, but want to be close to all the restaurants and shopping, check out Magnolia Hotel & Spa, one of the luxury boutique hotels in Victoria BC.
The 4-star hotel sits in downtown Victoria, two blocks away from Inner Harbour, giving you easy access to all the fun things to do in Victoria.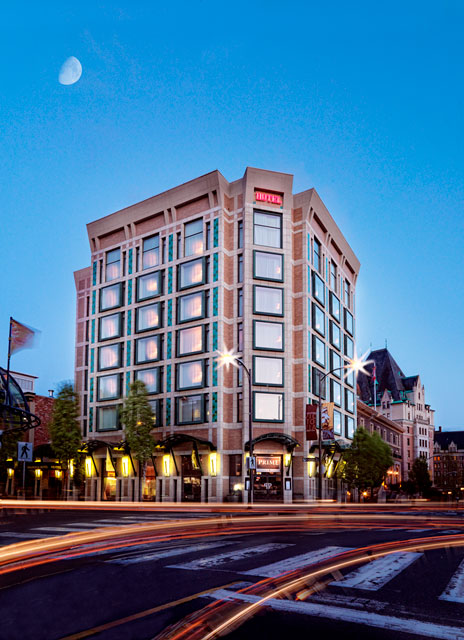 Although the boutique hotel adopts a more traditional look, its superior level of personalized service impresses even the pickiest guests. From attentive housekeeping to daily turndown service, The Magnolia really makes you feel at home.
Don't take it just from us. Read what the other guests have to say.
What we really enjoyed during our stay was the complimentary continental breakfast, included if you book directly on their website. Or you can use it as a credit towards a full hot breakfast served at the attached restaurant, The Courtney Room.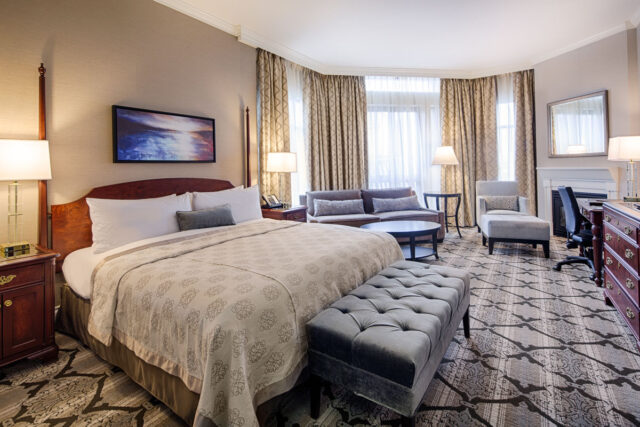 As a guest, you can also borrow the bikes (free of charge) to explore Victoria on two wheels! There are seasonal and themed biking maps curated by the hotel for you to take, bringing you to popular Victoria landmarks like Beacon Hill Park and Craigdarroch Castle!
To unwind, plan a spa retreat at Spa Magnolia or a workout at the 24-hour onsite fitness centre.
5| Abigail's Hotel
Prefer old world charm and the cozy feeling of staying at a bed and breakfast? Abigail's Hotel will be perfect for you.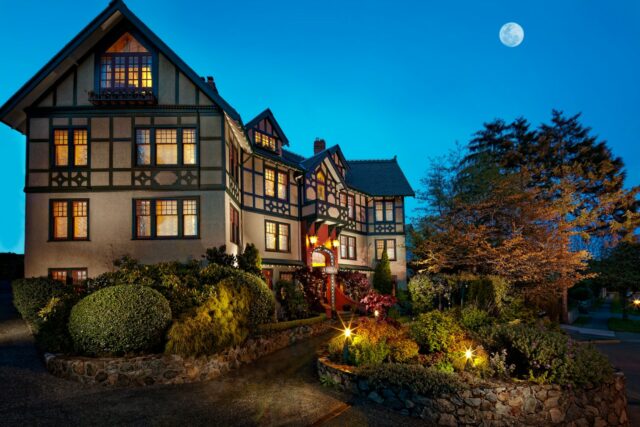 The intimate luxury hotel is just three blocks from the harbour, within easy reach of Victoria's many attractions and entertainment venues.
Housed in a 1930-Tudor mansion, the adult-only, 30-room property is decorated with antique furnishings. Five different decor themes can be found throughout the rooms at Abigail's Hotel.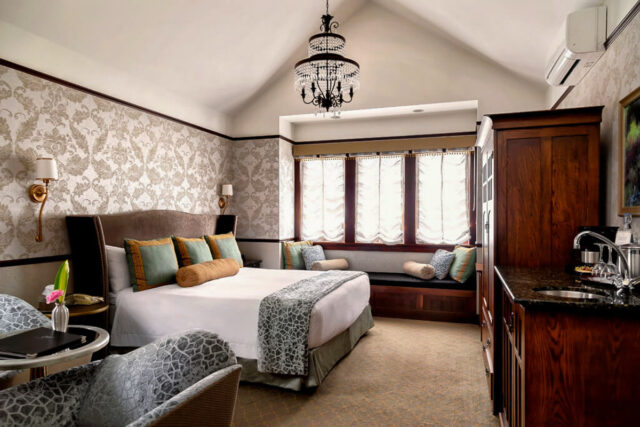 Although the hotel does not have a full-service restaurant, gourmet three-course breakfasts are served every morning, and hors d'oeuvres are served in the evening hours. Both are included in your room rates!
6| The Oswego Hotel
Centrally located near downtown Victoria and the Inner Harbour, The Oswego Hotel allows you to explore the best of what Victoria has to offer.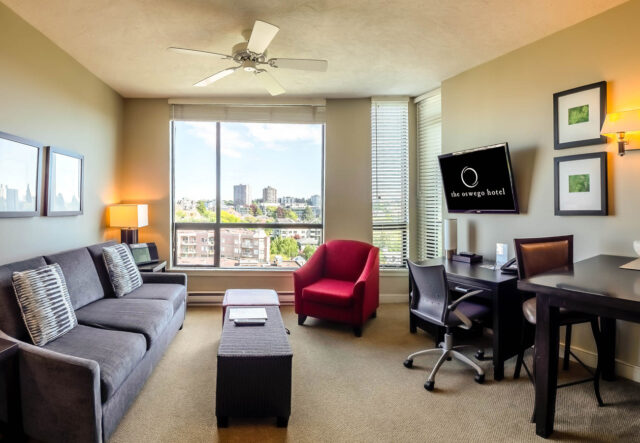 The price point is friendlier for those who don't anticipate spending a ton of time in their rooms or who wish to visit Victoria for a little longer.
The rooms are comparable to apartments (like an apart-hotel), with your choice of studio, one-bedroom or two-bedroom accommodations.
All rooms come with a kitchen, giving you the flexibility of self-catering, dining at one of the best restaurants in Victoria.
There is also an eatery onsite if you don't want to walk too far. Bar 500 dishes up fresh West Coast cuisine and offers live jazz on Sunday nights.
You also have access to laundry facilities and a fitness centre.
7| Fairholme Manor
Escape the ordinary and enjoy exceptional service at Fairholme Manor!
This adult-only 110-year-old Italian mansion is a 5-star accommodation in the Rockland neighbourhood, within a 5-min drive of Victoria's Inner Harbour.
Boasting only 6 luxury rooms, this historic bed and breakfast is able to make your stay a truly intimate and one of a kind experience.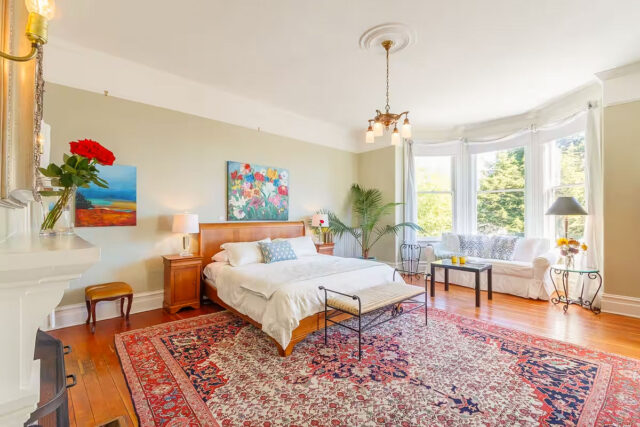 The interior was delightfully restored to update the rooms with modern facilities like air-jet jacuzzi and Wi-Fi! Some even have an outdoor deck for guests to relax.
Aside from the beautiful property, their homemade breakfast has garnered so much praise that the owner published two cookbooks! Menu items change frequently and are served with fresh juices, baked goods, home-made jams, and fruits.
8| Oak Bay Beach Hotel
To escape the hustle and bustle of the city, book a stay at Oak Bay Beach Hotel.
An approximately 15-min drive from downtown Victoria will bring you to this luxury boutique hotel.
Sitting on the edge of the Pacific Ocean, the property overlooks the Juan de Fuca Strait – the migration route of local Orca whales – and the snow-capped Mount Baker in the distance.
Unlike 'cookie cutter' chain hotels, Oak Bay Beach Hotel is designed as a modern take on the old Tudor-style manor. Rooms are a blend of luxury and comfort and many have panoramic bay views from private balconies or patios.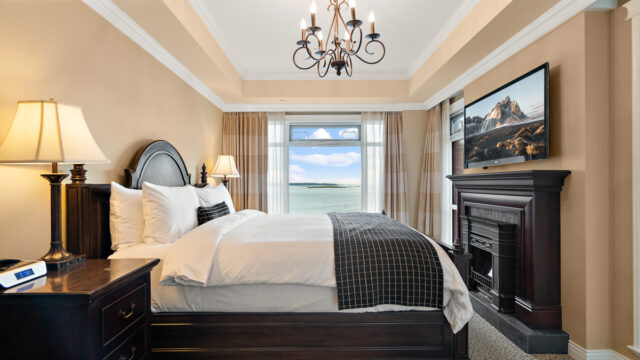 What really sets the hotel apart from other cool places to stay in Victoria BC is its inhouse spa. As Victoria's only oceanfront spa, the Boathouse Spa offers a wide range of services and features stunning seaside mineral pools (accessible with an upgrade) right at the edge of the Salish Sea.
9| Villa Eyrie Resort
There are so many unique places to stay on Vancouver Island, but Villa Eyrie Resort is truly one of a kind.
A trip to Villa Eyrie Resort is an escape to the clouds. As you drive atop the Malahat (approx 30 mins from downtown Victoria), you will feel like a bird looking down at Vancouver Island admiring the beautiful Saanich Inlet and the Olympic Mountains. It's no wonder this luxury hotel is rated one of the most beautiful accommodations in Victoria.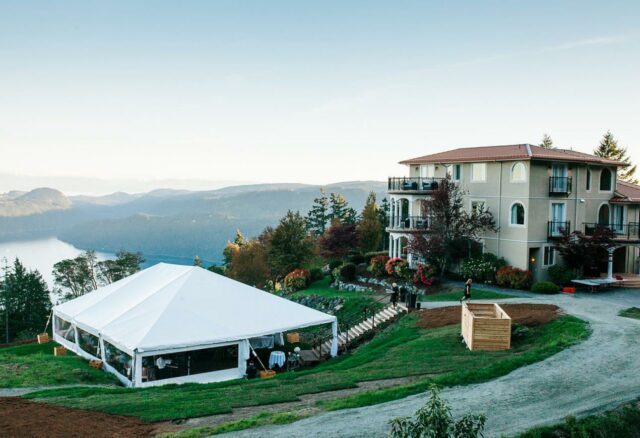 All of the rooms at this award-winning hotel are incredibly luxurious, spacious, and modern. The more extravagant suites feature oversized tubs with fantastic scenic views, cozy fireplaces, and a private balcony. A peaceful koi pond and a beautiful fountain can also be found on the property grounds.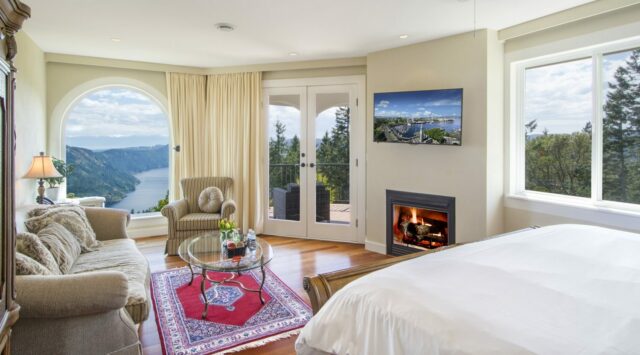 Its remote location makes it a wonderful homebase for those who like everything outdoors, whether it's hiking, biking, kayaking, skiing, fishing, whale watching or sight seeing!
Don't miss the chance to see killer whales, bald eagles & other wildlife along the dramatic coast of Vancouver Island on this wildlife tour!!
After your adventure, you can treat yourself to pampered relaxation at the Tuscan Spa or indulge in fine European fare at Alpina Restaurant.
10| Brentwood Bay Resort & Spa
Nestled on a pristine fjord in the heart of wine country, Brentwood Bay Resort is an escape to a relaxing oasis. Its emphasis on privacy and relaxation makes it perfect for a romantic getaway!
Despite being 30 mins away from downtown Victoria, the 5-star hotel is close to many local attractions including the Butchart Gardens, Malahat Skywalk and many wineries and cideries!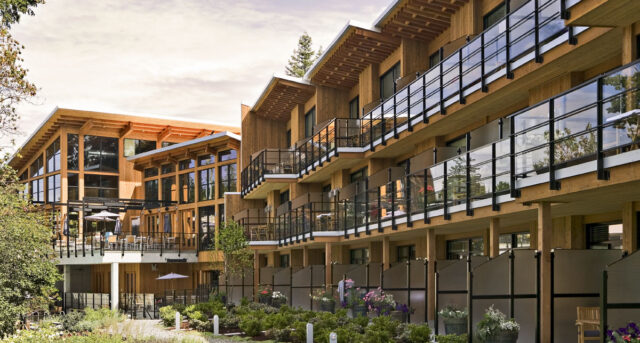 The waterfront resort is designed in a contemporary west coast style, using beautiful natural materials and big windows. The 33 rooms and villas are furnished with fireplaces, private balconies, and spa-like bathrooms with jetted tubs.
On the property, you can pamper yourself at The Brentwood Spa or dine at one of the onsite eateries (The Arbutus Room and Brentwood Pub).
Want to explore more of the marina? You can rent one of the hotel's kayaks or SUP and paddle your own way! Otters, seals, sea lions and whales all call the bay home.
Map of Victoria's Best Luxury Hotels
Aren't sure where the unique hotel stays that we listed above are located? Check out this handy accommodations map!
Click on the location marker for more information about these unique accommodations. You'll also be able to check the availability of the rooms and to see the latest prices!
On the map, you'll also find an array of vacation rentals listed on VRBO Victoria, giving you more unique accommodation options for short and long term stays.
FAQs on unique places to stay in Victoria BC
Are these unique Victoria accommodations expensive?
The cost of these unique accommodations in Victoria BC can vary depending on the time of year.

​​When you travel in the peak season (June-September), prices tend to be higher.
Do these Victoria accommodations offer amenities such as Wi-Fi and free parking?
Amenities vary depending on the accommodation. While many offer free Wi-Fi, parking fees can vary. Some downtown hotels like Fairmont Empress charge a parking fee (for both self-park and valet parking).

Please check the individual accommodation listings for details on amenities.
Are these Victoria accommodations pet-friendly?
All of the accommodations mentioned, except Abigail's and Fairholme Manor, are pet-friendly so don't hesitate to bring your furry friend on your Victoria vacation!

Make sure to check availability with the hotel before you book so they can prepare your room with pet-friendly amenities!

A cleaning fee will apply so check individual listings for their policy.
Are these accommodations located close to attractions and amenities in Victoria BC?
Yes, many of the accommodations we mentioned in this article are located close to popular attractions and amenities such as beaches, parks, and downtown Victoria – perfect for first time visitors.

For those looking to get away from the crowds and don't mind a bit of driving, Villa Eyrie Resort (in Mahalat), Oak Bay Beach Hotel, and Brentwood Bay Resort & Spa (close to The Butchart Gardens) are both great options to consider.