This site uses affiliate links and we may earn a small commission when you use our links and make a purchase without incurring additional fee yourself. Many thanks for supporting this website. Please see our disclosure page for more details.
Have more than 3 days in Vancouver? Why not taking a day or two to explore other parts of west coast Canada that are not too far from the city? Whether you are into food, adventure, or culture, British Columbia has something for you!
We asked other travel bloggers for ideas on day trips and weekend getaways in British Columbia. Here are 10 quick vacations from Vancouver you can take with your s/o to get out of downtown Vancouver (we promise we go further than Capilano suspension bridge!). Read on to get ideas for weekend trips in BC!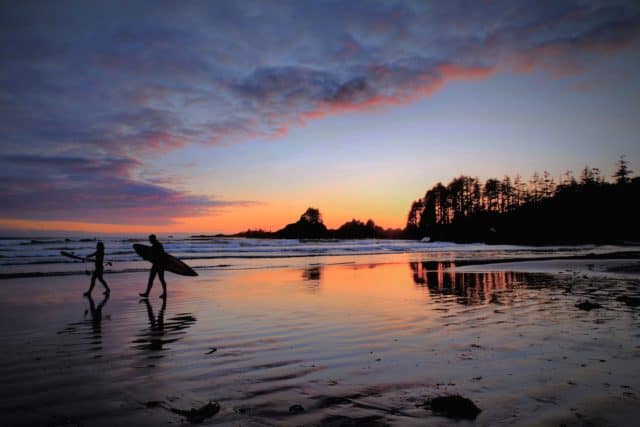 10 Weekend Getaways in BC
Don't have time to read? Save THIS PIN on your Canada Travel board on Pinterest so you remember to come back for more Vancouver weekend getaway ideas!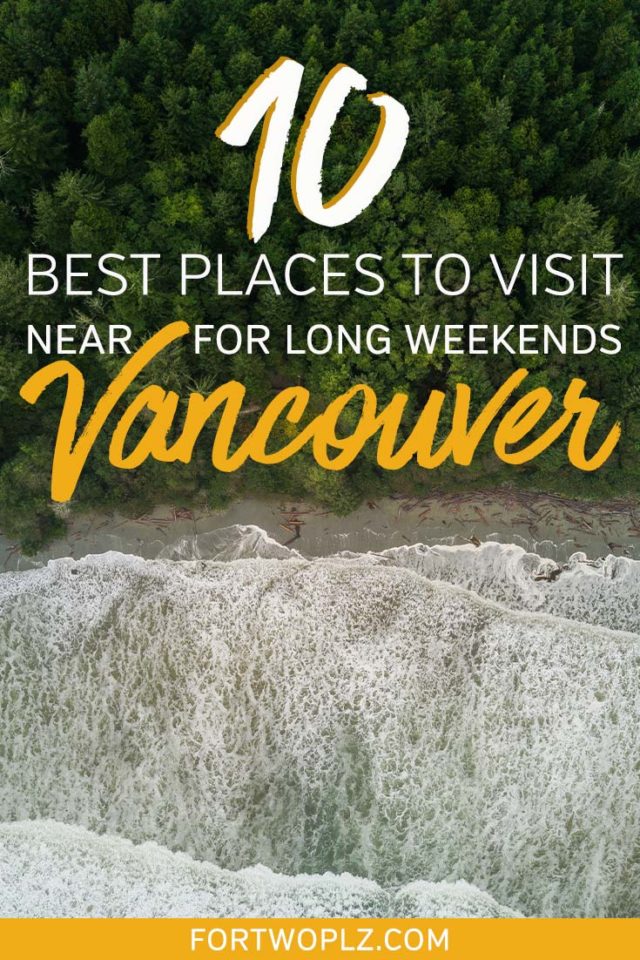 1| Whistler
Whistler is probably the most popular destination in British Columbia, besides Vancouver. Just under a two-hour drive away from Vancouver, the resort town is a playground for adventure seekers, offering tons of fun activities year-round!
One of our favourite things to do in Whistler in summer is swimming in the lakes and chasing the waterfalls. Alta Lake and Lost Lake are gorgeous in the early morning. For picture-perfect views, make a visit to one of the Whistler lakes like Brandywine Falls, Rainbow Falls, Alexander Falls, or Nairn Falls.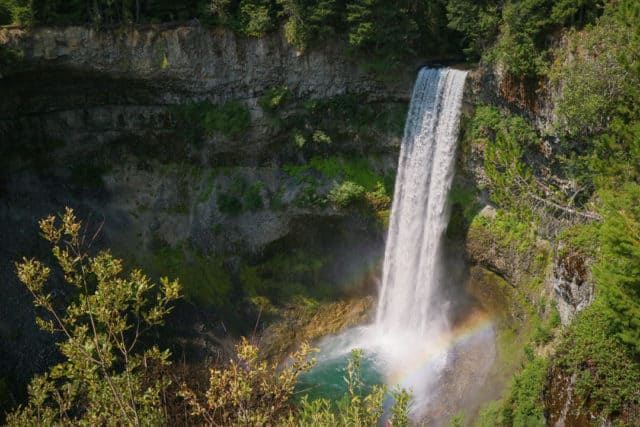 For something a bit more adventurous, we recommend taking the Whistler Gondola ride (aka Peak 2 Peak Gondola). The horizontal lift connects two mountaintops at the record-breaking distance of 3.024 km apart!! Once you get on the top of the mountain, you can walk the 130-m long Whistler Peak Suspension Bridge (officially known as the Cloudraker Skybridge) to get your adrenaline pumping!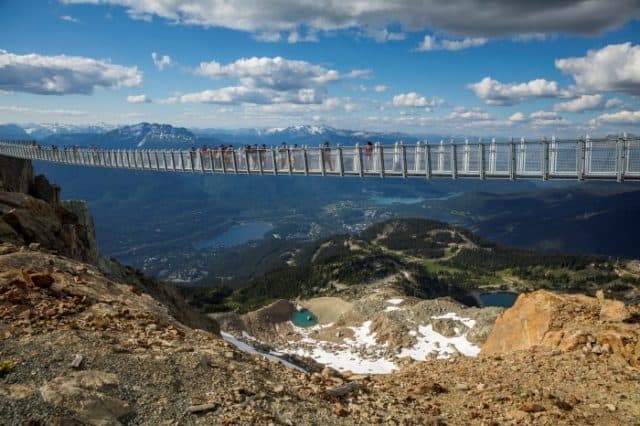 Whistler also makes a fun weekend trip from Vancouver in winter. Sign up for winter ziplining or snowmobiling, you will not regret! You might want to read more on Whistler ski resort tips to plan your winter trip.
How to get to Whistler from Vancouver: Take the Sea to Sky Highway if going by car. The scenic Vancouver to Whistler drive is approximately 121 km in distance (1.5 hours) and will take you along the coast. Other transportations from Vancouver to Whistler include seaplane or floatplane (flights can be booked through Harbour Air) as well as shuttle bus (via SkyLynx, Epic Rides and Snowbus).
Where to stay in Whistler: Top hotels in Whistler include Four Seasons Resort Whistler, Fairmont Chateau Whistler, and Nita Lake Lodge. You can compare prices for these Whistler hotels on TripAdvisor.
2| Squamish
Recommended by Nicole Hunter of Go Far Grow Close
Squamish, located approximately 68 km from Vancouver, lies halfway between Vancouver and Whistler on the Sea to Sky Highway, one of the most spectacular highways in the world with jaw-dropping views of the Pacific Ocean, coastal islands glaciers and mountains.
Squamish is a hidden gem. Most people drive through it on their way to Whistler and never stop to discover all that it has to offer. However, that is a mistake.
As an outdoor enthusiast's paradise, Squamish offers hiking trails everywhere for all levels, some of which follow lovely paths along forest trails or next to beautiful rivers, while others lead you atop of mountains with gorgeous views. If you fancy the views but not the climb, Squamish offers the Sea To Sky Gondola which takes you 885 m above sea level.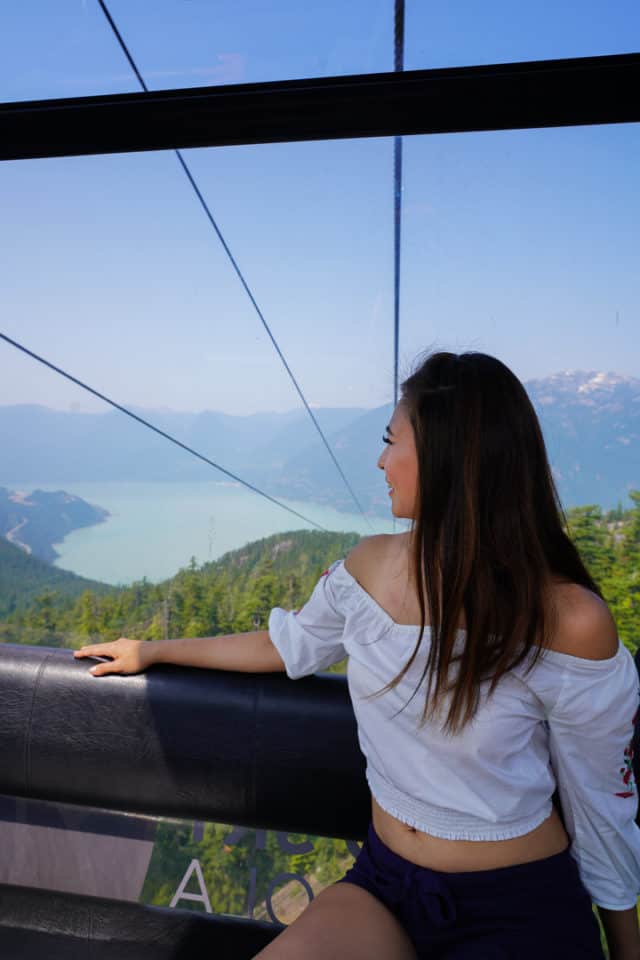 For those of you with a passion for adventure, there are countless activities. Squamish is internationally known for rock climbing, in particular, climbing the "Chief", the second-largest granite monolith in the world.
On Howe Sound by Sunshine Coast, you can kiteboard or paddleboard below breathtaking mountains. One of the best things to do is white water rafting with Canadian Outback Rafting. You have the choice of tours with different levels of rapids, but all of them take you deep into nature where you will be surrounded by beautiful trees and majestic mountains.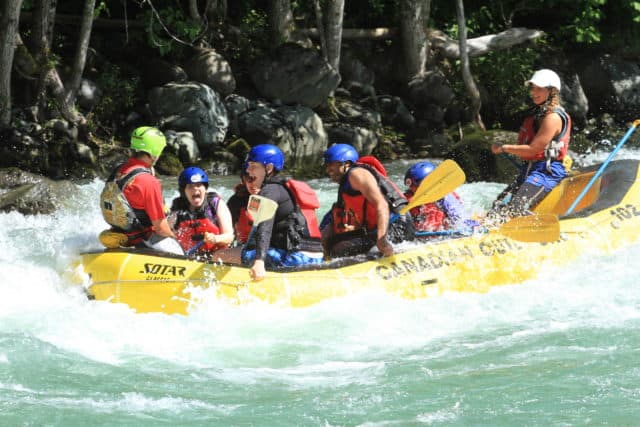 Finally, one of the most special activities that you can do while in Squamish is birdwatch. Squamish is home to one of the largest congregations In North America of wintering bald eagles. You can spot them almost everywhere – although one of the best locations is in Brackendale, in northern Squamish, where they favour nesting.
How to get to Squamish from Vancouver: Apart from driving, the only other way to easily and inexpensively access Squamish is by bus. There are several options available (SkyLynx, Squamish Connector, BC Connector) that either leave from Vancouver International Airport or downtown Vancouver. Buses to Squamish run every day at different times depending on the company. Travel time takes between 1.5 hours to 2 hours.
Where to stay in Squamish: Popular accommodations include Executive Suites Hotel & Resort and Sandman Hotel & Suites. You can compare these Squamish hotels on TripAdvisor.
3| Garibaldi Provincial Park
Recommended by Sarah Bence of Endless Distances
There are plenty of places to experience nature around Vancouver, but if you want to truly be immersed in the wilderness, then head to Garibaldi Provincial Park. This park is filled with mountains, meadows, and ice-blue glacial lakes.
Spending a weekend in Garibaldi Provincial Park is ideal for those who are craving a reconnection with nature – and luckily you don't need any technical skills to enjoy a couple of days camping here. The best way to do it is parking up at the Rubble Creek Trailhead (arrive early as it tends to fill up), and hiking up the well-marked trail.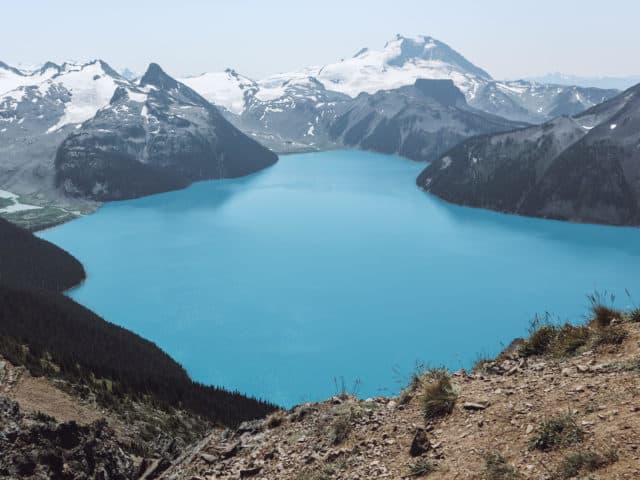 There are multiple designated campsites but the one that will really have your jaw drop is Garibaldi Lake. Set up your camp here and enjoy the peaceful bright blue waters, and even a dip in the lake.
On your second day, definitely take the time to trek up to either Panorama Ridge or Black Tusk – both are iconic Garibaldi Provincial Park hikes that are definitely challenging but worth the views.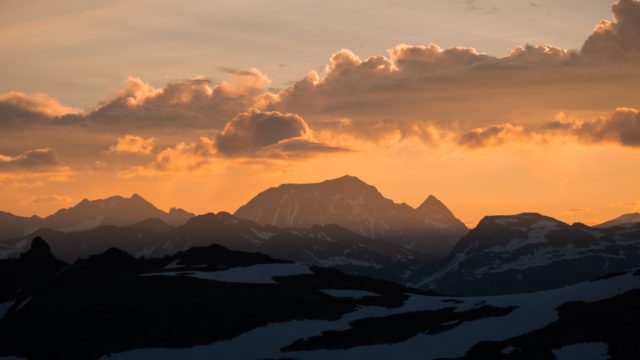 Note: Remember when you're hiking and camping in BC to bring a bear bell and bear spray, as well as common sense supplies like water, food (which you should always hang up at night), hiking boots, first aid gear, etc.
How to get to Garibaldi from Vancouver: Same as you would go to Whistler or Squamish, drive on the Sea to Sky Highway for 1.5 hours.
4| Victoria
Recommended by Ashley Hubbard of Wild Hearted
Victoria is a beautiful, historic and a one-of-a-kind destination in the southern end of Vancouver Island. It's a fantastic place to visit when looking for a romantic weekend from Vancouver and you could even visit Victoria in one day if you're short on time.
Victoria is often known as the Garden City which makes perfect sense given the beauty of it and the gorgeous cherry blossoms you can see all over the city in the Spring.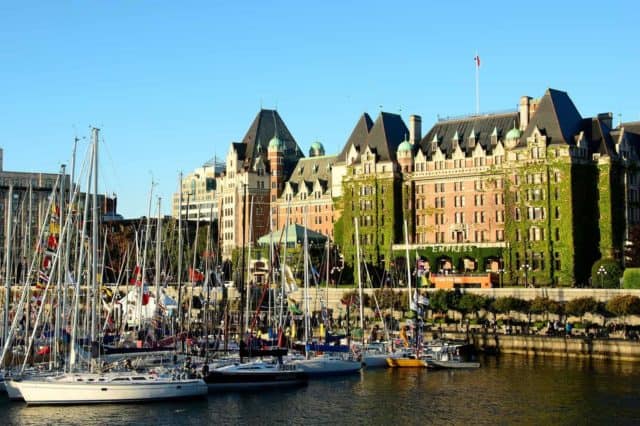 While in Victoria, make sure to wander around the Inner Harbour neighborhood, explore the towering and impressive parliament buildings (even take a free tour!), take in the beauty of the infamous Butchart Gardens – a 55-acre property that's been around since the beginning of the 1900s and boasts over 900 varieties of flowers, have high tea at the magical Fairmont Empress Hotel (must do on a romantic getaway!), and experience the oldest Chinatown in Canada (and the second oldest in North America!).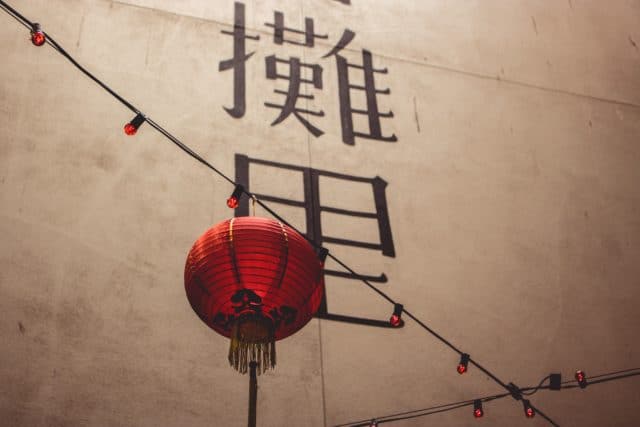 How to get to Victoria from Vancouver: Vancouver is very close to Victoria but you will have to take a ferry to get there and get to and from the ferry terminals. The terminal on the Vancouver side is Tsawwassen terminal and on the Victoria side, it is Swartz Bay terminal. The ferry ride is approximately 90 minutes long and to get to and from the terminals can take 45 minutes to a little over an hour.
Another way of getting from Vancouver to Victoria is by air. Pacific Coast Airlines, Air Canada and WestJet all have flights running almost every day of the week. Flight time approximately 30 mins. To add some fun to your air travel, consider booking a seaplane flight with Harbour Air.
Where to stay in Victoria: Top hotels in Victoria include Hotel Fairmont Empress, Oak Bay Beach Hotel, and Magnolia Hotel & Spa. You can compare prices for these Victoria hotels on TripAdvisor.
5| Tofino
Recommended by Olivia Rutt of My Wandering Voyage
Need more inspirations for weekend trips on Vancouver Island? For those who'd like the feeling of getting out into the middle of nowhere, Tofino is a perfect weekend trip from Vancouver. Tofino, British Columbia is located on the most western shore of Vancouver Island.
Tofino is on a peninsula with one way in and one way out. A haven for surfing, Tofino has 35 km of surfable beaches and a year-round destination, thanks to the wide-open beaches and constant waves. That also means there are a lot of surf shops you can sign up for lessons. The water would be cold as ice, but the experience is one you'll never forget!
Some of the top surf beaches in Tofino include Cox Bay, North Chesterman, Mackenzie Beach, and Long Beach, which is part of the Pacific Rim National Park Reserve. Even if you're not into surfing, walk on beaches and you might get lucky and spot a bald eagle or coastal wolf!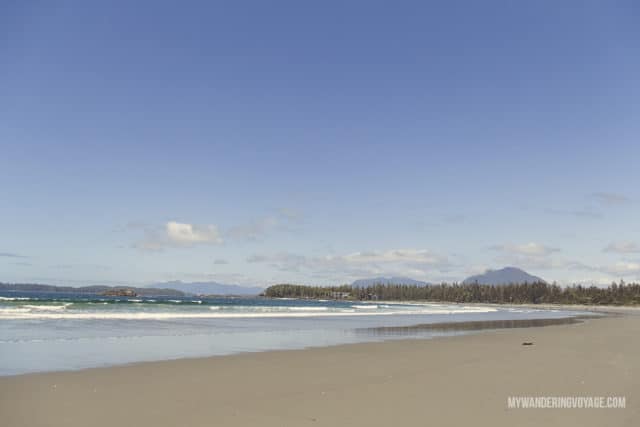 The surfer culture means Tofino has some of the hippest coffee shops and restaurants on the island. You have to visit the original Tacofino food truck in the little surfer's town of Outside Break. Tofino Botanical Gardens is also worth a visit.
If you're planning a trip between March and November, book a whale watching tour. With a long whale watching season, Tofino is considered one of the best whale watching destinations on west coast Canada. It provides fantastic opportunities to see Grey Whales, Humpbacks, and Orcas up close!
Being in Tofino makes you feel like you're in the wilderness, with limited cell reception, and views that will take your breath away. It's not hard to see why many considered this lovely surfer's town one of the best vacation places near Vancouver, BC.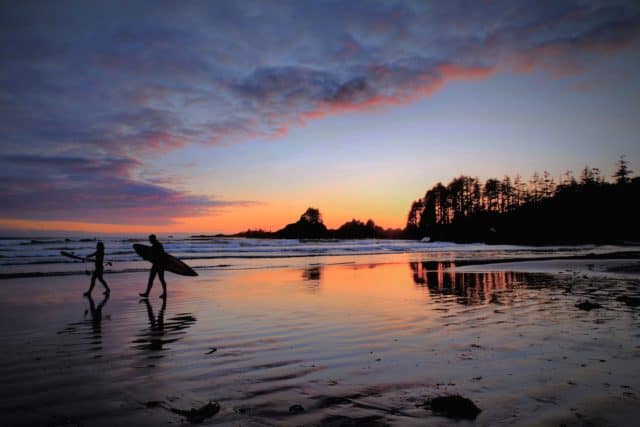 How to get to Tofino from Vancouver: By car, you can take a ferry from Horseshoe Bay to Departure Bay in Nanaimo. Once you have disembarked from the ferry, it's only three hours to the west coast on Highway 4. At first, the road is pretty easy, but once you leave the major highway, the roads become white-knuckled as you weave around the twists and turns.
You can also travel from Vancouver to Tofino by air. Pacific Coastal Airlines has daily scheduled flights to Tofino-Long Beach Airport.
Where to stay in Tofino: Best places to stay in Tofino are Wickaninnish Inn, Pacific Sands Beach Resort, and Ocean Village Beach Resort.
Don't have time to finish reading? Save THIS PIN on your Canada Travel or Couples Travel board on Pinterest so you can refer to it later!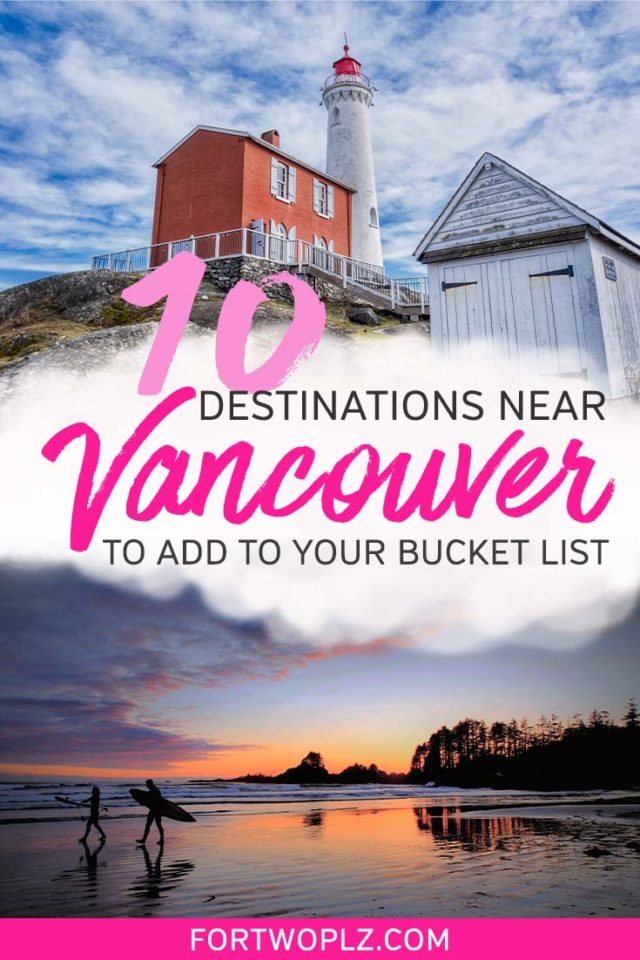 6| Nanaimo
Recommended by Lotte Eschbach of Phenomenal Globe
Nanaimo is the second-largest city on Vancouver Island with just over 100.000 residents. Often overlooked, as most people head straight to Victoria, Nanaimo has lots to offer for people looking to escape Vancouver for a weekend trip.
Surrounded by mountains and ocean, Nanaimo has an enviable location. Nanaimo is also called 'the Harbour City', quite fitting for a city that offers so many great water activities, especially in summer.
What to do in Nanaimo? Rent a boat, go fishing, scuba diving or paddle out to the floating Dinghy Dock in a kayak, the options are endless! Nanaimo River Estuary, Newcastle Island, and Protection Island are other great places for kayaking in Nanaimo.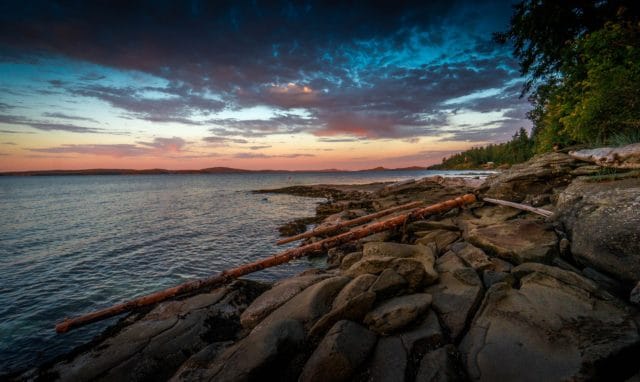 For those who prefer to stay on land, hiking in Nanaimo should not be overlooked, both in the center as well as in the surrounding area. A lovely hike is the easy and flat 5.5 km trail around Westwood Lake. For more serious hikers, the 8 km hike to the top of Mount Benson offers great views over Nanaimo and out onto the bay.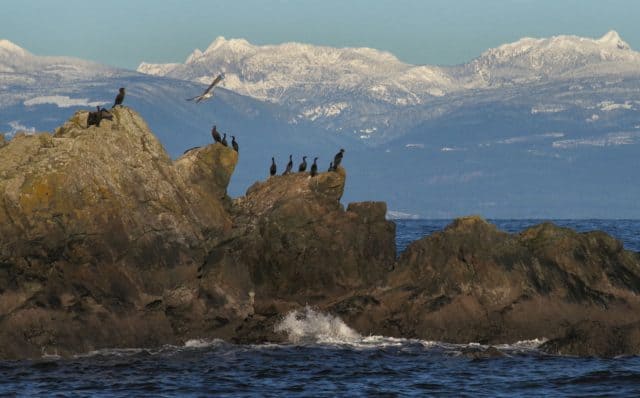 Looking for other non-sporty things to do in Nanaimo? You can stroll around Nanaimo Old Town with cute cafes and small shops. Be sure to try out the famous Nanaimo delicacy: Nanaimo bars! These sticky bars come in lots of varieties but always consist of three layers: a crumb-base, butter icing in the middle and a layer of chocolate ganache on top.
Other fun Nanaimo activities include whale watching and watching the daily cannon firing ceremony on the waterfront (from May through September, at noon). If time allows, explore iconic Nanaimo attractions such as the tidal lagoon at Pipers Park, sandstone rock formations at Malaspina Galleries, the Abyss fault line, and Ammonite Falls.
How to get to Nanaimo from Vancouver: Nanaimo can easily be reached from Vancouver by BC ferries, either from Horseshoe Bay (1 hour 40 minutes) or from Tsawwassen (2 hours). You can also fly into Nanaimo Airport via Air Canada, WestJet or Island Express Air.
Where to stay in Nanaimo: Coast Bastion Hotel is a top-rated hotel in Nanaimo. Select your travel dates on TripAdvisor and see the lowest prices for Coast Bastion Hotel.
7| Port Renfrew
Recommended by Taryn of Happiest Outdoors
Port Renfrew, BC is tiny, but that's part of the appeal. Nestled in between old-growth forests and the wild Pacific Ocean on the west coast of Vancouver Island, it's an emerging ecotourism destination.
Port Renfrew is home to world-class salmon fishing, kayaking, and beachcombing. Two of BC's premier multi-day hikes also start in Port Renfrew: the famous West Coast Trail and its lesser-known neighbor, the Juan de Fuca Trail.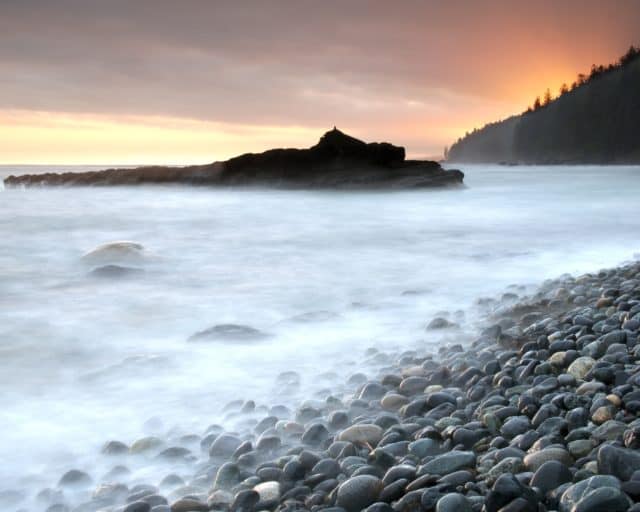 Recently, Port Renfrew has also been called the Tall Tree Capital of Canada. The nearby forests have some of Canada's oldest, tallest and largest trees. Make sure to include the hike to Avatar Grove, a group of HUGE old-growth cedars and firs, on your list of things to do in Port Renfrew! You should also see Big Lonely Doug, the world's second-largest douglas fir. He got his name after the trees around him were clear cut in 2012. Now he stands all alone!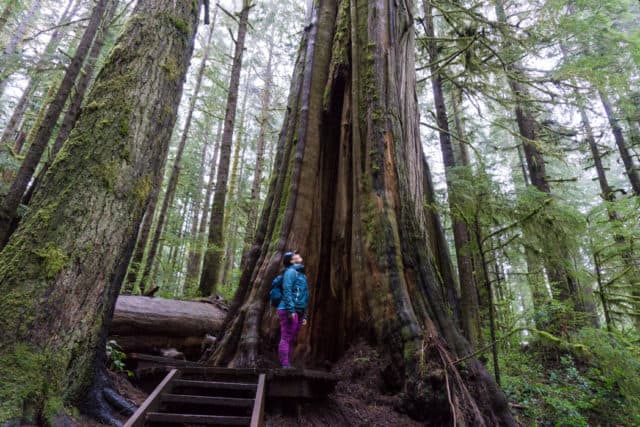 How to get to Port Renfrew from Vancouver: The journey of getting to Port Renfrew is also a key part of the experience. It sits in the middle of the Pacific Marine Circle Route, a 260 km road trip full of hikes, beaches, waterfalls, and a gorgeous rainforest. The fastest way is to take a ferry or plane from Vancouver to Victoria, then drive the Pacific Marine Circle Route from Victoria to Port Renfrew (2 hours).
West Coast Trail Express provides a shuttle bus service from May through September between Victoria and Port Renfrew.
Where to stay in Port Renfrew: Top accommodations in Port Renfrew include Seaside Cottages and Soule Creek Lodge.
8| Bowen Island
Recommended by Hannah Kacary of That Adventurer Blog
Bowen Island is under an hour away from downtown Vancouver, but feels like a million miles away thanks to the solitude and slower pace of life you'll find there. It's the ideal place for a weekend getaway from Vancouver.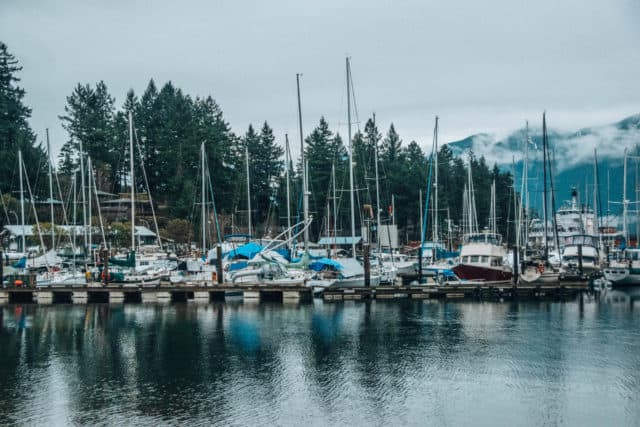 What to do on Bowen Island? Most people visit Bowen Island because they want to relax, but there are still plenty of activities to do on this small island: from relaxing on the beach at Tunstall Bay to hiking Mount Gardner to kayaking in the Howe Sound surrounded by beautiful views.
Biking is one of the most fun things to do on Bowen Island. There are 6 bike routes you can take to get to various beaches and viewpoints!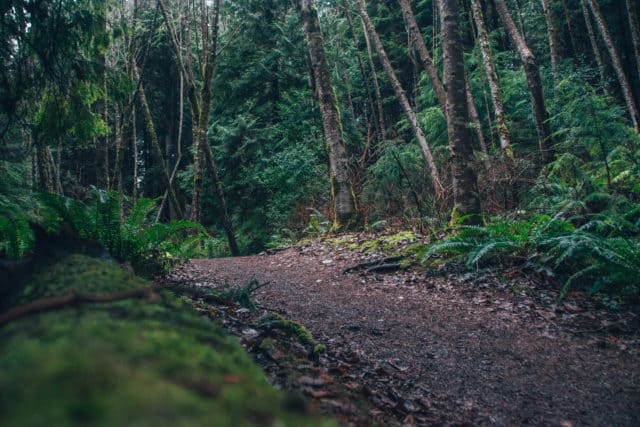 When you're done exploring the nature of Bowen Island, be sure to check out the artisan shops in Artisan Square and Branch and Butter right next to the ferry terminal, which sells Canadian made gifts and homewares.
And, when it comes to food on Bowen Island you have to drop in at The Snug for a morning coffee and bagel and grab tapas from Barcelona or pizza from Tuscany for dinner.
How to get to Bowen Island from Vancouver: You can drive to Horseshoe Bay or get on the 257 bus. From there, board the ferry to Snug Cove/Bowen Island, which takes just 20 minutes and leaves regularly throughout the day.
Bowen Island is small and for a weekend you don't necessarily need a car. Most people get around the island by bus or hitchhiking. If you go car-free your ferry ticket will cost just over $12, and with a car, a ticket to Bowen Island costs around $35.
Where to stay on Bowen Island: Recommended Bowen Island hotels include Nectar Yoga B&B and Artisan Suites.
9| Kelowna, Okanagan Valley
Recommended by Nicole Fiorante of The Passport Kids
Kelowna, in the Okanagan Valley, is a quick weekend trip from Vancouver and popular among wine drinkers! As the birthplace of winemaking in British Columbia, Kelowna has over 40 wineries within a 20-minutes drive! You can easily spend the entire weekend just wine-tasting!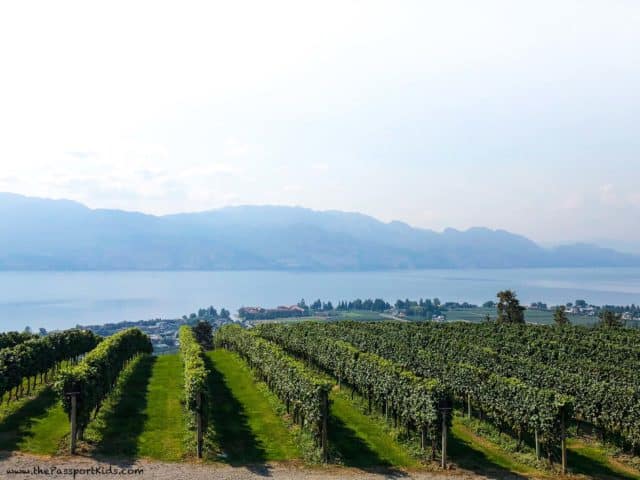 Follow one of the five wine trails (Lake Shore Wine Route, Downtown Grapes & Grain, Kelowna's Southeast Bench, Westside Wine Trail, and Lake Country's Scenic Sip) and discover why Okanagan Valley is ranked among the world's best wine regions. Mission Hill Winery, Quails' Gate, and Sandhill are some of the best wineries in Kelowna.
Besides visiting top wineries in Kelowna, don't miss the opportunity to taste farm to table cuisine and the stunning Okanagan Lake views. Additionally, walk along the Kelowna promenade for gorgeous views of the boat harbour. Or visit the local fruit orchards, cideries or breweries for something a little different.
If you are looking for outdoor fun, hike up Knox Mountain, bike Myra Canyon, golf one of the amazing courses or visit one of the waterfalls close by (Christie Falls, Fintry Falls, and Bear Creek Falls are popular ones) anytime during the year.
Also, check out the list of weekend festivals that are held throughout the year for music, entertainment, sporting or food events. There is always something going on during the weekend down by the city park!
How to get to Kelowna from Vancouver: A stunning drive east through the mountains via Highway 1 and 5 for 4 hours will get you from downtown Vancouver to Kelowna. The city is also accessible by flight. Direct flights from Vancouver to Kelowna International Airport only takes one hour.
Alternatively, you can consider shuttle bus services offered by Ebus.
Where to stay in Kelowna: Best hotels include The Royal Kelowna, The Cove Lakeside Resort, and Delta Hotels by Marriott Grand Okanagan Resort. You can compare prices for these Kelowna hotels on TripAdvisor.
10| Prince Rupert
Surrounded by water and lush rainforest, Prince Rupert boasts unspoiled wilderness and abundant wildlife. This northern BC city promises to make your weekend getaway in BC a memorable one!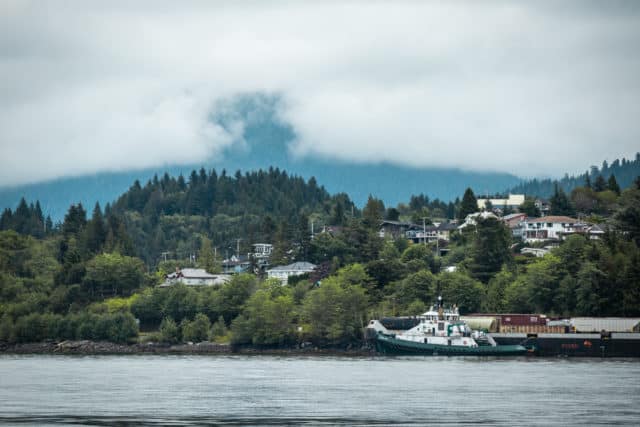 One of the most popular things to do in Prince Rupert is visiting the Khutzeymateen Grizzly Bear Sanctuary. The wildlife park is home to over 50 grizzlies where they roam wild and free. Grizzly sighting is almost a guarantee!
Many visitors also come in the summer for whale watching. Sighting of humpback, minke, orca, and grey whales are common. You might even witness the spectacular behavior of bubble-net feeding!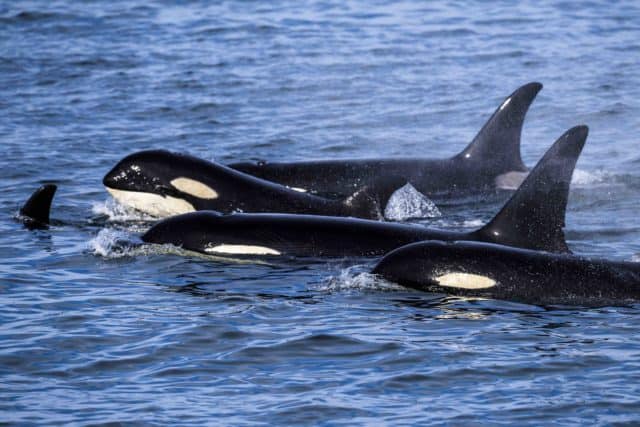 While you're in Prince Rupert, make sure to stop by North Pacific Cannery for a tour. This historic site is a living museum and the oldest salmon cannery on the West Coast of North America that still remains intact. The 130-year-old cannery will take you through the history of the salmon canning industry in west coast Canada and its multicultural workforce dating back to the late 19th century.
How to get to Prince Rupert from Vancouver: the fastest and easiest way is to arrive by plane. In the summer, Air Canada runs two scheduled flights every day. Flight time is two hours.
Where to stay in Prince Rupert: Top hotels in Prince Rupert include Crest Hotel and Inn on the Harbour. Compare prices for these Prince Rupert hotels on TripAdvisor.
---
There you go – 10 beautiful places near Vancouver, BC you can visit on a weekend! What are you waiting for? Book your weekend getaways in BC now! Still need more options? Try Richmond or Surrey for excellent foodie adventures!
Enjoy this post? Save THIS PIN on your Canada Travel or Road Trips board on Pinterest so you can come back later to plan your trip!