This site uses affiliate links and we may earn a small commission when you use our links and make a purchase without incurring additional fee yourself. Many thanks for supporting this website. Please see our disclosure page for more details.
There are so many places to go yet too little time. It is especially true for those who only get 4 weeks of paid vacation per year. Have you ever wondered how people squeeze 3 or 4 cities into a two-weeks-long international trip? How to get more out of your vacation without spending more? This article is packed with travel tips and tricks to help you maximize your vacation time while guarding your wallet!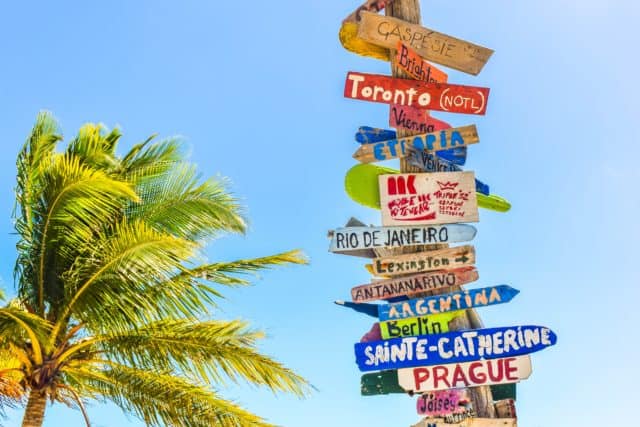 Special thanks: We are honored to have Taylor Cole Longacre, who is an expert on airport travel to share a few of her travel hacks. Her credentials include being the show host for Hotel Hunt on Amazon Prime Video, the hotel expert for the Informed Traveler radio show and podcast as well as the spokesperson for major travel brands like Travelocity, Sabre, Hotels.com, Expedia Group, and The Lufthansa Group.
Don't have time to read? Save THIS PIN on your Travel Tips or Trip Planning board on Pinterest so you remember to come back later!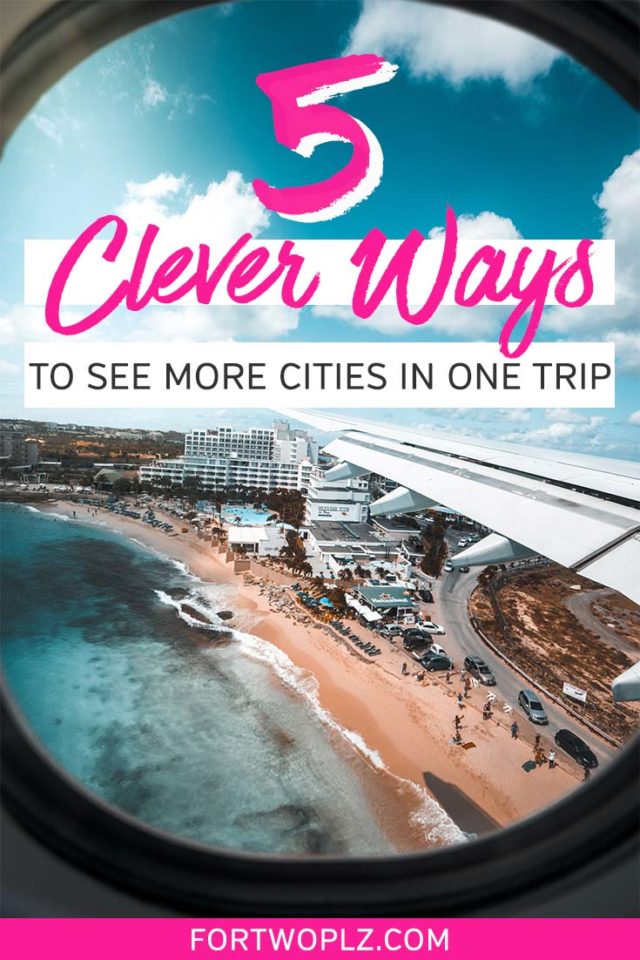 This post contains affiliate links, meaning if you book or buy something through one of these links, we may earn a small commission (at no extra cost to you!).
Travel Tips & Tricks #1: Book Connecting Flights Instead of Direct Flights
First, let's make it clear what counts as a connecting flight.
"Connecting flights are flights requiring passengers to leave the plane and board a different aircraft in order to reach their final destination."
– AlternativeAirlines.com
Wait… doesn't booking connecting flights actually waste your vacation time?
Quite the contrary! Booking connecting flights actually allows you to visit additional cities on your international trip. In addition, these connecting flights are normally cheaper than non-stop flights! But you gotta do it right.
Here are some layover flight hacks to keep in mind:
✓ Choose a city that interests you. Make sure the layover airport brings you closer to your final destination AND it is a place you have interest in exploring (hey, if you are to spend your precious vacation day at a place, it better be somewhat fun!).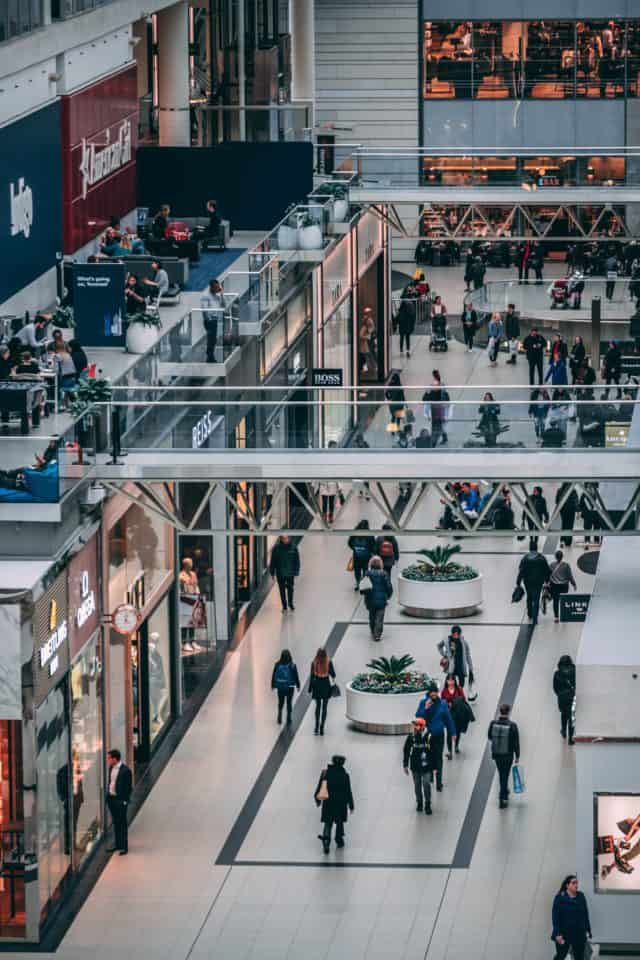 ✓ Have a minimum of 4 hours between flights. This is to ensure there's enough time for you to leave the airport, explore the city, and go through immigration and security.
Flying between USA and Canada? You will have to go through customs and immigration at the connecting airport.
✓ Know what to do with your carry-ons. If you're only stopping over for a few hours, you can store your carry-on in most airports (like JFK International Airport in NY and SeaTac Airport in Seattle). Check the airport's website, search Services & Amenities and see if they have lockers or short term storage areas. Most airline lounges have lockers and storage areas too, but confirm that it's okay for you to leave your luggage unattended in the lounge.
More about connecting flight baggage: You checked baggage will normally be automatically transferred onto your second flight UNLESS you book your connecting flights independently. ALWAYS check with the airport staff when you check in luggage for your first flight whether you need to collect your baggage and re-check it before your connecting flight.
Travel Tips & Tricks #2: Make a Stopover at an Airport that Offers a Free City Tour
Yes, you heard it right! There are some airports offering free city tours to visitors. What a money-saving way to explore a new destination!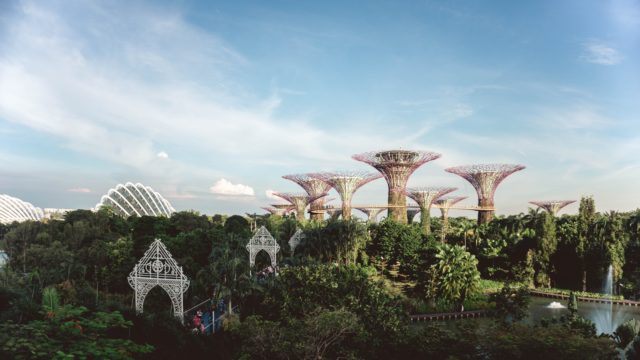 Here are five airports with free tours and activities:
→ Singapore Changi Airport: If you have at least 5.5 hours at your Singapore stopover, consider joining a Singapore airport free tour! There are three free 2.5-hour guided tours to choose from – Jewel Tour, Heritage Tour, and City Sights Tour, available daily. [Suspended until further notice]
→ Incheon International Airport (South Korea): The airport offers as many as 8 different transit tours, ranging from visiting cultural heritage sites to shopping in the trendiest district. Whether you're interested in a quick 1-hour tour or a half-day trip, there are plenty of options to suit your schedule and interests. Click here to learn how to sign up for an Incheon International Airport transit tour.
→ Taoyuan International Airport (Taiwan): Take advantage of the half-day tours to explore Taipei! One offered in the morning, one in the afternoon, you will need at least 7 hours in transit to participate. Click here to learn how to sign up for the Taoyuan airport free tours.
→ Tokyo Narita Airport (Japan): If you have more than 5 hours at the airport, don't miss the opportunity to take part in a Japanese cultural experience. Sign up for one of the 12 Narita Airport transit tours. Both the guided and self-guided tours are offered at no cost, but you'll have to cover your own transportation and museum entry fees. Click here to learn how to book a Narita Airport transit tour.
→ Istanbul Airport (Turkey): It's worth looking into Touristanbul if you're having a connection of more than 6 hours at Istanbul Airport, the home base for Turkish Airlines. At your Turkish Airlines stopover, Istanbul Airport offers a complimentary tour service to take you around the city! It's the perfect opportunity to discover classic cultural sites such as Blue Mosque, Topkapi Palace, Haga Sophia Museum, and Grand Bazaar. Tours run daily and are free for Turkish Airlines international transit passengers. Click here to learn more about Turkish Airlines' Touristanbul program.
Other major airports, although not offering free tours at the moment, promote themselves as layover destinations. Cities like Toronto, Atlanta, Sydney, Amsterdam, Washington D.C., and Chicago are easily accessible by public transport from the airport and can be explored during the layover time.
Taylor pointed out that in Dallas, DFW Airport is considered a layover destination in itself. If you have an overnight layover, book a room at Grand Hyatt in Terminal D, visit a yoga studio in Terminals D and E, browse art while you walk along the motorized walkway and then eat to your heart's content (Tex Mex, burgers and some barbeque!). If your layover is longer than 6 hours, consider leaving DFW to visit the Perot Museum of Nature and Science, go shopping in Uptown Dallas, and exploring historic sites like the Sixth Floor Museum and the Fort Worth Stockyards.
Long layovers in exotic cities can seem intriguing, but keep in mind the total trip duration and make sure you get plenty of rest. Most airports have showers, sleeping pods, day spas, and complimentary filtered water to keep you refreshed and hydrated.
A note on "Stopovers": We've been using the terms "stopover" and "layover" fairly loosely so far, but there's actually a distinction between layover vs stopover. Layover is a connection of fewer than 24 hours in a city, whereas a stopover is when you stop for more than 24 hours.

Most airlines permit multiple layovers of under 24 hours en route to your final destination, but they do not necessarily permit stopovers. For example, American Airlines doesn't allow stopovers, but Air Canada allows two stopovers per direction of travel and one open-jaw (more on this later) for travel between two continents.
Travel Tips & Tricks #3: Take Advantage of Airline Stopover Programs
Do you know that some airlines offer stopover programs at a low cost? Some are even free of charge! A great way to add on an extra destination to your international trip.
Here is a list of airlines with an excellent stopover program:
→ Air Canada: Passengers with a connection time of 6 hours or more in Montreal, Toronto or Vancouver are eligible for one-night hotel accommodation. Route through one of the cities on your way out and another on the way back, and you'll see two Canadian destinations in one trip! Click here for more details on the Air Canada Stopover program.
→ Swiss International Air Lines: In close collaboration with Switzerland Tourism and Switzerland Travel Centre, SWISS offers the Stopover Switzerland program for both leisure and business travelers to extend their stopovers in Switzerland by 1 to 4 nights. Starting at CHF 180, you can include a hotel stay at one of the Switzerland destinations, free public transport across the country, and more! Click here to learn more about the Stopover Switzerland program.
→ Brussels Airlines: The Lufthansa Group airlines offer its passengers the opportunity to visit two different Belgian cities when flying via Brussels Airport to Africa, Europe, the U.S., Israel, Canada or India. Within the Belgium Stop Over program, travelers can choose from a variety of Belgian cities, including the capital Brussels or Durbuy (Europe's tiniest city), for a stay of 1 to 5 days. Click here to learn more about Brussels Stop Over.
→ Singapore Airlines: Flying through Singapore? Check out the stopover holiday packages offered by Singapore Airlines. Starting at SGD$63, you can include a hotel stay, complimentary admission to over 20 attractions, dining deals and more! Click here for more details on the Singapore Airlines Stopover Holidays.
→ Qatar Airways: Passengers with a stopover in Doha, Qatar with Qatar Airways are eligible for a four-star or five-star hotel stay with a minimal booking fee. You can book up to 4 nights at a luxurious hotel starting from just QAR $84! Click here to learn more about the Qatar Stopover offer.
→ Emirates Airlines: Good news to those who have an Emirates stopover in Dubai with more than 8 hours (or 6 hours for First Class and Business Class passengers): you can score a free hotel stay, complimentary meals, and airport/hotel transfer with Dubai Connect. Don't qualify because you have an overnight layover in Dubai? Emirates' Dubai Stopover on Arrival package gives passengers exclusive rates at luxury hotels and beach resorts for up to 3 nights, starting at USD$45 per person. Click here to learn more about these Emirates Travel Services.
→ Finnair: Add a stopover in Helsinki from 5 hours to 5 days to any round trip without any additional cost! Finnair even offers a wide variety of Nordic experiences to keep you entertained. Click here to learn more about Finnair stopover.
→ Icelandair: When flying across the Atlantic, you can make a stopover in Reykjavik for 1 to 7 days at no additional cost to your airfare. Click here for more details on Icelandair Stopover.
→ KLM: Spend some extra time by adding two free stopovers in Amsterdam, one on the outbound and one inbound – at no additional cost! A special bonus for flying with the Dutch Airlines. Click here to find out how to arrange a free stopover with KLM.
→ TAP Air Portugal: When purchasing a roundtrip flight, you can choose to stopover in Lisbon or Portugal up to 5 nights without paying extra. The airlines even have an app to help you plan your stopover in Portugal, offering special hotel rates and exclusive experiences! Click here to find out how to book a stopover with TAP.
Don't have time to finish reading? Save THIS PIN on your Travel Tips or Trip Planning board on Pinterest so you remember to come back later!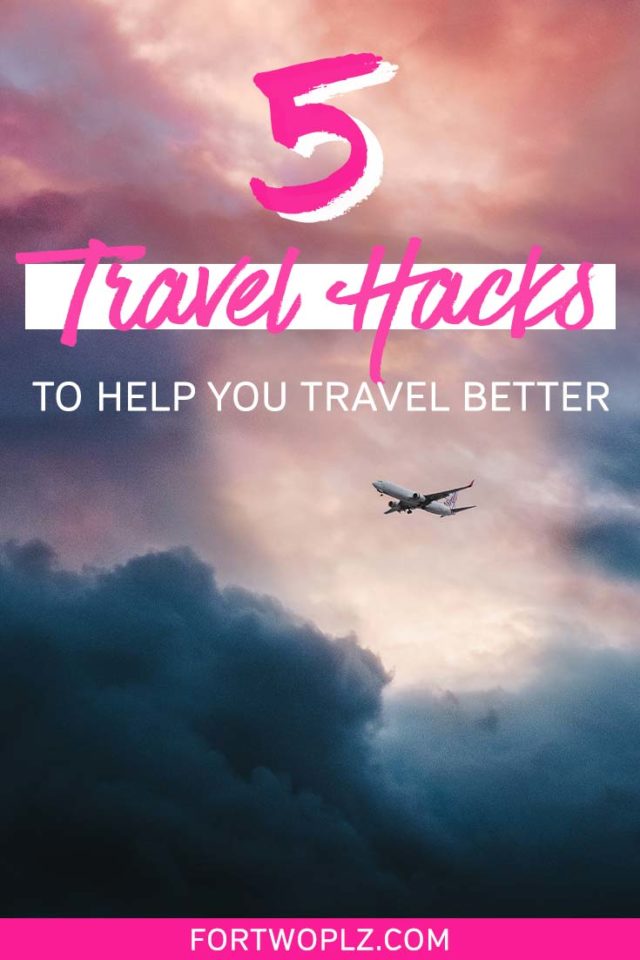 Travel Tips & Tricks #4: Don't Restrict Yourself to Round Trip Tickets
Most of us are familiar with round-trip tickets between Point A and Point B. But do you know that there are other itineraries that can add more flexibility to your travel. In some instances, you can even save money!
Here are some ticket types worth considering for your next travel:
→ Round-Robin: is the most common type. This is when you fly from one city, make a stopover at one or more cities (e.g., using the Airlines Stopover programs mentioned above), then fly back to the origin. The trip makes a complete circle.
An example would be a trip from Vancouver to Tokyo (Japan), stopping for a few days in Tokyo, then connect to Taipei (Taiwan) for a few days, then fly back to Vancouver. Booking it as a round-robin flight is oftentimes cheaper than booking three separate flights.
→ Open Jaw: When your destination and/or origin are not the same in both directions. For example, fly from Calgary to Quebec City, then get a rental car and drive from Quebec City to Percé, then fly back home from Gaspé. Another example would be flying from Montreal to Toronto, then from Toronto to Ottawa, and then taking a train ride back from Ottawa to Montreal.
Open Jaw tickets are usually cheaper than flying to each destination, presenting the perfect opportunity for a road trip!
Travel Tips & Tricks #5: Shop Around and Compare Prices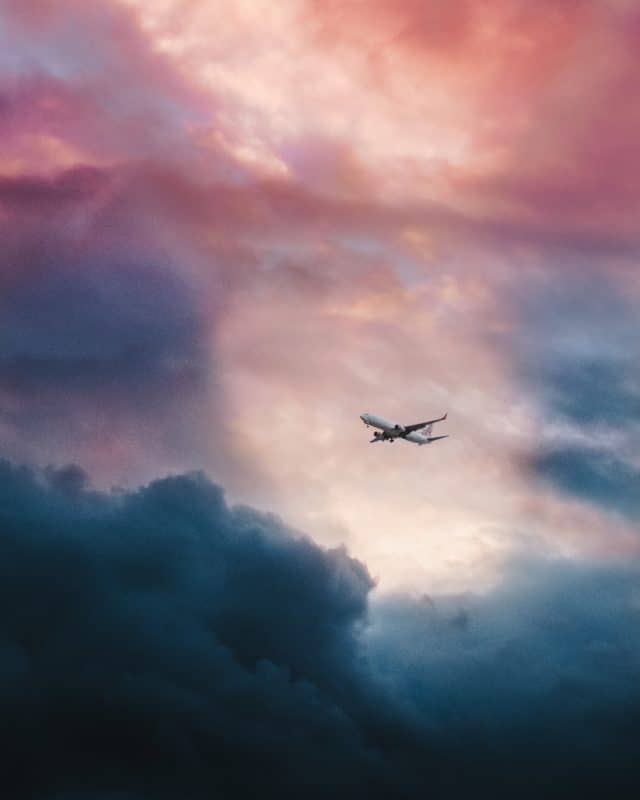 Should you book directly through airlines or a 3rd party flight search engine? It's always a good idea to shop around and compare flight prices.
Taylor recommended using FareCompare to check prices on flights, especially when you don't have an airline preference. The site also searches multiple flight booking sites like FlightHub, Expedia, Travelocity, and CheapOair, to compare prices.
For example, for a round-trip flight from Toronto to Paris with an overnight stopover at Reykjavik, the price was more expensive on Icelandair (quoted online for CAD$666 in mid-November). But on Expedia, the best round-trip flight price with the exact search was CAD$600.

That doesn't mean you should overlook the benefits that come with booking directly with airlines. Image having to make a change within minutes of hitting "Book." Lufthansa has what they call the "reflection period" where your price is guaranteed for 48 hours and you can change or cancel if you need to, without a change fee.
When booking directly through airlines, make sure to run a search on "multi-city" as well as "one way." Booking separate flights can be more economical when the airline has several flights to and from your preferred airports.
Also, when you book for more than one passenger, book those tickets separately. Sometimes you'll get cheaper fares when you break apart your party's itineraries.
---
So many great travel tips and ideas to maximize your vacation! Are you ready to book your next international trip?
To get more travel hacks from Taylor, follow her on Twitter @TravelwithTLC.
Enjoy this post? Save THIS PIN on your Travel Tips or Trip Planning board on Pinterest so you can come back later to plan your trip!