This site uses affiliate links and we may earn a small commission when you use our links and make a purchase without incurring additional fee yourself. Many thanks for supporting this website. Please see our disclosure page for more details.
If you're visiting Banff National Park, it is very likely that you will fly into Calgary first. Calgary is the gateway to the Canadian Rockies and offers plenty of fun things to do for young adults, which also makes it a perfect stop as part of your Southern Alberta road trip! Before embarking on your road trip to Banff, why not stop by the city for a day or two? We partnered with Expedia.ca to bring you the essential 2-day guide of the best Calgary hotels, trendiest restaurants, and top sights to see. Happy travels!
Your Calgary 2-Day Itinerary
How to Get to Downtown Calgary From the Airport
Once you are at Calgary International Airport, there are a few transportation options to get to downtown Calgary.
By Car
The city is very spread out so we strongly recommend renting a car, especially if you're planning to do quite a bit of exploring.
As a car-centric city, the roads are easy to navigate. From the airport, take Alberta Highway 2 (AB-2) towards the south, then merge onto Memorial Drive. In 20 minutes, you will be in downtown Calgary.
Several companies provide car rental service at the airport, including National, Alamo, Avis, Enterprise, Hertz, and Avis. Their counters are located on the departures level across from the Domestic Terminal.
You can also use a car-sharing service. If you have a car2go membership from other cities in North America, you can use the car2go app to reserve a car. Special rates apply.
By Uber or Taxi
Don't feel comfortable driving? Request an Uber!
It is a convenient and easy way to get you into the city. The estimated rate to downtown core ranges from CAD$25-$31.
Remember: your driver will pick you up at the departures level. When requesting your ride, you will have the option to choose either door 1 or door 12.
Taxis are also available (on the arrivals level) but are more expensive. Typically, a ride to downtown Calgary costs around CAD$40-$45.
By Hotel Shuttle
Some hotels offer courtesy shuttle service to and from the airport to their guests. Check with your hotel beforehand if they offer such service and arrange your ride.
Otherwise, an on-demand shuttle service is available for booking (CAD$15 one way, from the airport). The shuttle runs regularly between the airport and downtown Calgary, and make stops at many downtown hotels.
By Bus
If you'd rather take public transport, hop onto Route 300. The express bus services to downtown and operates every day from 5 am to midnight.
You can catch one every 30 mins at Bay 7 or Bay 32 on the arrivals level. The ticket is priced at CAD$10.50 and can be purchased at the ticket vending machine located at Bay 7 or Bay 32.
With the ticket, you will have all-day access to buses and CTrains (more on this later).
Even though this is the cheapest option, it takes about 90 mins to get to downtown.
Getting Around Calgary
By Car
Renting a car or using a car sharing service? Navigating your way around Calgary is easy.
The city is divided into 4 quadrants: Southeast (SE), Southwest (SW), Northeast (NE), Northwest (NW). Streets run north-south, while avenues run east-west. They are numbered and neatly laid out in a grid, especially in the downtown core. With this street network, it is extremely easy to get around the city!
Remember: The standard speed limit is 50 km/h. School and playground zones have a special speed limit of 30 km/h from 7:30 am to 9 pm year-round.
By CTrain and Bus
You can also discover Calgary via public transit. Calgary's transit system consists of buses and the Light Rail Transit (aka LRT or CTrain).
There are 2 CTrain lines: The Red Line runs from the northwest to the south, and the Blue Line starts in the northwest and travels to the west.
Transit tickets are CAD$3.30 per adult. Each ticket is valid for 90 minutes and entitles you to transfer to other buses or CTrain. You can purchase the tickets from the ticket vending machine located at each CTrain station. Day Passes (CAD$10.5) are also available for purchase.
Although the CTrain operates on the honour system, transit police check passengers at random. Therefore, make sure you keep your ticket as proof of payment!
Note: It is free to ride the CTrain throughout the downtown core, between City Hall and West/Kerby Stations.
By Uber
If that all seems too complicated to you, ride an Uber!
How to Spend 2 days in Calgary

Day 1 | Travel Back in Time
Morning: Start your day at OEB with a hearty egg breakfast! Using fresh free-run farm eggs, this popular breakfast joint will make any egg-obsessed go crazy! Eggs Benedict, omelette, poached eggs, scrambled eggs; you name it, they've got it! And their dishes come in the most inventive and delicious combinations ever! Hands down, the best breakfast in Calgary.
Need caffeine to jumpstart your day? Grab a cup of Joe at Rosso. This Calgary-based roaster & cafe chain is known for their high-quality, delicious coffee they sourced directly from around the world. Among the few locations across the city, my favourite is the one inside Studio Bell.
Spend the rest of your morning exploring Studio Bell. Opened in 2016, this ultra-modern architecture is the newest cultural landmark in Calgary and is dedicated to celebrating Canada's rich music history. Join a tour, walk through five floors of exhibition space, play instruments, and learn about the story of Canadian music!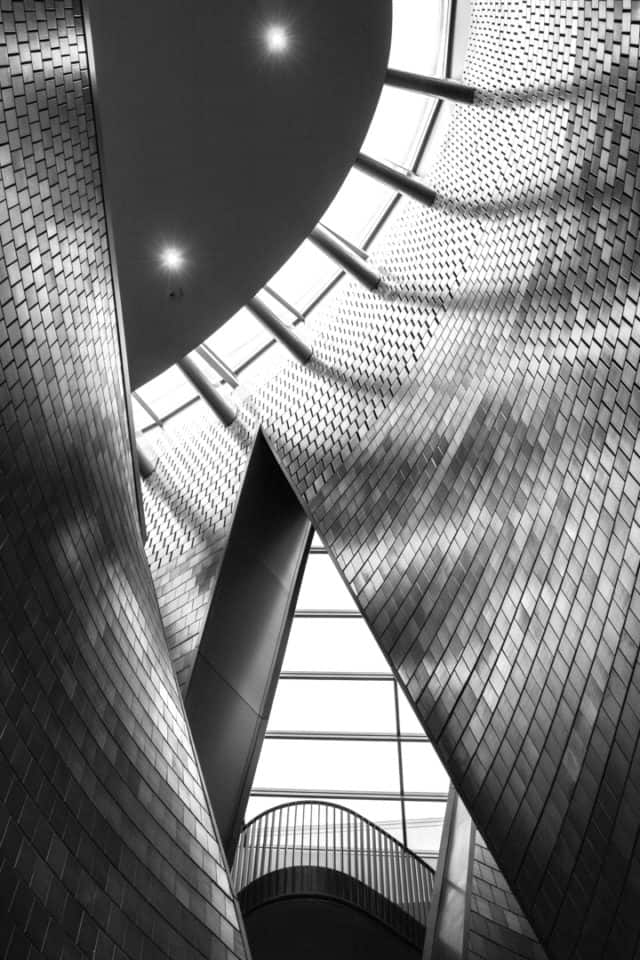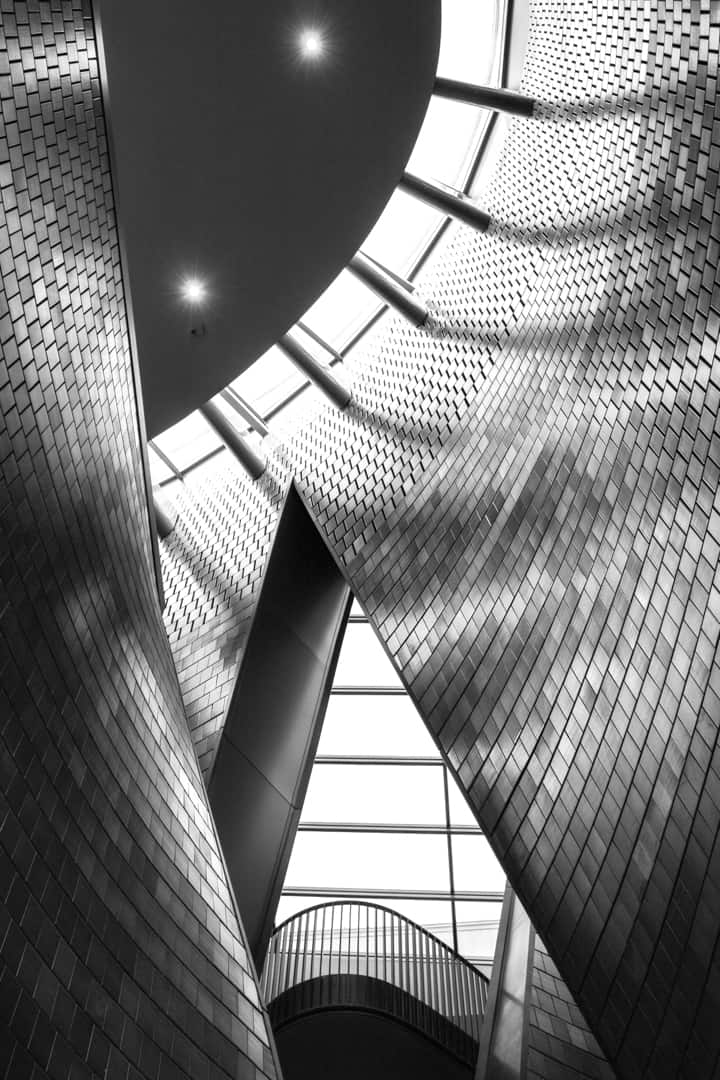 [irp posts="11261″ name="10 Unexpectedly Fun Date Ideas In Edmonton: The Foodies Edition"]
Afternoon: Lunch at Bridgette Bar, a casual, stylish restaurant in the Design District. Voted as one of the 100 Best Restaurants in Canada for a Big Night Out on OpenTable, Bridgette Bar is known for its mouthwatering wood-fired cuisine and creative cocktails. It serves a globally inspired menu that is designed to tantalize and impress. Signature dishes include braised rabbit on toast, wagyu beef carpaccio, lamb sausage, and grilled octopus, showcasing the freshest of flavours from farm and sea. Oh, and don't forget the "garlic bread," it's not what you expect!
Head over to Heritage Park Historical Village after lunch. A visit to Canada's largest living history museum will take you back in time and see what life was like from the 1860s to 1950s. Learn about the history of Western Canada while you immerse yourself in the old-fashioned fun! Hop on the vintage train, make your own old-fashioned ice cream, set sail on a paddlewheel boat, and watch history unfold before your eyes.
[irp posts="5859″ name="5 Must-Do Summer Activities In And Around Calgary"]
Catch the sunset at Calgary Tower. Sitting at 191 m above the downtown core, Calgary Tower gives you a stunning 360-degree panoramic view of the city skyline. On a clear day, you might even see the Rocky Mountains!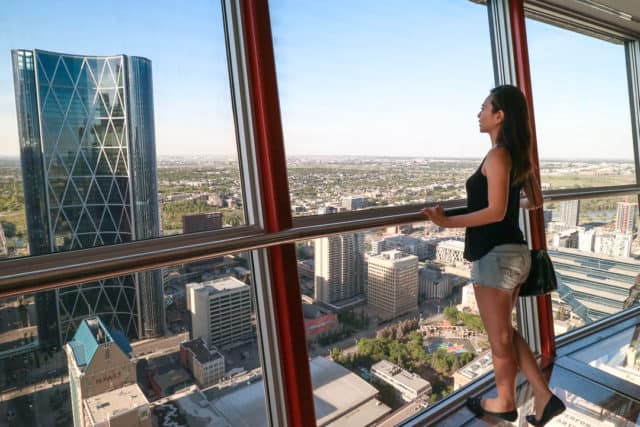 Evening: Dinner at The Wednesday Room, a sophisticated 1960's style lounge on Stephen Avenue. Not only does it have a creative menu of craft cocktails, it offers irresistible shareable plates to match.
Day 2 | Get Outdoors and Be Active
Morning: Treat yourself to a healthy breakfast at Sidewalk Citizen Bakery. Nestled in the Simmons Building in the East Village, the bakery sells delicious artisanal sourdough bread, croissants, and other freshly-baked goods, along with soul-warming Middle-eastern inspired offerings. Everything is made from scratch here.
Complement your breakfast with fresh brew coffee from Phil and Sebastian. They strive to source, roast and serve the best coffee possible. It's no wonder the locals consider it as one of the best cafes in Calgary!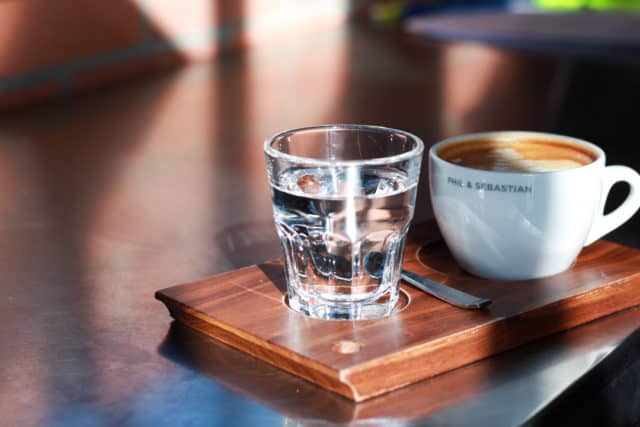 [irp posts="6372″ name="Urban Explorer x YYC: Trending Places to Hangout in East Village"]
Have a fun-filled morning at the Skyline Luge! This adventure activity begins with a leisurely chairlift ride up the hill, then cruise down on your own summer luge along the world's longest luge track! The exhilarating ride will take you through more than 50 twists and turns, covering over 1.8 km. It will give you so much fun and laughter. Once is definitely not enough!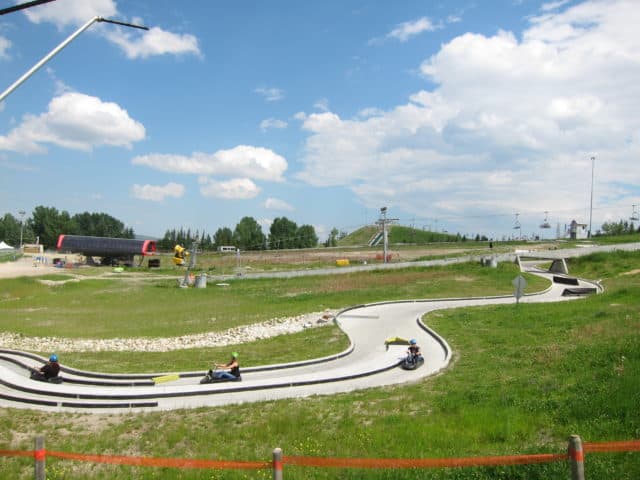 Afternoon: Enjoy a casual lunch at Hayden Block in Kensington. Serving house-smoked, Texas-style BBQ, this barbecue joint mastered the art of crafting delicious meals that fill up your belly. To pair with the meat, they've got you covered with an eclectic whiskey collection and delicious whiskey-based cocktails!
If that is too heavy to you, consider Cardinale, our new favourite restaurant in Calgary. This cozy eatery whips up delectable classic Italian fare that will transport you to Italy gastronomically. All their pasta noodles are made fresh each day. The polpette and mezze maniche (egg yolk carbonara) are absolute must-tries.
Join Calgary River Experience on an outdoor adventure in the afternoon. Along with a guide, you will float down the Bow River to get a unique perspective of downtown Calgary. Tours start at 1 pm and last about 2 hours.
Evening: In case you don't know, Alberta has some of the best cuts of beef in the world. Don't leave Calgary without having a good steak! Modern Steak is our top pick. It serves the best steak in Calgary by using 100% ranch specific Alberta Beef. While you're there, make sure you also try out the tartare, which is prepared in 5 different styles!
Cap off your night at The Tea House. This Chinese-themed bar hidden in the basement of Two Penny will surprise you with their innovative cocktail program. On Thursdays, the bar plays host to a live comedy show. Tickets at CAD$10, strongly recommend booking in advance.
[irp posts="7517″ name="Beakerhead: The Calgary Festival You Must Attend At Least Once In Your Life!"]
If you have extra time in Calgary, we recommend taking a trip to Spray Lakes in Alberta, which is only 50 mins away. It is the perfect place to connect to nature!
Where to Stay in Calgary
If you want to be close to the city's best restaurants and shopping, then we would suggest staying in one of the Calgary downtown hotels.
Conveniently located in the downtown core, Fairmont Palliser is a popular choice for luxury travelers. Housed in a historic building, the property exudes an old world charm. Kensington Riverside Inn is another great option. As a Relais & Chateaux property, the 19-room boutique hotel promises to lavish the guests with personalized service and great attention to detail.
If you prefer to stay closer to the airport, we recommend Calgary Airport Marriott In-Terminal Hotel over all the other Calgary airport hotels. Not only does it delight guests with all the modern amenities, the luxury hotel brings exceptional local fare and beverages to its guests so that they can experience Calgary right there. Plus, their rooms look out to the beautiful Calgary skyline!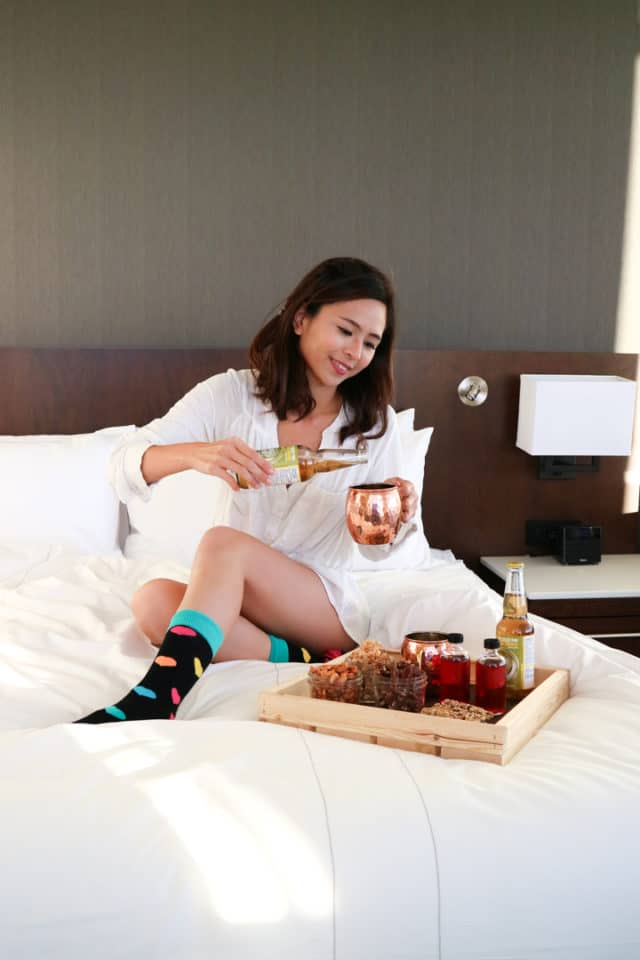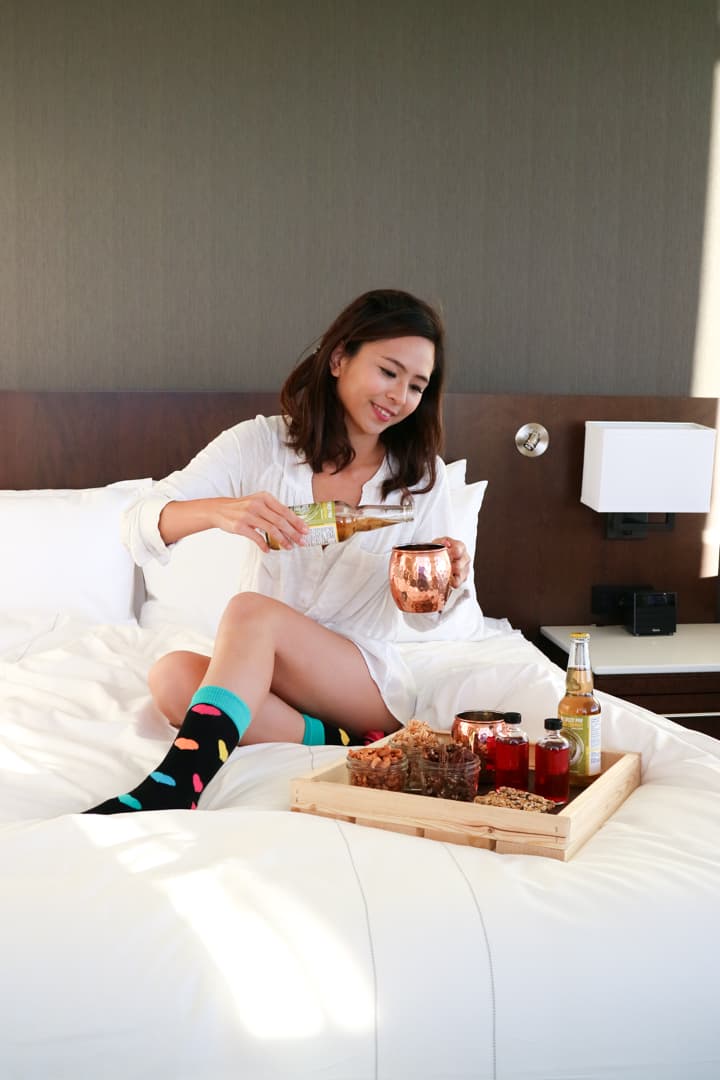 ---
This 2-day itinerary highlights the best of Calgary, incorporating a mix of outdoor activities, iconic attractions, and the best restaurants in the city. We hope this post inspires you to visit Calgary!
[one_half]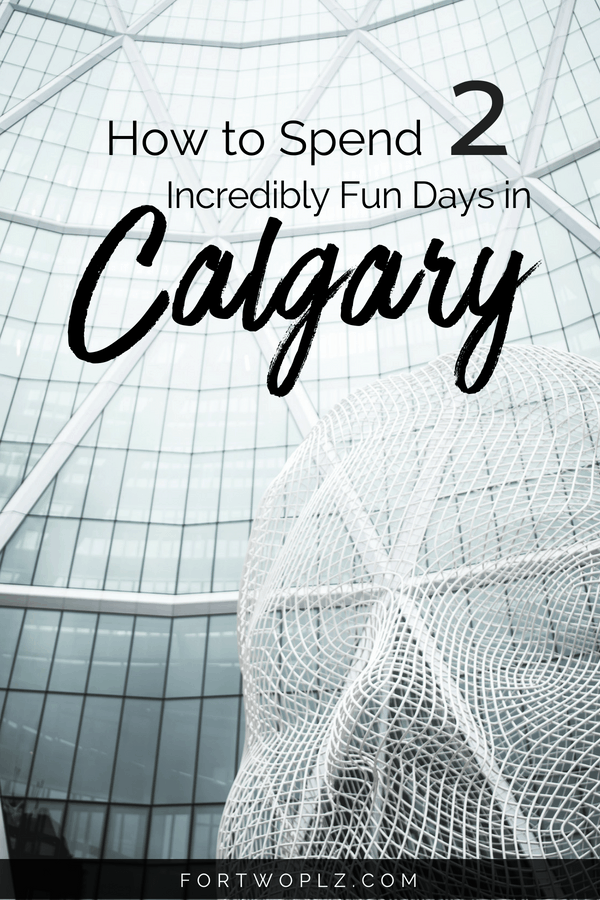 [/one_half]
[one_half]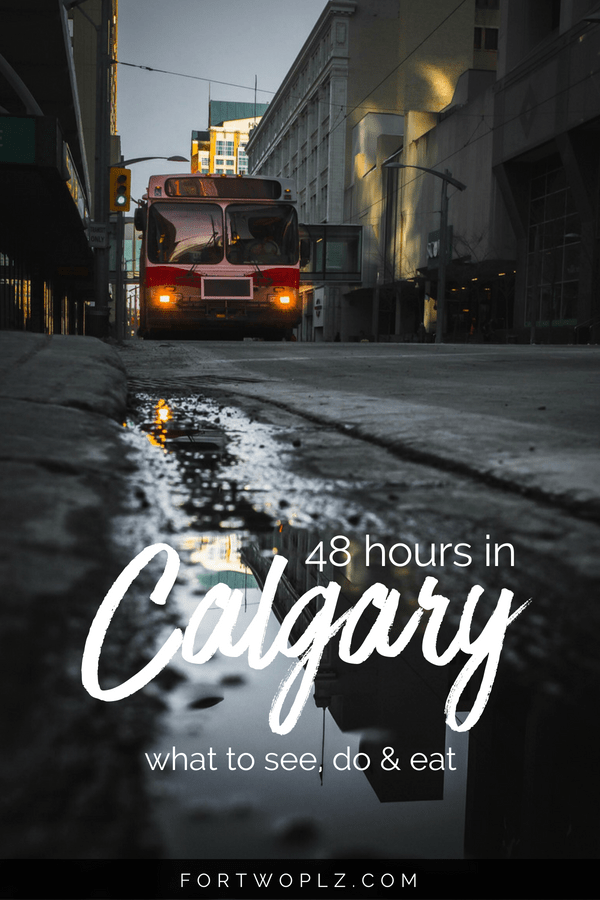 [/one_half]