This site uses affiliate links and we may earn a small commission when you use our links and make a purchase without incurring additional fee yourself. Many thanks for supporting this website. Please see our disclosure page for more details.
At last, Spring has arrived and flowers are coming in full bloom! On the west coast of Canada, that means the dazzling cherry blossom season is upon us. Victoria is one of the best places for viewing cherry blossoms in Canada – showing off 250,000 to 750,000 blossoms every spring!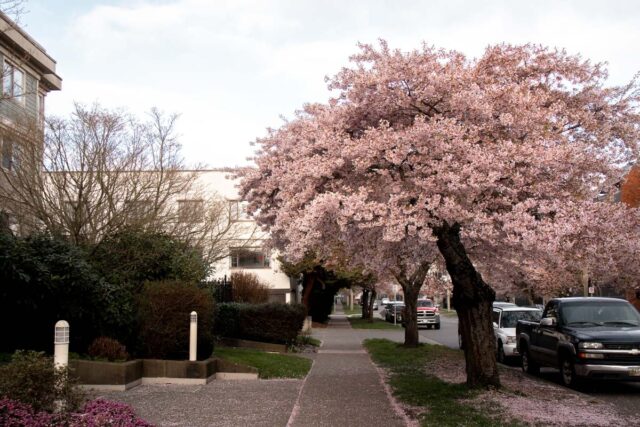 If you're planning a spring getaway to explore Victoria cherry blossoms in abundance, you'll be pleased to know there are plenty of places to find them!
In this all-in-one guide, we share EVERYTHING you could possibly need to know for your Victoria cherry blossom trip: from our top-rated list of where to see cherry blossoms in Victoria, to when is the best time to see them, and where to stay if you want to be near the peak bloom. We even sprinkle in some insider tips here and there 😉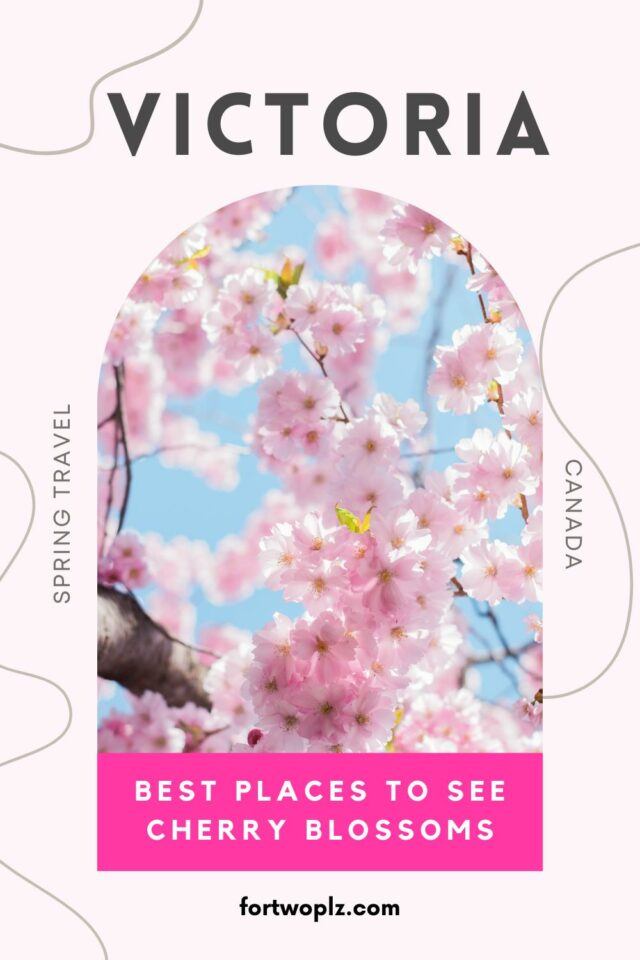 First time visiting Victoria? These travel resources will make your trip planning a breeze: 
→ eSIM: Knowroaming and Airalo both have affordable Canada data plans.
→ VPN: Boost your privacy and internet security with NordVPN.
→ Car rental: Discover Cars is great at finding and comparing the best car rental deals.
→ Going hiking? Explore nearby trails and use offline maps with AllTrails.
→ Visiting other parts of BC? Search for flight deals on Expedia.
→ Tours: Here are some of our favourites…
❋ Guided bike tour of the greatest parts of Victoria
❋ Fully guided whale watching cruise
❋ Downtown Victoria food & history walking tour
❋ Cowichan Valley wine & food tour
What is the difference between a cherry blossom and a magnolia?
Okay, before we dive into the topic of cherry blossoms, let's make one thing clear: Not all pink flowers that bloom in spring are cherry blossoms. *surprise, surprise*
But for non-avid botanists or gardeners like me and you it may not be so easy to tell all those flowers apart at first glance.
So, how do you know which flower is which?
There are a few key differences you can easily pick out, namely: the number of petals, the size of the flowers, and their shape.
Cherry blossom: flowers are smaller, have five petals, and grow in clusters.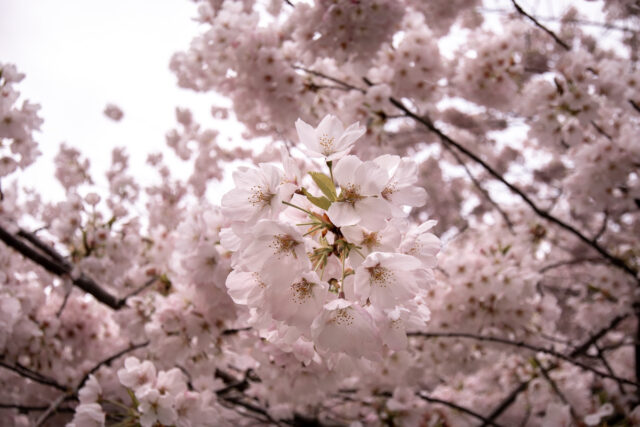 Magnolia: flowers tend to be larger, are bowl-shaped or star-shaped, and are fragrant.
One more distinguishing clue you can easily notice is that cherry bark has horizontal cracks, unlike magnolia bark, which has vertical splits.
What is the difference between a cherry blossom tree and a plum tree?
Another type of trees that is often confused with cherry blossom trees is plum trees.
To tell them apart, pay attention to the petals, tree trunk, and leaves.
Plum tree: has no split at the end of the petals, the leaves are purple, and the tree has no horizontal lines on the trunk.
Cherry tree: has a small split at the end of each petal, the leaves are green, and the tree has distinctive horizontal lines on the trunk.
Are cherry trees native to Victoria BC?
Cherry blossom trees are an icon on the streets of Victoria but they are not native to the Canadian land.
The earliest cherry blossom trees were first gifted by the local Japanese community with their prize money from winning the 1937 Victoria Day Parade. The group bought 1,013 Japanese cherry trees to donate to the City of Victoria.
The first cherry trees were planted along Moss Street in the Fairfield neighbourhood where some still survive today!
When do the cherry blossoms bloom in Victoria BC?
Now, let's tackle the important question that we're all dying to know: When do cherry trees bloom in Victoria?
Typically, Victoria's cherry blossoms begin to bloom by mid-February. However, with climate change these days, it is getting harder and harder to say for sure exactly when that will be.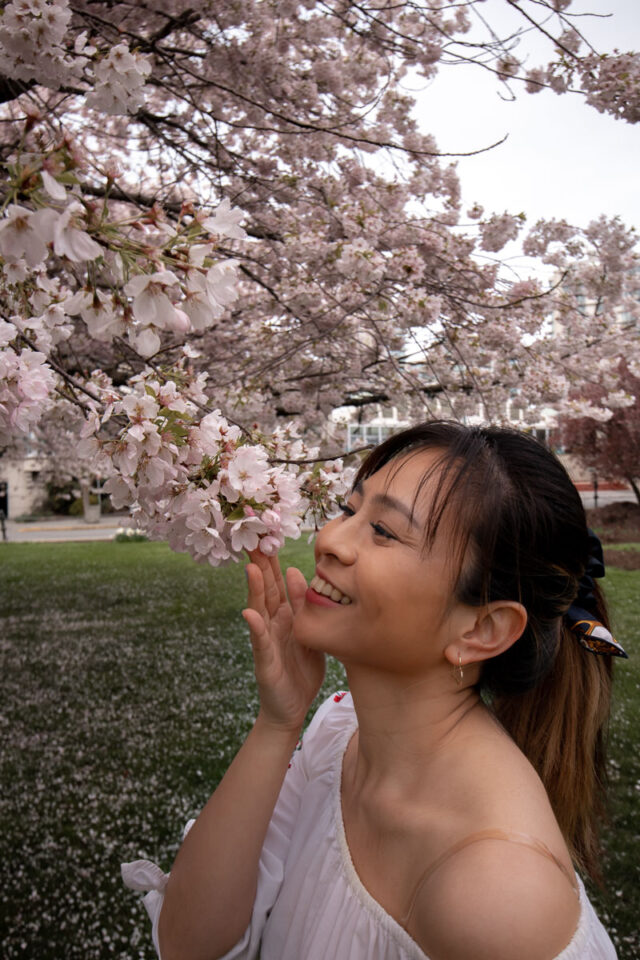 The few factors that determine when a tree will bloom include:
Location of the tree: trees in sunny locations may bloom several days earlier than trees in shadowy places.
Micro climate surrounding the tree: Trees surrounded by buildings may be protected from wind and benefit from the heat the buildings give off.
Tree species: different varieties have different bloom times. Early bloomers in Victoria bloom February-March while later bloomers show up in April-May.
The weather in the months and weeks preceding the blossom season: If the weather has been mild, this generally translates into blossoms that open early; colder weather would result in later opening.
Insider's Tip: Downtown Victoria and the bordering neighbourhood of James Bay are typically the first to start blooming, while the Westshore is usually a couple of weeks behind.

Mid-February is usually when the Victoria cherry blossom season begins, with the trees lining View Street, and continues on until early May.
The best time to see cherry blossoms in Victoria BC
If you want to fully immerse yourself in cherry blossoms, you'll want to know that the peak of the blooming season usually falls in late March.
Last year on our spring trip to Victoria, we were delighted to see Canada cherry blossoms grace the streets and parks all over the city by the end of March!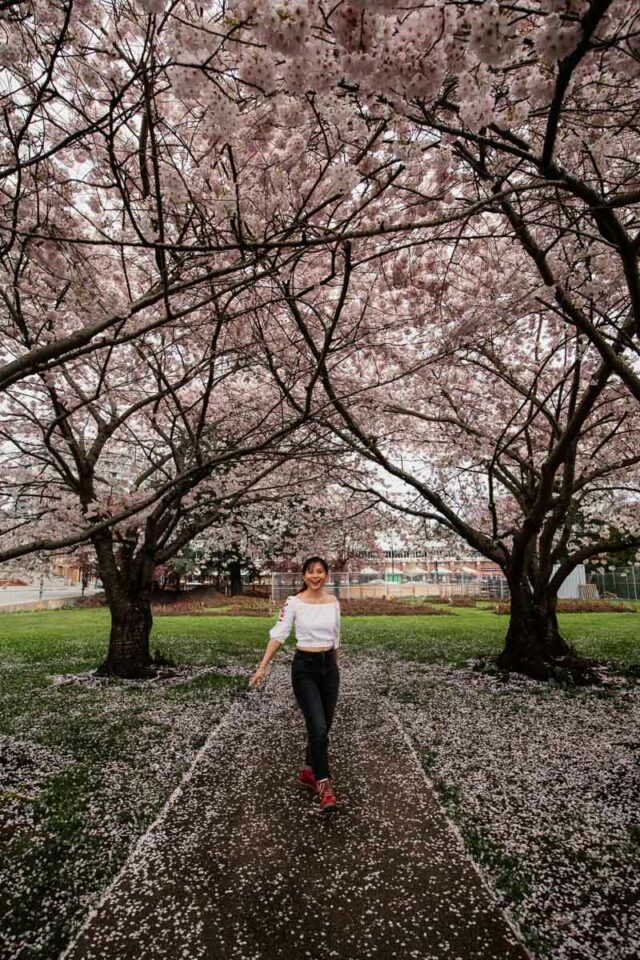 But as mentioned earlier, various factors can impact when the peak season will occur. We recommend keeping track of the weather in Victoria for a few weeks preceding your trip.
Notice: Is the winter exceptionally cold and long this year? Is the weather warming up earlier than expected? That will give you a better idea of whether the cherry blossoms will bloom early or late this coming spring.
How long do cherry blossoms last?
Cherry blossoms typically last from one to two weeks. We know… these pink flowers are ridiculously short-lived!
Luckily, the city of Victoria has different varieties of cherry trees that bloom at different times so that we can enjoy cherry blossoms for two months instead of two weeks!!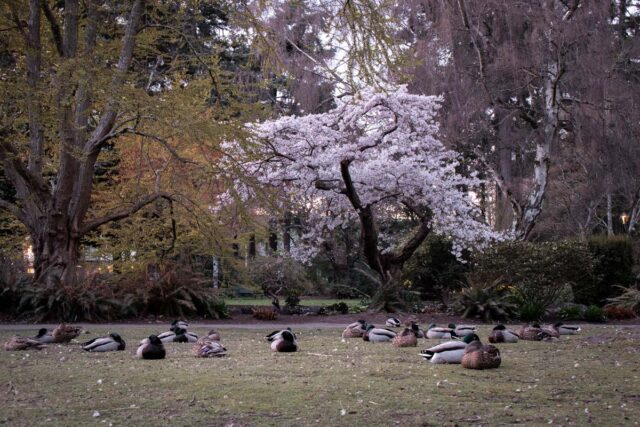 In general, dark pink cherry blossoms bloom between February and March, while light pink flowers bloom between April and May.
Insider's Tip: Okay, you might wonder "where are the early blooming vs late blooming cherry blossoms in Victoria BC?". Good thing there's a Victoria cherry blossom interactive map! It pinpoints different types of blossoming trees across the city depending on the time of year!
The best cherry blossom viewing spot in Victoria
✿ Cherry blossoms near Victoria's inner harbour
Along the Inner Harbour, you'll find breathtaking displays of bright flowers outside various landmarks. Here are some of our favourites:
1| Belleville Street outside the Hotel Grand Pacific and Steamship Terminal.
2| Menzie Street on the grounds of the Parliament Buildings.
3| Thunderbird Park & Helmcken House.
4| The park by Fairmont Empress, across from Royal BC Museum (our absolute favourite and arguably the prettiest cherry blossoms in Victoria BC! This cherry tree bloomed like CRAZY! It is as if the tree is on steroids!).
5| Oswego & Quebec Street
6| Montreal Street, starting from Charles Redfern Park all the way down to Ontario Street.
✿ Cherry blossoms in Downtown Victoria & surrounding
7| View Street (between Blanshard and Cook Street) is often the first to bloom!
8| Blanshard Street, from Fort Street to Humboldt Road.
9| Wark Street in downtown Blanchard
10| Beacon Hill Park: a huge park right inside the city with a mix of manicured gardens and natural habitats. You are very likely to see peacocks roaming around and migratory birds building nests in this season!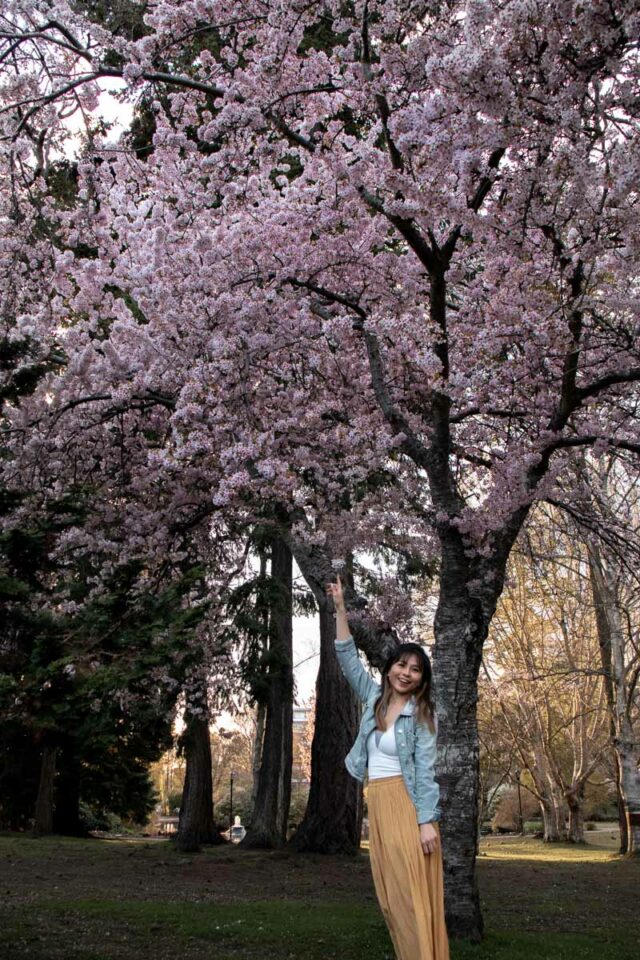 11| Right outside James Bay Inn and (a hidden cherry blossom gem!)
12| South of the inn, along South Turner Street.
13| Clarence Street between Simcoe and Niagara (you gotta check out the teacup tree here!)
14| Croft street between Simcoe and Niagara
15| Meares Street, between Vancouver Street and Quadra Street.
The entire Victoria's historic Fairfield and Rockland neighbourhoods boast many heritage homes and streets lined with cherry and plum trees. Below are just some of the best viewing locations:
16| Along Moss Street, between Rockland Avenue and Fairfield Road.
17| Harbinger Avenue
18| Richmond Avenue towards Gonzales, then also down Gonzales.
19| Ross Bay Cemetery
20| Wildwood Avenue
21| Richardson Street right outside the Government House (a National Historic Site that is open daily from dawn to dusk).
✿ Cherry blossoms in Greater Victoria
22| The Butchart Gardens is one of the prime destinations in British Columbia to view not just cherry blossoms, but all things flowers! You'll find the cherry blossoms primarily in the Sunken Garden — one of the five main gardens within the finely manicured 55-acre estate.
23| Hatley Castle and Gardens in Colwood is a great destination if you're looking to savour a picnic surrounded by cherry blossoms!
24| Veterans Memorial Parkway in Langford
Use this map to explore Victoria's most breathtaking cherry blossoms
Need a rental car to get around Victoria or Vancouver Island?
Since there are no Uber or Lyft in Victoria, BC, renting a car is your best way to get around Victoria and Vancouver island quickly.
If you're just sticking around downtown Victoria, you may want to consider a cheaper alternative – signing up for Evo Car Share.
We have tried Evo's car share service ourselves and loved that we only had to pay for the time we used for driving. Gas, parking, insurance and unlimited kms are included in their rate. Perfect for those who want to have flexibility and don't want to pay for overnight hotel parking, which can add up quickly!
The only inconvenience with Evo is that you have to register and get approved beforehand, which can take up to a week to process.
What to do during cherry blossom season in Victoria?
Go on a Victoria City bike tour
See cherry blossoms across the city on two wheels! Seriously, why walk when you can bike, especially when the weather is warm enough to do so!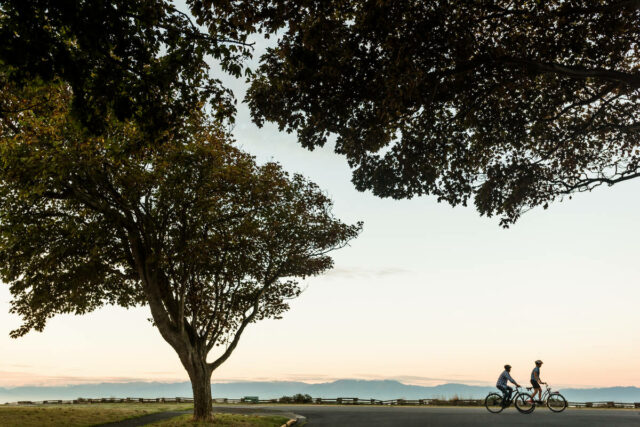 If you're afraid of getting lost, hire a local guide who can show you all the hidden gems in the city.
This 3-hour bike tour takes you to the greatest parts of Beautiful Victoria and along the coastal shores!
Go on a day hike for a panorama view of the city
To enjoy a spectacular view of the area around Victoria, head over to:
Mount Douglas: the largest park in the Saanich area, with a network of 15 trails great for hiking and birding! See which trail fits your fitness level.
Mount Tolmie: this 1.4-km loop trail near Saanich, British Columbia takes an average of 26 min to complete. At the high points, you'll be treated to amazing views of Washington and the Vancouver coast! Find the map and direction here.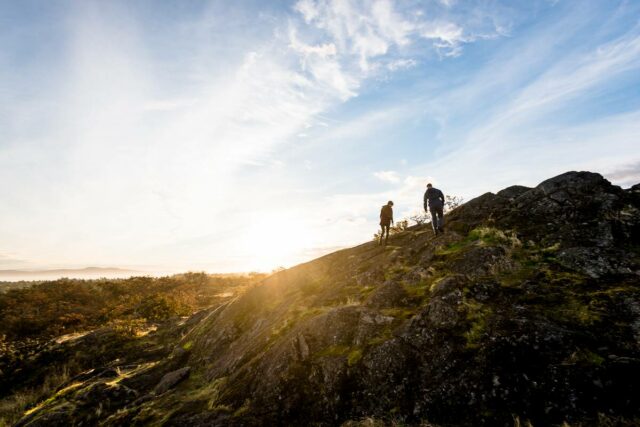 Stroll around The Butchart Gardens
Flower lovers must visit The Butchart Gardens. At spring time, the ground of this beautiful garden is covered with thousands of blooms. It is a treat for your senses!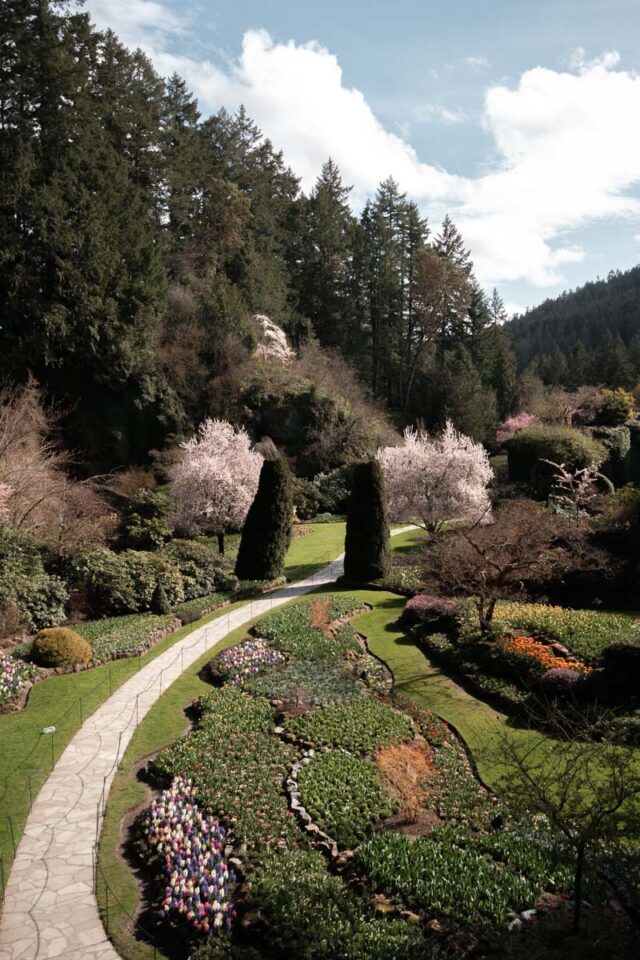 The gardens are not just great for all the cherry and plum blossoms you'll discover, but also for the 28 varieties of Magnolia trees, over 160,000 blooming tulip bulbs, hyacinth, daffodils, and forget-me-nots!
Go whale watching
Do you know that you can see whales year round in Victoria BC?
You'll see a number of different species of whales, including orcas (or killer whales), humpback whales, minke whales, and gray whales — depending on the season.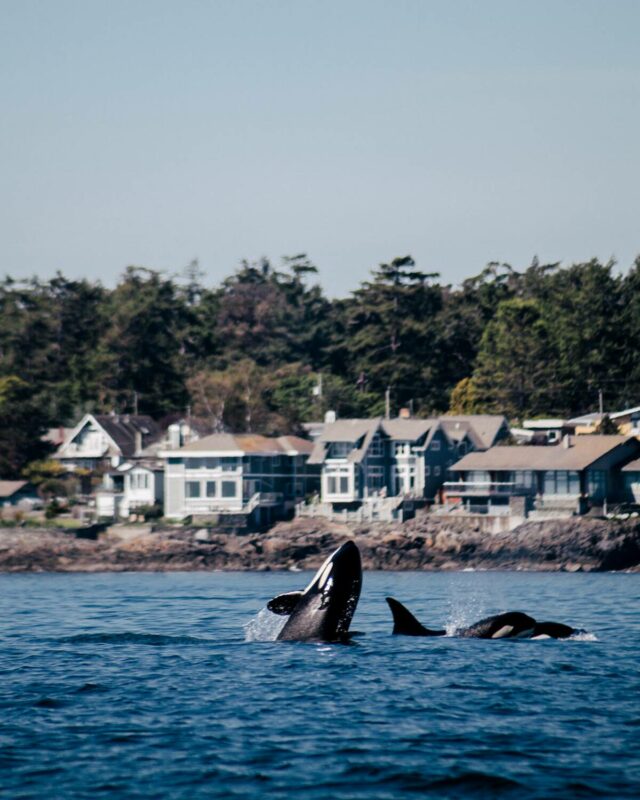 In springtime, orcas make a frequent appearance with an occasional peek of gray and minke whales.
Humpback whales might be spotted around March, but their number is usually the largest in the fall and early winter months.
Interested in a whale watching tour in Victoria? Here is a selection of the best tours in the city:
When should you book your accommodations in Victoria?
Planning to visit Victoria around mid- to late-March is a safe bet for cherry blossom viewing.
However, as mentioned earlier, Victoria's cherry blossom season is weather dependent so we urge you to keep an open-mind and be flexible when booking your accommodations.
You can certainly secure a hotel or an airbnb early, but make sure you book at a flexible rate. That way, when your original plan doesn't pan out, you have the flexibility to change your reservation!
Hotels near the cherry blossoms in Victoria BC
Want to have a view of cherry blossoms right outside your window? These are the best hotels for seeing the cherry blossoms in Victoria BC:
Fairmont Empress: the postcard child of Victoria BC. This Chateau-style 4-star hotel is a National Historic Site of Canada and one of the oldesn't buildings in Victoria! It is conveniently located right by the harbour, with a garden that houses the most beautiful cherry blossom tree in the downtown area! Check the rates & availability here.
Inn at Laurel Point: a 4-star hotel in the Inner Harbour. Modernly furnished. All the rooms have private balconies and phenomenal harbour views! Check the rates & availability here.
Magnolia Hotel & Spa: a 4-star hotel in downtown Victoria. Although it doesn't have a harbour view, it is closer to all the restaurants and shopping! Check the rates & availability here.
Need other options? Use this interactive map to find hotels and rentals in Victoria: