This site uses affiliate links and we may earn a small commission when you use our links and make a purchase without incurring additional fee yourself. Many thanks for supporting this website. Please see our disclosure page for more details.
Rocky Mountaineer is high on many Canadians' bucket lists, including ours. Last month, Cat had the pleasure to join her friends on an epic Rocky Mountaineer train journey and could triumphantly cross it off her great Canadian list.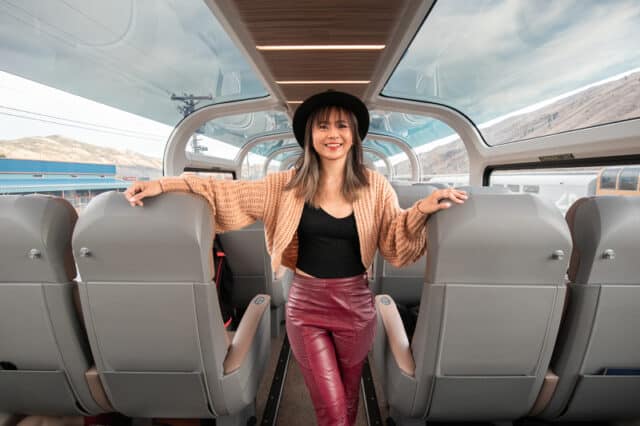 Wondering what it is like to travel on a Rocky Mountaineer train? Today, we will spill the beans, tell you all about Rocky Mountaineer, and share Cat's experience on the Vancouver to Jasper train journey!
Why take Rocky Mountaineer?
Rocky Mountaineer is not an ordinary train. It offers ultra-luxurious train journeys in Western Canada and the American Southwest for travelers to experience some of the most spectacular scenery North America has to offer. It is a truly once-in-a-lifetime adventure for nature lovers.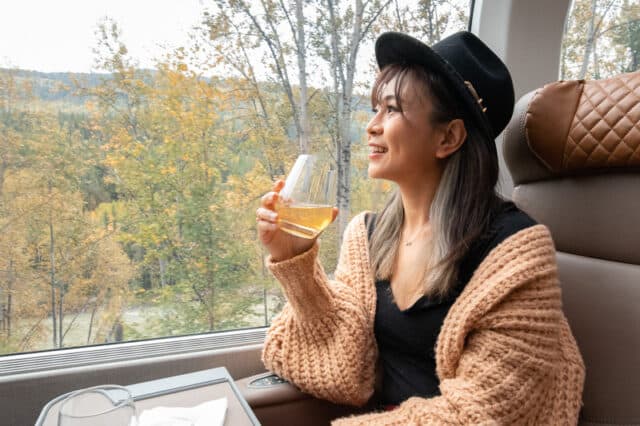 Its three Canadian rail routes take you through world-famous Canadian Rockies towns including Jasper, Banff, and Lake Louise. Some of the regions are only accessible by rail so you will not get to see the same scenery as you would on a Vancouver to Jasper road trip!
How luxurious is the train? Well, read on to find out more!
What to expect on a Vancouver to Jasper Train Ride with Rocky Mountaineer
Many people have driven between Vancouver and Jasper and thought they've seen all the picturesque regions have to offer. Did they really, though?

This Fall, I embarked on a 5-day one way Rocky Mountaineer train journey with my friends. On the Journey through the Clouds route, GoldLeaf Service coach, not only did we witness the unparalleled vistas in Western Canada as we travelled from Vancouver to Jasper, we also experienced first-hand how Rocky Mountaineer orchestrates a world-class, life-changing rail journey.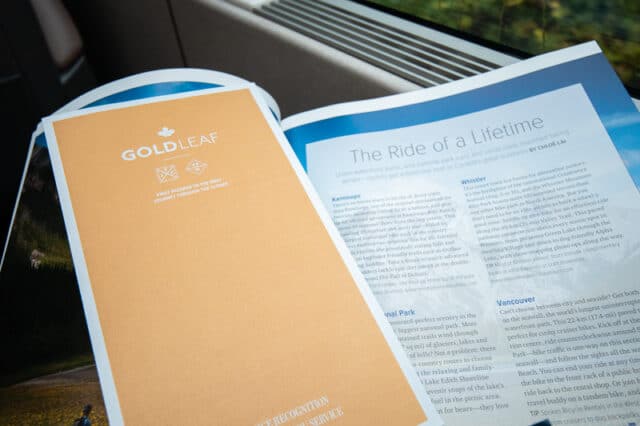 Our first-hand experience on the Journey through the Clouds route
Our Rocky Mountaineer rail journey was a memorable one from start to finish. But I am not gonna deny, before the 'big day,' I had many questions and worries about train travel.
First off, how safe is it? Afterall, we would be sitting in an enclosed space with people we don't know for a prolonged time. Are all the passengers vaccinated? How are we sure they are COVID-free?
Secondly, what do we do with our luggage? How are we going to be transported from the train station to the hotel and vice versa?
Third, are we going to be hungry on this trip?
Pre-Trip: Testing and Check-In Procedure
About a week before our trip, an email rolled into my inbox and had my concern about safety resolved. It was about COVID-19 rapid screening, along with other pre-trip logistics.
I was made aware that in addition to receiving double vaccinations, all guests and Rocky Mountaineer team members must undergo rapid screening for COVID prior to the start of the journey. Face masks are also required when moving around the rail car. Knowing that there are strict health and safety protocols Rocky Mountaineer adheres to eased my mind.
On the day prior to the trip, we arrived at the testing centre, conveniently located inside our Vancouver hotel, and took the rapid screening test. While waiting for our result, we checked into the train, confirmed our itinerary with the staff, and received our boarding pass and luggage tags.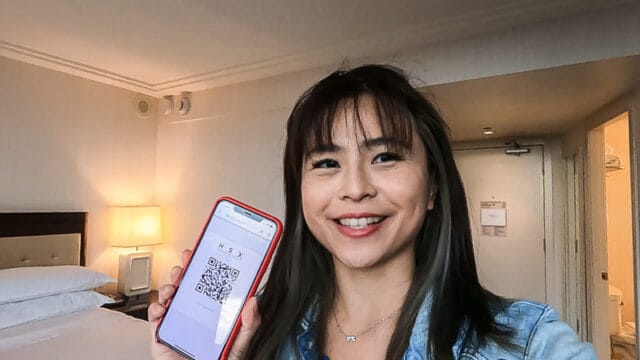 Just like boarding a flight, we had to attach tags to pieces of luggage we wanted to check in. The tags tell the handling staff which hotel to deliver the luggage. By the time we got into our rooms at the end of the day, our luggage was waiting for us.
Not long after check-in, I received an email notifying me of my test result. Thank goodness, it was negative! Now, all I need to worry about is what to wear for my big day.
Day 1: First Impression Onboard
It's D-Day and we started dark and early, at 6:55 am. We bid goodbye to our luggage and said hi to new friends. Excitement, awkwardness, and silence filled the air as we got transported by a motorcoach to the Rocky Mountaineer Vancouver train station.
As we walked out the door of the station, the legendary, clean and shining Rocky Mountain train patiently waited for us. A fancy red carpet led to the train, with our friendly hosts standing on each side. Wow, I felt like a celebrity!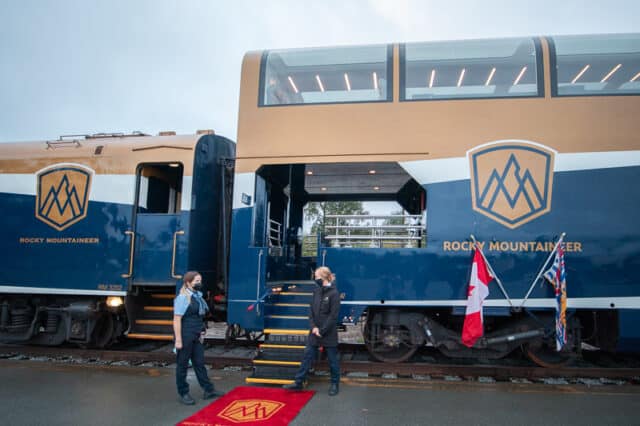 The interior of the train exuded luxury at every corner, from automatic doors, leather-lined seats (with heating and adjustable recline?!) to a glass-domed roof. My heart pounded hard as adrenaline rushed through my body. I couldn't wait for our journey to unfold!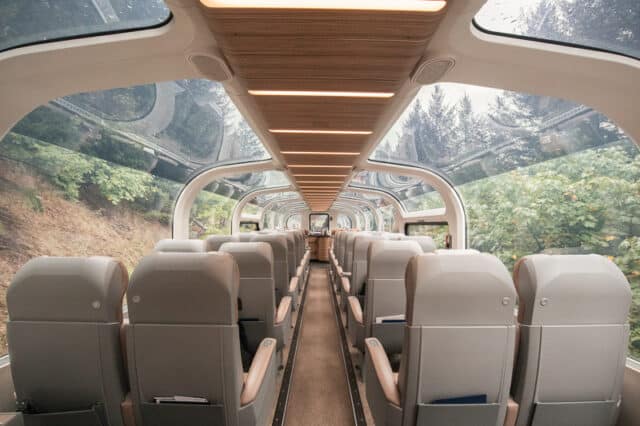 Before the train even moved, our hosts, Kelly and Travis, welcomed us with hot beverages, biscuits and cheese. What service!
Day 1: Scenery and Landmarks
It didn't take long for the train to take on maximum speed at around 50 km/hr (30mph). As we travelled eastbound to interior British Columbia, the train followed the Canadian Pacific Rail tracks along the Fraser River, home to BC's largest salmon run.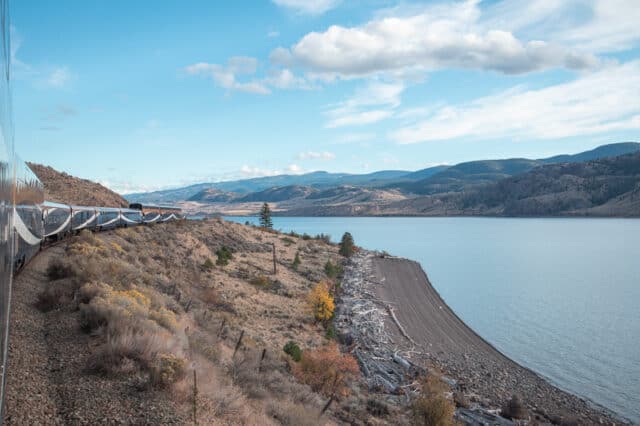 We winded through towering forests, deep canyons, picturesque valleys and numerous dark tunnels. Eventually rugged, desert landscape greeted us as we entered Kamloops. Along the ride, we enjoyed many photo opportunities. Highlights included Hell's Gate (the narrowest part of Fraser River), Cisco Crossing (the longest single-span bridge on the Canadian National Railway line), Rainbow Canyon (rocks in rainbow colors!), and Jaws of Death Gorge (a favourite spot for whitewater rafters).
Day 1: Most Memorable Moments
The scenery was jaw droppingly gorgeous, but nothing beat the surprise spotting of wildlife. We saw a black bear running through the hills, mountain goats feeding on grass, and bald eagles soaring — thanks to the crew's laser-sharp eyes! I couldn't ask for a better day.
I also couldn't believe how great the meals were! The selection of dishes for breakfast and lunch was as extensive as you would find in a restaurant. Want eggs benny for brekky? Not a problem. Or have a craving for buttermilk pancakes? Right up! All freshly prepared in the kitchen by a dedicated culinary team!
Lunch was a full 3-course meal with 6 different options for your main. I couldn't decide between Pacific Salmon and the Alberta Striploin Steak. Luckily, the menu was the same for the next day so I got to try both on this trip!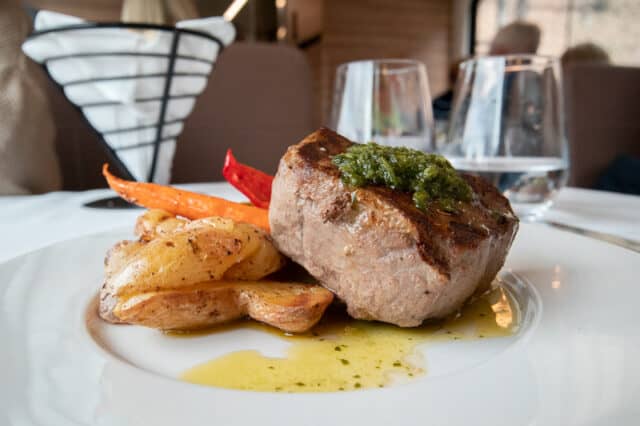 Oh, did I not mention we had unlimited access to wine and alcoholic beverages all day long? Plus snacks in between meals?
Day 1: Overnight in Kamloops
It was 6:30 pm when the train pulled up in Kamloops. The sky had already darkened by the time we got into our hotel room at DoubleTree by Hilton. I was so grateful my luggage was already in the room when I opened the door — no lifting and rolling required!
Normally my tummy would be grumbling and begging for dinner to be served. But we were fed so well throughout the entire day that I felt like I could skip dinner for once!
Well, maybe some deep fried pickles and a drink before calling it a night 😛
Day 2: Scenery and Landmarks
The landscape changed drastically as we crossed the Alberta border into the Canadian Rockies. Mile-high mountains and pristine lakes provided a sharp contrast to the regions we left behind.
Some photogenic sights worth noting include Pyramid Falls (cascading right beside the train tracks), Mounts Robson (the highest mountain in the Canadian Rockies), and Moose Lake (for its blue-green, crystal clear water).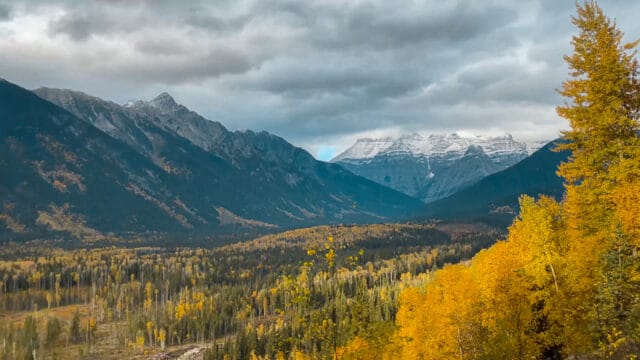 Day 2: Most Memorable Moment
Without doubt, it was the moment we received the Rocky Mountaineer pins from our hosts. It was not just a souvenir for this once-in-a-lifetime journey, but also a badge to show off our train adventure!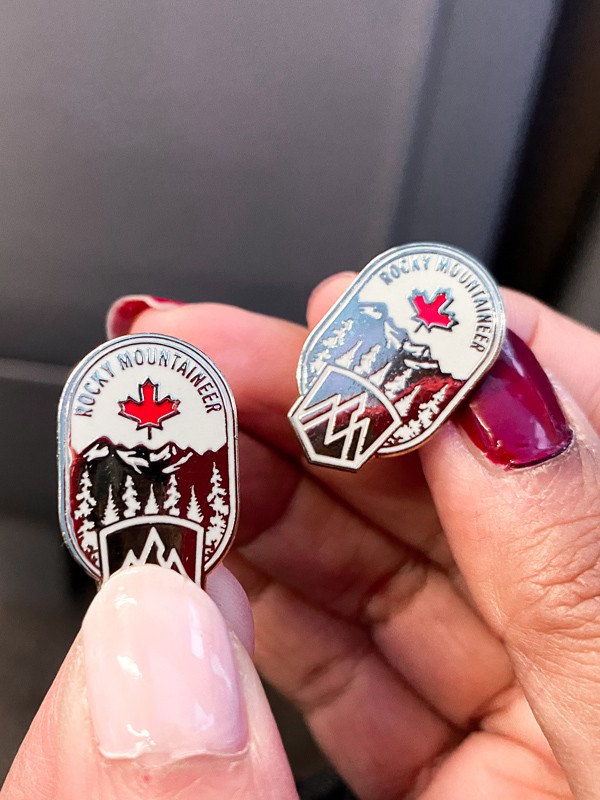 Day 2: Overnight in Jasper
It was another long and exciting day on the rail. I couldn't wait to take a hot shower and roll into my bed at Fairmont Jasper Park Lodge, one of the best places to stay in Jasper National Park.
The check-in process was seamless. The hotel staff shuttled us back to our cabin on a golf cart, and our luggage was waiting by the door.
I would wait until the next day to explore the property. A morning stroll by the lakeshore, meet and greet with the resident deer and elk, and a dip in the heated swimming pool sounded just wonderful!
Beyond Jasper: Icefield Parkway, Lake Louise, Banff National Park
Now that the train journey has come to an end, what happens next?
Our Rocky Mountaineer package includes three additional days of exploring the towns of Jasper and Banff. Norm from the local tour operator, Sun Dog Tours, was our guide to help us further explore the mountain regions.
In three days, we hit up some of the popular attractions in the Canadian Rockies, including Maligne Canyon, Pyramid Lake, Maligne Lake, and we even managed to squeeze in a boat cruise to Spirit Island!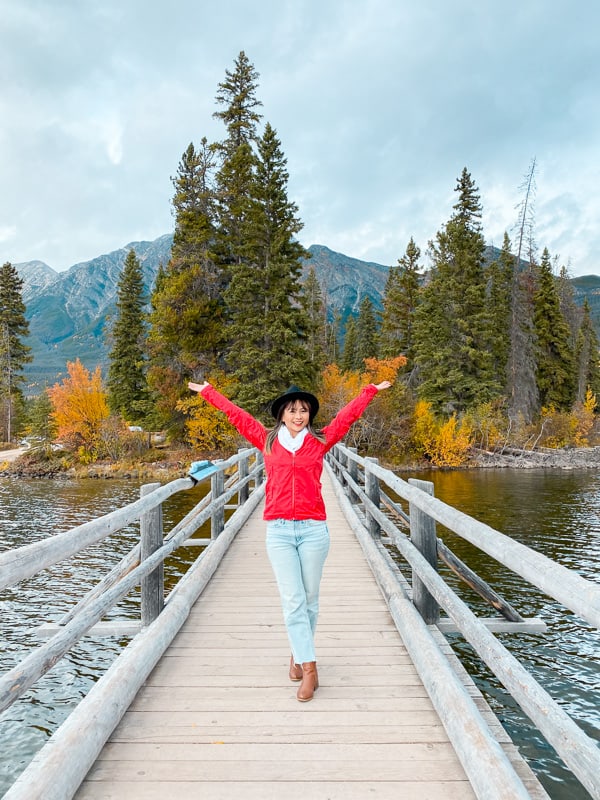 And of course, we did not miss the chance to see Moraine Lake and Lake Louise, which is an absolute must when you visit Banff in Fall.
There are many different ways you can travel on Rocky Mountaineer trains. In addition to various routes, there are also different classes each with different amenities.
What are the different classes of travel on Rocky Mountaineer trains from Vancouver to Jasper?
Rocky Mountaineer is an all glass-dome fleet, featuring two levels of service coach: GoldLeaf and SilverLeaf. They are different in several aspects, from coach layout and amenities, guest services, and culinary experiences.
Let's start with the layout and amenities.
GoldLeaf Service coach has two levels: the upper level features a glass-domed roof where you can admire panoramic views of the passing scenery. It also has a dining area, outdoor viewing platform, and washrooms on the lower level. The seats are leathered, heated, and spacious with adjustable reclining features. They can even be turned 180 degrees for socialization among guests.
SilverLeaf Service coach is single-level. Seats are similar to those on airplanes, with the ability to recline, just not as much as those in the GoldLeaf service coach. Additionally, the coach has oversized windows instead of a glass-domed roof.
When it comes to guest service, both service coaches are staffed with dedicated "hosts" who take care of the guests. They do an amazing job fulfilling your requests to ensure you are comfortable and enjoying the journey. From time to time, they would point out significant landmarks you are about to see (so you can get your camera ready), alert you when wildlife is spotted nearby, and offer storytelling that is relevant in the region.
One important difference between classes is that the GoldLeaf Service coach comes with a dedicated culinary team. It also includes access to unlimited alcoholic and non-alcoholic drinks. So, if you want a glass of the classic Canadian caesar at wine o'clock, that's no problem!
Lastly, we must discuss the food. All meals, regardless of the service level, are prepared using locally-sourced products inspired by the regions the train travels through. You also have a selection of local wines, beers and high-end spirits to complement the meal.
Because GoldLeaf guests have a dedicated culinary team onboard, their meals are freshly prepared and served to them in the lower level dining room. Meals for SilverLeaf guests are pre-packaged and warmed before being served at the seat. They also have a smaller menu selection than GoldLeaf guests.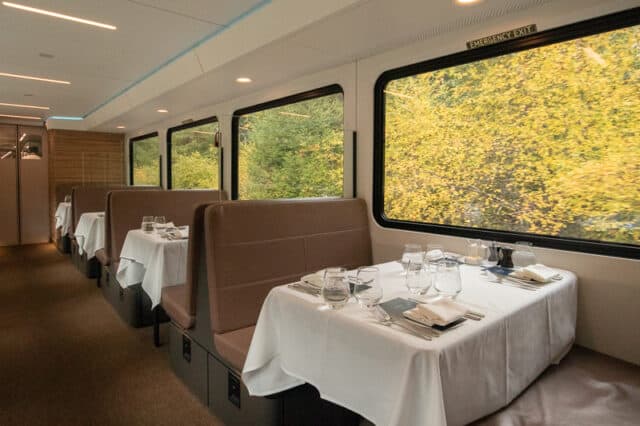 How's the food onboard the Rocky Mountaineer trains?
O.M.G. Honestly, my mind was blown by the food. It completely changed how I thought meals on rail would taste and be presented. Everything– from appetizers, to mains to desserts, was all freshly made in the kitchen car with ingredients locally sourced. This was really reflected in the wholesome flavour. On top of that, the presentation was top-notch as well.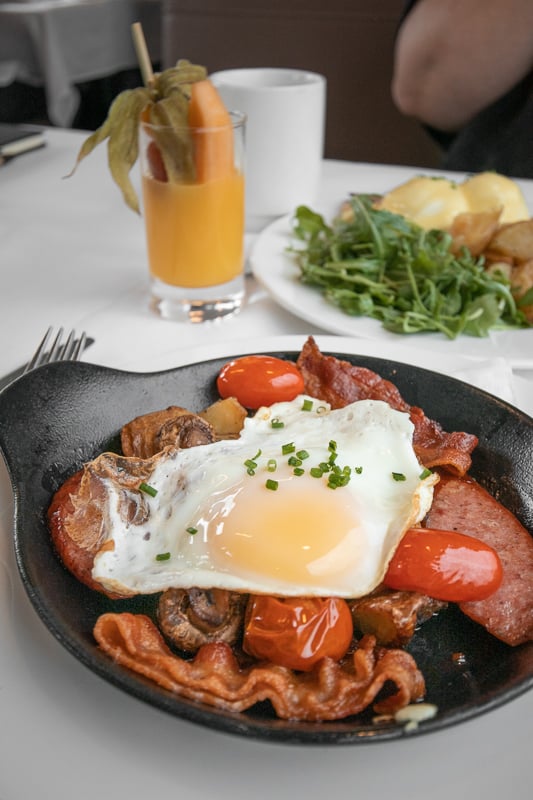 You do not need to worry about being hungry when traveling on Rocky Mountaineer trains, especially in the GoldLeaf Service coach. Food is served non-stop. Aside from breakfast and a 3-course lunch, they offer snacks from time to time. By the end of the day, you might need to give dinner a second thought.
What activities are there onboard the Rocky Mountaineer trains?
The highlight of the Rocky Mountain train journey across Canada is the ever-changing scenery unfolding outside the windows, complemented by the engaging stories shared by the Rocky Mountaineer hosts. You will need to pay close attention because you never know when wildlife will show up. On our trip, we saw a black bear, mountain goats, and bald eagles!
You won't find entertainment like movies or karaoke on your train travel, but luckily you won't need it. If you are desperate for the written word, you can find Rocky Mountaineer magazine and newspaper called "Mile Post" in which you can indulge and learn all about the history and the many jaw-dropping attractions in the regions the train passes through.
How long does it take to travel from Vancouver to Jasper by train?
Rocky Mountaineer's Journey through the Clouds from Vancouver to Jasper is a 3 days 2 night itinerary. By contrast, a Vancouver to Jasper drive would take approximately 9.5 hours and you wouldn't see nearly as much beautiful scenery and wildlife.
On the first day, our train embarked from Vancouver at 7:30 am and arrived in Kamloops, BC at 6:30 pm, where we spent the night. Then, the next morning, the train took off from Kamloops at around 8 am, winding through forests and canyons and making its way to the Canadian Rockies, where we finished off in Jasper, AB at around 7:30 pm.
What do you do with your luggage?
When you check in to your train trip at the beginning of your journey, you will receive luggage tags. The idea is to attach them on the luggage that you want to transfer to the hotels. The luggage will be handled by the Rocky Mountaineer staff and delivered straight to your hotel, right inside your room. They will not be boarding the train with you so you will not have access to your checked luggage until you arrive at your hotel at the end of the day.
You are allowed to bring two pieces of luggage with you, with a maximum weight not exceeding 23 kg (50 lbs) per piece and a total weight of combined luggage 30 kg (60 lbs) max.
We advise bringing a day bag or backpack that is small enough to fit at your feet (there's no overhead or under feet storage) onboard the train. Anything you need for the day like travel documents (ID and proof of vaccination), medications, valuables, and cameras should be packed into this bag.
Where do you spend nights on a Rocky Mountaineer train journey?
Rocky Mountaineer is not a sleeper train. It only travels during the day. So at the end of the day, we were transferred to our hotels in Kamloops and Jasper for an overnight stay.
Rocky Mountaineer partners with the best hotel in each of the destinations so the hotels are pre-selected and determined by your service level (SilverLeaf or GoldLeaf) and availability at the time of booking.
As GoldLeaf Service guests, we stayed at a premium hotel (DoubleTree by Hilton Hotel Kamloops and Fairmont Jasper Park Lodge) that had restaurants and other amenities. There is an option to upgrade your room to get more space or exceptional views.
For guests in the SilverLeaf Service tier, a standard room at a comfortable hotel is included in the package.
Note: The hotel options at our midpoint destination in Kamloops were limited and not as luxurious as those in other destinations. But Rocky Mountaineer ensures the hotel they partner with provides quality service and essential amenities for a comfortable overnight stay.
Is there WiFi on the Rocky Mountaineer trains?
Unfortunately, no. There is no WiFi on the train ride.
We are connected to cell service in Canada, so we caught some mobile signals as the train passed through some small towns, but generally, we were cut off from the virtual world.
The idea is to enjoy the scenery and be present in the experience. You shouldn't be thinking about working on this trip. Just sit back and take in the gorgeous vistas while onboard!
What's the difference between the Rocky Mountaineer and the VIA Rail train?
The short answer is: one is more luxurious and enjoyable than the other. VIA Rail is more of a commuter train – it is more cost-effective and less comfortable. Rocky Mountaineer takes train travel to another level, allowing you to travel in high style!
Another difference is that Rocky Mountaineer travels only during daytime so you don't miss a moment of the ever-changing landscapes. This means you will have to go off board at the midpoint destination to sleep overnight. VIA Rail Vancouver to Jasper trains, on the contrary, have sleeper cabins (meals included).
If you want to get from Vancouver to Jasper without stopping, the VIA Rail overnight train can get you there in 19 hours. Because Rocky Mountaineer makes stops in Kamloops (for the Journey through the Clouds route), the trip from Vancouver to Jasper will take 2 full days.
Note: VIA Rail and Rocky Mountaineer leave from different stations in Vancouver. VIA Rail leaves from Pacific Central Station whereas Rocky Mountaineer has its own train station. Don't be confused!
How much is the Rocky Mountaineer train ride from Vancouver to Jasper?
Prices vary slightly depending on the season, the type of train service, hotel choices, the length of trip, and if you have any add-on tours and hotel stays.
As a reference, a 3-day train journey from Vancouver to Jasper price starts from CAD$2600 per person (SilverLeaf service) and CAD$3570 per person (GoldLeaf service). For an exact quote, please visit Rocky Mountaineer's website. There, you can access more information on packages available and the Vancouver to Jasper train schedule for 2022!
When is the best time to go on the Rocky Mountaineer?
The trains run from mid-April to mid-October. You will see different scenery in different seasons so it depends on what you'd like to see. Mid-April is the borderline winter season in Canada so you might still see snow as you travel through the mountainous regions.
If you'd like to see spring-blooming flowers, you might want to consider traveling on Rocky Mountaineer around mid-May to June. If you'd like to see fall foliage, September to early October is a wonderful time to hop on a train ride!
What's there to see beyond Jasper?
Rocky Mountaineer trains don't travel beyond Jasper so you will need to transfer to car travel after this point. There are many easy hikes in Jasper to discover when you're in the area. Maligne Canyon is one that you should not miss. After the hike, make sure to enjoy wood-fire cuisine in Maligne Canyon Wilderness Kitchen.
One of our favorite things to do in Jasper in fall is taking a boat cruise out to Spirit Island and just soak in the tranquility and wilderness. Then, wrap up the day with a visit to Pyramid Island, a perfect place to watch sunset and stargaze!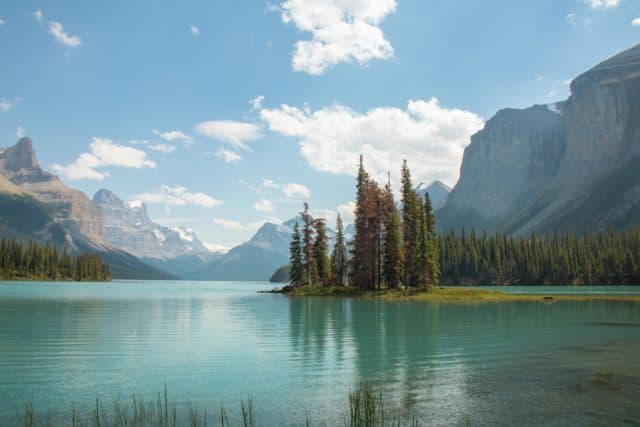 Too much work and planning? Don't worry. Rocky Mountaineer works with local tour operators to curate vacation packages. You can add on tours, activities, and accommodations to extend your stay in the destinations. Honestly, they make it stress-free so that you can just enjoy the travel experience.
What other Canadian train routes does Rocky Mountaineer have?
Rocky Mountaineer has three Canadian train routes.
Aside from Journey through the Clouds (Vancouver to Jasper via Kamloops) and First Passage to the West (Vancouver to Lake Louise/Banff), Rocky Mountaineer also has a Rainforest to the Gold Rush rail route traveling from Vancouver to Jasper passing through Whistler,Quesnel and Prince George.
Important note: All Rocky Mountaineer itineraries can be reversed, meaning you can choose to do Vancouver first or last. For example, for the Journey through the Clouds route, you can travel westbound from Jasper to Vancouver instead of starting your trip from Vancouver.
Which Rocky Mountaineer route is the best: Vancouver to Jasper OR Vancouver to Banff?
This is a hard question – like asking-your-mom-who's-her-favourite-child-hard. There's no right answer. Each Rocky Mountaineer route takes you through its own unique, one-of-a-kind landscape and offers stunning photo opportunities as you adventure through Western Canada. It depends on your priority.
Are you dead set on seeing Banff National Park because it is on your bucket list? Then, First Passage to the West traveling between Vancouver and Banff is the perfect train route for you. It is also Rocky Mountaineer's flagship route and has been the most popular among the visitors from around the world. The train will travel through the legendary Spiral Tunnels!
Personally, we would pick one of the two routes that begins/ends in Jasper National Park. It is less commercialized, less touristy, and easier to spot wildlife!
But no matter which one you pick, the Rocky Mountaineer train journey is sure to leave you speechless.