This site uses affiliate links and we may earn a small commission when you use our links and make a purchase without incurring additional fee yourself. Many thanks for supporting this website. Please see our disclosure page for more details.
There's no denying that the pandemic has changed the way we travel. With cruises and airports being high risk areas, many of us are starting to look at different ways to explore new places. When sea and air are out of the picture, car travel seems like a much safer option. In fact, more than a third of us are planning (or thinking) about embarking on a cross country road trip in the next 12 months!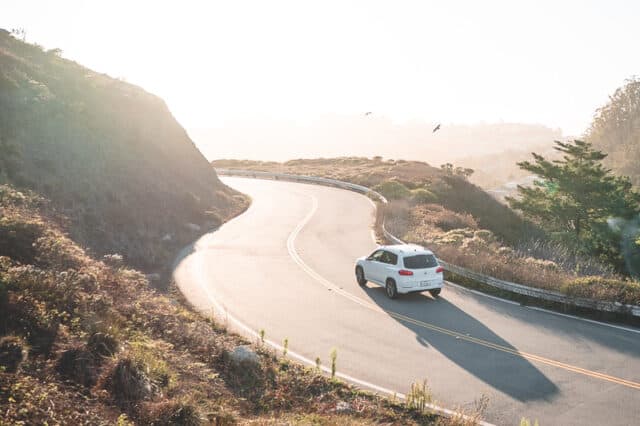 But how do you get started with planning a great American road trip? In this article, we invited Karen Gershowitz, an experienced roadtripper, traveler, and the author of Travel Mania: Stories of Wanderlust, to share her golden tips for driving cross country. You'll learn about the best routes to travel as well as all the essential things to consider before embarking on your USA road trip!
20 Tips to Plan a Successful Cross Country Road Trip in USA
I've been taking road trips across the United States for decades. Exploring by car allows me the flexibility to meander and stop where I like. I can go far off the beaten path and experience places far from crowds or focus on city centers filled with museums, sports, restaurants and nightlife.
While driving, I can step on the brake or make a U-turn when something catches my attention. Those unplanned stops have led to memorable moments, including spectacular gardens, an enormous craft fair, a free country music festival and much more. I like road trips so much that for my fiftieth birthday I gave myself the gift of a sabbatical; I spent nine months traveling around the country.
These experiences have taught me a lot about how to make cross country trips fun, affordable and memorable. Here are some suggestions if you're planning a cross-country road trip or any trip longer than two weeks that includes truly seeing the country. These ideas are for people who want more than seeing the view whiz by as they speed down the highway.
Important things to do BEFORE your cross country road trip:
Start planning well in advance, a minimum of one month before you plan to leave; three months is even better if you are planning an extended trip (three weeks or more). This will give you time to gather information and create a plan. You don't need an exact route or a detailed road trip itinerary, but you do want a general itinerary. This is true whether you are planning a coast to coast across America road trip or just traveling regionally.



Make a list of the activities and places in which you are most interested and/or have always wanted to visit. This can be anything. I love gardens, crafts, historic sites and architecture. But if you're into sports, fashion, railroads, beer or anything else, plan around those interests.


Check out those interests on as many sources as possible—the internet, books, magazines, TV—find places that appeal to you and make a list.


Ask for suggestions from anyone who shares the same interests.
Consider the weather when you are planning. Some destinations that are appealing during the winter, like Florida and other southern states or Hot Springs National Park may be extremely hot and humid in July and August. Conversely, I love Maine with Acadia National Park and the New England coast, but wouldn't consider going there in January.
Let's talk about money – you might ask "how much does a cross country road trip cost?" It depends on a few factors: the length of your trip, where you want to go, what you want to see…etc. Some people could spend as little as $2500 for a 15-day trip. I would suggest setting a budget that you are comfortable with for your trip. This will help you make decisions about where you will go and what you will do. To help with expenses, you can look for discount coupons at State visitor centers, online at Groupon and Retailmenot. Credit cards and an ATM card are essential.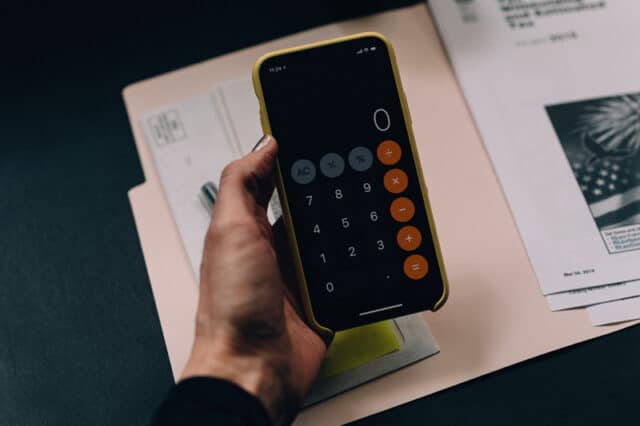 Try glamping – If you want to experience "sleeping under the stars" on your trip, but roughing it in a tent isn't really your style. Companies like Under Canvas offer outdoor experiences with all the comforts of home. Your stay in one of their tents includes a bed, bathroom, and even cafe-style dining. Some glamping companies are pet friendly and include WiFi. They are frequently located near National Parks and many of the other attractions you will find on your cross country road trip.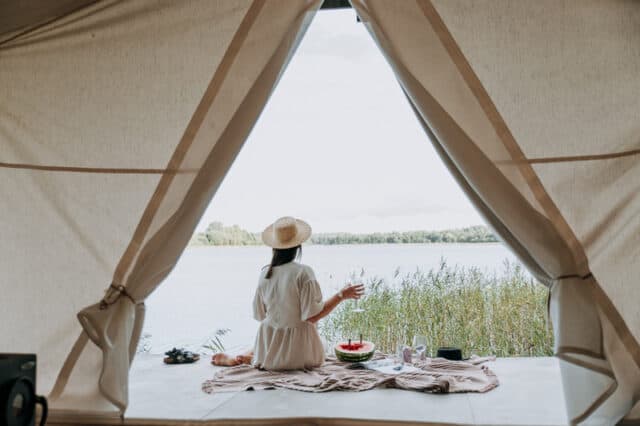 Buy a good map or atlas and mark places you might want to visit—I circle each place I might go. This helps me plan my general route. I leave lots of time for unexpected finds. While you're looking at the cross country road trip map, see if any routes are marked as scenic, you may want to follow those roads. Don't know where to start? Consider these 11 best cross country road trip routes:

Pacific Coast Highway: aka California State Route 1. From Washington's Olympic National Park to sunny San Diego in California, you can see the ocean for your entire trip down the Pacific Coast Highway. You can also visit some beautiful seaside villages like Monterey and Carmel, CA!
Historic Route 66: "Get your kicks on Route 66" and drive through rustic Americana from Chicago all the way to Los Angeles. 
The Loneliest Road: Running from one coast to another, you can see the entire country on the Loneliest Road aka US-50. Some of its sights include Lake Tahoe, Arches National Park in Utah, and Washington D.C. 
The Oregon Trail: you played the computer game when you were a kid, now drive the path of pioneers for real following US-20. Check out sights like Yellowstone National Park and Mt. Rushmore on this route.
The Great Northern: One of the longest road trips in the USA, US-2 features gorgeous stops like Glacier National Park and Tumwater Canyon. 
The Appalachian Trail: paralleling the hike, this driving route takes you from New England all the way to Maryland, featuring beautiful scenery full of forests and mountains. You can find more information about the roads you will take and sights you will see here.  
The Great River Road: of course this route travels along the Mississippi River, the largest and longest river in the US. You can start where the river begins in Minnesota and follow it all the way down to New Orleans, following signs with a green pilot's wheel and steamboat in the middle. 
Atlantic Coast: it doesn't have a name quite as fun as the Pacific Coast Highway, but there is still plenty to see and do along the Atlantic Coast route, including the Statue of Liberty in New York City and the wild ponies on Assateague Island in Maryland. 
Border to Border: satisfy your urge for driving cross country with this trip stretching from Jasper National Park in Alberta, Canada all the way down to Nogales, Mexico all on US-93. Hoping to spot something out of this world? This route includes some time on the Extraterrestrial Highway in Nevada! 
The Road to Nowhere: You won't find any conventional tourist destinations on route US-83 – but you will find interesting, out-of-the-way stops like the Sitting Bull Memorial and Badlands National Park in South Dakota, and the Paint Rock Pictographs in Texas. 
Southern Pacific: If you're looking for a variety of cultural experiences, old US-80 is the route for you. It has everything from deserts and swamps, to Tex-Mex barbecue, to the Civil Rights Movement National Historic Trail in Alabama.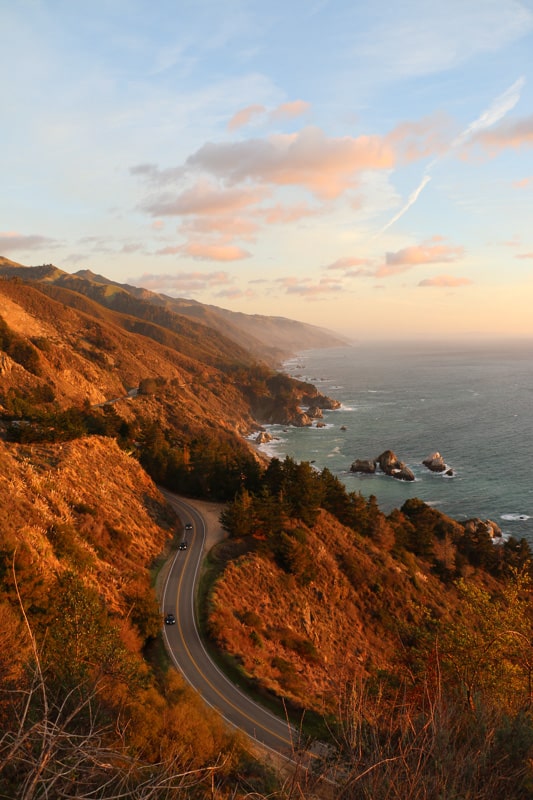 Download Roadtrippers. Roadtrippers is a useful, free road trip planner app for those who prefer to use technology rather than paper for cross country road trip map. You can plan your trip, collaborate with friends or family, and learn about places to stop along your route. Another fun and useful app, if you like quirky attractions, is Roadside America. I use it to find offbeat places worth a stop.
Make a list of tasks that need to be done pre-trip and give yourself plenty of time to complete them. This might include making sure your health insurance will be acceptable in other states, arranging for online bill payment, finding a house or pet sitter, and so on.
Bring your proof of vaccination card with you. If you aren't vaccinated, you should check on state and local Covid regulations. Many municipalities will not allow you to enter restaurants, theaters or sports venues without proof of vaccination.
Consider the vehicle you will be driving. There is no one right answer. When I took my nine-month road trip I bought a minivan because of the space it afforded for equipment and passengers. But I use my own car (a sedan) for shorter trips. Think about the types of roads you will be driving on, what you plan to bring with you and gas mileage.



If the cost of gas is a consideration, consider a hybrid.


If you plan to be driving on backroads and rough terrain, consider an off-road-ready truck or SUV.


If you aren't comfortable putting a ton of miles on your own car, consider renting instead. Just be mindful that most car rental companies are short on cars right now, so be sure to book far in advance.
Have your car serviced and checked by a trusted mechanic if you are using a car you already own. Change the air filters and fluid levels, make sure the tires are balanced and have sufficient tread. Check that your spare tire is in good condition. You don't want to worry about having your car break down. But if you do break down, be sure you have a roadside assistance option in place, like AAA.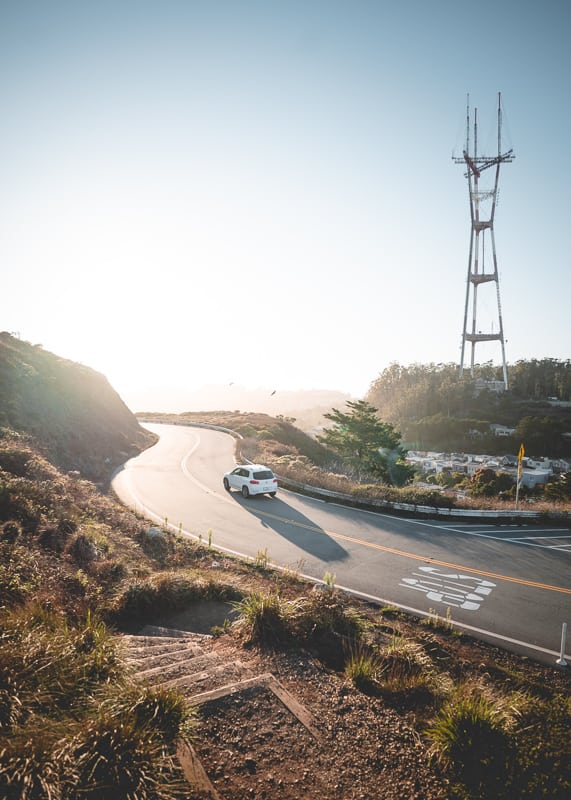 Create custom playlists and/or download podcasts to keep you entertained when driving long distances through uninspiring landscapes and/or poor reception. If you are considering stops like Yellowstone National Park or the Blue Ridge Mountains, you can be sure cell phone reception will be non-existent in some places. In addition to having listening options downloaded onto your phone, consider checking in with a friend or family member so someone knows generally where you are if you can't be reached by phone.
Pack the minimum possible while having enough for most major contingencies—traveling in the U.S. is a snap—you can always buy most of what you need. My cross country road trip essentials that aren't readily replaceable include several pairs of shoes, including hiking boots, an extra pair of prescription glasses, extra medications, a bathing suit, and snorkeling gear (if I'll be near a beach). I also always have a cooler for beverages and snacks, a sleeping bag and tent for stays at parks.

These are the basic safety items you should have in your car:

Cellphone and car charger
First aid kit
Flashlight
Jumper cables
Non-perishable food items, like granola bars for your road trip snacks.
Water
Blankets
And now, during Covid—hand sanitizer, extra masks and gloves, disinfectant wipes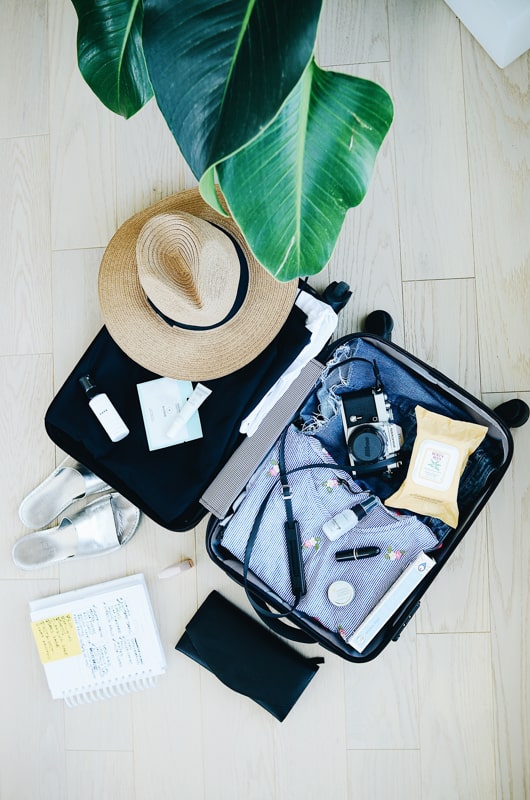 Join hotels' frequent traveler clubs. You could earn enough points for a free night or two. I belong to seven different clubs which cover most major chains, but if possible, I'll stick with one or two brands. That isn't my major consideration however, I select any specific property based on location, price and ratings.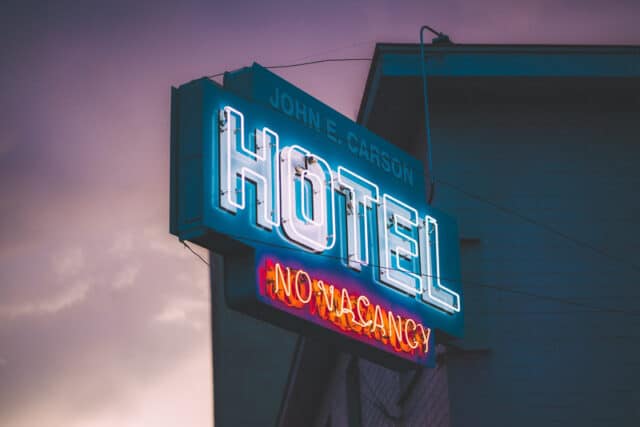 Things to keep in mind DURING the Cross Country Road Trip
Take it slow. Determine in advance how far you're willing to drive in a single day. I set a limit of 250 miles (402 km) and usually drive less. You want to have time to enjoy the places you're in.
Visit Welcome Centers. The staff are helpful and provide tons of free information, brochures, maps, even discount coupons. Don't be shy about taking a fistful of printed material. I've saved money using their coupons and learned about unique restaurants and attractions.
Tell everyone you meet what you are doing—you never know what they'll suggest or how they'll help. Americans are friendly and curious. Hearing you are driving cross-country will get people talking.
Be flexible. Things won't always go as planned. The day I was intending to hike in the Smoky Mountains it poured. Instead, I drove to Knoxville and spent a fun day there, visiting the Knoxville Museum of Art and eating barbecue.
Plan frequent stops – maybe as many as once an hour – to stretch your legs and take in the scenery. You can stop for gas or grab coffee from a local shop. Hopping out of the car frequently will help you avoid a stiff back, and it will keep your mind fresh so you can focus on driving safely.
Which brings me to food. Eat the local cuisine. What would a trip to Maine be without eating lobster or clam chowder? Louisiana without gumbo? Or anywhere in the south and not indulging in barbecue? Much like you wouldn't want to miss a sight you can't see anywhere else, like the Grand Canyon National Park you also don't want to miss unique local cuisine. If you're in an area that has a specialty, look for brochures on wine trails, cheese trails or maps of other food producers. In New England I've sampled maple syrups and visited Ben & Jerry's for ice cream. In Wisconsin I ate fabulous cheese from local dairies. Your entire road trip route could be based around the various and distinctive foods in the US.

The United States is a country of immigrants and each group brings their cultural heritage and cuisine with them. If you're a foodie, you don't have to cross an ocean to taste the best the world offers. Some of the best Vietnamese food I've ever eaten, including in Viet Nam, was in Minneapolis. Go on a food tour in New Orleans and take a cooking class while you're there. In Miami sample authentic Cuban food. Charleston has great seafood—go for crab, bouillabaisse, oysters and grouper at a riverfront restaurant. In San Francisco or New York eat specialties from across China. The list is endless and the possibilities delicious.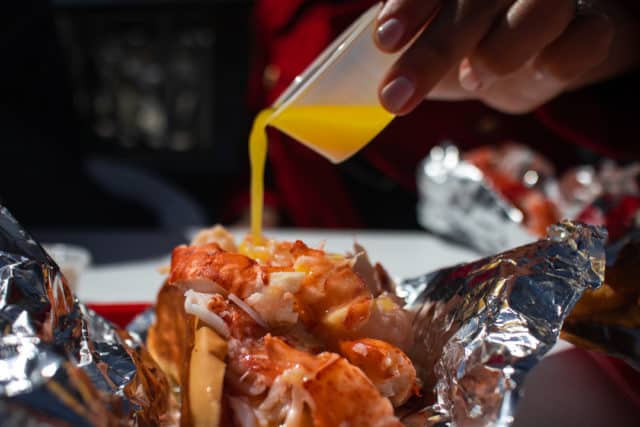 Traveling as a couple is safer than traveling alone, but there are a few things you should be on the lookout for. When you park your vehicle make sure that nothing of value is visible. If a motel doesn't look properly maintained or is in an area that looks iffy, find another. Make sure any campsite or trail is safe, especially if bad weather is predicted. You don't want to be flooded or blown away.
I've taken three road trips this summer, each with a different goal—following a wine trail in the NY Finger Lakes, exploring parts of Vermont and New Hampshire I'd never seen, and seeing small towns on the New England coast.
I mostly drove on back roads and often wandered aimlessly. I got lost for a while, but with GPS I wasn't lost forever. While "lost" I found pristine beaches, diners straight out of the fifties, the Pez Museum, plus gorgeous scenery. Be prepared to slam on the brakes and make U-turns if you spot something, you just never know what you'll find.
A road trip can be exciting, fun, romantic, challenging, or just about anything else you can imagine. My best advice for road trippers is to be open to adventure.
---
There you have it! Now, you have all the knowledge to start planning your own adventure driving across the USA! We can't wait to hear about your upcoming trip!