This site uses affiliate links and we may earn a small commission when you use our links and make a purchase without incurring additional fee yourself. Many thanks for supporting this website. Please see our disclosure page for more details.
California holds so much beauty and the best way to appreciate its rugged coastline and big waves is to drive down the Pacific Coast Highway. The picturesque stretch hugs the Monterey Peninsula, threading through the historic Monterey and the fairytale town of Carmel-by-the-Sea before connecting with the jaw-dropping Big Sur. This romantic drive is one of the best cross country road trip routes that couples must take together!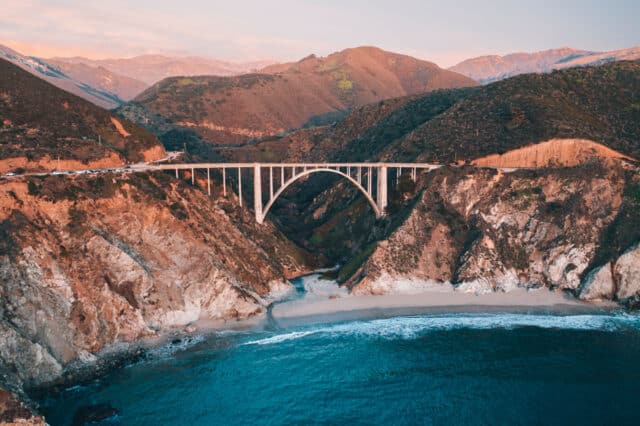 If you're looking to extend your urban adventure in the big city of San Francisco, we have some great ideas for you. In this post, we take you with us on a California road trip, discovering the dreamiest things to do in Monterey and Carmel, CA. These activities guarantee to keep you amused and entertained for four to five days in Monterey and Carmel-by-the-Sea. We even include additional activities in case you plan to stay a week or longer in the area!
1| Go on a Whale Watching Tour
Monterey Bay teems with wildlife thanks to the continuous conservational efforts by Monterey Bay National Marine Sanctuary. It is home to 36 species of marine mammals including sea lions, seals, sea otters, dolphins and whales.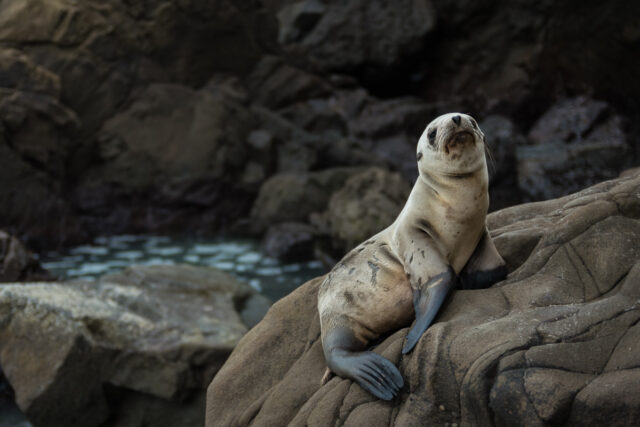 If you've gone whale watching in Hawaii or beluga viewing in Tadoussac, Quebec, you already know whale watching is usually a seasonal activity. But what makes Monterey Bay extra special is that whale sightings are guaranteed year-round! You can encounter humpback whales in the summer, blue whales from mid-summer through fall, grey whales from winter to early spring, and killer whales (aka orcas) year-round.
For the best experience, join a whale watching tour. This highly-rated half-day whale-watching tour departs from Old Fisherman's Wharf, taking you along the coast of Monterey Bay to search for feeding whales. As you sail, keep your eyes peeled for whales, dolphins, sea lions and many other incredible creatures!
2| Watch Sunset on the Ocean View Boulevard
For an extraordinary coastal view, hit up the Ocean View Boulevard. The scenic roadway starts at Monterey Bay Aquarium in the east and wraps around Point Pinos Lighthouse before merging with Sunset Drive. Along the drive, you will see many pullup stops and benches where you can stop and take a moment to soak in the striking scenery.
The best time to visit is in the late afternoon, when you can watch the sky change hues as the sun sinks towards the horizon. Enjoying the soothing sea breeze in a front row seat to nature's most spectacular sunset shows is one of the most romantic things to do in Monterey, California!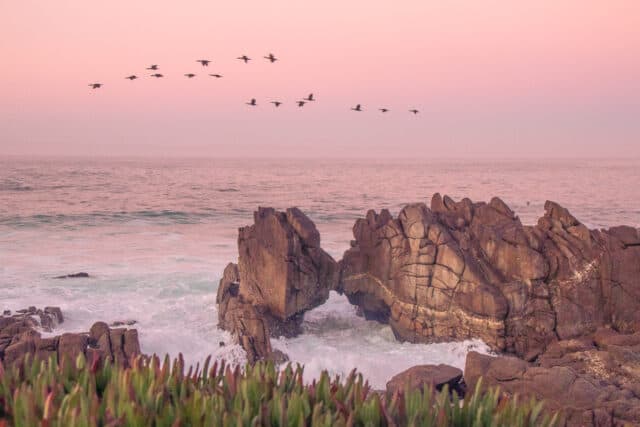 Some of the great photo spots are Lovers Point Park, Perkins Park Vista Point (especially in Spring), and Kissing Rock View Point.
Pro tip: During low tide, you can pop down to the beach and go tidepooling! Asilomar State Beach is a hot spot where you can find sea urchins, sea anemones, and sand dollars. Remember, there is a no-take policy on all tide pools in Monterey County! Check the tide schedule here.
3| Stop by Pacific Grove and Say Hello to Monarch Butterflies
Do you know that thousands of monarch butterflies fly across the continent to Pacific Grove every winter? This special migration has earned Pacific Grove the nickname "Butterfly Town of the USA."
These overwintering monarch butterflies arrive in October to take refuge on pine, cypress and eucalyptus trees in the Monarch Grove Sanctuary. They cling on the trees and rest quietly like dead leaves most of the time. On warmer days, they might fly around seeking out nectar to replenish their energy. By March, most of the butterflies have departed on their spring migration.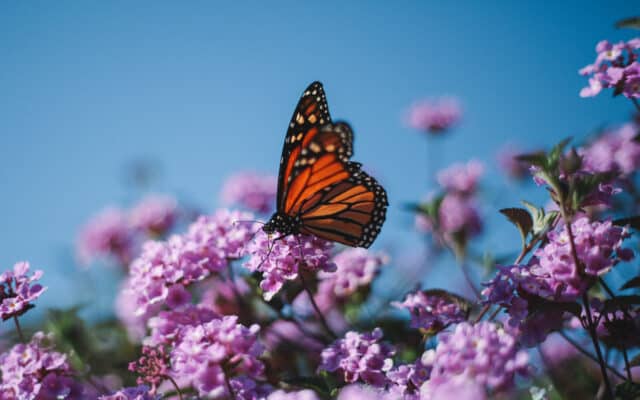 If you're visiting Monterey in between mid-October and mid-February, make a stop at the Monarch Grove Sanctuary (opens daily from sunrise to sunset) to get your monarch moment!
4| Visit the Monterey Bay Aquarium
Your Monterey trip is not complete without a visit to the Monterey Bay Aquarium. The non-profit research institute not only provides an opportunity to get up close with the incredible marine life below the waves, but also teaches us about the threats to the ocean and how we can help.
What makes the aquarium a famous Monterey sightseeing attraction is its 28-feet tall Kelp Forest. The Forest, one of the tallest aquarium exhibits in the world, provides food and shelter for a vibrant ecosystem. You can watch the kelp forests change with the seasons along with the abundant creatures interacting with one another.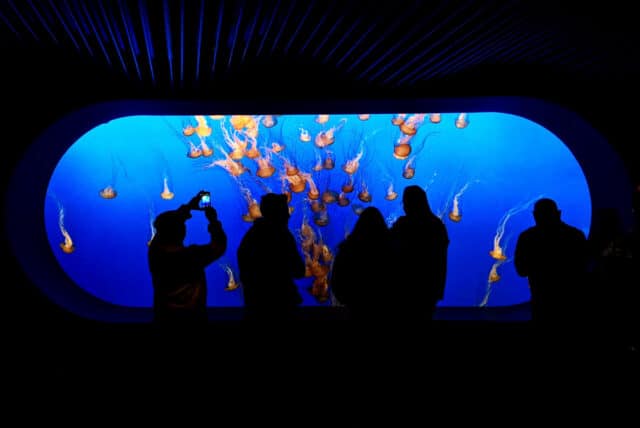 Another focal point of this world-class aquarium is its one-million-gallon Open Sea, the largest exhibit onsite where yellowfin tuna, stingray hammerhead sharks, silver sardines, sea turtles, tufted puffins, and jellyfish all make appearances.
The Rocky Shore exhibit is another one that is worth a visit. You can get a deeper understanding of the intertidal animals and how they adapt to the daily cycle of extremes between high and low tides.
To skip the line, we strongly recommend reserving your ticket online and downloading the CLEAR app to get a digital vaccine card.
5| Bike Along the Monterey Bay Coastal Recreation Trail
On a sunny day, why not add some outdoor activities into your Monterey vacation with a bike ride along the Monterey Bay Coastal Recreation Trail?
The scenic trail stretches 18 miles (29 km) from Castroville in the north to Pacific Grove in the south, running along the old tracks of the Southern Pacific Railroad. In the olden days, the rail was used to carry canned fish from here northward to markets in the San Francisco Bay area!
Today, the path is smoothly paved and takes you close to the water's edge, with easy access points to beaches, piers and marinas.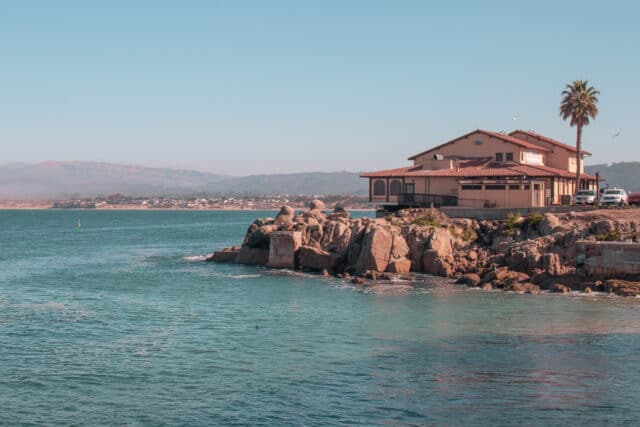 In downtown Monterey, you can conveniently pick up the trail at Cannery Row and ride the bike in either direction. Or, start in Pacific Grove at Jewell Avenue and Ocean View Boulevard and make your way north.
A regular bike is of course sufficient to tackle the relatively flat trail, but if you'd just like to enjoy the scenery and wildlife as you ride, consider renting an electric bike! You're on vacation and there's nothing wrong with taking it easy!
6| Get Out on the Ocean in a Kayak or SUP in Monterey Bay
For those more adventurous travellers, go out and explore the beautiful waters of the Monterey Bay in a kayak or on a stand-up paddleboard! This fun activity lets you enjoy the sunshine and boosts your chance of getting up close to the amazing wildlife! Because the Bay is sheltered, the waters are pretty calm for water sports.
Rentals are available at various places. Adventure by the Sea has locations in the area including Cannery Row in Monterey Bay, Lovers Point in Pacific Grove, Stillwater Cove in Carmel and many more! They even run lessons and tours if you're new to the activity and would like some guidance.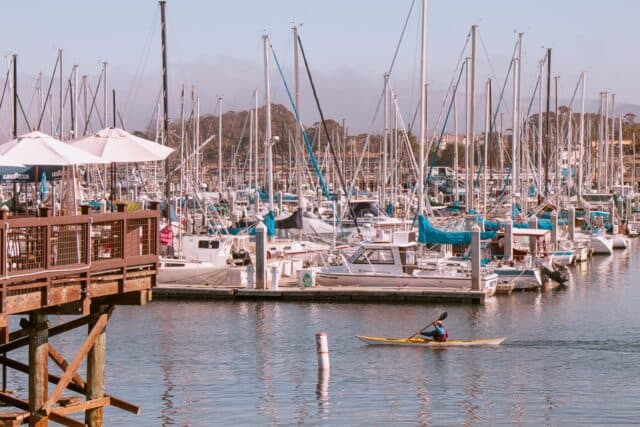 Want to get out on the waters but don't want all that work? (Absolutely no judging here!) Try this catamaran sailing cruise instead. The boat sails around Monterey Bay National Marine Sanctuary while you watch the gorgeous scenery with a glass of wine in hand. It is such a laid-back way to enjoy a day on the water.
Watch out for otters playing in the kelp and harbour seals sleeping on the rocks. Who knows, you might even see a whale or dolphin coming by to say hello!
7| Enjoy Ice Cream at Revival
Take a break from the various Monterey tourist attractions and grab a scoop of ice cream at Revival.
Their organic ice cream is handcrafted with fresh, seasonal ingredients—everything from honey and beeswax to dairy products are locally grown and sustainably harvested.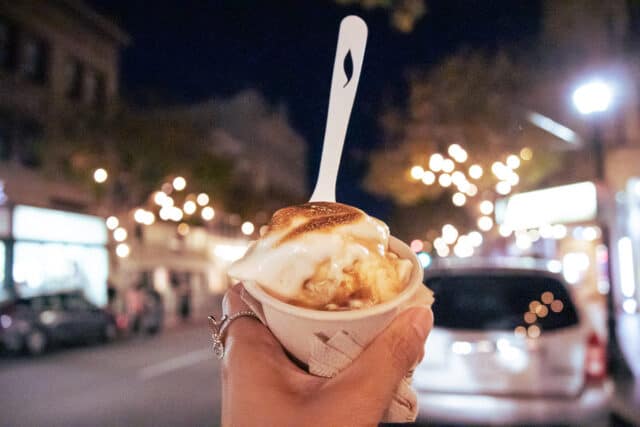 Pick from one of the top-selling flavours: bee's knees, eucalyptus mint chip, and lemon peel; or surprise your tastebuds with unique combinations such as apricot saffron, goat cheese and beet jam, and cucumber apple. Top it off with birthday sprinkles, brownie bites or other fun and creative toppings!
The store can be found in downtown Monterey, a block away from Monterey State Historic Park.
8| Have a Romantic Dinner at the award-winning Aubergine
Speaking of food, do not miss the opportunity to dine at Aubergine. The high-end restaurant resides in the heart of Carmel-by-the-Sea and has earned a Michelin star every year since 2019.
Executive chef Justin Cogley designs an eight-course tasting menu to showcase an appealing mix of creativity and seasonality which changes every night. The dishes are a celebration of the bounty of the region as well as a chance to show off the chef's skillful technique. When it comes to service, you can expect personalised attention as there are only nine tables in the restaurant.

Meals start at $225 per person with an option to add drinks and wine pairings to the evening. Reservations are required and can be made via OpenTable. We advise checking availability several weeks in advance in order to secure a table!
9| Visit the Fairytale Village of Carmel-by-the-Sea
Escape to the sleepy town of Carmel-by-the-Sea and spend a day strolling through the whimsical, fairytale cottages. The European-style town is super picturesque, filled with old-world architecture connected by secret passageways and flower-filled courtyards. For a brief second, you might even think you're actually in Europe!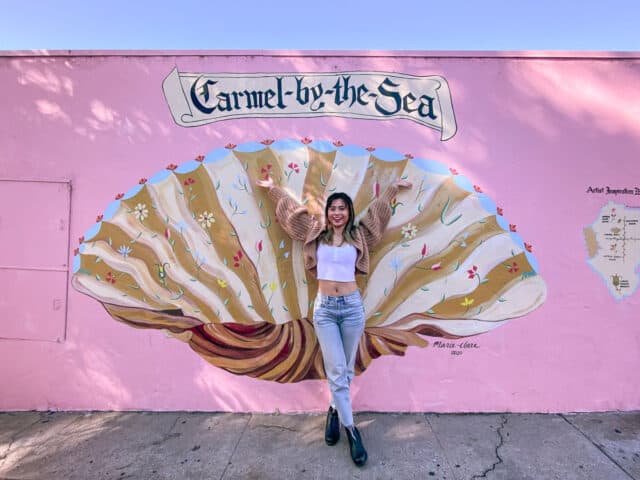 Some of the most popular activities in Carmel-by-the-Sea include:
Visiting the Carmel Mission Basilica, a historical Roman Catholic mission church
Boutique shopping: Many independent stores can be found on Ocean Avenue
Finding local goods at the farmers market: held on Thursdays from 10 AM to 2 PM on Sixth Avenue between Junipero and Mission Streets.
Eating and drinking your way through Carmel: Explore the culinary delights of this town as you learn about its history and culinary culture. This half-day, small group food and wine walking tour takes you to local restaurants and boutique shops, sampling locavore and ethnic dishes!
Which is More Interesting to Walk Around and Explore: Cannery Row or Carmel?
Personally, we find Cannery Row too touristy. Many of the shops in Cannery Row are familiar retail chains, making it difficult to find unique gifts and merchandise to take home. Our impression is that the area, though rich in history, is now overrun by businesses that are mainly targeting tourists. The only appealing thing is its close proximity to the beach.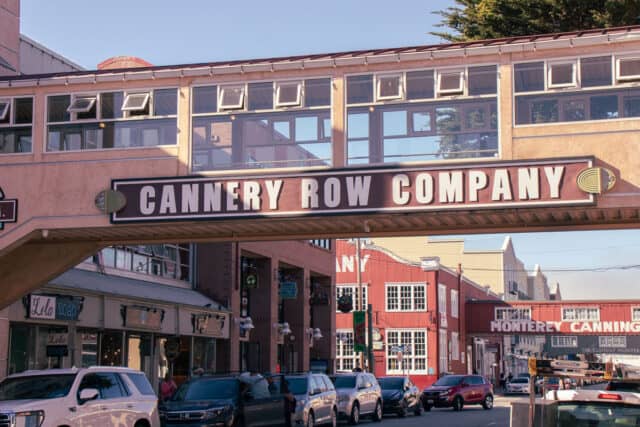 Carmel, on the contrary, is quieter and more laid back. As you stroll around the town, you'll stumble upon many artisan shops, locally owned boutique stores, world-class art galleries, cutting-edge tasting rooms, and inviting restaurants. You can easily spend a day or two walking around town!
Strapped for time but still want to tour Carmel? Consider a Carmel walking tour with a local guide, who will take you through the fairytale town, visit important landmarks, and tell you the story of this unique village.
10| Go Sunbathing on the Carmel Beach
Bring a blanket and sunbathe at one of the most iconic spots on California's Central Coast, Carmel Beach! A short 15-min walk down Ocean Avenue from the centre of Carmel will take you there. Cypress trees and turquoise water are the view waiting for you at the end of your walk.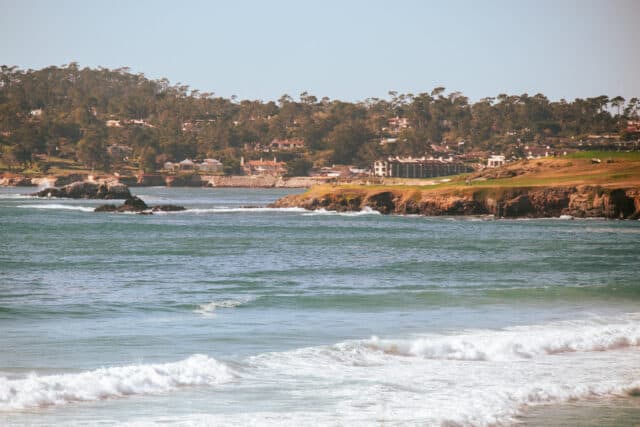 This picture perfect beach has a long stretch of soft, white sand and unbeatable scenery. It is easy to find yourself lost in the sound of the waves and the unrelenting wind as the sun kisses your skin.
Nearby, the Scenic Pathway runs along the coastline, meandering along the bluff. You can access the Pathway from Scenic Road between 8th Avenue and Martin Way. It will take you from Carmel Beach all the way to Carmel River Beach (yes, these two are different places!).
11| Spend an Afternoon Wine-Tasting
Do you know that the Santa Lucia Highlands is a wine growing region in California? Abundant sunshine and a cool climate make it ideal to cultivate California's best Pinot Noir and Chardonnay.
If you're a wine drinker and would like a taste of the California Central Coast region's wines, you're in luck! There are a plethora of tasting rooms right in the town of Carmel-by-the-Sea. You can sample wines from Blair Estate, Scheid Vineyards, Hahn Estate, Talbott Vineyards, Albatross Ridge and many more, without having to make a trip to Carmel Valley!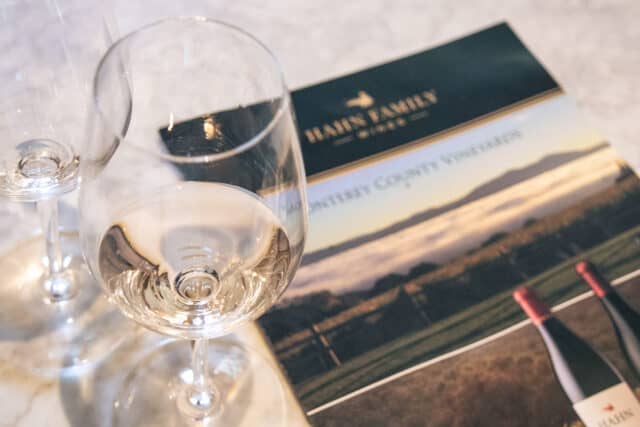 Pro tip: Though walk-ins are welcome, it is recommended to reserve tastings in advance during peak season.
12| Play a Round (or Two) of Golf
Aside from the breathtaking vistas and numerous open-water activities, Monterey Peninsula is also a world-class golf destination. It has hosted many major golf championships and it is many golfers' dream to come here to play.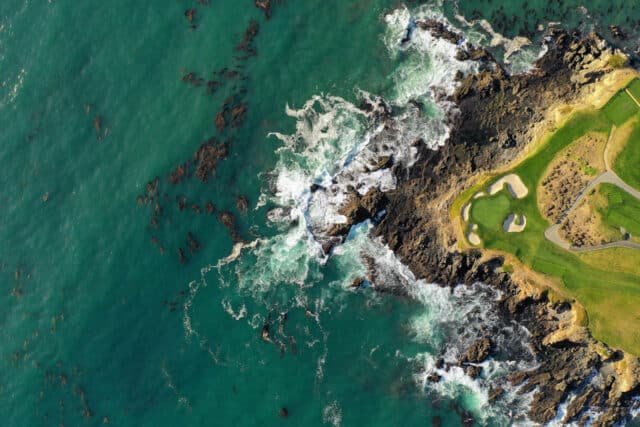 Seriously, when you are standing on artfully manicured greens and looking out to the dazzling landscape, it is not hard to understand why it is America's premier golf mecca.
Want to book a tee time? Here are some golf courses to consider:
Spyglass Hill
Pebble Beach Golf Links
Pasatiempo Golf Club
The Links at Spanish Bay
Bayonet Black Horse, Bayonet Course
Bayonet Black Horse, Black Horse Course
Pacific Grove Golf Links
Note that some of these golf courses have very high green fees. Do your research ahead of time and then consider if the scenery and challenge are worth the price tag.
13| Tour the Vineyards in Salinas or Carmel Valley
Salinas and Carmel Valley, two of California's undiscovered wine regions, were designated as AVAs in 1983. For wine enthusiasts, exploring vineyards and tasting the vibrant, bright flavour profiles are among one of the best things to do in Carmel and Monterey.
Some of the best wineries and vineyards in Salinas and Carmel Valley include:
Odonata Wines
Folklore Winery
Holman Ranch Vineyards
Joullian Vineyards & Winery
Bernardus Winery and Vineyard
Cowgirl Winery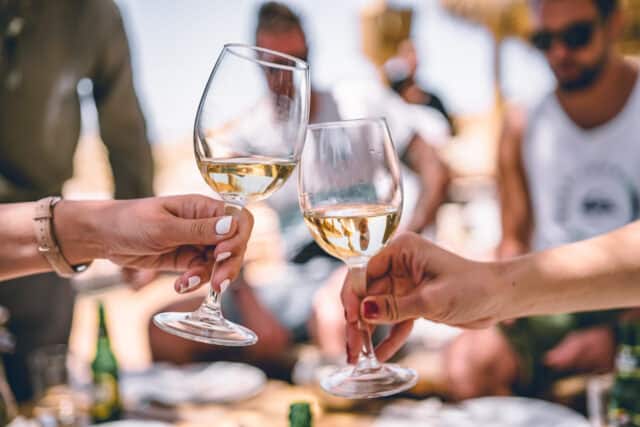 To tour the vineyards, having a car is recommended, giving you more flexibility and freedom.
But if you'd simply like to do wine tasting, you can get by with public transport. In fact, from Monterey and Carmel-by-the-Sea, you can take Grapevine Express (Line 24) to Carmel Valley, where most of Carmel Valley's wine tasting rooms are located. Many are open Thursday through Sunday. Salinas Valley's wineries are more scattered and not as easily accessible by public transport.
Alternatively, join a Carmel Valley wine tour. The tour organises your transportation, arranges snacks and a lunch meal, and brings you to three or more wine-tasting venues.
14| Drive the Scenic 17-Mile Drive through Pebble Beach
If there's only one thing you take away from this article, it should be this: make sure you dedicate half a day for the 17-mile drive. Trust us, the scenery along the way is out of this world and you will never want to leave.
As its name suggests, the scenic route is exactly 17-miles (27 km) long and hugs the Pacific coastline through Pacific Grove and Pebble Beach on the Monterey Peninsula.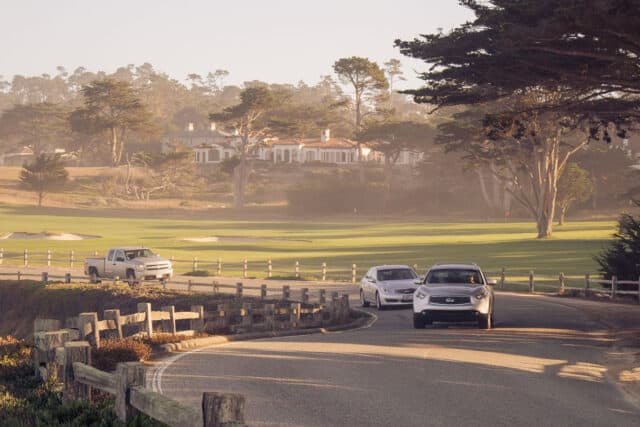 Along the way, you will drive through coastal cliffs, white sandy beaches, mystical forests, and renowned golf courses. Of course, there are many lookout points worth stopping for photos. Popular spots are Spanish Bay, Bird Rock, The Lone Cypress, and Pebble Beach Golf Links.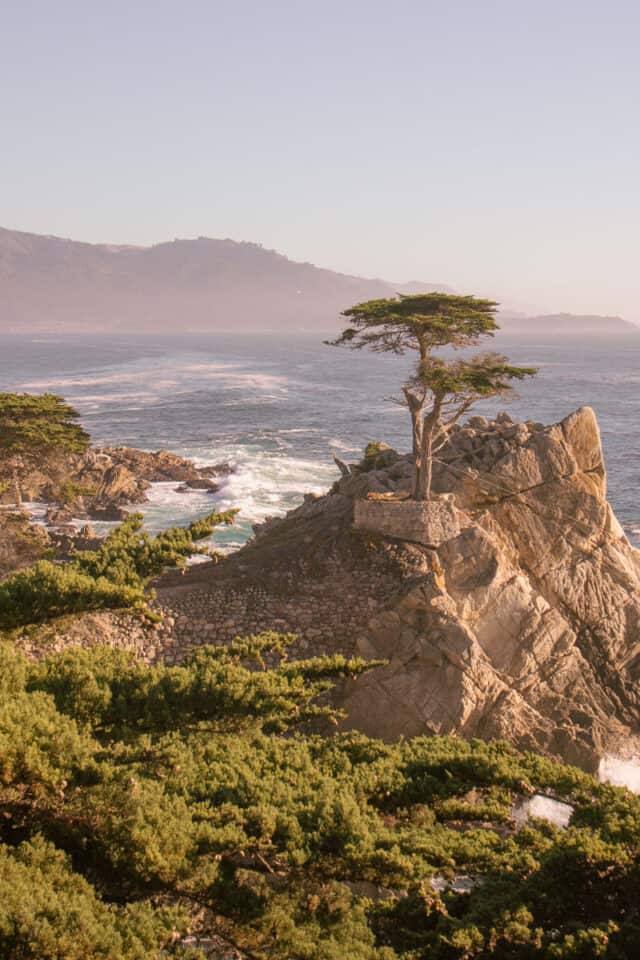 Admission is USD$11.25 per vehicle. You will pay the fee as you enter through one of the five gates at Highway 1, Samuel Morse at Highway 68, Sunset Drive in Pacific Grove, Country Club Gate at Congress Avenue, or San Antonio Avenue in Carmel.
Instead of driving, you can also experience this scenic route via bike! Either rent an ebike and explore on your own, or join a 3-hour electric bike tour and learn about the area with a local guide!
15| Hike the Point Lobos State Natural Reserve and Garrapata State Park
If you can't get enough of the striking vistas Monterey Bay has to offer, head over to Point Lobos State Natural Reserve! The California state park offers a beautiful setting for a half-day outdoor adventure, with plenty of opportunities to view seabirds, observe marine life, and admire the unique seascape.
You can explore the majority of the park by hiking the loop trail, which is a network of many other small trails and stretches 5 miles (8 km) long. The scenery changes as you go, taking you from old growth cypress forests to sandy beaches and hidden coves.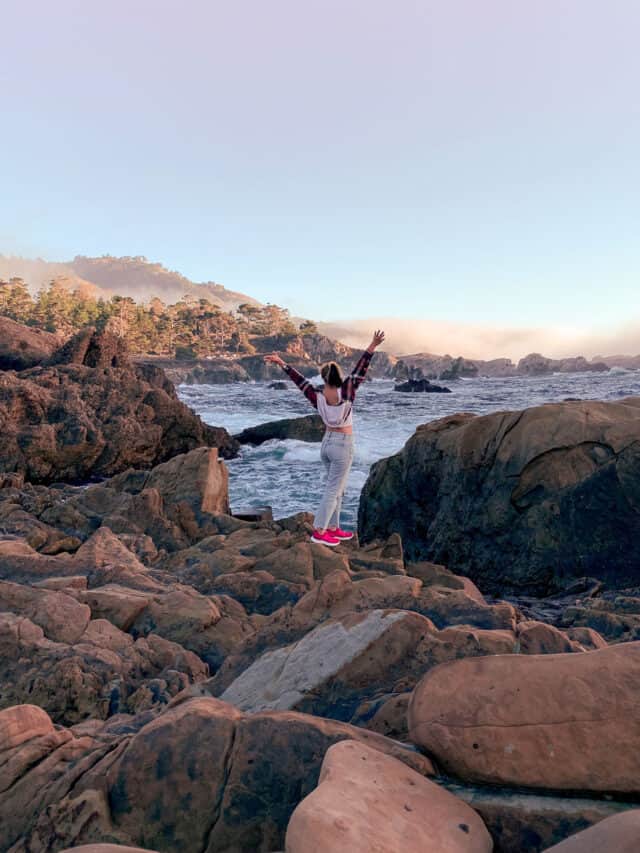 Entry to Point Lobos requires an admission fee of USD$10 per vehicle.
Garrapata State Park is located further down south along the Big Sur coast, past Carmel Highlands. Trails lead you up mountains, through redwoods, and along the rugged coast. It is especially beautiful to visit during sunset and view all the calla lilies in the small valley.
Other Things to Do in Monterey and Carmel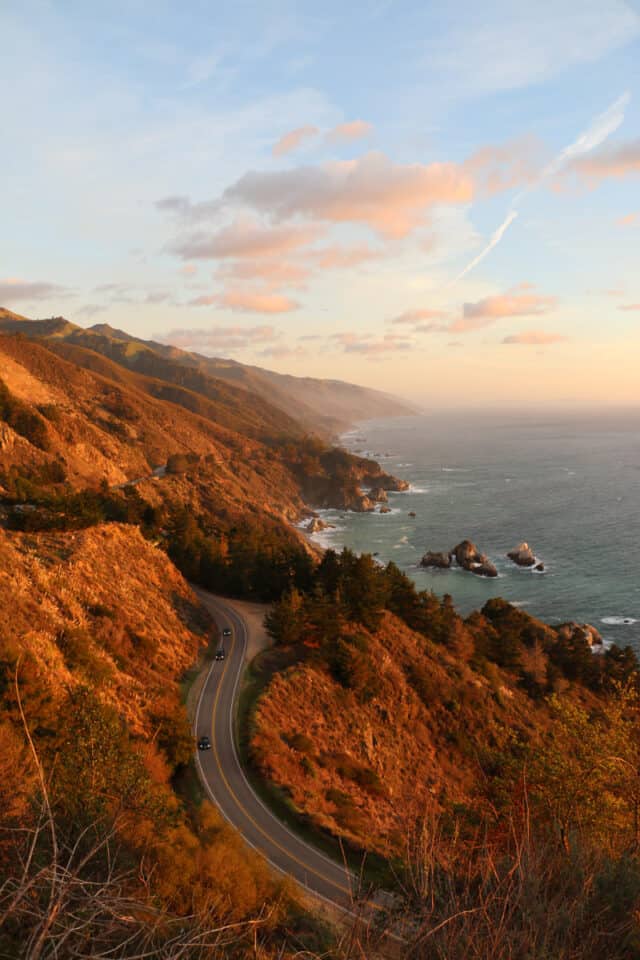 Checked out all the things to see in Monterey and Carmel and still want more? Consider adding these destinations to your Monterey and Carmel itinerary:
Fort Ord National Monument: One of the best things to do in Monterey and Carmel is to explore nature and this recreational area offers just that! The 86 miles of trails offer plenty of opportunities to hike, bike, or horseback ride through rolling hills and oak woodlands.
Big Sur: A stunning 71-mile (114 km) stretch off the famous Pacific Coast Highway, bordered by the Santa Lucia Mountains and the Pacific Ocean. The route boasts a jagged, dramatic coastline between Carmel and the northern tip of San Luis Obispo County and offers many surfing and photo spots along the way!
Moss Landing: A tiny town that lies in between Monterey and Santa Cruz at the mouth of Elkhorn Slough, one of California's largest wetlands. Its geographical location makes it an excellent place for wildlife viewing and whale watching.
Best Time to Visit Monterey, California
The mild climate of the Monterey Peninsula makes it a great year-round destination. Temperatures range from the high 50s to the low 70s in Farenheits (equivalent to 10 to 20 degrees Celsius) year-round.
Summer, starting from June, is the most popular season to visit. Warmer and drier climate attracts heavy crowds from near and far. During this peak season, you might be met with long lines and higher room rates.
However, Spring, Fall and Winter can just be as lovely.
Springtime brings an explosion of wildflowers, adding colours to the landscape through the region's parks – perfect for picturesque hiking.
Crowds wane in Fall, yet the days remain warm accompanied by cooler evenings. The best part is you can still catch the area's popular events, such as festivals, live music, and farmer's markets.
Winter can bring occasional rainfalls, but it is the prime time for whale watching as grey whales begin their migration season in Monterey Bay in December. If you visit in Winter, it is essential to dress in layers and always bring a rain jacket wherever you go!
Getting to Monterey and Carmel-by-the-Sea
By air
Monterey Regional Airport (MRY) is the closest airport servicing the area, just three miles (5 km) from downtown Monterey. The airport provides flight services from several major US cities, so it's easy to fly in for domestic travellers.
International visitors would fly into either San Jose International Airport (SJC), which is 1 hour and 15 minutes away, or San Francisco International Airport (SFO), which is approximately a 2-hour drive away.
By car
To fully enjoy what Monterey Peninsula has to offer, a car is strongly recommended. You can conveniently rent a car from the airport you are flying into.
Monterey and Carmel is one of the best weekend getaways from San Francisco (or the SF Bay Area). You can easily incorporate it into your California road trip itinerary. The San Francisco to Monterey drive along Highway 1 will only take you about two hours in normal traffic.
If you're visiting Monterey from Los Angeles, expect the drive to take about 5 hours via I-5 N and US-101 N. Add another two hours if you're driving from San Diego.
Want to visit Monterey from San Francisco, but you'd rather not drive? A tour is a great option.
There are many great Monterey day tours available. To hit all the top attractions in one day, consider this highly-rated full day tour, which takes you down scenic Highway 1 to Monterey and Carmel-by-the-Sea, along with the famous 17-Mile Drive through Pebble Beach.
Best Hotels in Monterey, California
Monterey Plaza hotel & Spa: Sitting at the edge of Cannery Row, this beautiful beachfront property is perfect for anyone who wants to be close to all the action. The 4-star hotel promises to pamper you with a host of outstanding amenities and charm you with a stunning view of Monterey Bay. Take your experience up a notch with a bike ride along the coast (complimentary bikes for staying guests) with a sunset stroll on the private beach! Click here to check the rates.
The Inn at Spanish Bay: For avid golfers, the luxurious Inn at Spanish Bay is an excellent choice. Tucked away on the northwest end of Pebble Beach, the resort boasts incredible ocean views, manicured golf course, six dining options, and a luxurious spa. Rooms are wonderfully spacious, complemented with Wi-Fi, Egyptian cotton bed sheets, and a gas-burning fireplace. While you're there, make sure to catch the bagpiper performance, playing daily before sunset, rain or shine! Check the latest rates here.
Casa Palmero at Pebble Beach: Nestled on the South Coast of Monterey Peninsula, Casa Palmero is the smallest and most intimate resort on Pebble Beach. With only 24 private rooms, the 5-star Mediterranean-inspired property provides the most secluded lodging experience you can ever have in Monterey Bay. Each room is appointed with gas fireplaces, deep-soaking tubs — some even have an outdoor patio! Many resort amenities are shared with its sister property, The Inn at Spanish Bay. Book your stay at Casa Palmero.
Best Hotels in Carmel, California
L'Auberge Carmel: For a perfect Carmel escape getaway, look no further than this Relais & Châteaux boutique hotel, ideally located right in the heart of the Carmel village. The European-style property has a history dating back to 1929! They excel at creating memorable experiences for its guests with 29 luxuriously appointed guest rooms, a Michelin star restaurant, in-room spa services, and a wealth of wellness experiences. Click here to check availability and rates.
Carmel Valley Ranch Resort: Tucked away in the foothills of the Santa Lucia Mountains, the 500-acre resort offers a sophisticated escape – one that focuses on fun. Adventure awaits at the organic garden, the four-acre pinot noir vineyard, the farmstead, the 18-hole Pete Dye-designed golf course, and the neighbouring Garland Ranch Regional Park. At the end of the day, spoil yourself at the treetop Spa Aiyana, take a plunge at one of the three saltwater pools, or join a culinary program at The Market & Creamery! Book a stay at Carmel Valley Ranch.
Post Ranch Inn: If you are looking to splurge and don't mind a little drive, consider Post Ranch Inn — one of the most luxurious places to stay in Big Sur. Once a working ranch, the resort now offers 40 private cabins, promising a breathtaking getaway that you will ever dream of with your loved one. A trip to the Inn takes you high above the cliffs of Big Sur where you'll be greeted with a panoramic coastal view of the Pacific Ocean. The impeccable architecture will make your jaw drop, blending rustic elegance with luxury and comfort. Onsite, you'll find two heated infinity spas, a heated swimming pool, a fitness centre, a full-service spa, a restaurant, a gallery, as well as a wide array of activities to invigorate your mind. Children and pets are not allowed on property to give you the utmost privacy, peace, and tranquility. Check the rates and availability here.