This site uses affiliate links and we may earn a small commission when you use our links and make a purchase without incurring additional fee yourself. Many thanks for supporting this website. Please see our disclosure page for more details.
Pristine sand beach, lush forests, plus an incredible bounty of sea creatures – all of these make Maui a paradise for many– from beach goers to outdoor adventure enthusiasts. You could certainly spend your entire vacation chilling in the hammocks on the beach (it's tempting!), but there are so many unique things to do in Maui. It would be a shame to not spend time exploring the island's volcanic landscapes, lush jungles and spectacular marine world.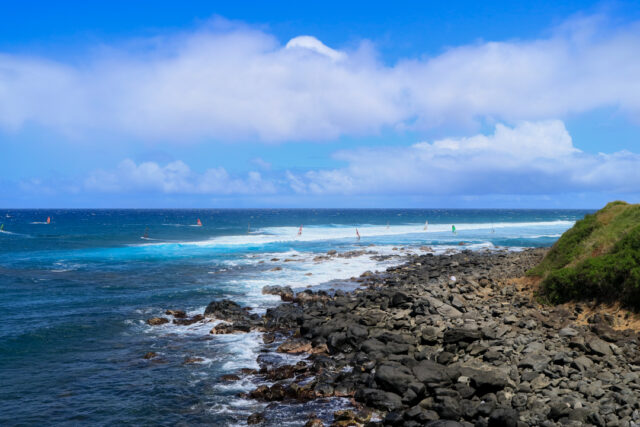 After visiting Maui ourselves, we have come up with this comprehensive list of 45 must dos in Maui. Whether you're into cultural experiences, food, or adventure, we guarantee there is something for you!
So, without further ado, here are the best unique Maui activities for your next tropical vacation to Hawaii!
First time visiting Maui? These Maui travel resources will make your trip planning a breeze:
→ eSIM: Knowroaming and Airalo both have affordable USA data plans.
→ VPN: Boost your privacy and internet security with NordVPN.
→ Car rental: Discover Cars is great at finding and comparing the best car rental deals.
→ While on the road: Upgrade your Maui road trip with this location-based audio tours. It's just like having a tour guide in your car!
→ Island hopping? Book your flights with Hawaiian Airlines!
→ Hotels: We recommend Hotel Wailea (a luxury adult-only hotel in South Maui) and Hana-Maui Resort (if you're staying overnight in Hana). Scroll down to the hotel section for our top picks around the island.
→ Tours: Here are some of our favourites…
❋ Whale-watching on a ocean raft with a naturalist
❋ Swimming with dolphins and turtles at Molokini Crater
❋ Ziplining through the eucalyptus forest on Mt. Haleakala
❋ Taking a sunrise bike ride down Haleakala
❋ Soaring above West Maui & Molokini on a helicopter tour
❋ Road Tripping through the Road to Hana
Map of Top Maui Things To Do for Young Adults
The second largest Hawaiian island (out of the eight), Maui is famously known as the 'Valley Isle,' a name earned because of its location between two mountains: Haleakala to the east and the West Maui Mountains to the west.
To give you a sense of where everything is, we mapped out all the unique Maui activities mentioned in this article in the Google Maps below.
Top Maui Activities That Will Get You Wet
1| Marvel at humpback whales on a whale watching tour
One of the best things to see and do in Maui during the winter months is whale watching!
Did you know that around 12,000 North Pacific humpback whales travel 3500 miles from Alaska to the waters around Maui every year?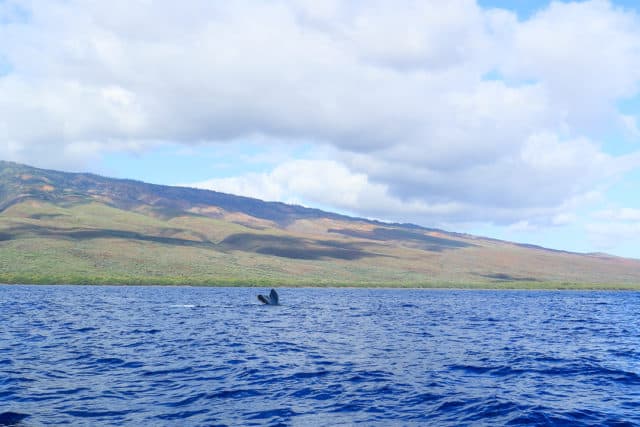 They migrate to Maui between late November and early April to mate and give birth. The warm, shallow waters of Maui are the ideal place for these activities!
People claim that you can whale-watch from the shore. That is true, but to get a closer look, we strongly recommend hopping aboard a whale watching boat tour!
On our visit to Maui, we joined a whale watching tour with Ultimate Whale Watch and had an absolute blast! We learned so much from the experienced crew. Plus, the zodiac boat made it quick and easy to manoeuvre on the waters so we didn't miss a single chance to see the whales up close!
Time: December to April, sunrise to sunset
Price: $49+
2| Dive with sharks at Maui Ocean Center
Maui Ocean Center is not like any aquariums you've visited before. Aside from showcasing marine life found in Hawaiian waters such as tropical fish, sea turtles, sharks, stingrays, octopuses, and sea jellies, the aquarium also has one of the world's largest displays of live Pacific corals.
But that's not the really exciting part. Adventure travellers will have an opportunity to experience the thrilling underwater experience of diving with sharks!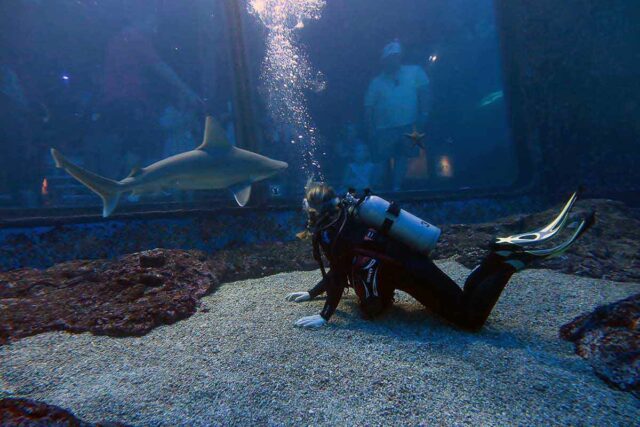 Can you imagine swimming with over 20 sharks, hundreds of fish, and rays cage-free? Truly one of the top adventure activities for adrenaline junkies!
At Maui Ocean Center, the 3-hours cage-free dive takes place in the 21-ft deep, 750,000-gallon Open Ocean exhibit. It promises to transform your stereotypical view of sharks into respect and awe for the creatures. Not to mention the bragging rights you will earn!
Hours: Daily, 9 AM to 5 PM
Dive Fee: $350+ per diver
3| Visit the turtle town
Another marine animal that attracts visitors to Maui is the sea turtle. The best place to catch sight of one is at Maluaka Beach in South Maui.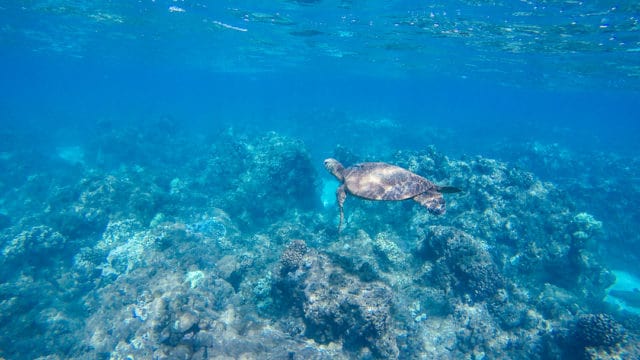 About 20 minutes south of Kihei, Maluaka Beach is easily one of Maui's best-kept secrets and certainly a hidden gem for snorkelling. This is the best spot to see green sea turtles on the island with virtually no crowds.
You don't need to swim too far to find turtles. They actually are quite comfortable in shallow water. Just keep an eye out for their brown shell! Remember – don't touch them!
Aside from sea turtles, you may spot some other cool marine life as well, including (but not limited to) butterfly fish, parrot fish, trumpetfish, octopi and eels.
4| Snorkel in an extinct volcanic crater of Molokini
If you're itching for more snorkelling, Molokini Crater is a spectacular place for an underwater adventure!
Its protected status as a marine life and bird conservation district gives shelter to about 250 species of fish, some of which are found nowhere else on earth!! In addition, underwater visibility is unreal – with more than 100 feet (30 m) on most days!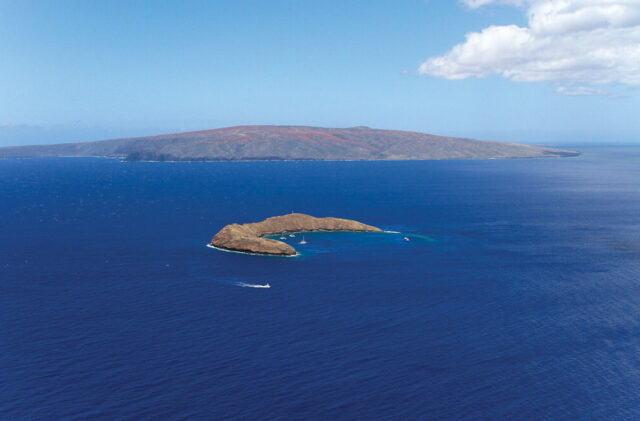 On your snorkelling trip, you can expect to see humpback whales in season, green sea turtles, monk seals, eagle rays and sharks!!
The Molokini Crater can only be reached by boat, and we recommend booking a small boat snorkelling tour (instead of a catamaran) for an intimate experience.
This Molokini Crater snorkel tour takes you to see dolphins up close and gives you a chance to swim with sea turtles! Plus breakfast, lunch, and snorkel equipment are included!
5| Climb down the waterfall with Maui's on rappelling tour
There are tons of waterfalls in Maui. To kick your waterfall adventure up a notch, try one of the most adventurous things to do in maui – a canyon rappelling tour!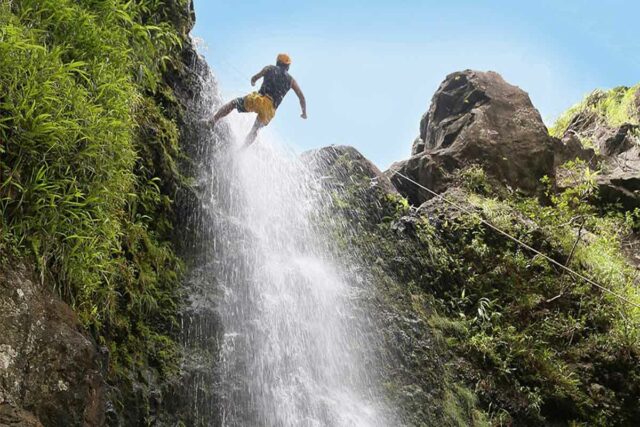 Discover the raw, wild side of Maui in the lush rainforest where you use ropes to cruise down jungle cliffs and cascading waterfalls.
Many tours take place somewhere on the Hana Highway and are beginner-friendly!
This waterfall rappelling tour takes you off the beaten path to a private rainforest canyon and teaches you how to descend down numerous waterfalls of different heights!
Note: bring water shoes, towels, and a change of clothes!
6| Learn how to surf or stand up paddleboard
Maui is the ideal place to take up surfing. There are so many surf schools on the island with experienced surfers who teach beginning surfers s ocean safety and the fundamental techniques you need to know to ride your first wave.
Want to take it easy but still have fun? Consider stand up paddleboarding!
I had my first SUP lesson in Maui's protected blue-water lagoon and instantly fell in love with the sport. The waters were calm and gave me the confidence to practise my newly learned techniques!
7| Tour Maui by canoe with outrigger canoe tours
If you've watched the Moana Disney movie, you probably noticed Moana and her companion Maui using a traditional Polynesian double-hulled outrigger canoe to navigate their way across the ocean.
That's how early navigators made their way throughout Polynesia and Hawaii!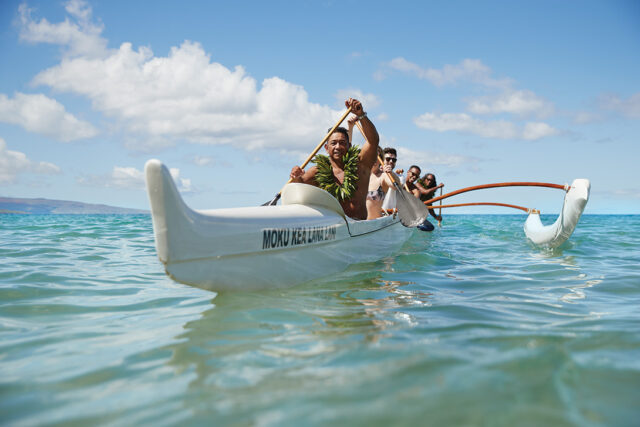 Today, you can learn about the Polynesian culture, art and sport of canoe paddling by joining a traditional Hawaiian outrigger canoe tour. As you paddle down the coast, you'll discover the ancient art of wayfinding (celestial navigation) and catch glimpses of the Hawaiian Green Sea turtles!
Hawaiian Ocean Sports has different outrigger tours to choose from. We did the cultural and turtle tour on our last visit and truly enjoyed it!
8| Kayak along the Ukumehame coastline
Ukumehame in West Maui south of Lahaina is a particularly rocky site, making it difficult to swim or snorkel, but it is a popular spot for whale watching and kayaking.
Clear and shallow water makes it particularly easy to spot marine life. Rent a transparent kayak to enjoy the underwater life that lives beneath your seat with the breathtaking west shore scenery as the backdrop!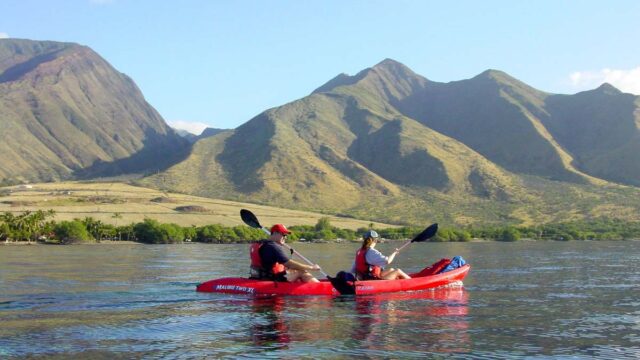 Pro tip: Ukumehame Beach Park is perfectly quiet during the week, but tends to fill up on Saturdays and Sundays. If you can, try to stop by this lovely coastline on a less conventional weekday.
9| Become a mermaid for a day at Hawaii Mermaid Adventures
Your fantasy of swimming like a mermaid (or merman) doesn't have to be a dream any longer! You can easily experience this unique way to swim in Maui with Hawaii Mermaid Adventures!
The company lets you explore the ocean in a fun and exciting way – with a mermaid tail!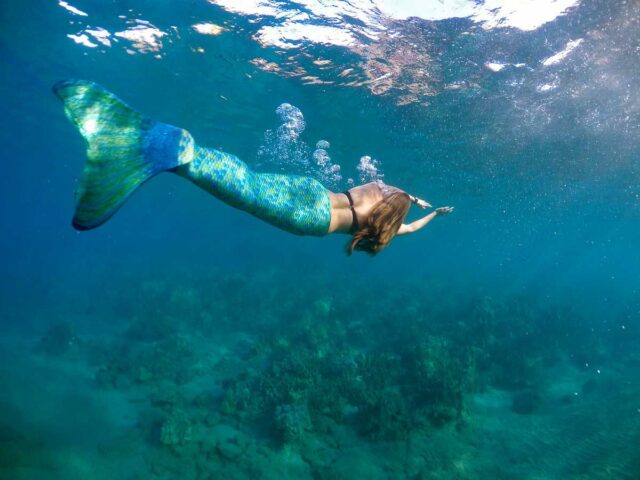 During the 90-min lesson, the mermaid instructor will teach you the finer points of swimming like a mermaid, share mermaid mythology and sailors' tales, and highlight the importance of marine conservation.
In addition, you'll get digital underwater photos to take home as a souvenir!
Best Adrenaline Rush Activities in Maui
10| Go on a ATV adventure in the West Maui Mountains
Instead of hiking, why not explore Maui's rugged landscape on a thrilling ATV tour?!
Not only can you visit the part of the valley that can't be reached by traditional vehicles, but you will also learn from local guides about what makes this place so special!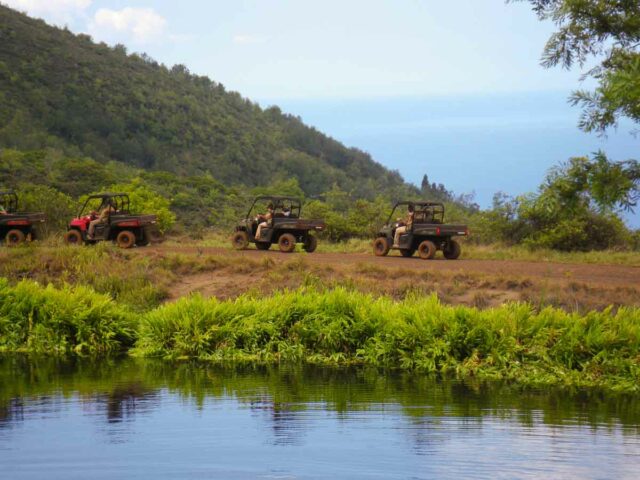 11| Zipline at Haleakala National Park
For an adrenaline rush, zipline through the eucalyptus forest on Mt. Haleakala!
WIth Skyline, you'll soar across canyons at over 45 mph, above 90 ft (27 m) drops. We did the classic 5-line zipline course a few years back, which gave us the 'high' we needed carrying us over deep ravines and lush vegetation, each more thrilling than the last.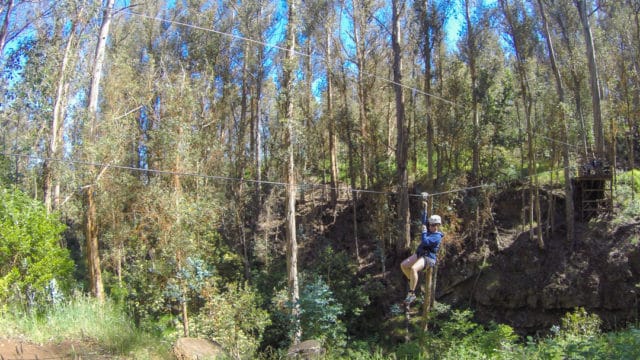 The highlight of our tour was the last "Pendulum" zip, where we swung back and forth on a 750-feet (228-m) long zip, reaching up to 45 mph in just a few seconds!! It sure made our hearts skip a beat!

Note: a lot of zipline tours do NOT take place in Haleakala. Skyline is one of the few that actually have a zipline course inside the national park. Make sure you read carefully when you book a tour.
12| Take a sunrise bike tour on Haleakala
Watching the sunrise on Haleakala is one of the most unusual things to do in Maui —and one of the most magical!
Among all the places we've watched the sunrise, nothing beats the one from the summit of Haleakala. Afterwards you can have the super cool experience of biking down the volcano after a splendid light show!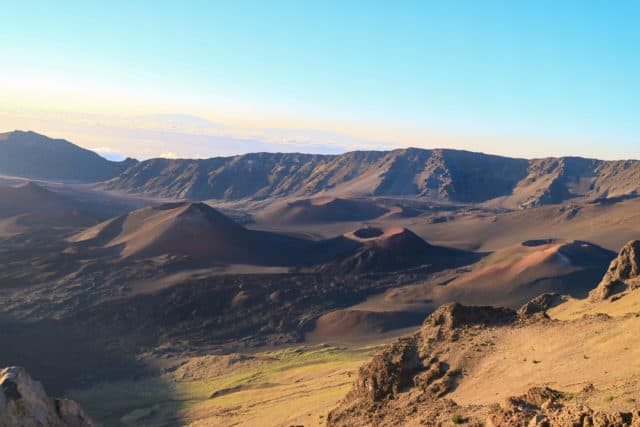 Yes, you will have to wake up at 2 AM, but trust us it is SO WORTH IT!
The drive from the bottom of the mountain to the summit of Haleakala is about 90 minutes. 29 switchbacks and 37 miles (60 km) later, you will be 10,000 feet above sea level (that's 3048 metres!)
Watch a million stars fill up the clear sky, twinkling like diamonds. You may even see shooting stars dart across the glittering night sky! Then slowly… the sky changes colours: yellow, pink, orange, purple, it's a gorgeous light show and simply nothing can compare.
The Mars-like volcanic landscape is unreal – you will feel like you are standing on the set of a movie.
The second half of the tour promises to get your heart rate going. As you cruise down 21 switchbacks on two wheels, you will see enchanting views of rolling green hills, sugar cane and pineapple fields, and eventually Maui's south and north shore will come into view!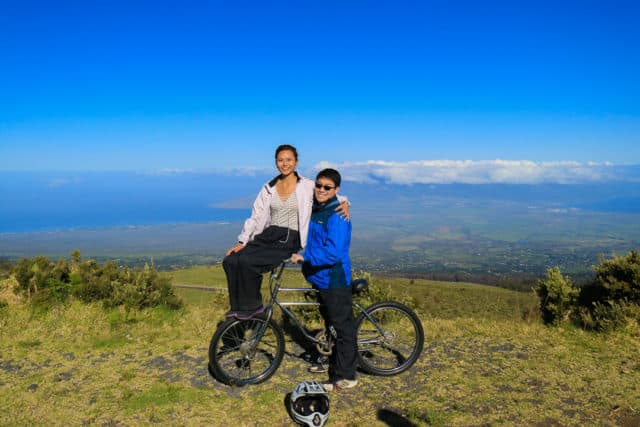 You can read about our FULL sunrise bike tour experience with Skyline here.
Pro tip: Wear a windbreaker jacket and long pants for this activity. Temperatures in the early morning can be quite chilling. Also, take a car sickness pill if you're prone to motion sickness.
13| Take to the skies on a Maui-Molokai helicopter tour
On a clear, sunny day, one of the best ways to spend your time is by flying over the islands of Maui and Molokai for astonishing views of the shoreline!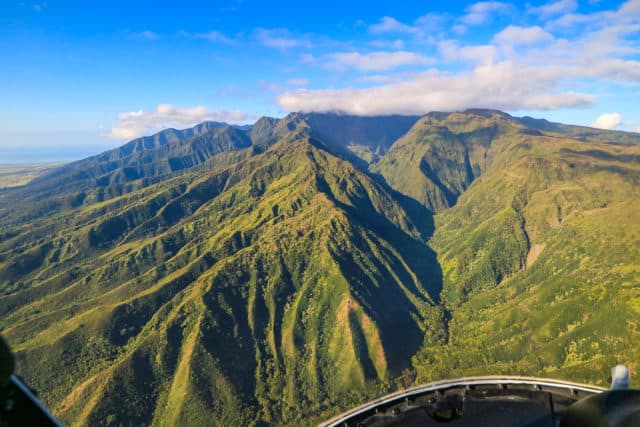 The aerial adventure gives you an overview of the untamed wilderness and serene seascapes of Maui and Molokai (an island northwest of Maui), accessing parts of the islands that are otherwise inaccessible.
For example, you will see one of Hawaii's tallest and most jaw-dropping waterfalls, the 1,200-foot (366 m) Papalaua Falls in north Molokai!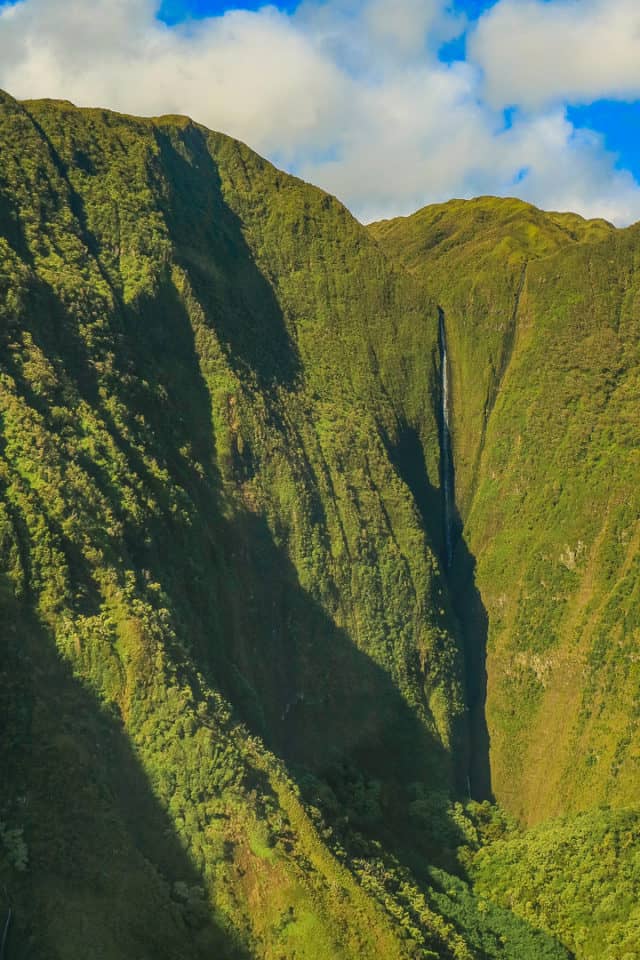 The views from above are out-of-this-world gorgeous and picture-perfect. If you get a chance, hop on a helicopter tour to see spectacular scenery of the beautiful Hawaiian islands.
Maui's Best Natural Attractions
14| Drive the 'Road to Hana'
Among all the top places to visit in Maui, our absolute favourite is taking the scenic drive along the Road to Hana.
The Hana highway hugs the northeast coastline of Maui and is dotted with mesmerising attractions along the way (including waterfalls, bamboo forests, and black sand beaches, many of which we will mention below!)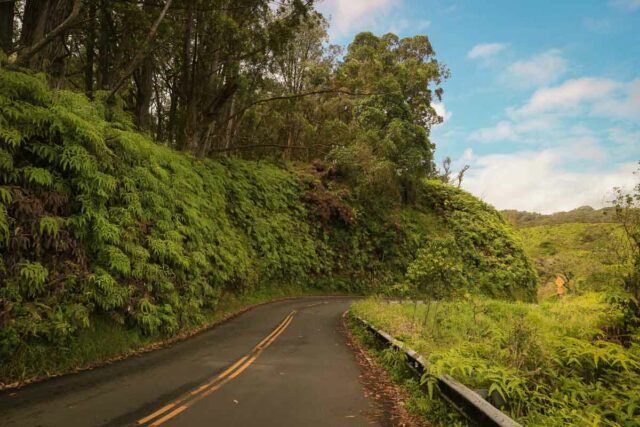 But be warned: the Road to Hana is an exhausting drive if you're getting behind the wheel yourself. The road is narrow and windy; you'll encounter (reportedly) 617 hairpin curves and 59 unforgiving one-lane bridges as well as an incredible number of blind spots along the way. That's probably why people call it "The Divorce Highway."
The total distance from Kahului (where most people start the journey) to Hana is 52 miles at a speed limit of 25 mph or less the entire way. There are very few rest stops along the way and it takes an average of 3.5 hours to complete.
Don't let that discourage you though! If you have time, we strongly encourage spending at least one night in Hana.
For those who are short on time OR would rather have someone else do the driving, consider joining a one-day guided Road to Hana tour! With a local guide, you are guaranteed to hit all the best spots (waterfalls, black sand beaches and more) in just one day.
Pro tip: take medicine beforehand to avoid motion sickness.
15| Take Maui's bamboo forest hike along the Pipiwai Trail
If you ask people, "What can I do in Maui?" you will get so many different answers.
For nature lovers, we strongly recommend hitting up the Pipiwai Trail and immersing yourself in a zen state inside the most accessible-to-the-public bamboo forest on Maui. Roaring waterfalls at the end of the trail will make your jaw drop!
The entire trail is a 4-mile (6.4 km) out-and-back path if you want to reach the towering Waimoku Falls. Give yourself at least 2 hours to conquer the trail.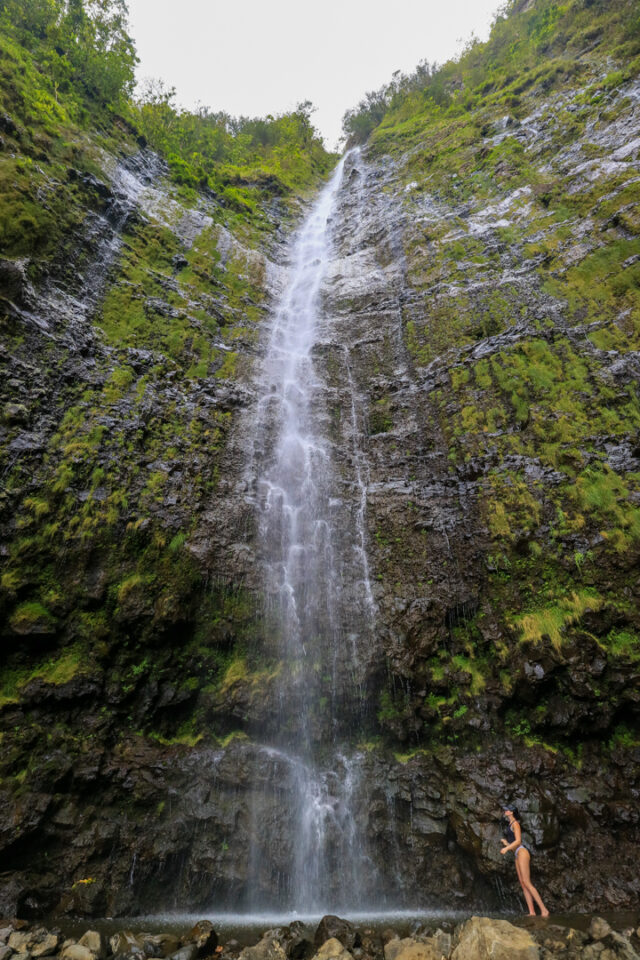 Otherwise, the bamboo forest is located just halfway down the trail, which is 1 mile (1.6 km) from the trailhead, or 2 miles (3.2 km) round trip.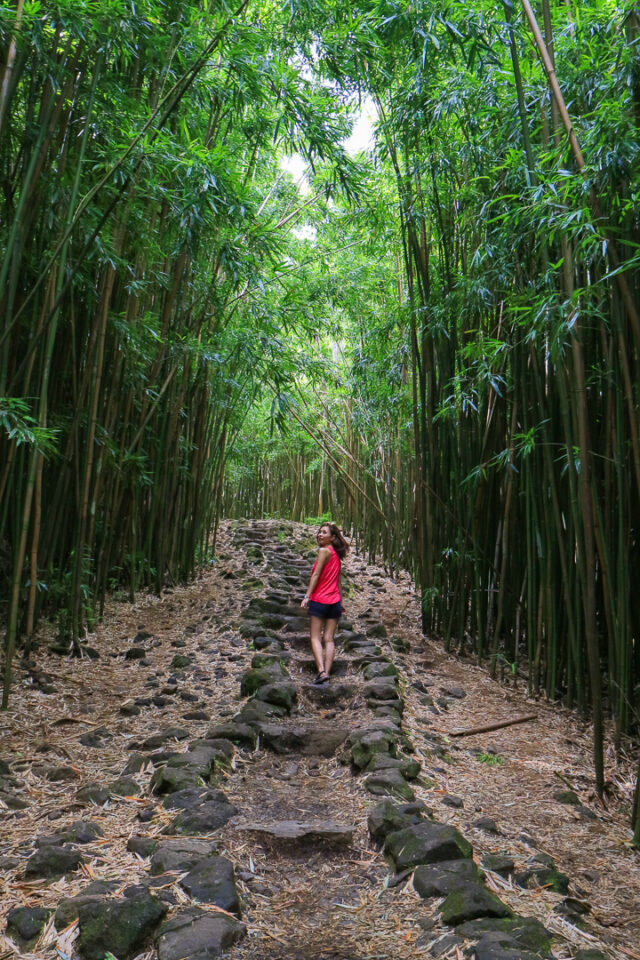 The trail is located on the Kipahulu side of Haleakala National Park and reservation is not required to hike Pipiwai Trail like it is at Wai'anapanapa State Park. There is, however, a park entrance fee of $30 per vehicle (valid for 3 days) unless you're an annual passholder.
Location: Mile Marker 41, Hana Hwy, Hana, HI 96713
Hours: 9 AM to 5 PM (Entry gate closes at 4:30 PM)
16| Visit the 7 Sacred Pools (Pools of 'Ohe'o)
Another attraction inside Haleakala National Park that is worth a visit on your way to Hana is the famous Pools of 'Ohe'o, also known as the 7 Sacred Pools, in the ʻOheʻo Gulch area.
Depending on the weather and the amount of recent rainfall, you may see up to 20 tiered pools!! Each pool feeds into the next, cascading down along the Palikea stream.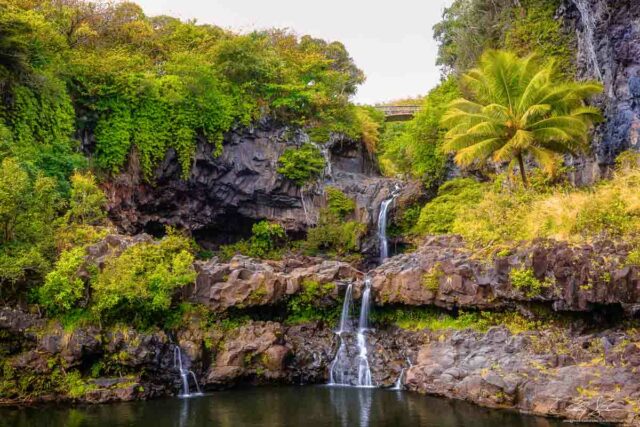 To reach the pools, take the Kuloa Point trail, an easy half-mile (0.8 km) loop that takes you around the pools, past a cultural exhibit, out to breathtaking ocean views, and back to the Kipahulu Visitors Center.
Location: Mile Marker 42, Hana Hwy, Hana, HI 96713
Important note: as of June 2022, the pools are not open for swimming. Please obey all signage and park ranger instructions.
17| Take a stroll on Pa'iloa Black Sand Beach (Wai'anapanapa State Park)?
Pa'iloa Black Sand Beach is arguably one of the most unique Maui experiences you can have on the Road to Hana drive.
Never seen black sand before? You're in for a treat.
The Pa'iloa Beach features the black pebble-sand combination originating from crushed up lava rock. Many of the sand granules are actually more like little pebbles. Walking on them with bare feet feels like an all natural foot massage.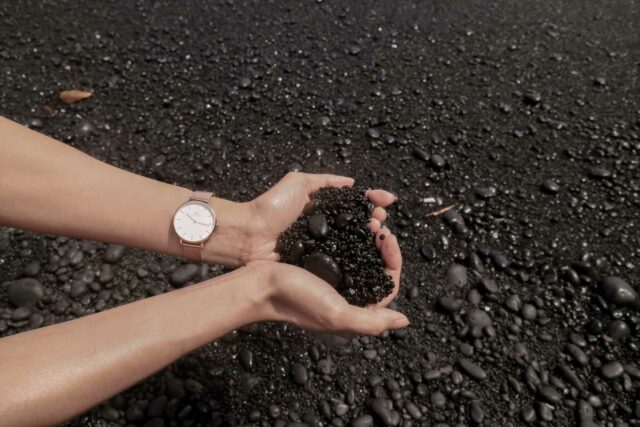 While in Wai'anapanapa State Park, keep your eyes peeled for seabirds. Also make time to explore sea caves, tide pools, lava tubes, blowholes, and heiau (Hawaiian religious temples).
Pro tip: It is necessary to make reservations to enter the popular Wai'anapana State Park. Click here to reserve and plan ahead!
​​18| See the natural wonder that is the Nakalele Blowhole
Speaking of blowholes, the most powerful one you can find in Maui is the Nakalele Blowhole near Wailuku in the northern tip of the island.
A blowhole is a hole in the ground that connects to an underground lava tube that is partially submerged. The tube and opening are shaped in such a way that when the ocean rises or waves crash into it, a jet of water is violently forced out through the hole as high as 100 feet into the air!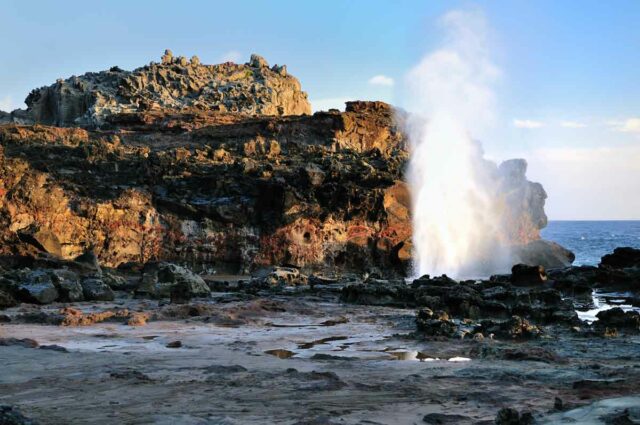 To reach the Nakalele Blowhole, you'll have to embark on a short half mile hike from the parking area (mile marker 38.5).
In addition to the blowhole, don't miss the lighthouse and a heart-shaped lava rock. They are both places that make a perfect photo op.
Pro tip: remember the blowhole is dangerous and accidents happen frequently. The safest way to view Nakalele Blowhole is to stay on dry rocks. Admire and appreciate the blowhole from a distance and avoid venturing dangerously close.
19| Walk inside a lava tube
Have you ever imagined how cool it would be to walk inside a lava tube?
Maui has the 18th largest lava tube on Earth and you can visit it as you make your way along the Road to Hana!
Hana Lava Tubes (aka Ka'eleku Cave) was formed approximately 30,000 years ago and is the largest and most accessible one on the island.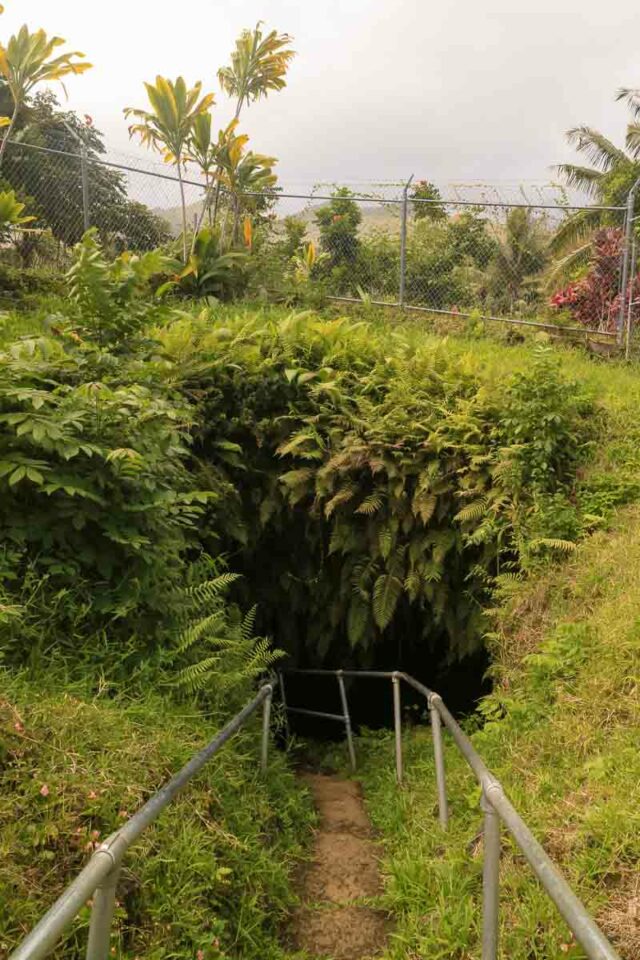 This geological marvel is essentially the veins of Mt. Haleakala (a dormant volcano), pushing flowing lava from underground and depositing it into the ocean.
On your self-guided tour in this underground world, you will come across various forms of lavacicles (yes, that's a real word!), stalactites, stalagmites, fissures, cracks, skylights and a cold-war era fallout shelter. This will give you a mega flashback of an environmental science field trip!
It takes approximately 40 minutes to walk through the entire underground cave. Upon entry, you will be given flashlights to light their way, as the interior of the cave is inky dark.
Hours: Daily, 10:30 AM to 4 PM
Admission: $15 per person
20| See the dragon's teeth
The northwest region of Maui is full of natural treasures and one that deserves to be seen in person is the dragon's teeth or Makaluapuna Point as it is formally known.
The name says it all – the rocks are exactly what you would expect dragon teeth to look like.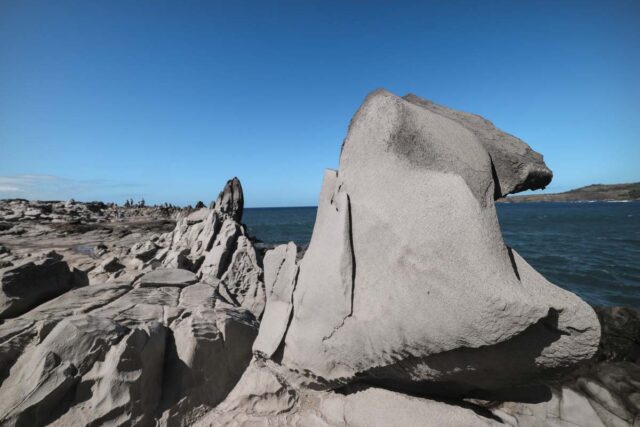 But "how did they come to be?" is probably the question that intrigued us more.
It turns out that as one of the last lava flows from the West Maui Mountains travelled to the ocean, fierce wind and waves forced it back and hardened it into vertical, fin-like formations. That's how the 3-ft high pointy 'teeth' were formed.
Walk a little further and you will come across a coral labyrinth called the Kapalua Labyrinth. This complex maze by the shoreline is designed as a walking meditation, a perfect location to find your inner peace!
21| Go on a rainforest adventure at Iao Valley
For scenery that will make you feel like you were transported into Jurassic Park, head over to Iao Valley State Park.
Located in Wailuku and in the center of the West Maui Mountains – Iao Valley is the second wettest place in Hawaii. It is also home to Maui's most famous landmark, the 2250-foot-tall Iao Needle.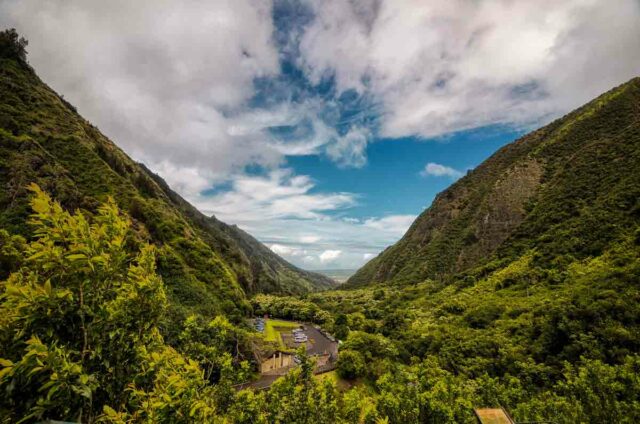 The 0.6 mile (0.96 km) Iao Needle Lookout Trail is an easy hike for those who would like to get a close-up view of the high peak.
For adventurous souls, take on the challenge to find secret trails within the valley that take you to the best view of the Iao Needle!
Hours: Daily, 7 AM to 6 PM
Admission: $5 for walk-ins and $10 for cars
Cultural Experiences & Tours in Maui
22| See the lavender bloom at Ali'i Kula Lavender Farm
Looking for non touristy things to do in Maui that don't involve the beach? Drive to the top of the mountains of Haleakala National Park for an aromatic escape.
The Ali'i Kula Lavender Farm is a purple paradise with more than 55,000 lavender bushes in 20 different varieties, sprawling across the 13.5 acre field. Olive trees, hydrangea, Protea, and succulents can also be found on the farm.
See the farm at its most beautiful during July and August, aka the peak summer months, when all the lavender is blooming.
Make sure to stop by the shop. You can find all sorts of lavender-scented products, including soap, lotion, jam, tea, cookies, and even items for your pets!
Hours: Friday to Monday, 10 AM to 4 PM
Admission: $3 per person
23| Discover the works of honeybees at Maui Honey Bee Sanctuary
Enter the world of honeybees with a visit to the Maui Honey Bee Sanctuary on the south side of the island near Ulupalakua.
On the grounds of the sanctuary, you will have the chance to satisfy your sweet tooth with a free tasting of several honeys that are local to Maui. In addition, you are free to take a self-guided tour of the gardens and shop the array of body and home care bee products such as beeswax food wrap, honey lotion, macadamia nut honey, bee pollen, and more!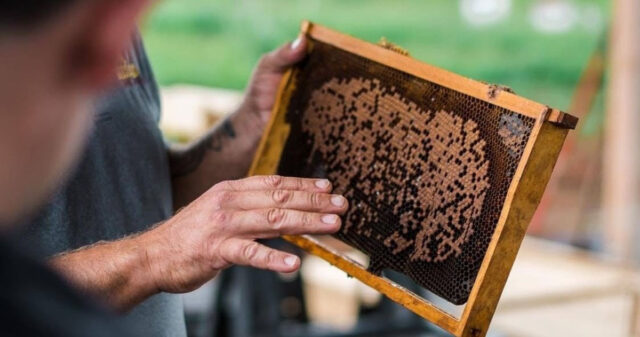 For a more immersive experience, book a Maui bee adventure to learn about honey bees (including pollination, how honey is made, and all about the queen bee) and handle the beehives!
Beeswax craft workshop is another hands-on activity where you get to make your own product using beeswax.
They also have Honey Harvest Day at the farm for those who have an entire day to spare. Bee lovers will get to be part of all the farm activities: joining in harvesting the honey, viewing the hive up close, making beeswax candles, and honey tasting. Check their website for the next event!
Hours: Daily, 9 AM to 6 PM
Admission: Free
24| Hang out with goats at Surfing Goat Dairy
Fresh cheese fans will not want to miss the opportunity to visit Surfing Goat Dairy, a working farm in Upcountry Maui.
On the 42 acre farm, you'll find more than a hundred Swiss Saanen and French alpine goats that provide milk daily, the basis for fresh cheese and all-natural goat's milk products created onsite.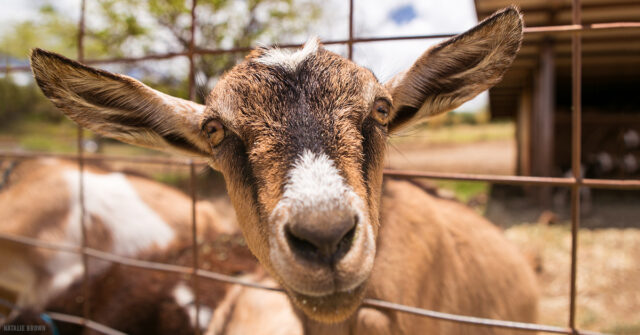 The best way to spend your day is to sign up for one of the tours:
Participants on the daily casual tours (30 mins) get to feed alfalfa to baby goats while receiving a brief overview of the cheese-making process and the equipment used to pasteurise, ripen and form the cheese.
Evening chore & milking tours (1 hr) are more hands-on, giving you a chance to feed the goats, watch while they are machine milked, and learn to hand-milk the goats!
Drop in at the shop before you head off for some novelties like different flavoured goat cheeses, goat cheese truffles, and goats milk soaps.
Hours: Tuesday to Saturday, 9 AM to 5 PM
Price: Daily Casual Tour $18; Evening Chore & Milking Tour $25
25| Learn to hula dance
Dance your way through your Maui vacation with a hula dancing lesson!
The steps may seem easy, but hula dancing is rich in history, developed by early Polynesian settlers as a form of storytelling.
Follow the steps of professional hula dancers and learn how to combine the movement of the hands, eyes, hips and legs to tell a story. It is an educational and entertaining experience!
Some resorts offer free hula lessons. If you don't know where to start, try Jan Kealani's Maui Hula Lessons.
26| Go souvenir shopping at the Maui Swap Meet
Want to bring home souvenirs that will remind you of Maui? Check out the Maui Swap Meet.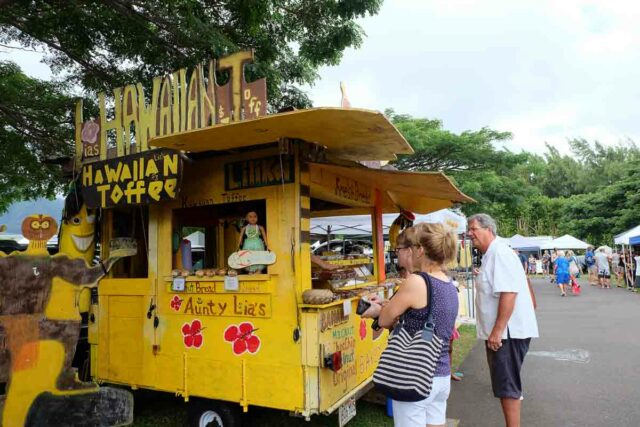 The market runs every Saturday from 7 AM to 1 PM in the parking lot of University of Hawaii Maui College, just off Kahului Beach Road. It features an amazing selection of crafts, artwork, apparel, and fresh produce (like pineapples)!
If you need a snack you will also find food vendors selling local authentic dishes!
Admission: $0.50 per person
27| Get creative at Island Art Party
Looking for something to do indoors? Why not paint a Maui memory at the Island Art Party!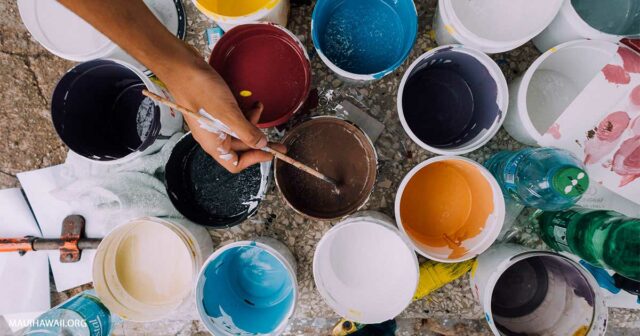 The paint-and-sip studio promises a fun time in Kihei with an instructor taking you step by step through the painting of the day. On site, there is a Creative Juices Bar, stocked with a full array of alcoholic and non-alcoholic drinks for purchase.
28| Sign up for a Maui Pineapple Tour
The pineapple is a symbol of Maui. To learn more about what makes Maui's pineapples famous and so sweet, head over to Maui Gold pineapple plantation in the small town of Hali'imaile near Makawao in Upcountry Maui.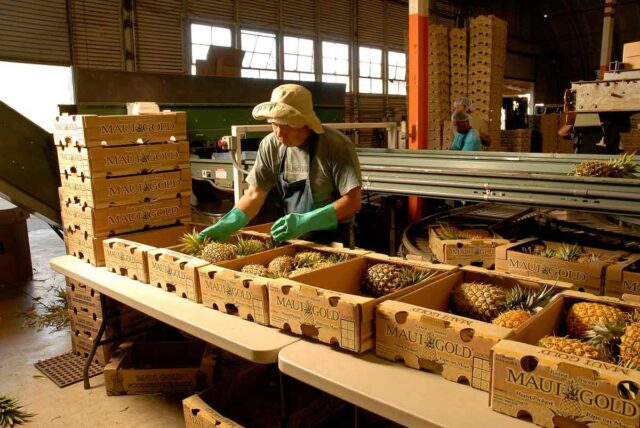 This working plantation offers a 90-min farm tour, taking you through the pineapple fields to get an up-close look at how pineapples are grown, harvested, tested, sorted, and packaged.
Plus, you'll get to taste some delicious fresh pineapple afterward!
Price: $75 adults, $65 children
Fun things to do in Maui at night
29| Stargaze from a volcano with Maui Stargazing
Haleakala is as beautiful at night as it is at sunrise. Its high elevation and minimal light pollution makes it ideal for stargazing!
Of course, you can head out to Haleakala on your own, but for an immersive experience, we highly recommend joining a guided sunset and stargazing tour.
With Maui Stargazing, you will admire the stunning sunset at the summit of Haleakala National Park. As night falls, you will observe the Milky Way and twilight sky through a large portable telescope under the guidance of an expert astronomer!
Nothing is more romantic than stargazing together from a volcano!
Pro tip: Just like the sunrise tour, make sure to dress warmly for the mountain weather. Bring closed toe shoes, thick socks, a long-sleeved fleece jacket and insulated long pants for this activity.
30| Experience a traditional luau
A luau is a traditional Hawaiian party with eating and dancing. The history of the luau goes all the way back to ancient times of Polynesia.
The dinner feast features Hawaiian and Polynesian dancing accompanied by cultural music, essentially an immersive dance show!
Throughout the night, guests will enjoy traditional food including dishes like poi (made from the stem of a taro plant), Kalua pig and haupia (a coconut milk-based dessert). Some places use a buffet style while others serve the food in a set course.
Some of the best luaus on the island include:
Old Lahaina Luau (traditional dancing focuses on telling Hawaiian history; buffet style)
Feast at Lele (upscale, 5-course, sit-down dinner; focuses on Polynesian cuisine and history) – our favourite!
The Grand Luau at Honua'ula (buffet style; includes a hula lesson)
Drums of the Pacific (longest running Maui Luau; buffet style; features Samoan fire-dancing and flame-eating)
Royal Lahaina Luau (all-you-can-eat buffet & open bar; has fire-knife dance)
Te Au Moana (course menu served family style; a chance to witness Polynesian rituals prior to the show!)
The Feast at Mokapu at Andaz (interactive performance; luxurious 3-course meal featuring Hawaiian dishes)
Wailele Polynesian Luau (most authentic luau; family style Polynesian meal)
31| Paddleboard at night
Who says you can't head out to the water under the stars?
In Maui, you can set off on a guided stand-up paddleboard tour at night with bright LED coloured lights shining beneath the water. Imagine looking down and seeing the reef and sea life right below the glowing boards!
No experience? No worries. Tours usually start while it is still bright out so you get briefed on safety precautions and paddle boarding techniques first!
32| Take a sunset cruise
Prefer to stay dry? Get a front-row seat for Maui's epic sunset on a sailing cruise instead!
Immerse yourself in the astonishing views of the nearby islands while listening to live music and enjoying appies and drinks from the open bar.
Talking about living your best life!
What and where to eat and drink in Maui
33| Taste "Hawaii in a bottle" at the Hali'imaile Distillery
Get a taste of pure Hawaii spirits at Hali'imaile Distillery.
The micro distillery in Upcountry Maui sets itself apart by creating quality spirits using local ingredients: Kona coffee infused rum, pineapple distilled whiskey, and Hawaiian botanical gin.
Sign up for a 45-min distillery tour if you'd like to learn more about its process, which includes a tasting at the end.
Time: Monday to Friday
Location: 883 Hali'imaile Rd., Hali'imaile, HI 96768
Price: $15 per person
34| Try Hawaiian vodka at Ocean Vodka Organic Farm and Distillery
Ocean Vodka is another distillery worth visiting on your Maui vacation.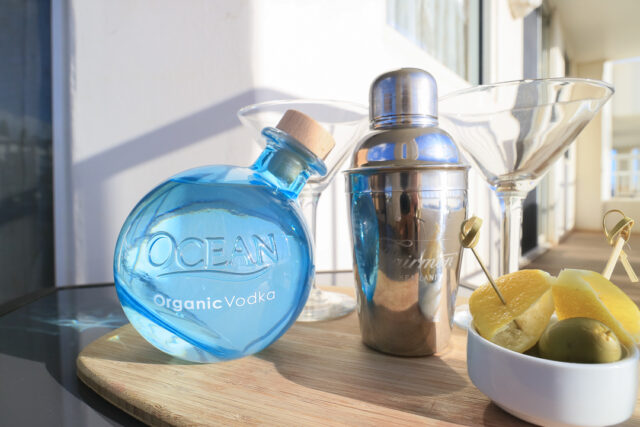 The farm and distillery on the slopes of Haleakala produces award-winning organic vodka that will remind you of a warm tropical day with aromas and flavours of lemon, pepper, and a hint of cane sugar.
Visit their cafe and get a tasting of the ultra-premium Hawaiian vodka and signature cocktails made with their own Ocean Vodka, Kula Rum, Fy Gin, and Brum spirits.
Hours: Daily, 11:30 AM to 7 PM
35| Taste the beers at Maui Brewing Company
Want an ice-cold, refreshing beer on a hot day? Head over to Maui Brewing Company for a tasting of their innovative craft beer!
From caramel-sweet lager to pineapple tropical brew to coconut-mocha dark ale, the brewhouse produces a unique selection to quench the thirst of beer enthusiasts.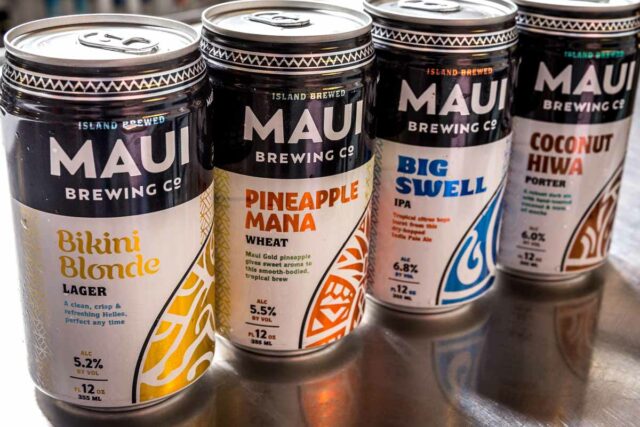 Not sure where to start? Sign up for a guided beer tasting of their four flagship beers with a knowledgeable craft beer curator.
Time: Daily, 11:30 AM to 10 PM
36| Try pineapple wine at Maui Wine
Did you know Maui produces wine? Sweet wine – the best kind – with pineapple flavours!
The Ulupalakua vineyards, MauiWine, is the mastermind behind pineapple wines, showcasing the unparalleled taste of the Maui Gold variety. Flavour profiles range from lively crisp (off-dry Maui Blanc), sweet (Maui Splash), to brut sparkling (Hula O Maui).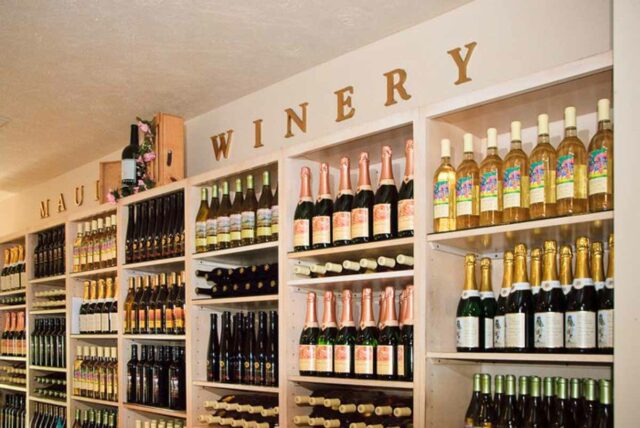 Visit their tasting room and try a pineapple wine flight tasting ($12) to find what suits your palate.
Reservation is strongly encouraged. They offer tasting flights, wines by the glass, wine cocktails and light fare.
Time: Tuesday to Sunday, 11 AM to 5 PM
37| Sip on Maui grown coffee
Grab your morning boost of joe or an afternoon pick-me-up with 100% Maui, Kau, and Kona coffee at Maui Coffee Roasters!
The cafe and roasting house is a local staple enticing coffee lovers with the smell of fresh-roasted beans in downtown Kahului. Choose from a wide selection of hot and iced beverages and decaffeinated coffee selections, along with pastries, sandwiches, or snacks.
Maui Coffee Roasters also sells small batches of roasted Hawaiian beans if you'd like to bring some home.
For pure Maui grown coffee, visit MauiGrown Coffee. Their cafe is closed at the moment, but you can still grab beans grown locally on the Ka'anapali Coffee Farms on the West Maui Mountains!
38| Take a chocolate tour at Maui Ku'ia Estate
Make your Maui memories even sweeter with a visit to a chocolate factory, Maui Ku'ia Estate! It's the largest chocolate factory in Hawaii!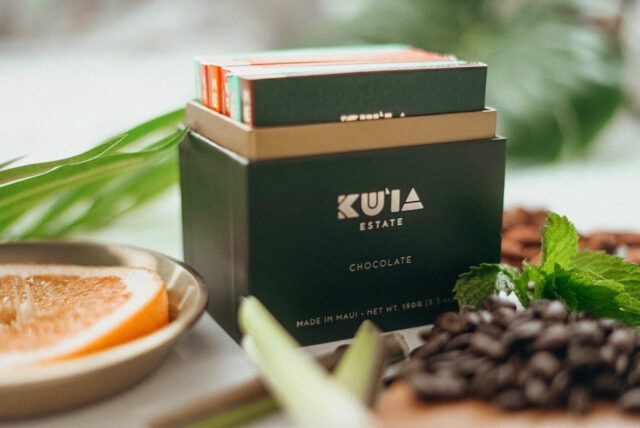 The chocolate factory grows their own cacao trees in a 20-acre farm at the foothills of the West Maui Mountains and processes their cacao in the most sustainable manner.
You can go behind the scenes on a 90-min guided cacao farm tour ($85) to learn all about cacao trees and their harvesting techniques. The tour finishes with an exclusive 9-piece tasting of their award-winning chocolate.
Tour hours: Daily, 9 AM to 2:30 PM (reservation recommended)
39| Enjoy a farm-to-table meal at O'o Farm
For a unique Maui culinary experience, sit down for a gourmet lunch at O'o Farm in Upcountry Maui.
The farm-to-table experience starts with a tour at the 8.5 acre natural farm where local Maui restaurants source their ingredients. Lettuce, garden vegetables, tomatoes, herbs and flowers are some of the fresh produce you'll find on the farm. They grow over 50 different crops!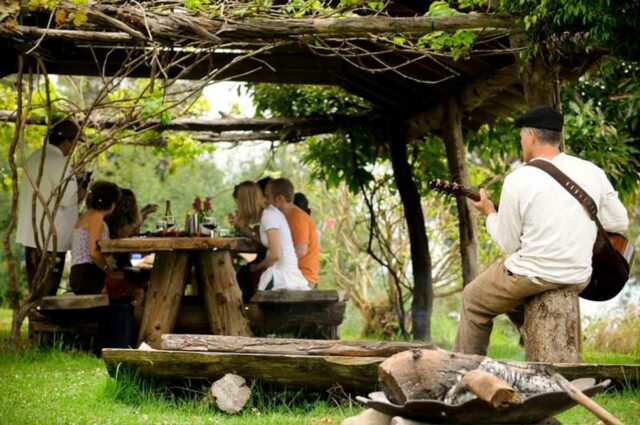 After the tour, you will be invited to indulge in a 5-course meal, featuring seasonal ingredients produced on the farm. Talk about fresh! Everything is served family style.
Hours: Monday to Friday, tours start from 10:30 AM to 1:30 PM (By reservation only)
40| Try fresh seafood at Mama's Fish House
Treat yourself and your loved one to gourmet seafood delicacies at Mama's Fish House! The oceanfront fine-dining restaurant dishes up Polynesian fare using the freshest seafood, caught daily by their fishermen.
We absolutely loved the setting here – it's secluded and private, nestled in the quaint little town of Paia in North Shore.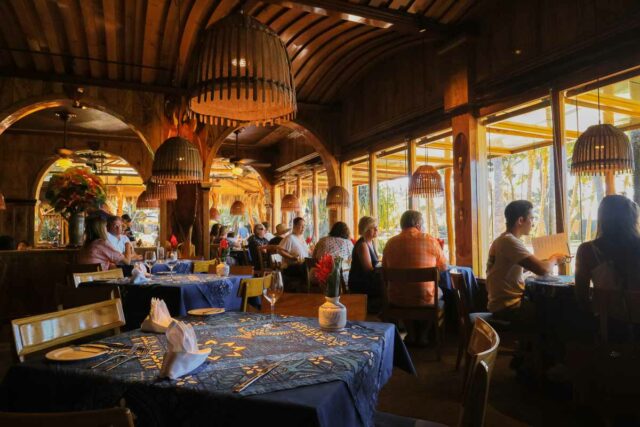 It is impossible to order a bad dish here. For those who need some guidance, order Macadamia Nut Crab Cakes and Shrimp Wontons to start.
Note: the restaurant is currently booked 3 to 6 months in advance. Please check availability before you go.
Hours: 11 AM to 8:30 PM, daily
41| Find the best poke bowl in Maui
You can't visit Maui without trying poke bowls. There are so many places that sell poke bowls and everyone has their own favourite.
Go on a hunt around the island and find your own personal favourite. To help you plan, here are some highly rated poke bowl spots that are worth a stop:
Kahiau's Poke Truck (Kahului)
Tamura's Fine Liquor (Lahaina & Kihei)
Foodland (Lahaina)
South Maui Fish Company (Kihei)
Like Poke? (Wailuku)
42| Eat Kalua Pig
The Hawaiian word kalua translates as "baked in an earth oven," which is how the Hawaiian dish, kalua pork, gets its slow-roasted tenderness. The cleaned and salt-rubbed pig is traditionally laid to cook over hot rocks and covered with banana leaves and wet burlap to retain moisture.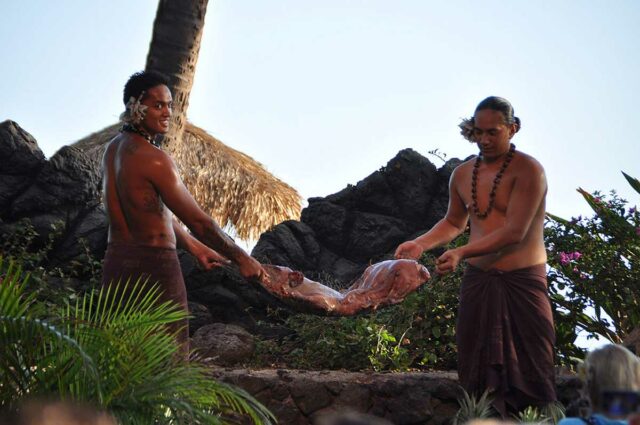 You can get a taste of kalua pork in most restaurants on the island and it is often served at luaus.
43| Try Spam Musubi
Spam musubi is a popular snack in Hawaii that you simply must try on your trip to Maui!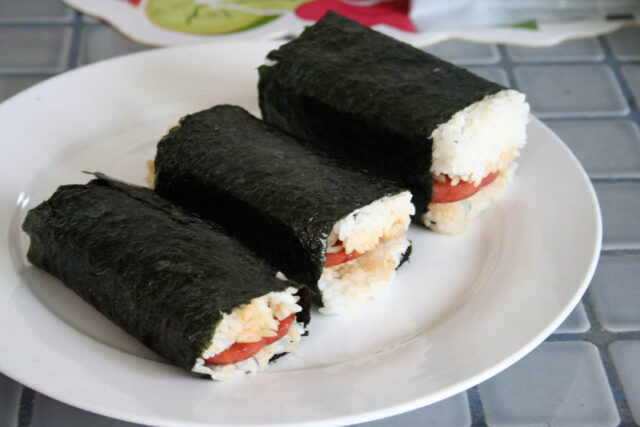 Inspired by Japanese onigiri (rice balls), spam musubi is made with ridiculously simple ingredients: pan-fried spam, rice and nori! The sweet and salty treat is a great on the go snack.
Oyako Tei and Da Kitchen reportedly have the best Spam Musubi on the island.
Day Trips From Maui
44| Island hop to Pearl Harbor
A must-see in Hawaii for history buffs is the Pearl Harbor National Memorial on Oahu.
The historic site is a powerful place to learn about the devastating December 7, 1941 attack on the U.S. military base by the Imperial Japanese Navy Air Service. It is a solemn spot where you can remember the bravery and skill of all who fought in the Pacific War.
To get to the historic sites at Pearl Harbor, you'll need to take a short flight from Maui's Kahului Airport to Honolulu. The Pearl Harbor Visitor's Center is only 10 to 15-min drive from Honolulu International Airport. Public transportation is also available.
At Pearl Harbour, there are several World War II-era historic sites you can visit:
Pearl Harbor's Visitor Center including the museum and grounds (no tickets required)
U.S.S. Arizona Memorial (advance reservation or same day standby)
Battleship Missouri Memorial (entry fee required)
Pacific Fleet Submarine Museum (entry fee required)
Pearl Harbor Aviation Museum (entry fee required)
Ford Island bus tour: U.S.S. Oklahoma and U.S.S. Utah Memorials (advance reservation required)
Advance planning is strongly encouraged for the best experience as there is so much to see at Pearl Harbour.
You can book everything on your own and make your own self-guided Pearl Harbor itinerary. Or, save time and effort by booking a guided tour from Maui!
45| Catch a ferry to Lanai
Another great day trip destination is the nearby island Lanai, just west of Maui. It is often called the "Most Secluded Island" and "The Pineapple Island."
Despite being the smallest inhabited island among the Hawaiian Islands, Lanai offers a plethora of things to see and do for visitors. Choose to spend your day away on pristine secluded beaches, off-road adventures, hiking, boating or swimming with turtles!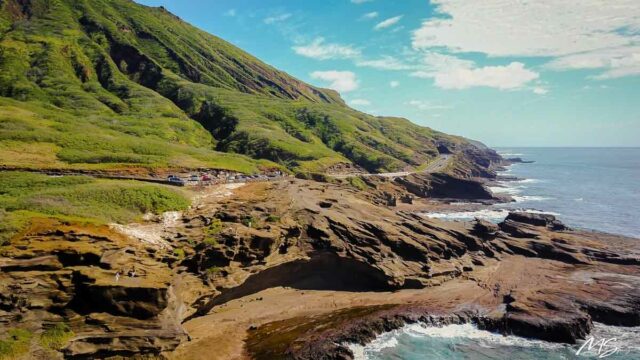 It is easy to access Lanai. From Maui, an hour-long ferry ride from Lahaina will take you straight to Manele Harbor ($30), with humpback whales swimming alongside in the winter months!
Click here to see the ferry timetable and reserve your spots in advance.
To see the most of Lanai possible in a day, renting a 4X4 Jeep is the best option. The island has many off-road paths to explore. Some remote spots worth a stop include:
Kanepu'u Preserve (the home of native ebony and olive dryland forest)
Keahiakawelo (aka Garden of the Gods, known for its red-rock landscape)
Kaiolohia (Shipwreck Beach)
Kaunolu (an ancient fishing village which is now the largest surviving ruins of a prehistoric Hawaiian village)
Best Hotels in Maui
When it comes to where to stay in Maui, West and South Maui are the best areas for first timers because of the high concentration of dining, shopping and tourist amenities.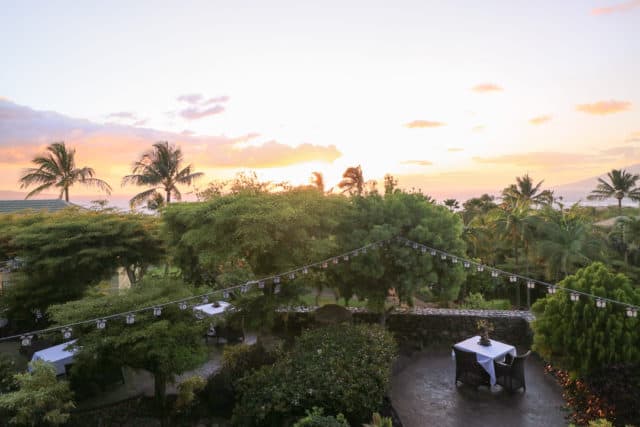 In South Maui, we recommend Hotel Wailea, Relais & Chateaux, a luxury adult-only resort, perfect for honeymooners. It is named by Condé Nast Traveler as one of the most romantic places to stay in the world!
The fact that it is "adult-only," made all the difference to us during our stay there! Plus, we really enjoyed the complimentary hotel shuttle to Wailea beach area.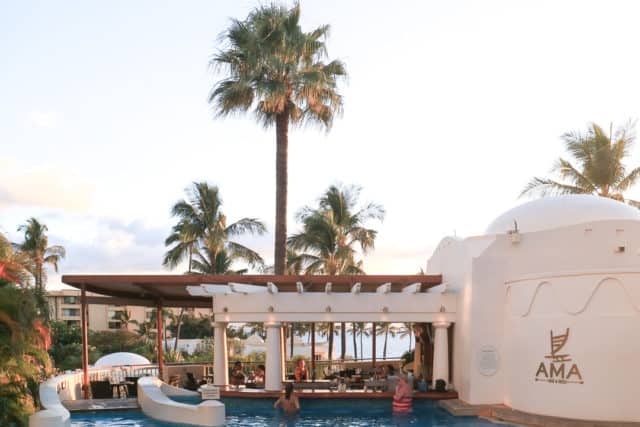 If you want to stay right by the beach, consider Fairmont Kea Lani. The all-suite and villa resort is just steps away from the ocean and offers various complementary activities to enrich Maui vacation.
In West Maui, the oceanfront 5-star resort, The Ritz-Carlton Maui, Kapalua is our top choice. It offers convenient access to many of the island's popular attractions as well as privacy and space.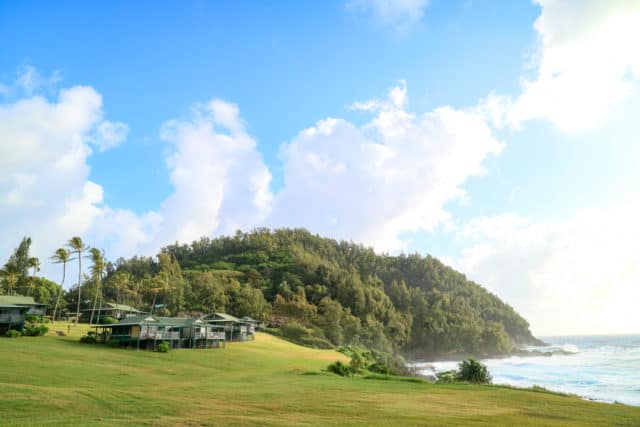 In Hana, the only accommodation that is on par with other luxury hotels is the Hana-Maui Resort. The boutique hotel owned by Hyatt spans 70 acres of lush tropical gardens right by the coast. We fully appreciated the chance to unplug from technology and connect with the natural beauty and culture of Hawaii during our stay there.
FAQs on Visiting Maui
Where is the main airport on Maui?
The main airport on Maui is Kahului Airport (OGG), serving both international and interisland flights. This airport is located in the east of Kahului, nearby Haleakala and West Maui mountain range, 5 km (3 miles) from downtown.

Kapalua (West Maui) and Hana (East Maui) are the two other smaller commuter airports.
Do I need a car to get around on Maui?
You can get around Maui by shuttle, tour bus, taxi or public transportation. But to really experience Maui, it is best to rent a car. You can do so in advance from the Kahului or Kapalua airports.

Click here to find a rental car.
Does Maui have Lyft or Uber?
Yes, you can access ride-sharing services (Uber and Lyft) in Maui.

Many hotels and resorts – especially those in popular tourist areas like Wailea and West Maui — also offer complimentary shuttle services to and from the airport as well as to nearby attractions and shopping areas. Please check with your hotel.
Where are the major hotel and resort areas on Maui?
Most Maui resorts and hotels can be found in West Maui and South Maui in Kapalua, Kaʻanapali, Lahaina and Wailea.
When is the best time to visit Maui?
Maui is delightful to visit year round, thanks to its tropical climate. Whether-wise, temperature is fairly consistent, averaging at 75-85℉ (23-29℃) at daytime and 65-75°F (18-24°C) at night time.

If you're coming specifically to see whales, you will want to plan your vacation between December and May. Peak whale-watching months are between January and early April. Winter is also the big-wave surf season on Maui's North Shore.

Maui is a popular destination. To avoid crowds, we advise visiting during the "off-season periods" or "shoulder months", i.e. April, May, September, October, and early November.
What should I pack for my trip to Maui?
Summer attire is the way to go in Maui. Short sleeves, shorts, summer dresses, and bathing suits will serve you well in the tropical climate. Suits and ties are rarely worn here even in high end restaurants.

If you plan to visit Haleakala at some point for sunrise, we advise bringing along a light jacket or sweater. A rain jacket or windbreaker will also come in handy if you're planning to go on a whale watching boat tour. Bring water shoes if you're visiting waterfalls.

Of course, always have sunscreen with you!