This site uses affiliate links and we may earn a small commission when you use our links and make a purchase without incurring additional fee yourself. Many thanks for supporting this website. Please see our disclosure page for more details.
Haleakala, the "House of the Sun," is an astounding natural wonder. This iconic landmark of Maui attracts over a thousand people a day, just to watch the sunrise! Staying in Wailea gave us the perfect opportunity to see it for ourselves what the fuss was about. We were super excited to join Skyline Eco-Adventures on a full day adventure, to not only watch the sunrise from the summit of Haleakala, but also bike down the volcano and zipline on the slopes of Haleakala!! Itching for an adventure on the world's largest dormant volcano? Follow along!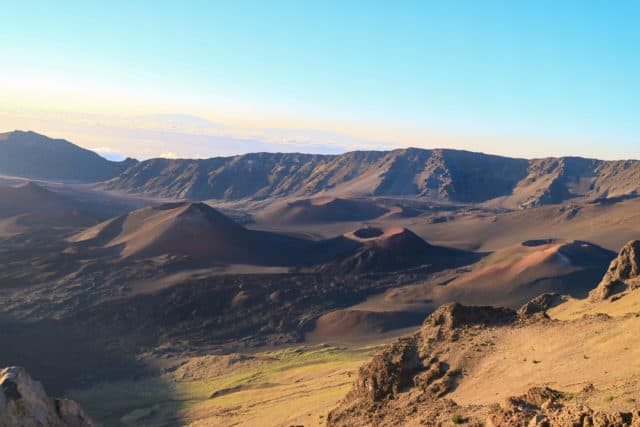 Haleakala Adventure #1: Sunrise over Haleakala Crater
2:00 a.m. While most people were enjoying a cozy night's sleep, Kev and I hopped out of bed, got dress and waited to be picked up outside our hotel. Never had we waken up so early for sunrise. Ever. Kev, who is not naturally an early riser, very much doubted my decision when I booked the tour, and only agreed to come along after I convinced him this was going to be awe-inspiring.
3:15 a.m. After fueling up with some light snack and grabbing gears for the bike ride, we began our ride up to the Haleakala summit. The sky was dark and the whole island still asleep while we made our way through 29 switchbacks around the volcano's edge. In less than 90 minutes, we traveled 37 miles and arrived 10,000 feet above sea level at the Haleakala Visitor Centre.
 4:45 a.m. It was 48 Fahrenheit and according to our guide, it was considered warm at the summit. With our windbreaker on, we quickly snatched a spot in front of the Visitor Centre, also known as the best place to soak up the golden scene. Above us, a million stars filled up the clear sky, twinkling like diamonds. Shooting stars darted across the glittering night sky. We were already fascinated by the pre-dawn show put up by nature!
5:50 a.m. The sky started to lighten up. Pastel hues of yellow, pink, orange, and purple coloured the sky. The ever-changing colors leading up to the sunrise were like nothing we'd ever seen before.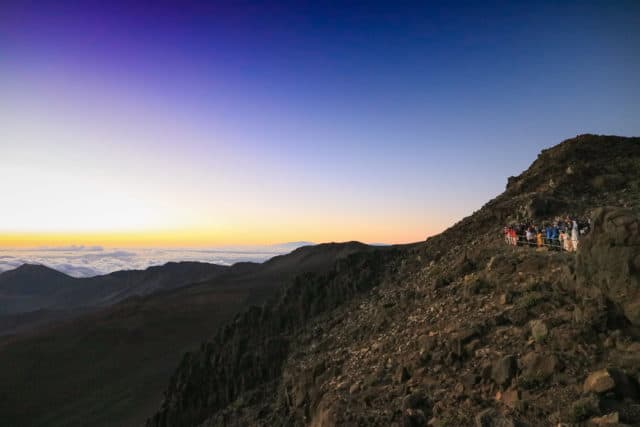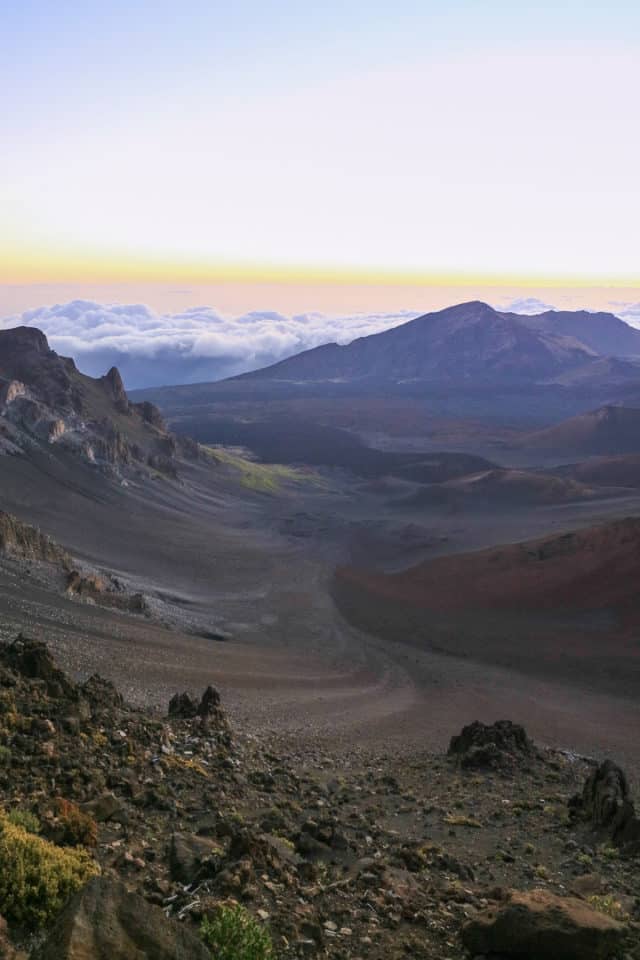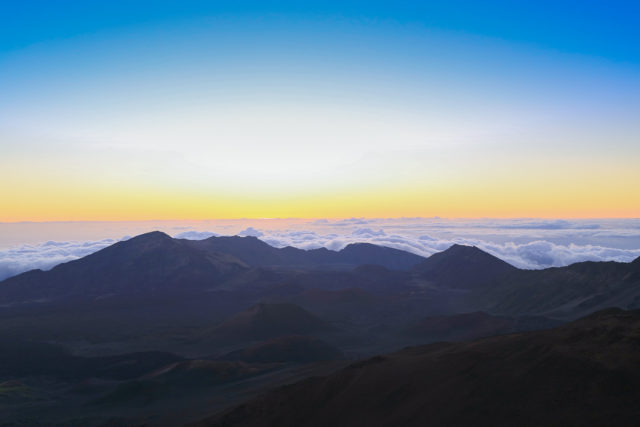 6:09 a.m. Finally, the fiery sun peeked out from the horizon, making a dramatic entrance with red-orange rays. It was absolutely stunning! I could see why Mark Twain called Haleakala sunrise "the sublimest spectacle" of his life. And now with the sun up high, we could finally see what was surrounding us – a Mars-like volcanic landscape!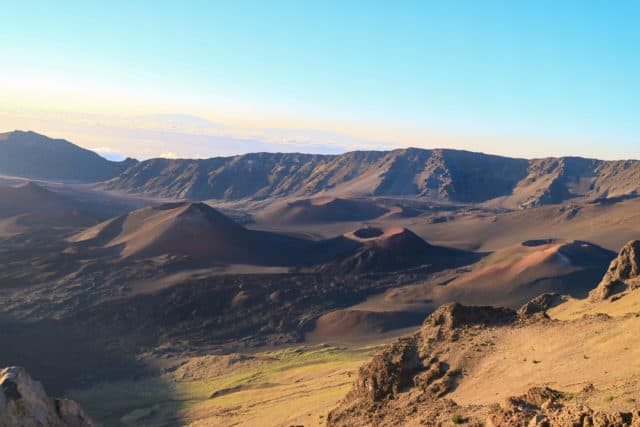 Interesting Fact: There's a famous Polynesian legend behind the name "Haleakala." It goes like this:
The mischievous demigod Maui and his hardworking mother, Hina, lived in Hawaii (Big Island). Their days were governed by La, the sun god, as he decided when there was light or darkness. One day Hina was working on making a special cloth made of tree bark called kapa, which needed to be dried completely in the sun. La frequently slept in, thus shortening their days, and Hina was unable to dry her cloth. Upon hearing this, the demi-god traveled to the island of Maui and climbed to the 10,000-foot summit of Haleakala, where the sun was asleep in the giant crater. Maui hid until morning and watched the sun begin his daily journey. As the first ray of sunshine appeared, Maui snared it with his lasso of twisted coconut fiber. La, trapped and helpless, begged to be released. Maui demanded more light every day in trade for his freedom. Finally, the two reached a deal, and the Hawaiian Islands received their additional sunlight. In honor of this agreement, the Hawaiians call the mountain Haleakala, "House of the Sun." – Source: Aloha-Hawaii
Haleakala Adventure #2: Biking Down the Volcano
There was no time to waste! We hopped back into the van, ready for our next Haleakala adventure! The van brought us back down to 6,500 feet elevation. "As we are now inside the Haleakala Ranch, don't be surprised to see cows roaming around," our guide warned us.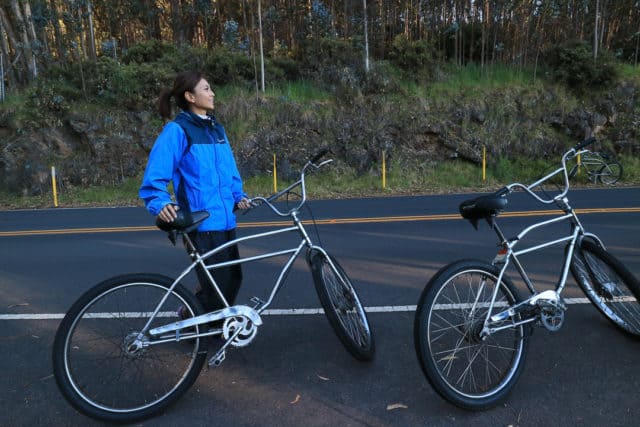 Before setting off on our biking adventure, the guide went over safety briefing, taught us basic hand signals, and helped us choose the right bike fit for our height. Helmet on, gloves on, and down we went!!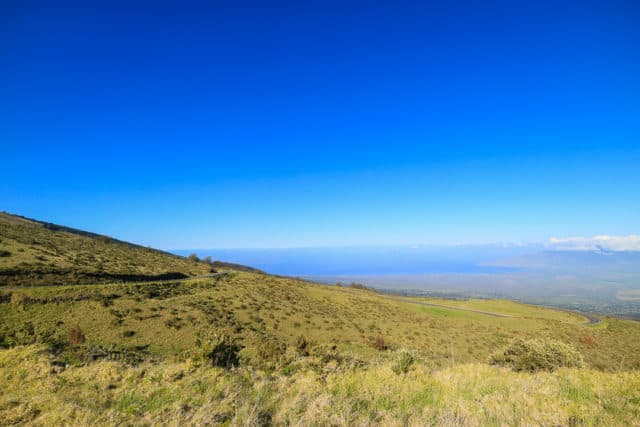 With the guide at the front, we cruised down 21 switchbacks in single file, followed by the van at the back. The van driver and the guide remained in constant radio contact to keep apprised of tour progress and any traffic that may want to pass.
Wind blowing through our hair as we soared downhill. The speed quickly picked up, rewarding us with an exhilarating and liberating feeling. The pathway opened up to expansive vistas and revealed enchanting views of rolling green hills, sugar cane and pineapple fields, and Maui's south and north shore!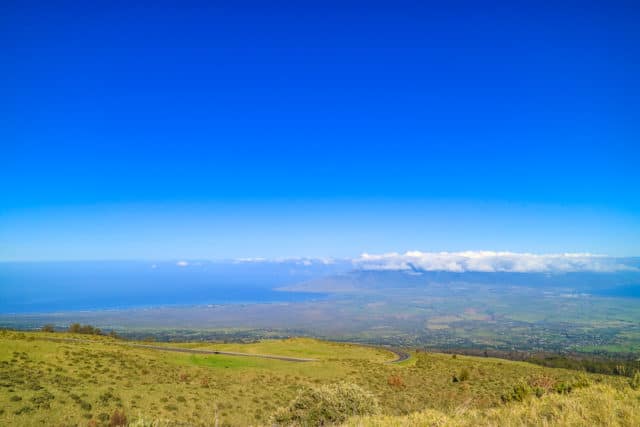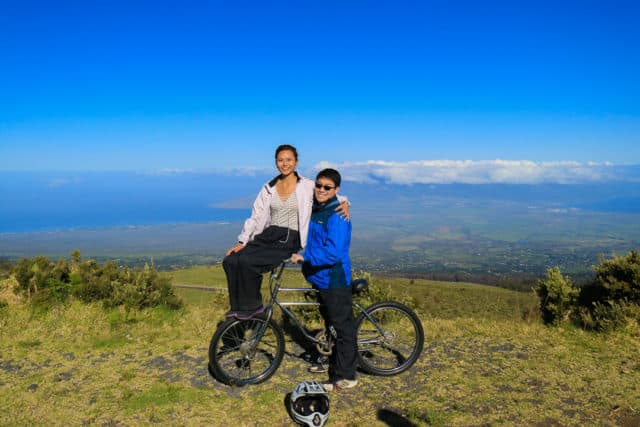 [bctt tweet="Itching for an adventure to @HaleakalaNPS? Here are 3 fun experiences you must try! #travel #maui" username="fortwoplz"]
Haleakala Adventure #3: Zipline
3 hours later, we arrived at Skyline Eco-Adventures in Maui's upcountry area. With the help of our guides, Kono and Kevin, we quickly got into gears for our final Haleakala zipline adventure!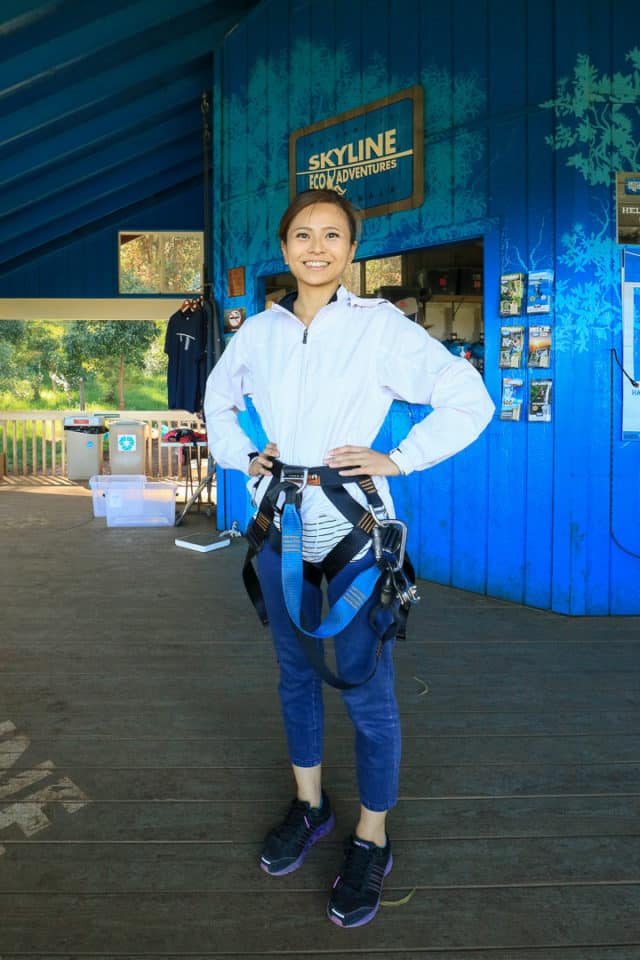 Skyline is known for being the first commercial zipline tour operator and the most experienced in Maui and the U.S.! It prides itself on setting the industry standard for zipline safety, by using sophisticated engineering to develop zipline courses and hiring thoroughly-trained guides. Moreover, it is deeply committed to preserving Hawaii's landscape and culture.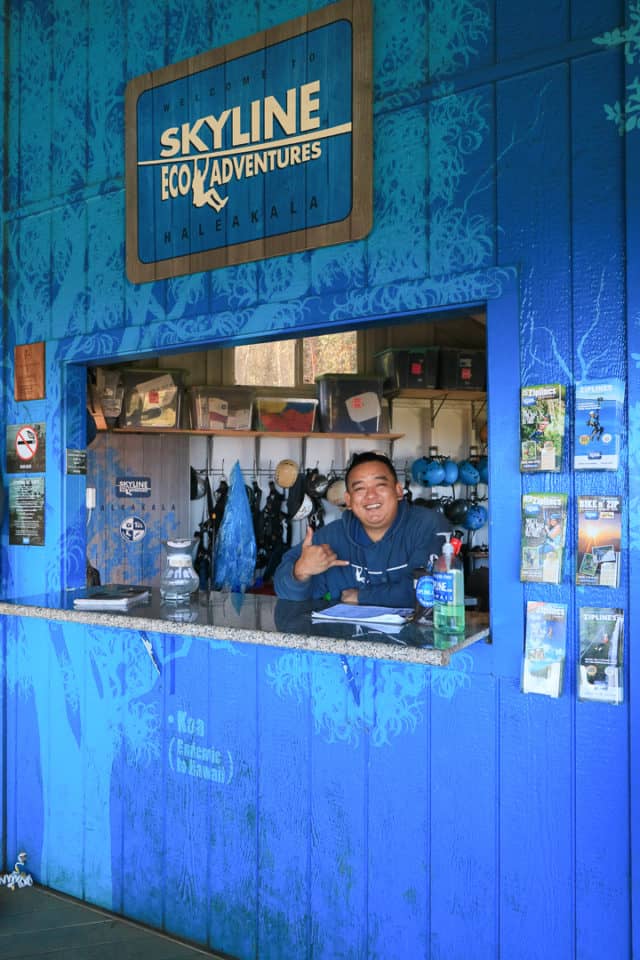 Our Haleakala Zipline Tour started with a short hike through a fragrant eucalyptus forest. After a short demonstration of proper zipping techniques, we were ready to take flight! Five individual ziplines carried us over deep ravines and lush vegetation, each more thrilling than the last.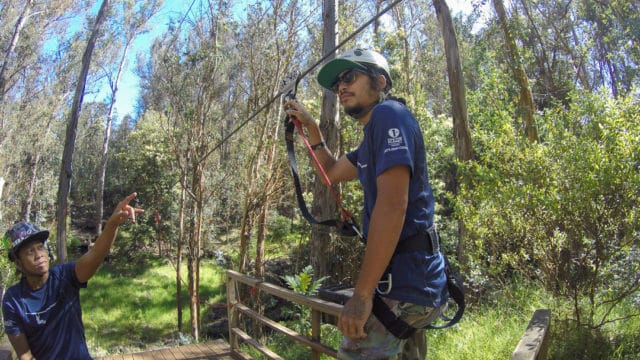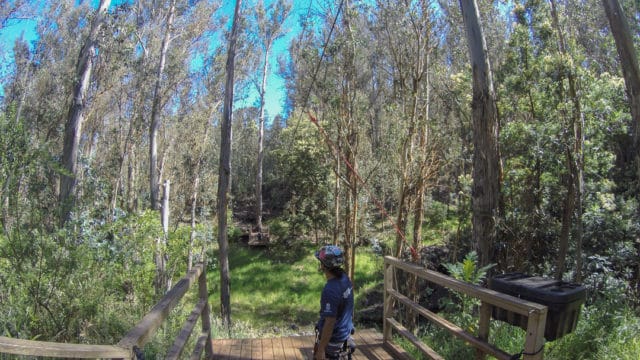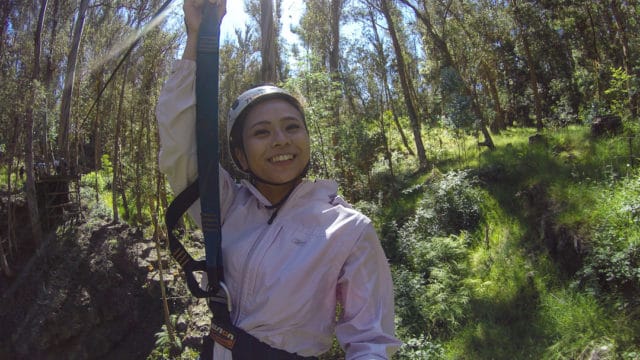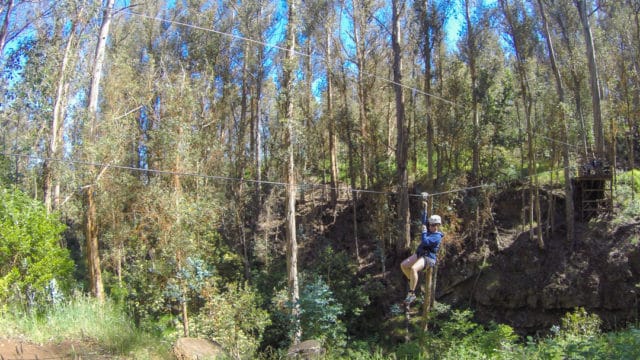 One of my favourite parts was walking through an Indian Jones-style swinging bridge, 80 feet above the valley. It wasn't until then, I realized how high up we were in the forest and got the chance to admire the beautiful surrounding nature. The highlight of our tour was the last "Pendulum" zip, where we swung back and forth on a 750-feet long zip, reaching up to 45 mph in just a few seconds!!
If you're interested in Maui but not sure these adventures are for you, you can find more options here.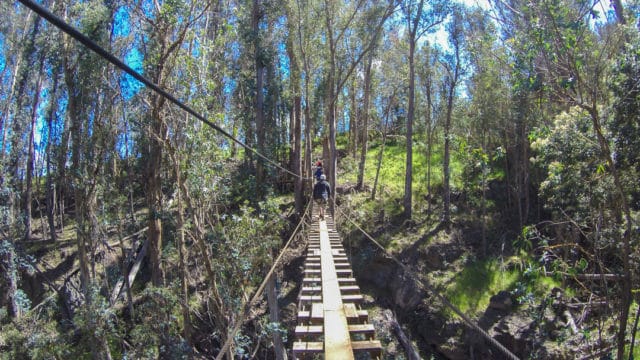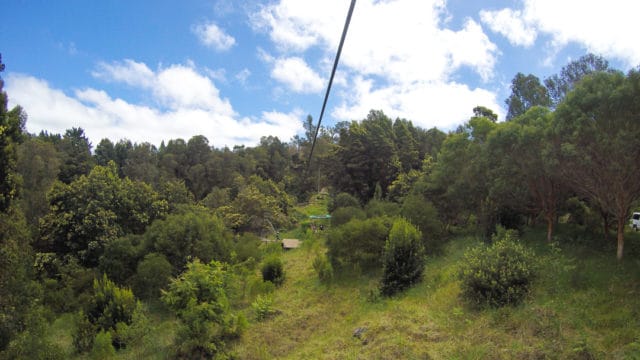 Things to Keep in Mind
Are you intrigued to explore Haleakala? I hope you do! Because it really is a priceless experience! If you decide to book the Haleakala Sunrise Bike N' Zip tour with Skyline, I recommend you:
Dress warmly. Bring a light jacket or even a blanket to keep yourself warm while waiting for sunrise. The windbreakers that are provided aren't enough.
Wear closed-toe, closed-heel, snug-fitting shoes. Gotta protect your feet. Plus, you really don't want to lose them while you bike/zip.
If you're wearing glasses, bring a strap.
Bring your camera and/or Go-Pro! 
Get an early night of sleep the day prior. It is a full day tour starting at 2 a.m so make sure you have the energy to partake in all activities.
---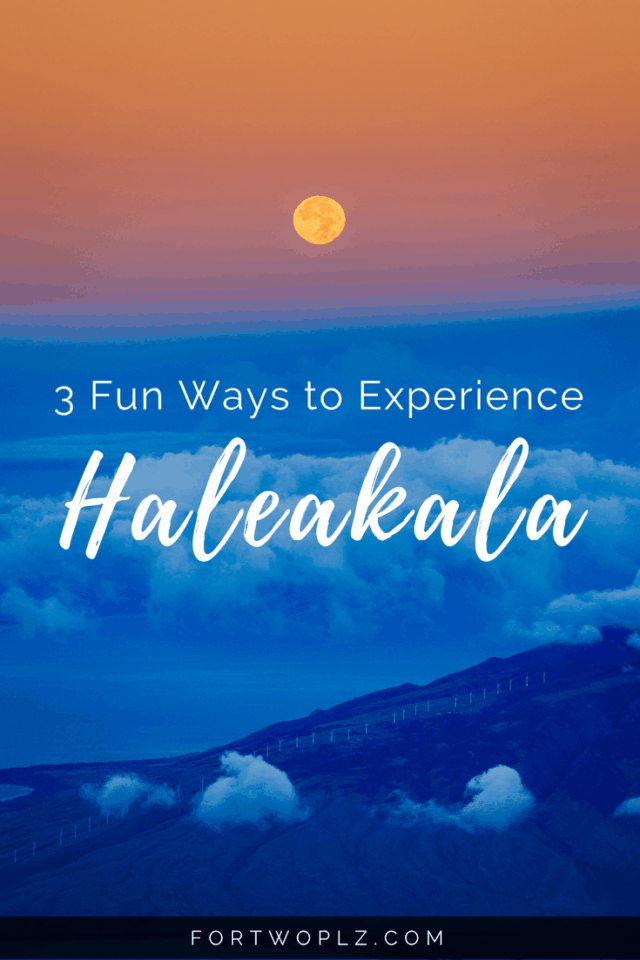 Disclaimer: This post is written in partnership with Skyline Eco-Adventures. As always, all opinions on For Two, Please are my own and I only recommend services that I 100% stand behind.