This site uses affiliate links and we may earn a small commission when you use our links and make a purchase without incurring additional fee yourself. Many thanks for supporting this website. Please see our disclosure page for more details.
Warmer weather has arrived – this means summer grilling season is finally upon us! To kick off the grilling season, Calgary's Model Milk has launched a summer-long southern bbq for Sunday suppers! From smoked brisket to barbecue ribs, Model Milk is sure to satisfy your cravings for good southern bbq with some finger-licking bbq staples. Say no more, grab a date and get ready for some serious indulging!
Our Southern BBQ Supper at Model Milk
Model Milk has a long tradition of serving a 3-course family-style meal ($40 pp) on Sundays. To keep guests coming back, their Sunday Supper menu changes every week to make every dining experience a joyous surprise.
Last month, in between all the crazy travels, Kev and I had the pleasure to have a romantic date night over a hearty southern bbq meal at Model Milk. And guess what? As if the chef could feel my yearning for a tropical vacation, the theme of the night was the Caribbean!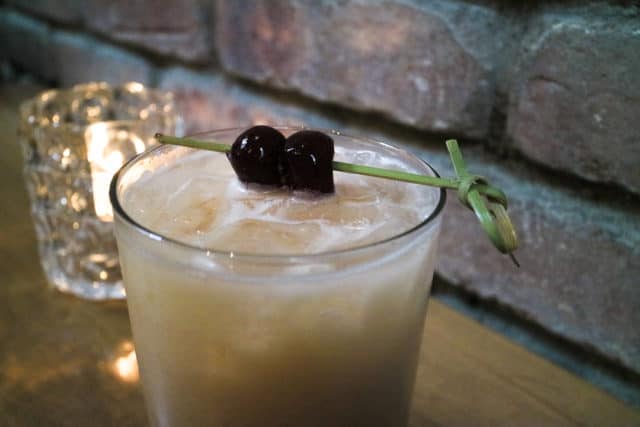 To start the night off, the bartender whipped up a rum-based cocktail called Big Man Thing ($13, 2.5 oz), combining Caña Brava and London Dock with Grand Marnier, pineapple and lime juice for a taste of the tropics. Orgeat was mixed in to bring a floral fragrance and nutty almond quality to this delightful cocktail.
[bctt tweet="Grilling season is here! Grab a date & get ready for southern bbq Sunday supper @ModelMilkBistro! #yyc #yyceats" username="fortwoplz"]
Appetizers
Jamaican beef patties were first brought to the table to boost our appetite. Shaped like an empanada, a Jamaican patty consists of flaky yellow crust stuffed with spicy beef and spices. With only one bite, an explosion of flavor filled the mouth. To tone down the intense flavour, I dipped the patty into the shallot vinaigrette, which also helped refresh the palate.
If you haven't tried fried plantains yet, get on it! These golden goodness were terribly addicting, especially with the lemony spiced crema! They have now become my new favourite snack.
Entrées & Sides
"Where's the southern bbq", you asked. Here they are!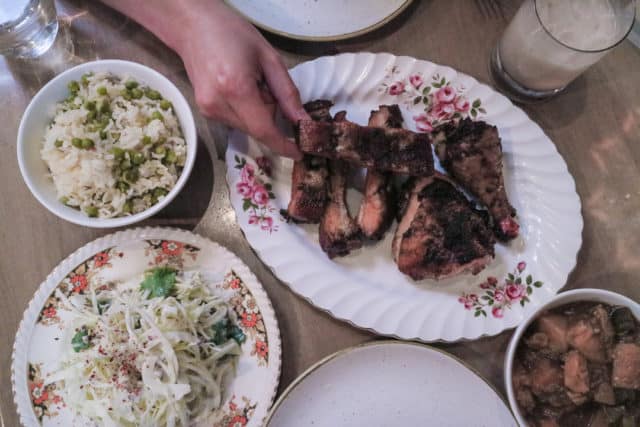 The smoky, and spicy Jamaican jerk chicken and sweet, tender pineapple-glazed pork ribs had all our attention when they hit the table. The two entrées had a balanced kick of heat and sweet. Accompanying the juicy meat were a plateful of crunchy Haitian pickled cabbage and a bowl of dirty rice to pair with the rich and flavorful vegetable curry. We were used to spicy curry, but the sweetness from sweet potato and okra was surprisingly pleasant and truly couldn't be beaten!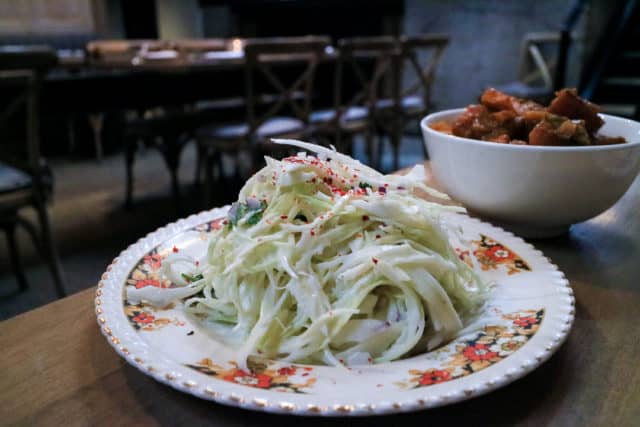 Dessert
Our date was finished on a sweet note with a coconut cake. With airy whipped cream on top and thick sweet cream at the bottom, the dense coconut cake was as sweet as a memorable goodnight kiss.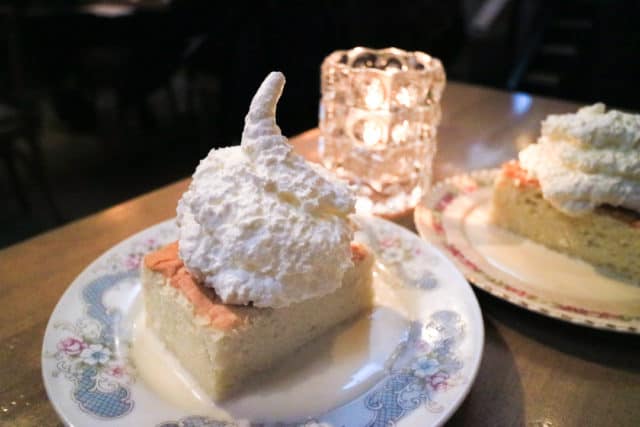 ---
Southern BBQ at Model Milk did not disappoint! From now until September 3rd, 2017, meat lovers can enjoy flavourful southern bbq dishes every Sunday! While the menu changes weekly, Model Milk guarantees to put on a feast where you'll be licking your fingers, cleaning the bones, and craving more!
For more details on Sunday Supper Southern BBQ menu, visit Model Milk's website.