This site uses affiliate links and we may earn a small commission when you use our links and make a purchase without incurring additional fee yourself. Many thanks for supporting this website. Please see our disclosure page for more details.
If you're seeking a dining experience in Kyoto that is truly exceptional, kaiseki should be at the top of your list.
Kaiseki is a culinary tradition developed from the traditional tea ceremony and it highlights Japan's most delicate flavours through an exquisite set menu. For foodies, indulging in amazing kaiseki dishes while exploring Kyoto can be truly magical.
So get ready to enjoy the best Kaiseki in Kyoto! Below is our curated list of the finest kaiseki dining in Kyoto, each with its own enticing take on traditional Japanese cuisine!
First time visiting Kyoto? These Kyoto travel resources will make your trip planning a breeze: 
→ eSIM: Stay connected in Japan by purchasing an eSIM. Airalo has affordable Japan data plans.
→ VPN: Boost your privacy and internet security with NordVPN.
→ Car rental: Discover Cars is great at finding and comparing the best car rental deals.
→ Japan Rail Pass: Traveling across Japan by trains? Save time and money with a JR Pass!
→ Kyoto hotels: Find our favourite boutique hotels in this Kyoto article.
→ Tours: Here are some of top-rated tours…
❋ Tour Hanamichi, watch meiko dance performance and enjoy a kaiseki lunch!
❋ Participate in an authentic Kyoto tea ceremony dressed in a kimono.
❋ Learn about Geisha traditions & have an exclusive hour-long meet-and-greet with Maiko!
❋ Visit Arashiyama Bamboo Forest & Iwatayama Monkey Park on this bike tour.
❋ Discover the varieties of matcha green tea, how it is made, and taste it in Uji!
❋ Go on a sake tasting tour at one of the largest sake brewery in Fushimi district of Kyoto.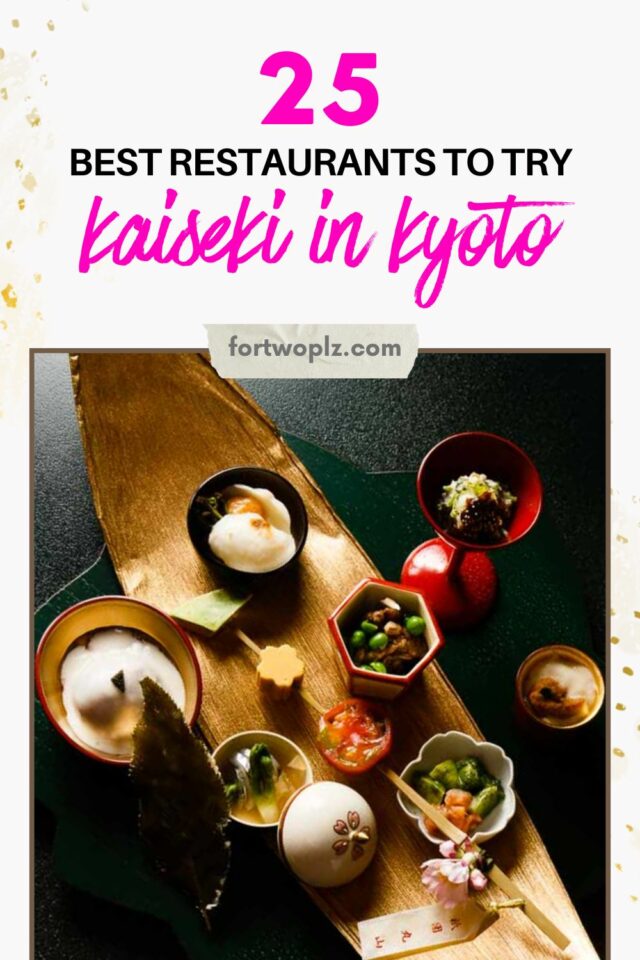 What is kaiseki ryori (Japanese haute cuisine)?
Kaiseki or kaiseki ryori is the heart of Japanese haute cuisine, a gastronomic masterpiece renowned for its excellence in preparation and beautiful presentation.
Initially created to accompany bitter green tea in Japanese tea ceremonies, kaiseki has evolved into a stunning culinary experience.
What sets kaiseki apart is its simplicity and natural themes that showcase the superior quality of seasonal ingredients. This means that every ingredient must be carefully selected at the peak of freshness, prepared in a way that highlights its flavours, and plated to perfection.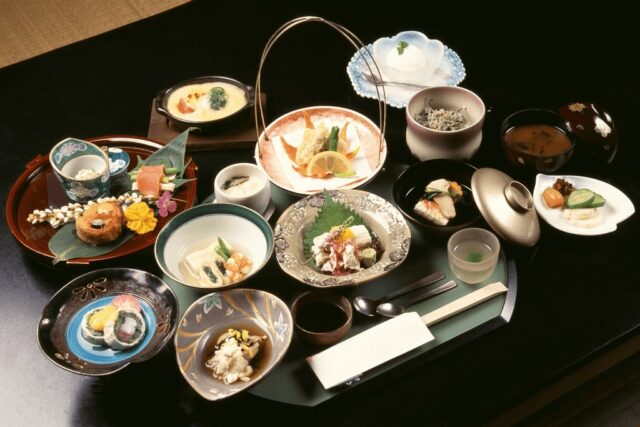 Kaiseki is much more than just a meal; it's an art form that balances taste, colour, texture, and garnishes. It's everything that food should be — visually appealing, delicious, and an experience that delights the senses!
Kyoto kaiseki or Kyo kaiseki emphasizes the purity of traditional Kyoto cuisine's simple flavours. Prioritizing seasonality and freshness over heavy seasoning, Kyoto kaiseki cuisine showcases the delicate, natural taste of locally sourced ingredients.
What are the differences between a kaiseki restaurant and an omakase restaurant?
Kaiseki and Omakase are both multi-course dining experiences, but how do they differ?
Kaiseki is traditionally served in nine courses (but can be anywhere from six to 15!). Each course is crafted using a unique cooking method. The courses typically consist of:
Sakizuke: think of it as the Japanese version of the amuse bouche! This delightful first course is typically a pickled dish that'll tantalize your taste buds and get you pumped for the deliciousness that's yet to come.
Hassun: it's the course that lets you savour the changing of the seasons with every bite! 
Suimono: the soul-warming soup course made with a dashi broth base. It's not only revered as the most important course in a kaiseki sequence, but it's also the ultimate way to prove your chef's ability! 
Tsukuri: a sashimi course
Yakimono: a grilled course
Takiawase: a simmered dish, typically of vegetables mixed with some meat
Shokuji: a rice course (gohan), served with miso soup and pickles
Mizugashi or Mizumono: a platter of Japanese sweets or fruits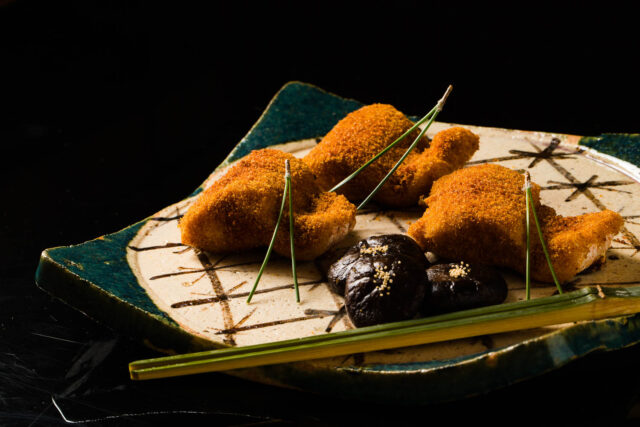 Omakase, much like kaiseki cuisine, revolves around seasonality and serving dishes at their peak quality.
Yet, in omakase, trust in the chef is key to the full experience, and sushi dishes are often featured prominently.
At the start of the meal, the chef gauges your preferences with their opening dish, then tailors subsequent dishes based on your reactions and preferences. The beauty of omakase lies in its flexibility – whether the meal features only a limited set of plates or continues until you are fulfilled. Each plate is carefully curated just for you by the chef, resulting in a personalized and unforgettable dining experience.
Either way, both offer a delightful culinary adventure in Japan!
How do you eat kaiseki?
Indulging in the sophisticated Japanese cuisine of Kaiseki should involve more than just your taste buds. Take note of these proper dining etiquettes before visiting one of Kyoto's esteemed Kaiseki restaurants.
Express gratitude: Before digging in, show some love to the chef and restaurant staff by saying "itadakimasu" which means "I receive this food." At the end of the meal, let the chef and staff know how much you appreciate their hard work by saying "gochisou-sama-deshita," which translates to "it was a feast."
When handed an oshibori towel, remember: it's only for your hands! Upon arrival, you'll be offered a fresh hand towel of Japanese style (called oshibori). Keep in mind that this towel is solely intended for wiping your hands. Using it for anything else, like blotting your mouth or cleaning the table, is a breach of manners.
Use the proper chopstick etiquette. Always place your chopsticks back on the hashioki (chopstick rest) when not using them. Then, grip the end and pick up your food with the pointy end. And please, refrain from using chopsticks as spears!
Which restaurants serve the best kaiseki in Kyoto, Japan?
Kyoto offers ample opportunities to indulge in Kaiseki. It is undoubtedly the place to experience the best kaiseki in Japan. You can enjoy Kaiseki by staying in a ryokan, or by visiting some of the many restaurants located in traditional areas of Kyoto such as Pontocho and Higashiyama.
To make your search for Kyoto's ultimate kaiseki experience easier, we've curated a list of the best restaurants in Kyoto which serve unrivalled kaiseki. From affordable eateries to Michelin 3-star restaurants, our range of Kyoto kaiseki restaurants has something for everyone.
1| Saijiki Toshigami
Toshigami's theme is the exquisite pairing of food and sake. The skillful owner brings an authentic Japanese touch to his cuisine, inviting guests to indulge in the perfect harmony of taste and aroma.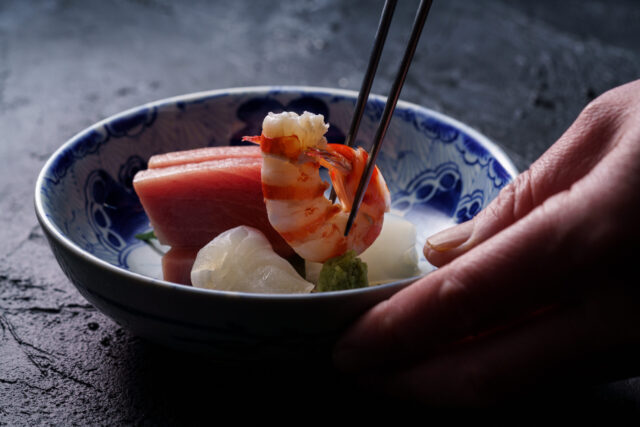 You can experience the seasonal kaiseki menu, complete with eight courses, at 6,600 yen per person! This delightful offering is one of the best affordable kaiseki in Kyoto!
2| Kinmata
Step right up and prepare to indulge your taste buds in the best kaiseki lunch Kyoto has to offer!
Kinmata, a family-run establishment that has proudly served exquisite cuisine for over seven generations, invites you to savour their time-honoured dishes made exclusively with the freshest seafood and vegetables.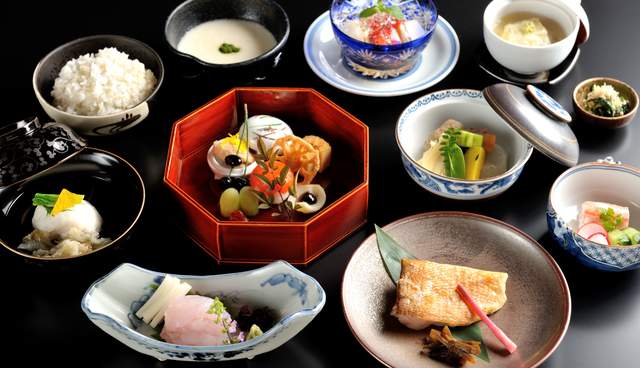 Be sure to try their delectable Kyo Kaiseki cuisine. With prices starting at 8,000 yen per person during lunch, Kinmata promises to deliver an unforgettable culinary experience that will leave you wanting more!
3| Tominokoji Yamagishi
Get ready to be greeted by the warm smile of Chef Takahiro Yamagishi – the mastermind behind every single detail, flavour, and concept at this kaiseki restaurant!
As a former sushi chef and teacher of multiple Japanese traditions, he's infused his passion for kaiseki with his cultural roots, allowing him to perfect the art.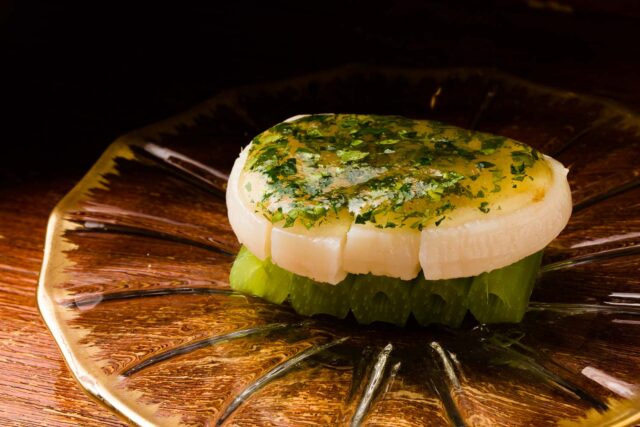 But that's not all – he's also seamlessly integrated new concepts with old traditions, providing an unparalleled experience full of delightful surprises to savour.
4| Nijo Yamagishi
Nijo Yamagishi, sister restaurant of Tominokoji Yamagishi, brings Kyoto to your palate with its nabe (hot pot) kaiseki offering!
From farm-fresh Kyoto produce to exotic ingredients, the chef takes excitement in creating unforgettable dashi (soup) nabe, using the highest quality well water to make the perfect broth. Watch the head chef and proprietress as they prepare this seasonal hot pot with changing monthly flavours.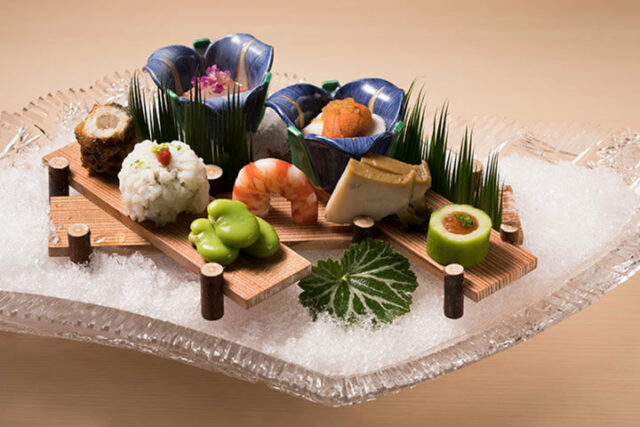 End your luxurious meal on a high note with a scrumptious zosui (porridge) made with the rice served in prior courses!
5| Tokuwo
Chef Shinji Tokuo's restaurant which opened in 2005 has been a hot spot for food lovers. He has impressed his guests with his unique dishes such as suppon (soft-shell turtle) soup and grilled eel.
Having received training from Tankuma and other top restaurants, Chef Tokuo's culinary skills and imaginative approach make his dishes irresistible. It's no surprise that his fans make several visits to his restaurant every year.
6| Oryori Hayashi
Let me tell you about the wonderful Oryori Hayashi cuisine that will tantalize your taste buds.
This cuisine is prepared in a classic Kyoto style that is all about simplicity. Each dish is carefully crafted to draw out the unique flavours of the seasonal ingredients.
Chef Hayashi's inspiration comes from his deep understanding of traditional Japanese culture, which he has gained through his studies of tea ceremony, ikebana flower arrangement, and calligraphy. This cultural insight is reflected in each dish, making them not only delicious but also visually stunning.
You won't be disappointed with the engaging experience of Oryori Hayashi cuisine.
7| Tsudaro
Tsudaro, conveniently situated on Hanamikoji street, sits just five minutes away from the Gion-Shijo station in the heart of Kyoto's entertainment district, Gion.
The chef takes great care in preparing each dish, incorporating seasonal ingredients to create a delectable experience for your taste buds.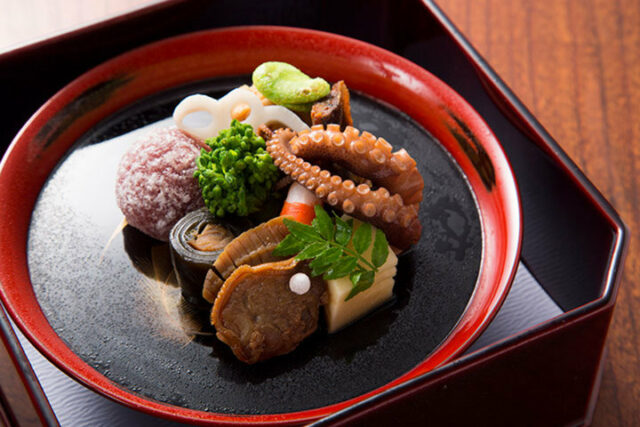 To add to the charm, the dishes are served on antique plates, bowls, and glasses from the owner's personal collection. You can rest assured that they are authentic because the chef also happens to be the director of Kiyomizu Sannen-Zaka Museum.
Make your reservation early and indulge in a truly authentic Japanese experience, complete with performances by Geisha and Maiko, accompanied by traditional Japanese music (additional fees apply).
8| Gion Suetomo
Come and indulge in a sensory experience like no other at Gion Suetomo!
Get ready to be wowed by the playful and entertaining elements that make up their unique cuisine. Not only will you be treated to a delicious meal, but you'll also be mesmerized by the entire preparation process which follows the traditional Japanese kaiseki style.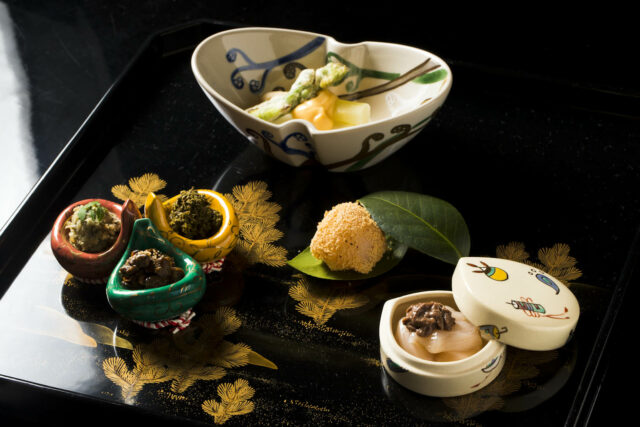 Chef Suetomo's confidence in his washoku techniques (​​harmonious nature of Japanese cuisine) allows him to push boundaries and create exciting new dishes.
You'll get a taste of the season and the mystical culture of Kyoto and Japan with every bite of Suetomo's refined kaiseki cuisine.
9| Gion Iwamoto
Iwamoto is a true gem of a Kyoto kaiseki restaurant nestled in Gion. Get ready to indulge in authentic and artistic Kyoto cuisine that will leave you craving more.
The chef's expertise lies in creating mouth-watering kaiseki dishes using only the freshest seasonal ingredients available. But what truly sets Iwamoto apart is the sensational Omi-hime wagyu beef – a must-try for any foodie!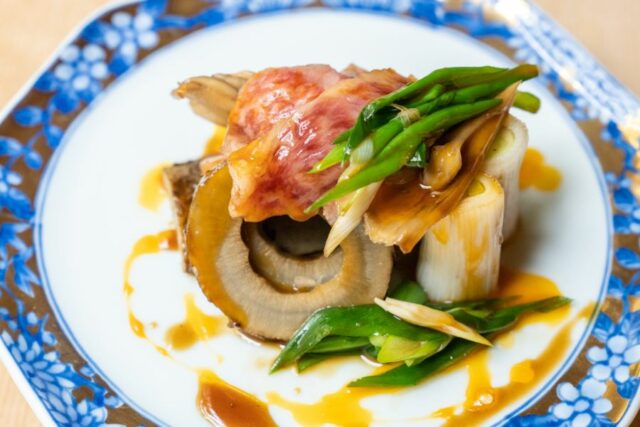 Looking to celebrate a special occasion? Iwamoto has got you covered with their private tatami rooms that exude traditional Japanese charm. And if you're looking to take things up a notch, why not add on some Maiko and Geiko entertainment for a truly enchanting experience?
10| Gion Karyo
Looking for an affordable restaurant that can introduce you to the world of Kyoto kaiseki in a gentle manner? Look no further than Gion Karyo!
This charming restaurant, located in the heart of Gion, is housed in a beautiful old Kyoto house, which adds to its novel atmosphere.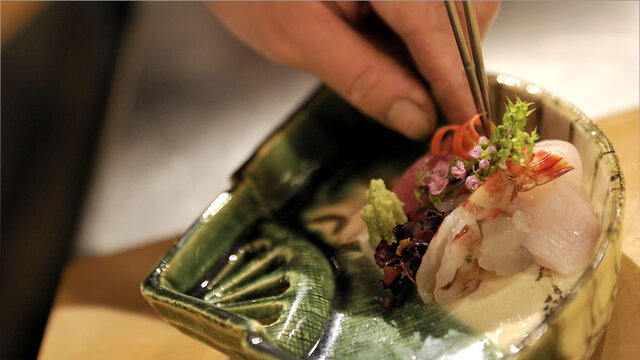 Gion Karyo serves up traditional kaiseki dishes, and to make things even easier, they offer English menus and have English-speaking staff on hand to assist you. Don't miss out on this engaging dining experience!
11| Iharada
If you're looking for a genuine and delicious Kaiseki meal in Kyoto without breaking the bank, Iharada is the place to be! It is consistently ranked among the best Kaiseki restaurants in Kyoto.
Their courses are reasonably priced at around 12,000 – 20,000 yen and showcase the chef's special selection of ingredients, including home-grown vegetables, high-quality Tajima beef, and the freshest seafood such as crab, abalone, sea breams, and eel!
12| Hassun: 1*
Looking for the ultimate dining experience at Kyoto's Michelin star restaurants? Look no further than Hassun! Not only will you be treated to an exceptional meal, but you'll also get a rare glimpse into the rich history and culture of Kyoto cuisine.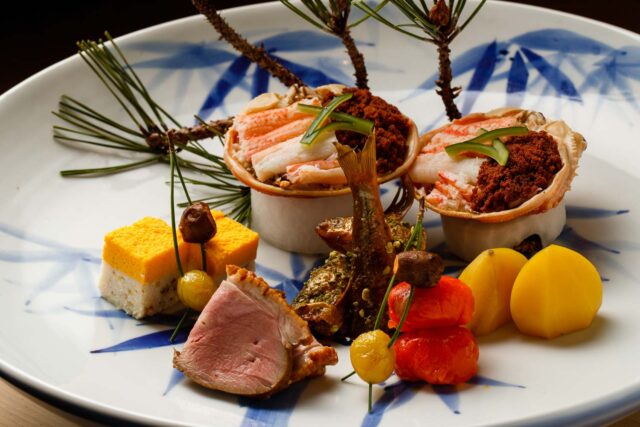 At Hassun, the menu changes with the seasons, following Japan's traditional lunar calendar. But one thing that remains constant is the kaiseki format, which includes ten dishes that are sure to delight your taste buds!
13| Kiyama: 1*
Step into the world of Kiyama, where dining is elevated to an enchanting culinary ritual!
The seasonal kaiseki meal is a feast for the senses, where every dish is a celebration of beauty in the smallest detail.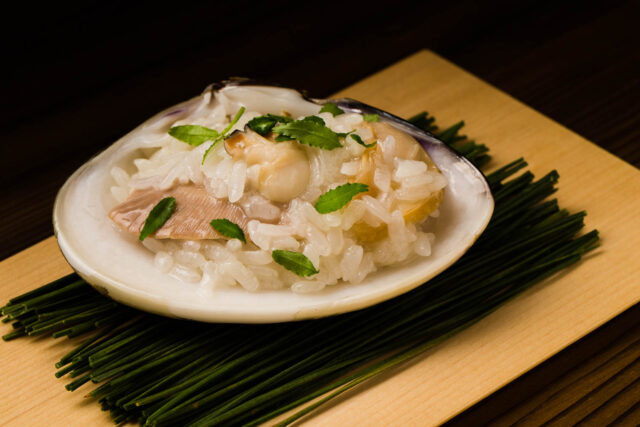 Kiyama treasures the precious well water found on its Kyoto premises. Infusing the well water into every dish makes each one a sublime experience in mindfulness.
Kiyama is undoubtedly the best Kyoto kaiseki restaurant and you are sure to be captivated by its engaging culinary experience.
14| HANA-Kitcho: 1*
Nestled in the heart of the historic Gion district, you'll discover the contemporary Japanese restaurant, HANA-Kitcho.
Aside from the mouth-watering kaiseki dishes, HANA-Kitcho also showcases the work of local artists, making it a feast for the eyes as well. From the handcrafted washi paper to the unique clay walls, every nook and cranny of this Michelin-starred restaurant is a work of art.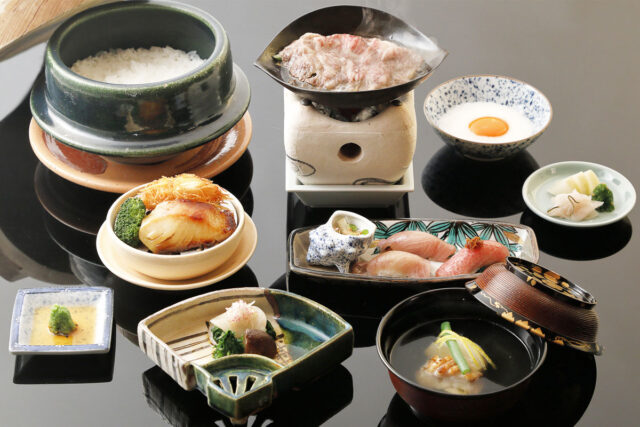 While they do offer their signature course meals, they also have an a la carte menu for those seeking a more casual gastronomic adventure!
15| Jiki Miyazawa: 1*
Jiki Miyazawa, located conveniently next to Nishiki Market, is known for serving simple Kyoto-style kaiseki cuisine.
This one Michelin-starred restaurant takes pride in creating dishes that not only look simple but also taste amazing. Meticulous attention to detail is put into each bite to bring out the best in every ingredient.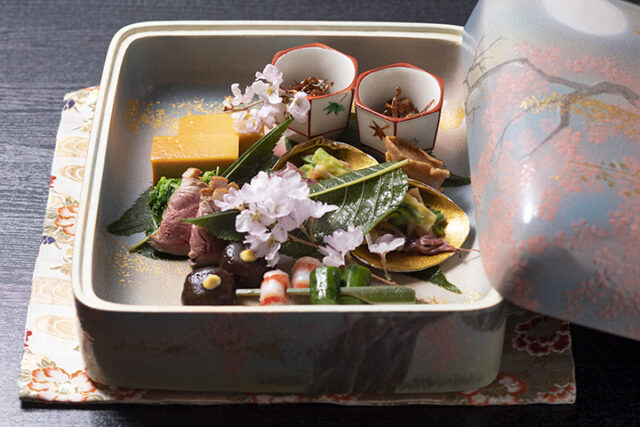 You'll be amazed not only by the food but also by the beautiful antique and contemporary tableware that Jiki Miyazawa uses. Don't forget to take a closer look and appreciate the impressive details all around you that go beyond just the food!
16| Kinobu: 1*
This Kyoto ryokan offers the epitome of kaiseki cuisine. Its legacy dates back to 1935 when it first opened its doors. Today, the third generation chef, Takuji Takahashi, has taken the reins of Kinobu.
Chef Takahashi is known for his experimental approach to traditional Japanese cuisine. While he always respects the ancient Kyoto traditions, he adds elements of Western and Chinese cuisine to take your dining experience to the next level.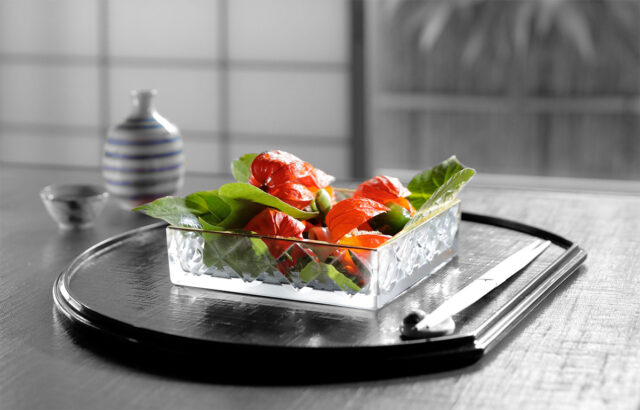 You won't want to miss his signature dish, shark fin sesame tofu hot pot – a must-try for anyone visiting Kinobu.
But Chef Takahashi isn't just a chef – he's also a certified senior sommelier and an ikebana (Japanese flower arrangement) enthusiast.
The interior of Kinobu captures the essence of traditional Kyoto with seasonal flower arrangements. And, with his vast knowledge of drink pairing, he can recommend the perfect wines to complement your meal!
17| Ryosho: 2*
Ryosho, a restaurant that only opened its doors in January of 2022, has already received 2 Michelin stars!
The name 'Ryosho' means 'to surpass the sky', which could be a nod to chef Makoto Fujiwara's aspirations. The food highlights traditional Japanese cuisine while incorporating Western elements through a dialogue with French gastronomy. The chef's modesty is demonstrated by the exquisite refinement of his cuisine.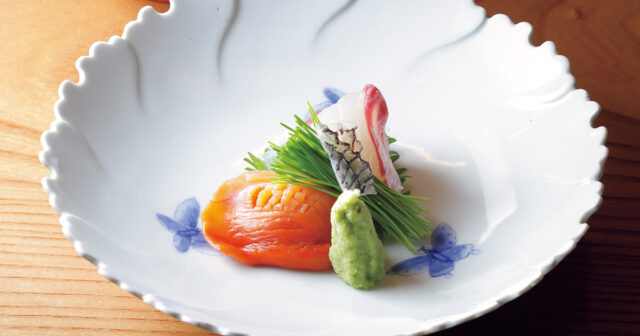 Each meal served at Ryosho is a decadent affair consisting of 10-12 courses that commence with appetizers and culminate with desserts. The freshest ingredients of the day, sourced from local farms and the sea, are transformed into elaborate dishes right before your eyes.
18| Sumibi Kappo Ifuki: 2*
Come and experience the amazing sumibi-kappo (charcoal-fired) cuisine at Ifuki!
The owner-chef Norio Yamamoto knows his way around a charcoal fire and uses it to create the most succulent flavours that will take you on a culinary adventure.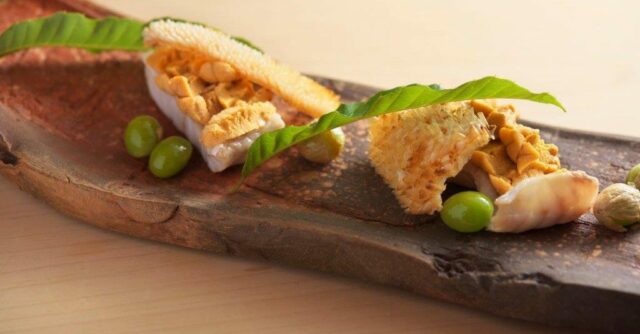 Each dish is carefully crafted to highlight the unique delicacies of the season, so you can enjoy a symphony of colours, textures, flavours, and scents.
If you want to take your experience to the next level, the sommelier is always there to help you choose the perfect Japanese sake or wine to complement your meal.
19| Kenninji Gion Maruyama: 2*
Awarded 2 Michelin stars, Kenninji Gion Maruyama can be found just footsteps from Kenninji Temple. The place is run by Chef Maruyama, who's known for his amazing treatment of seasonal ingredients as well as giving each party his undivided attention.
The tableside chargrilling is sure to make your mouth water with its irresistible aroma and sound.
If you're there during spring, you'll be able to try bamboo shoots and longtooth grouper fish that's pregnant with eggs. During summer, you'll indulge in hamo pike conger and ayu sweetfish.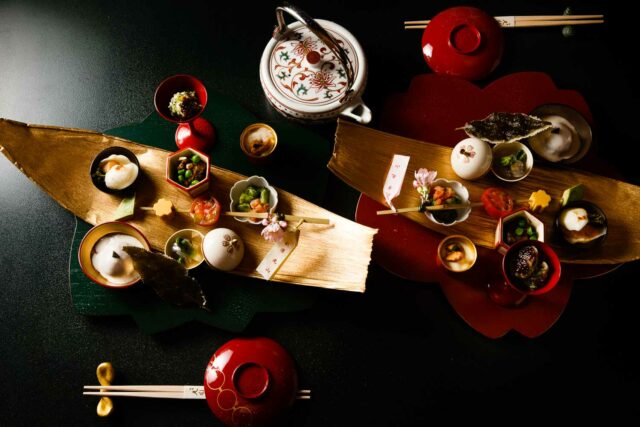 Autumn will treat your taste buds to sweetfish with eggs and matsutake mushrooms. And winter? Well, that's when you get to savour the delicacies of matsubagani snow crab and fugu pufferfish.
Chef Maruyama's philosophy is that Kyoto cuisine is an art that appeals to all five senses – rhythm, light, sound, aroma, and flavour. He's a master at bringing out the best in Kyoto's seasonal produce and making sure that each guest has a unique and unforgettable kaiseki experience!
20| Kikunoi Roan: 2*
Kikunoi Roan is a part of the renowned Kikunoi group that has been serving up authentic Japanese cuisine since way back in 1912.
Unlike your typical stuffy fine-dining experience, it is a relaxed and welcoming spot where you can savour the flavours of kaiseki cuisine without feeling intimidated by strict formalities.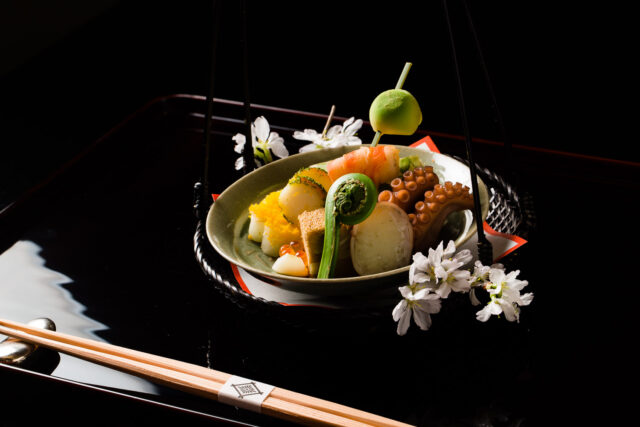 Food at Kikunoi Roan is simply sensational. The restaurant sources its veggies from local farmers in Kyoto and the seafood is freshly procured from the market every morning. Each dish is crafted with absolute devotion and skill.
21| Gion Matayoshi: 2*
Boasting two Michelin stars, Gion Matayoshi takes pride in its unique tea ceremony kaiseki-inspired dishes that are infused with a modern twist.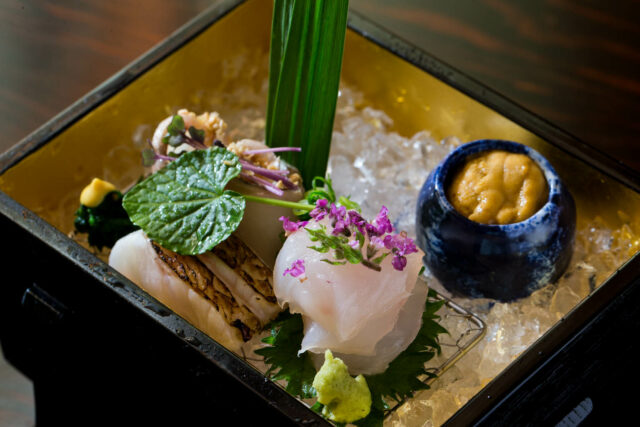 Chef Matayoshi's culinary skills ensure that each dish is bursting with flavour and texture, using only the freshest and most carefully selected ingredients. What's more, he loves to experiment with different cuisines and incorporates playful elements from his hometown of Okinawa!
22| Isshi Soden Nakamura: 3*
Isshisouden Nakamura, famous for its Kyo kaiseki dishes, has been featured in the Michelin Guide with a three-star rating since 2011.
What's amazing about Isshi Souden Nakamura is that the chef manages to maintain the traditional tastes and seasonal flavours of his dishes while also incorporating scientific research into their culinary practices.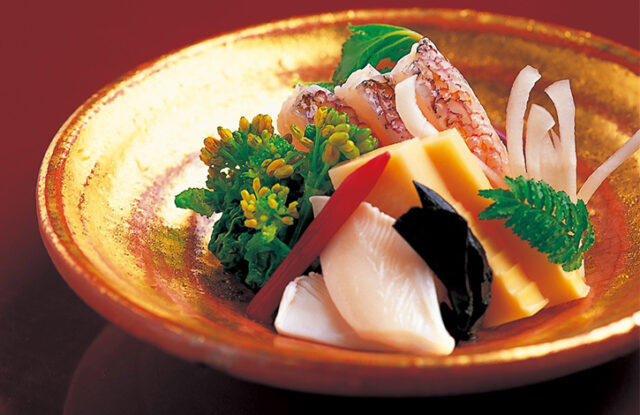 As a member of the Japanese Culinary Academy, Nakamura strives to promote the highest quality of food and services to popularize traditional Japanese food, known as "Washoku," around the world!
23| Mizai: 3*
Among all the kaiseki Kyoto 3 Michelin star restaurants, Mizai is a destination that is worth a journey.
The coveted restaurant is a destination for foodies across Japan, renowned for its commitment to the "Ichiza Konryu" spirit of hospitality and preparation that originated in the world of tea ceremony.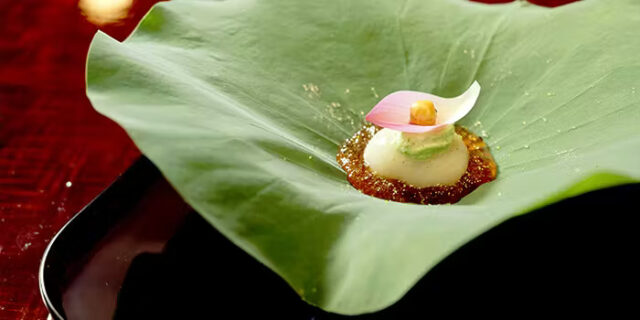 Chef Ishihara takes a holistic approach to fine dining, stimulating all five senses with every dish. From the meticulously crafted food to the elegant wares and stunning decor, every detail is carefully curated to evoke the beauty of the four seasons.
24| Hyotei: 3*
Step into the serene grounds of Nanzenji Temple and you'll find Hyotei, a tea house with a rich history spanning over 400 years. But it's not just the age-old charm that draws in guests from around the world. Chef Yoshihiro Takahashi, the mastermind behind the three-star Michelin restaurant, serves up kaiseki dining at its finest.
Don't expect heavy, over-the-top plates here. Chef Takahashi's dishes are light, refreshing, and free from any unnecessary frills.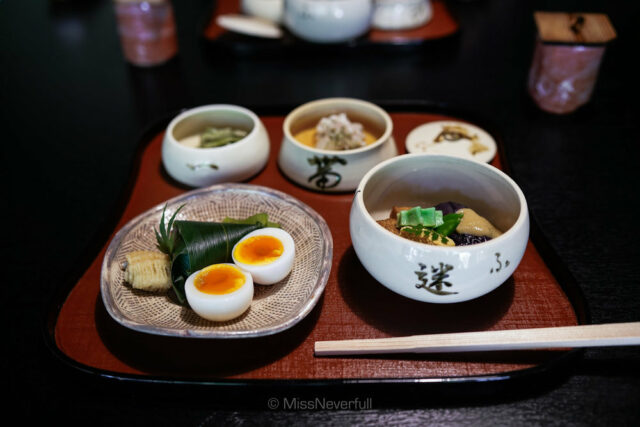 Hyotei may be steeped in tradition, but the chef is constantly pushing boundaries with new flavours and techniques. With Kyoto cuisine, it's all about the dashi – a broth made from kombu kelp and bonito. But Chef Takahashi isn't afraid to mix things up. Whether it's adding a touch of tuna flakes or creating a completely vegetable-based version for vegetarian guests, he's always looking for ways to stay ahead of the curve.
25| Kikunoi Honten: 3*
For those who take their love of Japanese cuisine seriously, Kikunoi Honten is a must-visit.
Led by acclaimed chef Yoshiro Murata, a third-generation kaiseki chef, this Michelin 3-star restaurant guarantees an unforgettable culinary adventure that will undoubtedly be the highlight of your trip to Kyoto.
While many Japanese restaurants pride themselves on high-quality seasonal ingredients and attention to detail, Kikunoi takes it to a whole new level.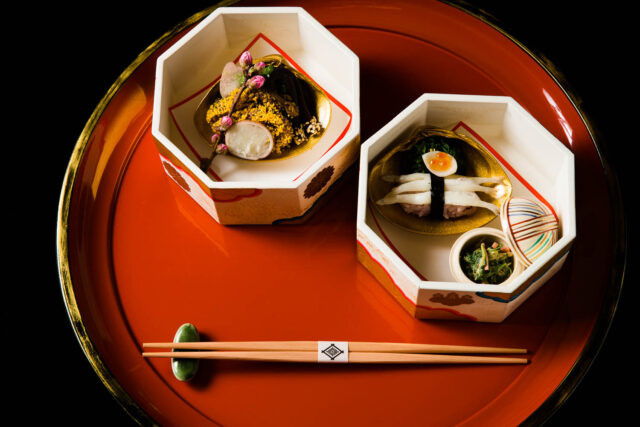 Here, you'll have the chance to experience traditional kaiseki cuisine at its finest. Dinner is an elaborate affair, consisting of numerous small, exquisite dishes that showcase the best of each passing season.
Of course, this level of refinement comes at a cost. The average lunch will set you back around 25,000 yen, while dinner can easily exceed 65,000 yen if you're looking to indulge. While it may not be the most casual dining spot, Kikunoi is an experience that you'll remember for years to come.
Map of Kyoto kaiseki restaurants
We have included all the mentioned kaiseki restaurants on a map for a more visual representation:
FAQs about kaiseki restaurants in Kyoto
How much does kaiseki typically cost?
A true kaiseki experience in Kyoto can be a pricey affair. A full-course dinner at a good kaiseki restaurant in Kyoto may set you back anywhere between 10,000 yen to a whopping 30,000 yen (215 USD/292 CAD) per person (excluding drinks). Some Michelin star restaurants can go even higher.

Here's a pro tip: Opt for a lunch special instead! Sure, the price may seem too good to be true (starting from as low as 2,500 yen), but it's a perfect opportunity to savour the taste of authentic kaiseki ryori without breaking the bank. Just keep in mind that the price often reflects the quality, and you get what you pay for.
Do I need to make a reservation for kaiseki ryori?
Planning ahead is key to having a kaiseki meal. Table reservation is a must, and the best restaurants may even need prior notice of weeks, if not months.

To secure a kaiseki Kyoto reservation, it is often best to go through your hotel concierge or a reliable online booking service such as My Concierge Japan, Pocket Concierge or TableCheck. 

Many Kyoto restaurants don't have booking systems set up. Some don't even have a website, making it difficult to make a reservation for overseas visitors.
How to dress for kaiseki?
Believe it or not, kaiseki is not your average meal that you'd devour in shorts and flip-flops. The good news is you don't have to dress like James Bond either. Smart, clean casual will make the cut.

But wait! Don't forget about decent socks! Trust us, you don't want to be that person with hairy toes sticking out of their socks when you have to remove your shoes at the restaurant!
What are the most popular kaiseki restaurants in Kyoto?
The most popular kaiseki restaurants in Kyoto are Kikunoi Honten, Hyotei and Kinobu. All three of these restaurants are renowned for their delicious dishes and unique atmosphere.
What are the hardest kaiseki restaurants to book in Kyoto?
The hardest kaiseki restaurants to secure a reservation are Ryosho, Mizai, and Kikunoi Honten. These restaurants tend to be very popular and usually require booking months in advance.