This site uses affiliate links and we may earn a small commission when you use our links and make a purchase without incurring additional fee yourself. Many thanks for supporting this website. Please see our disclosure page for more details.
Kyoto is the most picturesque destination in Japan for couples looking to add some romance and adventure to their trip to Asia.
With mesmerizing temples and shrines, zen-ful gardens and traditional tea houses, this historic city could very well be Japan's City of Love – the perfect place to get away from it all.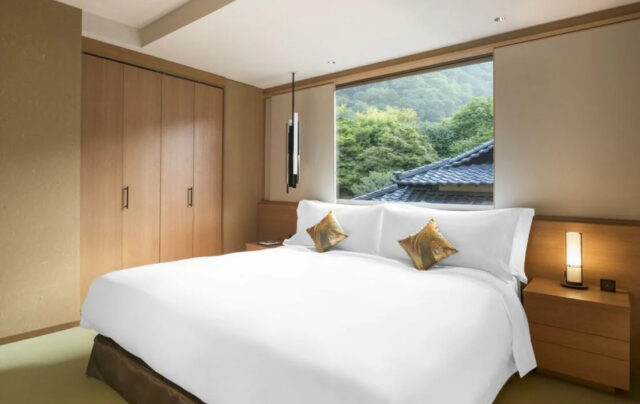 But where should you stay during your romantic getaway? We've shortlisted 15 top-rated boutique hotels in Kyoto to help you find the ideal place for you and your significant other. Redesigned ryokans or chic modern accommodations – whatever your style is, these small luxury hotels in Kyoto are sure to make your trip unforgettable!
So grab your passport and pack those bags – it's time for some serious romance at one of the coolest hotels in Kyoto!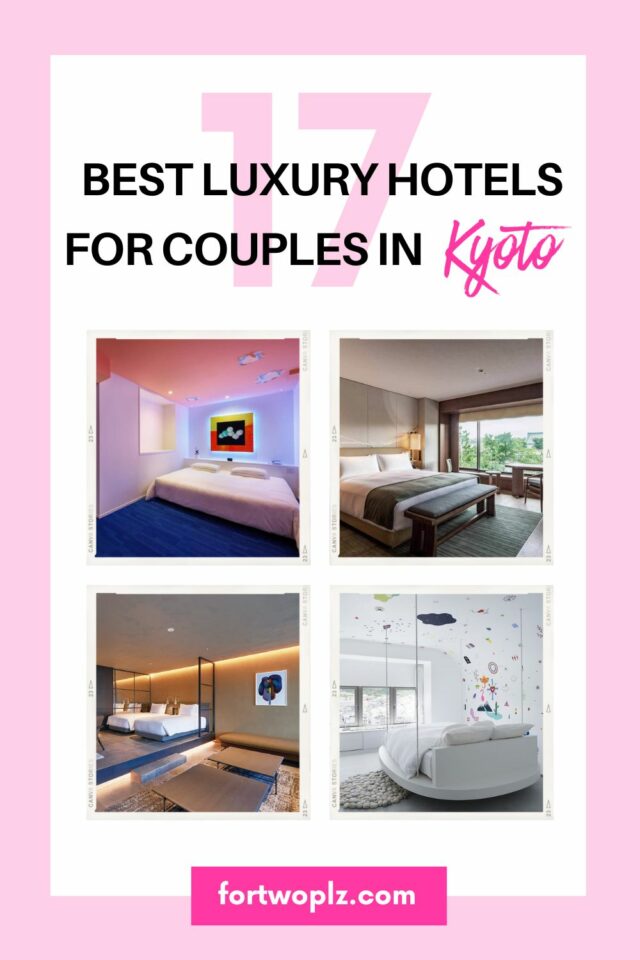 First time visiting Kyoto? These Kyoto travel resources will make your trip planning a breeze:
→ eSIM: Stay connected in Japan by purchasing an eSIM. Airalo has affordable Japan data plans.
→ VPN: Boost your privacy and internet security with NordVPN.
→ Car rental: Discover Cars is great at finding and comparing the best car rental deals.
→ Japan Rail Pass: Traveling across Japan by trains? Save time and money with a JR Pass!
→ Tours: Here are some of our favourites…
❋ Participate in an authentic Kyoto tea ceremony dressed in a kimono.
❋ Learn about Geisha traditions & have an exclusive hour-long meet-and-greet with Maiko!
❋ Visit Arashiyama Bamboo Forest & Iwatayama Monkey Park on this bike tour.
❋ Discover the varieties of matcha green tea, how it is made, and taste it in Uji!
❋ Go on a sake tasting tour at one of the largest sake brewery in Fushimi district of Kyoto.
Is Kyoto worth going to?
Kyoto, the ancient centre of Japanese culture, lies in the southwest of Japan's main island of Honshu, just some 50 km (30 miles) northeast of Osaka.
Because it served as Japan's capital and the emperor's residence from 794 until 1868, Kyoto is steeped in history.
The historic city has a lot to offer, from colourful temples to maiko and geisha culture, as well as multi-course kaiseki ryori (traditional Japanese) feasts.
And let's not forget the impressive number of UNESCO World Heritage Sites it boasts! There's a whooping 17 incredible locations to explore!
Simply put, Kyoto is hands-down a remarkable destination that absolutely deserves to be at the top of your Japan travel itinerary!
Kyoto District Map
Prior to researching Kyoto hotels, familiarize yourself with the city's distinct neighbourhoods to better inform your choices.
The map below illustrates the generalised neighbourhoods in Kyoto: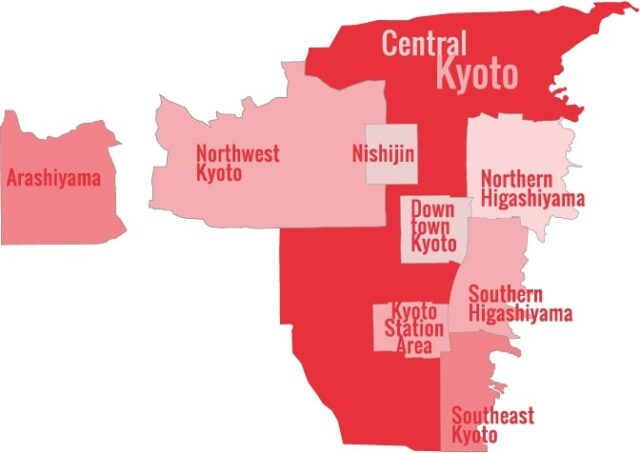 What are the good and bad neighbourhoods in Kyoto, Japan?
It is natural for travellers to ask, "what is the best area to stay in Kyoto" and "what area to avoid in Kyoto for tourists".
If safety is a priority, Kyoto, known as Japan's safest city due to its low crime rates, offers peace of mind.
As a visitor, you can rest assured that it's quite unlikely you'll wander anywhere truly dangerous.
Kyoto is one of the very few cities that is safe to walk around at night and travel on public transport, but it's still wise to exercise caution, just as you would in any major city.
When it comes to the best areas to stay, consider what you intend to see and do in Kyoto.
★ Higashiyama
Are you planning to visit the ancient temples and shrines within the city limits? If so, we suggest staying in Higashiyama.
Just east of the Kamo River, this area is home to the city's most incredible temples and shrines that you simply can't miss! The beautifully preserved lanes genuinely transport you back in time, allowing you to experience Japan's rich Edo period first-hand.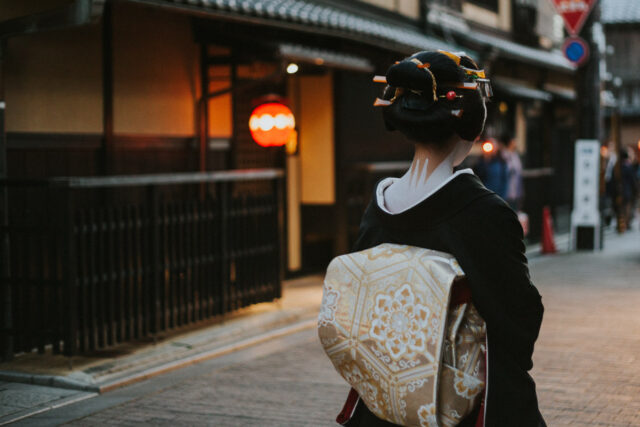 Gion, the renowned geisha district, is also situated here, offering a rare opportunity to spot an authentic geisha in the evening. Just be aware that they likely won't pose for photos if you attempt to capture the moment.
★ Downtown Kyoto
Downtown Kyoto is the place to be if shopping and dining are priorities during your Kyoto trip.
Pontocho Alley, nestled along the western bank of Kamo River, is the go-to spot for foodies! With a fantastic array of bars and restaurants, you'll be spoilt for choice.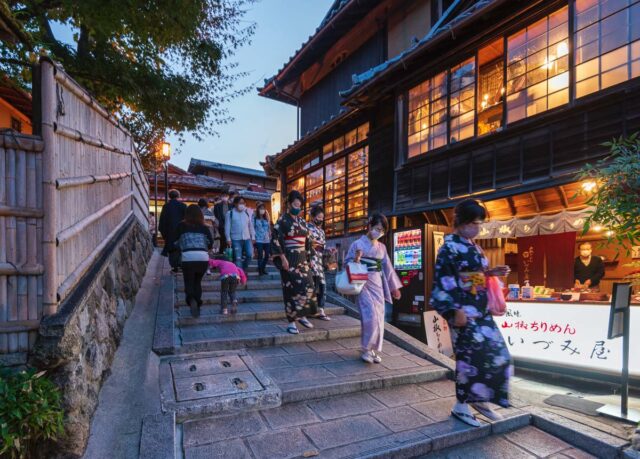 And if you still can't find something you fancy, don't worry—Kiyamachi street and the Kawaramachi-Shijo Dori intersection will definitely have what you're looking for.
You definitely don't want to miss Nishiki Market, known as "Kyoto's pantry"! There, you'll discover the tastiest Kyoto traditional food and friendly locals offering everything from freshly-fried treats to seafood and matcha sweets.
When it comes to shopping, keep an eye out for Shinkyogoku – a vibrant Japanese covered shopping arcade brimming with an array of souvenir shops, incredible department stores, delightful cafes, stylish boutiques, and lively outdoor concert spaces!
Don't hesitate to explore beyond Shinkyogoku, as the shopping adventure carries on into Teramachi arcade and the massive department stores Daimaru and Takashiyama!
★ Kyoto Station Area
If you're planning on exploring the whole Kansai region, it would make most sense to look for accommodation around JR Kyoto station.
This central area places you near the Shinkansen bullet train, Kyoto train station hub, and the primary bus terminal, effortlessly linking you to the many amazing parts of Kyoto!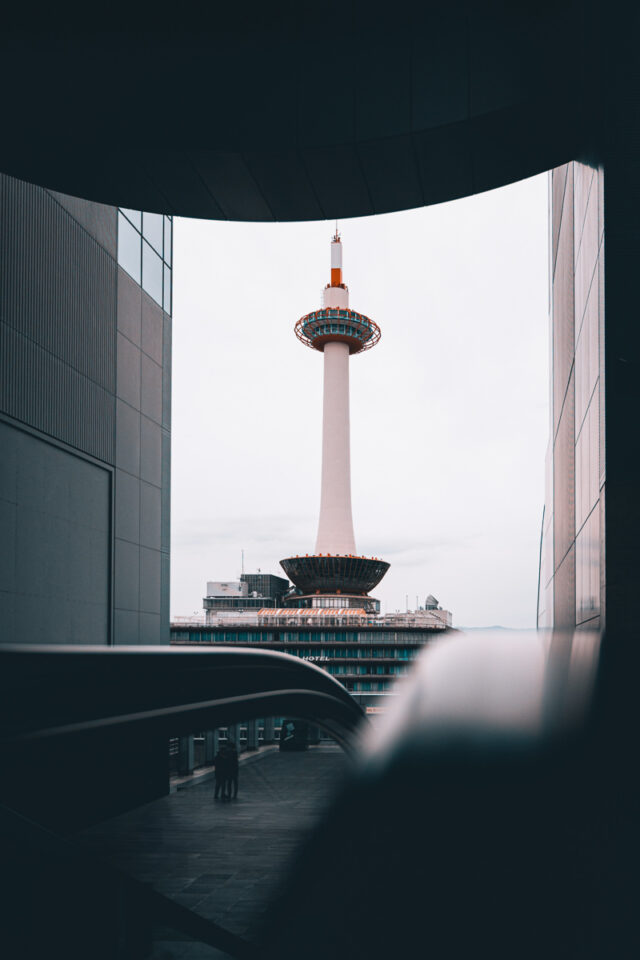 The best boutique hotels in Kyoto for couples: HIGASHIYAMA
★ Sowaka Kyoto (5*)
As a part of the Small Luxury Hotels of the World (SLH) collection, Sowaka Kyoto ensures you will have a truly exceptional experience!
This amazing hotel boasts 23 uniquely designed rooms and a Michelin-starred La Bombance Gion restaurant, inviting you to unwind in true Japanese style!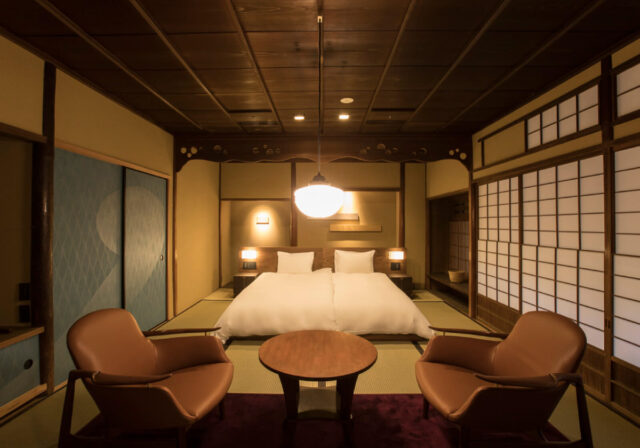 The hotel is conveniently located near the Gion-Shijo train station, allowing guests to effortlessly explore Kyoto and its breathtaking surroundings! Just a short walk away, you'll find the majestic Yasaka Shrine and lively Gion district.
★ Nohga Hotel Kiyomizu Kyoto (4*)
Just a 10-minute walk from Kiyomizu-dera, one of Kyoto's top Buddhist temples and a UNESCO World Heritage Site, Nogha is no doubt a perfect travelling base for your trip to Kyoto!
The Kyoto design hotel, featuring chic, soothing rooms and stylish interiors, is a dream destination for those seeking a spacious, modern stay for their delightful Kyoto vacation!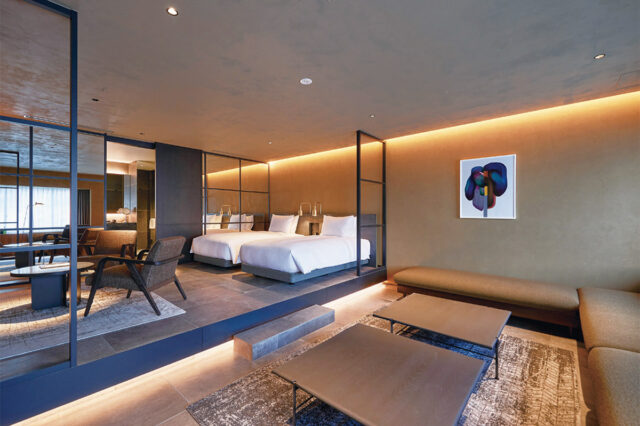 Onsite, you're in for a treat with a variety of eateries, including a delicious Italian restaurant, a charming European bakery, and a stunning rooftop bar overlooking the city!
Exploring Kyoto on foot is a blast, but if you want wheels, the hotel's got you covered with electric bikes for rent. Cruise through the city's sights with ease, saving energy for even more adventures!
★ The Celestine Hotel Gion (4*)
The Celestine Kyoto Gion is a contemporary design hotel set in the historic Gion district. The rooms have a sleek, minimalistic design that effortlessly marries modern luxury with traditional tatami vibes.
The property is home to Yasaka Endo, a Japanese restaurant specialising in tempura, and it also serves gourmet 'kaiseki' multi-course dinners. The hotel's bar, Oumie, offers a chic atmosphere in which to unwind with the other well-heeled guests and treat yourself to a nightcap before bed..
A major highlight of this hotel is its amazing onsen public bath, perfect for unwinding and recharging after a busy day of exploration.
★ Higashiyama Shikikaboku (4*)
Committed to unparalleled comfort and relaxation, Higashiyama Shikikaboku feels like your home away from home!
This small luxury hotel promises an intimate experience with just eight spacious guest suites, blending chic modern vibes and a strong connection to the city's rich cultural heritage. Plus, every guest room comes with a fully-equipped kitchenette, making this Kyoto Higashiyama ryokan perfect for extended stays.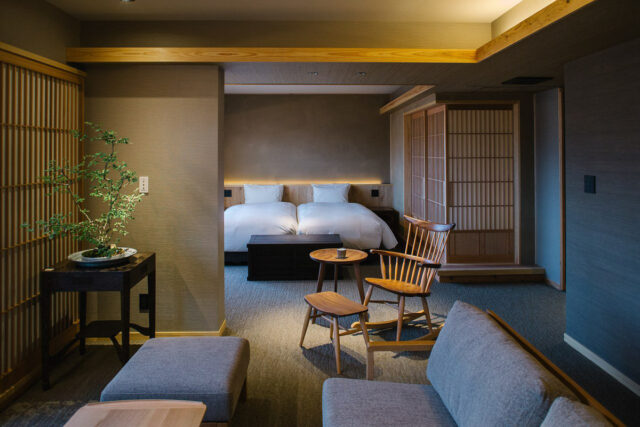 As a guest, you'll enjoy the rare luxuries of a private open-air bath and rooftop lounge area on the upper floors, right in the heart of Kyoto! You will find it is a perfect spot to soak in the breathtaking view of the Higashiyama mountains!
★ Seikoro Ryokan (4*)
Just a stone's throw from Kyoto's Kamo River, Seikoro Ryokan is an excellent choice for anyone looking to experience the authentic Japanese style of lodging for the first time!
The unpretentious traditional Kyoto ryokan, established in 1831, offers 20 guest rooms with traditional tatami flooring and comfy futon bedding. This delightful space is then transformed for breakfasts (and later, dinners), served right in your room, all in the exquisite kaiseki style!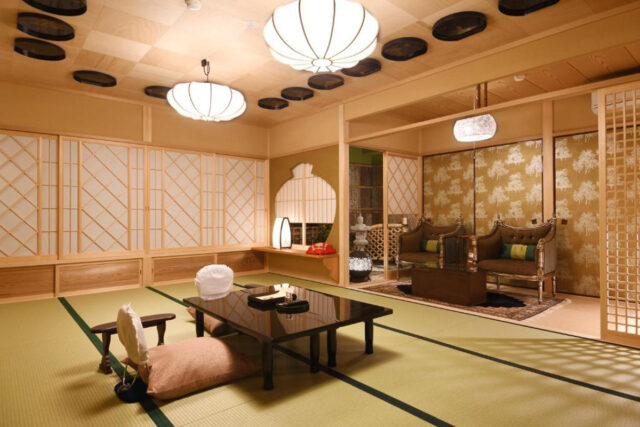 The rooms have private bathrooms with a separate toilet and a shower.
You'll also find gender-separated public baths onsite which further contribute to the heritage and charm of this delightful boutique accommodation.
★ Nanzenji Sando Kikusui (3*)
Nanzenji sando Kikusui is a traditional ryokan located at the renowned Nanzen-ji Temple, offering guests an immersive cultural experience and a serene atmosphere.
With only five beautifully furnished guest rooms, the boutique accommodation in Higashiyama feels like a tranquil oasis.
Each guestroom blends traditional tea-ceremony aesthetics with a contemporary, sophisticated ambiance. Overlooking a breathtaking Japanese garden, these rooms are sure to enchant you!
The best part is that you don't need to go far for scrumptious food. The onsite restaurant whips up exquisite traditional Kyoto dishes and kaiseki (an amazing multi-course dinner), which are a huge hit among guests! You can even find delightful French cuisine at the restaurant.
The best boutique hotels in Kyoto for couples: DOWNTOWN KYOTO
★ Hotel the Mitsui Kyoto, a Luxury Collection Hotel (5*)
The 5-star luxury hotel is an exciting new gem joining the fantastic lineup of unique hotels in Kyoto.
Nestled right next to the magnificent 17th-century Nijo Castle (a UNESCO World Heritage Site), Hotel the Mitsui Kyoto brilliantly blends elegant luxury with contemporary design inspired by its Kyoto roots.
Every room is a modern, upbeat take on the classic Japanese tea room, crafted from carefully chosen natural materials.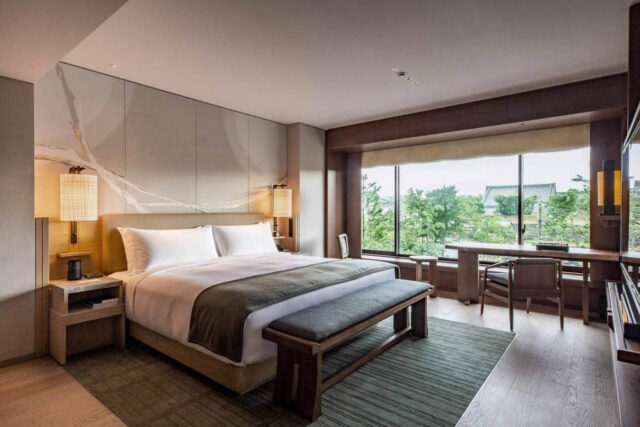 One of the amazing highlights here is the communal thermal onsen spring which has its own natural spring water source. You can also reserve private onsen baths for a more personal experience! Or book an Onsen suite and indulge in your own private onsen right in your room.
Don't miss out on a delightful meal at one of the 2 onsite restaurants, showcasing delectable French-Japanese fusion and Italian fare! Or, unwind with a refreshing drink at the garden bar.
★ Kyokoyado Muromachi Yutone (4*)
Discover Kyokoyado Muromachi Yutone, a charming Kyoto ryokan that boasts only seven rooms, offering you a serene and exclusive stay in the heart of Kyoto.
What sets Kyokoyado Muromachi Yutone apart as one of the most unique places to stay in Kyoto is that each of the seven rooms features its very own hinoki (cypress) bathtub. Imagine soaking in the calming scent of fresh cypress while letting your body and mind totally relax – pure bliss!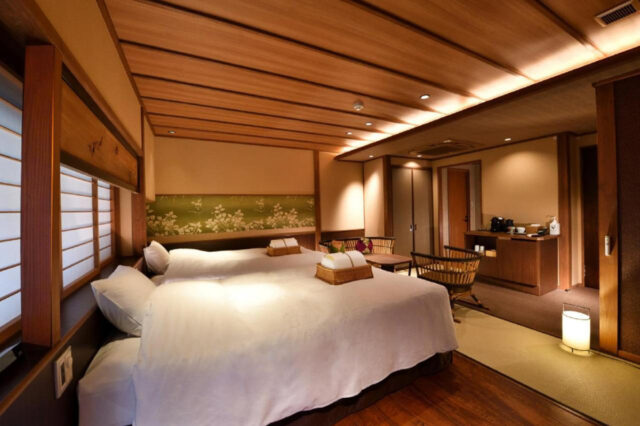 Plus, there's an amazing a la carte restaurant offering stunning and mouth watering traditional Kyoto dishes. If you're planning to stay, we highly suggest adding a meal to your room reservation – you won't regret it!
★ Kanamean Nishitomiya (4*)
Kanamean Nishitomiya is an excellent choice for those visiting downtown Kyoto.
This Relais & Chateaux property hosts only seven suites, each of which boasts a distinct layout while embracing the charming ryokan aesthetic: sliding paper screens, captivating calligraphy scrolls, cozy tatami mat floors, elegant ikebana flower arrangements, and oh-so-comfy futons set up during dinner.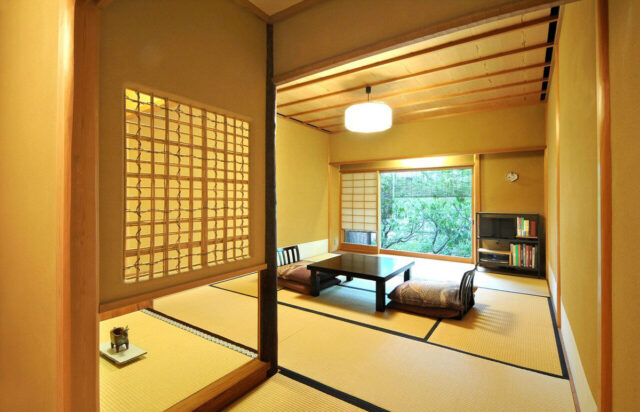 Just like many other high-end boutique hotels in Japan, the bathrooms boast amazing wooden Japanese-style hinoki cypress baths, ideal for unwinding and melting stress away after an exciting day of adventure!
It is also worth noting that this small luxury hotel in Kyoto has a Michelin-starred restaurant, offering an exquisite kaiseki banquet-style feast with around nine delightful, seasonally inspired courses to delight your senses!
★ Nazuna Kyoto Gosho (3*)
Once a charming lumber shop, the boutique hotel Nazuna Kyoto Gosho is now a serene gem, just a delightful 15-minute stroll away from the majestic Kyoto Imperial Palace and the Nijo Castle.
The Kyoto ryokan is an amazing 7-room luxury haven, inspired by "Wagashi" (traditional Japanese confections), tucked away in two spacious "Kyomachiya" (traditional Kyoto-style townhouses).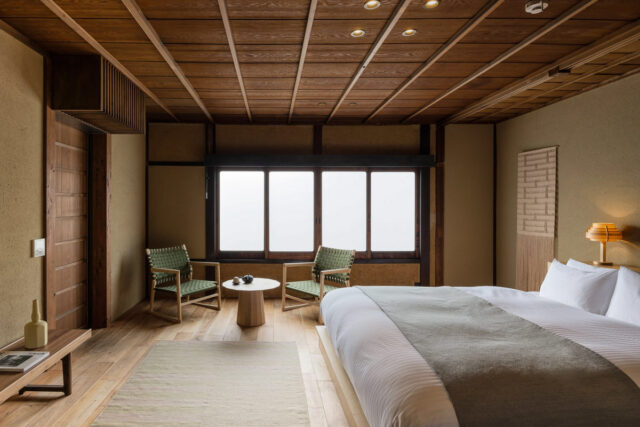 Each room has its unique Wagashi theme, perfectly blending the charm of the old building with modern installations for the ultimate cozy experience!
For more incredible luxury ryokans in Kyoto, check out other Kyomachiya in the city restored by the same operating company, including Nazuna Kyoto Tsubaki St and Nazuna Nigo-jo.
★ The Screen (4*)
Sitting in the southeast corner of the Kyoto Gyoen National Garden, The Screen is a unique Kyoto design hotel, skillfully fusing traditional ryokan elements with contemporary boutique aesthetics.
The 13 unique room types at Screen have been creatively designed by both Japanese and international designers, offering a distinct and delightful experience for every guest. Effortlessly chic yet unmistakably Japanese, these rooms range from classic aesthetics with tatami floors and shoji screens to more contemporary styles.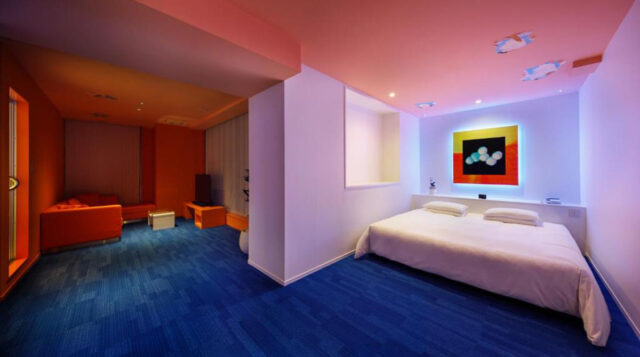 Each room is expansive and captivating, featuring flat-screen TVs, espresso machines, iPod docks, Bose speakers, and luxurious jacuzzi bathtubs.
There is a roof terrace for unwinding or evening cocktails, a sophisticated French fusion eatery, and a chic café lounge for delectable nibbles.
★ BnA Alter Museum (4*)
Design lovers, you simply can't miss the opportunity to stay at BnA Alter Museum, another one of the cool hotels in Japan, nestled right in the heart of vibrant downtown Kyoto!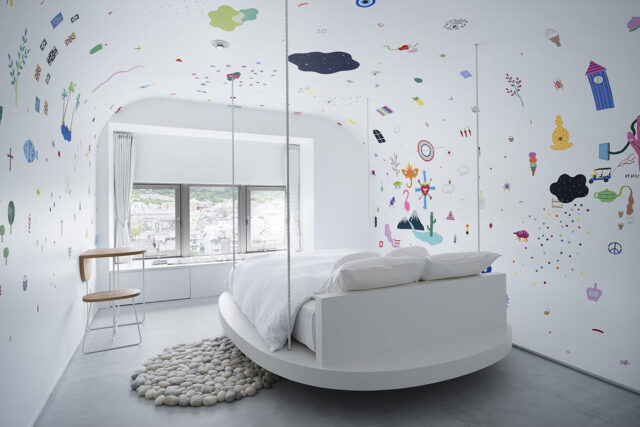 The boutique art hotel features 31 extraordinary art rooms, crafted by 15 talented Japanese artists and 9 visionary art directors, guaranteeing a one-of-a-kind experience during each visit. Prepare to be dazzled by mesmerizing bursts of colour, indulge in the chic contrast of black and white minimalism, or immerse yourself in a turquoise haven that transports you beneath the waves.
Inside the museum-hotel, you'll discover an incredible 10-story vertical art gallery showcasing exceptional Japanese contemporary art, along with a bar with a one-of-a-kind party atmosphere! Your visit to BnA Alter Museum is sure to be a truly unforgettable travel experience.
★ Node Hotel
Excited to snooze amidst contemporary art in Kyoto? You'll absolutely love checking into the Node Hotel!
The Kyoto design hotel feels like stepping into an art collector's dream home! Breathtaking artwork adorns every corner of the industrial-chic setting spanning across the entire 5-level building.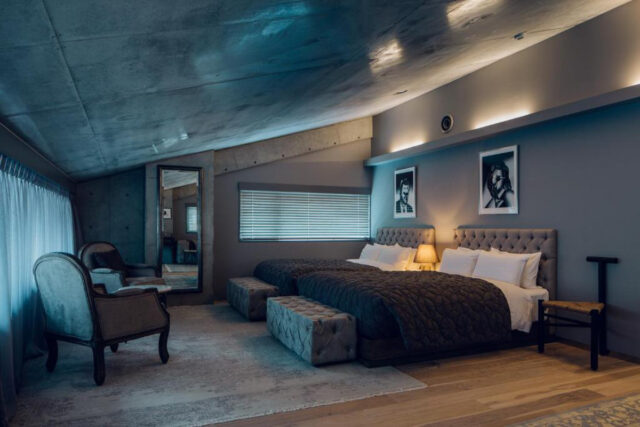 At Node Kyoto, both communal areas and private guestrooms function as a dynamic gallery, showcasing artwork from renowned local and international artists.
Each of the 25 rooms showcases creative designs with a lively assortment of art pieces embellishing the walls.The interiors are decorated with calming gray tones and equipped with oversized beds and unique furniture. Carefully selected amenities and loungewear guarantee the highest level of guest comfort.
Facilities are simple, featuring a ground-floor restaurant offering farm-to-table cuisine using locally sourced ingredients throughout the day.
The best boutique hotels in Kyoto for couples: KYOTO STATION AREA
★ Genji Kyoto
Genji Kyoto, a modern take on Kyomachiya townhouses, hosts just 19 rooms and suites, making it the perfect boutique hideaway in Kyoto for those who cherish privacy!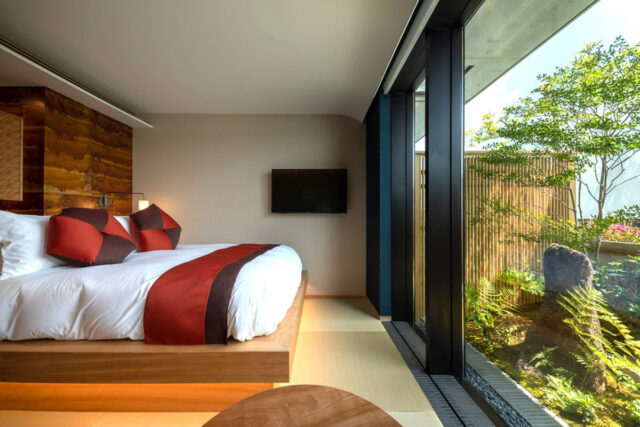 Rooms are impressively spacious and stylish, complemented by lavish baths and showers. Every room offers stunning river, city, or tranquil tsubo garden views. Some riverside rooms even come with a balcony where you can enjoy absolutely breathtaking panoramas!
Japanese and international dishes are served in the Genji Lounge or in the rooftop Sky Forest Garden overlooking the Kamo-gawa River.
★ Hotel Kanra Kyoto (4*)
Hotel Kanra Kyoto, a gorgeous Japanese-themed boutique hotel, is just a short walk south of the Gojo subway station.
The 68-room small luxury hotel in Kyoto is a serene oasis that strives to provide the distinct, top-notch service of traditional Japanese Ryokans, making you feel right at home.
Rooms feature an elegant fusion of contemporary Machiya-style—spacious, impeccably maintained, and brilliantly adorned with Japanese tatami-style seating and sleek Western décor. Each room has a luxurious Hiba-cypress wooden bathtub and a separate shower for the ultimate relaxation experience!
The hotel's dining options include Teppanyaki and Italian cuisine at the restaurants, as well as a serene cafe offering innovative beverages crafted with local, seasonal ingredients.
★ 22 Pieces (2*)
22 Pieces, an elegant apartment-style boutique hotel, is nestled in a serene residential neighbourhood on Kyoto Station's southern side. Its strategic location offers easy access to nearby attractions such as Fushimi Inari Shrine and Kyoto Tower, all within a comfortable walking distance.
The apart-hotel is adorned with spacious rooms and chic Japanese design. It offers more budget-friendly rates than many others, primarily due to fewer communal facilities, but rest assured, comfort and convenience aren't compromised!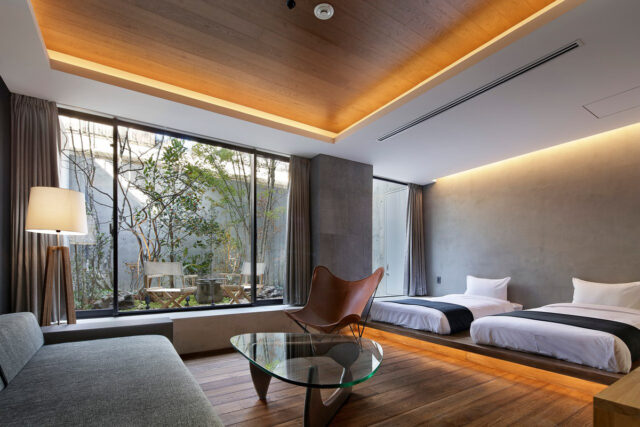 Each room has multiple beds, a comfy couch, a handy kitchenette, and free Wi-Fi. With the convenience of in-room fridges and microwaves, whipping up your own delicious meals is a breeze.
Some rooms come with a terrace, perfect for unwinding and enjoying a pre-dinner drink in high spirits!
Guests can take advantage of additional perks, including the convenient bike rental service for exploring the surroundings, secure luggage storage for worry-free travel, and the option to rent various items from the front desk to enhance their stay.
The best boutique hotels in Kyoto for couples: ARASHIYAMA
★ Suiran Kyoto, a Luxury Collection Hotel (5*)
Suiran is an exquisite Kyoto luxury ryokan situated in an enchanting spot beside the serene Hozu River. The famous Arashiyama bamboo forest is just a delightful 10-minute stroll away!
The 39-room modern luxury hotel incorporates traditional Japanese elements. Rooms artfully blend the aesthetics of a classic Japanese ryokan – with tatami mat flooring and shoji screen doors – and the cozy comforts of modern living.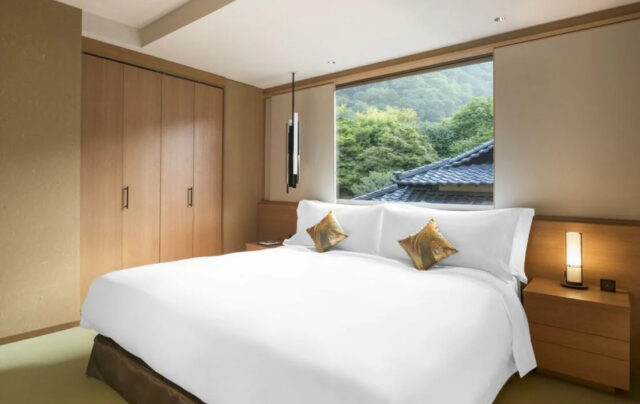 Every guest room has a distinct theme. The ground floor rooms come with charming private gardens, while the upper rooms feature balconies offering breathtaking mountain and garden views.
Bathrooms are spacious, ultra-modern, and fitted with Japanese-style touches. They come with luxurious amenities and rejuvenating showers, and some even have their very own outdoor hot spring bathtub!
The hotel offers two on-site dining options, serving exquisite teppanyaki dishes as well as a fusion of Japanese-French cuisine. There is also a tea house to enjoy Japanese-style afternoon tea.
FAQs about visiting Kyoto
Do Kyoto hotels have free wifi?
Almost all hotels mentioned in this article have free wifi.
If you need data while exploring Kyoto, we highly recommend grabbing an eSIM. Public wifi can be hit-or-miss, and we all know how frustrating it is to lose connection just as you're searching for directions on Google Maps!
Airalo has extensive WiFi coverage in Japan. Check out the different data plans and discover the perfect one to suit your needs!
Want to boost your privacy protection while travelling abroad? You should totally check out a VPN! NordVPN and ExpressVPN are amazing tools to level up your digital privacy game!
Do Kyoto hotels have public baths?
Most hotels and ryokans have public baths. To ensure accuracy, kindly refer to specific accommodation listings.
Which boutique hotels in Kyoto offer an especially good breakfast?
The following hotels are famous for their amazing breakfasts. Just double-check if it's part of the room rate when booking, as some might not include it.
Sowaka
The Celestine Hotel Gion
Seikoro Ryokan
Nanzenji Sando Kikusui
Hotel the Mitsui Kyoto
Kyokoyado Muromachi Yutone
Kanamean Nishitomiya
Kazuna Kyoto Gosho
Genji Kyoto
Suiran Kyoto
How many days do I need to stay in Kyoto?
Deciding how many days to spend in Kyoto can be a challenge.
Kyoto, an amazing city rich in thousands of years of history, offers endless adventures and discoveries—even for locals, there's always something new to experience!
With that being said, most travellers will end up spending between 2-5 days in Kyoto.
You can get a broad overview of the city in just 2-3 nights! If you want to dig deeper, think about spending 5-7 days or longer, and you can include exciting day trips to nearby gems like Osaka, Nara, Uji, Himeji, and Kobe!
Remember, regardless of how long you stay in Kyoto this time, first visits are rarely the last – you'll likely return! So don't worry about seeing everything now; just enjoy the experience.
Is Kyoto cheaper than Tokyo?
When you take hotels, food, transport and admission prices together, Kyoto tends to be about 30% cheaper than Tokyo.
However, you can find cheaper and more expensive places in both cities.
Indulging in traditional kaiseki cuisine, for example, is a bucket-list experience in Kyoto for food enthusiasts, though it can be a bit pricey. Likewise, participating in an authentic Kyoto tea ceremony dressed in a kimono can quickly add to your expenses.
Without compromising the quality of your experience, consider booking accommodation in advance to get the best rates or join a loyalty program to score a 10%-15% discount for your stay!
We also love browsing Klook for deals on admission and train tickets!
Is Kyoto better than Osaka?
Kyoto or Osaka, that's the common question from travellers.
Kyoto and Osaka are both amazing tourist hotspots in Japan's Kansai region! Interestingly, even though they're right next to each other, their vibes are totally unique!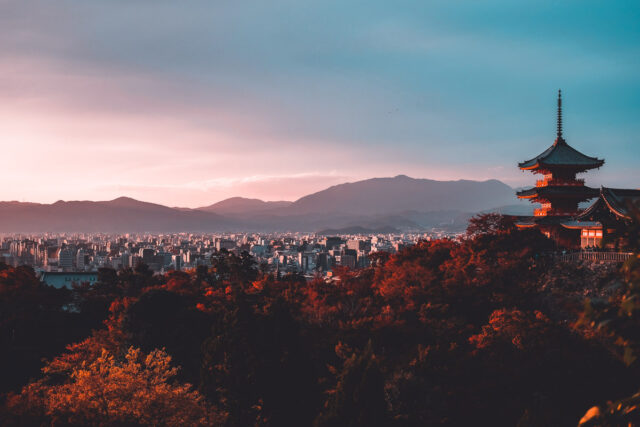 Kyoto, a city steeped in cultural richness and age-old traditions, boasts innumerable temples and shrines. It's the perfect place to dive headfirst into authentic Japanese heritage – with mouth-watering kaiseki cuisine, soothing tea ceremonies, captivating geisha performances, and thrilling samurai culture!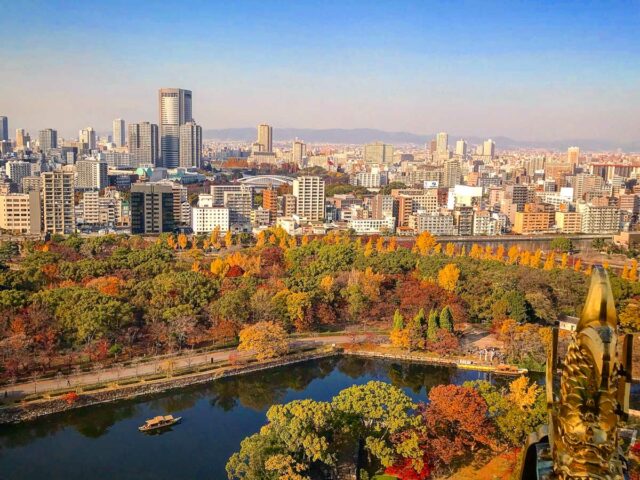 Osaka, on the other hand, is well known for its incredible street food. The city is home to a varied arts and museum landscape, avant-garde architecture, vibrant nightlife, welcoming residents, and a plethora of shopping choices!
If time permits, why not visit both? Kyoto Station and Shin-Osaka Station are a mere 13-minute Shinkansen ride apart and conveniently connected by JR and private railways, making it effortless to explore both cities!
How easy is it to get around Kyoto as an English speaking tourist?
Exploring Kyoto is a breeze, even if your Japanese is limited! You'll find English signage at crucial spots like subway stations, department stores, attractions, and hotels. Plus, buses have English announcements, making communication smoother than ever!
Loads of restaurants and cafes in Kyoto have menus with images, making it super easy to order! However, more traditional bars and restaurants can be a bit tricky. Fortunately, Google Translate serves as a useful tool for communicating with locals in such situations!
That being said, we highly recommend picking up some basic Japanese phrases like "hello" and "thank you." Trust us, it will not only help you get assistance quicker and easier but will also leave a fantastic impression as a foreigner!
Teach Me Useful Japanese Phrases!
Sign up below & we'll send you a FREE guide of 35+ useful Japanese phrases you must know before your trip to Japan!
What are the best things to do in Kyoto other than temples?
To elevate your Kyoto vacation, here are the best Kyoto activities to add to your itinerary apart from visiting temples and shrines:
→ Shop at Nishiki Market. You absolutely have to visit this traditional shopping street if you're craving authentic, fresh Japanese cuisine! The cozy, bustling streets are packed with vendors offering everything from pickles and dried fish to skewered octopus and tofu donuts. Not only is admission free, but this market is loved by locals too, so expect to feel the lively vibe among the crowds!
→ Explore Gion District. The Gion District in Kyoto, also known as the Geisha District, is a must-visit spot in this stunning city! Here, you can catch a glimpse of maikos and geishas gracefully shuffling between appointments while enjoying the charming old town atmosphere with its quaint cobblestone streets and lovely traditional wooden townhouses. Plus, you'll find an abundance of restaurants, specialty food and artisan stores, perfect for a little souvenir shopping.
Eager to explore the fascinating world of geisha traditions? Enlist a knowledgeable guide for an insider's scoop on these enchanting customs! Plus, the tour features an exclusive hour-long meet-and-greet with a charming apprentice Geisha, Maiko!
→ Visit the Iwatayama Monkey Park. Nestled on Mt Arashiyama, this park is an incredible spot to enjoy breathtaking views of Kyoto, all while accompanied by playful, free-roaming Japanese monkeys. Sure, there's a steep 15-20 minute hike to reach this gem, but trust us, it's totally worth it! At the top, you'll be rewarded with stunning shots of Kyoto from above, and of course, up-close encounters with those awesome monkeys.
This area is also close to the picturesque Arashiyama Bamboo Forest, and you can visit both on this bike tour with an English-speaking guide!
→ Get a taste of Kyoto's matcha green tea. Green tea enthusiasts, rejoice! A visit to the charming town of Uji in Kyoto – the birthplace of matcha – is a dream come true. Just a 20-min train trip from Kyoto, you'll be thrilled with countless opportunities to experience and savour matcha, as well as other green tea delights in an array of beverages and dishes.
→ Partake in a sake tour. Explore the world of sake on this exciting tour through Kyoto's Fushimi Sake District! Visit the renowned Gekkeikan Okura Sake Museum, one of Fushimi's largest breweries, and conclude your journey with a delightful sake-tasting session. Your friendly guide will cover the basics of sake and introduce you to amazing new varieties. Enjoy the tastings paired with delicious Japanese snacks, enhancing the entire experience!