This site uses affiliate links and we may earn a small commission when you use our links and make a purchase without incurring additional fee yourself. Many thanks for supporting this website. Please see our disclosure page for more details.
The lively metropolis of Osaka is often overlooked by first-time visitors to Japan in favour of Kyoto and Tokyo.
However, if you're a foodie, you do not want to skip Osaka, Japan's street food capital. Ooh, there is so much to eat AND see in this city! We can't wait to show you our favourite foodie spots in this tasty 1-day Osaka itinerary.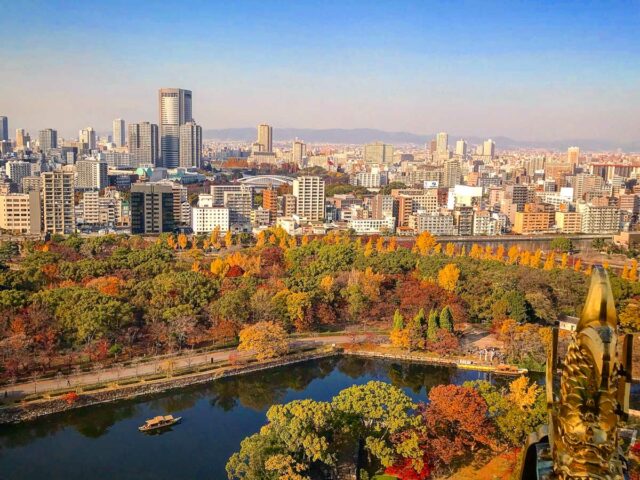 Osaka is home to Universal Studios Japan and its location in the Kansai region makes it a great hub to bounce off to nearby fascinating destinations like Kyoto, Nara, and Kobe.

Even if you can only spend one day in Osaka, it is still definitely worth your time to visit. Do you like okonomiyaki and takoyaki? They both originated in Osaka!
Ready to tackle the third largest city in Japan? Here's how to give your taste buds a treat during your one night in Osaka!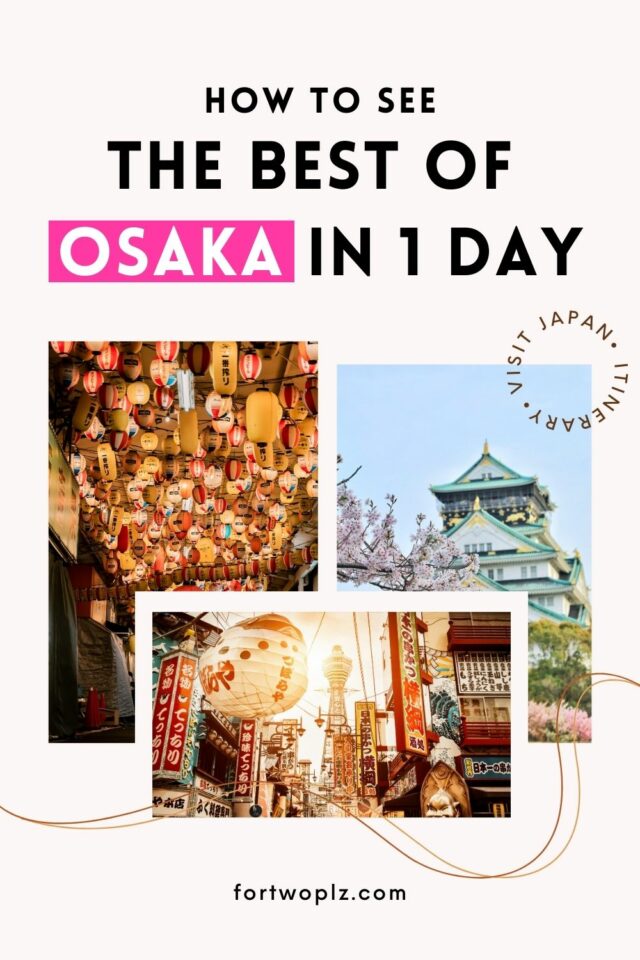 First time visiting Japan? These Japan travel resources will make your trip planning a breeze: 
→ eSIM: Airalo has affordable Japan data plans.
→ VPN: Boost your privacy and internet security with NordVPN.
→ Car rental: Discover Cars is great at finding and comparing the best car rental deals.
→ Japan Rail Pass: Traveling across Japan by trains? Save time and money with a JR Pass!
→ Hotels: Use Agoda to book hotels at competitive price. We recommend staying in Kita and Minami areas. Scroll down to the hotel section for our top picks in Osaka.
→ Tours: Here are some of our favourites…
❋ Osaka Kuromon Market and Kitchen Town Tour
❋ Osaka Namba Bar Hopping Night Tour
❋ Shinsekai Hidden Eateries Food Tour
❋ Osaka Standing Bar Foodie Cultural Tour
Is Osaka worth visiting?
Osaka is totally worth visiting. Known for its shopping, nightlife, unpretentious cuisine, and overall fun vibe, Osaka is one of the most popular destinations in Japan!
Osaka is a big culinary hub (as mentioned earlier) because the city's people are famous for their obsession with eating and drinking. It is this habit which gives rise to the well-known local expression, kuidaore ("to eat oneself to bankrupt").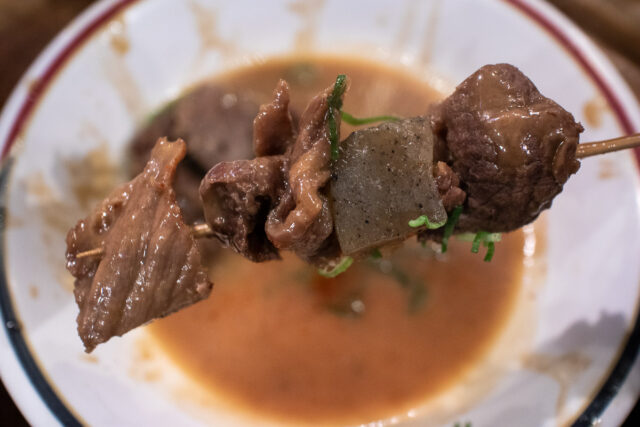 In Osaka, you'll find an eclectic range of culinary specialties, ranging from casual street side takoyaki and okonomiyaki, hole-in-the-wall izakayas, to high-end Michelin-starred restaurants.
Not sure what all of these long Japanese words mean? Grab the cheat sheet for all the unique Japanese dishes you can encounter in Osaka using the form below!
The bustling nightlife means there's no shortage of tachinomi (standing bars) and hidden cocktail bars to sip your way through the evening!
Along with its great food and energetic nightlife, Osaka is known for having the most fun-loving people in Japan (we've befriended a few on our trip to Osaka!). Many of Japan's most famous comedians are in fact from Osaka!
Is one day in Osaka enough?
Since Osaka is so colourful and lively, you may wonder if one day in Osaka is enough to see everything. The answer is…probably not.
Given the number of places to visit in Osaka, 24 hours in Osaka is simply not enough to experience all this Kansai city has to offer.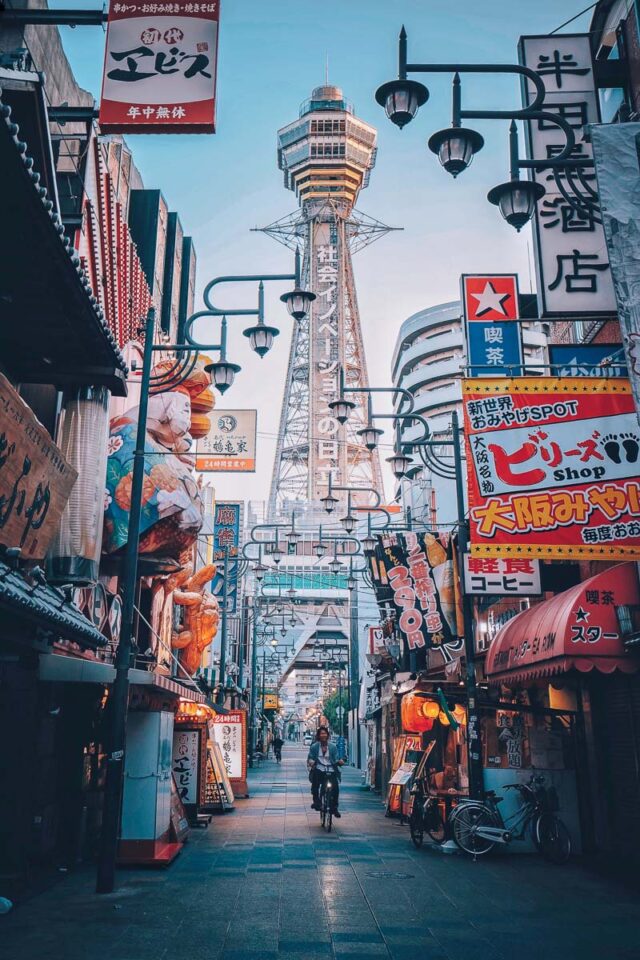 Having said that, we understand that travelling in Japan is quite expensive and sometimes your Japan itinerary only allows for a single night in Osaka.
That is why we have written this detailed Osaka itinerary to help you discover the best food and things you must do in Osaka in one day. We lay out the best possible route to show you how to maximise your time to see and eat as much as possible!
Osaka Map: 1-Day Osaka Itinerary
For the ease of travel planning, we've put together the above personalised map for your 1 day Osaka itinerary. You will see two sets of markers on the map: red circles with numbers and yellow drop pins.
The red circles are the places in Osaka mentioned in the itinerary and a suggested order in which to visit them. Each red circle has a number in it to show the order, so the red circle with the number 1 means we suggest it as the first thing you do in Osaka.
The yellow drop pins are other notable attractions in Osaka. Many of them are unique places to visit in Osaka, such as Universal Studios Japan. If you have more than one day in Osaka, or would like to swap out places from the itinerary, consider adding those attractions to your Osaka travel itinerary.
One day in Osaka: Where to eat for foodies?
Osaka is a food lover's paradise. With the amount of options out there, it can be overwhelming to narrow down where to go and what to eat in Osaka.
If you only have one day in Osaka, we suggest keeping your activities centred around the Namba district, a great place for shopping and trying out street foods!
Here is the 1-Day Osaka itinerary we have planned out for you:
MORNING: Arrival → Namba Yasaka Jinja → Kuromon Ichiba Market OR Aginoya
After arriving in Osaka, make your way to Namba Yasaka Jinja. The closest subway stops are Namba Station and Daikokucho Station on the Midosuji Subway Line.
This lion shrine is one of the most unique and photo-worthy shrines in Japan. The 12m tall, 11m wide lion head is the main draw here. The huge open mouth is believed to swallow any evil spirits plaguing you, leaving you with only good luck for succeeding in business or school-related ventures.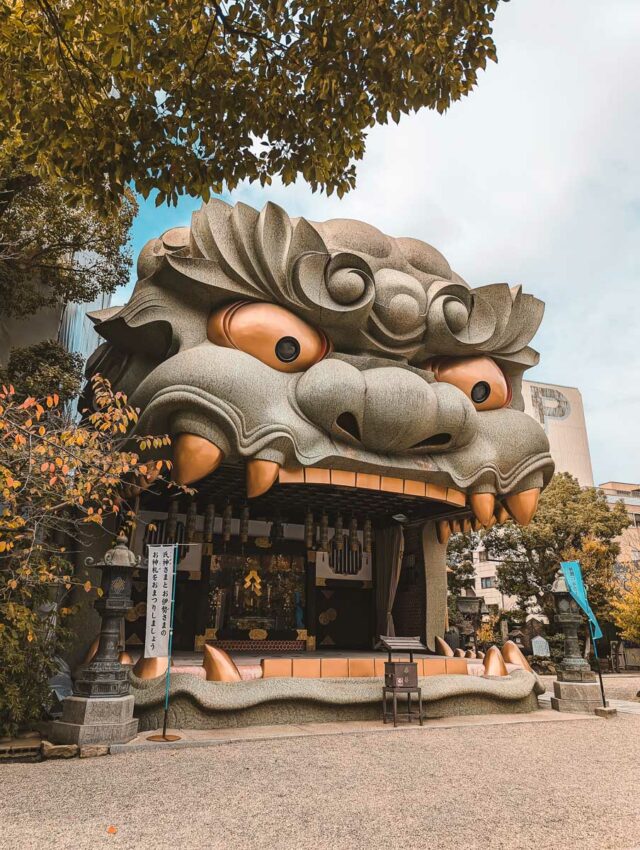 Next, walk over to Kuromon Ichiba Market, just a short stroll away. Spanning 580 metres, the Kuromon Market is filled with fresh produce, seafood, traditional sweets and most importantly, street food!
For most vendors, you can pick fresh seafood and they will cook and serve it in front of you. But make sure not to eat while you are walking, which is disrespectful in Japanese culture.
So, what should you eat at Kuromon Market? Here are 5 great things to try:
You can easily tour Kuromon on your own. But if you want to make the most of your time at the market, check out this Osaka Kuromon Market and Kitchen Town Tour, where you'll taste several scrumptious street foods and explore the nearby Sennichimae Doguyasuji (aka Kitchenware Street) for cooking utensils, kitchen items, and wacky plastic food samples!
Note: many stores are closed on Sundays.

If you happen to visit on a Sunday, we suggest heading over to Ajinoya, a Bib Gourmand okonomiyaki specialist, to try Osaka's signature dish, Okonomiyaki!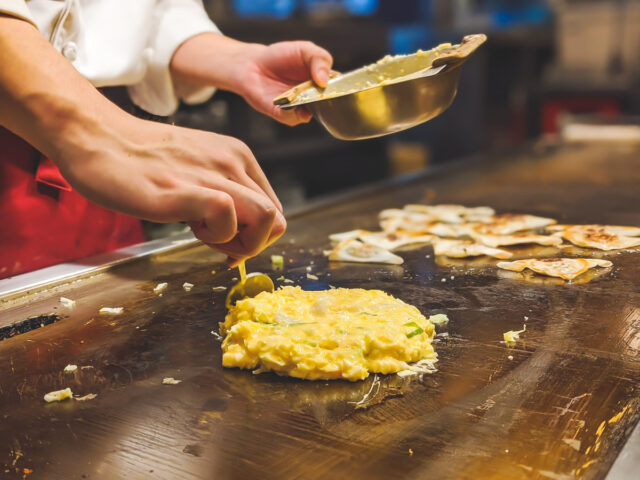 AFTERNOON: WAD Omotenashi Cafe OR Shinsaibashi-suji Shopping Street
After lunch, rest your feet at WAD Omotenashi Cafe. This lovely Japanese cafe serves Japanese tea and sweets using handmade Japanese style ceramics.
Matcha, sencha, hojicha, genmaicha….the store offers a wide range of tea selections sourced from the region, along with toasted mochi, ice shavings, and traditional Japanese sweets as desserts.
This is where we had our first experience tasting kabuse sencha, the tea leaves of which can be eaten at the end!
Note: the café does not take reservations so be sure to arrive right after it opens; otherwise, you may have to wait.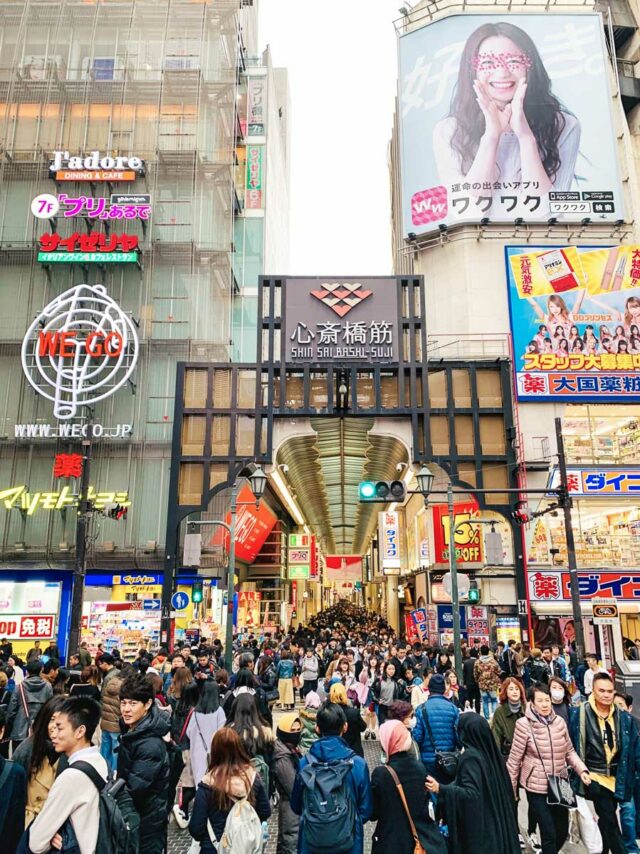 If you love shopping in Japan, the best place to go is the Shinsaibashi-suji Shopping Street. This covered shopping arcade is the premier shopping area in Osaka.
Extending 600 metres north-south between Dotonbori and Nagahori-dori, the street is lined with all kinds of shops: drugstores, cosmetics stores, trendy boutiques, retail chains, and luxury department stores. There are also many restaurants and cafés. It is not comparable to shopping in Tokyo, but you can still find everything you need here.
Pro tip: Shinsaibashi-suji is a paradise for foreigners to enjoy tax-free shopping in Osaka. Make sure to ask if your shopping is qualified for tax refund upon check-out.
EVENING: Dotonbori → Hozen-ji Yokocho
All that shopping and exploring is bound to strike up an appetite, no? Tackle it full force by heading south to Dotonbori, an area made famous by the "Glico Man" sign.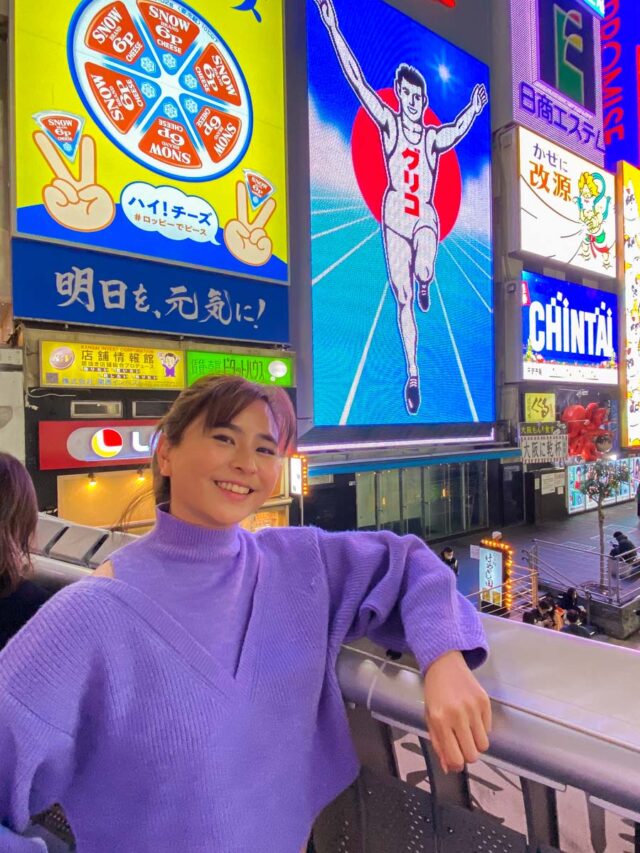 Dotonbori is a lovely place to stroll and feel the lively vibe of Osaka, with hundreds of neon lights and billboards illuminating the streets.
Once famed for hosting the city's most popular theatrical venues and geisha, Dotonbori has reinvented itself today as the city's top gastronomic destination.
Our favourite place to grab a bite is Ganso Ajiho, a spot recommended to us by a local. A little off the main strip, this izakaya is best known for authentic takoyaki in 3 different versions (regular, with yuzu ponzu sauce, or with mayo).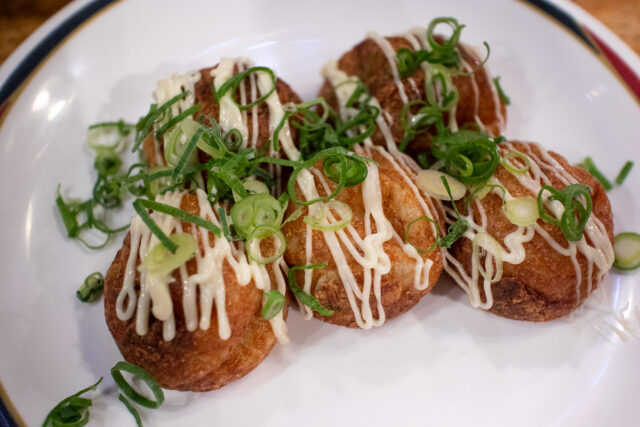 In addition, they have another delicious Osaka specialty doteyaki (stewed beef tendon simmered in miso and mirin rice wine), oden, and high-ball to satisfy that bottomless appetite of yours!
If that's not enough to fill your stomach, continue south, cross the Dotonbori canal, and venture to the atmospheric Hozenji Yokocho.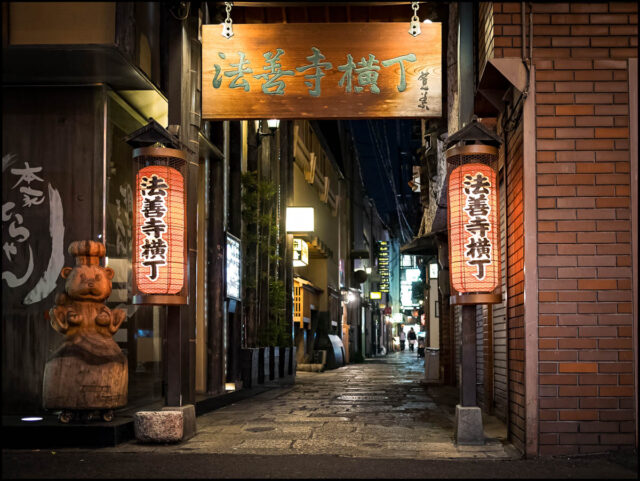 This narrow alleyway, stretching about 80 metres, is lined with dozens of small bars and traditional restaurants. Inside them, you'll find some of the best food in Osaka!
Kushikatsu Daruma – Hozenji is a cozy eatery to try kushikatsu (deep-fried breaded skewered meat, seafood, and vegetables).
If you prefer a more upscale setting, go to Wasabi instead – the Michelin-star restaurant specialises in kushikatsu, using the finest seasonal ingredients. What sets it apart from other eateries is its batter, which yields extra crispy and less oily deep-fried skewers than the standard ones. Reservation required.
Get the most out of your night in Namba by joining this Osaka Bar Hopping Night Tour. The 3-hour tour with a local guide takes you deep into the food alleys in Dotonbori and Hozenji Yokocho where you can sample Osaka's local food at three hidden local bars!
Osaka day tours
Looking to experience Osaka with a little help? Check out one of these recommended tours:
What attractions should I not miss in Osaka, Japan?
Want to squeeze a little more out of your 1-day Osaka itinerary? Here are a few of the best tourist attractions in Osaka worth considering:
★ Osaka Castle, Osaka Castle Park, Ninomaru Gardens
Osaka castle is one of the main attractions of Osaka with a history that dates back almost 450 years!
The 5-storey castle played an important role in the unification of Japan during the samurai era of the 16th century.
Today, it's one of the best places for 'hanami' (cherry blossom viewing) in Osaka during the springtime, as well as the autumn's 'koyo' (falling leaves) season.
Pro tip: The castle is often crowded even on weekdays. To avoid the crowds we recommend visiting the castle early in the morning. You can also opt for the Osaka-jo Gozabune Boat ride, which takes you around the moats of the Osaka Castle in 20 mins.
★ Umeda Sky Building
A visit to the Umeda Sky Building is a must for any Osaka itinerary. With a height of 170 metres, the Umeda Sky Building is the most famous landmark in Osaka.
At the top of this unique skyscraper is a 360-degree circular roof called the Floating Garden Observatory, or Kuchu Teien Observatory. The views up there are unmatched anywhere else in Osaka.
To enter the observatory, you must purchase a ticket on the 39th floor, or in advance through a 3rd party booking platform. The entrance fee is 1500 yen. It is free with the Osaka Amazing Pass (more on this later).
★ Abeno Harukas
Abeno Harukas is the tallest skyscraper in Osaka. Towering at 300 metres, the building in Tennoji features an observation deck called "Harukas 300", the largest department store in Osaka, and the Abeno Harukas Art Museum.
This is an alternative to the Umeda Sky Building but the entrance fee to Abeno Harukas is 1500 yen and it is not covered by the Osaka Amazing Pass.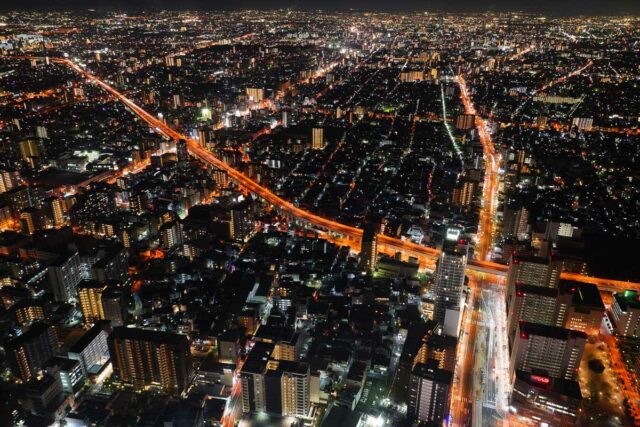 The 60th floor's 360° glass-enclosed deck offers a magnificent panoramic view of Osaka that will blow you away. We recommend stopping by just before sunset to see Osaka during the day AND night!
★ Universal Studios Japan
One of the six Universal Studios in the world, Universal Studios Japan is definitely worth checking out.
The park is home to the first Super Nintendo World and the world's last surviving Jaws attraction, along with other hair-raising roller coaster rides, colourful parades and dance performances.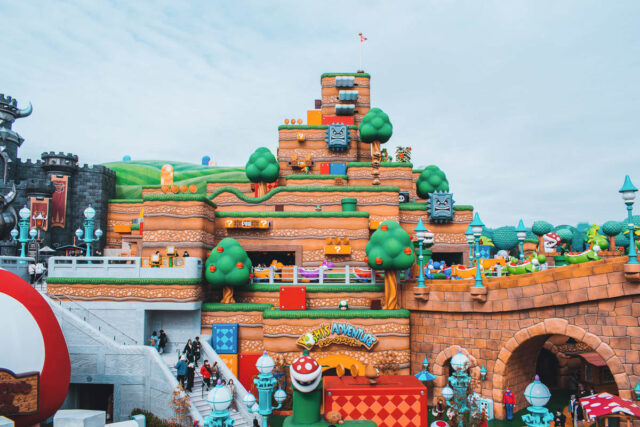 Certain rides are exclusive to Universal Studios Japan. The Flying Dinosaur coaster in the Jurassic Park area, which you ride facing down, is one of them.
In addition, the park offers a variety of seasonal events and limited-time events that you won't experience at any other Universal Studios!
Note: the theme park can get crowded quickly. We recommend purchasing an express pass to skip the line.
What are some lesser known sights to see when visiting Osaka Japan?
Osaka can get extremely busy. If you'd like to avoid the crowds, think about visiting one of the below attractions instead.
★ Osaka Museum of Housing and Living
Ever wondered what Osaka was like in the olden days? Visit the Osaka Museum of Housing and Living near Tenjinbashi-suji Station and find out for yourself!
This is probably our favourite attraction in Osaka. The museum recreates a traditional Osaka town from the Edo Period (1603-1868) and brings you all the way back to the historic Osaka 200 years ago.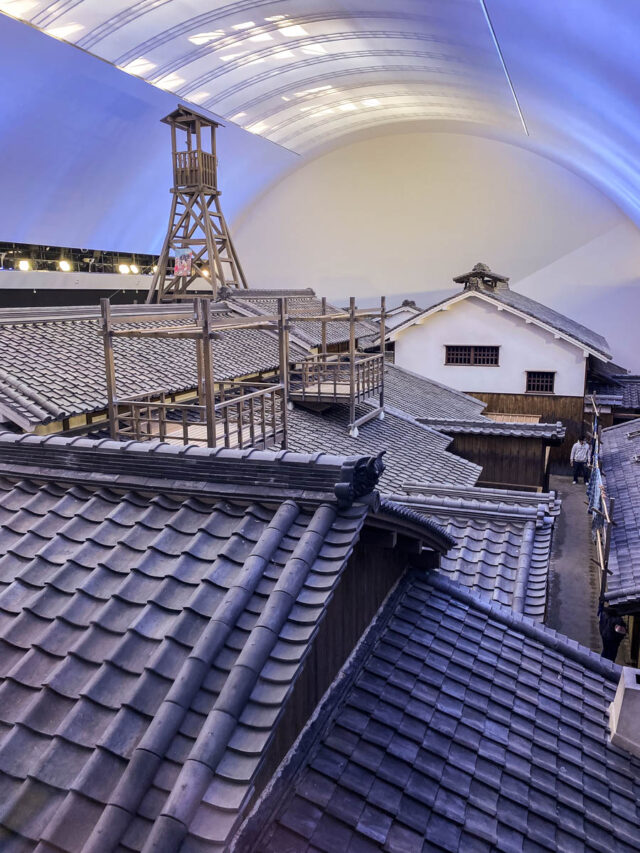 As you wander down the recreated historic street, pay attention to how the houses were designed, how many ways you could open the doors, and what items were sold at the shops.
For the best experience, we recommend joining an English guided tour (free of charge) led by the staff.
Entrance fee: 600 yen (free with the Osaka Amazing Pass). Skip the line and buy your ticket in advance here.
★ The Cup Noodles Museum Osaka Ikeda
This quirky museum is a little out of the way (45 minutes away from Namba), located in the Ikeda district. But the journey is worth it to visit the birthplace of instant ramen noodles!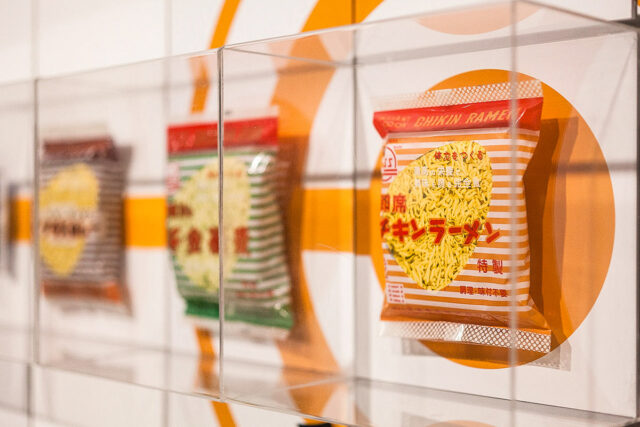 In this interactive educational food museum, you will not only learn about the creation of instant noodles along with its history of development and manufacturing methods, but you will also get a chance to create your own cup noodles with your choice of soup and toppings! (subject to fees)
Want to start from scratch? Learn to make ramen noodles by hand starting with kneading, spreading, steaming the wheat flour and then drying it with flash frying method. (advance reservation required; subject to fees).
Should I get an Osaka Amazing Pass?
If you're planning to visit several attractions in Osaka in a day or two, it might be worth looking into purchasing an Osaka Amazing Pass.
The Osaka Amazing Pass is a one-day or 2-day pass for tourists.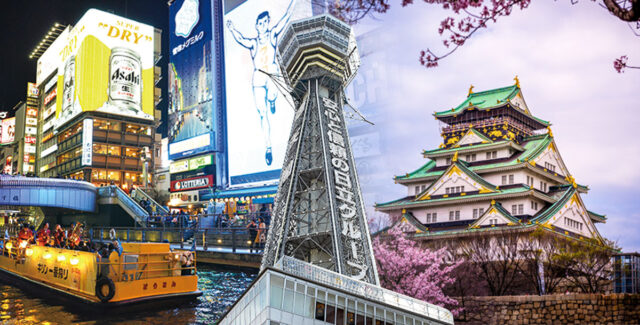 With the pass, you get unlimited use of the Osaka subway, tramway, and bus network. It also gives you free entry to more than 40 of Osaka's top tourist attractions such as the Osaka Castle, Osaka-jo Gozabune Boat, the Umeda Observatory, the Nagai Botanical Gardens, and the Osaka Museum of Housing and Living.
You can also take a free trip on the famous Tombori River with a classic river cruise or a Tombori River jazz boat tour!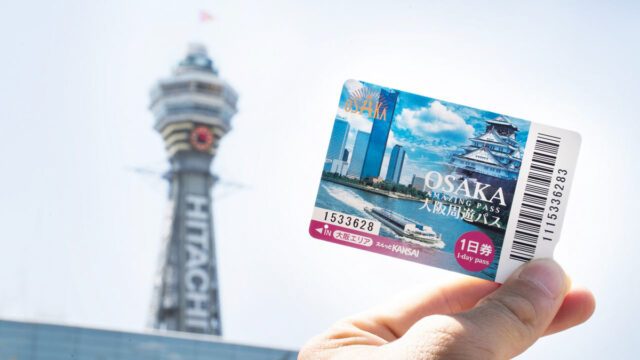 The guidebook that comes with the pass includes two pages with extra coupons for discounts at various attractions, restaurants, and shops.
If you plan on following our 1-day Osaka itinerary, it is not worth buying the Osaka one day pass. However, if you plan on staying in Osaka for an extra day or longer, you may want to do some maths and see if the pass saves you money.
For more information about the Osaka Amazing Pass, visit their official site to see all the special deals you can get from the Osaka pass.
Where to stay in Osaka: Best luxury hotels in Osaka
If you're staying in Osaka and only have one night in town, we recommend narrowing down your Osaka accommodations search to somewhere central in order to make the best use of your time.
The most convenient and central districts are Kita and Minami.
Kita (Umeda) Area
This is Osaka's number one urban hub. It is the perfect place to stay while visiting Osaka or transferring to another place. In the heart of the district is the newly rebuilt JR Osaka Station. It's surrounded by department stores and filled with restaurants, bars, shops, and hotels.
We stayed in Umeda on our recent trip to Osaka and really enjoy how convenient and quiet this area is – probably because it is also the financial centre so most office workers leave the area after work.
Best luxury hotels in the area are:
Minami (Shinsaibashi and Namba) Area
Osaka's second urban hub is located near Namba Station and covers Dotonbori and Shinsaibashi neighbourhoods. This is primarily a shopping and entertainment district and it's definitely the place to go for a night out in Osaka.
Best luxury hotels in the area are:
Alternatively, you can consider other accommodations in Osaka using the interactive map below:
Beyond Osaka: Where to go next
→ Kyoto: The former imperial capital of Japan is less than 30 minutes away from central Osaka. It is the perfect place to indulge yourself in colourful shrines, maiko and geisha culture, and the multi-course kaiseki ryori meals!
→ Nara: Become enchanted by the free-roaming deer on the streets of Japan's first capital city. Nara is one of the best day trips from Osaka, a short 45-minute train ride from the city. This ancient city is home to eight UNESCO World Heritage Sites.
→ Kobe: only a 20 min train ride away, Kobe makes another great day trip from Osaka for foodies! You may have already known of its signature marbled Kobe beef. In Kobe, there are many restaurants in the city that serve delicious Kobe beef – as a simple steak, teppanyaki-style, sukiyaki, shabu-shabu, or as part of a Korean-style barbecue!
→ Tokyo: Our favourite of all is Tokyo, Japan's mega-capital. If you have time on your itinerary, we encourage you to spend some time in Tokyo and discover its unique blend of modern and traditional Japanese culture, as well as its exotic and world-famous cuisine. Starting with these suggestions for the best restaurants & cafes in Tokyo.
Visiting Osaka: FAQS
★ How long do you need in Osaka?
We recommend spending at least 3 days in Osaka to see the main attractions in the city without feeling too rushed. 

This allows you to spend one day exploring ancient Osaka attractions like Osaka Castle, one focusing on modern delights like Dotonbori pedestrian street and Abeno Harukas, and then a third for a day trip, possibly to Universal Studio Japan.
★ When to visit Osaka?
Like most of central Japan, Osaka is a year-round destination given its temperate climate, though the weather does vary depending on the season.

The best times to visit Osaka are spring (March-May) and fall (October-November) if you want to enjoy comfortable and pleasant weather. However, spring is also the peak season in Osaka, with tourists flocking to the city to see cherry blossoms blooming. 

If you prefer to encounter fewer tourists — and don't mind the cold or heat — consider travelling during summer (June-August) or winter (December-February).

Winter can get quite cold (though Osaka is usually a little less frigid than nearby Kyoto). Summers are very hot and humid, though also fun and fascinating, especially if you time your visit with a local festival.
★ Is Osaka expensive to visit?
When it comes to the cost of travel, prices in Osaka are lower than in other large cities in Japan (except taxi fares), but that doesn't mean your trip is going to be cheap.

As a general rule, it will cost a minimum of 15,000 yen per person, per day to get by comfortably in Osaka. That also means staying at a mid-range hotel and not joining any guided tours.

A splurge on high-end hotels and restaurants will definitely rack up the prices, as well as the tickets to the Universal Studios Japan.

On our recent trip, Kev and I spent an average of 30,000 to 40,000 yen per person, per day. The bulk of our spendings was on dining and only 25% was on the hotel.
★ Is Osaka or Kyoto better?
Osaka and Kyoto are both popular places to visit in Japan. But since they're only a short 30-min train ride from each other, is one better than the other? Or are you better off just planning to visit both? Here's some information about both places to help you decide.

Both cities have amazing food. 

As the birthplace of sophisticated tea ceremony and kaiseki ryori (Japanese haute cuisine), Kyoto shows off a rich culinary tradition due to its imperial past.

Osaka, on the other hand, is best known for its varied street foods.

Food aside, Osaka offers much cheaper accommodations compared to Kyoto. It's less touristy and the nightlife is much better.

Osaka and Kyoto offer very different types of experience and it all boils down to what you're interested in. In terms of history and culture, Kyoto wins but when it comes to nightlife and fun, Osaka is king. 

Kev and I are divided on which city we like more. I love Kyoto even though we had to fight through the crowds at various attractions. But the food is something you couldn't try elsewhere. And the tea, OH, it is THE BEST I've ever had in my life.

Kev voted for Osaka because it is more lively, more modern, and less crowded.
★ Is Osaka nicer than Tokyo?
Tokyo and Osaka, the capital cities of east and west Japan, are both big cities with countless attractions. 

Tokyo is larger and has a more diverse range of neighbourhoods to explore. It takes you at least 5 days in Tokyo to get a good grasp of the city. Osaka, in contrast, is more compact and more manageable for travellers to discover in under a week.

As food lovers, you must wonder which has better food, Osaka or Tokyo? If you wish to dine at world's top-class or Michelin starred restaurants, Tokyo is a better option. Osaka appeals to travellers with a more specific taste, especially those who have an appetite for street food. 

Another one of the key differences lies in the local culture. Osaka has a more welcoming and laid-back atmosphere than Tokyo. People in Osaka are more friendly and helpful.
★ How to get to Osaka by air?
Osaka is served by Kansai International Airport (KIX) and Itami Airport (ITM).

While Itami is closer to the city centre, it primarily caters to domestic flights by Japan Airlines and ANA. 

If you're coming from outside the country, you'll want to fly into Kansai International, the main international hub for the region. The airport serves both domestic and international flights. Despite being located 40 km south of central Osaka, it is well connected by public transport.

Looking for flights to Osaka? We'd recommend searching for airfare deals on this booking platform.
★ How to get to Osaka from Kansai International Airport?
It's easy to get to Osaka from Kansai International Airport. 

The fastest way to get into the city centre is to hop on one of the trains.

The train station is located in the building right next to the airport's Arrival Hall, connected by a pedestrian bridge on the second floor.

There are two railway operators serving between KIX airport and Osaka. The Japan Railways (JR) and Nankai Railways. Which one to take depends on your destination in Osaka.

To Tennoji, Shin-Osaka, or Osaka stations, take the JR Railway:

→ JR Haruka Airport Express: reaches Tennoji (35 min for 1,710 yen) and Shin-Osaka (50 min for 2,330 yen). Prices are for non-reserved seats.

Reserve your JR Haruka Airport Express here with a special discount.

→ JR Rapid Train: reaches Tennoji (50 min, for 1,060 yen) and Osaka (70 min for 1190 yen). This is a normal commuter train and can be crowded during rush hours.

Pro tip: If you're travelling in Japan using a Japan Rail Pass, it is completely free to ride the Haruka Express.
A discount ticket called Haruka and Icoca is also available, which comes with an ICOCA card. The transit card is very handy to pay for your local transport needs like the subway and buses in Osaka and Kyoto! 

To Namba station, take the Nankai Railway:

→ Nankai Limited Express RAPI:T (Rapid): 35 min for 1,430 yen, all seats reserved. 

Reserve your Nankai Limited Express Rapi:t ticket here at a discount price

→ Nankai Airport Express: 45 min for 920 yen. It is a regular commuter train with several stops in between. It might be crowded during rush hours.
★ How to get to Osaka from Tokyo?
Doing a day trip to Osaka from Tokyo? The best way to get to Osaka from Tokyo is by shinkansen (bullet train). The train ride is about 320 miles (515 km) and takes 2.5-3 hours to reach Osaka from Tokyo.

The fastest shinkansen is Nozomi. It will get you from Tokyo Station to Shin-Osaka Station in just 2 hours and 30 minutes at 13,620 yen on a one-way trip in an unreserved seat. It is not covered by JR Pass.

If you're using a Japan Rail Pass, then you can ride the next fastest shinkansen, Hikari. Hikari will get you to Osaka in about 3 hours.

Is it worth getting a Japan Rail Pass? If you're planning on travelling to several cities in Japan, we would recommend picking up a Japan Rail Pass. It can cut down your travel time significantly. There are also several passes available covering different parts of the country.  In general, a little more than two shinkansen (bullet train) rides will cover the cost of the pass!

Click here to see which JR Pass is ideal for your travel in Japan.

Keep in mind that the Shinkansen trains arrive at Shin-Osaka Station and not at Osaka Station. The JR Tokaido Main Line connects the two stations and it takes just a few minutes to get from one station to the next.
★ How to get to Osaka from Kyoto?
The JR Tokaido Shinkansen will get you to Shin-Osaka Station from Kyoto Station in about 15 minutes. One way ticket costs 1,420 yen. If you have a JR Pass, it covers the Hikari and Kodama trains, but not the Nozomi trains.

Your next option for a day trip to Osaka from Kyoto is the Special Rapid trains which run between Osaka Station and Kyoto Station and they take between 24 and 29 minutes. It stops at Osaka, Shin-Osaka, Takatsuki and Kyoto. Tickets are only 560 yen (or free with a JR Pass).

Alternatively, you can hop on the Limited Express Thunderbird, fully covered by your JR Pass (without it, the train fare is between 1,210 and 1,930 yen). This train takes 30 mins and runs from Osaka Station to Kyoto Station stopping only at Shin-Osaka.
★ How to get around in Osaka?
Osaka has an extensive, well-connected subway network. You can get practically anywhere using the subway.
 
Taxis (or Uber) are available as well, but they are expensive.

A prepaid Icoca card is the best way to pay for trains and subways in Osaka. Icoca is the card issued by JR West and works for trains in the Kansai (Osaka, Kyoto), Chugoku and Horuriku regions. Additionally, Icoca card gives you a discount on Haruka Rail Ticket!

If you're coming from Tokyo, you may already have a Suica or Pasmo. Both will work in all the same places you can use Icoca, so there's no need to buy a new card just for Osaka (and the rest of Kansai). You can also use these prepaid cards for purchases at convenience stores and many other places.

Pro tip: you can add Suica or Pasmo (or transfer your physical card) on your iPhone through the Apple Wallet app! This allows you to simply tap your phone as you go in and out of stations.

The Icoca card costs 500 yen (for deposit) and you can then add any amount to the card. It can be bought from the ticket machines or ticket offices at all key stations. Or save time by purchasing an Icoca card ahead of time!

The most useful train line is the Osaka Loop Line, which is covered by the Japan Rail Pass. If you're only visiting Osaka for a day and have a Japan Rail Pass, check where you're going and which subway stations you'll be accessing. You might not even need an Icoca card!