This site uses affiliate links and we may earn a small commission when you use our links and make a purchase without incurring additional fee yourself. Many thanks for supporting this website. Please see our disclosure page for more details.
Japanese food is not just about sushi. Its cuisine is so diverse and surprising! Whether you like raw fish, grilled meat, noodles or rice, Japan offers a great variety of lip-smacking food to satisfy your appetite. In this Tokyo food guide, we handpicked the best places to eat in Tokyo to get a taste of the Japanese culinary tradition!
Prefer to spend your time in one of the (slightly) smaller yet still beautiful cities in Japan? Osaka is a foodie paradise that you simply don't want to miss, and it's just a day outside Tokyo!
Where To Find The Best Food In Tokyo
1| Adachi Naoto, Ginza
Do you know that Tokyo has the most Michelin-starred restaurants in the world? (Yes, it beats Paris!) For this reason, you are sure to find the finest culinary delights in the city!
If you want to experience Japanese cuisine at its finest, then you must give Adachi Naoto a try!
The 1 Michelin-starred Adachi Naoto takes a creative approach to traditional Japanese fare. The intimate restaurant is known for its inventive tasting menus, with the dishes changing nightly based on the local ingredients and what's available in the season.
Dining at Adachi Naoto is an event, and enjoying the full 8-course tasting menu will take up to 3 hours as you sample exquisitely presented dishes such as deep-fried smelt and chicken dumplings buckwheat noodles.
Promising great hospitality and a dining experience that's truly memorable, Adachi Naoto is one of the best restaurants in Ginza for a special dinner date. This tiny place hardly fits 15 diners at a time, so be sure to book ahead! Counter seats are also available if you want to enjoy a conversation with the owner-chef.
Pro tip: The restaurant staff doesn't speak English. If you wish to make your reservation in English, we recommend booking online at Pocket Concierge. 3 different menus are provided – at 13000 yen, 15000 yen, and 17000 yen. All come in 8 courses but with slightly different food.
[irp posts="8038″ name="First Time in Tokyo? Know These 18 Things Before You Go"]
2| Katsuzen, Ginza
Deep-fried pork cutlets, or tonkatsu, should be on every foodie's radar. They might not be the healthiest but are among Japan's most-loved comfort food!
There are plenty of tonkatsu restaurants in Tokyo, but for the best quality tonkatsu in the city, we recommend Katsuzen – the only Michelin star tonkatsu restaurant in Tokyo!
Hidden on the upper level of Barneys New York, this humble eatery in Ginza is dedicated to providing simple pleasure through food. Patience is key here because the tonkatsu is made to order, using the best quality kurobuta (Berkshire pork) from Kyushu area.
You can choose between the leaner hire (tenderloin) or the fattier rosu (loin), both priced at 4700 yen. No matter which one you end up ordering, the irresistible combination of a crispy exterior and moist interior will send you fishing for another bite!
Be warned that Katsuzen only has eight seats at the counter plus a small private room. We recommend arriving super early or past peak hour to avoid crowds.
Pro tip: Looking for more Michelin-starred restaurants in Tokyo to try? Check out this English website for a complete list.
3| Sato Yosuke, Ginza/Hibiya/Asakusa/Akasaka
Another must eat in Tokyo is the udon (thick wheat flour noodle). Whether it is served hot in broth or cold with a dipping sauce, you'll quickly become addicted to its exceptionally chewy texture.
Udon comes in many varieties (surprise, surprise!), and Inaniwa udon is one of the three major regional types you must try in Japan. Yes, it is true that it originated in Inaniwa, Yuzawa in the Akita Prefecture, but you can easily get a taste of it in Tokyo at one of the Sato Yosuke branches!
Unlike regular udon, Inaniwa udon is made by the hand-stretching method, giving it a slightly thinner shape. At Sato Yosuke, a bowl of chilled silky-smooth Inaniwa udon is so downright soul-satisfying. The only hard decision you have to make is choosing between the soy sauce and sesame miso dipping sauces (1200 yen). Better yet, enjoy the best of both worlds by ordering both (1300 yen)!
Besides udon, hinai chicken is another popular dish here.  It is a breed native to the Akita Prefecture, reputed for being one of the best quality chicken in Japan. It is free-range, slow raised, and the meat is incredibly tender!
[irp posts="9038″ name="Honeymoon in Tokyo: 5-Day Itinerary For Couples"]
4| Sushi Dai, Tsukiji
Are you ready for the best sushi in Tokyo? Ooh yeah! With Tsukiji Fish Market located in the heart of central Tokyo, it is not a difficult task to hunt down really good sushi.
Out of all the sushi counters, Sushi Dai has the best sushi in Tsukiji. Sushi is served one-by-one by the sushi chef as it is done. You can select a la carte or go with omakase (4000 yen). Either way, you will fall in love with the melt-in-your-mouth freshness! It is like ocean waves crashing against your tongue. We are not exaggerating!
I swear – after dining at Sushi Dai, you will forget all the other sushi you'd had in your life.
The sushi bar is tiny, seats no more than 10 people at a time. That creates an intimate feel but also means that it is unable to keep up with the large influx of customers. So if you want to eat sushi there, be prepared to wait in line. Two hours of waiting is considered normal. That might seems unreasonable, but trust me, it is worth the wait!
If you absolutely have no time/patience to wait in line, head over to another famous sushi bar in Tsukiji called Sushi Daiwa, just a few steps down the same alley.
Important note: You have probably heard that Tsukiji Fish Market is closing down on October 6th. This will impact the inner market where the wholesale business and tuna actions take place. The outer market (retail shops and restaurants) will remain in business. Since Sushi Dai is located in the inner market, it will likely be moving from Tsukiji Fish Market to Toyosu Market on October 11.
5| The Sushi, Toranomon Hills
If waking up early in the morning or waiting in line is not your thing, that's okay. You can still enjoy excellent sushi, omakase style, at one of the most exclusive restaurants in Tokyo – The Sushi.
Hidden high above on the 52nd floor of Andaz Tokyo, The Sushi is a true oasis in the sky. At eight-seat sushi counter, you will not only have the privilege of watching the master chef prepare a traditional sushi course up close, but you will also be served the freshest ingredients possible.
The omakase service (15,000 yen) is the way to go unless you know exactly what you like. The set includes 3 small dishes, 3 types of sashimi, 10 nigiri sushi, 1 maki roll, miso soup, and fruits. Every piece of fish is so fresh that your taste buds will dance with joy!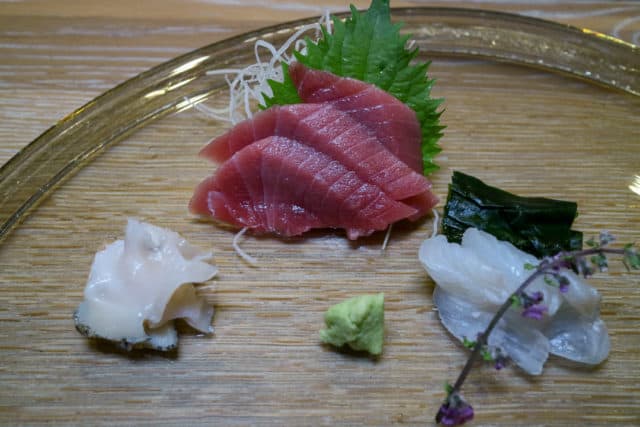 Pro tip: a reservation is strongly recommended.
[irp posts="7989″ name="Best Tokyo Luxury Hotel To Experience Tokyo Like A Local"]
6| Nodaiwa, Azabu/Ginza/Shimokitazawa/Nihonbashi
When it comes to unagi (grilled freshwater eel), nobody does it better than Nodaiwa.
Being in business for over 200 years, this one Michelin-starred restaurant has earned a reputation for serving only natural unagi caught in the wild. However, due to the decline in wild eels, they are now only able to serve wild unagi from the second half of April to the second half of November. Outside this period, they use farm-raised eels.
Using the slow-grilling method, Nodaiwa prides itself on offering char-broiled eel that falls apart and melts in your mouth like butter.
The restaurant offers set meals at varying prices, from 3600 all the way up to 16100 yen depending on the amount and portion of eel. You may also want to pay attention to the following:
if it is shirayaki (志ら焼), meaning non-seasoned plainly grilled eel. This is best eaten with a splash of soy sauce and a dab of wasabi.
if it is kabayaki (蒲焼), meaning the eel is dipped in a sweet soy sauce-based sauce before being broiled on a grill. Served solo, with rice on the side.
if it is unadon (鰻丼), grilled eel served over rice, in a rice bowl.
if it is unaju (鰻重), grilled eel served over rice, in a fancy square lacquer box.
Remember, the best way to enjoy unagi is to sprinkle some sansho (Japanese pepper) over the fish before you dig in!
7| Afuri Ramen, Shinjuku/Harajuku/Roppongi/Ebisu/Nakameguro/Azabujuban
You can't travel to Japan and not eat ramen. Ramen is practically Japan's national food. Ramen shops can be found everywhere in Japan. Tokyo is no exception.
Some of the best Tokyo ramen joints include Ichiran, Fuunji, and Kikanbo. Each has their own signature broth and taste. My personal favourite is Afuri Ramen.
You are probably familiar with shio (salt), shoyu (soy sauce), and tonkotsu (pork bone) ramen broth. At Afuri, you can try something unique – its signature yuzu-flavored ramen!
Yuzu is an aromatic citrus fruit that is commonly used in Japanese cuisine. Similar to lemon, it has a delightfully fragrant aroma and a refreshing tang.
Afuri incorporates yuzu into its chicken and dashi-based broth to give it a light and zesty flavour. It is perfect when you're craving a comforting bowl of slurpy goodness, but not too heavy or overwhelming!
Afuri's yuzu ramen comes in a variety of options, including their signature yuzu shio ramen and yuzu shoyu ramen (980 yen) as well as yuzu ratanmen (1280 yen, for spicy lovers!).
In the summer, they have cold yuzu shio ramen to help you beat the heat. Otherwise, yuzu-tsuyu tsukemen (dipping ramen, 1240 yen) would be a great alternative option on a warm weather.
Note: Maximize your ramen experience in Tokyo by visiting other ramen joints! Why not try your luck at Nakiryu (a one Michelin-starred ramen restaurant) or Menya Nukaji (reportedly the best ramen in Shibuya)? If you are in Shinjuku, the best ramen shops to satisfy your craving are Ippudo and Ramen Tatsunoya.
8| Reissue, Harajuku
There are countless unique cafes in Tokyo. Whether you're looking for a stylish space or interactions with cute animals, you are spoilt for choice. One that particularly stands out is Reissue in Harajuku, bringing latte art to a whole new level!
Reissue is well-known among coffee lovers for its eye-catching 3D coffee art. With just milk foam and a little chocolate, the skillful barista is able to work his magic and transforms a fresh cup of joe into a perfectly Instagrammable art! All it costs is an additional 400 yen.
From cartoon characters to portraits, there's nothing the barista can't create. Simply show him an image when you order, and he will make it happen!
These spectacular 3D latte art creations make Reissue a trendy spot for Instagram-worth coffee. It is definitely not a coffee shop in Tokyo you want to miss!
[irp posts="8912″ name="10 Best Tokyo Shopping Districts To Up Your Style"]
9| Sekai no Yamachan, Shinjuku/Ginza/Asakusa/Akihabara
As you may have known that I am a chicken wing addict. When I found out that Sekai no Yamachan sells the best chicken wings in Japan, I made it a mission to eat there.
Sekai no Yamachan is a popular izakaya (Japanese-style bar) chain, originating from Nagoya in 1984. Over the years, it has quickly expanded all across Japan, thanks to its signature ultra-crispy, Nagoya-style chicken wings!
These fried chicken wings are spicy, crispy, and insanely addictive! The best part is… you can eat it off the bones in. one. bite!! We have tested it ourselves and it's no joke. One bite and it's non-stop chicken wing heaven after that. Once tasted, you'll never go back to having wings any other way!
Pro tip: Check their menu and look for directions on how to master that chicken-wing-eating-art. It is life changing!
At Sekai no Yamachan, you can get 5 chicken wings (1 serving) for 450 yen. But trust me, you'll need more than that!
Besides chicken wings, the izakaya also serves a very wide variety of bar food, such as grilled skewers, Japanese curry, tempura and many other.
Note: Sekai no Yamachan has 18 branches in Tokyo, and the one in Shinjuku is the largest store. It is only 3 mins walk from Shinjuku Golden Gai, a popular area for nightlife that is packed with over 200 bars, clubs, and eateries! If you are ever in doubt of where to eat in Shinjuku, Golden Gai is the place to go!
10| Jiroumaru, Shibuya/Shinjuku/Akihabara
When we were doing our research on where to eat in Shibuya, tons of restaurants and izakaya popped up. Sushi and ramen are all over Shibuya, but we were done with them and wanted to look beyond them. That's when yakiniku (grilled meat) caught our attention.
Jiroumaru is the best restaurant in Shibuya for yakiniku. This standing-only izakaya is known for serving high-grade (A4 and A5) wagyu and kobe beef.
The fun of dining at Jiroumaru lies in that each party of customers shares a grill so you have the liberty to order rare cuts of beef by the slice and grill them on your own!!
We recommend starting with a bowl of spicy soup (350 yen) and a wagyu set (3000 yen, 6 types of meat, 12 pieces in total). Then move on to beef tongue and other cuts. Please note that if ordering by the slice, meat prices may vary depending on the day's market price.
Pro tip: The staff isn't fluent in English, but they do have English and Chinese menus.
Jiroumaru can only accommodate 14 people at a time so you might see a line queued outside! But don't let that discourage you because their yakiniku is worth the wait, hands down the best food in Shibuya you gotta try!
[click_to_tweet tweet="Wondering what and where to eat in Tokyo? This food post highlights the best restaurants in Tokyo to take the guesswork out of your next meal!" quote="Want to eat like a local in Tokyo? Start with these 13 food spots!" theme="style3″]
11| Negishi, Shinjuku/Shibuya/Ginza/Nihonbashi
Speaking of grilled meat, gyutan (beef tongue) is considered a delicacy. It is often served in yakiniku restaurants, but there are also specialty restaurants that serve that.
The best restaurant in Tokyo for grilled beef tongues is Negishi, with 35 locations within the city! It wasn't until our visit that we realized there are different cuts of beef tongue, each with a unique flavour and texture!
At Negishi, they serve 3 cuts:
shirotan: thick slices of white beef tongue; it is found closer to the base of the tongue, thus has a more tender texture and rich flavor
negishi: same cut as shirotan, but in thinner slices
gankochan: thin slices of red beef tongue; it is found closer to the tip of the tongue, thus has a chewier texture and lighter taste
Negishi's menu offers different combinations of the cuts. You can order just the meat alone or upgrade it to a set meal, which consists of oxtail soup, mugi-meshi (barley and white rice), pickled vegetables, and tororo (grated yamato yam).
The most popular set is the triple beef tongue set (1880 yen), including all 3 cuts, 10 slices total. We recommend the calf tongue set  (1620 yen) for the extra-tender texture!
[irp posts="7967″ name="Coolest Hotel in Tokyo: Stay Here, Or You Will Seriously Regret It"]
12| Janice Wong Dessert Bar, Shinjuku
Let's move on to desserts! Shinjuku has an overwhelming number of cafes and bars, but the best bar you can find in Shinjuku is Janice Wong's dessert bar!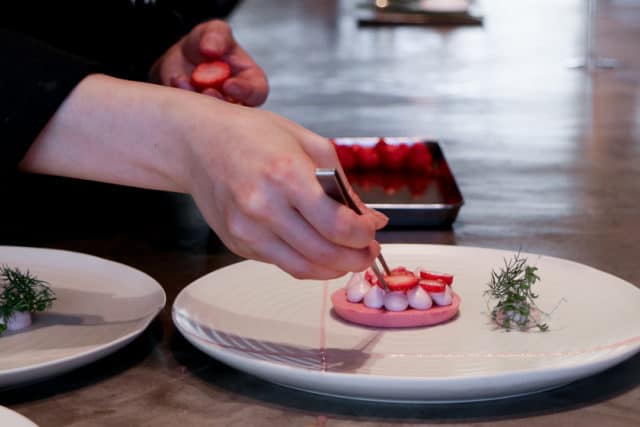 We usually save dessert as the last course, but that's not the case at Janice Wong Dessert Bar.
At Janice Wong Dessert Bar, award-winning Singaporean pastry chef Janice Wong makes it possible to enjoy a tasting menu that is built purely of dessert items. Say what?! 
Yes, you heard it right. Desserts as a meal, from start to finish!
Beautiful desserts have the magic of putting us in an instant good mood. That's especially true here at Janice Wong.
Using seasonal local ingredients, Janice Wong plays with colours, textures, and flavours to create elegantly plated desserts that you almost can't imagine eating it! They are pieces of art. Delicious pieces of art.
The tasting menus come in 5 courses (in the afternoons) or 7 courses (in the evenings), expertly paired with cocktails (5600 or 7800 yen) or mocktails (5000 or 7200 yen). If you ever wonder if these many desserts will lead to sugar overload, don't worry. The courses are carefully designed to deliver a wide range of flavour profile. Most of them taste fairly light and just sweet enough to satisfy your craving!
This Shinjuku restaurant seats around 30 so it can get quite busy. Make sure you make a reservation in advance.
[click_to_tweet tweet="Wondering where to eat in Tokyo? This food post highlights the best restaurants in Tokyo to take the guesswork out of your next meal!" quote="Don't leave Tokyo without hitting these delicious spots!" theme="style3″]
13| Comcrepe, Harajuku/Jiyugaoka
If you just want a small treat, comcrepe is an excellent option!
Their signature creme brulee-styled crepe has become the new hit for dessert lovers. The original flavour (600 yen) is filled with a rich custard made finished with a scorched, crispy caramelized top.
If you like stronger flavours, then try out vanilla, strawberry, chocolate, or cream cheese (650 yen)!
---
We hope this detailed post solve your dilemma of what and where to eat in Tokyo. All the best for planning a delicious trip to Tokyo!