This site uses affiliate links and we may earn a small commission when you use our links and make a purchase without incurring additional fee yourself. Many thanks for supporting this website. Please see our disclosure page for more details.
There are many different ways to experience authentic Japan in Tokyo. You can have sushi breakfast at the world's largest fish market, pay a visit to the imperial palace, or dress up in traditional kimono. But you probably won't equate staying at a hotel chain to an authentic local experience. Our recent stay at Andaz Tokyo Toranomon Hills proved otherwise. How exactly did this Tokyo luxury hotel help us experience the city like a local? Read on!
Andaz Tokyo Toranomon Hills: Connecting Guests With The Local Culture
Andaz, Hyatt's luxury lifestyle brand, is known for incorporating a uniquely local perspective in its properties. Andaz Tokyo Toranomon Hills is no exception.
Located in the business district of Toranomon Hills, Andaz Tokyo is committed to creating inspiring experiences that immerse guests in the local culture. You are encouraged to relish your personal style and get inspired by the spirit of the local community. This philosophy permeates through every aspect of Andaz Tokyo, from its design, dining options to service.
[irp posts="8038″ name="First Time in Tokyo? Know These 18 Things Before You Go"]
The Hotel's Design
Upon arrival at Andaz Tokyo, it was difficult not to notice its stunning modern and minimalist spaces. Meticulously designed by Tony Chi & Associates and SIMPLICITY, the decor combines Japanese cultural elements and modern aesthetics. As a result, the overall design is simple yet sophisticated, minimal yet functional. Every corner is tastefully decorated that you'll wander jaws-to-the-floor in awe of the work of art.
Take the elevators, for example. Artworks made out of Japanese washi paper adorn the elevators, accompanying you as you ride to the top of Toranomon Hills Tower. At the lobby, the kumiko wood mosaic brings the walls to life.
The Guestrooms
Japanese elements are continually evident in the guestrooms, spanning from the 47th to 50th floor. Starting at 50 square meters, the spacious guestrooms integrate natural materials and textures, such as washi paper, wood and Japanese fusuma and shoji, into the design to achieve a harmony between beauty, luxury, and comfort.
Inspired by Japanese bath culture, the bathroom comes equipped with a deep soaking circular tub. Andaz Tokyo original Yukata and slippers are provided to make you feel at home. For the ultimate relaxation, we suggest brewing a pot of hojicha tea after a bath and pairing it with Japanese rice crackers. These items are all complimentary from the mini bar.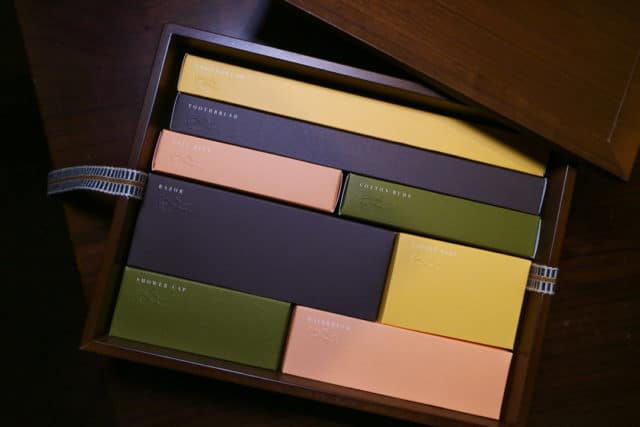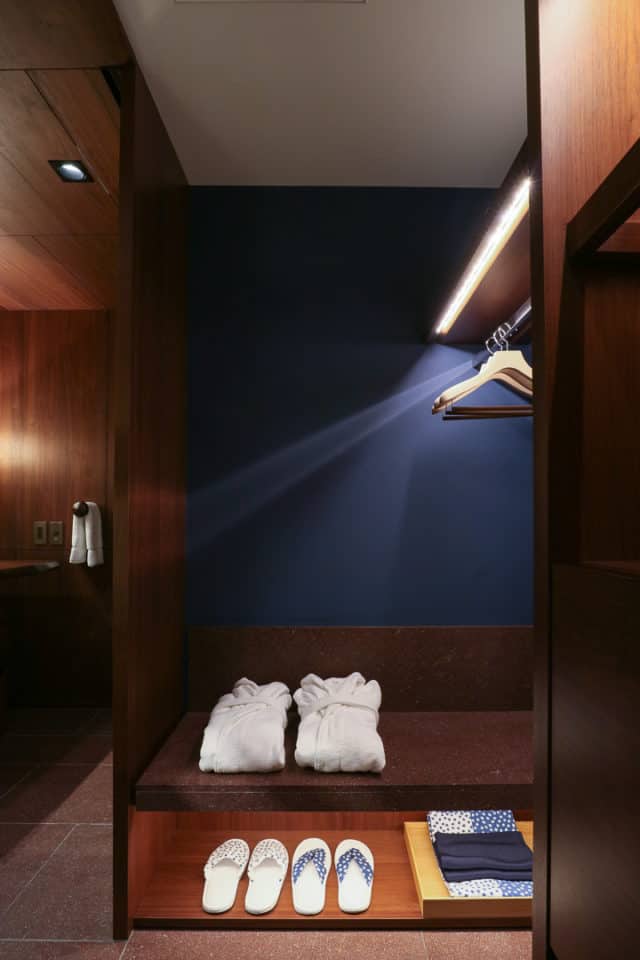 All the rooms boast incredible views of the city skyline. Perched on top of one of Tokyo's highest buildings, Andaz Tokyo Toranomon Hills offers sweeping, unobstructed views. As you can imagine, my favourite thing to do was lying on the couch by the large windows, sipping a cup of freshly brewed tea while admiring the iconic Tokyo Tower.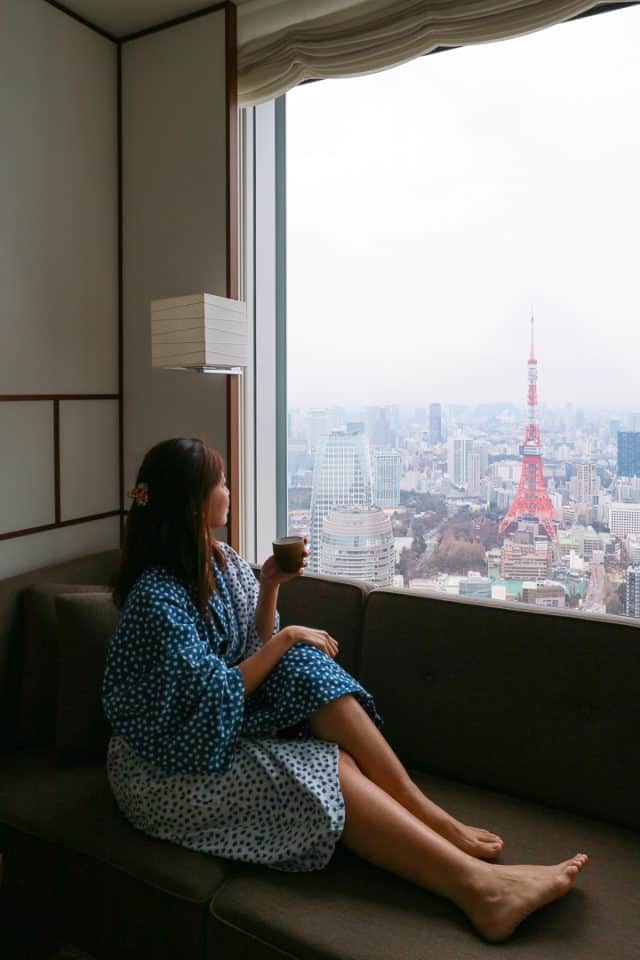 [irp posts="9038″ name="Honeymoon in Tokyo: 5-Day Itinerary For Couples"]
What impressed us the most about this Tokyo luxury hotel is its high-tech room amenities. A Bose bluetooth speaker and a modern TOTO toilet (with bidet spray and warm toilet seat) are the basics.
The real game changer is the smartphone service 'handy'. With it, you can travel like a local. It allows you to stay connected with free unlimited local and select international calls, free internet access, and speed dial to hotel services. In addition, the Tokyo city guides will help you discover what the city has to offer!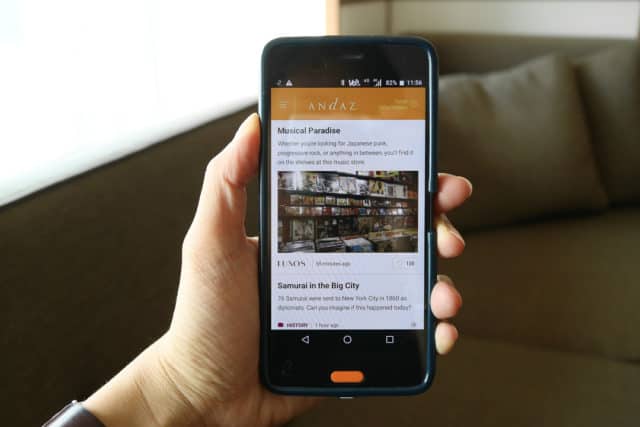 [irp posts="7967″ name="Coolest Hotel in Tokyo: Stay Here, Or You Will Seriously Regret It"]
52nd Floor Dining: the SUSHI & Rooftop Bar
There certainly is no lack of choice when it comes to dining at this luxury hotel in Tokyo. From Western-style cuisine to fine patisserie, Andaz Tokyo knows how to entertain your culinary desires. Just look at the wide array of Japanese dishes offered at its breakfast buffet. Prepared with fresh, seasonal local ingredients, the traditional Japanese breakfast kept our bellies satisfied and put a grin on our face every morning!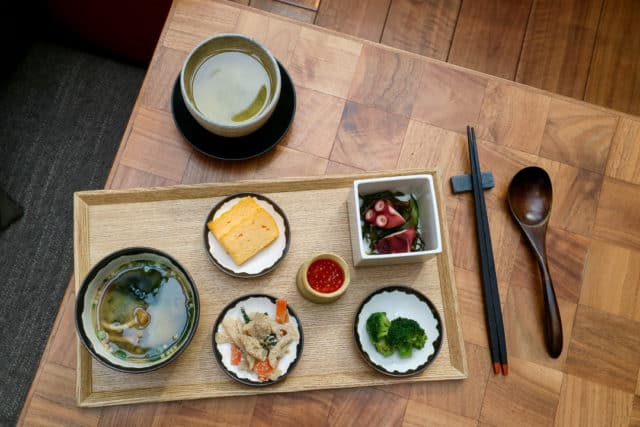 For an authentic sushi experience, the SUSHI on the 52nd floor will feed you the finest and freshest sushi and sashimi that exceed your expectations! Sitting at the 8-seat sushi counter, you are guaranteed an attentive service and intimate interaction with the master chef.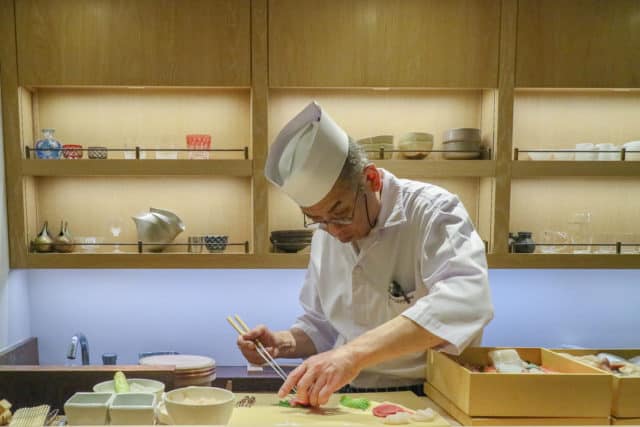 Both a la carte and omakase menus are available. Unless you know exactly what you like, we highly recommend the omakase service (15,000 yen). It includes 3 small dishes, 3 types of sashimi, 10 nigiri sushi, 1 maki roll, miso soup, and fruits. On our visit, we were blown away by the freshness of the seafood. EVERYTHING – from the prawn, scallop to sea urchin – was super fresh that the taste was sweet!!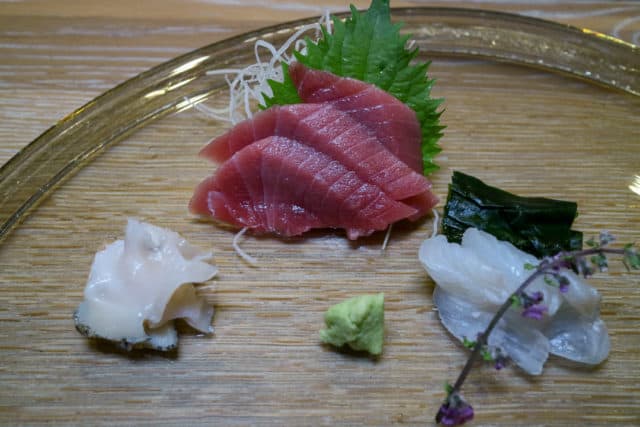 [irp posts="8956″ name="13 Best Tokyo Restaurants & Cafes You Can't Miss"]
After dinner, swing by the Rooftop Bar for a late night drink! The open-air terrace is a popular hangout place in the evening to admire the spectacular Tokyo skyline. While you're there, don't miss out on the creative cocktails which highlight local, seasonal ingredients. Our top pick were the winter season whisky ice ball cocktails, which present classic whisky cocktails in an innovative way.
AO Spa: A True Retreat in the Vibrant Heart of Tokyo City.
Of all the beautiful spaces within Andaz Tokyo, my personal favourite was The AO Spa. Not only does it have a calming, airy interior, all of the treatment rooms overlook the city through expansive windows. That instantly puts you in a cheery mood!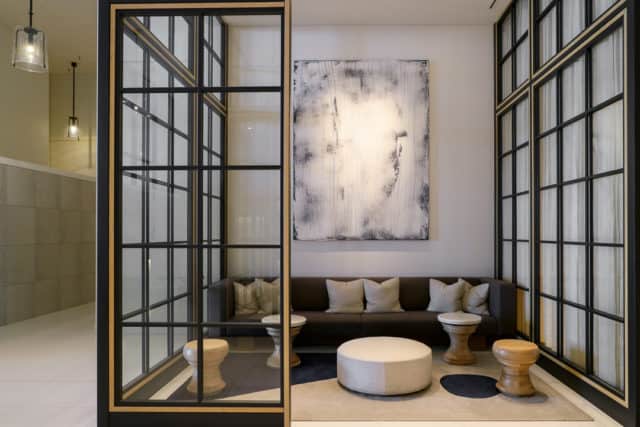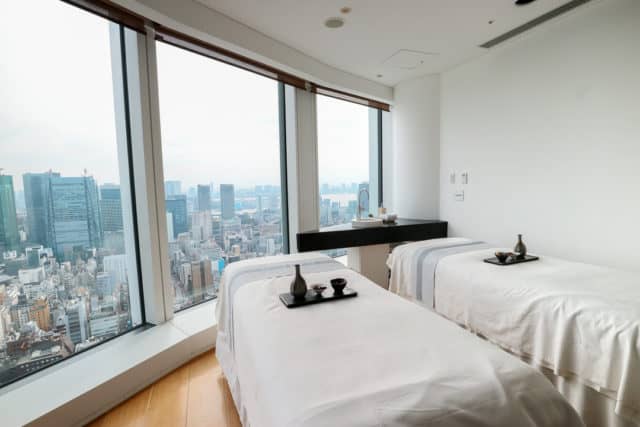 One thing worth noting is the ability to create your own jiyujizai personalized spa treatments. Based on personal style and needs, you can select a scent or, in some cases, choose custom ingredients from the Blend Bar. Under the care of the professional therapist, you will feel refreshed and rejuvenated!
---
'Arrive a visitor, depart a local' – Andaz Tokyo has lived up its to motto. We arrived at this Tokyo luxury hotel with an eager desire to explore the city and left with a deep appreciation of the Japanese culture. If you're looking to experience Tokyo like a local, stay at Andaz Tokyo!
About Andaz Tokyo Toranomon Hills
Website: https://tokyo.andaz.hyatt.com/en/hotel/home.html
Facebook: https://www.facebook.com/AndazTokyo/
Instagram: https://www.instagram.com/andaztokyo/
[one_half]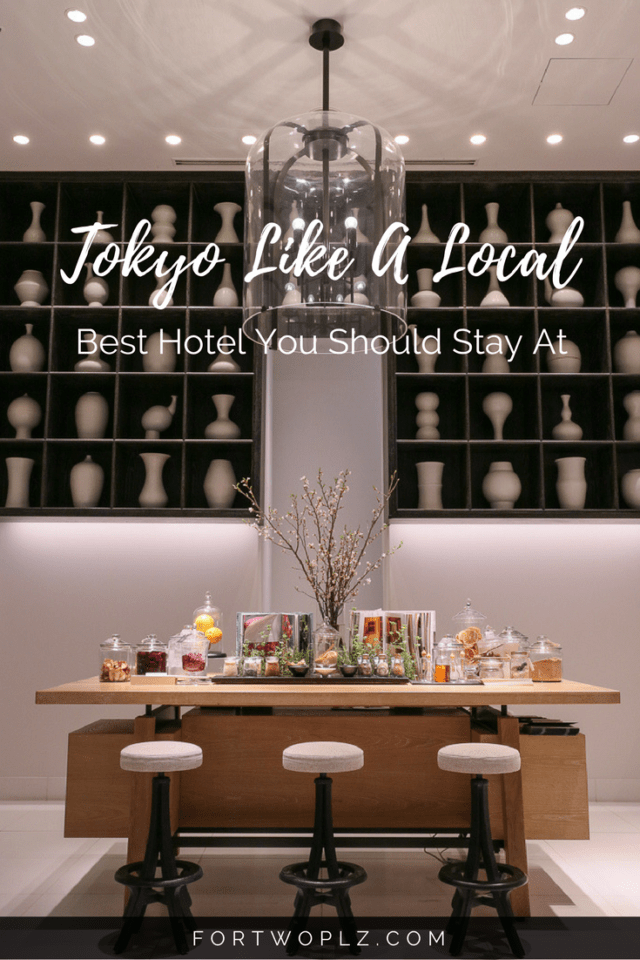 [/one_half]
[one_half]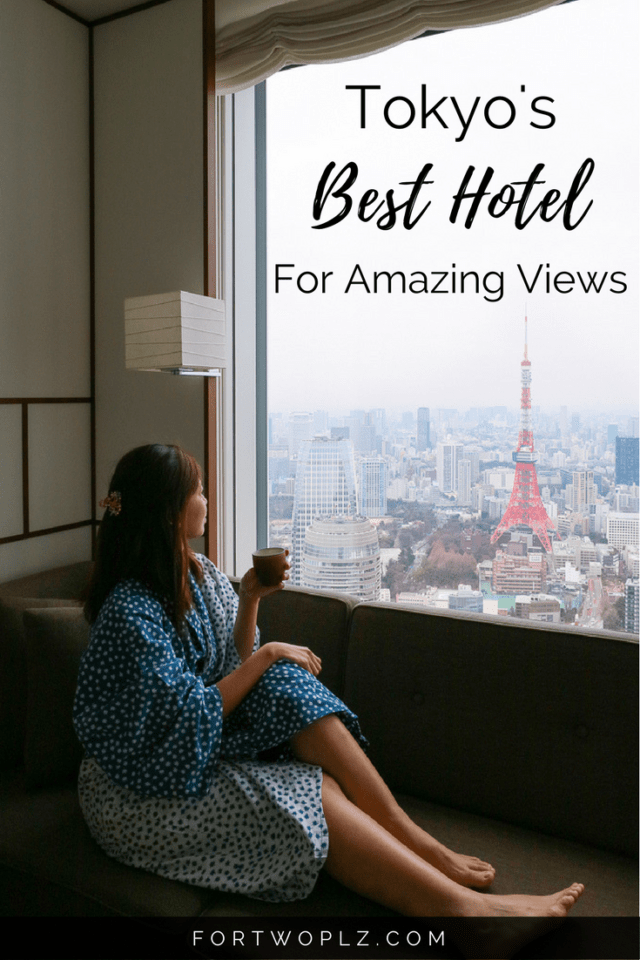 [/one_half]
Disclaimer: This post is written in partnership with Andaz Tokyo Toranomon Hills. As always, all opinions on For Two, Please are my own and I only recommend brands that I 100% stand behind.