This site uses affiliate links and we may earn a small commission when you use our links and make a purchase without incurring additional fee yourself. Many thanks for supporting this website. Please see our disclosure page for more details.
Ready for a luxurious getaway to Busan, South Korea? This coastal city has it all – amazing beaches, delectable foods, and the perfect ambiance to relax with your loved one.
Whether you're in the mood for refined opulence or an unforgettable adventure, Busan has you covered!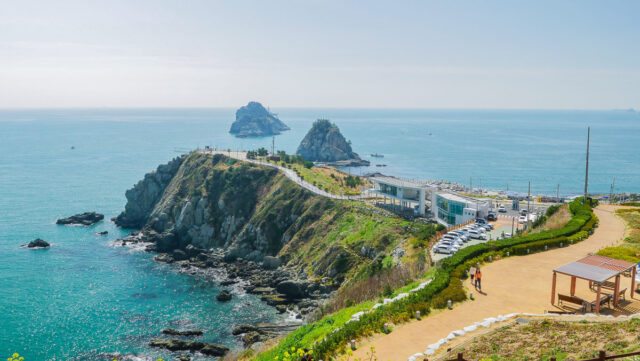 Not sure where to stay in Busan during your romantic getaway? In this article, we'll be sharing the absolute best areas to stay in Busan. And that's not all, we've handpicked 12 of the best Busan hotels for you to indulge in a pampered and stylish experience while soaking in the stunning beauty of this one of a kind destination.
You're in for an unforgettable stay, we promise!
First time visiting Busan? These Busan travel resources will make your trip planning a breeze:
→ eSIM: Stay connected in Korea by purchasing an eSIM.
→ VPN: Boost your privacy and internet security with a VPN.
→ Flight deals: Click here to score the best deals possible.
→ Car rental: Discover Busan with a rental car. Or hire a driver and guide.
→ Korea Rail Pass: Traveling across Korea by trains? Save time and money with a Korail Pass!
→ Short on time? Purchase a Visit Busan Pass here!
→ Need help with your Korea trip? These handy tools will help you navigate the country!
→ Tax Refund: Follow our step-by-step instructions on claiming tax refunds in Korea.
→ Tours: Here are some of top-rated tours…
❋ 1-day Busan city tour: Haeundae Blueline Park + Gamcheon Cultural Village and more!
❋ Discover UNESCO sites in Gyeongju on a day tour from Busan.
❋ Busan night photo tour.
❋ A day trip to Oedo Botania + Geoje Island.
❋ Busan yacht tour – day, night, or sunset!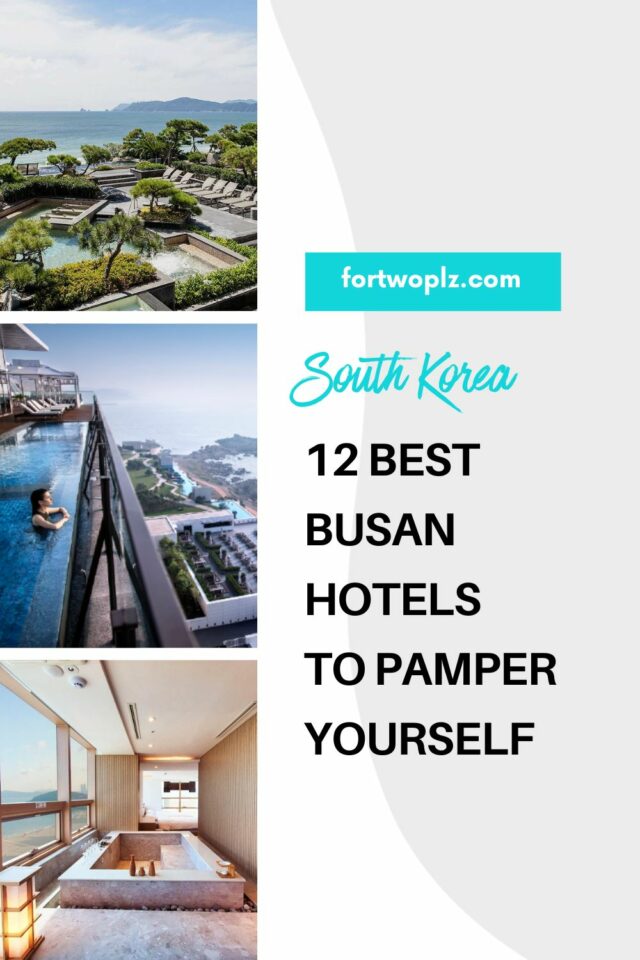 Where are the best areas to stay in Busan?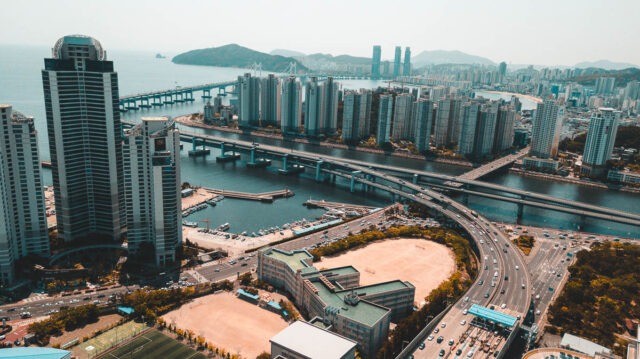 If it's your first time visiting Busan, it's totally normal to wonder, "Where should I stay in Busan?" With attractions spread across various neighbourhoods, it can be tough to choose.
But don't worry, we can help you narrow down the best areas to stay in Busan while considering proximity to attractions, vibes of the area, and your own travel style.
Check out these top recommendations for where to stay in Busan for first-timers:
➤ Seomyeon
Nestled in the heart of Busan, Seomyeon stands as a vibrant hub bustling with life and activity. As the city's central public transportation hub, it offers easy access to all major attractions, making it the perfect base for travellers eager to explore every nook and cranny of Busan.
When the sun sets, Seomyeon truly comes alive. It is home to a pulsating nightlife with clubs that boast stages with professional dancers to ignite the party spirit.
The area is also a gastronomic paradise, brimming with an array of restaurants and bars. For an authentic Korean experience, don't miss out on the pojangmacha – cozy street food restaurants nestled inside tiny tents.
A stroll down Seomyeon 1 Beonga, also known as Seomyeon 1st Street, Food Street, or Art Street, is a feast for the senses. This pedestrian-friendly street is lined with enticing bars and shops and hosts festivals almost every weekend.
For a taste of local life, head to Bujeon Market, where you can find fresh catches of the day.
Coffee connoisseurs will be delighted by Jeonpo Cafe Street, teeming with unique cafes and delicious drinks.
Shopping enthusiasts will find their haven in Lotte Department Store, Samjung Tower Department Store, and the Seomyeon underground shopping center, known for its affordable clothing stalls.
While Seomyeon may be a bit far from the beach and only houses a few luxury hotels, its lively atmosphere and convenient location more than make up for it. It's definitely a popular area to stay in Busan.
➤ Nampo-dong
If you're a first-time visitor to Busan and you're all about shopping and eating, Nampo-dong is the neighbourhood for you.
Often compared to Seoul's bustling Myeongdong shopping district, Nampo-dong is a shopper's paradise. You can find everything from luxury brands to bargain stores where you can snag fantastic finds for just 5,000 won. At Gukje Market, one of the largest markets in South Korea, you can discover diverse goods from kitchenware to clothing!
But shopping isn't all Nampo-dong has to offer. Just a short walk away, you'll find the Jagalchi Fish Market, the largest seafood market in Korea, a must-visit for foodies.
For movie buffs, the neighbourhood is home to several theatres, and even hosts the renowned Busan International Film Festival (BIFF) every year.
Don't forget to check out the iconic Busan Tower (aka Diamond Tower) and Lotte Department Store, or soak up some local history at the Busan Modern History Museum.
For an excellent view of the city, relax and mosey across the Yeongdo Bridge.
Easily accessible from Busan Station, Nampo-dong is not just a neighbourhood; it's a vibrant experience that offers a slice of Busan life.
➤ Haeundae-gu
For beach lovers seeking the perfect blend of luxury and adventure, Haeundae is the best place to stay in Busan. This neighbourhood is a haven for luxury hotels, offering a chance for you to rub shoulders with South Korea's rich and famous.
Haeundae buzzes with an electrifying nightlife, boasting an abundance of high-end restaurants and bars where you can indulge in exquisite culinary delights.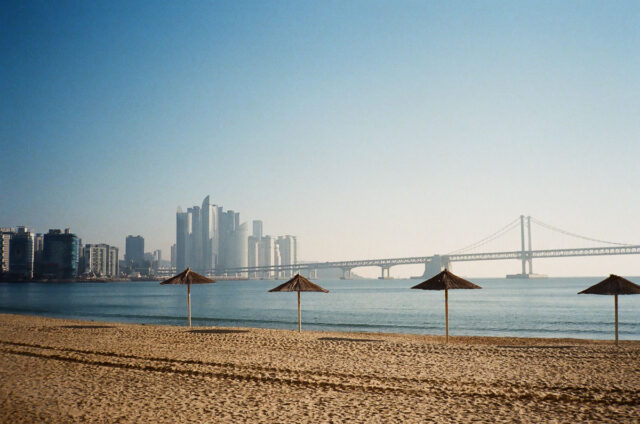 If shopping is on your itinerary, you'll be thrilled to know that Shinsegae Centum City, the world's largest department store, is just three blocks away.
Take a romantic stroll down Dalmaji-Gil Road, where you can take in breathtaking views of the ocean, pine trees, and sand. Nearby, you'll find the beautiful Dongbaekseom Island and the Sea Life Busan Aquarium, both worth a visit.
Don't miss out on a photo op at the unique Haedong Yonggungsa Temple, adding a touch of spiritual tranquility to your travels.
Haeundae offers a unique landscape with skyscrapers lining the beach. As the sun sets, the city lights up, casting a mesmerizing glow that feels almost like daylight.
Be prepared for large crowds, especially during the summer, as travellers and locals alike flock to enjoy all that Haeundae has to offer.
➤ Gwangan-dong
Gwangdan-dong, a charming neighbourhood in Busan, offers an authentic local experience that's hard to beat. This beach area, favoured by locals, promises an engaging and genuine taste of Busan life.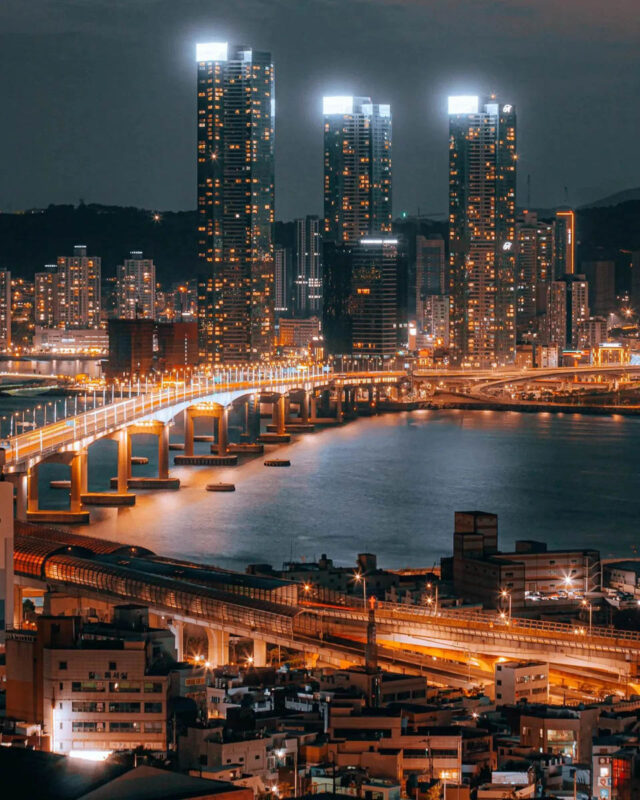 As the sun sets, prepare to be captivated by the wondrous views of the Diamond Bridge, also known as Gwangan Bridge, lighting up the night sky.
If you're travelling on a budget, Gwangan-dong is the best location to stay in Busan. It boasts the best selection of budget hotels, making it the ideal place to enjoy Busan without breaking the bank. The neighbourhood's crown jewel is Gwangalli Beach, where coffee shops, cafes, and restaurants line the shore, each offering stunning views of the shimmering Diamond Bridge.
Shopaholics will appreciate the proximity to Centum City and the trendy Kyungsung University area, easily accessible by subway.
If you prefer outdoor activities, the nearby Igidae Coastal Walk is a popular hiking spot that offers scenic views and a breath of fresh air.
➤ Kyungsung
Welcome to Kyungsung, a neighbourhood in Busan that carries the name of the local Kyungsung University with pride. This charming area manages to stay under the radar of most tourists, making it the perfect spot for travellers seeking an unfiltered glimpse into the city's daily life.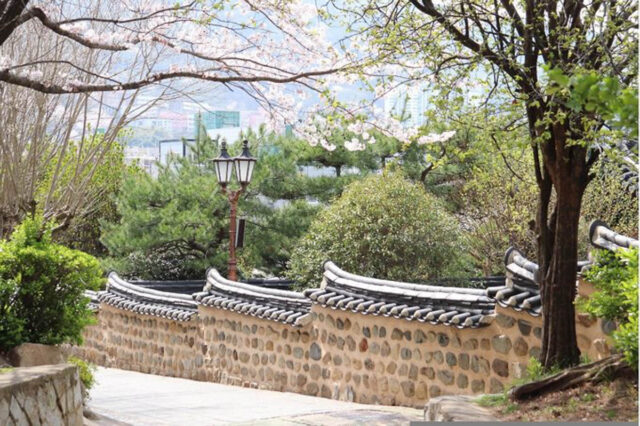 Spend your day meandering through the myriad of vintage stores and boutique shops and immersing yourself in a world of unique finds.
As dusk falls, Kyungsung reveals its vibrant side. The high student population has drawn a lively mix of bars and restaurants to the area, transforming it into a buzzing nightlife destination.
If you're looking for accommodation in Busan that offers an intriguing blend of tranquillity, culture, and excitement, let Kyungsung be your home away from home.
➤ Yeongdo
If panoramic views and close proximity to natural attractions are high on your list, Yeongdo is the best place to stay in Busan for you.
This area boasts some of the best vistas in the city, with the Taejongdae Resort Park just a stone's throw away. Here, you can visit the iconic Yeongdo Lighthouse, an ideal spot for incredible ocean views that stretch as far as the eye can see. The park also houses the National Maritime Museum, where you can immerse yourself in South Korea's rich maritime history.
For those who love to lace up their hiking boots, Yeongdo offers a network of trails that wind through its beautiful landscape. One of the highlights is undoubtedly the Taejongdae Observation Deck. Time your hike right, and you could witness a truly unforgettable sunset from this vantage point.
The nearby Huinnyeoul Culture Village is another Busan attraction not to be missed! This vibrant location is a haven for artists from diverse genres. Explore the area and be amazed by the ateliers, captivating murals, and remarkable sculptures, each reflecting the artist's distinct imagination and creativity.
In Yeongdo, every day ends with a sunset spectacle, making it an exceptional area to stay in Busan.
12 best luxury hotels in Busan
Curious about where is the best place to stay in Busan? We've carefully selected 12 fantastic luxury hotels in Busan just for you! 🌟
💖 Where to stay in Busan near the beach
🏨 AG405 Hotel – Gwangan-Dong
Looking for that sweet spot between luxury and simplicity for your stay in Busan? AG405 Hotel might be the answer to your quest of choosing where to stay in Busan. This hotel is perfectly located, just a leisurely stroll away from the beautiful Gwangalli Beach and a quick drive from the subway station and Shinsegae Centum City.
Step inside and you'll be greeted by rooms bathed in minimalistic elegance, boasting clean, modern decor that's easy on the eyes.
Each room offers a distinct view of the city's dynamic landscape. And here's the icing on the cake – some rooms come with grand windows, bringing the vibrant city or the tranquil sea right into your living space!
🏨 Signiel Busan – Haeundae
Imagine staying in a towering beacon of luxury, right in the heart of Haeundae. Welcome to Signiel Busan!
Located inside the distinguished LCT Tower, this 5-star luxury hotel boasts 260 plush rooms, offering you easy access to Jung-dong and Haeundae subway stations.
What truly sets this hotel apart from the rest is the breathtaking views – step onto your private balcony and feast your eyes on the stunning panorama of Haeundae and the Gwangandaegyo Bridge. And did we mention it's just a stone's throw away from the beach?
But there's more! This beachfront gem also houses a sauna, an infinity pool that seems to merge with the horizon, a luxury spa for those indulgent pampering sessions, and top-notch restaurants serving delectable cuisine. Come experience the high life at Signiel Busan – where every moment is a slice of luxury!
🏨 The Westin Josun Busan – Haeundae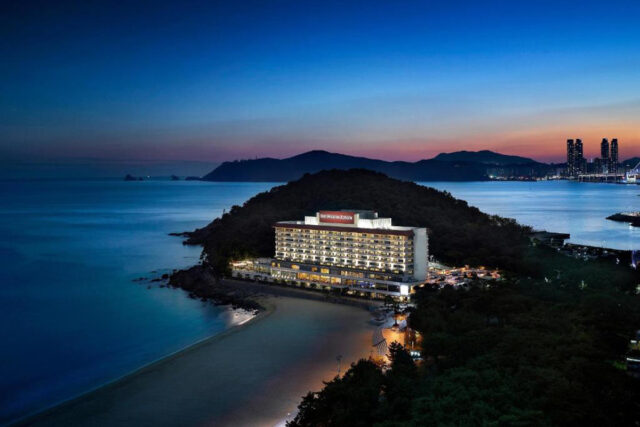 This incredible 5-star hotel is perfectly situated between Dongbaek Island and Haeundae Beach, just a quick 2-minute stroll away from the sandy shores.
For those who love the beach, it's hands down the best place to stay in Busan. The rooms facing the front offer stunning ocean views that will simply take your breath away!
Now, here's a small tip: if you're after the absolute best experience, make sure to request one of their newly renovated rooms. The non-renovated rooms, well, let's just say they don't quite measure up to the same level of greatness.
🏨 Shilla Stay Haeundae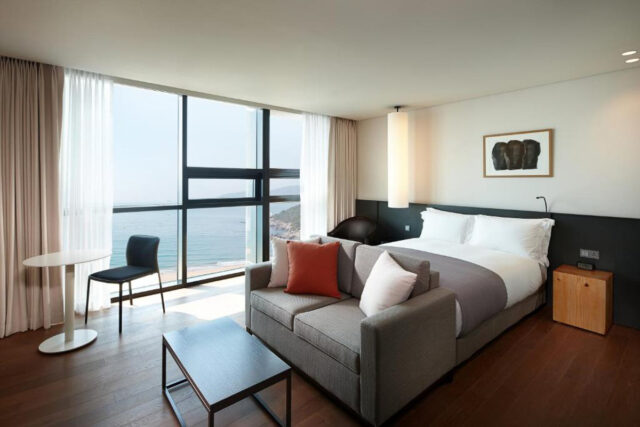 Imagine sipping on your favourite drink at a poolside bar or basking in the sun on a rooftop terrace with Haeundae Beach just a 5-minute walk away. Sounds like a dream, right? That's exactly what you get at Shilla Stay Haeundae, a sophisticated 4-star accommodation in Busan that knows how to spoil its guests.
The hotel's spacious rooms are designed to offer you maximum comfort, while the seasonal outdoor pool invites you to take a refreshing dip. And when you feel like exploring, you'll find Haeundae Station just a 7-minute stroll away, making it super easy to navigate the city.
And let's not forget about food! With a plethora of restaurants within walking distance, you're all set for a culinary adventure.
🏨 Grand Josun Busan – Haeundae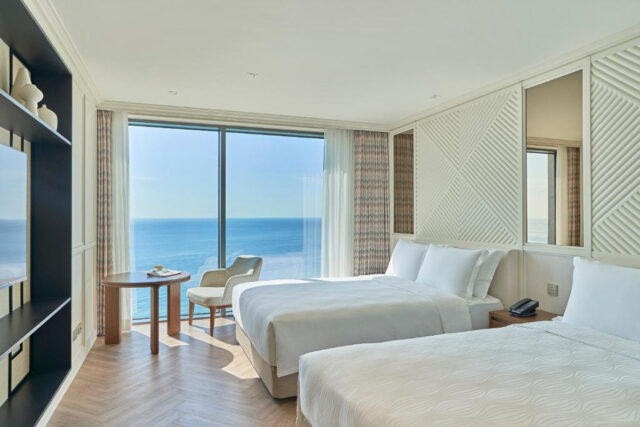 Get ready for a luxurious stay at Grand Josun Busan, a 5-star hotel that combines modernity and convenience.
Just a short 5-minute walk from Haeundae Beach and overlooking the ocean, this Busan hotel provides everything you need for a comfortable stay.
Enjoy various dining options, indoor and outdoor pools, a sauna, and a fitness centre. Plus, with its close proximity to Haeundae Blueline Park (Mipo Station), exploring Cheongsapo has never been easier!
🏨 Paradise Hotel Busan – Haeundae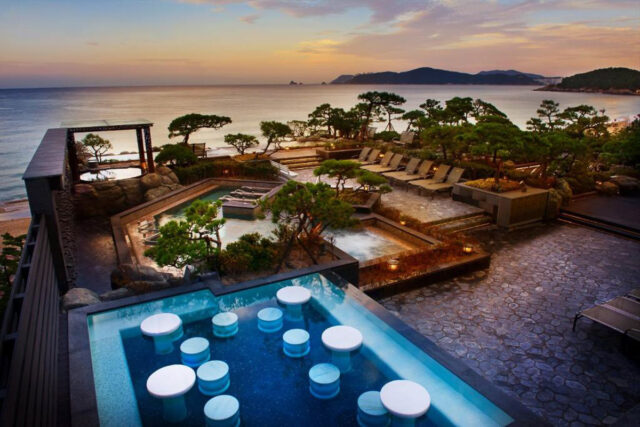 Paradise Hotel Busan isn't just a hotel – it's a destination! This oceanfront luxury hotel has every amenity you could possibly want right at your fingertips!
Fancy a bit of shopping or trying your luck at the casino? It's all here! Looking for relaxation or fitness options? Dive into the outdoor spa pool or swing by the indoor golf practice range and fitness centre.
And when it comes to dining, prepare for a culinary journey with international cuisine served in not one, not two, but three restaurants inside this Busan hotel!
The rooms? They're modern, stylish, and some boast views that overlook the stunning coastline of Haeundae Beach.
💖 Where to stay in Busan to escape the crowds
🏨 Park Hyatt Busan – in Haeundae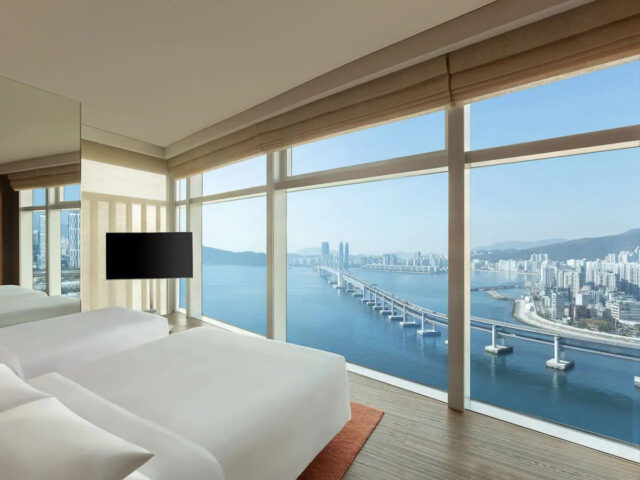 Want to be in the heart of Haeundae district, one of Busan's top attractions, but still enjoy a bit of serene quietude? Park Hyatt Busan is the perfect place to stay that will get you away from the bustling crowds even amidst the city's action.
This 5-star Busan accommodation is perfectly positioned next to Busan Marina, offering you picturesque views of the dazzling Gwangan Bridge (also known as Diamond Bridge) and Suyeongman Yacht Marina. It's like a postcard came to life!
The rooms are luxurious retreats featuring huge, inviting beds and floor-to-ceiling windows that let you wake up to awe-inspiring bay views. And the bathrooms? They're spacious and equipped with rain showers and bathtubs for that extra splash of luxury.
And just when you thought it couldn't get any better, there's an indoor pool! Perfect for those days when it's a tad too chilly for the beach.
🏨 Ananti Hilton Busan – Gijang-gun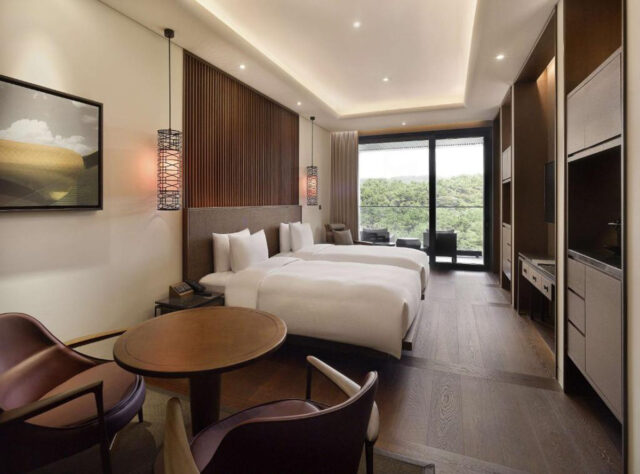 Not sure where to stay in Busan for a peaceful getaway? Venture to the tranquil corners of Gijang-gun, nestled in the city's northeast section. Here, less than two kilometres from the historic Haedong Yonggungsa Temple, you'll discover Ananti Hilton Busan – a 5-star retreat that offers more than just luxury.
This seaside Busan accommodation is your gateway to Busan's famed beaches and local culture. Take a short stroll to Ananti Town's ocean-front bookstore for some beachside reading, catch a show at the open-air theatres, or shop till you drop at the local stores.
Step into spacious, contemporary rooms that feel opulent even without the 'suite' tag. But the real stars of the show are the hotel's amenities.
Fancy a dip with a view? The rooftop infinity pool awaits. Hungry for some culinary delights? Choose from multiple restaurants, some offering outdoor seating with mesmerizing ocean views. And for the nature lovers, there's a coastal trail in Ananti Cove that winds around a kilometre of private beach!
Without a doubt, this is the best place to stay in Busan for vacationing couples and honeymooners!
💖 Where to stay in Busan for nightlife
🏨 Lotte Hotel Busan – Seomyeon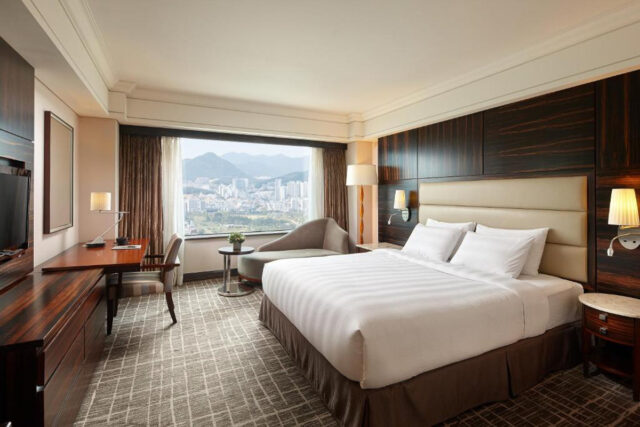 In the heart of Busan lies the city's largest hotel, Lotte Hotel Busan. Just a 5-minute stroll from Seomyeon Subway Station, it's the best place to stay in Busan for exploring all the attractions the city has to offer!
But there's more to this luxury hotel than just its strategic location. Indulge your taste buds with a choice of four on-site restaurants serving delectable international, Japanese, and Korean dishes. The breakfast here outshines many other city hotels.
Feel like exploring the local food scene? The hotel's central location places you right in the heart of Seomyeon, teeming with a diverse array of bars, restaurants and cafes. And for some authentic street food, there's a lively street of outdoor food stalls just behind the hotel!
For the shopaholics, Lotte Department store is just next door. So you can satisfy your need for some retail therapy whenever the mood strikes.
At the end of your day, retreat to rooms that are the epitome of comfort and style, featuring plush beds, spacious bathrooms, and modern furnishings.
💖 Where to stay in Busan for shopping
🏨 Nampo Ocean2Heaven Hotel – Nampo-Dong
Nampo Ocean2Heaven Hotel is a 3-star hotel that brings Busan to your doorstep! It is not just comfortable to stay here but this Busan hotel is also conveniently located near the city's top attractions.
Just a leisurely saunter away is the Jalgachi subway station, your ticket to explore the city's bustling shopping streets. Unleash your inner shopaholic on BIFF Street, strut through the trendy Gwangbok-ro Fashion Street, or unearth unique treasures at Gukje Market.
And for the food enthusiasts? Prepare for a culinary journey at Jagalchi Fish Market and Bupyeong Kkangtong Market, where local cuisine awaits to tantalize your taste buds.
Culture-focused explorers will be enchanted by the Gamcheon Culture Village and Huinnyeoul Culture Village. And don't forget to visit iconic landmarks like Busan Tower and Yeongdodaegyo Bridge.
Back at the hotel, retreat to spacious rooms, many boasting balconies with gorgeous city views!
🏨 Nampo Hound Hotel Premier – Nampo-Dong
Nampo-dong is a popular area to stay in Busan for shoppers. Another Busan hotel that is worth considering in the area is Nampo Hound Hotel Premier.
At this Busan hotel, every room is a sanctuary equipped with all the amenities you need for a relaxing stay – air-conditioning, heating, a refrigerator, and a flat-screen TV. And let's not forget the bathtub, your personal oasis after a day in the city. Many rooms offer spectacular city views, and some even come with balconies!
But the delights of this hotel extend beyond the rooms. Savour a delicious meal at the on-site restaurant, unwind with a drink at the bar, or simply relax in the serene garden.
And when it's time for adventure, BIFF Square, Jagalchi, Nampo-dong, and Gukje markets are just a short walk away. Shopping and tasting local cuisine has never been so effortless!
🏨 Lavalse Hotel – Yeongdo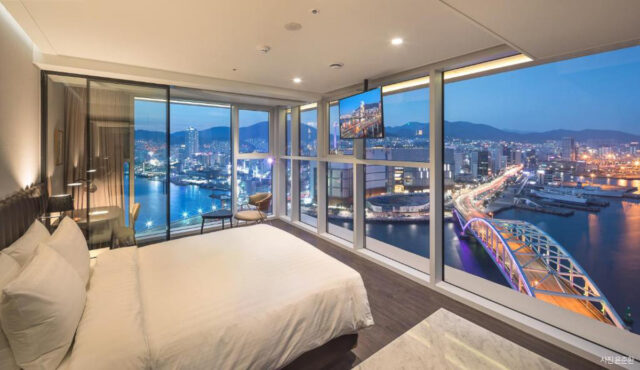 Lavalse Hotel is a new luxury hotel in downtown Busan, perched perfectly on Busan Port in Yeongdo. This isn't just a regular Busan hotel; it's your panoramic window to the dazzling Busan nightscape!
Each room is a spacious retreat, featuring floor-to-ceiling windows that unveil striking views of Busan, Namhang, or the majestic Yeongdodaegyo Bridge. For an extra sprinkle of luxury, some rooms offer a terrace complete with a cozy jacuzzi bathtub.
But the Lavalse Hotel has more to offer than just beautiful rooms. You can relax in the sauna, stay fit at the fitness centre, and treat yourself to delicious meals at the on-site restaurant, cafe, and bar.
And when the shopping bug bites, the best of Busan's shopping is just a short stroll away.
Discover the lively Jagalchi Fish Market and Gukje Market, or venture to Nampodong Street and Bupyeong Kkangtong Market, all within a 20-minute walk.
FAQs about hotels in Busan
👉🏻 How many days do you need in Busan?
Now that you've got the scoop on where to stay in Busan, it's time to think about how long to stay in Busan.
Trust us, you won't want to miss out on all the amazing and unique attractions the city has to offer. From quirky themed cafes to mouthwatering BBQ spots and even karaoke rooms, Busan is like a playground full of fun and excitement!
Speaking from our personal experience, we highly recommend dedicating a minimum of 3 days to enjoy some of Busan's top attractions, impressive beaches, and drool-worthy Korean street food.
Korea is a captivating country with so much more to explore beyond Busan. After spending 3 days in Busan, you'll be itching to discover the capital city, Seoul!
👉🏻 Is Busan cheaper than Seoul?
Yes, Busan is cheaper than Seoul, especially when it comes to hotels. If you're eager to explore South Korea without putting a dent in your budget, then Busan should be your go-to destination.
Busan travel tips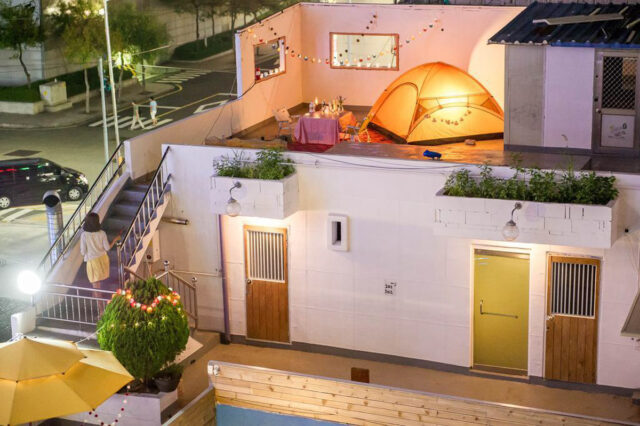 Korean B&B: As you look further into booking your accommodation in Busan, you'll likely come across the term "pension." This refers to a traditional Korean-style house run by locals, offering a homely experience akin to a guest house or bed & breakfast.
Manage your expectations: When planning your stay in Busan, especially if you're budget-conscious, keep in mind that Korean accommodations often feature compact rooms and wet bathrooms. This is quite standard, unless you're splurging on luxury hotels in Busan.
Basic amenities: Regardless of where you stay in Busan, rest assured that air conditioning, heating, and free Wi-Fi are practically everywhere in Busan.
Purchase an eSim: Speaking of Wi-Fi, if constant connectivity is a must for you, consider buying an eSIM. Not only is it generally more affordable, but it also saves you the hassle of carrying an extra device. It's a breeze to set up and ensure a reliable internet connection throughout your stay in Busan.
Visit Busan Pass: To truly make the most of your Busan adventure, we highly recommend the Visit Busan Pass. Choose between a 24 or 48-hour pass that grants free access to many popular attractions and discounts on food and other sights. It even includes free rides on the City Tour Bus Hop On Hop Off Bus. Plus, with added credit, it doubles as a public transport card.
Subway is your best friend: Getting around Busan is a breeze thanks to its efficient subway system. While smaller than Seoul's, it's still extensive and offers an affordable way to traverse the city.
Taxis are a convenient alternative for getting around Busan: You can hail one from the street or use Kakao Taxi, a local taxi-hailing app, as Uber and Lyft do not operate in Korea. All taxis run on a meter, accepting payments via credit card, cash, or prepaid transit cards like T-money or Cashbee.
👉🏻 How to get from Seoul to Busan?
Many travellers kick off their Korean adventure in the bustling capital of Seoul before heading for some coastal adventure in Busan. And when it comes to making the journey from Seoul to Busan, you have two options: fly or ride the train.
By air: If speed is your game and you're eager to taste the sea air in Busan, direct domestic flights are ready to whisk you away from Seoul in a breezy hour. But remember, the quickest route isn't always the most wallet-friendly. Prices can fluctuate, making the train a compelling alternative if you're mindful of your budget.
By train: Enter the KTX high-speed train – an economical yet efficient way to reach Busan from Seoul in under three hours! An Economy ticket costs just 59,800 won (around USD 46). Talk about comfort and value packed into one practical choice!
Riding the KTX is hands down our absolute favourite way to get around! One of the best parts is that you don't have to deal with the hassle of going to the airports (Gimhae International Airport in Busan or Gimpo/Incheon International Airports in Seoul). Instead, you'll find the KTX stations right in the heart of Seoul and Busan, making your travel time much shorter!
And here's a savvy tip for you if you're planning to go beyond Busan: Power up with a Korail Pass! It's your golden ticket to incredible savings as you navigate through Korea's fascinating cities!
👉🏻 When to visit Busan?
Busan is a year-round destination – every season paints a unique picture, each with its own charm and allure! So, when's the best time to visit Busan? Well, that's like asking to pick a favourite colour – it's all about your personal taste!
If you're someone who enjoys the comfort of mild temperatures, spring and autumn should be right up your alley. Springtime, from March to May, is especially magical, with cherry blossom trees showering the city in a sea of pink.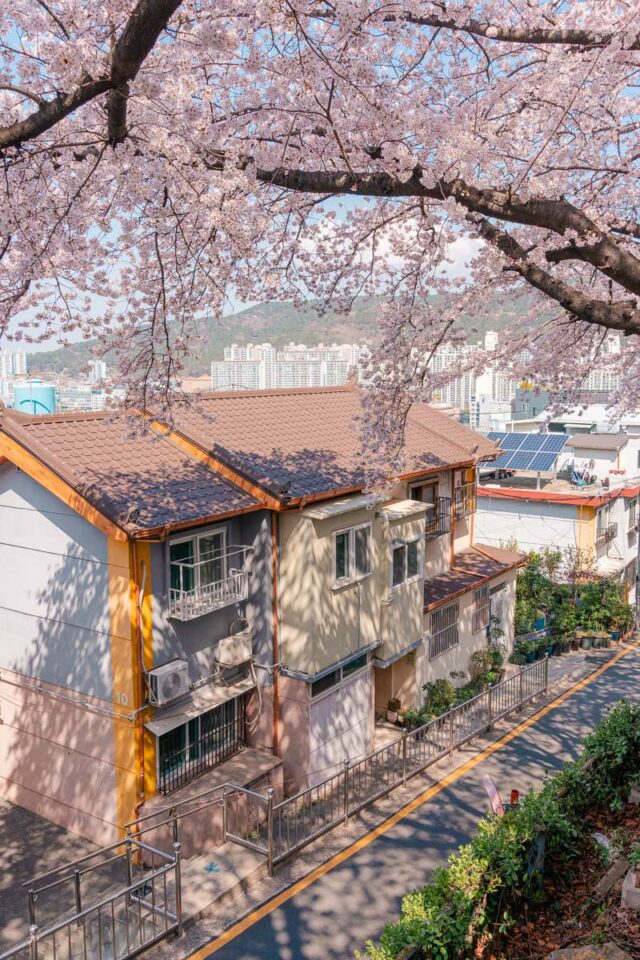 On the other hand, if you're not deterred by the sizzle of summer heat and a bit of humidity, June through August could be the perfect time to visit Busan. But remember, this is when Busan is at its busiest with tourists flocking in. And yes, summer does come with its share of rain showers and thunderstorms, adding a dash of drama to your Busan adventure.
Now, if escaping the crowds is more your style and you don't mind bundling up, winter offers a quieter and chillier experience. Sure, the ocean might be too cold for a dip, but on the bright side, there's hardly any snow (unlike Seoul), so no worries about getting stuck in a snowstorm!
👉🏻 Basic Korean Lesson
Getting a handle on a few Korean words and phrases can really amp up your travel experience in Busan. Imagine being able to confidently order your favourite Korean dish in the local lingo, or politely asking for directions. How cool is that?
Here's what we suggest – about a month before your trip, start dipping your toes into some online Korean lessons. No need to get all worked up about sounding perfect or getting every grammar rule right. The idea is just to get comfortable with the language, enough to ask stuff like "how much is this?" or "I'd like to order…"
And of course, knowing how to say hello and thank you is a must! It's a simple gesture that shows respect and appreciation for the local culture.
Curious about where to start? We're big fans of Rocket Languages! They offer interactive audio lessons filled with engaging dialogues that'll have you talking like a local in no time. Plus, their detailed culture notes give you an inside look into the heart of Korean culture.
👉🏻 Do you need a visa for your Korea trip?
Depending on your citizenship, you may require a K-ETA (online electronic travel authorization) to enter Korea. Effective April 1, 2023, the South Korean government has temporarily exempted 22 countries from the K-ETA requirement until December 31, 2024. For specific visa requirements, please check with your local Korean embassy.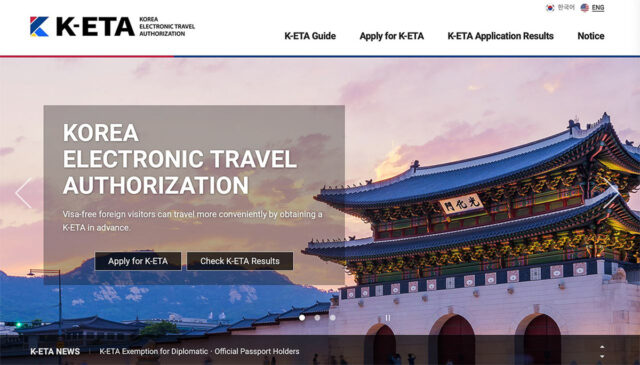 Travellers are no longer obligated to present a COVID-19 vaccine certificate or negative PCR test result upon arrival. However, it is still recommended to complete a health questionnaire online, using the Q-code system, three days prior to your travel. This will expedite the quarantine inspection process!
Busan Top Attractions Map
To help you better decide where to stay in Busan, we've created a handy map that highlights all the top attractions in Busan along with the hotels available. Consider it your ultimate guide to exploring the city and finding the best place to stay in Busan, especially if you're unsure about what to do in Busan.