This site uses affiliate links and we may earn a small commission when you use our links and make a purchase without incurring additional fee yourself. Many thanks for supporting this website. Please see our disclosure page for more details.
As a trend-setting metropolitan city in Asia, Seoul has become a vibrant fashion hub and popular tourist destination. Hundreds of thousands of boys and girls visit every year to uncover the latest trends and look for the hottest fashion items. Below I have listed 6 most popular shopping districts in Seoul, where you would be dazzled by the latest cosmetics products, clothing and accessories!
Myeongdong: As one of the busiest places in Seoul, Myeongdong streets are lined with department stores and quality brand name shops, with no-name brand shops located in the side alleys. This is the battlefield for Korean cosmetic brands. Almost every Korean brand has a branch in Myeongdong. Since it is a prime shopping location for tourists, sales associates usually can speak a few foreigner languages, making it super easy for foreigners to look for what they need!To get to Myeongdong, get off at subway line 4 Myeongdong station (exit 6 or 7). The streets in between Myeongdong and Eulhiro 1 stations are densely packed with shops and places to eat.

We recommend staying in Myeongdong if you're wondering where to stay in Seoul. It is an extremely convenient area for shopaholics!

Dongdaemun Market: The 24-hour shopping district is the home to the largest clothing suppliers in Korea. Featuring 26 shopping malls, 30,000 specialty shops, and 50,000 manufacturers, Dongdaemun attracts hordes of local and international buyers to check out the latest fashion apparel and accessories. Of course, other goods such as electronics, leather goods, pet products and toys can also be found here. Despite the congested and chaotic scenes, visitors are appealed by its convenience and the reasonable prices it offers.To get to Dongdaemun Market, get off at subway line 1 or 4 Dongdaemun station (exit 8 or 9), or line 2 , 4 or 5 Dongdaemun History & Culture Park station (exit 14).Dongdaemun Market is divided into 2 sections. Section 1, on the west of DDP, is filled with retails shops and large shopping malls such as Doota, Migliore and hello apM. Opening hours are from 10 am to 5 am the next day. Section 2, on the north of DDP, has wholesale shops that mainly sell in bulk. Malls are open from 8 pm to 8 am or 5 pm the next day. There are no dressing rooms. Refunds and exchanges are not guaranteed.
Insadong: The district showcases antique art and craft shops, traditional Korean teahouses, souvenir shops, art galleries, and bookstores, ideal for visitors who appreciate traditional Korean culture. In the buoyant neighborhood of Insadong, I particularly liked browsing at Ssamziegil, a shopping complex that features work from young and talented local artists. There, you will sure find artsy, one-of-a-kind items that could not be found elsewhere.

Besides shopping, there's a lot more going on in Insadong! Check out Lauren and Ben's Insadong guide for suggestions on other fun activities!

To get to Insadong, get off at subway line 3 Anguk station (exit 6) or line 1 Jonggak station (exit 3) and walk towards Insadong-gil.

Hongik University (Hongdae): The university is famous for its College of Fine Arts, making it the breeding ground for young artists. It is the center of the club culture, drawing young people come and listen to performances by independent bands and underground musicians. The streets are filled with local shops showcasing handmade merchandise and artistic creations. At 1pm every Saturday from March to November, the Hongdae Art Free Market is a hotspot for people who are seeking for unique crafts, paintings, and creative goods.To get to Hongdae, get off at subway line 2 Hongik University (exit 9), walk straight towards the four-way junction, turn left, then turn right at the first intersection. The free market is located at Hongik Children's Park near the entrance of Hongik University.
Sinchon & Ewha Women's University (Edae): The shopping area in between Ewha station and Ewha Women's University is popular among young women. The streets house lots of cosmetics shops, trendy clothing stores, dazzling accessories shops and beauty parlors, tailored to the tastes of young women. Between Sinchon station and Yonsei University is a street chock full of cozy little restaurants, cafés, bars, and bookstores. With plenty of places to relax and have fun, the area is a favorite retreat for the college crowd.To get to Edae, get off at subway line 2 Ewha Women's University station (exit 2 or 3). To get to Sinchon, get off at subway line 2 Sinchon station (exit 2 or 3). Since the 2 districts are so close, you can take the subway to either Ewha Women's University or Sinchon station, then walk along the main street towards the other shopping area.
Sinsadong Garosugil: Walking along the garosugil ("tree-lined street") in Sinsadong, you might find it resemble the streets in Soho, New York. The street highlights a collection of quaint stores run by local designers, artists, and stylists as well as art galleries. When you're tired from all the shopping, pick a window seat at a café, restaurant or bar that is great for people-watching. You will see lots of fashion savvy people on the street!To get to Sinsadong Garosugil, get off at subway line 3 Sinsa station (exit 8), walk straight and turn left at dosan-daero 13 gil.
To give you an idea of how much shopping you can do in Seoul, the photos below show all the beauty products, clothing, shoes, accessories and many more that Kev and I bought on the trip. (Some of them are samples I collected from the cosmetic shops) On the last day, we bought an extra luggage because we couldn't fit everything 😛
Seoul related posts: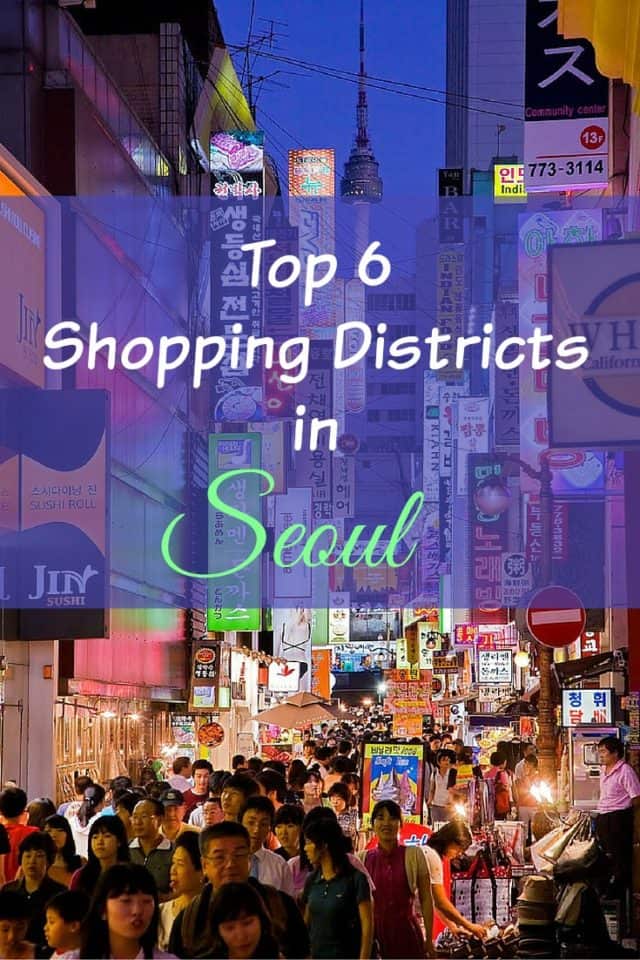 ---