This site uses affiliate links and we may earn a small commission when you use our links and make a purchase without incurring additional fee yourself. Many thanks for supporting this website. Please see our disclosure page for more details.
Do you know that foreigners travelling to Korea are eligible for tax-free shopping? Whether they are enjoying a shopping trip to Seoul or Busan, they are! But is claiming tax refunds in Korea really worth the hassle? Throughout our various trips to Korea we have learned that it definitely is. Even if you don't make any expensive luxurious purchases, small purchases here and there can eventually accumulate into big money!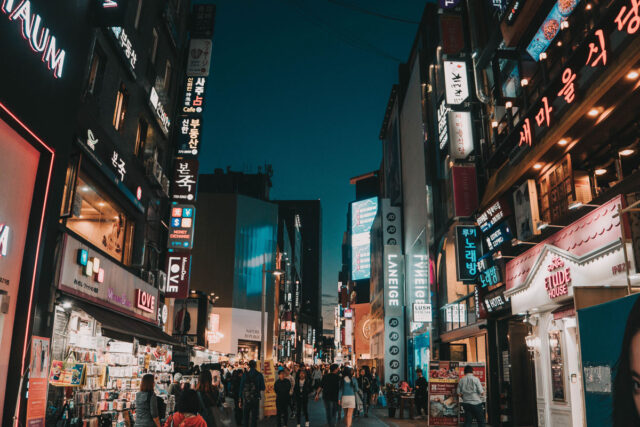 In this post, we will tell you all about the Korea tax refund for foreigners and walk you through the steps for getting a tax refund in Korea.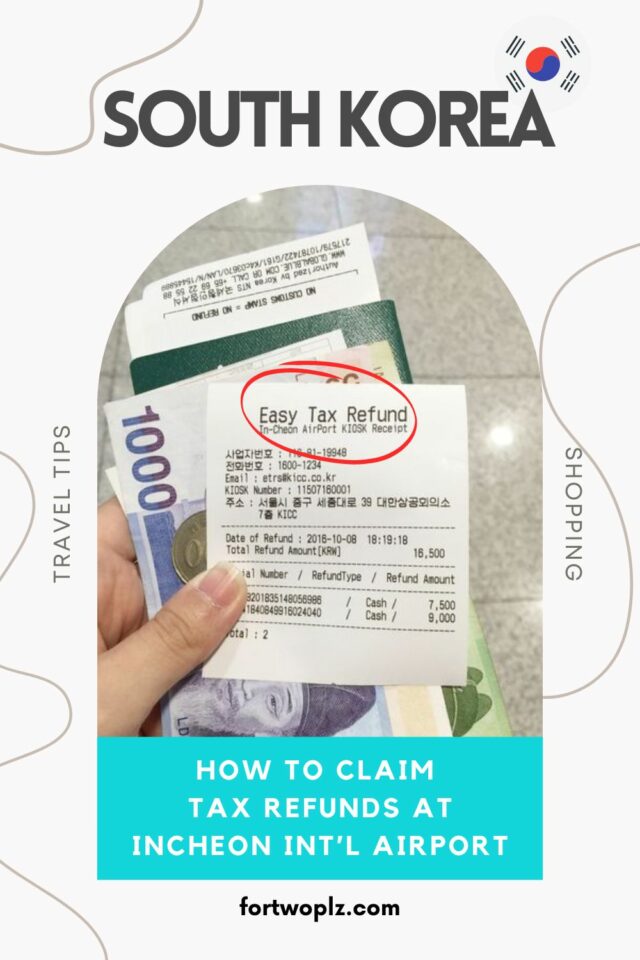 First time visiting South Korea? These travel resources will make your Korea trip a breeze:
→ eSIM: Knowroaming and Airalo both have affordable South Korea data plans.
→ VPN: Use ExpressVPN or NordVPN to protect your privacy and security while on the go.
→ Transportation:
★ How to get to Seoul from Incheon International Airport
★ How to take AREX from Seoul to Incheon International Airport
→ Flights: Visiting other Asian countries? Score flights deals on Expedia!
→ Hotels: Maximize your shopping time by staying in Hongdae and Myeongdong! Use Agoda to find the best hotel prices!
→ Need a durable suitcase? Try Rimowa, which builds exceptionally light luggages that last!
→ Shopping: Top 6 shopping districts in Seoul
→ Beaches: Top Busan Beaches You Need to Know About
How does tax refund work in Korea?
Foreign tourists can receive an exemption or refund of domestic sales tax (such as VAT) from purchased goods at tax free stores within 3 months of departure from Korea.
Korea's Tax Free System can be divided into two categories: "Duty Free" and "Tax Refund."
Duty free vs tax refunds in Korea
You might be quite familiar with the term "duty-free" before you visit Korea.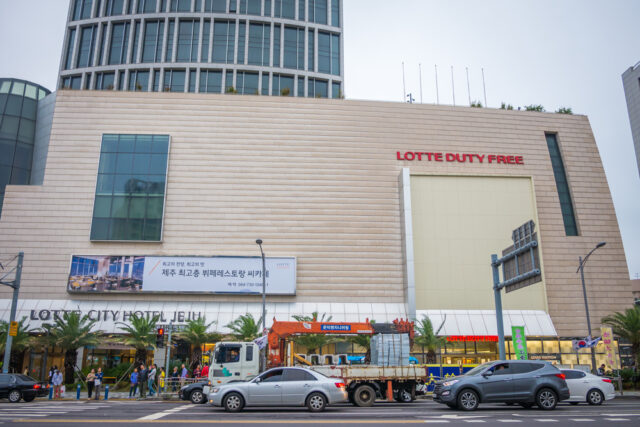 Duty-free means no tax is applied to the price of the item when you purchase from a duty-free shop. VAT, individual consumption tax, tobacco consumption tax and liquor tax are all exempted.
These duty-free stores are generally operated by large department store chains (e.g., Lotte, Shilla and Shinsegae) and are located within airports and downtown areas.
Buying duty-free items requires minimal effort on your part but the selection of items you can purchase is quite limited.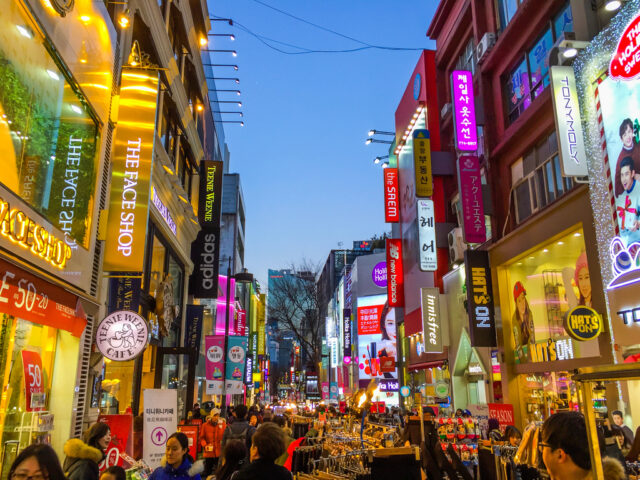 Tax refund, on the other hand, means you can get the Value Added Tax (VAT) and Individual Consumption Tax on certain items refunded at the airport before leaving Korea.
Getting a Korea tourist tax refund requires just a teeny bit more work than shopping duty-free, but don't worry, we will tell you all about getting tax refunds in Korea in the sections below!
In fact, getting a tax refund has become increasingly easier for tourists. If you visited Seoul recently, you might have noticed that you can effortlessly receive an immediate tax refund up to a certain limit when shopping at certified tax free stores! More on this later.
How much is VAT in Korea?
Korean VAT (value added tax) is 10% on most goods and services. This is the tax merchants must collect from consumers and pay to the government.
Pro tip: Some small shops or street vendors might give you a 10% discount (deducting VAT) if you pay cash!
How much is tax refund in Korea?
The refund amount will be calculated based on the amount spent, VAT, and the service charge of the refund agency applicable to the purchase. Therefore, most of the VAT in Korea is 10%, but if the service charge of the refund agency is deducted from this, you will most likely receive a refund of about 4-7%.
Service charges may be calculated differently depending on the refund agency, the type of goods, or the amount spent on the goods.
Am I eligible for a tax refund in Korea?
You're eligible to get a tax refund when your purchased goods are worth at least 30,000 won but under 5 million won in total. The items must have been bought within three months of your departure from Korea.
Non-Korean tourists must have stayed in Korea for less than 6 months to qualify.
Overseas Koreans must have stayed in Korea for less than 3 months and lived overseas for over 2 years.
Is it worth getting a tax refund in Korea?
Getting a tax refund in Korea couldn't have been easier. Some stores even offer immediate tax refunds now so you don't have to do extra work at the airport (details in the next section)!
If you plan to buy a lot and don't mind carrying your passport with you as you shop, we encourage you to take the steps to get your tax refunds in Korea!
How do I get a tax refund in Korea?
Now, let us walk you through step by step for how to claim tax refund in Korea.
When shopping
STEP 1: Check whether the store is a VAT refund merchant. Tax-free stores have one of the following "Tax Free" logos: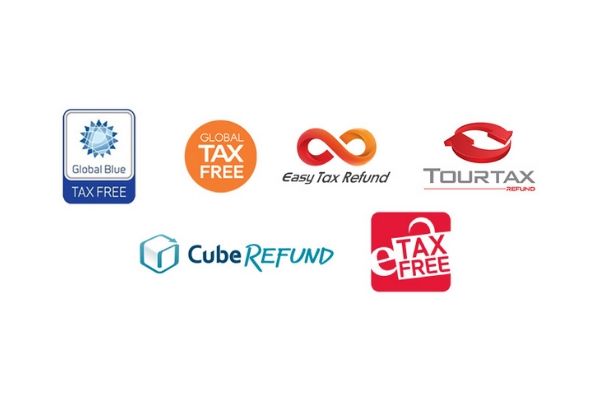 STEP 2: When making payment at a tax-free store, request a tax refund. The cashier will ask you to present your passport for verification.
Once they verify that you are eligible for tax refunds, the receipt and a tax refund slip will be handed to you along with a tax-refund envelope .
Some stores issue immediate tax refunds, meaning they deduct the tax from the sale price on the spot so you pay the tax-free price. Alternatively, after paying the price with tax included, you can receive a tax refund at the tax refund service desk. This is usually the case in big department stores.
A note on immediate tax refund:
Items must cost more than 30,000 won and less than 500,000 won, tax included, in one payment to be eligible for an immediate tax refund. The immediate tax refund is limited to a total purchase amount of less than 2,500,000 won during the entire trip in Korea. If you exceed that amount, you have no choice but to go to the airport to get your tax refund.
Tax refund preparations
STEP 3: Before heading to the airport, gather all the receipts and tax refund slips. Fill out the tax refund slips, which require you to print your full name, provide your passport number, nationality and address, and sign at the bottom. Remember, do not throw away any receipts.
Important note: tax refund items must be unopened and unused!
Tax refund process at the Incheon International Airport
Incheon International Airport is extremely busy! We recommend arriving at the airport at least 3 hours prior to your flight.
STEP 4: Check in at the airline counter, get your boarding pass, and inform the counter staff that you have tax refund items packed in your luggage (if you are checking bags).
The staff will tag your luggage and ask you to bring your luggage, along with the tax refund slips, to the Custom Declaration counter.
STEP 5: Take all your tax refund slips out of the envelope and hand them over to the custom officer. He or she will stamp every one of them and give them back to you.
Ensure you get the "All Goods Exported" customs confirmation stamp on all of them. The customs officer may sometimes ask to inspect the purchased items (we have never had them checked, but this is just between you and us).
STEP 6: Proceed to the Oversized Baggage Check-In counter (right beside Custom Declaration) to check-in your luggage.
STEP 7: Head towards the tax refund counter or kiosk machine right next to Custom Declaration and scan your passport and tax refund slips. Usually there will be staff there to help you out. (we just handed the slips to them and they did all the work :P)
After the staff hands you back your receipts and tax refund slips, they will inform you at which gate you will have to complete your tax refund process.
STEP 8: Go through the immigration customs and proceed to the refund counter at the specific gate as directed by the staff.
Simply pass your receipts and tax refund slips to the staff and they will help you.
You also have the option to use the automated tax refund kiosks. By scanning your passport at the refund kiosk, the confirmed amount of tax refund will be issued to you in cash or credited back to your credit card (which can take 1-2 months to process)!
Now, you have all your money and are ready to go!
FAQs on claiming tax refunds in Korea
Where are the locations for tax refunds at Incheon International Airport?
At Terminal 1:
Tax refund counters are located on the 3rd floor, near check-in counters B and E in the east general area, and near J and L in the west general area.
Tax refund kiosks are located after security, next to Gate 28 in the duty-free zone.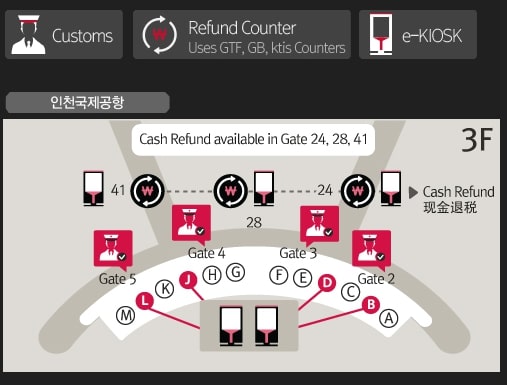 At Terminal 2:
Tax refund counters are located on the 3rd floor, next to check-in counters D and E, and near Gate 253 in the duty-free zone.
After security, you can collect refunds at automated tax refund kiosks near Gate 249.
★ Please check Incheon International Airport's official website for details.
Can I claim a tax refund at international airports other than Incheon?
Yes, you can claim a tax refund in Korea at airports other than Incheon International Airport.
Gimpo, Gimhae, and Jeju International Airports all have tax refund counters.
Can I claim Korean tourist tax refunds outside airports?
There are tax refund booths in popular shopping areas like Myeongdong in Seoul. However, these booths can only provide refunds offered by their respective company.
For example, a Global Blue tax refund booth will only provide Global Blue refunds and you'll need a tax refund form from Global Blue to claim it. Likewise, Global Tax Free refund counters only process refunds for purchased goods from Global Tax Free affiliate stores.
Only the booths inside the airports and ports can provide total refunds, regardless of company.
How can I get my tax refund?
You can receive your payment in cash – either in Korean won or in your own country's currency. However, in non-Korean currency, the refund amount might be smaller due to conversion rate.
Aside from cash, you can also get refunded via credit cards or Alipay.