This site uses affiliate links and we may earn a small commission when you use our links and make a purchase without incurring additional fee yourself. Many thanks for supporting this website. Please see our disclosure page for more details.
Are you and your partner on the hunt for the best beaches in Busan, South Korea? Look no further!
From sandy surf spots to secluded coves and historical ruins, these idyllic Busan beaches will make for unforgettable memories. No matter what kind of beach experience you want – from luxury spas to bustling nightlife – there's something for every couple in Busan.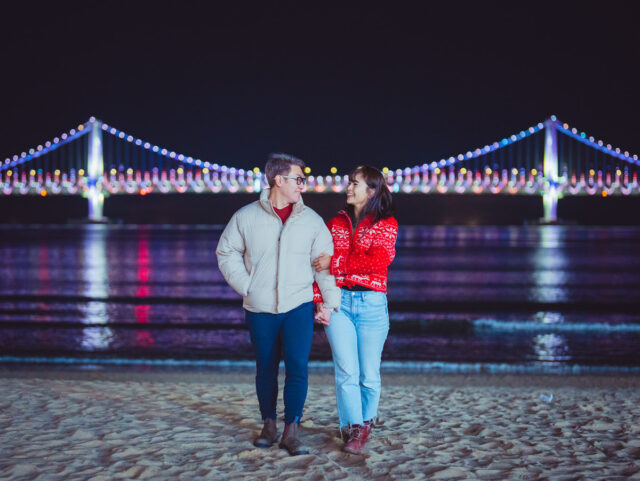 In this post, we'll guide you through the top beaches in Busan. Discover what each beach has to offer so you can find your perfect spot. Plus, we'll help you with transport options and list some nearby attractions to make planning your Busan itinerary a breeze!
So pack your swimsuits and sunscreen and let's head off to explore the beautiful coasts of Busan!
First time visiting Busan? These Busan travel resources will make your trip planning a breeze:
→ eSIM: Stay connected in Korea by purchasing an eSIM.
→ VPN: Boost your privacy and internet security with a VPN.
→ Flight deals: Click here to score the best deals possible.
→ Car rental: Discover Busan with a rental car. Or hire a driver and guide.
→ Hotels: Book one of the best luxury Busan hotels for your stay!
→ Korea Rail Pass: Traveling across Korea by trains? Save time and money with a Korail Pass!
→ Short on time? Use Visit Busan Pass to visit all the attractions in 48 hrs!
→ Need help with your Korea trip? These handy tools will help you navigate the country!
→ Tax Refund: Follow our step-by-step instructions on claiming tax refunds in Korea.
→ Tours: Here are some of top-rated tours…
❋ 1-day Busan city tour: Haeundae Blueline Park + Gamcheon Cultural Village and more!
❋ Discover UNESCO sites in Gyeongju on a day tour from Busan.
❋ Busan night photo tour.
❋ A day trip to Oedo Botania + Geoje Island.
❋ Busan yacht tour – day, night, or sunset!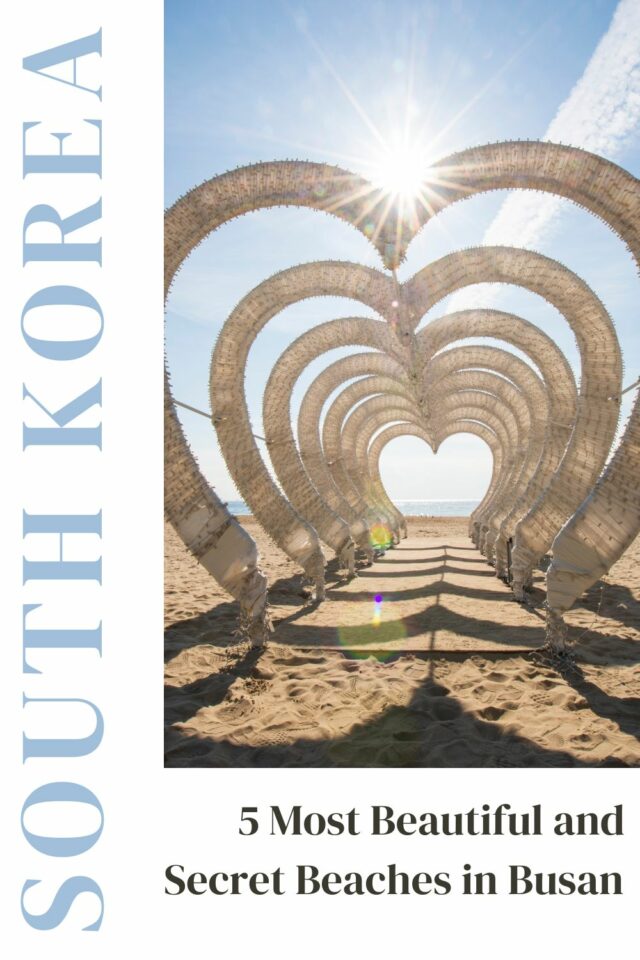 ☀️Best Busan Beaches: Haeundae Beach
Haeundae Beach is an absolute gem and the most famous beach in Busan! Its fine sand and crystal-clear waters make it a dreamy paradise right in the heart of the city. Plus, there's so much to do: from surfing to paragliding and jet skiing, the options are endless!
Or, you can take it easy and go river cruising!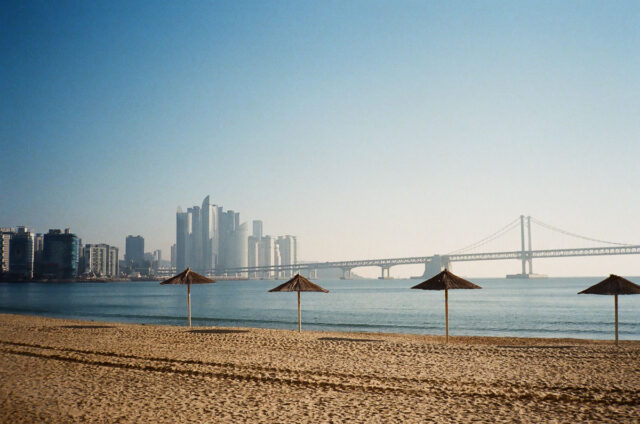 Sure, it can get pretty crowded during the summer months, but trust us it's worth a visit. The beachside itself is an attraction all on its own, adorned with shiny spa hotels, luxurious restaurants, charming cafes, and excellent shopping centres. Talk about a complete package!
And let's not forget the chance to try mouth watering delicacies. Along the beach, you'll come across plenty of family-owned restaurants and street carts serving up Busan's famous fish cakes and fresh seafood. Yum!
When the sun sets, the nearby bars and nightclubs come alive, offering you the perfect opportunity to dance the night away.
But here's the real cherry on top – on a clear day, you can catch a glimpse of the coast of Japan from Dalmaji Hill. And at night? The sea beautifully reflects the glittering skyscrapers of the city. It's a breathtaking sight in Haeundae, Busan.
So, if you haven't been to Haeundae Beach yet, what are you waiting for? It's the best beach in Busan!
🏖️ ️Perfect for: people watching.
💎 Nearby attractions: Haeundae Blueline Park, Haeundae Night Market, Shinsegae Centum City department store, Museum 1, SEALIFE Busan Aquarium, Busan x The Sky, The Bay 101
📍How to get to Haeundae: Take the subway line 2 to Haeundae Station, then exit 3 and 5.
☀️Best Busan Beaches: Gwangalli Beach
Gwangalli Beach (aka Gwangan Beach) is another fantastic Busan beach not far from the city centre. While Haeundae beach often steals the spotlight, Gwangalli has its own charm that's yet to be fully discovered by foreigners.
The beach sits on a 1.4 km stretch of glistening sand, shaped like a beautiful half-moon cove, with the majestic Diamond Bridge (aka Gwangandaegyo or Gwangan bridge) in the backdrop. It's even more stunning at night when the bridge comes alive with lights.
Fun fact: Marvel fans, remember the Black Panther movie? Yep, this bridge made its big screen debut there!
But that's not all. Gwangalli Beach may have gentle waves, but there are still surfers who brave the waters. And if you're up for some exhilarating water sports like water skiing, jet skiing, or windsurfing, this is the place to be!
Don't worry if that's not your thing; you can also find your bliss by basking in the sun and enjoying the white sandy beach, complete with cozy umbrellas and sun loungers (which can be rented at only 5,000 won per piece per day!).
Hungry? Thirsty? No problem! Gwangalli has got you covered. There are numerous restaurants, craft breweries, and coffee shops in the area, so you won't have to wander far to find some delicious refreshments.
During the summer months, this Busan beach transforms into an entertainment hub, hosting captivating dance performances, mind-blowing magic shows, and even lively busking sessions. So be prepared for some extra excitement when you visit!
🏖️ ️Perfect for: street performance, watching the Gwangan Bridge light show.
💎 Nearby attractions: Diamond Bridge, Suyeongman Bay Yachting Center, F1963.
📍How to get to Gwangalli: Take subway line 2 either to Gwangan station (exit 5) or Geumnyeosan station (exit 3).
☀️Best Busan Beaches: Songdo Beach
Song Beach is an incredible spot, perfect for a delightful day trip! Stretching 800m long and 50m wide, it may be smaller than some of the other, flashier beaches, but don't let that fool you. It has an amazing relaxed vibe and is a hit among locals.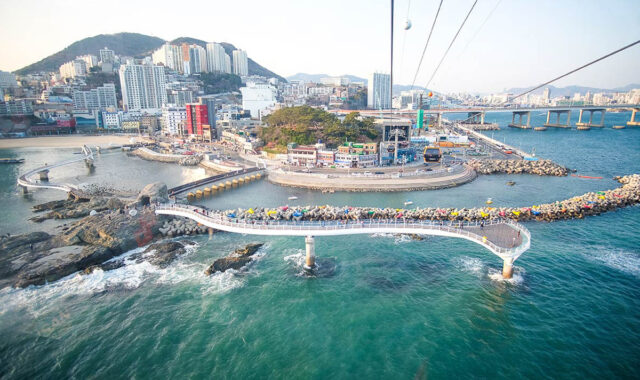 During the summer, this Busan beach is bustling with swimmers, and there's an abundance of restaurants and cafes nearby for when you need a snack.
You can elevate your experience by strolling on the 365-metre long Songdo skywalk. It hovers above the sea with a glass bottom offering mesmerizing views, and it connects to Geobukseom Island (also known as Turtle Island). Witnessing the glittering sight of the sunset from Songdo Skywalk at night is an experience you won't want to miss!
But the real showstopper? The Busan Air Cruise marine cable car! Hop on and admire a breath-taking view of the bay (especially at sunset!) as you travel from Songnim Park to Annam Park.
Songdo Beach hosts various festivals throughout the year, including the Sunrise Festival in January, the Daljip Festival in February, and the lively Summer Sea Festival, Hyeonin Song Festival and National Marine Sports Competition in August. Plus, the Mackerel Festival in October!
🏖️ ️Perfect for: sightseeing, swimming, gorgeous nature views
💎 Nearby attractions: Songdo Cloud Trails, Songdo Cable Car, Songdo Yonggung Suspension Bridge, Amnam Park, Busan Tower
📍How to get to Songdo: From Jagalchi subway station exit 2, take bus number 17, 26 or 61 and get off at Songdo Entrance.
☀️Best Busan Beaches: Dadaepo Beach
Looking for a hidden gem for a beach day? Look no further than Dadaepo Beach!
After a bit of a trek outside Busan city centre, you'll be rewarded with seclusion and one of the most breathtaking beaches in Busan.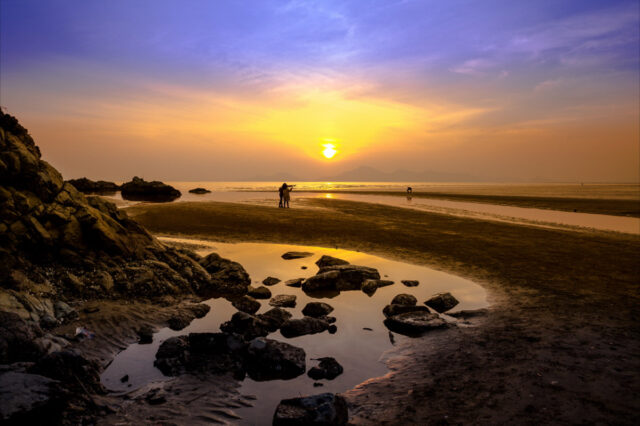 The beauty of Dadaepo Beach will take your breath away, with its 1 km coastline nestled at the mouth of the Nakdonggang River.
A little further up the coast, you'll find marshland teeming with migratory birds, making it a nature lover's dream, especially during the right season.
If you're a music enthusiast, don't miss out on the Busan International Rock Festival in August, a perfect opportunity to immerse yourself in vibrant tunes while beating the summer heat.
Dadaepo Beach has something for everyone. Apart from capturing magnificent sunsets that will leave amateur photographers in awe, it's also a fantastic destination with plenty of fun activities and chances to explore the traditional Korean culture.
And don't forget to visit the mudflats, a favourite activity among many fun things to do in Busan!
Here are a few additional travel tips:
If you're visiting Busan during the year end celebration, join the lively celebration on New Year's morning with fellow beachgoers as you witness the majestic sunrise.
bring a picnic and make the most of this hidden paradise on your day trip!
🏖️ ️Perfect for: escaping the crowds
💎 Nearby attractions: Hwasondae, Gyeongdo, Morundae Observatory, Amisan Observatory
📍How to get to Dadaepo: From Busan Station, take bus number 2 or 98, or take subway line 1 to Dadaepo Beach station.
☀️Best Busan Beaches: Songjeong Beach
For a serene beach retreat, head to the lesser-known Songjeong Beach situated at the eastern end of Busan. Despite its proximity to Haeundae Beach, this hidden gem remains pleasurably uncrowded.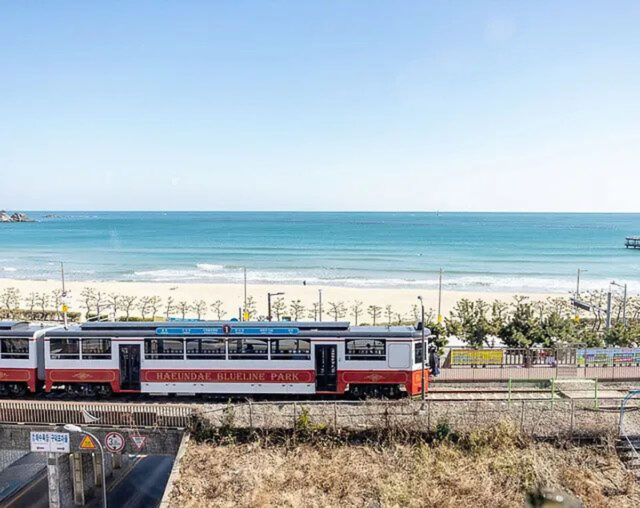 This Busan beach is an absolute paradise for surfers! Gentle waves, shallow waters, and a warm, inviting atmosphere lasts all year round.
And it's not just surfers who love this place. Food enthusiasts flock here for the freshest seafood delicacies that will make your taste buds dance with joy!
The beach hosts the annual Songjeong Beach Festival (August) and the Harvest Full Moon Seaweed Festival (September), adding an extra touch of excitement to your visit.
Oh, and don't forget to explore the northeast side of the beach, where fantastic fishing spots await. If you're an adventurous soul, you can take part in delightful boat excursions that will feel right up your alley!
🏖️ ️Perfect for: surfing
💎 Nearby attractions: Haedong Yonggungsa Temple, Haeundae Blueline Park, Cheongsapo Daritdol Observatory, Brick Campus Busan
📍How to get to Songjeong: From Haeundae subway station exit 7, take bus 100, 139 or 142 and get off at Seongjeong.
Busan Beaches Map
For your convenience locating these beaches in Busan, we have plotted them on a map:
FAQs about visiting Busan
Does Busan have good beaches?
Situated right on the seafront, the city of Busan has a bunch of awesome beaches to fit any preference.
With stunning views, crystal-clear waters, and tons of activities, the beaches in Busan guarantee both chill vibes and thrilling experiences.
Whether you're after peace and quiet or some serious fun, Busan beaches have something amazing in store for you. Explore the list above to discover the best beach in Busan for your preferences.
What is the famous beach in Busan?
Haeundae Beach is widely recognized as the most famous beach in Busan, South Korea. Known for its expansive stretches of sand and beautiful scenery, Haeundae Beach is a popular destination not only within Busan but also across South Korea!
Do people swim at the beach in Busan?
People do swim at the beach in Busan, especially during the summer months from the last weeks of June to August. With its warm water and inviting shores, beachgoers can enjoy a refreshing swim while basking in the sun-kissed atmosphere.
All the beaches we mentioned in the above list not only provide ample opportunities for swimming but also offer a range of amenities and water sports to make your beach experience in Busan even more memorable.
Are Busan beaches warm?
The sea temperature in Busan during July hovers around a delightful 23.6°C (74.5°F), with highs of 26.4°C (79.4°F) and lows of 20.9°C (69.5°F).
At Haeundae Beach, it can even reach a refreshing 26°C (78°F) in July, August, and September!
So yeah, you bet Busan beaches are perfect for swimming and having a blast in the water!
Where to stay in Busan near the beach?
Looking to be close to the beach in Busan? Check out these top places to stay:
👉🏻 Discover even more options in our complete Busan hotels guide!
What is the best time of the year to visit Busan?
The best time to visit Busan, South Korea is from April to November. The weather is just perfect with mild temperatures that will make all your outdoor activities and exploration so enjoyable.
Plus, April treats you to the enchanting cherry blossom season, adding an extra touch of beauty to the city. It's truly magical!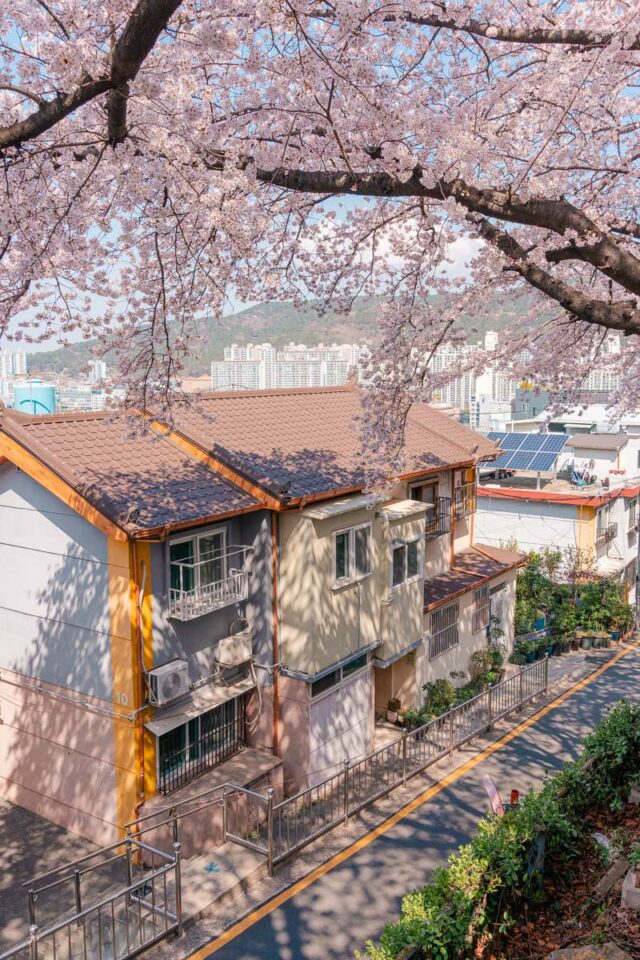 But don't worry if you can't make it during those months. Busan is an amazing travel destination throughout the year. We visited in December and January, and even though swimming wasn't on the agenda, we had a blast with the thinner crowds! Just be prepared for a bit of a windy vibe. 😉
Which city has more to see for a visitor, Seoul or Busan?
When it comes to tourist attractions, both Seoul and Busan have an incredible array of options for visitors to explore! But let us tell you, Seoul, as the capital city of South Korea, takes it to a whole new level with its historical significance and cultural prominence.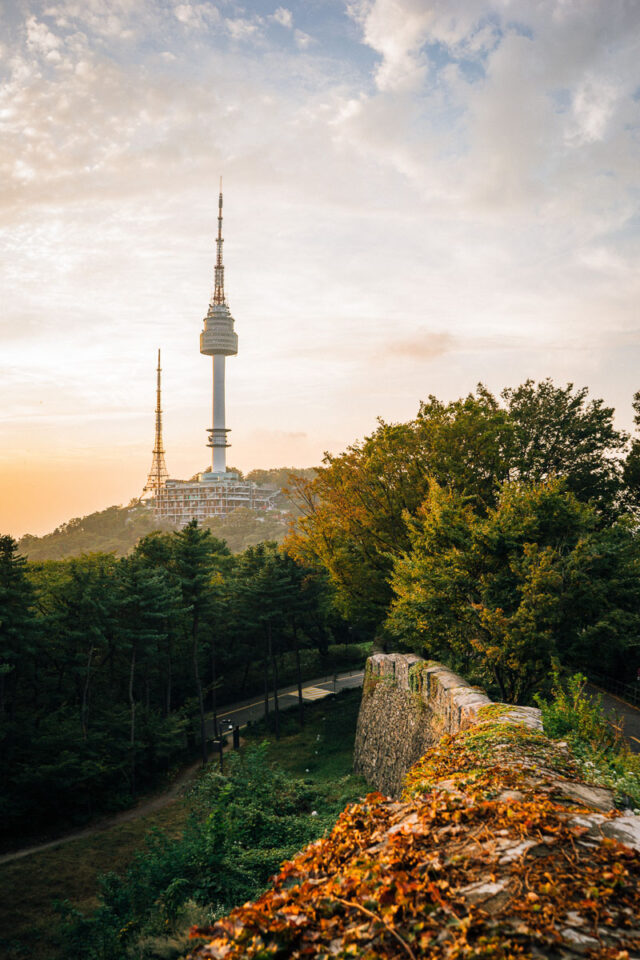 Seoul boasts some iconic landmarks that will leave you in awe – we're talking about Gyeongbokgung Palace, Changdeokgung Palace, and N Seoul Tower! And don't even get us started on the vibrant neighbourhoods like Myeongdong, Hongdae and Insadong, where you can immerse yourself in shopping, dining (esp the cute coffee shops!), and traditional Korean culture all in one place.
But don't underestimate Busan! This city is famous for stunning beaches that attract tourists from all over the world, and boy does it deliver coastal beauty like no other. Attractions like Gamcheon Cultural Village, Busan Tower, and the bustling Jagalchi Market are just a taste of what Busan has to offer.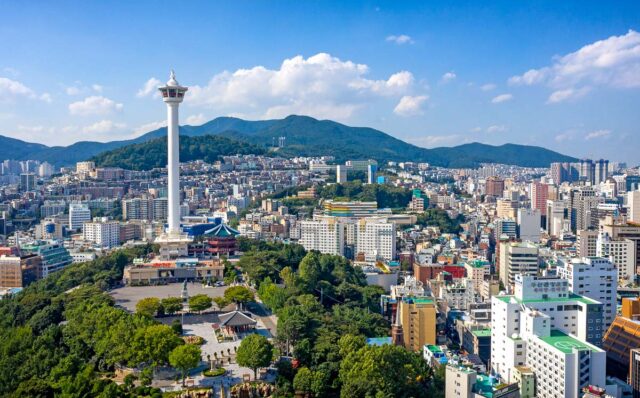 So, ultimately, the choice between Seoul and Busan depends on your own preferences.
Seoul serves up a fantastic blend of historical sites, modern attractions, and bustling city life. Meanwhile, Busan provides a coastal escape with picturesque beaches and unique cultural experiences. Whatever you choose, get ready for an unforgettable adventure!
What is the distance between Seoul and Busan?
The distance between Seoul and Busan is approximately 325 km (202 miles) when travelling by road, but keep in mind that the distance might differ based on the route you choose.
It typically takes around 2 hours and 30 minutes to travel between the two cities by Korea's high-speed train, known as the KTX. The KTX is a convenient and efficient way to travel between Seoul and Busan – our top pick, no doubt!
And hey, if you're thinking of exploring even more of Korea beyond Seoul and Busan, we've got just the thing for you: the Korail Pass! This is your golden ticket to amazing savings as you navigate through Korea's fascinating cities!
Other fun things to do in Busan
There are so many amazing things to do in Busan beyond the beaches! Here are some of our top suggestions:
1. Explore Gamcheon Culture Village: Get lost in the lively and colourful streets of this unique village, known for its awesome art murals and one-of-a-kind architecture.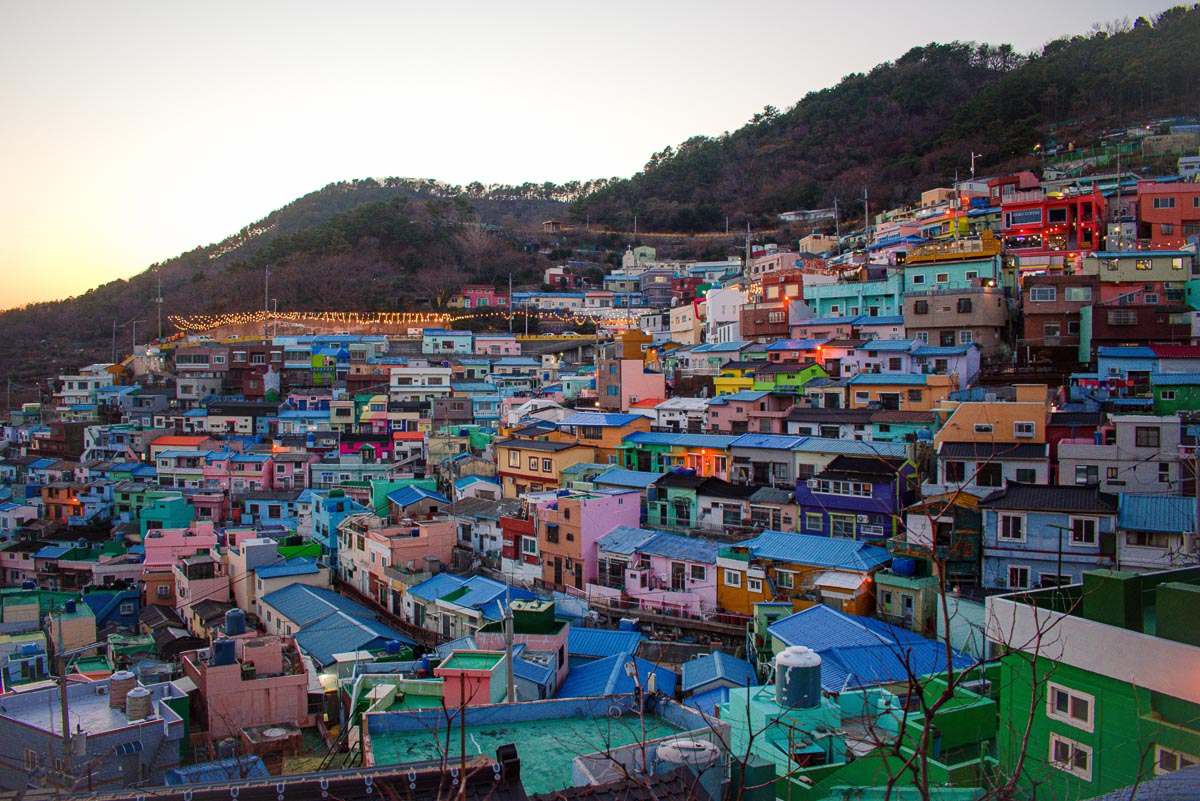 2. Shop til you drop at Nampodong Street: Wander around the bustling streets filled with shops, boutiques, and mouth watering street food stalls. Don't forget to treat yourself to some delectable local snacks!
3. Dive into Jagalchi Market: This lively seafood market is where you can indulge in the freshest catches from the ocean.
4. Find serenity at Beomeosa Temple: Lose yourself in the peacefulness of this magnificent Buddhist temple, nestled amidst nature and adorned with impressive architecture.
5. Lights, camera, action at the Busan International Film Festival (BIFF): If you're lucky enough to visit in October, make sure to catch Asia's most prestigious film festival, featuring an incredible lineup of international films.
6. Embrace tranquillity at Haedong Yonggungsa Temple: Be awe-inspired by the stunning seaside temple, boasting intricate details and offering captivating views of the ocean.
7. Immerse yourself in art at the Busan Museum of Art: Get in touch with Busan's vibrant art scene through a mix of contemporary and traditional exhibits.
8. Tantalize your taste buds with delightful seafood: Busan is renowned for its fresh and scrumptious seafood. Don't miss out on the opportunity to savour mouthwatering dishes like raw fish (hoe) or grilled clams (jogaetang).
---
All in all, Busan offers a multitude of incredible beaches that cater to the interests of couples looking for an escape from the city. Whether your taste leans towards busy beaches with lots of activities or a more quiet romantic spot, there is something for everyone!
We hope this list provides helpful information to help you decide which Busan beach might be ideal for your trip.
Have you been to South Korea before? Let us know in the comments below!