This site uses affiliate links and we may earn a small commission when you use our links and make a purchase without incurring additional fee yourself. Many thanks for supporting this website. Please see our disclosure page for more details.
Living in Alberta has granted us easy access to the Canadian Rockies. Whenever we visit, we love to stay in Jasper for a truly magical experience. While the abundant wildlife and dazzling mountain vistas are a huge draw for us, having a spectacular place to rest is equally important.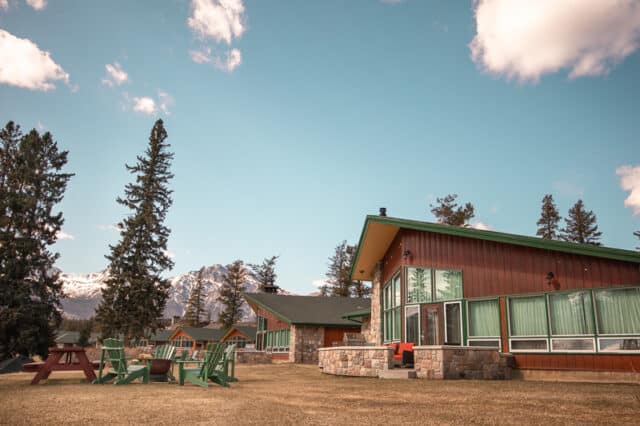 In our numerous trips to Jasper, we've stayed at many places-a few were exceptional, and some were just-not-worth-the-money. If you want to successfully wow your bae with a romantic cabin getaway, you'll definitely want to read our recommendations on the best places to stay in Jasper!
Our criteria for selecting the best places to stay in Jasper
There are a ton of lodging options in Jasper National Park, so you might be wondering how we select the perfect accommodations for romantic getaways. In this section, we will reveal the criteria we used to pick the best of the best.
The property must offer cabin-style accommodations. Nothing gives you a "rustic, in-the-woods" feel better than a mountainside cabin. Ditch the standard hotel room and go for a log cabin!
The cabin must look out onto beautiful scenery. Wake up to views of the mountains, lakes and forest instead of streets and cars.
The cabin is easily accessible. There's nothing wrong with being in a remote location, but you don't want to veer too far away from the townsite and main attractions. Trust us, driving more than 30 mins just to grab a meal is not fun.
The cabin must have staff on-site and available 24/7. Nothing is worse than having no one to contact when you run out of toilet paper or can't figure out how to work the shower.
Most importantly, no roughing it! It is not realistic to expect a jacuzzi in a cabin in the woods, but it should still be clean and come equipped with basic amenities. The windows must have screens to keep out the bugs. Hot water in the shower, heat in the winter, air-conditioning in the summer, and Wi-Fi to stay connected are not unreasonable expectations!
Based on the above criteria, we managed to rule out campsites, airbnbs in Jasper, and mid-range hotels like Overland Mountain Lodge, Jasper Inn and Suites, and Marmot Lodge Jasper.
The most central place to stay: downtown Jasper
We would like to note that most Jasper hotels are located within the town's centre with plenty of things to do nearby – restaurants, bars, shops, and grocery stores.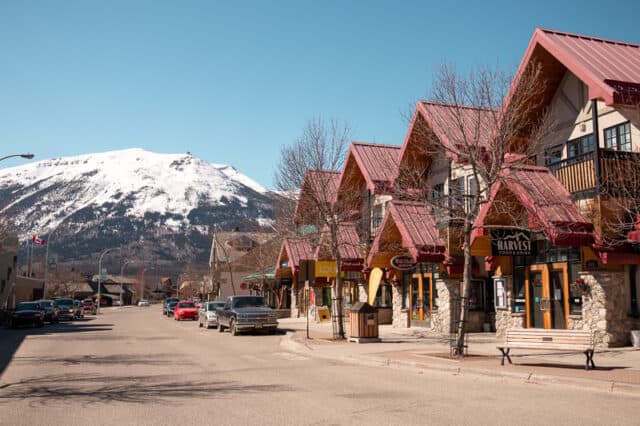 If you want to be in the middle of the action, downtown Jasper is the best choice for you. You'll have everything you need for your trip within walking distance.
But of course, staying in town has downsides – you might hear traffic and crowd noise late into the night, and you most likely won't have that beautiful mountain view. With that in mind, we purposely choose accommodations that are not in the townsite but close enough to access if needed.
The best accommodations in Jasper National Park
Here is a list of our top picks for Jasper cabins.
Fairmont Jasper Park Lodge
Fairmont Jasper Park Lodge is one of the nicest hotels in Jasper, nestled deep in the woods on the shores of Beauvert Lake in the Canadian Rockies. It is also one of the accommodations used on the Rocky Mountaineer!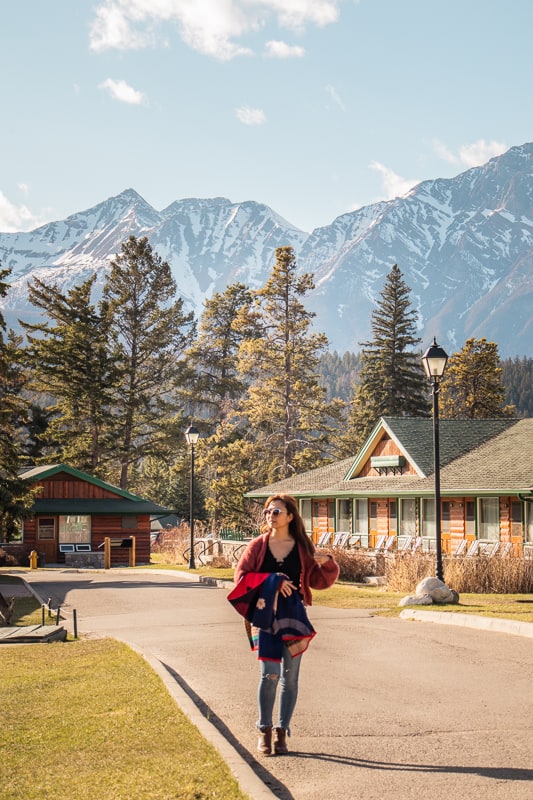 All the rooms on the property are cabin-style with their own patio and lounge chairs. Many of the cabins recently underwent renovation and feature fresh, clean interior updates, but they still retain the rustic, alpine vibe you want. Recently, we stayed at one and appreciated the bright and modern bathroom with a walk-in shower. (It's time to say goodbye to these awkward tub showers!)
You can expect heating and cooling readily available in your room, flexible check-in options, responsive customer service (via text if you are an ALL member), and free WiFi and self-parking (no reservation needed!). The best part? You will often wake up to deer and elk quietly roaming around the property!
Not all cabins look directly out to the lakes and mountains, though. Only a few selected suites have unobstructed views of nature. If you want to splurge, book one overlooking the water. The views are stunning! Some even come with their own firepit.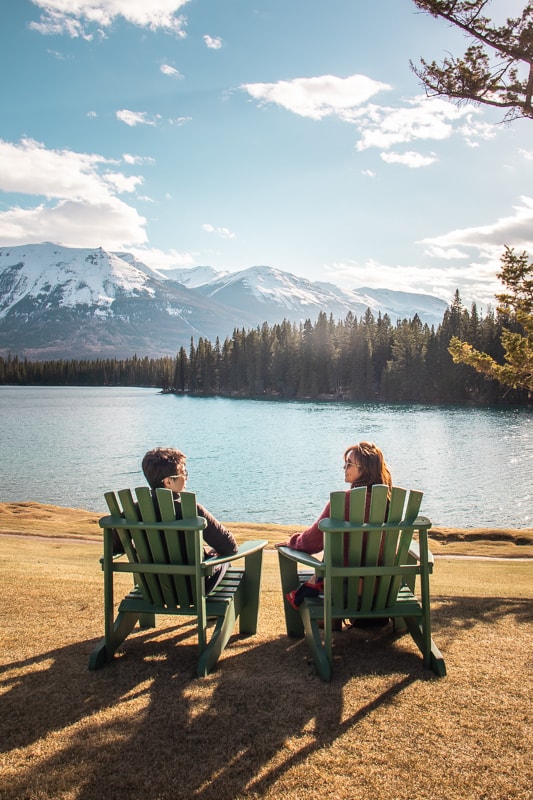 Onsite, there's an award-winning golf course, a stable, six restaurants, a swimming pool and a spa! A network of hiking trails surround the property. You can seriously spend your entire vacation in the resort and still get a mountain experience!
During the summer, you can go paddleboarding or kayaking on the lake, hike around the area, or even go horseback riding. In winter, the Marmot Basin ski area is just 30 km away.
The resort is not within walking distance to town, but it's just over a 5 minute drive. If you don't want to drive, there are shuttles or taxis that will take you there very easily.
Pyramid Lake Resort
Just 10 mins away from the townsite, Pyramid Lake Resort is another property worth considering. All rooms are chalet-style, each boasting a fireplace and mountain views. It is also the only accommodation in Jasper National Park with exclusive access to Pyramid Lake – a perfect place to unwind and soak in nature's beauty.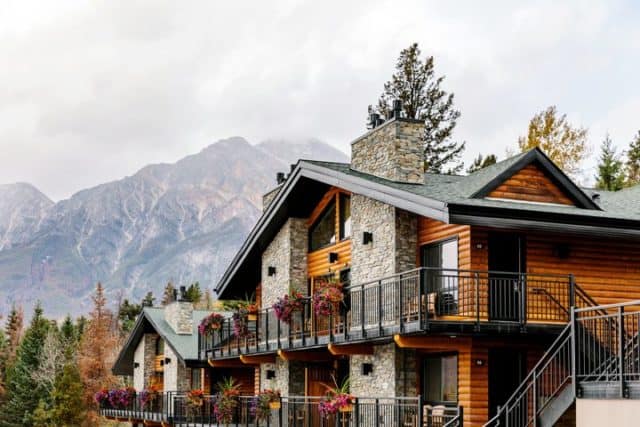 Aside from the seclusion and peacefulness of this place, the resort also underwent a recent renovation, giving all the rooms a fresh, clean look. A mini-fridge, coffee maker and other basic amenities are included in each room. Complimentary WiFi and free parking are provided to hotel guests.
Best of all, the property has an outdoor hot tub and a dry sauna to ease away any stress you may have!
Here, you can go canoeing, fishing and hiking just by stepping out your front door. The iconic Pyramid Island is only a short walk away – a perfect place for stargazing and northern light viewing.
If all that doesn't make it the best resort in Jasper, then we don't know what would!
Tekarra Lodge
Tekarra Lodge is the closest to downtown Jasper (only a 15-min walk), but it still provides a peaceful and wilderness feel.
Two room types are offered by the property – lodge rooms and cabins. The cabins are unique in that they come equipped with a wood-burning fireplace and either a kitchenette or full kitchen to make your stay as cozy as possible. As a guest, you have access to a private bathroom with either a shower or a full bath, as well as free Wi-Fi.
Outdoor adventurers will be delighted to find some of the most popular hiking trails in Jasper easily accessible from the lodge. The lodge also offers bike rental on site so you can explore the area. Additionally, they hold activities including live music, outdoor fires with s'mores, morning yoga, and interactive talks about the area.
Practical information for your road trip to Jasper
How to get to Jasper National Park?
The closest major city and airport to Jasper is Edmonton. The drive from Edmonton to Jasper is about 365 km and takes approximately 4 hours without stopping.

Another common way to visit Jasper is from Banff National Park via the Icefields Parkway. Named as one of National Geographic's fifty drives of a lifetime, the drive stretches 288 km and takes approximately 4 hours to complete. You will want to plan for more than four hours for this drive, though. It is very likely you will want to stop on the route to admire the stunning scenery.

Arriving at Jasper via car will require you to purchase a park pass either in advance or at the park gates.

If you'd rather not drive, you can opt for shuttles or rails:
– SunDog Tours operates a shuttle between Jasper and Edmonton, as well as Jasper and Calgary.
– Pursuit offers travel from Calgary to Banff, Lake Louise and Jasper on a deluxe motor coach.
– Via Rail has trains running between Edmonton and Jasper.
How to get around Jasper National Park?
The best and easiest way to get around Jasper National Park is by car. Otherwise, you can take advantage of taxis that service the area (ask the hotel to call for you) or opt for a guided tour.
What is the cheapest car rental in the Canadian Rockies?
Rental car companies like Budget, Avis, National, and Hertz all have offices in Jasper. The average price to hire a car is around CAD$52/day.

Save up to 70% on your car rental here!
When is the best time to visit Jasper?
The best time to visit Jasper is during the summer when weather is mild enough to enjoy the outdoors. The temperatures typically range between 6 and 22℃.
When is the low season in Jasper?
You'll find cheaper accommodations in Jasper in the months of November and March.
What to expect when I stay in Jasper?
While lodging in Jasper, it is common to spot abundant wildlife. The mountains are their home and we need to be respectful of their space which means keeping your distance when you encounter animals. The general rule is stay at least 30 metres away for elk and deer and 100 metres away for bears, wolves, cougars and coyotes.

Most important of all, do not feed or disturb any wildlife.

Apart from that, daytime and nighttime temperatures can be drastically different. Always pack a long-sleeved jacket and pants, even during the summertime!
What's the cheapest day to stay in Jasper?
Hotel room prices vary depending on many factors, but you'll most likely find the best hotel deals in Jasper if you stay on a Tuesday.
How long should I stay in Jasper?
We recommend booking your accommodation in Jasper for 2 days minimum.
Where is Maligne Lake located?
Maligne Lake is one of the most popular landmarks in Jasper. The majestic glacier-fed lake is famed for its azure-blue water surrounded by mountain peaks and the tiny tree-topped Spirit Island, which is the subject of countless postcards.

To visit Maligne Lake, you will need to get onto Maligne Lake Drive, located approximately 5 km east of Jasper townsite on Highway 16. From there, it is a winding 45-minute drive.
What are the top things to do in Jasper and popular hot spots?
Hiking is a big draw for many visiting Jasper. Not a hiker? Don't worry. There are plenty of easy hikes in Jasper with minimal elevation gain for beginners to enjoy the great outdoors in a relaxing way.

Visiting the Columbia Icefield, viewing wildlife, exploring Maligne Canyon and stargazing at Pyramid Lake are other popular outdoor activities to keep you busy on your visit to Jasper National Park.