This site uses affiliate links and we may earn a small commission when you use our links and make a purchase without incurring additional fee yourself. Many thanks for supporting this website. Please see our disclosure page for more details.
We all know that the Canadian Rockies offer a truly magical destination in summer. That's why so many people from around the world flock to Banff and Jasper National Parks to soak up the breathtaking landscapes and see majestic wildlife. Then they return home and don't think about the Canadian Rockies again until the following summer.
Does that sound familiar?
If you haven't visited Banff and Jasper in the winter, you're really missing out. Visiting Johnston Canyon in winter was an amazing experience we cannot recommend highly enough. It is truly mind-blowing to see the mountains you hiked in the summer transformed into a magical winter wonderland – with frozen waterfalls, icy blue gorges, and snow falling all around you!
Of all the Jasper winter hikes, Magline Canyon is one of the most stunning and unique trails of the season. It is also a featured attraction on the Rocky Mountaineer! In this post, we're sharing everything you need to know about the Maligne Canyon ice walk, including why it is one of the best Jasper winter activities and our top 8 tips to make your Magline Canyon winter hike a memorable one!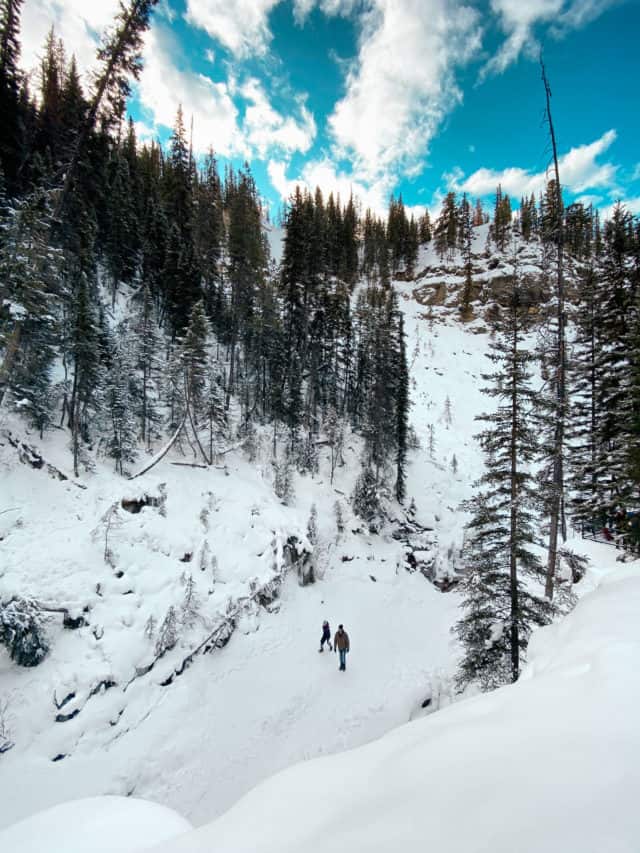 How To Get To Maligne Canyon?
It is easy to get to the Maligne Canyon trailhead.
Here are the Maligne Canyon directions from the Jasper townsite:
⇢ Follow Highway 16 east for 3 km
⇢ Take the turnoff for Maligne Lake Road to the right
⇢ Go across the iron bridge across the Athabasca River
⇢ Stay left at the fork on the road and follow the sign for Maligne Canyon
The drive is only 10 minutes from the townsite. The same road will also lead you to the famous Jasper attractions – Maligne Lake and Spirit Island.
No worries if you don't have a car. Most tours will take care of transportation to/from your hotel in Jasper so you don't need to fuss about finding the correct Maligne Canyon location.
Once you've arrived at the parking lot, you will see Maligne Canyon Wilderness Kitchen right beside the canyon trailhead. The Maligne Canyon restaurant offers the chance to grab warm drinks and food before and after your hike!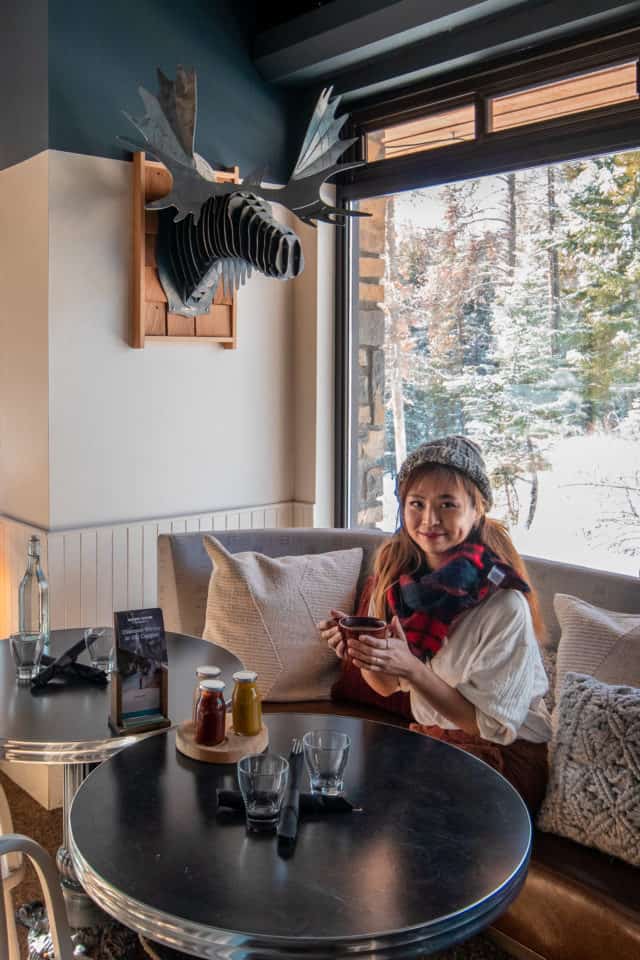 Don't have time to read? Save THIS PIN on your Canada Travel board on Pinterest so you can refer back when you plan to visit Jasper!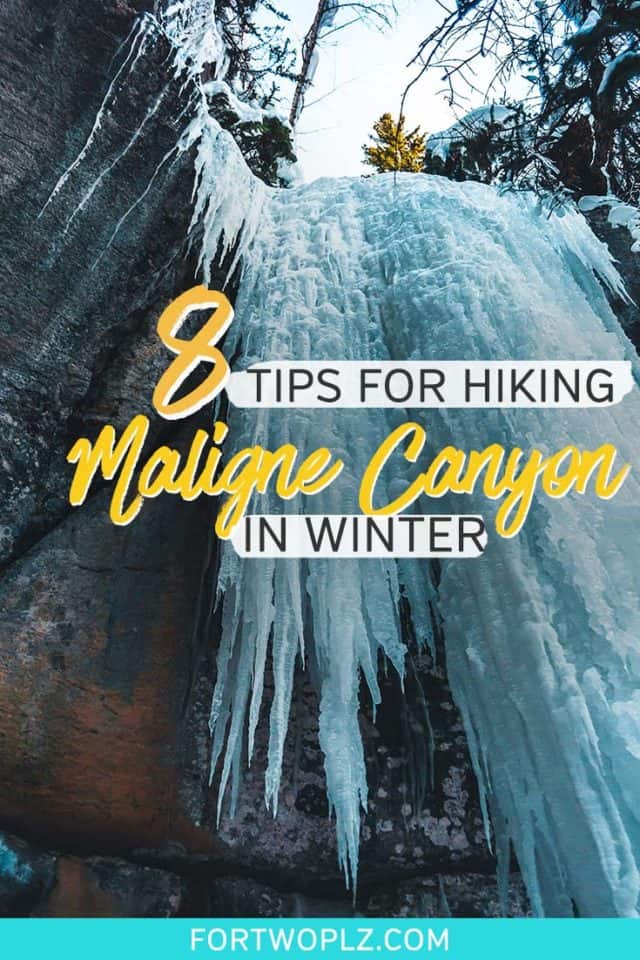 Everything You Need To Know About Maligne Canyon Ice Walk
TIP #1| Allow 3-4 Hours To See Everything
The best part about visiting Maligne Canyon in winter is that you get to go off-trail and walk on the canyon floor — something that simply isn't possible during the summer.

The loop trail (4.4 km) takes you along the Maligne River and into the narrow Maligne Canyon, the deepest gorge in the Canadian Rockies. Depending on your physical level, it can take 2.5 to 3 hrs just to complete the loop.

But to really get up close to the frozen waterfalls, ice caves, and fascinating natural ice sculptures, you need to get down to the frozen canyon floor. Taking into account the time spent navigating and photo-taking, we suggest planning 45 mins to 1 hr for the off-trail exploration.

[irp posts="11358″ name="Canada Winter Vacation: What To Do In Jasper National Park When You Only Have 48 Hours"]
TIP #2| Elevate Your Experience With A Guided Tour
The Maligne Canyon ice walk is a signature winter experience in Jasper National Park. All your five senses will be stimulated to take in the beauty, power, and vastness of our environment.
Maligne Canyon ice walk can be easily be done as a self-guided excursion, but with a guide, you will enjoy the extra benefits of learning about geology and history of the area, not to mention the locations to the picture-perfect lookout points and the secret entrance to the underground cave system!!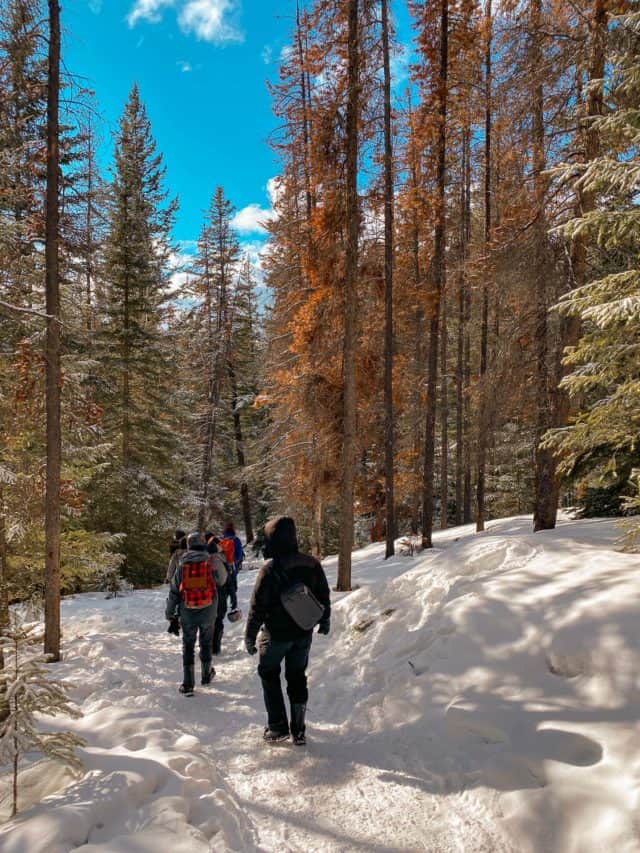 Who runs Maligne Canyon ice walk tours?
Several tour companies host Maligne Canyon Icewalk tours. Pursuit is the reputable operator we recommend.
Their Maligne Canyon Icewalks run 3 times a day – at 9 am, 1 pm, and 6 pm – giving you the flexibility to choose whatever fits your Jasper itinerary. Transportation and gears are provided with your package. In addition, it includes a tasty meal at the Maligne Canyon Wilderness Kitchen.
Most importantly, Pursuit's tours are led by Parks Canada-certified guides so you know you're with the true professional!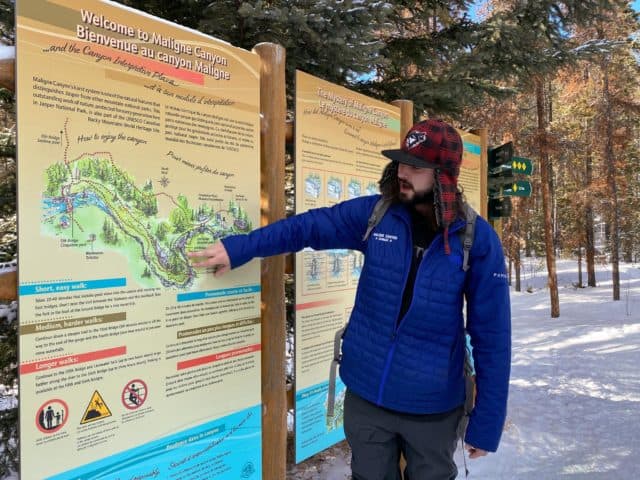 What to expect on the Magline Canyon tour?
After getting equipped with helmets, boots and cleats, the guide will give you a brief breakdown of the schedule. Then off you go into the canyon!
The trail loops around the canyon on both sides with a series of six bridges across the gorge. If you depart from the Wilderness Kitchen, the path begins with a gradual descent.
You will first be welcomed with spectacular canyon views near the first and second bridges. In the summertime, you can watch the Maligne Canyon falls take a roaring 50-m drop into a dizzyingly deep, narrow gorge. In the winter, it is much quieter. A curtain of ice replaces the gushing water sitting over the towering limestone. It is simply breathtaking!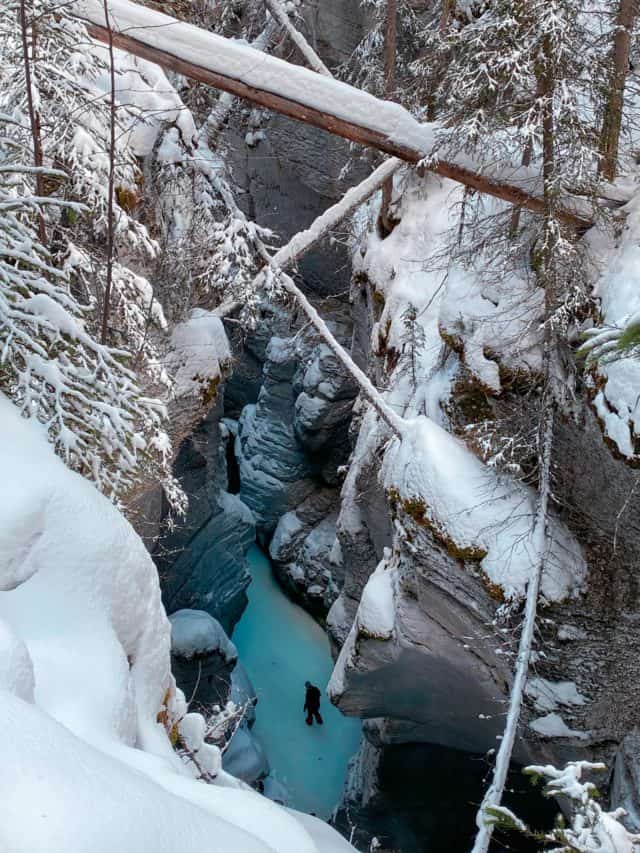 Venturing further will take you to the third and fourth bridges where the gorge widens and make for the perfect photo opportunity. Be sure to look around for gigantic frozen waterfalls and stunning ice formations!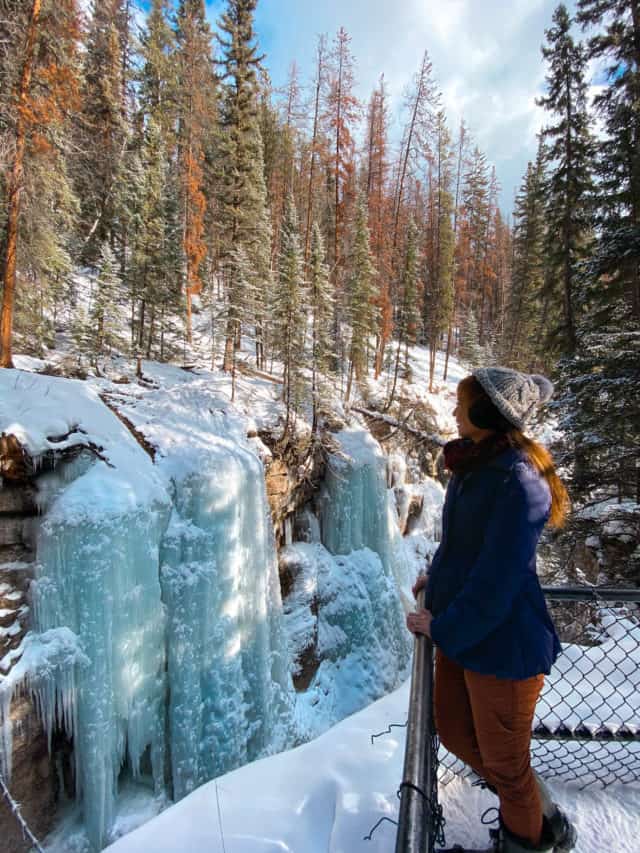 The ice walk begins somewhere between the fourth and fifth bridges. The guide will lead you safely down to the canyon floor and through a maze of glittering ice formations that rises 30 meters above your head. Looking up, you will realize just how small we are in comparison to nature.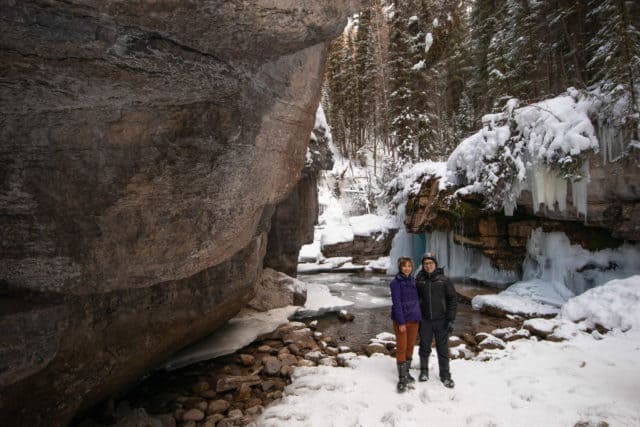 Don't forget to keep your eyes open for ancient fossils, waterfalls-turned-ice sculptures, and Maligne canyon cave system. Ice climbing is also popular in Maligne Canyon so you might see ice climbers in action!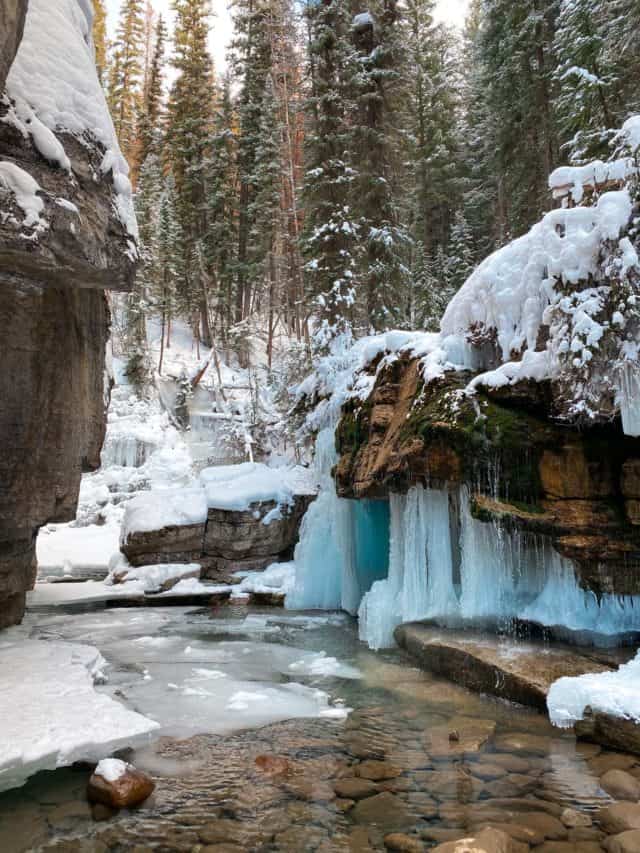 There is so much to explore inside the canyon. You might need to sit and slide at some point (so fun!) and even come across a waterfall that never freezes no matter how cold it is!!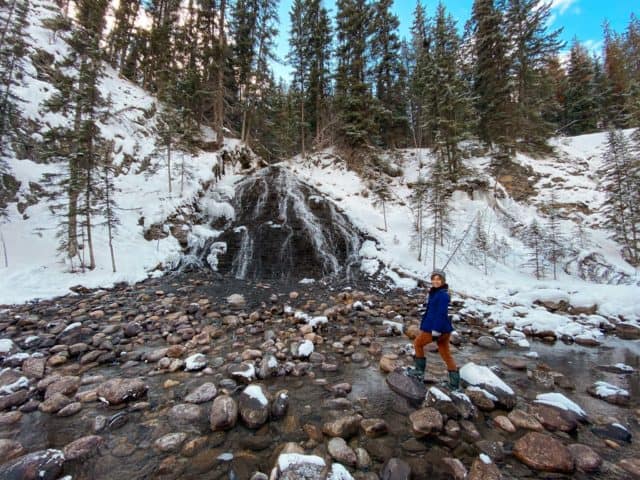 Most tours loop back after crossing the fifth bridge. Those who are exploring on your own and looking for an extended hike, you can continue all the way to the sixth Bridge for more spectacular sights.

TIP #3| If The Sky Is Clear, Go On A Night Tour
Did you know that Jasper National Park is the world's largest dark sky preserve (with 11,000 sq km)? It has quickly become one of the best places to stargaze.

It is worth trying to book the Jasper ice walk at night if the forecast is clear. Imagine exploring the canyon by moonlight under a canopy of sparkling stars, what a stellar experience would that be! Who knows, you might even see the northern lights!

Note: Parks Canada advises not to go on your own at night. It is best to book a guided tour. Pursuit's evening tour departs at 6 pm. Headlamps (along with other gears) will be provided.

[irp posts="6248″ name="Elevate Your Rocky Mountain Experience at Banff Gondola Summit"]
TIP #4| Dress Warm, Bundle Up
Taking to the trails in the winter can be a fantastic experience, but don't let inappropriate attire ruin it.
Consider these options to make your Jasper sightseeing adventure as enjoyable (and comfortable) as possible:
⇢ Lightweight fleece or wool beanie
⇢ Waterproof shell mitts or gloves, with insulated liners
⇢ Earmuffs or ear warmers
⇢ A scarf or full-face balaclava
⇢ Wool socks
⇢ Insulated and waterproof hiking boots
⇢ An insulated winter jacket (more on this in the next section)
⇢ Wind- and water-resistant pants (more on this in the next section)
Don't have time to finish reading? Save THIS PIN on your Winter Travel board on Pinterest so you can come back later for ideas on the best hikes in Jasper!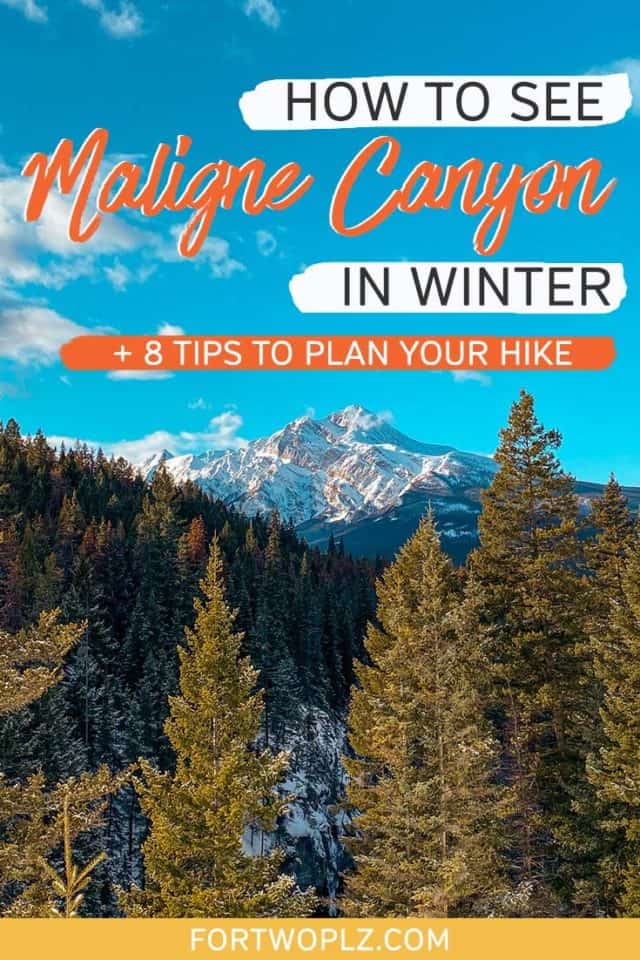 TIP #5| Wear Plenty of Layers
To stay warm on any of the Jasper hikes, you'll want to dress in layers like an onion. This system makes it easy to trap body heat and create insulation, and when it gets too warm, you can remove the clothings layer by layer (instead of everything altogether).

When it comes to layering, follow these basic principles:

⇢ Base Layer: lightweight, sweat-wicking, snug-fitting clothing like long underwear and a long-sleeved top

⇢ Mid layer: low-profile insulated pieces like a fleece/down jacket and synthetic pants

⇢ Outer Layer: a protective shell that keeps you out of wind and rain. A waterproof but breathable jacket will do, paired with rain (or snow) pants.

[irp posts="6679″ name="One-Day Winter Excursion to Banff for Photographers"]
TIP #6| Safety Comes First
The trail can be extremely slippery so it's essential to have proper footwear. Having an insulated pair of boots will help ensure that your feet stay warm and dry while you're hiking.

A good set of cleats (or crampons or microspikes, whatever you'd like to call them) are also essential. They provide traction while hiking or walking on ice and snow so you don't slip as easily.

Helmets are strongly recommended to protect you from falling ice and rocks if you're planning to go off-trail.

Note: If you join a tour, cleats and helmets are provided by the tour operator.

Before your hike, it is a good idea to check the Parks Canada website for trail conditions in the Maligne Valley.

[irp posts="9613″ name="A Non-Skier's Guide To Banff In Winter"]
TIP #7| Hydrate, Hydrate, Hydrate
Water is crucial when hiking in any type of weather or season, and winter is no different. Be sure to pack plenty of water and healthy snacks, such as granola bars and dried fruit to help you recharge along the way.
Down at the canyon, you'll have the chance to refill your water bottle with fresh, ice-cold water from the frozen waterfalls!
TIP #8| Fuel Up Apres Hike At Maligne Canyon Wilderness Kitchen
Continue your Jasper adventure at Maligne Canyon Wilderness Kitchen. The new eatery offers outdoor adventurers like you and me a perfect place to unwind and fuel up after your exploration in the Maligne Valley.
No matter what time of the day, the restaurant serves up mouthwatering smoked food like pulled pork, wild boar, slow-cooked brisket, and hickory-smoked chicken, all are locally sourced from the region. Live entertainment is offered every Saturday evening in the winter and daily in the summer.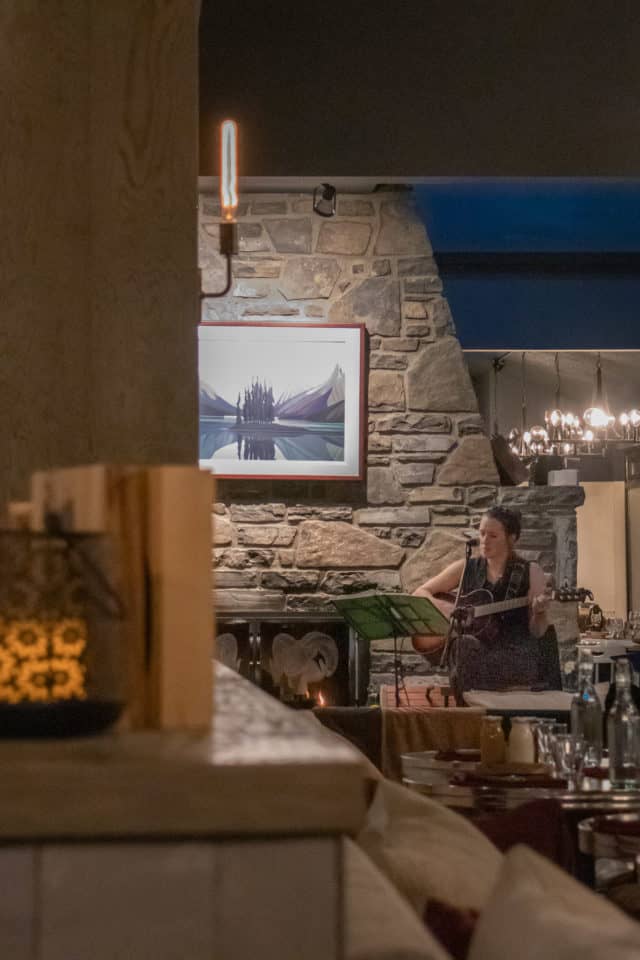 Not sure what to order? Go with the Wilderness Platter ($39) so you can get a sample of everything (baby back ribs, chicken, brisket, and venison sausage, PLUS numerous sides including mac & cheese, parsley fries, and baked beans! Try with their housemade sauces, you won't be disappointed!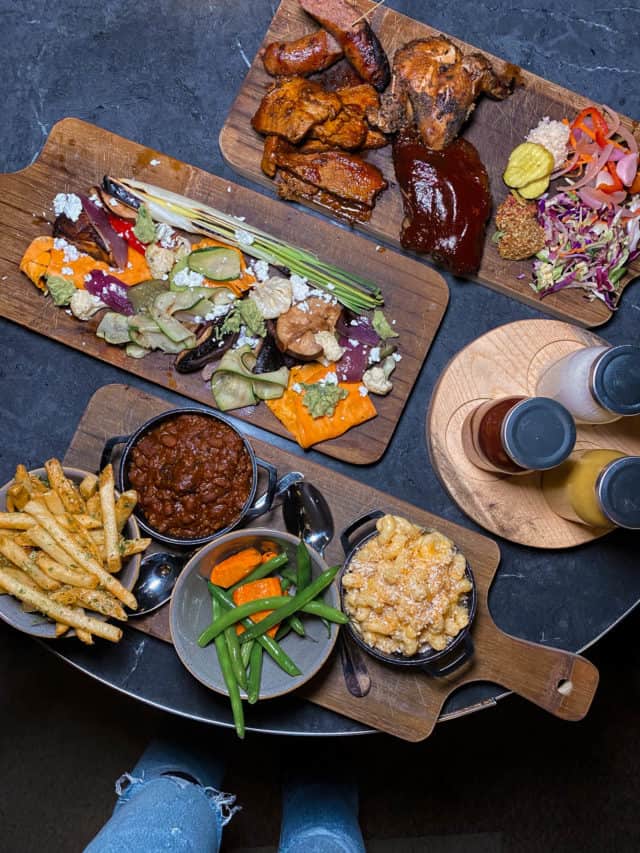 For those looking to get a true Canadian experience, check out their local-inspired drink menu. Celebrate your true north spirit with a glass of Canadian Kiss ($10) or Maple Old Fashioned ($12). It is a real treat to the tastebuds! For something on the sweeter side, we recommend an order of roasted almond ($10) to cap off the night!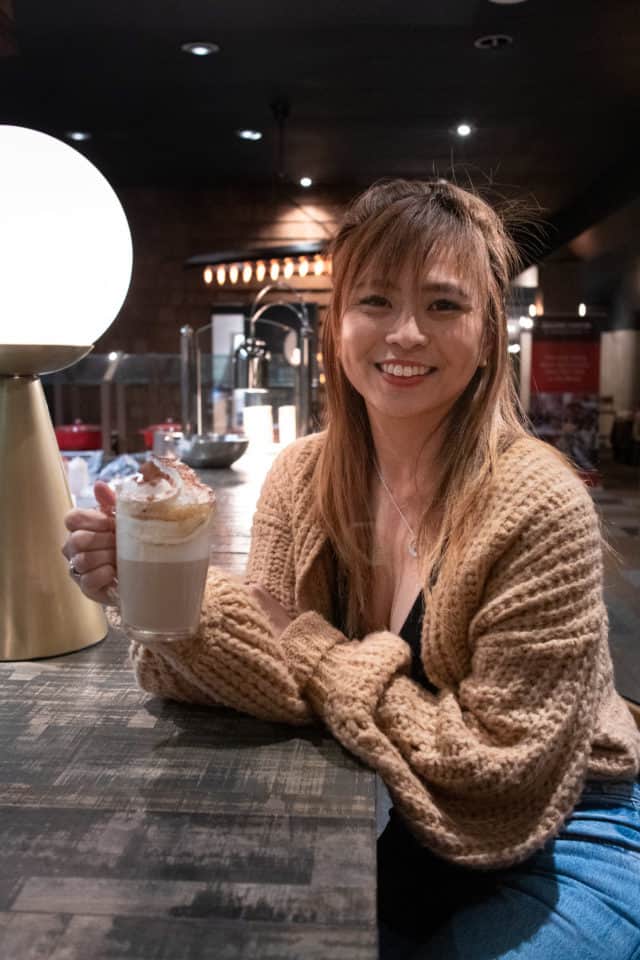 [irp posts="9876″ name="Banff Food Guide: Discovering The Best Places To Eat And Drink In Banff"]
---
We were truly astonished at the vastness and beauty of nature experienced on our Maligne Canyon icewalk. It is very different from the Johnston Canyon icewalk in Banff National Park because you actually get to explore deep into the canyon off the trail! Definitely one of the top things to do in Jasper in winter!
Enjoy this post? Save THIS PIN on your Winter Travel board on Pinterest so you can come back later for ideas on top things to do in Jasper!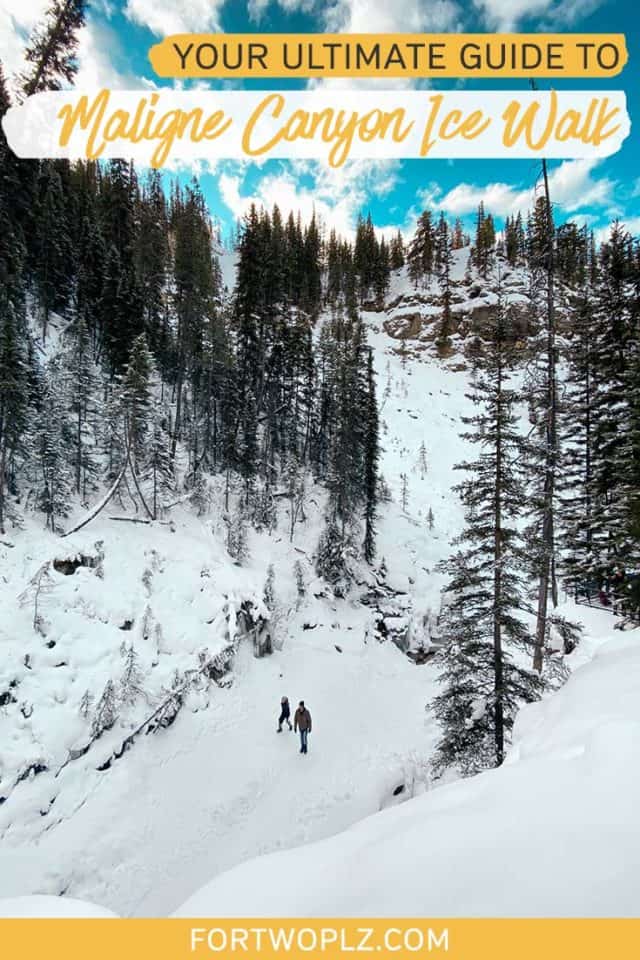 Disclaimer: We were hosted by Pursuit. As always, all opinions on For Two, Please are our own and we only recommend brands that we 100% stand behind.