This site uses affiliate links and we may earn a small commission when you use our links and make a purchase without incurring additional fee yourself. Many thanks for supporting this website. Please see our disclosure page for more details.
Valentine's Day is approaching and that means it's time for a vacation with bae! If you plan on visiting Canada's Festival City, we have amazing recommendations on romantic things to do in Edmonton, Alberta for lovers who also love food!
From markets to cooking classes, there is no shortage of fun things to do in Edmonton on a date. Without further ado, here are our top 10 best date ideas in Edmonton, showing you how to visit Edmonton as a foodie couple!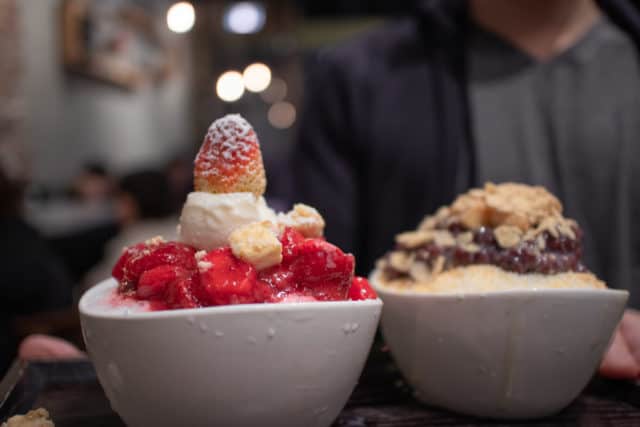 Don't have time to read? Save THIS PIN on your Canada Travel board on Pinterest so you can refer back for romantic date ideas in Edmonton!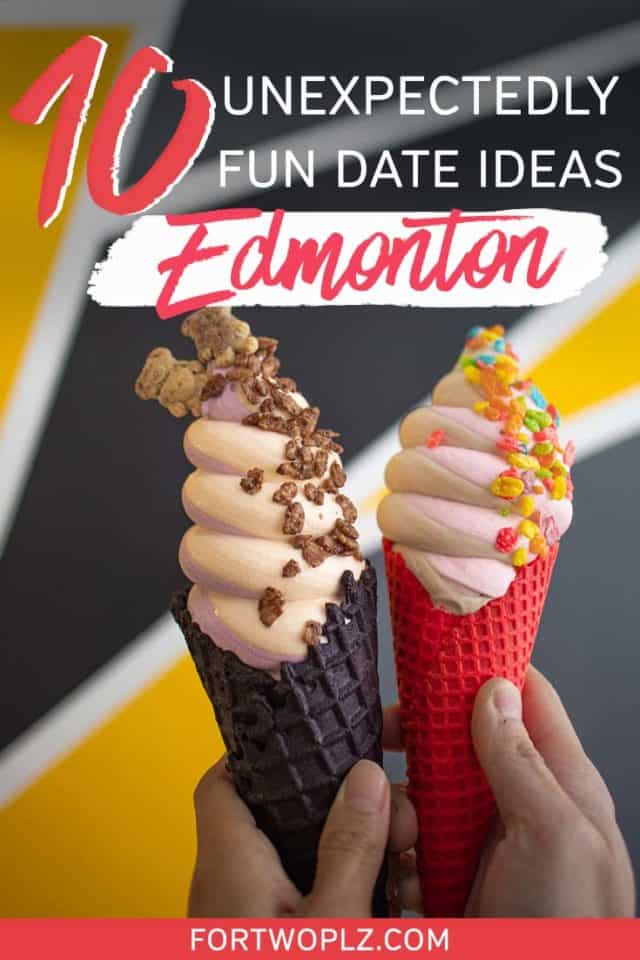 1| Grab A Drink At A Speakeasy
Coffee? Boring! Consider cocktails in a speakeasy hideaway instead.
Set in a secret venue, speakeasies exudes an air of exclusivity and intimacy to ensure a romantic evening in Edmonton. Below are the two romantic spots in Edmonton that must be on your radar:
⇢ Alchemy, hidden behind a bookcase inside the JW Marriott hotel, is the newest addition to the bar scene in Edmonton. The high-end cocktail bar shows off Prohibition-era cocktails as well as modern creations in vintage glassware. Some even come with a unique presentation, for example, the Little Black Book.
The hidden bar only operates Thursdays through Saturdays. But this place is becoming increasingly popular so it might open for business on weekdays in the future.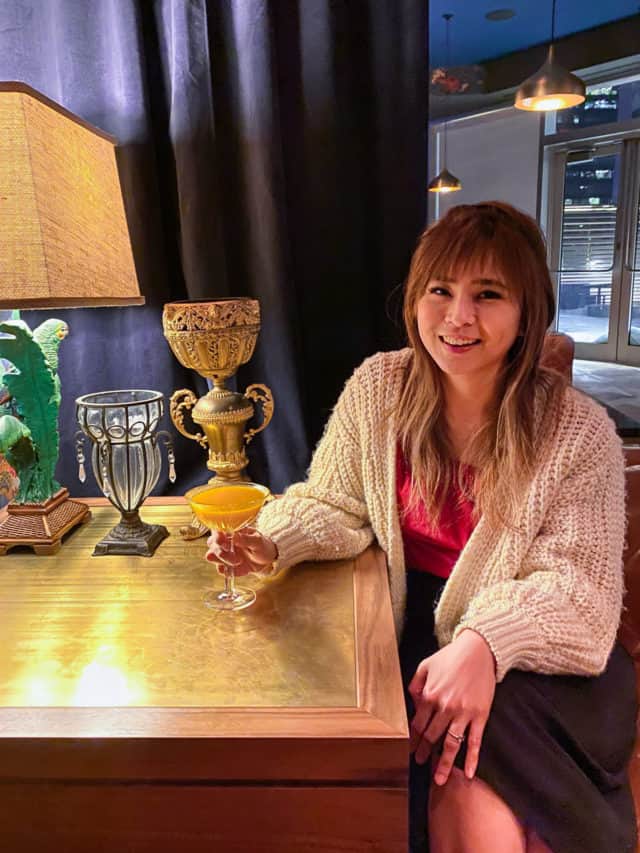 ⇢ Little Hong Kong is without question the place to go in Edmonton at night for those eager to broaden their drinking palette. Tucked behind Baijiu, the 16-seat hideaway takes you back to Victorian-era Hong Kong and offers a crave-worthy selection of Asian-inspired cocktails. Opens on Fridays & Saturdays only.

Both bars are located in the ICE District. No matter which one you choose, you're all set for the best date night in Edmonton!

[irp posts="6035″ name="Top 5 Things To Do in Edmonton"]
2| Hit Up The Farmers' Market
Farmers' markets? Romantic? We know what you're wondering. Hear us out.
People often associate farmers' markets with family outings and grocery shopping. But with careful planning (and a bit of creativity), you can transform a trip to a farmers' market into a romantic date in Edmonton.
We see farmers' market as a playground for foodies with a curious spirit. It is a place where you can sample trendy artisanal foods, be adventurous and try exotic flavors, and learn new things about your partner.
The trick is to pick a farmers' market that has a community of unique vendors and offer a broad diversity.
Old Strathcona Farmers' Market is one of the perfect places to visit in Edmonton that satisfies these criteria. This indoor market has a varied group of more than 130 vendors every Saturday, selling locally made products.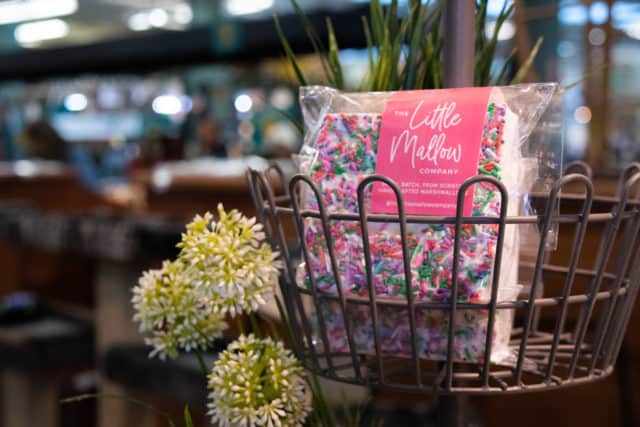 We had such an awesome time on our last trip sampling hot sauces at varying levels of heat, choosing our favourite flavored marshmallow, and discovering "duck bacon" for the very first time! How fun.
Next time you ever wonder what to do in Edmonton or are in need of Edmonton (winter) date ideas, look no further than Old Strathcona Farmers' Market.
3| Indulge In Slurp-Worthy Soup & Noodles
In case you didn't know this already, Edmonton has quite an impressive Asian food scene. (Kev's mom is Vietnamese and she loves the pho in Edmonton more so than in Calgary). We also love Filipino food there.
Naturally, trying Asian noodles (of any sort) is one of the best things to do in Edmonton for couples. Here are two noodle shops to impress your date:
⇢ Tokiwa Ramen: A beloved Japenese ramen shop to the locals (who line up early for those bowls). Their ramen comes in two types of soup base: 10-hour pork (tonkotsu) and 6-hour chicken broth. Each broth has a few different flavours for selection, including light and zesty yuzu, rich and spicy, and garlicky. Note that Tokiwa does not take reservations and close when they are sold out. Only cash and debit are accepted.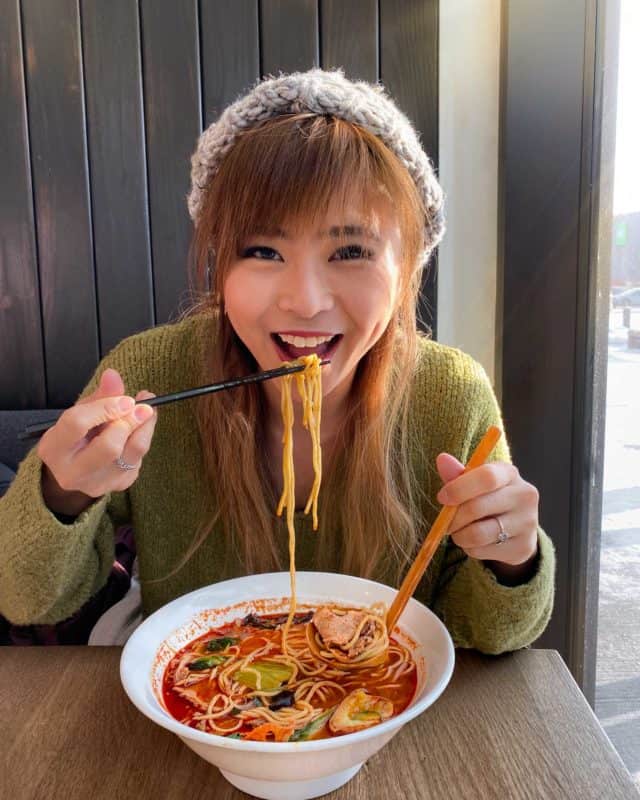 ⇢ Pho Tau Bay: This is THE place for a good bowl of classic Vietnamese noodles. They are known for making the best pho, which combines rich, flavorful broth, rice noodles and thin slices of medium-rare beef. Fast service, big portions, and reasonably priced. Make sure to bring cash.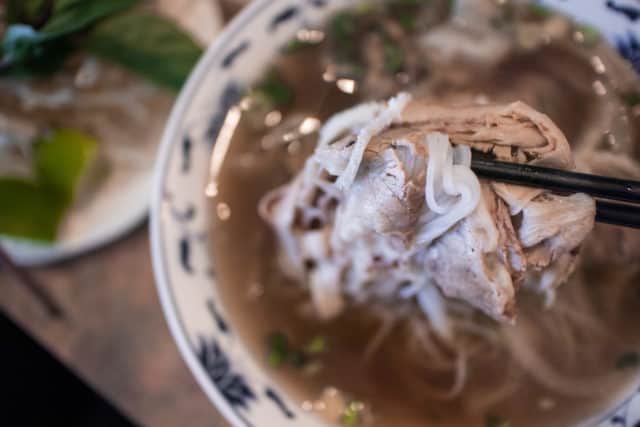 Hunting down the best noodles is one of the most delicious things for couples to do in Edmonton. It is also a great way to survive the crazy cold Edmonton winter!

[irp posts="8462″ name="How To See The Best Of Calgary In 2 Days"]
4| Try Ice Cream With A Twist
When you are after fun Edmonton date ideas, ice cream is a classic option.
You will surely come across many fun places in Edmonton for locally made ice cream but let's take it up a notch and introduce you to the Filipino ice cream parlour, Yelo'd.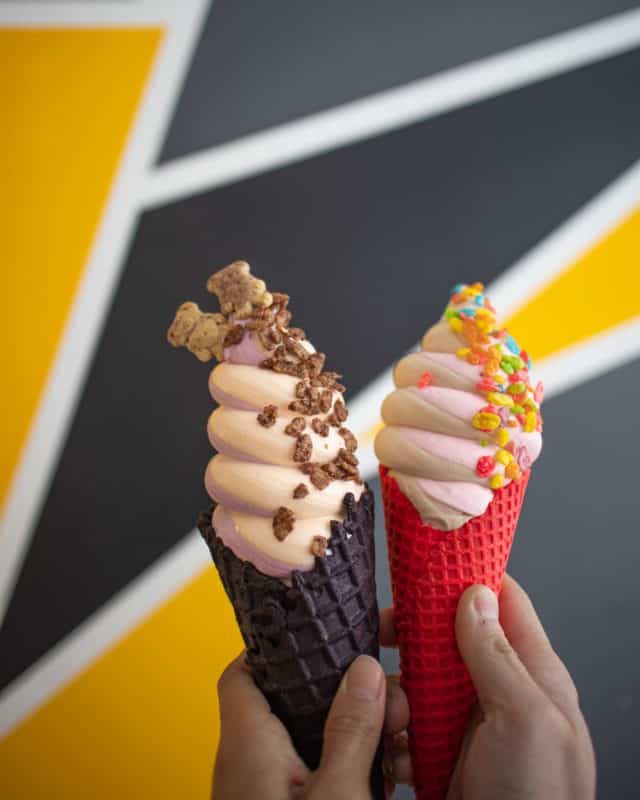 From ube (purple yam) to keso (cheese), coconut to pandan, Yelo'd serves a wild variety of Filipino and Asian inspired flavours in their soft serve ice creams. They occasionally release unique seasonal flavours to excite your tastebuds.
In the mood to try something more exciting? Consider champorado that mixes ice cream with choco rice pudding and condensed milk!
Oh, before you leave, don't forget to grab a piece of cookie. We always bring back a dozen of matcha, ube, and confetti banana cookies whenever we visit! Seriously, it is one of the best places to visit in Edmonton to satisfy your sweet tooth.
5| Share A Bowl Of Bing Su
If ice cream is too heavy for you, try bing su (or bing soo, Korean shaved ice) instead!
This popular Korean dessert has a much smoother texture, compared to regular shaved ice. Think fine snow that literally just melts in your mouth. Toppings typically include sweetened red bean paste, condensed milk, roasted grain powder, and small bite-sized mochi. Of course, you can sometimes find stores go one step further and provide other tasty ingredients like oreo, fresh fruits, and match powder.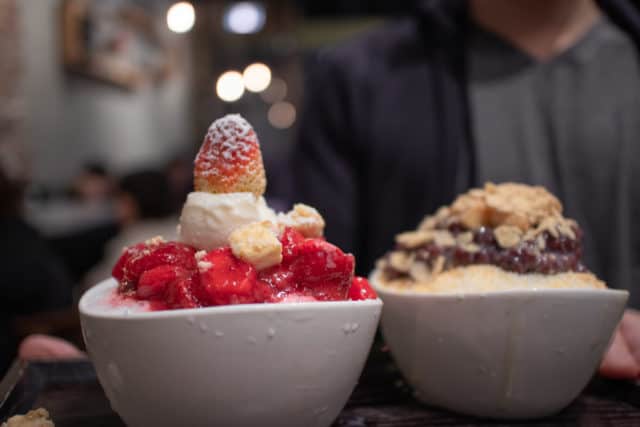 Where to get the best bingsu in Edmonton? Our favourite is Let Eat Snow, the Korean dessert cafe in Southern Edmonton. Their Kong Bing (red bean) and Snow Bing (strawberry) are irresistible.
Don't have time to finish reading? Save THIS PIN on your Foodie Travel board on Pinterest so you can come back later for things to do in Edmonton for couples!
6| Get Your Apron Dirty With Green Onion Cake Making
When it is too snowy, wet, or cold to go outside, fear not! There are plenty of unique indoor activities in Edmonton to keep things fun and exciting.
Why not sign up for date night cooking classes in Edmonton and get your apron dirty?
The green onion cake making lesson taught by chef To is an incredibly fun bonding activity for couples. The 2-hour hands-on session also dives deep into the city's evolving food culture and how he brought the dish to Edmonton. Chef To is such a joy to be around and there's no doubt you'll have an amazing time learning to make this staple food of Edmonton.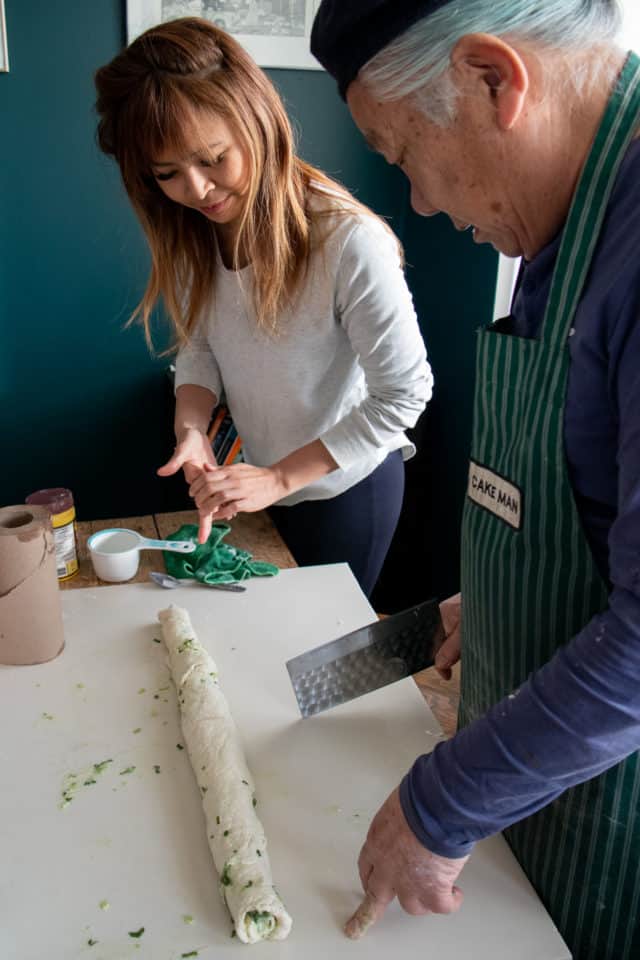 [irp posts="8661″ name="Love In Saskatoon: 7 Date Ideas That'll Guarantee A Good Time"]
7| Learn To Make French Pastries
Duchess Bake Shop is the place to go in Edmonton to treat your Valentine to something just as sweet as them. But if you'd like to turn this into a fun date, the French bakery also runs hands-on baking classes.
From macarons, pies, tarts to holiday desserts, there's a wide variety of topics to expand your recipe collection. The stations are set up in teams of two so you'll have a chance to hone your baking skills and build a stronger bond with your partner!
For foodies who love to cook, this is certainly one of the top things to do in Edmonton. A new batch of classes is released every two to three months, but they sold out fast so we recommend planning ahead!
8| Knock Yourselves Out With Creative Cuisine
Looking to treat your loved one to a delicious and romantic dinner? There are a few restaurants that make for a great couples' night out in Edmonton:
⇢ Baijiu: The Asian fusion eatery in downtown Edmonton serves Asian-inspired tapas-style food. Their green onion buns (serve with red vinegar and sambal sauce) and red braised pork bao put a unique spin on classic Chinese dishes that will make you lick your plates. Don't forget to finish off the evening with fried bao ice cream sandwich – the crispy crunch and savory-sweet flavour combo are unlike anything we have tried before!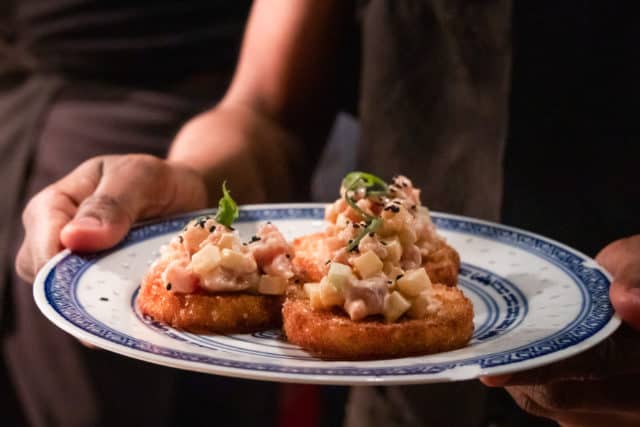 ⇢ Biera: With a restaurant and brewery under one roof, Biera dishes out contemporary European fare to pair with their freshly brewed beer. Each dish showcases the taste of Alberta by sourcing fresh ingredients from local farms. Ash roasted banana peppers and Berkshire pork hutsepot are surprisingly tasty and are the two that stood out in particular.
There go our top picks for date night restaurants in Edmonton that deliver both on both food and ambiance. Which would you choose?
9| Hit Things Up With Sinfully Decadent Chocolate
Take your YEG date night to a whole new level with a visit to a chocolate bar, Cacao 70.
The chocolate-centric franchise is a dream come true for chocolate maniacs. From fondue to waffle to pizza to brewed chocolate, there's nothing you can't find on the menu. Can you believe that there are 7 different types of chocolate fondue?! Craaazy.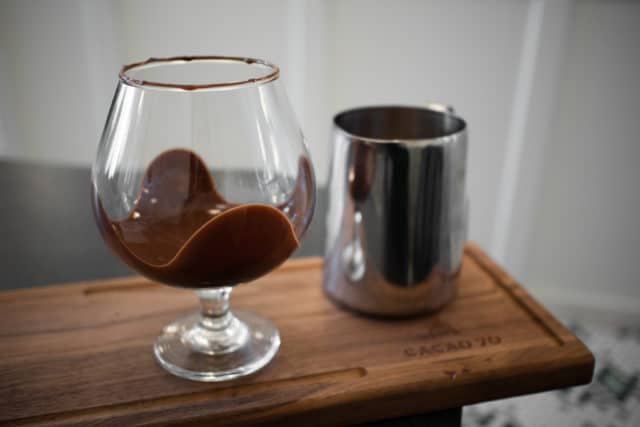 What we love most though is that there are sharing plates designed for two so you can try a variety of things on the menu. That makes things super easy for couples.

The two locations in Edmonton have completely different concepts: the one in Whyte Ave is an eatery (serving both food and dessert) and the other in ICE District is a sweet house (dessert-centric). Either one you end up going, you are definitely in for a treat!

[irp posts="7658″ name="Planning A Canadian Rockies Road Trip: What To Do In Jasper In Fall"]
10| Take Part In A Food-Themed Festival
Edmonton is nicknamed the City of Festival with over 50 festivals annually!! It is almost guaranteed that there are some exciting things going on in Edmonton on your visit.
In terms of food and drinks festivals, here are a few worth noting:
⇢ Winefest Edmonton (mid-February): all-inclusive wine sampling event where you can enjoy red, white, rose, port, sparkling and dessert wines from around the world.
⇢ Downtown Dining Week (March): a 10-day celebration of the city's finest eateries, featuring multi-course meals at a fixed price.
⇢ Edmonton International Beerfest (March): a weekend with over 200 beers available for tasting.
⇢ Edmonton Ribfest (July): features award-winning ribbers from all over North America who make mouthwatering slow-cooked ribs, chicken, and pulled pork over 3 days.
⇢ Taste of Edmonton (July): Canada's largest food festival! 10 days of sampling 80 different cuisines from around the world.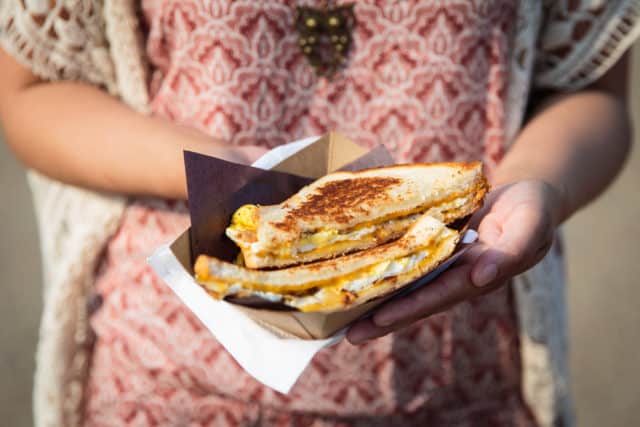 Fun activities in Edmonton are endless. Make sure to join in the fun and hit up a festival!

If you can't make it to a festival, you can still find great food at cafes and coffee shops all over Edmonto!
BONUS: Beyond Food
Reserve a stay at JW Marriott Edmonton ICE District
Young couples will love JW Marriott hotel. This contemporary, chic property is a new addition to Edmonton's hotel offerings, centrally located in the vibrant ICE district.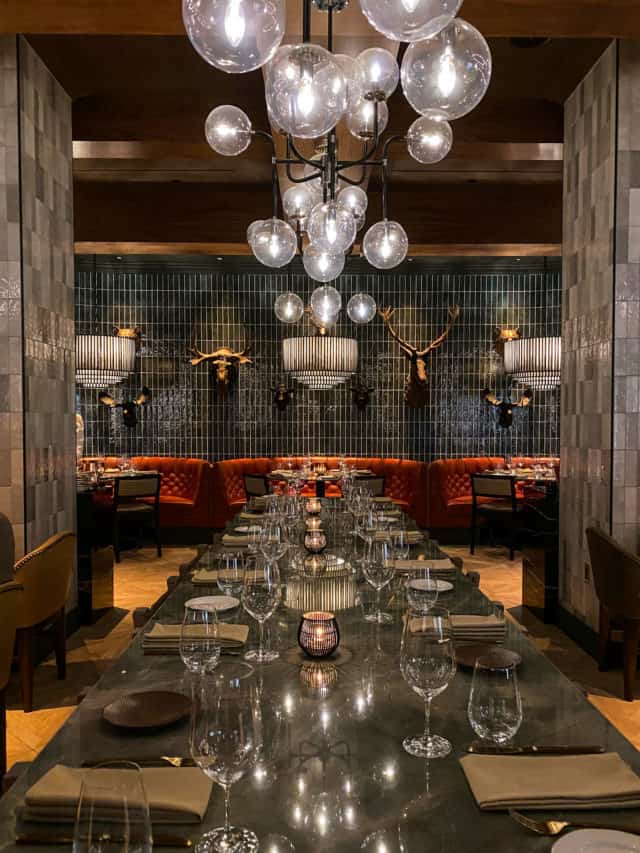 What we loved most about JW Marriott is its impressive amenities. As a guest, you get access to Archetype, their state-of-the-art fitness studio (the best one we've seen so far offered by a hotel). The hotel also has a great variety of options for your dining needs (from steakhouse to speakeasy). Not to mention, complimentary snacks and drinks are offered all day round at the Executive Lounge (for executive-level room guests and top-tiered members of Marriott Bonvoy).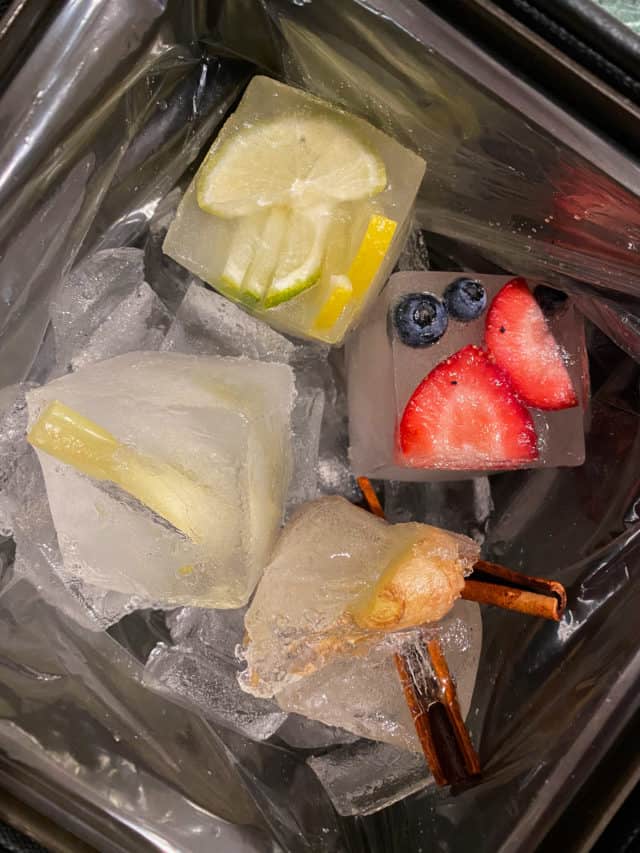 Unheard of and only here in Edmonton, you can order ice cubes off of their handcrafted ice menu. Select whatever goes with your drink, be it citrusy, fruity, or spicy cinnamon-y. How fancy!
---
Alright, that rounds up the top fun things to do in Edmonton for couples. Whether it's in the middle of winter or during the height of summer, Edmonton is a great destination for couples craving for a delicious eat-cation. Now, it is your turn – are you ready to book your trip to Edmonton?
Disclaimer: We are hosted by Explore Edmonton. As always, all opinions on For Two, Please are our own and we only recommend brands that we 100% stand behind.