This site uses affiliate links and we may earn a small commission when you use our links and make a purchase without incurring additional fee yourself. Many thanks for supporting this website. Please see our disclosure page for more details.
Edmonton, the capital city of Alberta, Canada, is the hometown of my hubby Kev, but ever since I moved to Calgary in Southern Alberta, we rarely visited there. "There's nothing much to see besides Whyte Avenue [where many restaurants, cafes, bars, and shops concentrate] and West Edmonton Mall [North America's largest mall]," Kev responded when I curiously questioned what the city is like. Maybe because he had lived in Edmonton for most of his life, he saw nothing particularly special about this place. I, on the other hand, believe that there is always something new to discover and thus was determined to uncover the coolest things see and do in the city. Here are 5 great ideas to have a little fun in Edmonton!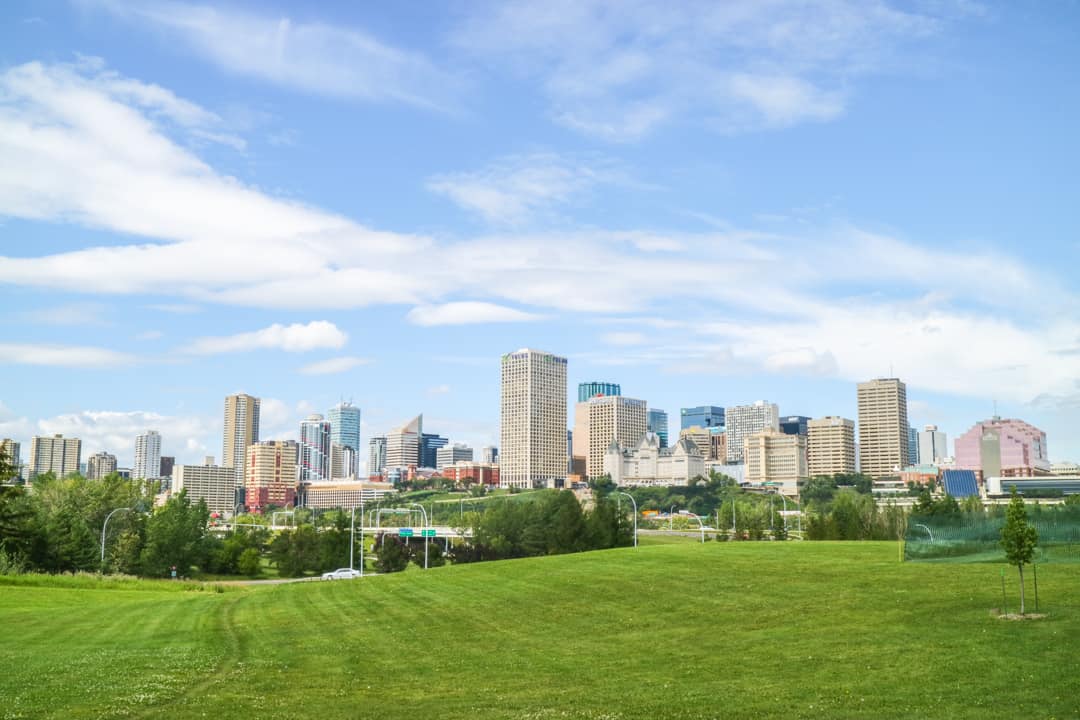 1| Enjoying Afternoon Tea at Duchess Bake Shop
Who would have thought that one of the world's best bakeries is hidden in Edmonton? At Duchess, you can satisfy your sweet tooth with classic French pastries. From macarons, croissants, éclairs, to butter tarts, everything is made daily in-house from scratch, without mixes, preservatives or shortcuts. Oh, look at all the desserts on display – nothing less than amazing and so beautifully presented! You will have a hard time choosing which one to devour first, but trust me, you can't go wrong.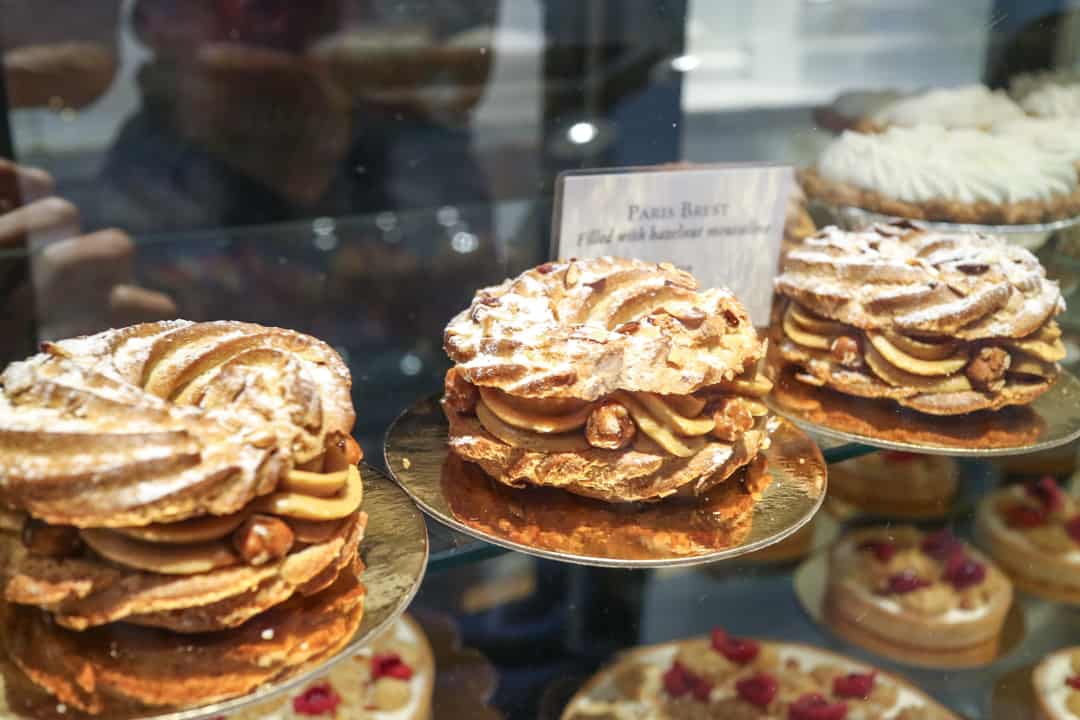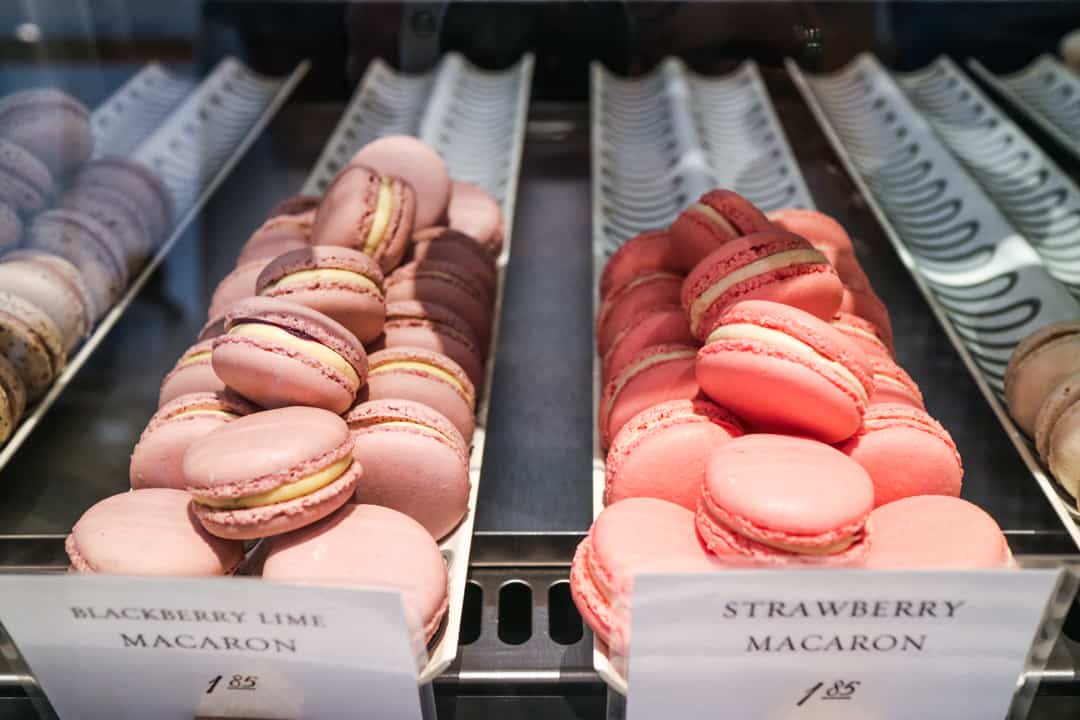 2| Touring the Pyramids at Muttart Conservatory
One of Edmonton's most iconic structures, the Muttart Conservatory defines the city skyline with four giant, shimmering glass pyramids. From afar, some might mistake it for The Louvre Museum in Paris. It is true that they bear a resemblance in appearance, but rather than housing art, these pyramids is home to over 800 species of plants from around the world!
Inside the pyramids, three biomes are in the Conservatory's yearly displays, featuring plants that grow in arid, temperate, and tropical climate. The fourth pyramid changes up to eight times a year to house uniquely themed, seasonal displays.
Pro tip: Walk up to the roof for some majestic photo opportunities. The architecture of the pyramids, with downtown Edmonton in the background, form a beautiful backdrop.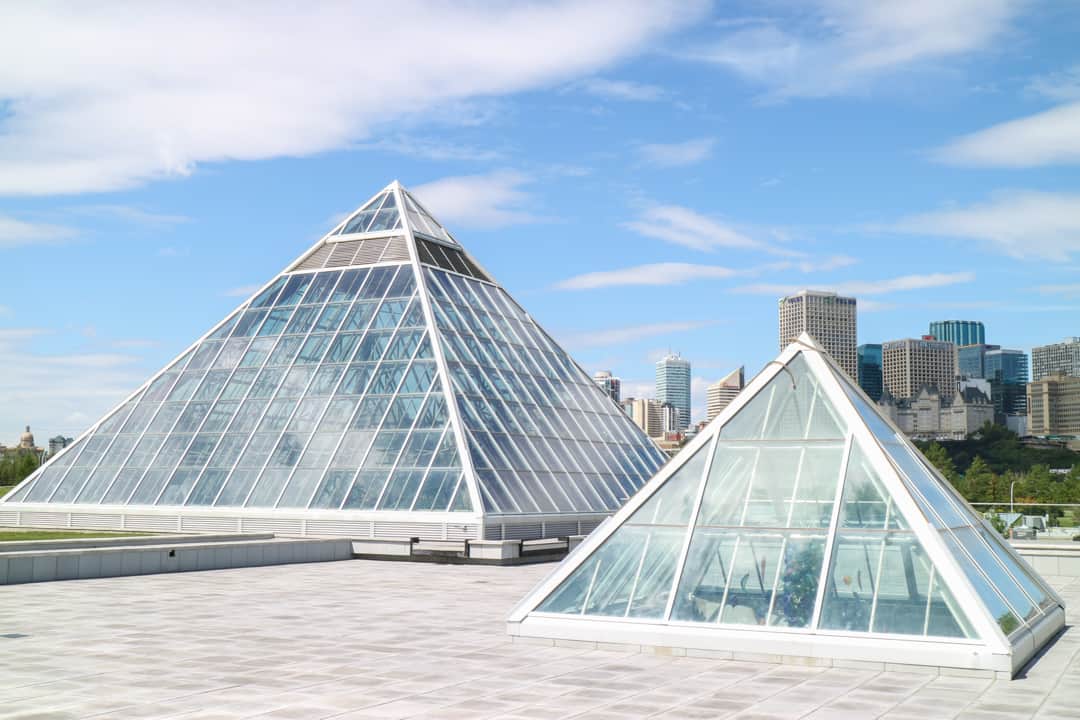 3| Exploring the River Valley
Stretching right through downtown Edmonton, the North Saskatchewan River Valley boasts the longest stretch of connected urban parkland in North America. Covering 7400 hectares of land, 30 km of trails and over 20 major parks and attractions (that's 22 times the size of New York City's Central Park!), there's lots to explore each season.
In the summer, venture on a Segway tour and explore the outdoor in a relaxing way. Or stroll, jog, bike, or paddle your way through the river valley while taking in the magnificent cityscape! Winter is just as fun as summer. You can cross-country ski or snowshoe along the trails, or hit the skating rinks in the river valley!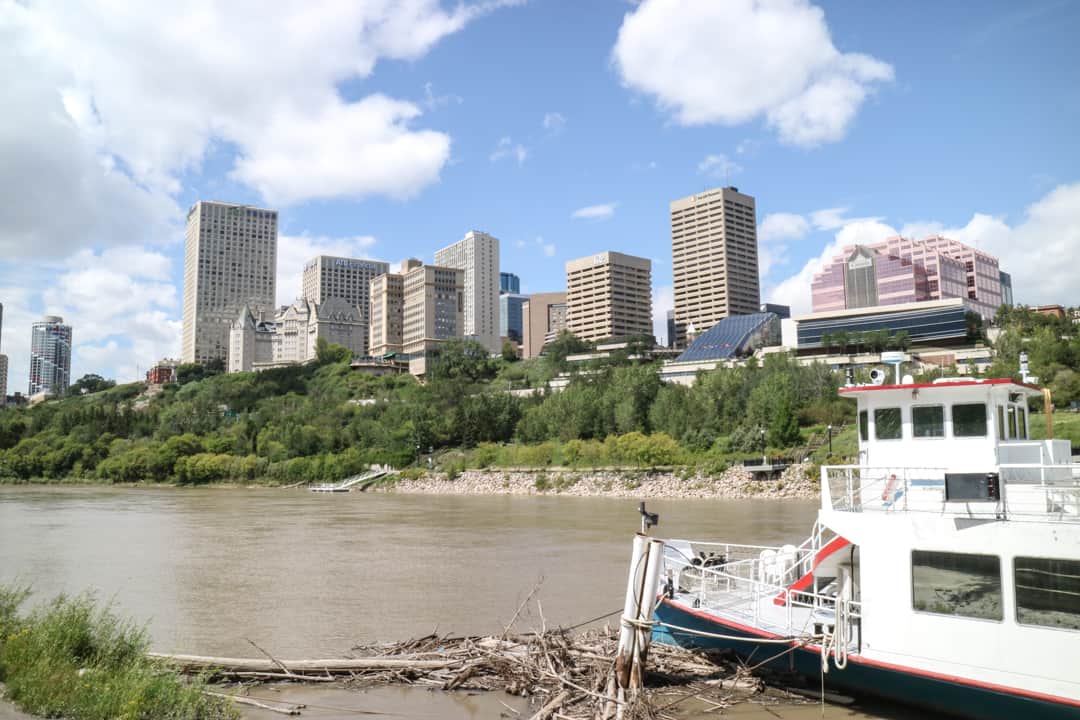 4| Sampling Delicious Eats at Taste of Edmonton
Taste of Edmonton is the city's summer tradition celebrating all the culinary delights in the Edmonton area. It is also the largest food festival in Canada by offering an opportunity to discover sumptuous dishes from more than 60 locally owned restaurants and food trucks. During the 10-day period, you can sample countless small plates of nibbles, take a foodie field trip to find local gastronomic treasures, or even participate in interactive chef-run workshops! It is the perfect way to savour the local food scene!
If you can't make it to Taste of Edmonton, you can still sample the excellent food that can be found throughout Edmonton. Spend an afternoon cafe hopping – check out the best cafes that also serve great food here.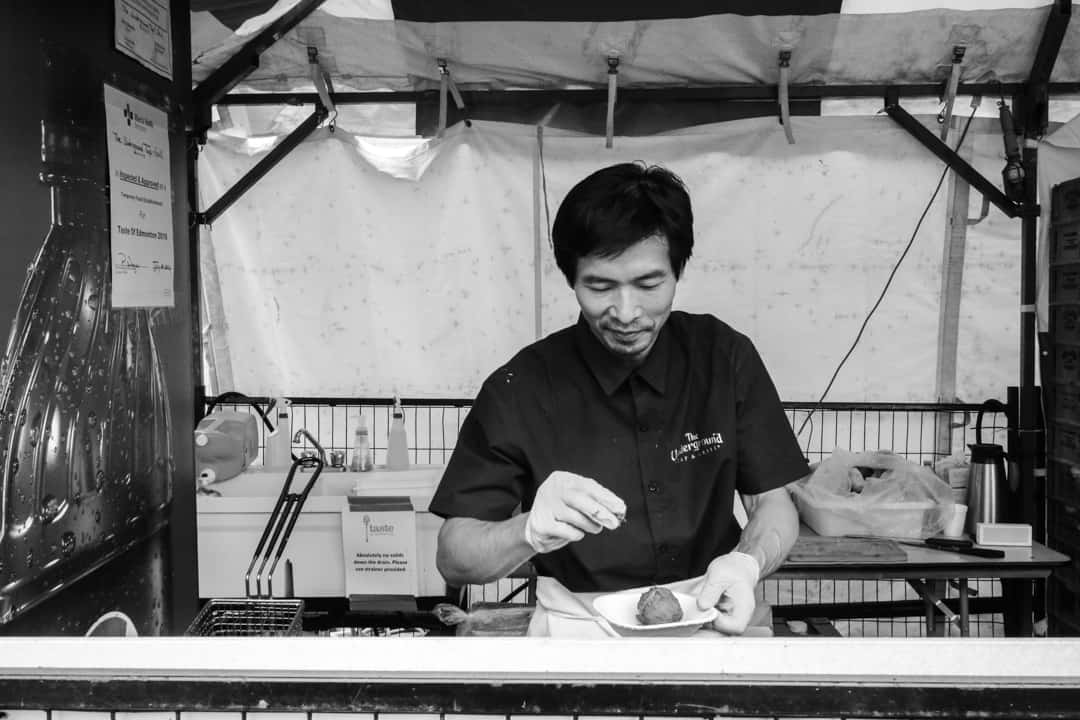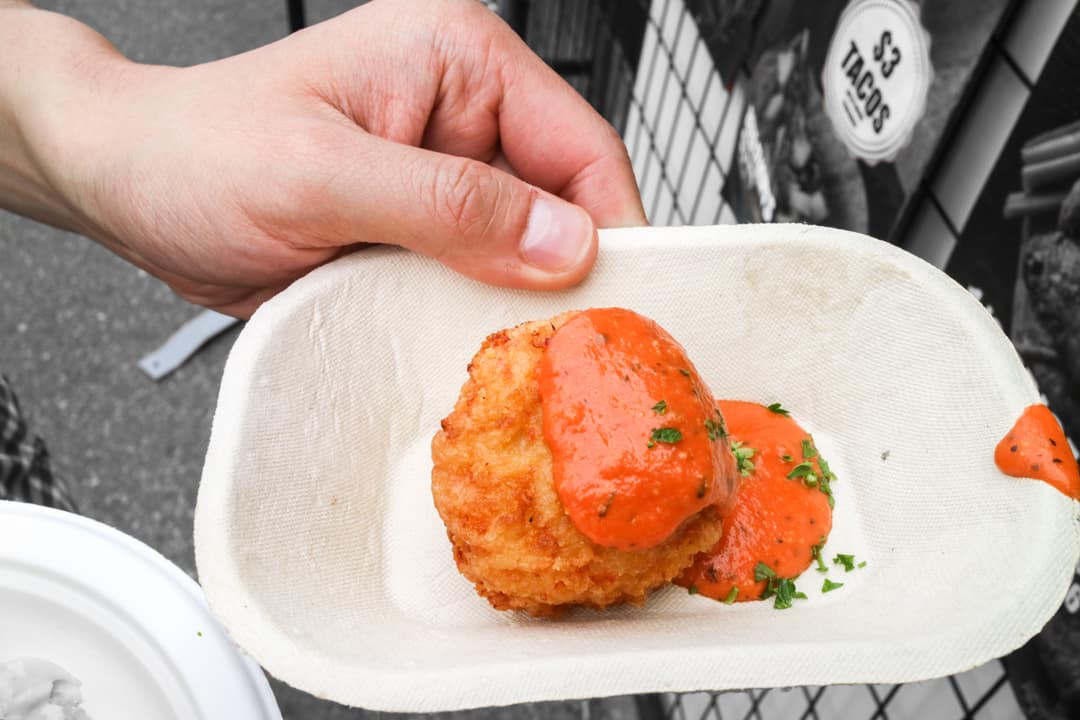 5| Watching Sunset at Alberta Legislature Building
Stop by the iconic Alberta Legislature Building (aka "the Leg") and watch the sky change colours at sunset! The beautifully landscaped grounds are enhanced with gardens, wading pools and fountains, making it the ideal place for a romantic date!
Pro tip: Don't forget to check out the splash pad, which lights up in rainbow colours at dusk!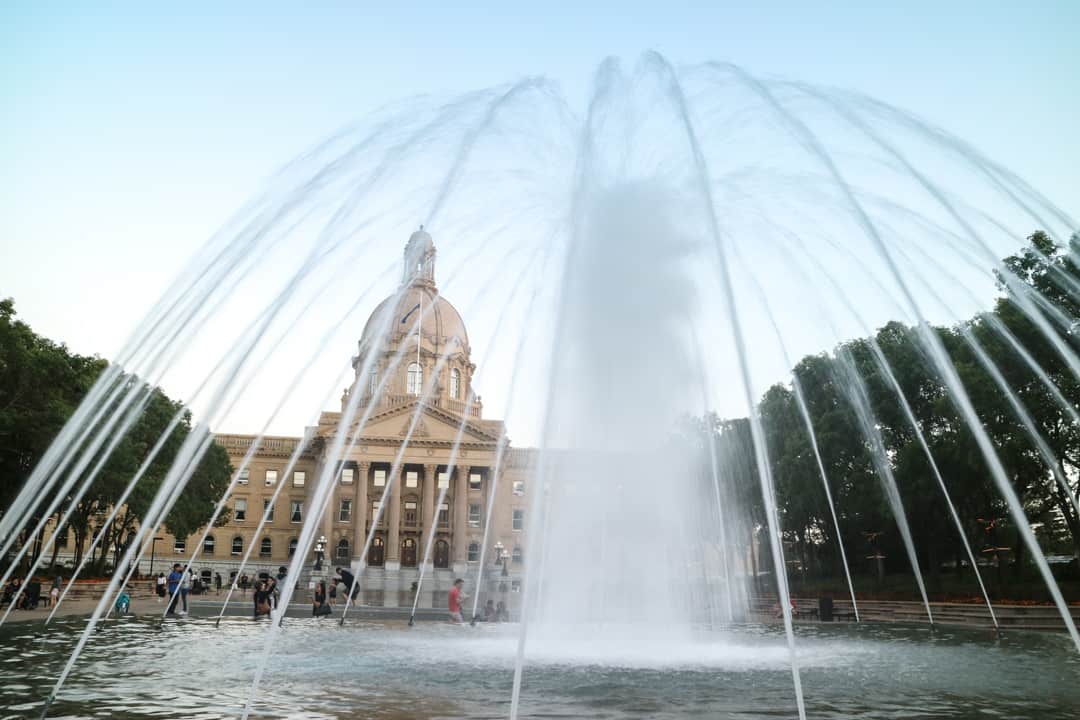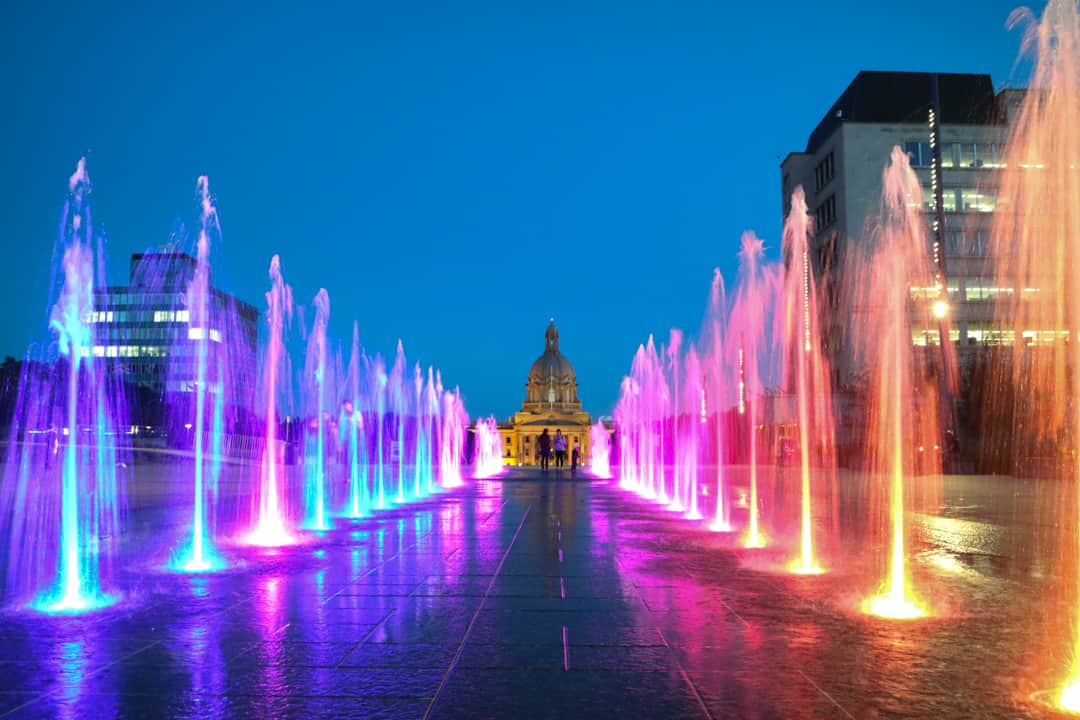 ---
There are so many reasons to visit Edmonton. So why wait? Stop over in Edmonton the next time you visit Western Canada. You'll be fascinated with how much fun this city offers!
Like it? Pin it!