This site uses affiliate links and we may earn a small commission when you use our links and make a purchase without incurring additional fee yourself. Many thanks for supporting this website. Please see our disclosure page for more details.
Edmonton is alive with brilliant options for a caffeine kick. From major coffee chains (Tim Hortons, Good Earth) to independent cafes, the streets are overrun with coffee shops and you know what? We are here for it!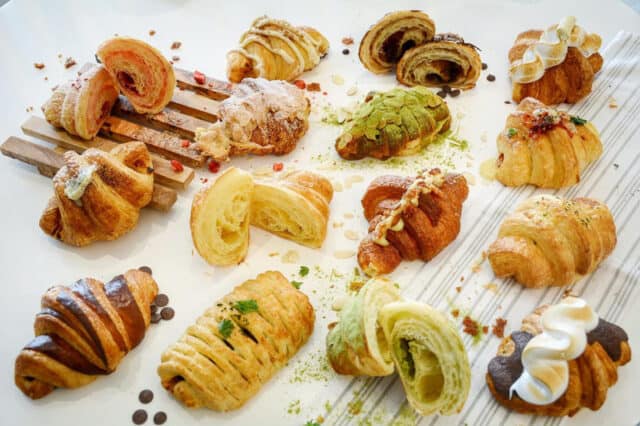 In today's roundup, join us as we peek into Edmonton's coffee culture. The shops on our list of best cafes in Edmonton will not only keep your coffee cravings in check, but also serve yummy baked goods to compliment a strong cup of joe. Try one the next time you need a caffeine hit! Cafe hopping also makes for a fun date idea in Edmonton!
1| Block 1912 Cafe
Block 1912 is one of the Edmonton coffee shops on Whyte Avenue that has everything you need under one roof, regardless of whether it's breakfast, lunch or dinner.
This European-styled vintage cafe has an extensive menu of desserts, coffee drinks, gelatos, sandwiches and more. Want something boozy? They've got Irish coffee! Want something filling? Herb-crusted chicken pot pie is on the menu. It is almost impossible to leave this place with an empty stomach.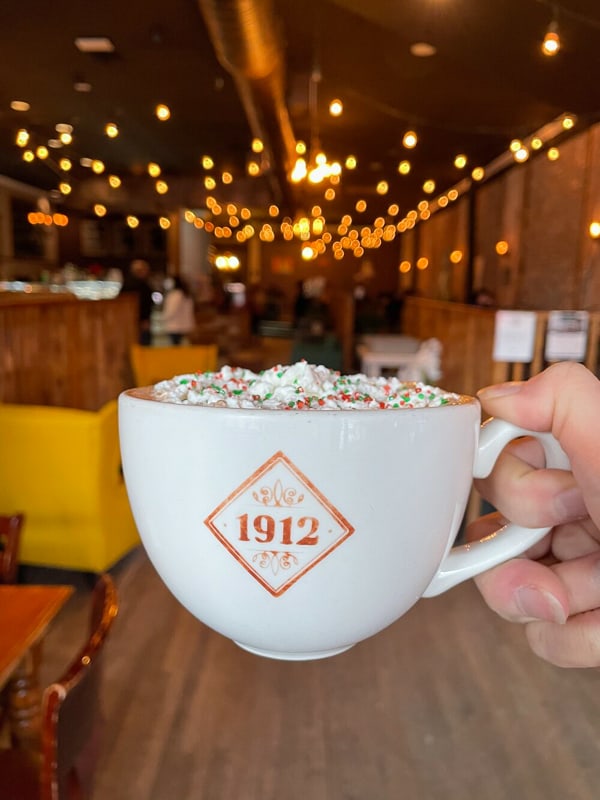 Bonus if you're an avid reader – there is a mini library at the back of this Whyte Avenue cafe where you can indulge in a little pleasure reading (or pretend to) in a laid-back, artsy atmosphere.
2| Café Bicyclette
Want to feel like you're in France? Cafe Bicyclette is the place to go. In addition to regular coffee drinks, this chic cafe in the French Quarter of Edmonton will feed you hard-to-resist French fare and Quebecois cuisine. Think smoked salmon croissant and classic poutine.
Don't be startled when the staff greets you in French. They will switch to English for those who aren't French speakers. Learning French and need some practice? This cafe is a great opportunity for you!
It is no secret that their food is amazing, but let's not forget about their outdoor terrace! In the summer, a live music concert is held every Thursday (tickets required). French food AND live music? A perfect combo for a romantic date night!
3| Chocorrant Pâtisserie + Cafe
Attention croissant addicts: Chocorrant Pâtisserie + Cafe is going to rock your world – and we're not exaggerating!
They boast as many as 14 different flavors of sweet croissants alone! Salted egg, s'mores, and strawberry milk are just a few tasty creations that will catch your attention. Their savory options also come with a unique twist. We bet you haven't tasted a curry beef croissant ever before in your life!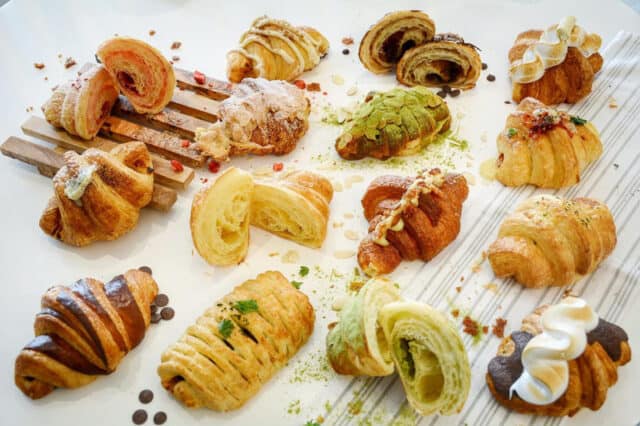 Equally yummy are their cakes, made fresh in house with the finest ingredients. Take a bite into mango passionfruit parfait and you will be hooked!
To pair with the sweets, Chocorrant offers high-quality caffeinated drinks using beans sourced from local coffee roaster Ace.
4| Coffee Bureau
With so many coffee shops in downtown Edmonton, how does one choose? Coffee Bureau makes that decision easy for you by offering the best bagels in the city. They get them fresh from the legendary St-Viateur Bagel Shop in Montreal every week.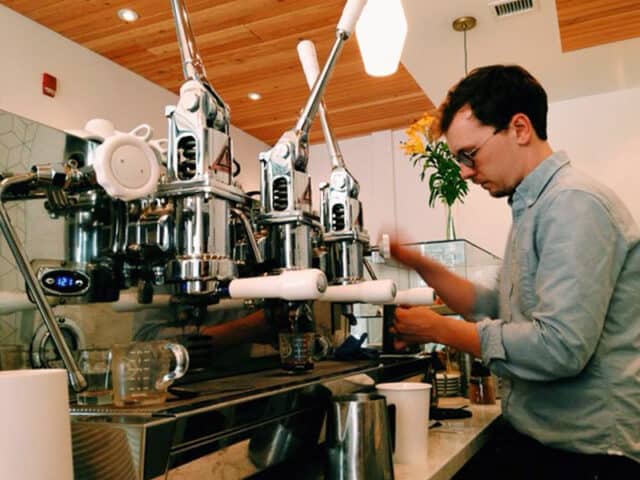 Coffee Bureau also serves locally roasted Ace Coffee and Steven Smith teas to go with their freshly baked cookies, muffins, croissants and gluten-free nibbles.
While indoor seating is somewhat limited (with just a few stools by the window), the shop looks out onto Jasper Avenue making it perfect for people-watching!
5| Credo Cafe
Want to enjoy the pure taste of coffee? Then Credo Cafe is the place for you. The cafe is committed to providing every cup of coffee at the highest possible standard of quality and taste. You will get to enjoy unquestionably high-quality coffee with a distinguished flavor profile.
Since Credo Cafe uses beans from Intelligentsia Coffee, your coffee purchase goes to support direct trade, helping workers earn a fair wage.
In addition to excellent coffee, Credo also has fresh baked goods and healthy snacks for you to grab. Whether you like muffins or chia pudding, they have you covered!
6| Duchess Bake Shop
Duchess Bake Shop has been the place to go for many Edmontanians for delectable French pastries. In fact, it is ranked as one of the world's top bakeries – that, my friend, is enough reason alone to visit the shop!
They have all things classic – macarons, croissants, éclairs, you name it!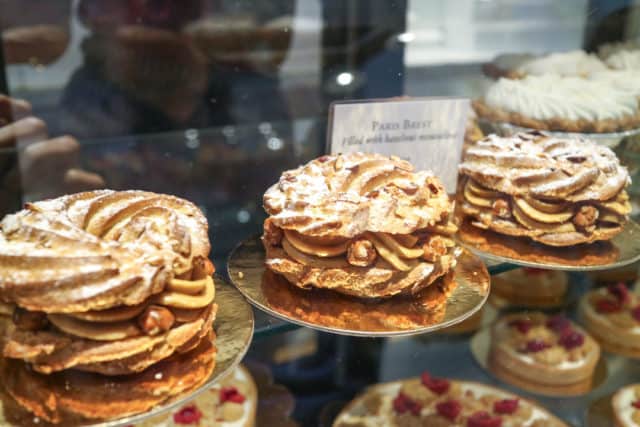 But let's not forget, they also serve coffee and tea here for those who'd like to order a beverage along with their pastries. Perfect for those who'd like a European breakfast or afternoon tea!
Duchess even offers bake-along workshops, in-person and over zoom, on a wide variety of topics to help you expand your recipe collection. If you like their macaron or key lime pie, it might be worth signing up for a class and learning their recipe! Then you can make them at home whenever you want!
7| Little Brick Cafe and General Store
Little Brick is the type of place that will make you want to stay a little longer. Located right in the heart of Edmonton, this quirky cafe is known for its great coffee and high-quality meals. They also have locally made goods such as housewares, body products, and cooking or baking ingredients on the shelves for sale.
The cafe features a rotating selection of coffee beans from west coast roasters. Food-wise, serving something healthy, locally sourced and homemade has always been the focus. You cannot go wrong no matter what you order, whether it is a breakfast burrito or pulled pork sandwich.
In the backyard, there is a dedicated picnic area for outdoor dining. It is so homey that you will feel like you're eating at your grandparent's place!
8| Lock Stock Coffee
Tucked away underground, Lock Stock Coffee on Jasper Ave is a coffee shop by day and a cozy pub by night. Greeted by dark wood accents, exposed brick walls and moody lighting, you get that irresistible intimate feel as you walk in.
A visit to this independent coffee shop is a treat to your taste buds with espresso-based drinks from Ace. There is also a wide selection of savoury treats (breakfast sandwiches and bagels) and sweet pastries (like kouign-amann or scones) for you to choose from.
9| Nook Cafe
Bright and spacious, Nook Cafe is ideal for those who prefer a quiet, calm atmosphere.
Their lengthy drink menu can keep you busy for a whole afternoon – from a pour-over to a beetroot latte, Nook Cafe has almost every type of beverage you can dream of. Their drink list is so extensive you might find yourself wondering what they can't make there.
To pair with the drinks, they have a decent variety of pastries, sandwiches, and gelato to satisfy your palate.
Nook Cafe is also a participant in the "Suspended Coffee" movement. You can do good by buying a "suspended coffee" for those who need a cup of joe, but can't afford it. When they drop in later, they will have a warm drink to enjoy without worrying about the expense.
10| Palette Cafe
Palette Cafe is the new kid in town, differentiating itself from other cafes on Whyte Avenue by serving plant-based food, drink, and fresh healthy fare along with local coffees.
Hidden in the basement, this colorful cafe offers a quiet oasis where you can unwind after a long day.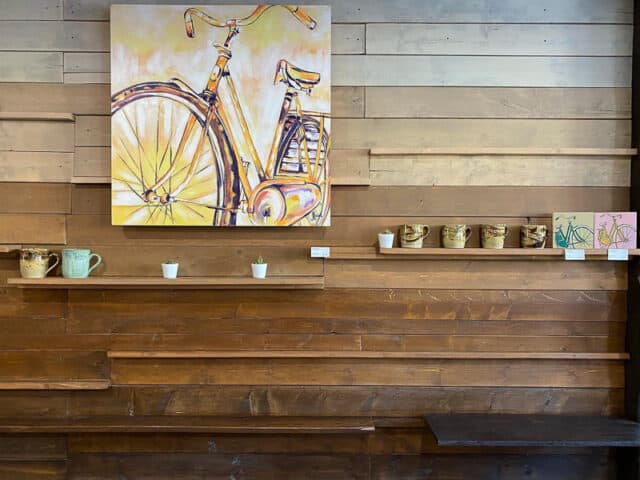 Those who're on the hunt for something unique will be delighted to find galao (portuguese coffee), and ca phe sua da (vietnamese iced coffee) on the menu.
You might also want to try out banh mi, muay thai carrot soup, and other mouthwatering comfort foods.
11| Remedy Cafe
Remedy Cafe is a long-standing local cafe brand in Edmonton. As you can probably guess from their tagline, "Be spicy. Drink chai," Remedy Cafe is a locals' go-to spot for all things chai.
Their famous chai is brewed weekly over a seven-day period. You can drink it as is or – if you are feeling fancy – try ordering one of the "enhanced" versions—badamee chai, rooibos chai, kashmire chai, or dirty chai.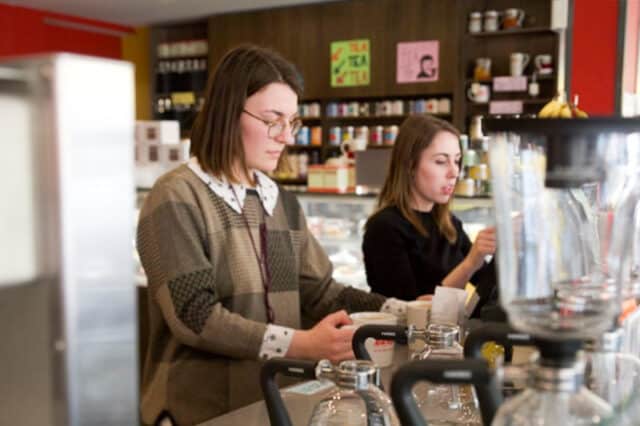 Aside from chai, Remedy has an extended list of tea collections – 120 different types to be precise! They don't skimp on beer either, with over 70 different selections from all over the globe.
Their food offerings are just as exotic, centering around Indian and Pakistani cuisine with a unique twist. All ingredients are sourced from local Canadian producers, farmers, gardeners, and bakers.
It goes without saying that Remedy Cafe has been so popular that it has expanded its shop and added multiple locations across the city. Apart from the original store on 109 Street, you can also get your chai fix at eight other locations!
12| Sober Cat Cafe
Sober Cat Cafe, part of DOSC (Drunken Ox Sober Cat), is the newest cafe on the 104 Street block. And no, it is not an actual cat cafe, in case you're wondering.
Walking in, you will be welcomed by trendy decor that still feels warm and cozy enough so you won't feel like you're underdressed.
Working in partnership with local coffee roaster Rogue Wave, Sober Cat Cafe ensures that every cup of coffee is held up to a high standard. The best part is that they make nitro cold brew in-house. For nitro cold brew snobs out there (yes, that's a thing! And Kev is one), you're welcome!
If that's not enough caffeine for you, try their espresso brownie or bananoffee crepe cake to fix your extra craving!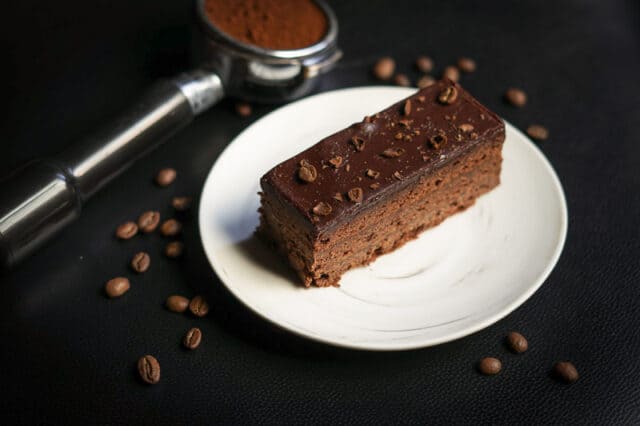 13| Transcend Coffee + Roastery
Roasting coffee since 2006, Transcend Coffee is a must-try destination for many local coffee fanatics.
At Transcend, they make sure you can enjoy the best coffee in the world without setting a foot outside the city. They start by sourcing from some of the best farms in the world, then performing a well-balanced roast, and finally brewing the perfect cup of coffee to bring out the best expression of flavour.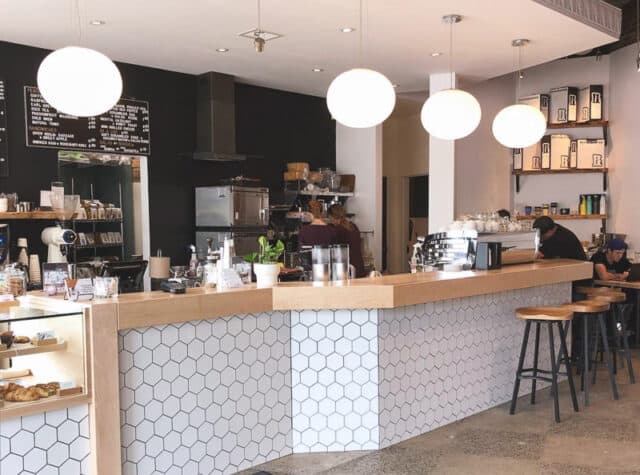 Transcend doesn't just serve coffee, they also have a short menu of appetizing food items including bagels, chia pudding, overnight oats, and sandwiches.
Coffee lovers can find the cafe in two neighborhoods – one in Garneau and one inside Ritchie Market.
14| The Moth Cafe
Clean and bright, The Moth Cafe is a pleasant oasis in downtown Edmonton to get your dose of positivity for the day. The vegan cafe dishes out healthy plates for breakfast, lunch and dinner alongside a creative (and extensive) drink menu.
Their beans are roasted by the Calgary-based Humble Coffee Roasters. Keep it simple with an Americano or unleash your adventurous spirit with a mushroom mocha, it's your call! They also have medicinal teas, tea lattes and kombucha if you're not in the mood for coffee.
In terms of food, the selection is just as wild. From burritos to laksa (Malaysian spicy noodle soup), there's no shortage of options to satisfy your stomach!
15| The Woodrack Cafe
The Woodrack Cafe is one of the unique cafes on Whyte Avenue in Edmonton. At first, you might get drawn in by the ambiance, but you will end up staying for the food.
This women-owned cafe has an irresistible boho-inspired interior to complement its enchanting drink and food menu. A simple coffee and a sammich or hummus plate are enough to make you feel nourished.
In addition to the Whyte Avenue location, there are two others (one at Kingsway Garden Mall and the other at Premium Outlet Mall at the Edmonton International Airport). In the summer, you might even see their portable coffee station (aka Dolly) in your neighborhood!
Coffee Roasters in Edmonton
As a newcomer to Edmonton, we were surprised to find so many coffee roasters in the city! For those who're interested in buying roasted coffee beans, here are some of the best coffee roasters in Edmonton:
Ace Coffee Roasters
Rogue Wave Coffee Roasters
Iconoclast Coffee Roasters
NRG Coffee Co.
Catfish Coffee Roasters
Raefen Coffee Roasters
Roasti Coffee Co.
High Horse Coffee Co.
---
Have you tried any of these cafes before? Or did we miss any good ones? Tell us in the comment below!