This site uses affiliate links and we may earn a small commission when you use our links and make a purchase without incurring additional fee yourself. Many thanks for supporting this website. Please see our disclosure page for more details.
When you think of Nova Scotia, Halifax is likely the first place that comes to mind – but there is so much more to see than just Halifax on a Nova Scotia road trip. Colorful fishing villages, rocky shorelines, and picturesque lighthouses are what this east coast province is known for, and you need to travel a little further to experience them all. Trust us, you want to get the complete Nova Scotia experience and enjoy all these amazing sites, so it is totally worth driving the South Shore from Peggy's Cove to Lunenburg!
In this post, we will show you how to put together the perfect week-long Nova Scotia itinerary by highlighting the best places to visit in Nova Scotia's South Shore!
1st stop: Peggy's Cove
Start your road trip to Nova Scotia with a visit to one of the most photographed spots in Canada: Peggy's Cove Lighthouse.
To get to the landmark, head onto Route 333 (aka the Lighthouse Route). The Halifax to Peggy's Cove drive is straightforward and stretches only 45 km long. Without stopping, you can get there in just 50 mins.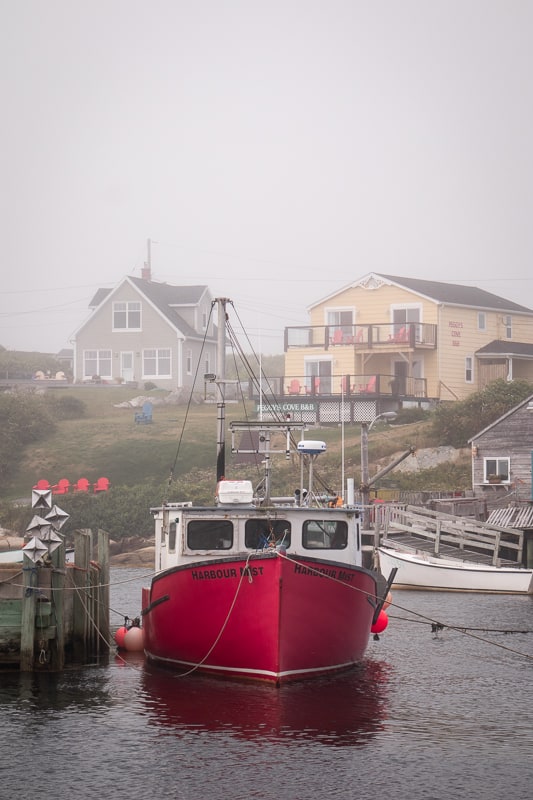 The quaint village of Peggy's Cove will be your first magnificent view. Photo opportunities are everywhere as you wander through the fishing village with seasoned fish sheds and colourful fishing boats everywhere you look.
Make sure to stop by the Visitor Centre to grab a map, which marks all the attractions and trails around the village.
Travelling a little deeper (approx. 5 to 10 mins by foot) will bring you to the lighthouse, standing gracefully on the rocky coastline of St. Margaret's Bay. Peggy's Cove is open year-round, and tends to be windy regardless of the season, so we strongly recommend dressing warmly!
In September, a brand new viewing deck and boardwalk will be opening to let you view the lighthouse and experience the waves and rocks in a safer way.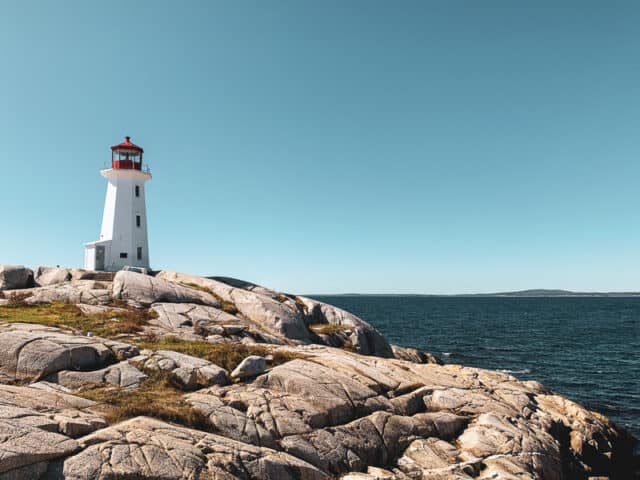 The Lighthouse is the big attraction here, but there are plenty of things to do in Peggy's Cove to fulfill your visit. Take your time browsing the gift shops or sending postcards from the post office. You can even enjoy a bowl of chowder at The Sou'Wester Restaurant, or admire artworks at the deGarthe Gallery or Peggy of the Cove Museum!
For photography enthusiasts, our photographer friend shared his best tips on how to photograph the Peggy's Cove Lighthouse in this Nova Scotia photography guide!
Peggy's Cove Tours
Prefer to visit Peggy's Cove with a guided tour? Join this Best of Halifax day trip: start with a scenic drive up to Peggy's Cove, exploration of Citadel Hill, and end with a driving tour of key landmarks in downtown Halifax. Transportation to and from Halifax are included!
Viator offers a variety of tour packages to give you a bit more flexibility. Some are shorter while others last up to a whole day taking you all the way to Lunenburg and Annapolis Valley.
2nd stop: Oak Island
If you're into stories of buried treasure, then you have almost certainly heard of Oak Island, recently made famous by the TV show "The Curse of Oak Island."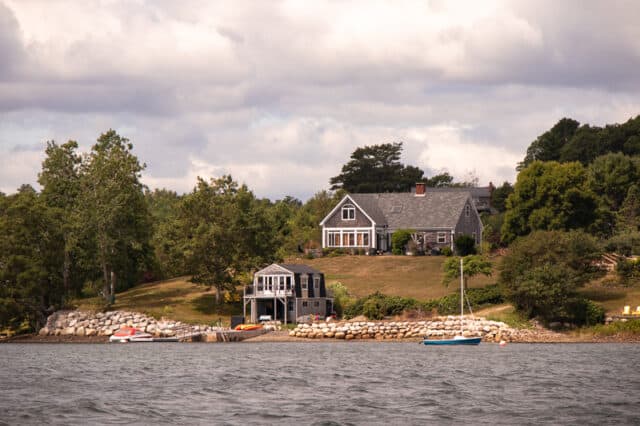 Oak Island attracts treasure seekers from all around the world. Many fans puzzle over Oak Island's baffling treasure tale so much that they plan a trip to Nova Scotia just to visit the mysterious island, learn about the findings, and even dig for treasure.
There are various ways to explore Oak Island. You can visit the Information Centre, go on a Guided Oak Island Tours (which are often sold out within minutes), or book a private boat tour.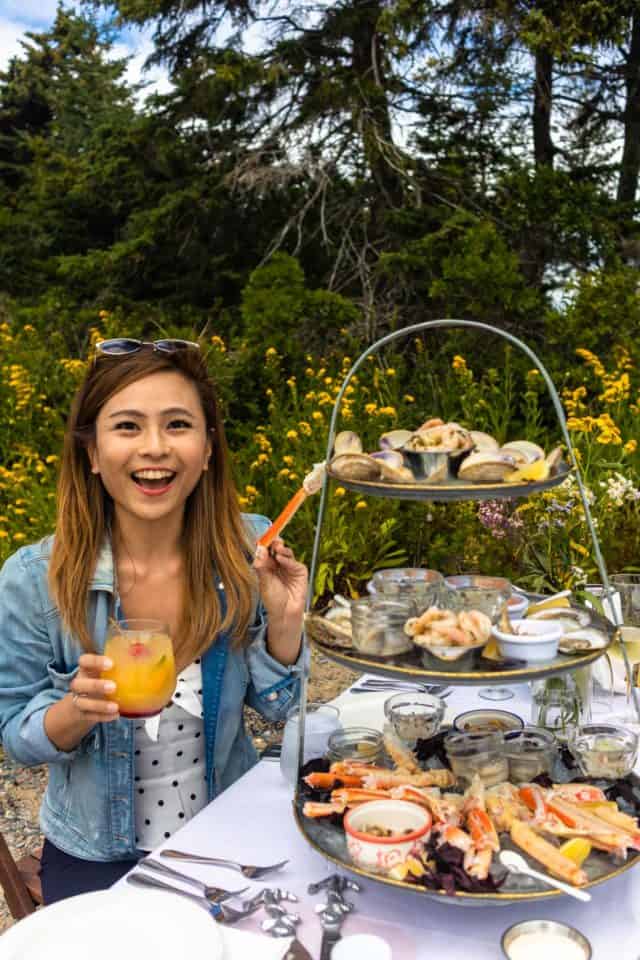 Oak Island Resort offers a Lobster Above Board experience combining the mystery tour with a culinary adventure! You will have a boat tour around Oak Island, then enjoy a 4-course seafood feast on a secluded island prepared onsite by a private chef. Now that's an unforgettable dining adventure!
3rd stop: Mahone Bay
Mahone Bay is a picture-perfect town you should definitely make one of your stops while visiting Nova Scotia. Following Route 3, the drive from Oak Island to Mahone Bay takes a mere 15 mins, but it may take you a bit longer since the stunning ocean views along the way can be distracting!
As you pull into the town, you'll be greeted by three churches sitting side-by-side at the waterfront. Described by the New York Times as, "pretty as a picture," the trio is one of the biggest draws of this lovely town.
Enjoy a stroll along the bustling seafront into the town proper. Pop into specialty shops like quilt stores and jewelry shops. Or grab some treats at a local restaurant. The Barn Coffee & Social House, The Biscuit Eater and Jo-Ann's Deli Market and Bake Shop are local's favourites.
On a hot summer day, you can't go wrong with a stopover at Saltbox Brewing Company. A taste of their Crustacean Elation (lobster ale) is a must, though we can't promise it will be on tap!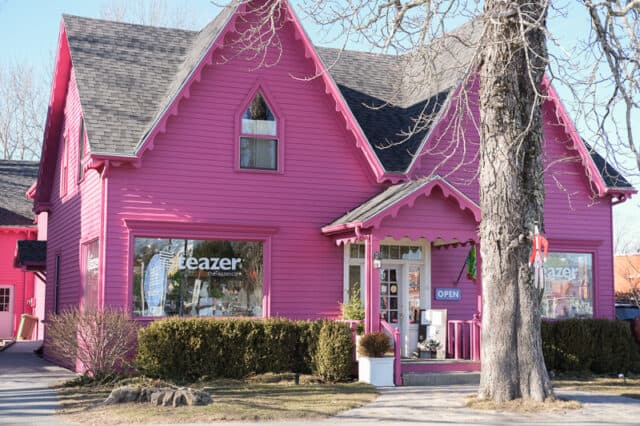 4th stop: Lunenburg
Now, off to Lunenburg, a colourful seaside town with a UNESCO World Heritage Site designation!
Since it is a British colonial settlement, Old Town Lunenburg is the ideal place to discover cultural highlights of Nova Scotia. In particular, Lunenburg is known for its rum running and ship building heritage. It is also home to the famous racing schooner The Bluenose which is featured on the Canadian 10-cent coin. Although the ship sank off the coast of Haiti in 1946, its exact replica, Bluenose II, continues its legacy and can often be found docked in Lunenburg's harbour.
The port is where the real action can be found. At the Fisheries Museum of the Atlantic, one of the main attractions in Lunenburg, you can experience life in a fishing community, visit the working wharf, chat with captains, see the aquarium and learn how to shuck a scallop!
From the waterfront, you can go on boating, sailing and whale watching excursions.
The historic district, spanning only a few blocks, is packed with brightly colored wooden houses, many of which feature 18th-century and Victorian architecture.
We highly recommend signing up for a hidden gems tour to explore places in Old Town Lunenburg that only the locals know and hear about cultural tidbits like superstitions, folklore, and local history! This tour also includes a drive out to the nearby fishing villages, Blue Rocks and Stonehurst.
Before you leave, plan to stop by Ironworks Distillery, a blacksmith's shop turned distillery! The onsite shop has a variety of artisanal spirits you can sample including vodkas, whisky, gins, rums and more! Give their award-winning Bluenose Rum a taste or hear the amazing globetrotting stories of their Around The World Rum which traveled 30,000 nautical miles and visited 28 ports in 21 countries!
With so many things to do in Lunenburg, it is easy to spend three action-packed days here, not to mention all the delicious seafood feasts you can scoop up in town!
Returning to Halifax
After visiting the UNESCO World Historic Site, you can continue your Nova Scotia road trip from Lunenburg to Bridgewater (a coastal town on the LaHave River). Or you can take the route from Lunenburg to Chester on your way back to Halifax.
The journey back to Halifax takes you back through Mahone Bay via Route 103, which takes a little more than an hour.
Back in Halifax, some noteworthy historical landmarks worth adding to your Nova Scotia itinerary include:
Fairview Lawn Cemetery: the resting place of many bodies rescued from the Titanic. Wondering why Halifax is connected to the Titanic? This post will have your question answered.
Halifax Citadel National Historic Site: a historic British fort up on a hill with a sweeping view of downtown Halifax. It was built to protect Halifax from any invaders by sea. There are various exhibit spaces. Living-history reenactments take place here regularly.
George Island National Historic Site: a small island situated in the middle of the harbour directly in front of the Halifax waterfront. It has a labyrinth of underground passages and tunnels and is also home to Canada's first fully automated lighthouses!
Want to explore more of Nova Scotia? Consider these places…
If you are looking for more to do, you can extend your Nova Scotia South Shore road trip by hopping onto a car ferry that takes you across the beautiful LaHave River. You can then venture onto Yarmouth to explore the Acadian communities.
If you enjoy wine, take the winding roads of Annapolis Valley and Wolfville, areas best known for their vineyards. Go winery hopping and taste Tidal Bay, made from 100% Nova Scotia-​grown grapes!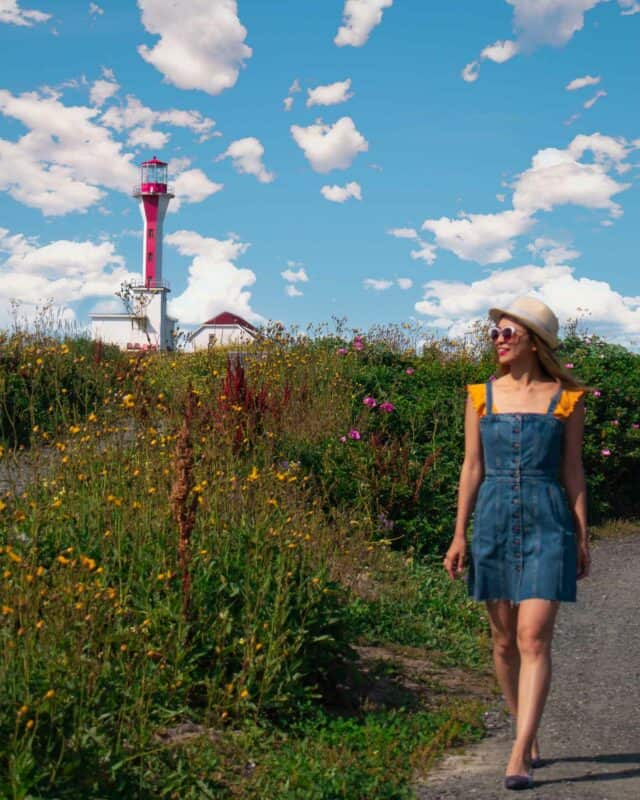 Nova Scotia hotels and accommodations: Halifax, Mahone Bay, Lunenburg
Prince George Hotel: the upscale property is conveniently located in the heart of downtown Halifax, just minutes away from the city's main attractions and popular restaurants. Your stay will include complimentary WiFi and access to many amenities including an indoor heated pool, a sauna, and a jacuzzi.
Lord Nelson Hotel & Suites: a luxury accommodation in downtown Halifax overlooking Halifax Public Gardens. The hotel artfully blends historic elegance with modern design, offering guests a stress-free urban retreat.
Hotels are rare outside Halifax. Instead you'll find inns, cottages and bed and breakfasts.
Mahone Bay Beach House: enjoy a beach vacation home with a kitchen and balcony all to yourself! Air-conditioning, WiFi, and TVs all included!
Alicion Bed & Breakfast: super cute B&B with tastefully decorated guestrooms. Only a 10-min stroll from the busy hub of Lunenburg. Free parking, breakfast, and WiFi included for overnight guests.