This site uses affiliate links and we may earn a small commission when you use our links and make a purchase without incurring additional fee yourself. Many thanks for supporting this website. Please see our disclosure page for more details.
Many people wonder (including our friends from Western Canada) "What is Nova Scotia known for?" Lobster and scallops, for sure (our previous Nova Scotia foodie post will make you drooool). History, culture, and spectacular landscapes are also key reasons that bring visitors to Nova Scotia.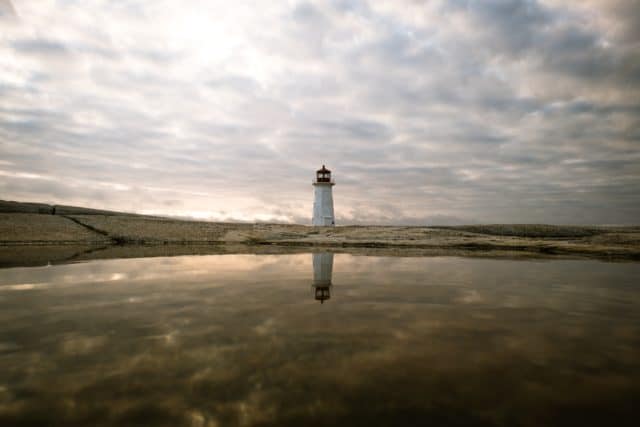 Disclaimer: This post contains affiliate links, meaning if you book or buy something through one of these links, we may earn a small commission (at no extra cost to you!).
If you want to capture the best of Nova Scotia, this post will be a great resource for you. Our friend Darcy Rhyno, a Nova Scotia-based writer/photographer, will share his top photo spots – along with some beautiful pictures of Nova Scotia – to help you to plan an epic photography trip to Nova Scotia! Follow along for suggestions on where to find the best views in Nova Scotia.
Before we begin, check if you lack any photography accessories. In case you're wondering what to bring, browse some of our essentials below:
Don't have time to read? Save THIS PIN on your Canada Travel board on Pinterest so you remember to come back to plan your Nova Scotia photography trip!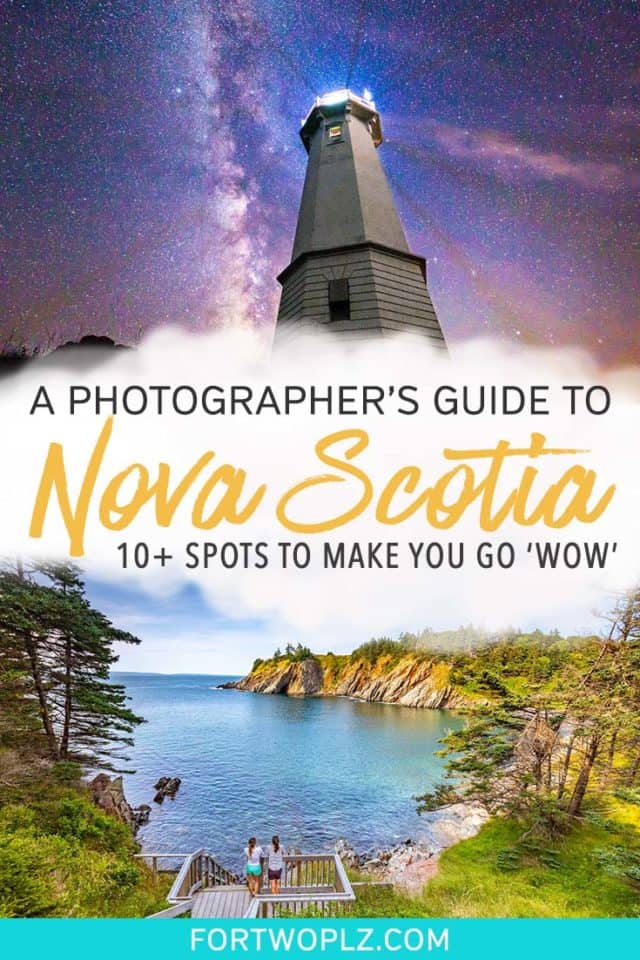 ---
Best Places To Photograph In Nova Scotia
Finding photogenic locations in Nova Scotia is like picking strawberries in a field or cherries from a tree. They are plentiful, colourful and delicious.
The best advice for any eager amateur photographer is to wander freely and keep your eyes open for ripe, wild fruit. If you prefer u-picks to foraging, here are my favourite places to go in Nova Scotia to gather tasty pics.
13| Digby Neck
Digby Neck – Nova Scotia's long, narrow finger peninsula – is stuck far into the Bay of Fundy as if testing the waters. Because of its shape, its isolation and its geological makeup, the neck and the two islands that are its extensions, Digby Neck, Long Island and Brier Island are unique in the province.
Because of its narrow shape and roughly north-south orientation, both sunrise and sunset are easily captured and provide contrasting lighting opportunities.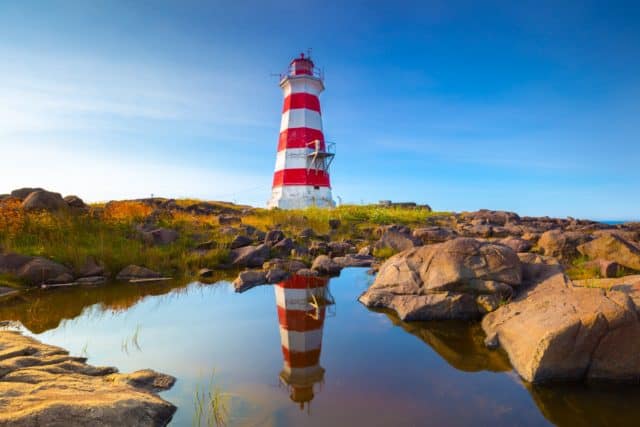 Also worth mentioning is the whale watching opportunities you can get in this area. Tiverton, on the northeast tip of Long Island, is the home port for the best whale watching in Nova Scotia. Tours run from June to October.
East Ferry is another departure point for whale watching in Digby. You may also take a Brier Island whale watching cruise to get closer to the magnificent mammals!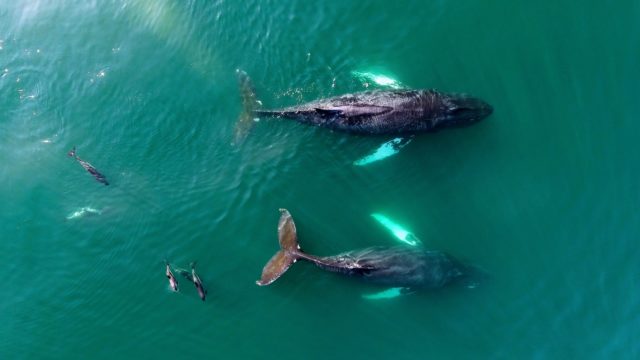 Oftentimes, on these whale watching tours, you will have a high chance to see birds soar above, especially during fall migration.

[irp posts="8432″ name="Best Things To Do In Quebec: Let's Go Whale Watching in Tadoussac!"]
12|The French Shore
On the mainland across the water from Digby Neck is the Clare region of Nova Scotia – sometimes called the French Shore because of its French Acadian roots.
Driving through this region, you'll find some of the most charming towns in Nova Scotia. Here, Acadian culture, language and pride thrive. For example, pictured below is the great Saint Mary's Church, aka the highest wooden church in North America.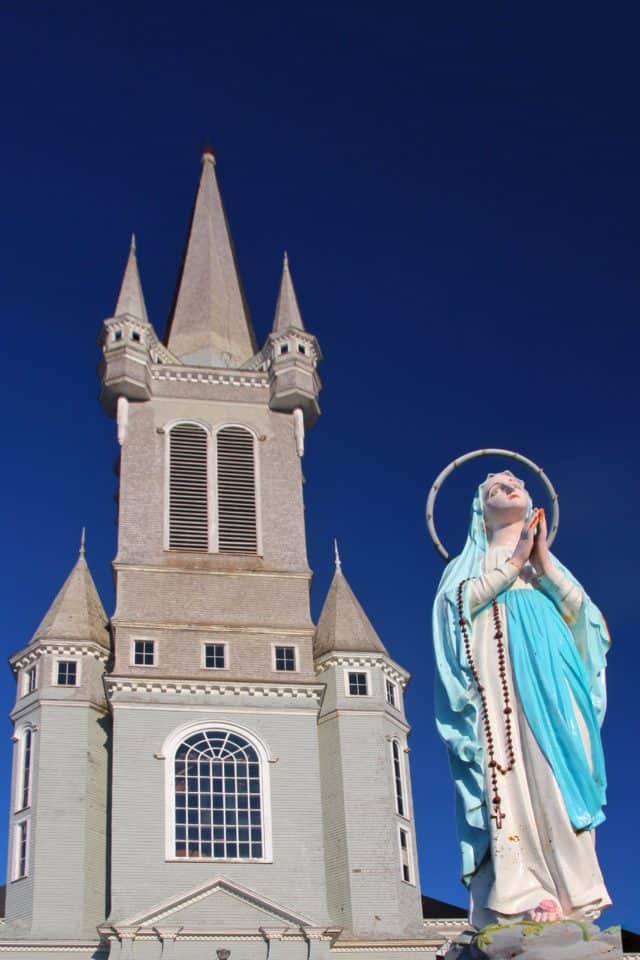 The region is home to some of the best Nova Scotia attractions. Make sure to stop by the picturesque Cape St. Mary's for scenic ocean views and sunsets while overlooking the dramatic cliffs of St. Mary's Bay.
Smuggler's Cove is another great stop to hit when looking for what to see in Nova Scotia. The 1.5 km-long Mavillette Beach, surrounded by sand dunes, is one of the best beaches in Nova Scotia for kite-surfing.
In addition, Clare, along with Yarmouth and Argyle, makes up the Acadian Skies & Mi'kmaw Lands Region. It is the first starlight reserve in North America to be certified by the UNESCO-backed Starlight Foundation, making it one of the best places to visit in Nova Scotia (and in Canada!) for stargazing and night sky photography.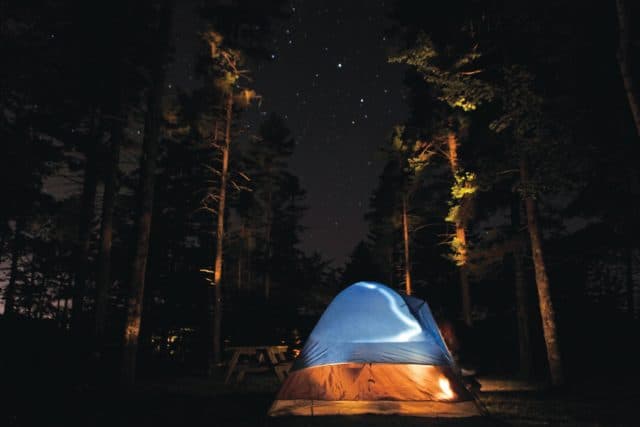 11| Landscape of Grand-Pré
The geographic and emotional heart of Nova Scotia for the French-speaking Acadian people is Grand Pré. This UNESCO World Heritage Site in Canada is located in the Annapolis Valley, encompassing a 13 square-km network of farmers' fields, marshes, and dyke lands.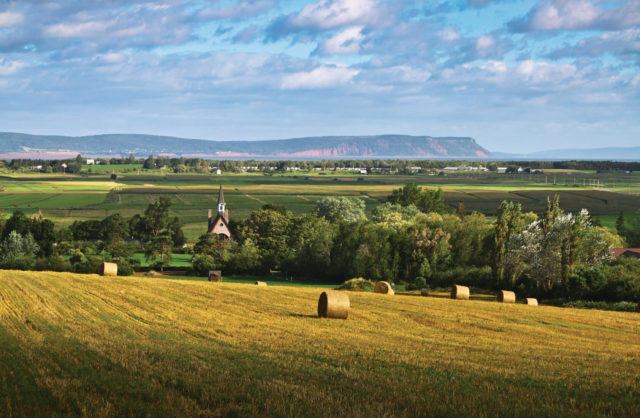 In the heart of Grand Pré lies the Grand Pré National Historic Site where an interpretive centre tells the 350-year history of these people.
Behind the centre stands the statue of a fictional character named Evangeline and a stone church that's not really a church, but interesting nonetheless.
The American poet Henry Wadsworth Longfellow created Evangeline to tell the tragic true story of the Grand Derangement or Expulsion of the Acadians by the British in 1755 from these lands and all of Canada's Maritime Provinces. Like so many others, the fictional Evangeline was separated from her home, her family, and her lover, with whom she would seek reunion until the end of her life.
While you're at Grand Pré National Historic Site, don't forget to explore the landscape on the new Harvest Moon Trailway. Majestic willow trees and old Victorian gardens offer a perfect place to picnic AND photograph in the summer!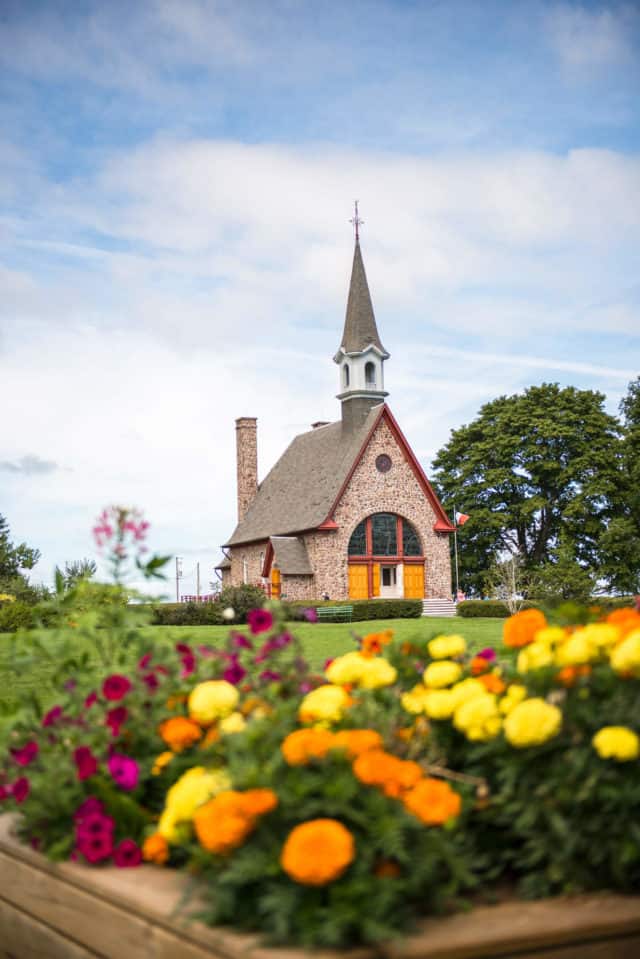 The green fields and the dyke lands that cradle the farmland like praying hands against the terracotta sea beyond are a photographer's dream.
The photo below is of the cross in Grand Pré that marks the very tuft of ground where many Acadians in Nova Scotia and surrounding areas were forced onto British ships and deported.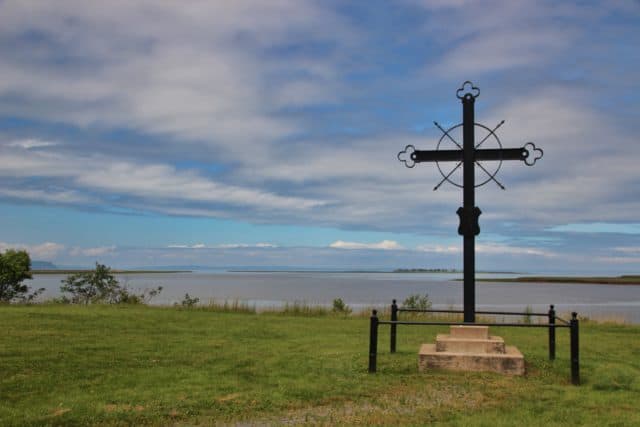 10| Halifax
Halifax is Nava Scotia's Capital city and the largest in eastern Canada, so shooting locations abound – Citadel Hill, the Public Gardens, Point Pleasant Park, nightlife, festivals, food and the ferries that cross the harbour many times a day.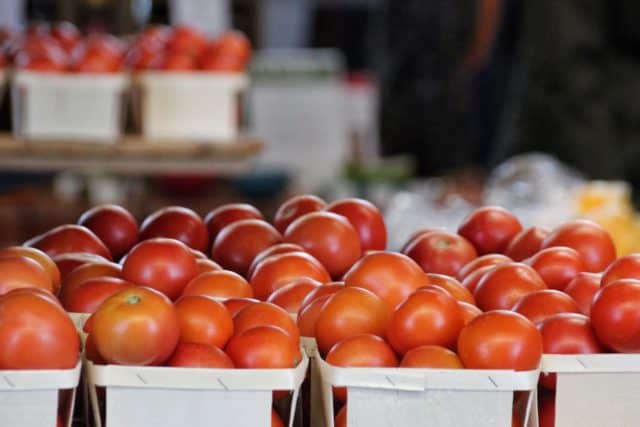 [irp posts="10483″ name="How To Plan Your Nova Scotia Holiday Around Food"]

My personal favourite location is the Halifax waterfront, which is also one of the most photographed Nova Scotia tourist attractions. Walking along the Halifax waterfront boardwalk, you'll find that the area is often buzzing with activity because the city has worked hard to link the many parts of the waterfront like piers and streets into one coherent and easily navigated whole.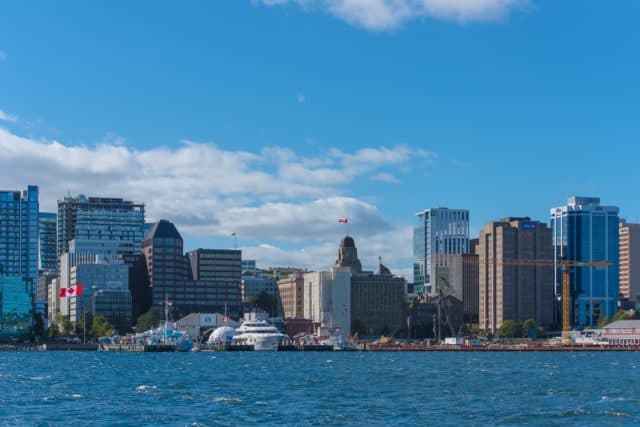 The city's public art program has helped animate what was once a drab part of downtown. The pier with the drunken lampposts is a magnet for photographers, especially when something is happening there like group yoga or the Busker Festival. Opportunities to capture appealing images of Halifax are limitless!
[irp posts="5180″ name="13 Places to Visit in Toronto for Photographers"]
9| LaHave
One of the most overlooked places to visit in Nova Scotia, the LaHave area begs visitors to get out in a boat of any kind. Paddle, motor or sail among the LaHave Islands and around the mouth of the LaHave River for endless photography subjects.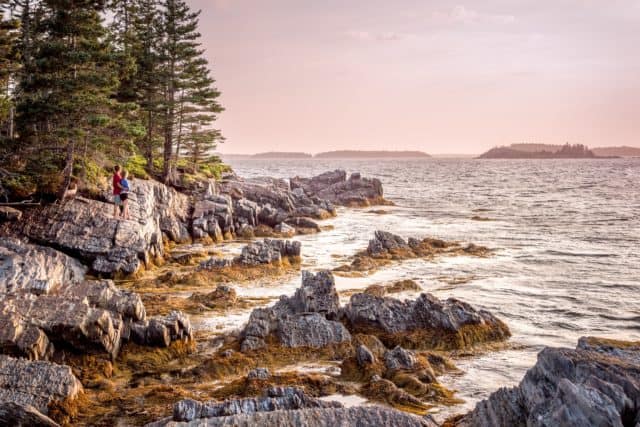 The calm waters of protected coves, beaches and bays make for stress-free boating. They're also perfect for capturing attractive Nova Scotia scenery from whatever boat you are in, especially when the waters are glassy smooth.
In the photo below, I was able to set the paddle aside and leave the work to my first mate while I captured the moment, gliding over mirror-smooth waters past old fishing shacks and wharves on stilts.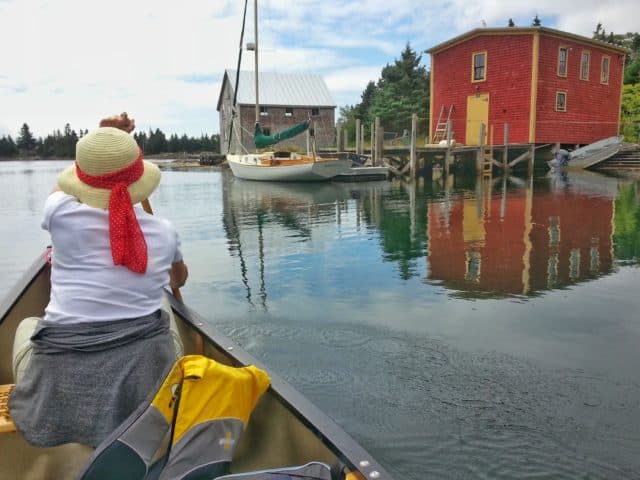 Don't have time to finish reading? Save THIS PIN on your Canada Travel or Road Trip Travel board on Pinterest so you can refer to it later!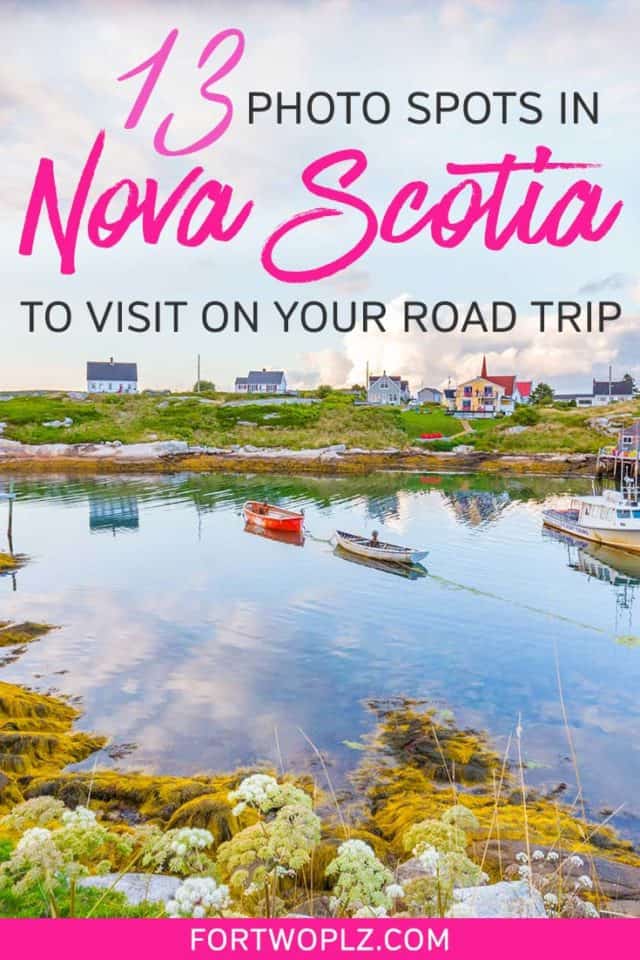 8| 100 Wild Islands
Among all the places to see in Nova Scotia, the 100 Wild Islands is a unique one. This is a recently completed project to protect a huge network of uninhabited islands just off Nova Scotia's Eastern Shore to the northeast of Halifax.
The 100 part is really just a nickname. By one count, the area includes 758 islands. The area is ideal for exploring by sea kayak, but there are other ways to get around so the photographer can see more corners of this vast oceanic preserve.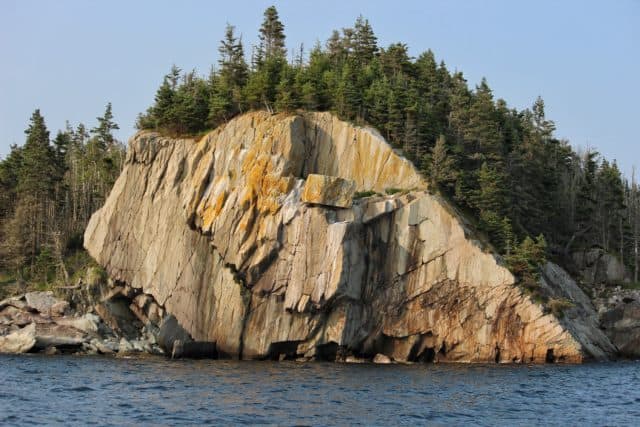 At Murphy's Camping on the Ocean, Captain Ryan Murphy will rent you a kayak or take you out on his little converted lobster boat for a 5 km tour, highlighting a few of the preserve's coves, beaches, rocky bluffs. Along the way, you're almost guaranteed to spot wildlife like seals, osprey, ducks and even porpoise. I took this image (above) of an interesting bluff on Captain Murphy's tour.

So if you ever wonder where to go in Nova Scotia to capture remote natural beauty (and wildlife!), remember the 100 Wild Islands.

[irp posts="8404″ name="Crazy Bucket List Ideas: Close Wolf Encounter in Quebec, Canada"]
7| Living History Villages
The best places in Nova Scotia to get in touch with its rich history and culture are the living history villages.
On the Eastern Shore, there's a 1940's living history village called Memory Lane. I could spend all day here, happily snapping pics of chickens scratching in the grass, antique cars, artifacts from the '40s, interpreters in costume and buildings from the recent past.
The best shots are, of course, when some of these things come together as in the above photo of two volunteers in costume standing next to an old red truck with vintage buildings in the background. I love the contrasting looks on their faces and the bold colours. Even more, I love the feel of nostalgia such photos evoke.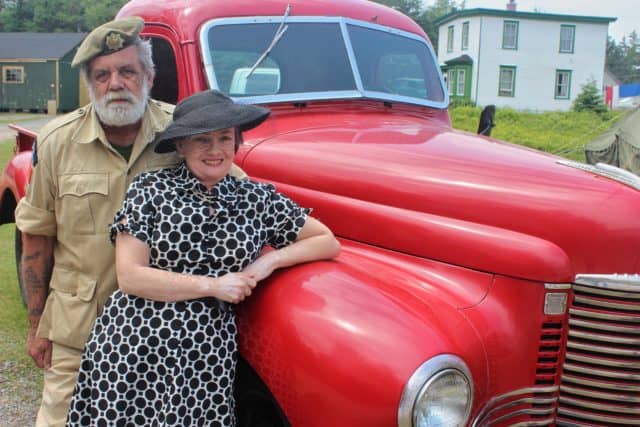 The province's other top heritage villages are Sherbrooke Village also on the Eastern Shore, Le Village Historique Acadien de la Nouvelle-Écosse in Pubnico, and Highland Village in Cape Breton. Watching the costumed interpreters bring history to life is one of the most fascinating things to see in Nova Scotia, not to mention the villages make for great photo hunting grounds.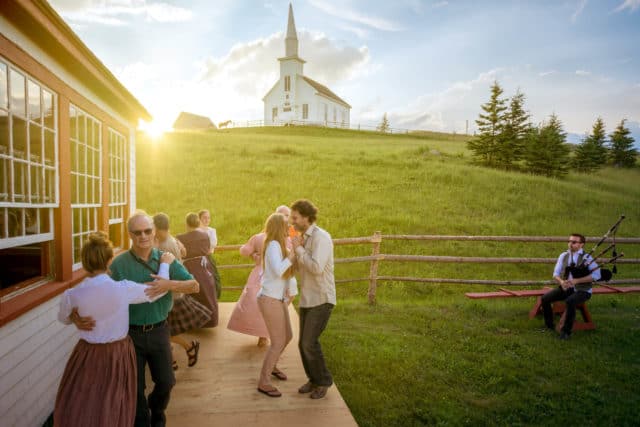 [irp posts="1519″ name="Travel Back To Olden Days: Discover How The West Was Once at Heritage Park"]
6| Blue Rocks
Old Town Lunenburg regularly tops the list of what to see in Nova Scotia. But for those seeking some peace and quiet and a low-key Nova Scotia sightseeing location, I recommend Blue Rocks.
Although it has become overcrowded by Nova Scotia standards, the end of a coastal road near the equally photogenic town of Lunenburg attracts visitors in search of old Nova Scotia and scenic coastline.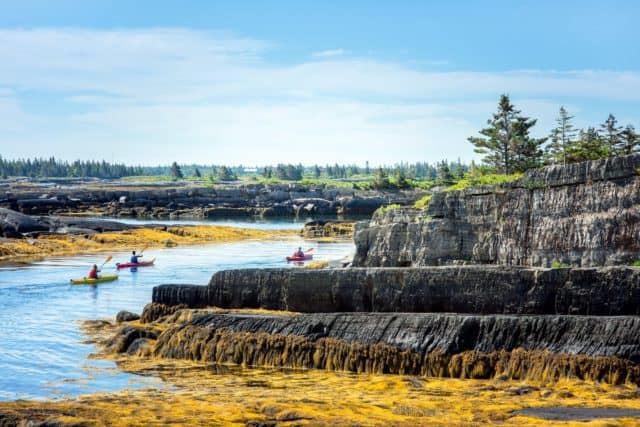 Blue Rocks in South Shore, Nova Scotia is named for the grey-blue slate bedrock exposed and carved by the ocean. Once a poor fishing village, this lonely spot is as much about modest vacation homes, seaside leisure and photography opportunities as it is about making a living on the sea these days.
The combination of dramatic rocky coastline, quaint fishing village and spectacular sunrises is unbeatable.
If you can get into a kayak, it's also a jumping-off point for some excellent paddling, offering views from the water that provide unique perspectives in an already photogenic location.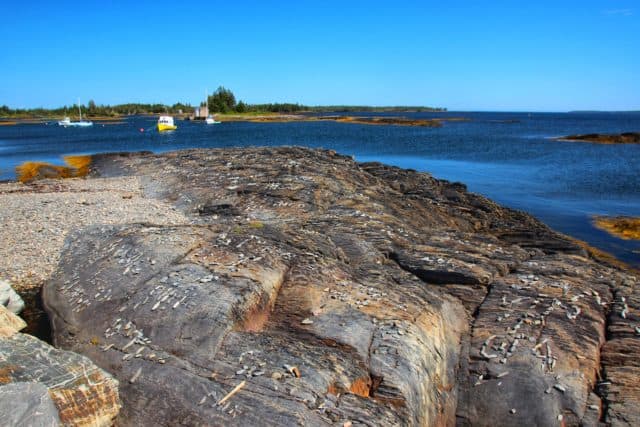 5| Peggy's Cove Area
Some of the best places to see in Nova Scotia are located just an hour or so from Halifax.
The tiny, rugged port of Peggy's Cove is often considered a Nova Scotia must see. More photos are taken of its lighthouse perched atop the granite bedrock worn smooth by the relentless pounding of the ocean than any other site in the province. In face, if you're planning a Nova Scotia road trip and want to see as many amazing sites as possible, we recommend Peggy's Cove area as your first stop.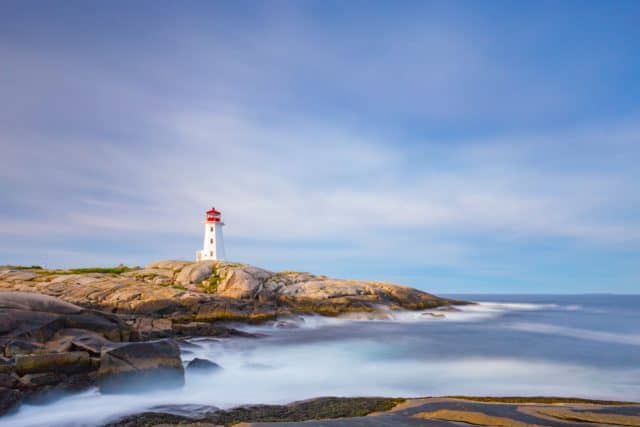 Bus tour after bus tour pulls in here, offloading tourists who are seeking that iconic photo. But patience pays off for the visiting photographer because the much quieter waters of the little cove, the typical Nova Scotia houses there, the people and their working life are even more photogenic than the lighthouse.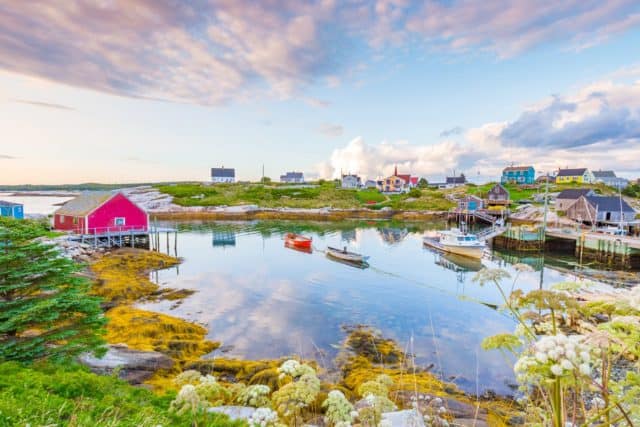 Nearby, other equally charming, but far less often visited fishing villages like Dover and Prospect also offer magical photo ops.
This photo below of sea kayaks pulled up at an angle to Lower Prospect's working fishing wharf loaded with colourful ropes and buoys provided alternative subject matter.
4| Cape Split
Possibly the most dynamic location in all of Nova Scotia is Cape Split, now a provincial park reserve.
The drive to the Cape Split hiking trail is across beautiful farmland, up to a high bluff for dramatic look offs, then to Scot's Bay provide bonus photo subjects.
Ranked one of the top things to do in Nova Scotia, the four-hour, 12 km round trip hike provides only a few opportunities for pics. However, that enjoyable Cape Split hike gets the photographer to the mother lode, a grassy field perched atop 60 m-high sheer cliffs that drop to the raging, roiling waters of the Bay of Fundy.
In its struggle to empty and fill twice daily in and out of the arrow-shaped bay, these waters create the world's highest tides. The cliff is continuously eroded here, carving jagged pinnacles past where the tides roar.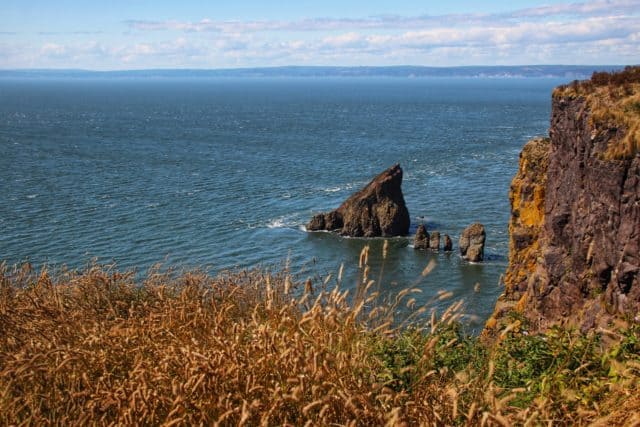 Seagulls soar overhead riding the winds over the cliffs. There's a trail down to the rugged beach as well for a different perspective at low tide. Sunset here is usually an explosion of orange or sometimes, as Nova Scotians say, sky blue pink. But beware – a two-hour walk back to the parking lot in near darkness can be tricky.

[irp posts="10970″ name="22 Unmissable Stops On A Québec Road Trip To Gaspé Peninsula"]
3| Louisbourg
North America's largest historical reconstruction project is on the fringes of Cape Breton Island. Louisbourg is a treasure chest of photographic potential. And they know it.
Interpreters in period regalia pose everywhere you look among many historic buildings and on the cobbled streets. They take their re-enactments seriously here.
Farm animals poke about in back yards. Meals are prepared and served as they would have been in the 17th century. An authentic rum punch recipe is served with an interpreter guiding drinkers through the historical significance of the five-ingredient refreshment.
The photo below is of the local goose whisperer who walks her charges about the grounds for the likes of us photographers.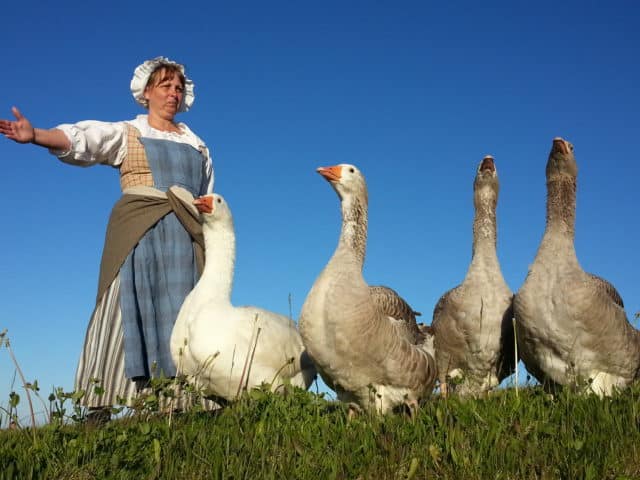 Louisbourg is home to some of the most incredible hiking trails in Nova Scotia. If time permits, take the chance to explore Louisbourg Lighthouse Trail. The 3 km loop follows the rugged coastline through coniferous forest, providing splendid views of the Fortress of Louisbourg National Historic Site.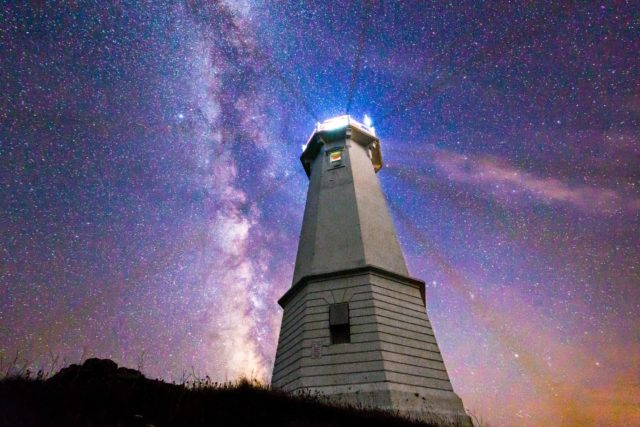 Gooseberry Cove is a hidden gem for those feeling adventurous. The area is known to have witnessed at least two shipwrecks, from as far back as the 1700's. Rough and unmarked, the trail skirts the coastal cliffs and opens up to scenery reminiscent of the Irish coasts.
2| The Cabot Trail
Cape Breton Island is nearly a separate province. It's one quarter the size of the mainland, mountainous in parts and culturally distinctive.
There was once a comedian whose shtick was separation from Nova Scotia. He played the fictional General John Cabot Trail, leader of the Cape Breton Liberation Army. So it almost goes without saying that this beautiful island deserves its own post. However, as part of Nova Scotia, choices must be made.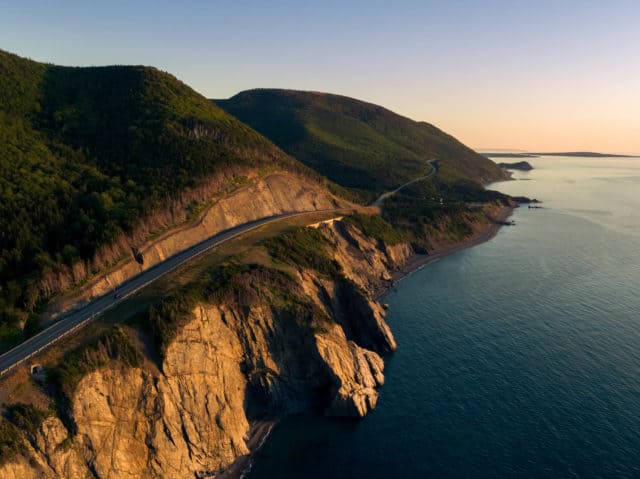 My absolute must see for any visiting photographer is the Cabot Trail, a 300 km loop that runs through scenic villages, crosses tabletop mountains, includes Cape Breton Highlands National Park and offers sky-to-sea views at 26 pull-offs. (Click here for the Cabot Trail, Nova Scotia map)
Numerous Nova Scotia top attractions can be found as you drive along the Cabot Trail:
⇢ Keltic Lodge (pictured below) is one of the trail's great landmarks and accommodations, as well as home to a world-class golf course.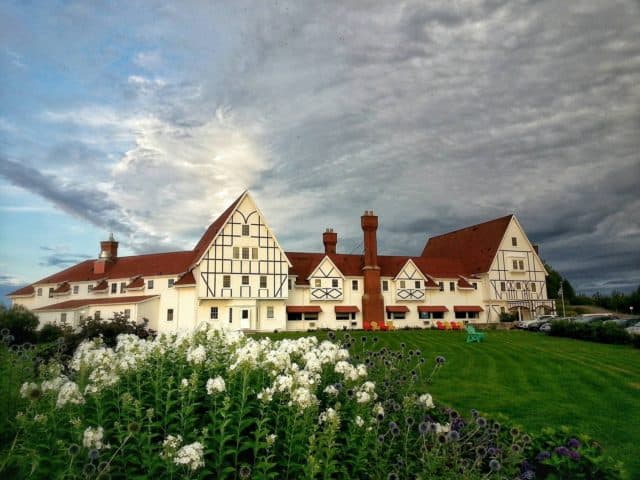 ⇢ Skyline Trail is one of the most well-known Cape Breton hiking trails. The 8.2 km loop leads you atop French Mountain, revealing jaw-dropping views of the Gulf of St. Lawrence.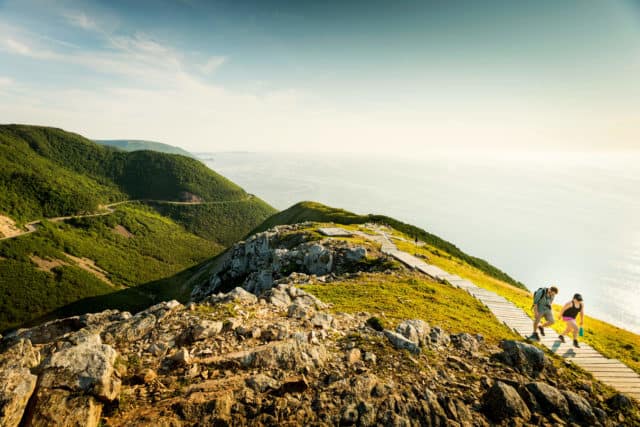 ⇢ Aside from the French Mountain, scenic look offs can also be discovered on two other Nova Scotia mountains – MacKenzie Mountain and North Mountain. For the world-famous view of the western coastline, head over to Veteran's Monument.

⇢ Some of the most beautiful Cape Breton waterfalls to explore include Indian Brook Falls, Beulach Ban Falls, Mary Ann Falls, and North River Falls (Nova Scotia's highest waterfall!).

[irp posts="10141″ name="10+ Ways To Add More Fun To Your Maine Road Trip Itinerary"]
1| Any Fishing Cove
Any little cove with a wharf and a few fishing boats will likely offer all the material a visiting photographer would ever desire. The most bountiful harvest of Nova Scotia photos will be found by simply following rural roads down to the sea. Many of them end in small fishing villages where fishing boats bob at their moorings or are tied up at wharves.
For the best shots, wait for a few fishermen to tend to their boats or their fishing gear. Fishermen are often busy early in the morning, and, of course, sunrise provides some of the best light of the day.
Below is my shot of an old storage shed next to a tiny wharf in a village called Little Harbour on Nova Scotia's South Shore. It's taken at sunset, and as you can see the sunset in Nova Scotia can be spectacular.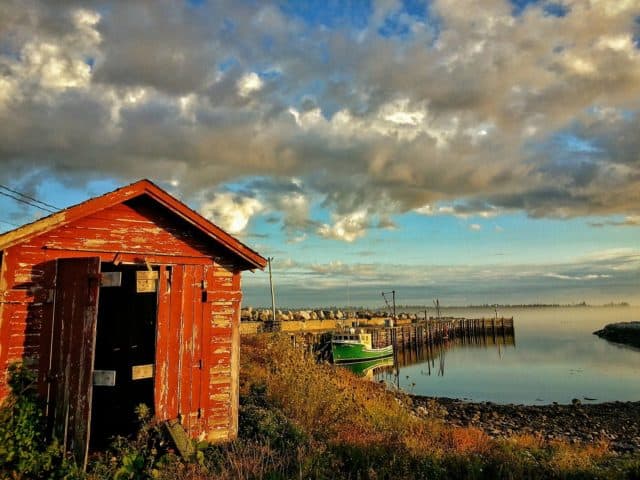 [irp posts="10109″ name="From Portland Maine to Bar Harbor: 13 Coastal Maine Towns You Must Visit"]
---
Of course, there are more beautiful spots in Nova Scotia like Cape Forchu, Kejimkujik National Park, Mahone Bay, and Five Islands Provincial Park (which we will feature in another post). But this list of locations will give you an overview of Nova Scotia has to offer and get you fall in love with its legendary landscapes and vibrant culture!
Enjoy this post? Save THIS PIN on your Canada Travel or Road Trip Travel board on Pinterest so you can come back later to plan your trip!