This site uses affiliate links and we may earn a small commission when you use our links and make a purchase without incurring additional fee yourself. Many thanks for supporting this website. Please see our disclosure page for more details.
When visiting Québec, most people head straight to Montreal and Québec City. But this magnificent province is so diverse and there's so much to see on a Québec vacation than the big cities!
This fall we embarked on a 5-day Québec road trip to the Gaspé Peninsula and we had the time of our life! The fall foliage, the regional cuisine (cue lobster and seal meat), the majestic whales and fascinating seabirds had us head over heels. It is the best East Coast road trip one could have ever imagined!
This Québec travel guide showcases the various Québec road trip destinations on the south shore of Saint Lawrence River that should be on your radar. As you follow along, it's easy to see why you should extend your trip to Québec City to explore the beautiful Maritimes regions!
Don't have time to read? Save THIS PIN on your Canada Travel board on Pinterest so you remember to come back to plan your Quebec travel!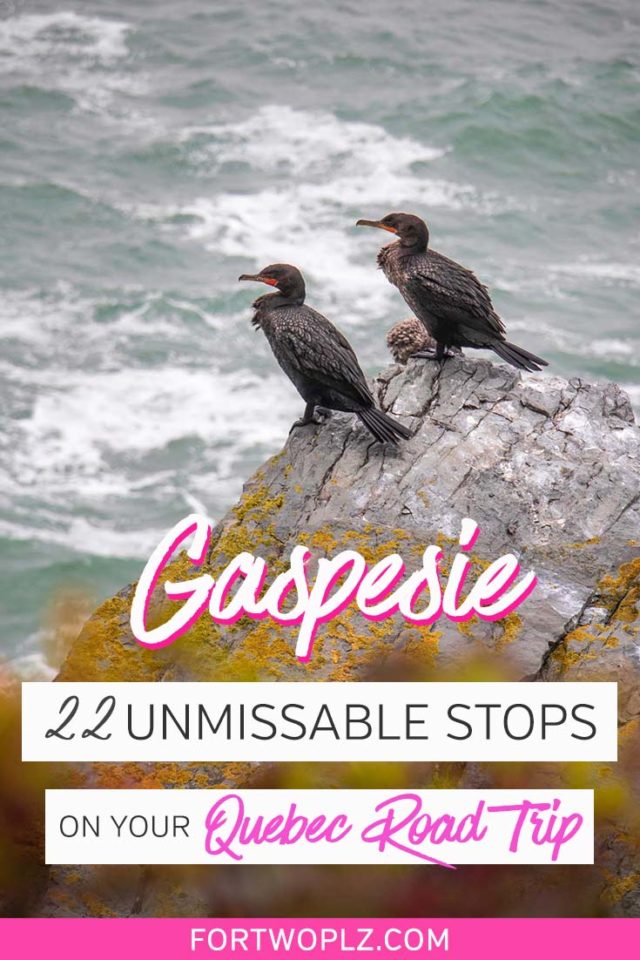 Below is a road map of Québec highlighting all the must-see stops in Chaudière Appalaches, Bas-Saint-Laurent, and Gaspé. We will be showing you sights from the West to East so you can easily transform this to a Québec road trip itinerary:
1| Parc des Chutes de la Chaudière
Across the Saint Lawrence River from Québec City is Parc des Chutes-de-la-Chaudière featuring breathtaking waterfalls. Only 30 mins away from Old Québec, this attraction tops the list of popular Québec City day trips for the locals!
Unlike most waterfalls, you can actually walk on the rocks at the bottom of the falls to feel the true power and volume of water spilling off the cliff up close. It is truly sensational!
That's not it! The park also has a 113-m long suspension bridge that sways up to 23m above the river, offering a unique viewpoint of the thundering falls and the rugged landscape. If time permits and weather is nice, we encourage you to take advantage of the hiking trails and picnic areas to get a good dose of nature.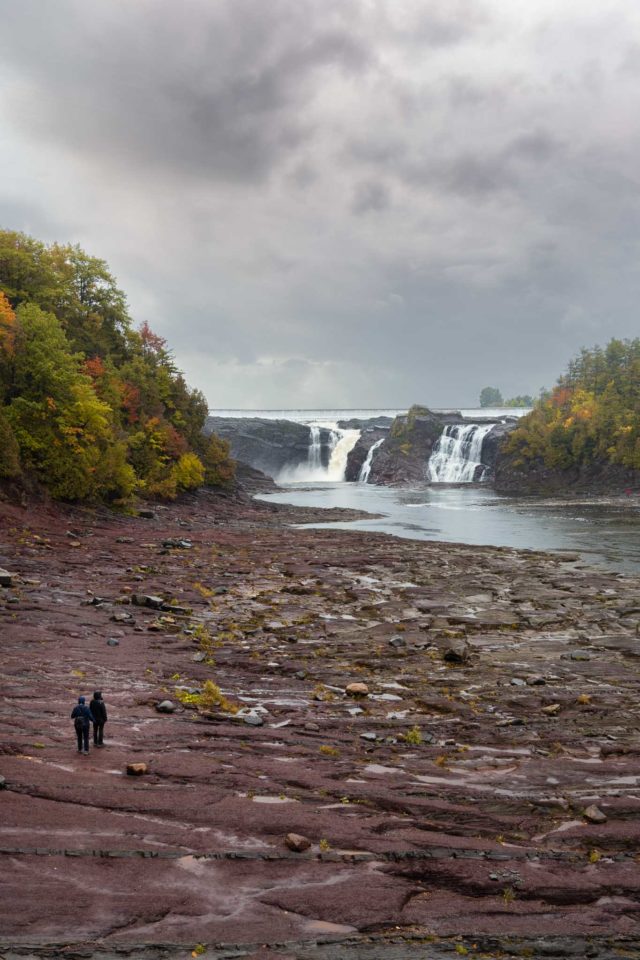 It's a marvelous sight to explore on your way to the Gaspé Peninsula and will for sure make your driving in Québec unique! (even if you only have a weekend in Québec City, it is an easily manageable addition to your itinerary!)
2| Old Lévis
Old Lévis sits directly across from Québec City and is only a ferry ride away!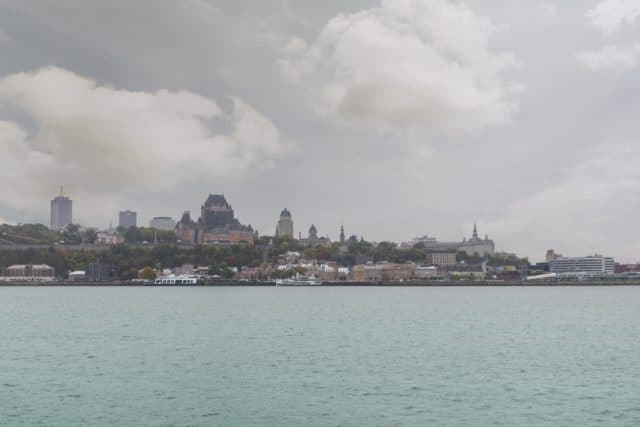 This hidden gem is the go-to spot for photographers to get the Québec City skyline. No need to go far, you can capture that view right by the Québec City-Lévis ferry terminal.

It also makes for one of the best day trips from Quebec City for foodies. Stop by at Chocolats Favoris for some high-quality artisanal chocolate or chocolate-dipped ice cream (available in 12 different flavours!). Or, attend a cooking class with Madame Germaine, learning how to make authentic Quebec foods!

[irp posts="8545″ name="Plan Your Own Quebec City Food Tour By Hitting These 13 Spots"]
3| Musée Maritime du Québec
Come aboard the three historic ships on your Québec trip and dive deep into Canada's maritime history at the Musée Maritime du Québec!
The museum possesses a rich collection of artifacts and documents related to all kinds of maritime events. Smaller wooden ships like rowboats and canoes are also on display in a hangar-workshop! A must-see stop for history buffs.
The highlights, though, are the two gigantic ship museums outdoors – the icebreaker Ernest Lapointe and the hydrofoil Bras d'Or 400, as evidence of the rich maritime heritage in Québec.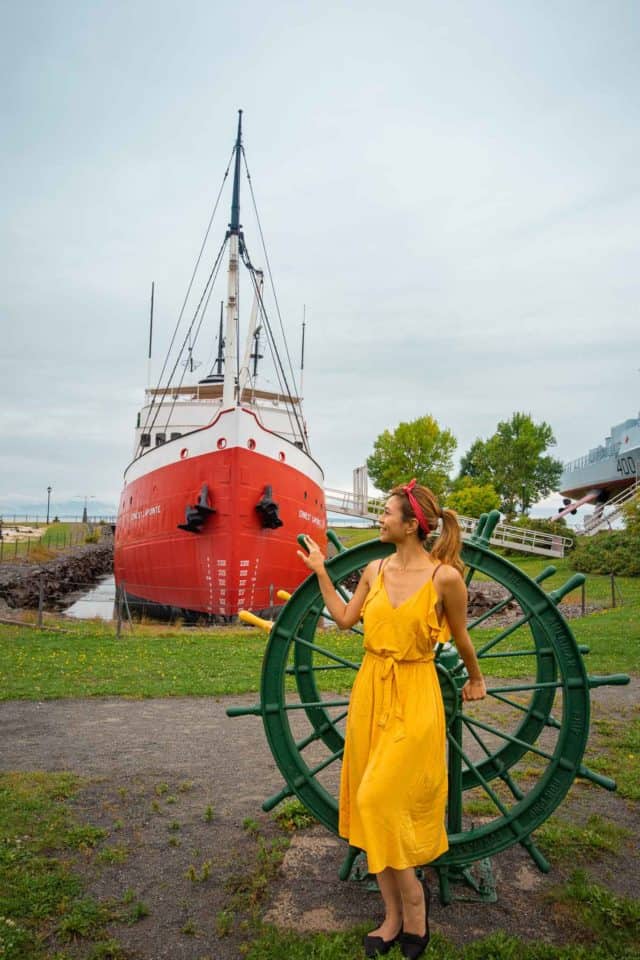 4| La Coureuse des Grèves
Looking for a satisfying sit-down meal on your Gaspé peninsula road trip? We highly recommend eating at La Coureuse des Grèves.
This casual fine-dining restaurant serves incredible foods. Their ever-changing menu is a mix of French cuisine and Asian gastronomic flair, utilizing local seasonal products.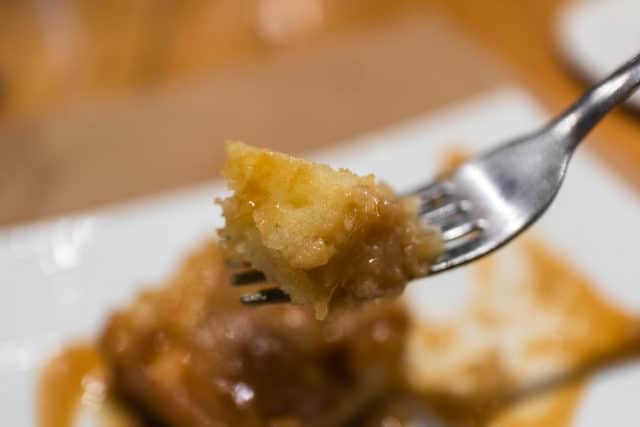 To get the authentic Québécois experience, we suggest starting your meal with cheeses produced by the nearby cheese factory Île-aux-Grues (the BEST you can have in Canada!). Remember to leave room for pouding chômeur ("unemployed men pudding"). The irresistible dessert, soaked in maple syrup, was created by female factory workers early during the Great Depression in Québec.

[irp posts="6820″ name="13 Places You Must Visit in Montreal"]
5| Le Moule à Sucre
Want to bring a piece of Québec home with you? Le Moule à Sucre has got you covered!
This charming store in Saint-Jean-Port Joli sells a wide variety of local products and confectionery. Everything is made in Québec – from maple syrup, jam, foie gras, terrine to wine, to keep the memory of your Québec holiday alive.
It is almost impossible to leave the store empty-handed so make sure to bring an extra suitcase – just in case!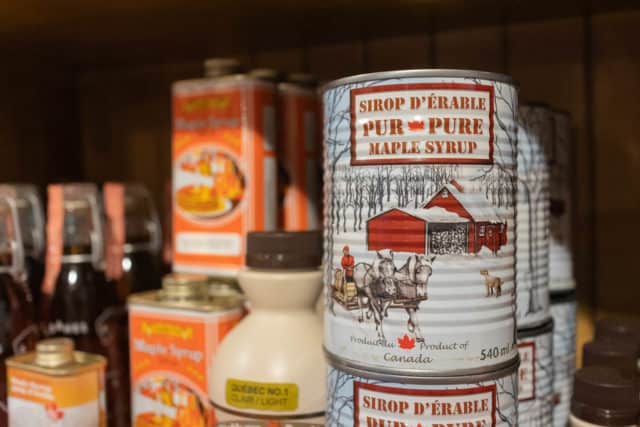 6| Parc National du Bic
Follow the scenic Québec Route 132 towards Rimouski, you will enter the territory of Parc National du Bic (Bic National Park).
The park, covering an area of 33.2 square km, boasting rocky capes, bays, coves, islands and mountains, which all come together to create dramatic landscapes.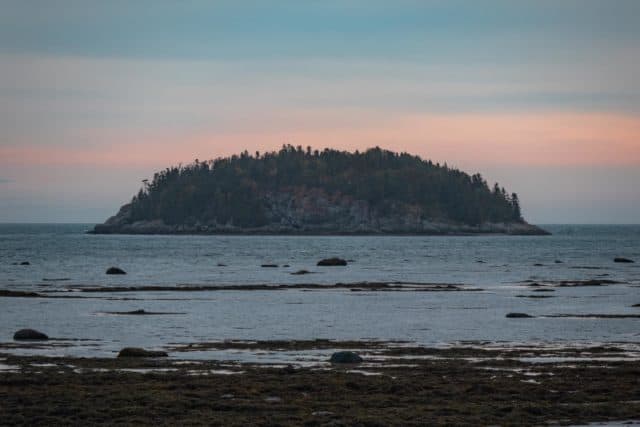 The sheltered coastline attracts thousands of seabirds each summer to build nests. It is one of the prime spots to see common eiders, the largest duck in the Northern Hemisphere!
If you walk along the shore, don't be surprised to encounter harbour seals up close as they like to rest on the rocks in the coves and bays!
Needless to say, there are numerous hiking trails you can take advantage of. One of the best lookout points is Pic Champlain, the highest peak of the Murailles massif. You can hike up or get a lift on the shuttle to the top to admire the sweeping views of the estuary and the entire park!
7| Auberge du Mange Grenouille
Fancy a romantic dinner on your road trip to Québec Gaspésie? In Rimouski, Auberge du Mange Grenouille will transport you into a dream world of charms with a gastronomic experience that promises to satisfy all senses!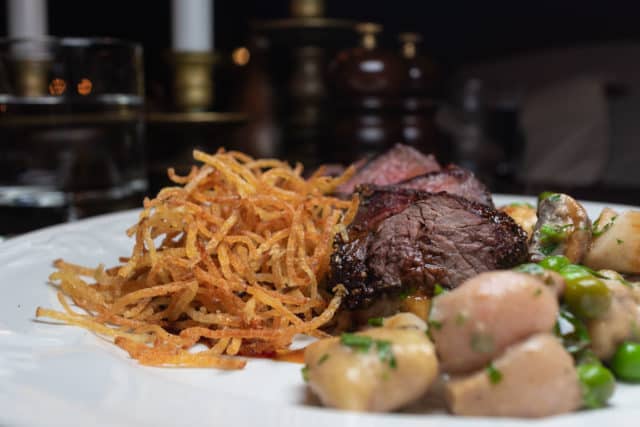 The gourmet restaurant nestled inside a beautiful inn overlooks the islands of Parc National du Bic, especially remarkable at sunset. The whimsical space decorated in a theatrical and operatic fashion exudes sophistication and style.
As for the food, the dishes are designed to showcase the region's distinct cuisine and take you on a taste adventure. Have not ever tried blood pudding, seal meat, or duck heart in your life? This is your perfect chance! (BTW, they were yummy!)
8| Pointe-au-Père Maritime Historic Site
We get it, museums can be boring. But Pointe-au-Père Maritime Historic Site is such an interesting place that makes non-museum goers like us feel fascinated.
The landmark brings 3 attractions together under one roof. You will have an opportunity to:
⇢ go into the 90m-long Onondaga submarine and discover how 70 crew members would live for months at a time
⇢ tour the Empress of Ireland Museum and learn about what makes this shipwreck one of Canada's worst marine disasters
⇢ climb to the top of the second tallest lighthouse in Canada, Pointe-au-Père Lighthouse (33m) and enjoy a spectacular view of the St. Lawrence River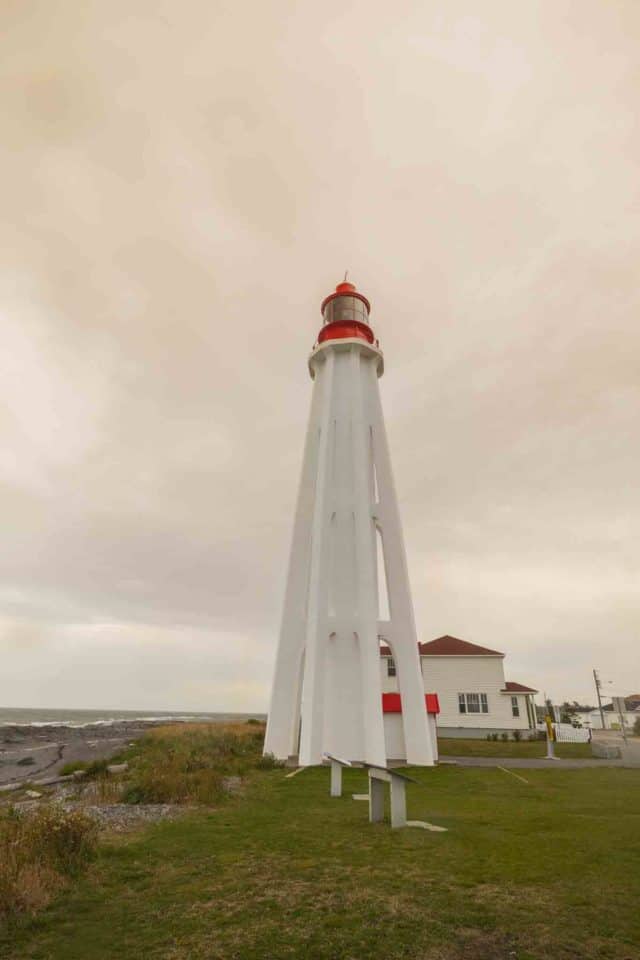 9| Reford Gardens
You can easily spend a whole day wandering through the endless fields of flowers at Reford Gardens (aka Jardine de Métis).
The 45-acre National Historic Site is home to a historic house, 8 magnificent gardens and a collection of 3500 plant varieties. If that doesn't impress you, head over to the International Garden Festival section and have some fun at the interactive contemporary gardens designed by landscape architects from around the world.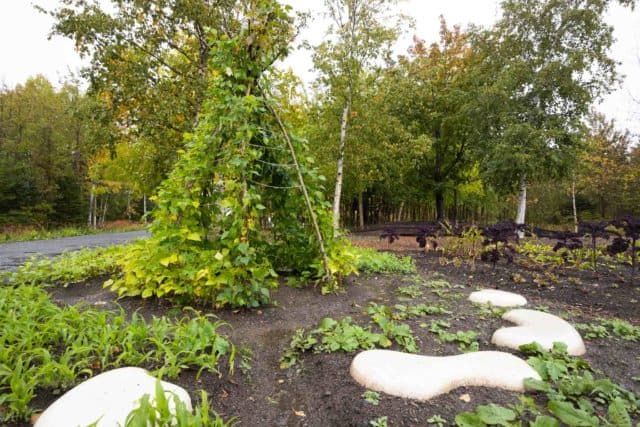 Mitis River Park is worth a visit when the weather is nice. The nature park showcases forest and marine ecosystems unique to the region. Walk along the 3km-long landscaped trails to the mouth of the Mitis River and climb up the observation tower for stunning views of the surrounding area!

[irp posts="10896″ name="8 Best Places To Spend Christmas In Canada For A Romantic Winter Escape"]
10| La Martre Lighthouse
The all-red lighthouse might not be the tallest in the area, but has been in operation since 1906 and is made with wood. Unlike modern lighthouses which use electric motors, La Martre Lighthouse is still operated by the original clockwork system!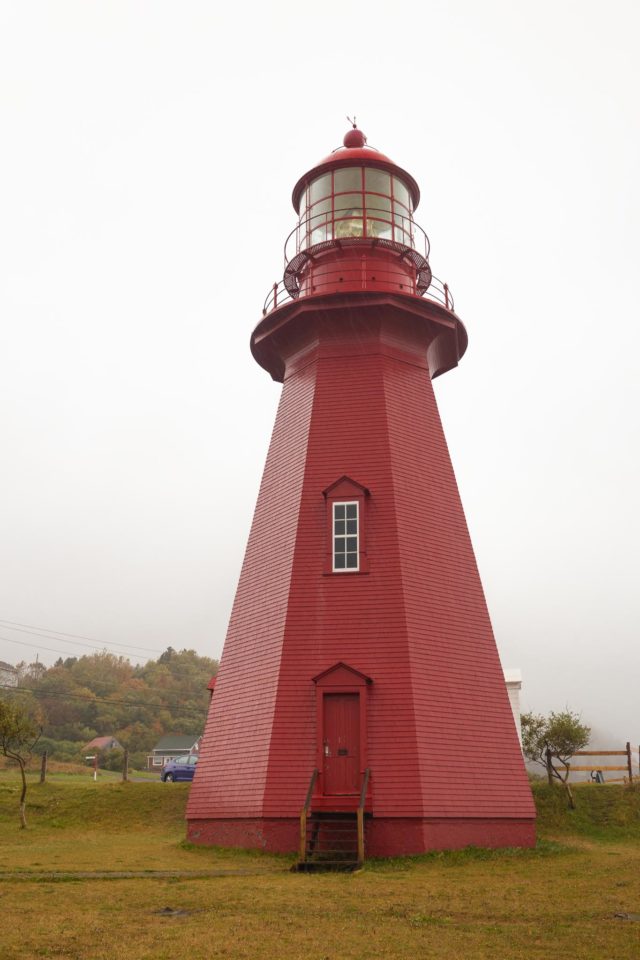 11| Cap de la Madeleine Lighthouse
The cylindrical concrete lighthouse, built in 1908, sits at the top of Cap de la Madeleine. It is an important landmark that helps guide commercial shipping traffic on the St. Lawrence River.
Don't have time to finish reading? Save THIS PIN on your Canada Travel or Road Trip Travel board on Pinterest so you can refer to it later!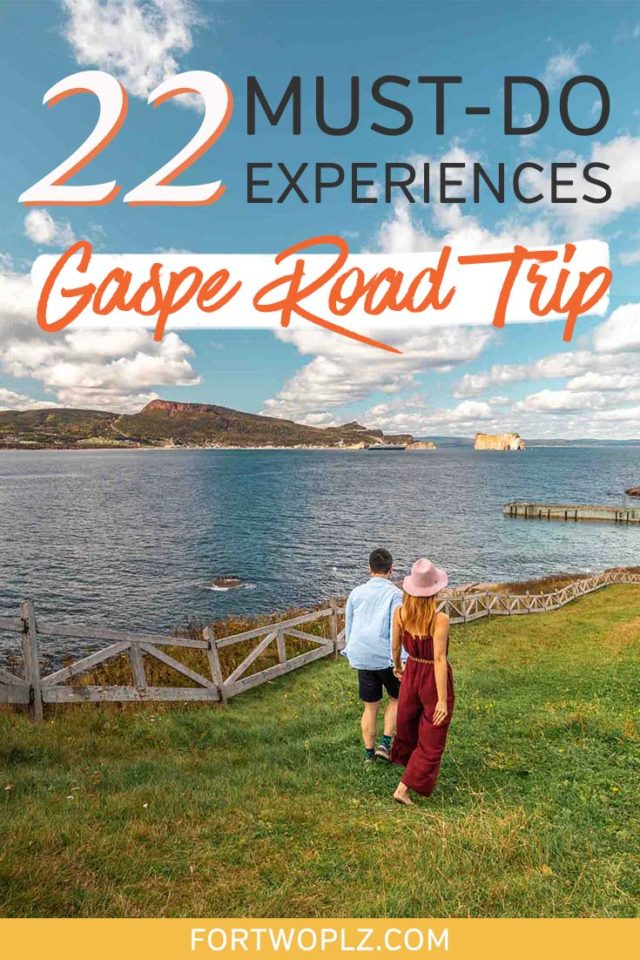 12| Pointe-à-la-Renommée Lighthouse
Of all the lighthouses we've visited on the Gaspé Peninsula, this one is our favourite.
To reach Pointe-à-la-Renommée Lighthouse (aka Fame Point), you must first travel on a dirt road (unmarked on Google Maps). The drive seems endless but when you finally reach the destination, it is not hard to understand why Pointe-à-la-Renommée has been called "the world's most traveled lighthouse."
This is also home to the first marine wireless telegraphy radio station in North America!
Perched serenely atop the cliff, the lighthouse looks out to the Gulf of St. Lawrence. On a clear day, you might even see whales and seals popping their head out of the water.
A small fee is required to tour the historic site ($6 for one exhibit or $10 for a complete visit), but it is worthwhile to hear the fascinating story of the lighthouse keepers, the wireless radio operators, and the fishermen who lived on the isolated shores of Fame Point.
Outdoor enthusiasts can explore the many hiking trails nearby to find the best vantage point to enjoy the ocean backdrop!
13| Atkins & Freres
Gaspésie is known for seafood. The best place to buy smoked fish and seafood products is Atkins & Freres at Mont-Louis.
From maple salmon bites to smoked lobster rillettes, the store has a wide array of high-quality culinary delights to satisfy every seafood lover's palate!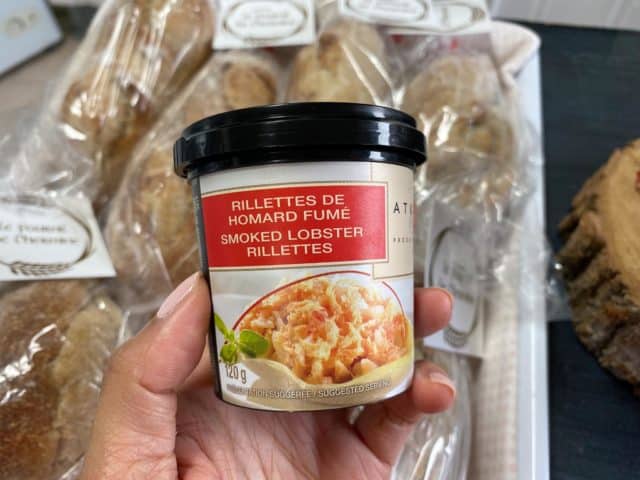 14| Cap-des-Rosiers Lighthouse
A visit to Canada's tallest lighthouse, Cap-des-Rosiers, is mandatory on your Gaspé road trip.
The soaring stone tower stands 34m atop the rugged cliffs and has been guiding ships through the treacherous waters since 1858! Because of its heritage value, the lighthouse has been designated a National Historic Site in 1973.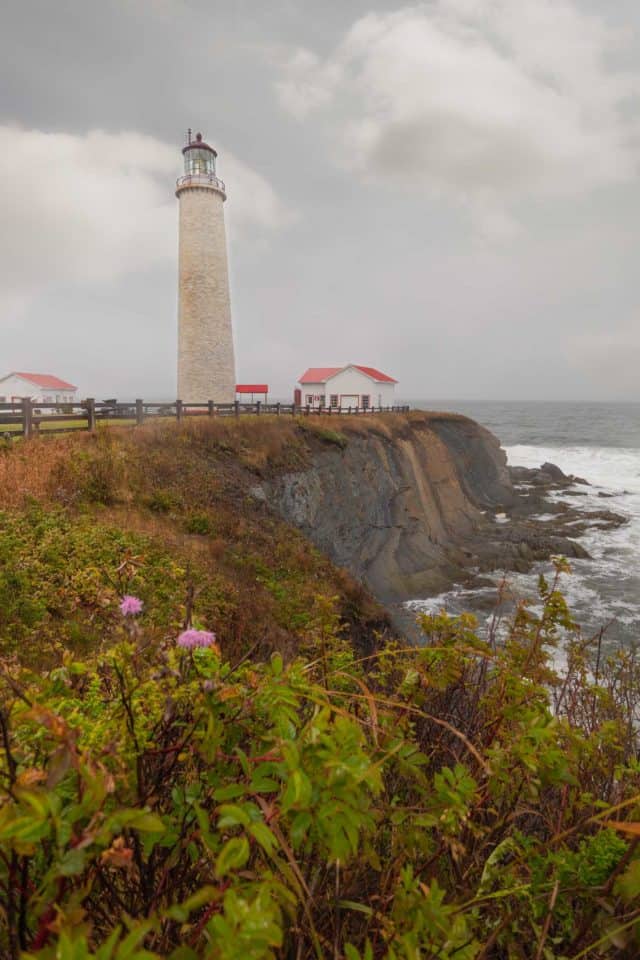 You are welcomed to visit the landmark in the summer from late June to the beginning of September (entrance fee required). Guided lighthouse tour is provided (with an additional cost) as well, but please beware that the tower is in desperate need of repair. We urge you to stay safe!
15| Cap-Bon-Ami
At the easternmost tip of the Gaspé peninsula lies Cap-Bon-Ami. This stunning site in the north sector of Forillon National Park is a geological wonder, featuring towering limestone cliffs and rugged layers of rock.
Standing at the top of the cliff, you can feel the wind brushing through your hair and hear the waves crashing onto the shore. Often seen here are various seabirds, including double-crested cormorants, black-legged kittiwakes, razorbills, common murres, and black guillemots, drawn by the fish-rich waters and refuge they need to reproduce.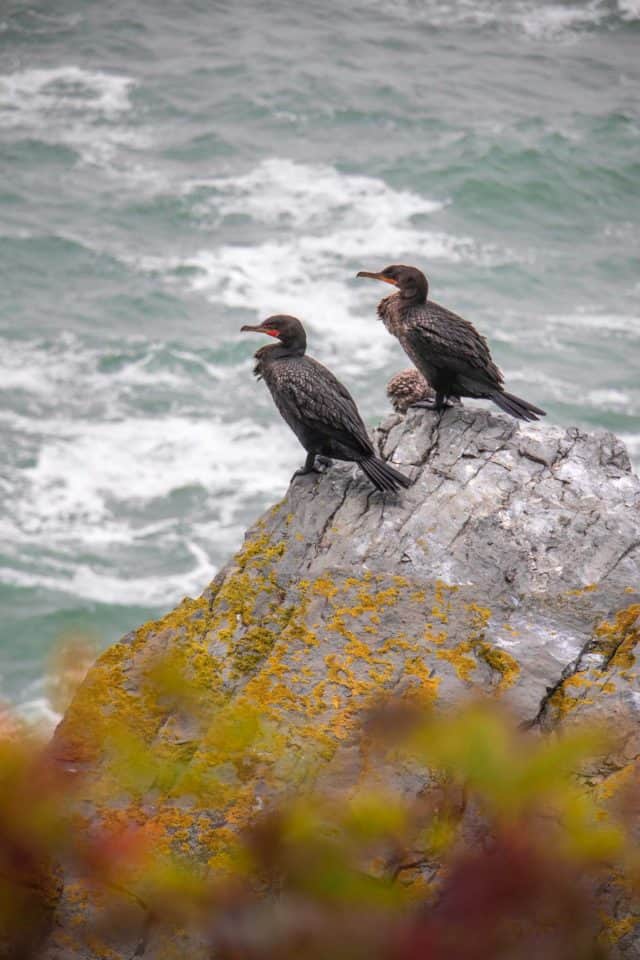 Don't leave without walking down to the pebble beach. Colonies of seals live at the foot of the cliffs. You might be lucky even to view them up close!
[irp posts="8404″ name="Crazy Bucket List Ideas: Close Wolf Encounter in Quebec, Canada"]
16| Cap-Gaspé Lighthouse
Cap-Gaspé ("end of land") is where the Appalachian Mountains meet the Atlantic Ocean. To reach the lighthouse, you will need to hike along the Les Graves trail.
Keep an eye out for wildlife. Porcupines and bears are often spotted along the way.
After going up on a steep incline, you will finally reach the lighthouse. Small and mighty, the 13m-tall tower sits on a high cliff, rewarding you with jaw-dropping views of the Gulf. It also offers good whale and seal sightings!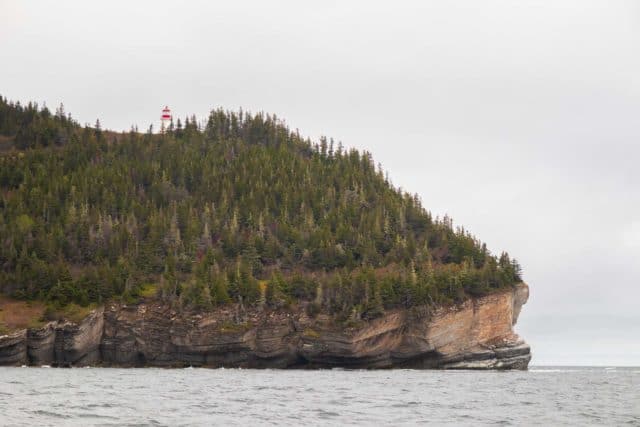 17| L'Anse Blanchette
Costumed interpreters welcome you at L'Anse-Blanchette to travel back in time to the 1920s.
Most noticeable is the little yellow house standing on the steep slope on the shore of the Gaspé Bay. The restored structure tells the story of the old fishing village that used to be here in Grande-Grave and the everyday life of the cod fishermen.
Besides the family home, you'll also get a chance to visit the large barn, fish shed, woodshed, and facilities related to the production of dried fish.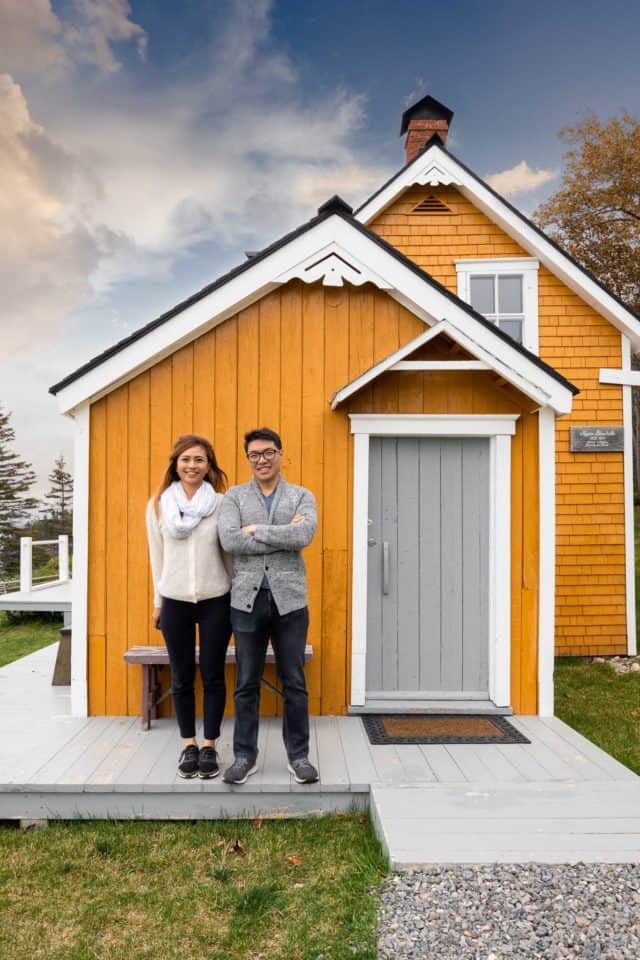 Note: the site is opened seasonally from mid-July to early September.
18| Hyman & Sons General Store
To understand the importance of the cod fishery to the local communities, head over to the Hyman & Sons General Store.
The historic general store is stocked with necessities like medicines, tools, clothes and canned goods, giving you a glimpse of the fishing companies' shops operate. On the upper floor, the exhibition illustrates the challenges faced by cod-fishing families in different seasons and how they adapt to nature. Finally, the warehouse exhibitions take you through the process of drying cod and recount on the importance of international cod trade.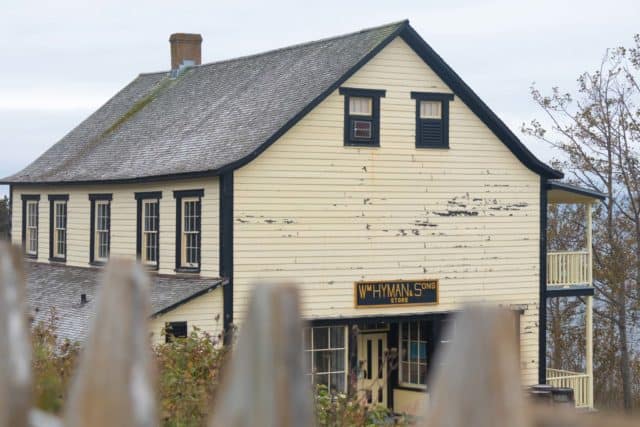 19| Whale Watching at Grande Grevè
Do you know it is possible to find as many as 7 different species of whales in Gaspé?
The nutrient-rich waters of Gaspé Bay is an important feeding ground for these majestic creatures. That is why every year, from May to October, blue whale, fin whale, humpback whale, minke whale, pilot whale, white-sided dolphin, and harbor porpoise would religiously travel here prey on plankton and fish.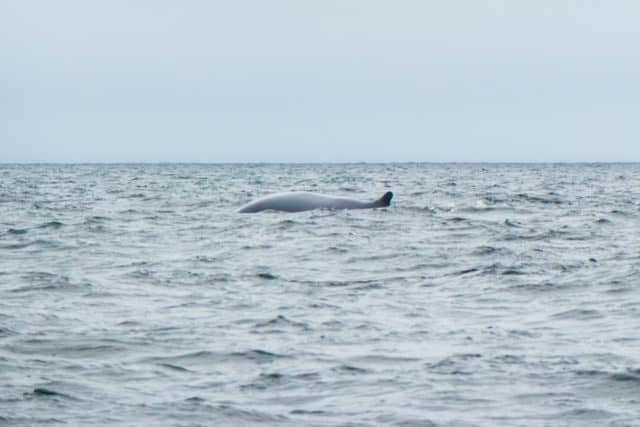 To go whale watching in Gaspé, you either depart from Grande Grevè (Forillon National Park) or from Percé. We recommend Grande Grevè for a more intimate experience.

[irp posts="8432″ name="Best Things To Do In Quebec: Let's Go Whale Watching in Tadoussac!"]

In Grande Greve, tours are operated by Croisières Baie de Gaspé and led by knowledgeable naturalists to ensure make your whale watching experience the best it can be! During the excursion, you will learn how to identify different species of whales and understand their behaviour.

Pro tip: bundle up, even in the summer months!! Cover yourself from head to toe with a beanie, ear muffs, a scarf, gloves, fleece jacket, and wool socks.
20| Parc national de l'Île-Bonaventure-et-du-Rocher-Percé
Discover the beauty of Bonaventure in Gaspésie. The island is where over 110,000 northern gannets call home in the summer, making it the second largest breeding colony in the world.
Along with the Percé Rock (a 375 million-year-old sea stack), the park draws enthusiasts crowds from near and far each year to observe a wonderful exhibition of untouched nature and fascinating wildlife.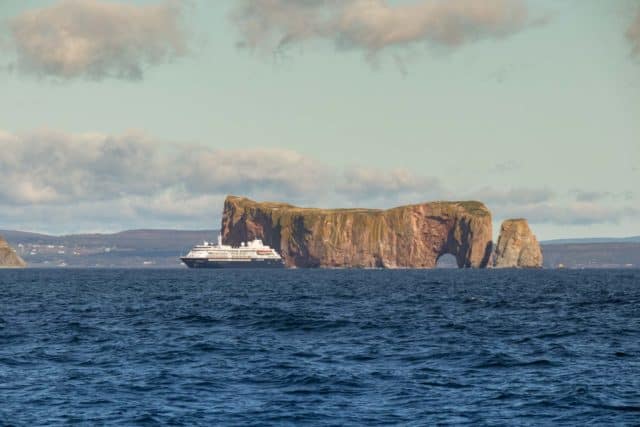 To get there, book a boat excursion in Percé (available from May to October). Our tour with Les Bateliers de Percé included:
⇢ a 1.5-hour boat ride on the way out to the island, taking you super close to Percé Rock and around the entire Bonaventure Island for photos. English and French interpretation provided.
⇢ a 15-min return boat ride to Percé.
To access the island, a small admission fee is required. During your time on Bonaventure Island, we encourage you to go on one of the four hiking trails to discover the island's rich biodiversity. Maybe you will see puffins, razorbills, black-legged kittiwake, and even whales (with binoculars)!!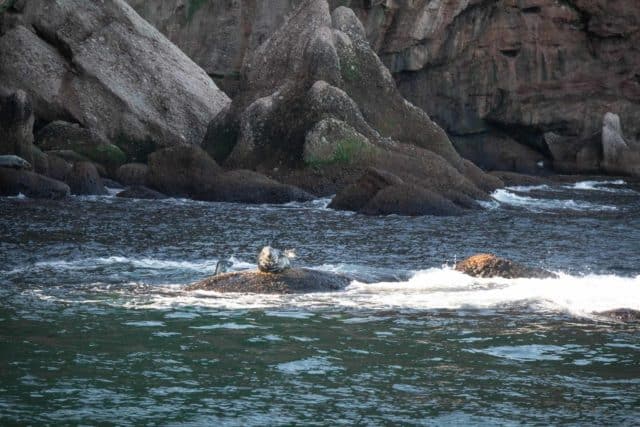 Want to observe northern gannets? Take Les Colonie trail, the shortest and most direct route to the gannet colony (2.3 km one way). It is simply marvelous to see these beautiful creatures up close and personal. They return here in late March every year – to the same exact spot, to the same partner. They stay until October to breed and raise their chick. Then, off to the south, separately, to escape the winter.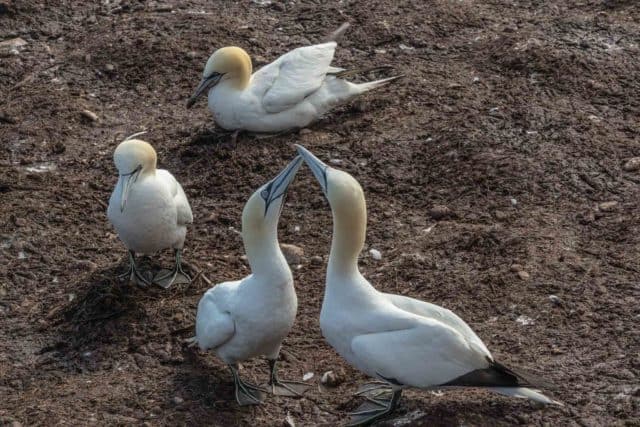 21| Percé UNESCO Global Geopark
Another must-see attraction in Percé is the UNESCO Global Geopark. The park, covering a territory of 555 square km, provides a rich number of sites and activities for adventurous travelers.
Tektonik takes you on a multimedia adventure, showcasing the unique geology and history of Percé. You will learn how the famous Percé Rock was formed.
Extending over the Mont Ste-Anne cliff, the suspended glass platform is the best place to get a bird's eye view of the Percé Rock and Bonaventure Island, but will definitely put your courage to the test.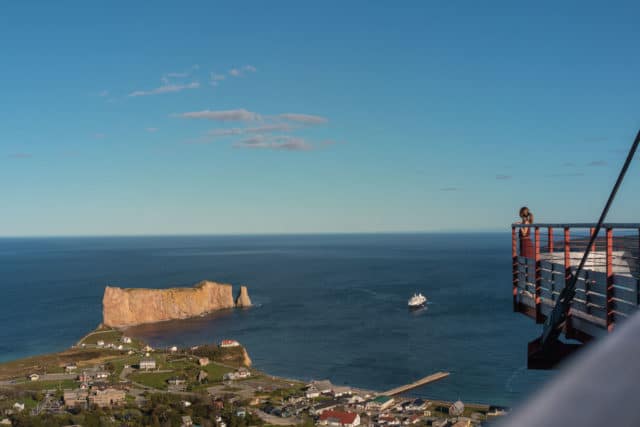 To up the thrill level, we dare you to try the zipline! The adrenaline-pumping activity offers a unique way to view the area and promises you an unforgettable memory.
Pro tip: Allow at least 2 hours to fully experience the Geopark. We recommend combining this attraction with an overnight at Riôtel Percé, one of the best Percé, Québec hotels that directly looks out to the Percé Rock and Bonaventure Island!
22| La Maison du Pêcheur
We've mentioned earlier about how fresh and delicious Gaspésie seafood is. The best seafood in Percé can be found at La Maison du Pêcheur.
The seaside restaurant has a diverse menu of delectable seafood options made with locally sourced items. From sea urchin cream soup to Gaspésie lobster to salt-cured cod pizza, the mouthwatering dishes give you an authentic taste of the region!
Reservation is highly recommended.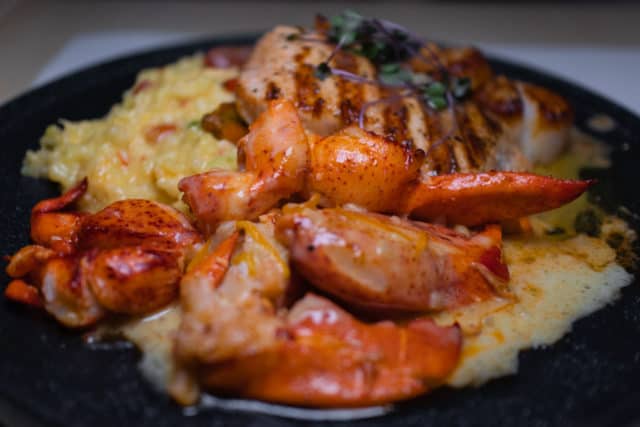 ---
Québec Maritimes is out-of-this-world beautiful. We wish the next time you visit Québec, take the path less traveled and see the Gaspé Peninsula yourself!
Enjoy this post? Save THIS PIN on your Canada Travel or Road Trip Travel board on Pinterest so you can come back later to plan your trip!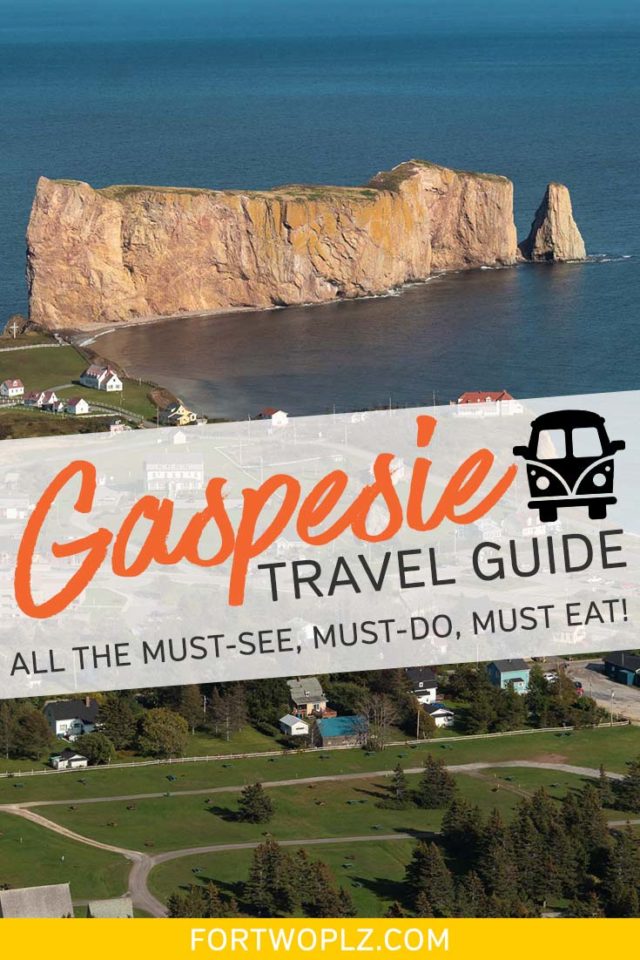 Disclaimer: We are hosted by Tourisme Chaudière Appalaches and Québec Maritimes. As always, all opinions on For Two, Please are our own and we only recommend brands that we 100% stand behind.