This site uses affiliate links and we may earn a small commission when you use our links and make a purchase without incurring additional fee yourself. Many thanks for supporting this website. Please see our disclosure page for more details.
2 weeks ago, I shared my list of "to avoid" places in Montreal. While we were a little unlucky to fall into a few tourist traps, our experience in Montreal was generally positive and satisfactory. Believe it or not, Montreal is actually my favorite city in Canada. I'd wholeheartedly recommend anyone who is interested in exploring Canada to start their trip in Montreal – you just need to know the right places to visit!
To give you the best recommendations, I partnered with @curiouswuwu, a talented travel photographer, to show you where you must visit in Montreal!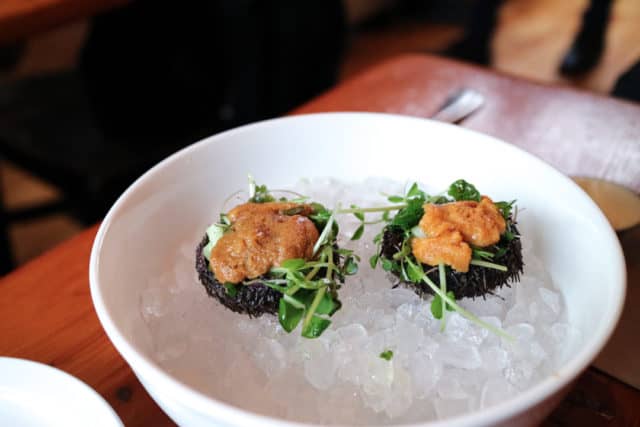 This post contains affiliate links, meaning if you book or buy something through one of these links, we may earn a small commission (at no extra cost to you!).
Pressed for Time? Consider These Montreal Tours
✓ Old Montreal Walk: Small group tour include Notre-Dame Basilica
✓ Craft Breweries with Tastings: Craft beer tour in Montreal's Old Port
✓ 3-Day Passport Montreal: Money-saving pass to 28 of Montreal's top attractions!
1| Notre-Dame Basilica of Montreal
If you only have time to visit one church in Montreal, make it Notre-Dame Basilica of Montreal. Situated in the historic Old Montreal, this Gothic Revival architecture's rich interior furnishings are breathtaking. The soaring ceiling is colored deep blue speckled with golden stars to depict the glory of Heaven while the rest of the sanctuary displays regal, dramatic colors. Along the sides, you can find stained glass windows depicting the religious history of Montreal, with hundreds of carefully carved statues and carvings scattered throughout the interior.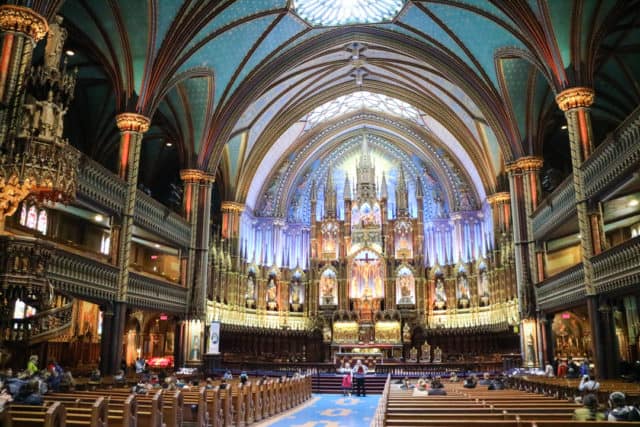 Hidden behind the sanctuary is the Chapel of Notre-Dame du Sacré-Cœur. This small chapel has an incredible all-wood interior and a fan-shaped vault designed in a modern style to let in some glorious natural light. The bronze sculpted altarpiece at the front, the spiral staircases, and the side gallery consisted of 32 bronze panels cast in England, are all very impressive.
Pro tip: Be sure to join the 20-min guided tour (offered daily in French and English), which are covered by your admission fee ($5)!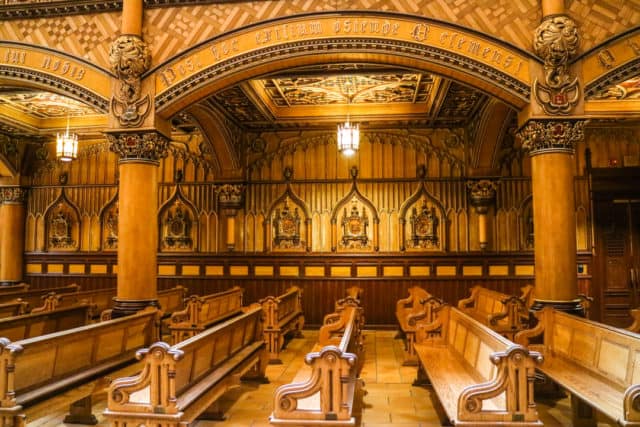 2| Habitat 67
Habitat 67 is a must-see landmark for architecture and design lovers, also one of the Instagram-worthy places in Montreal. This housing complex is designed for Expo 67 by Israeli-Canadian architect Moshe Safdie, as an attempt to reimagine apartment living. Inspired by the post-war Japanese architectural movement "Metabolism," Safdie created a set of futuristic cube-like condominiums to integrate the qualities of a suburban home into an urban high-rise. Instead of corridors, each of these interlocking modular units is connected with nature and has access to a roof garden built atop an adjacent cube.
3| Biosphere
Biosphere is another architectural landmark from Expo 67. This spectacular site in the heart of Parc Jean-Drapeau is an environment museum ($15) that showcases how to build a greener and cleaner future. There are numerous interactive exhibitions highlighting the ways we can live as eco-citizens and educating us about major environmental issues.
Once you're done touring inside, don't forget to go up to the observation platform, where you get great views of Montreal city and the two islands of Parc Jean-Drapeau!
4| Biodome
Biodome is not to be confused with Biosphere. This living nature museum ($20.25) is originally built for the 1976 Olympic Games as a velodrome to host track cycling and judo events. Now, it recreates 5 different ecosystems in the Americas with more than 7000 animals and 500 plant types live under the same roof. You can walk through a tropical rainforest, explore Sub-Antarctic islands, see the changing seasons of the Laurentian Maple Forest, take in aquatic life in the Gulf of St. Lawrence, or wander along the coast of Labrador.
It is one of the only places in the world where you can experience all four seasons indoors at the same time!
Pro tip: Take the metro instead of driving. Indoor parking is very expensive here. Besides the indoor zoo, it is worth considering climbing up to the top of the Montreal Tower (the tallest inclined tower in the world!) and visit the Botanical Garden and Insectarium, which are all in the same neighborhood. Before you go, check out bundled packages to save some money!
[bctt tweet="Visiting @Montreal? Check out these top attractions worth seeing in the city! #travel #ExploreCanada" username="fortwoplz"]
5| Montreal Science Centre
Montreal Science Centre is the perfect place to feed your inner science geek. While this place is not particularly huge, I do love their traveling exhibitions which are often fun, interactive and mind-blowing! When we visited last year, Animal Inside Out was on display. This continuation of Body Worlds showed us the anatomy of animals in a whole new way and was nothing like we'd ever seen before. If this sounds intriguing, you will need to hurry as this exhibition only lasts until March 12, 2017!
Don't worry if you can't catch that in time. What's coming up next: CSI – The Experience, seems just as fascinating! Hmm… now I'm thinking of going to Montreal just for that.
6| Underground City
Montreal is famous for its Underground City, which the locals called RÉSO (short from the French word réseau, which means network). The name can be misleading but this is not a city. It is actually a 32-km network of tunnels beneath downtown, connecting shopping malls, metro stations, hotels, museums, theaters, concert halls, and universities. The purpose is to ease traffic downtown and provide a way for people to get around without stepping outside during the cold winter months.
Even if you're not into shopping, the pathway can take you to some interesting spots, as seen in the photos taken by @curiouswuwu. Go even deeper down if you're feeling adventurous. You might discover a whole new world as Andrew Emond did!
Pro tip: Be prepared to get lost as it is a giant maze, but having a map will certainly help! And pay attention to the four letter: RÉSO, which will direct you to the correct pathway.
7| Kondiaronk Belvedere
On a nice, warm day, it is worth hiking up to the summit of Mount Royal. Right in front of Mount Royal Chalet, there is a lookout spot called Kondiaronk Belvedere, where you can get one of the most scenic views of Montreal. As the highest elevation in the city, it offers striking views of the downtown skyscrapers, St. Lawrence River, as well as Mont-Royal's sister mountains—Monts St-Bruno, St-Hilaire, and St-Grégoire!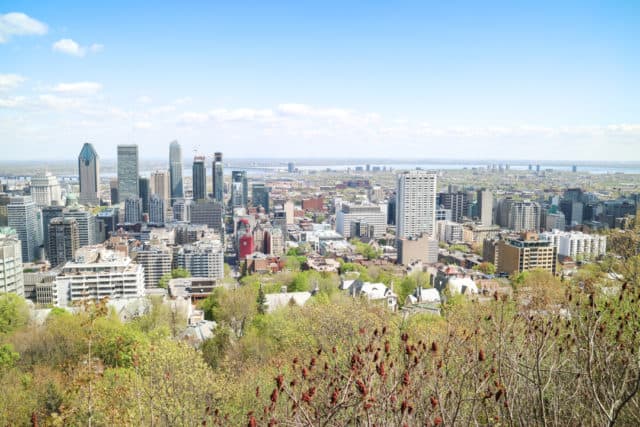 8| Au Sommet Place Ville Marie
Don't be disappointed if it is too cold to go outdoor. I've got another option for you: Au Sommet Place Ville Marie ($19), which has just opened to the public last year! The observation deck on the 46th floor gives you 360° views of Montreal's natural setting and urban landmarks, including the St. Lawrence River, the Jacques-Cartier Bridge, Mount Royal, and the Olympic Stadium!

On the 44th floor, you can experience authentic Montreal cuisine with staggering views at the most elevated dining destination in the city – Les Enfants Terribles Brasserie. On the same level, there is a rooftop terrace that boasts 12-foot-high bay windows and an urban garden!
The #MTLGO interactive multimedia exhibition on the 45th floor will give you the chance to get to know Montreal better. It showcases many popular city themes, including gastronomy, sports, and performing arts. The coolest part is that you can collect stories and topics of your interest on a RFID wristband (how hi-tech is that!) and send further information via text or email about how to complete the "missions" in real life!
9| Jean-Talon Market
Going on a culinary tour at Jean-Talon Market is a must! This largest open-air market in North America is bustling with a wide variety of vendors selling fresh local products.
You can sample the in-season, delicious fruits, or eat your way through the food stalls, from smoked meat sandwich, crepe, duck poutine to Atlantic oysters. It is also a great place to shop for flavorful Quebecois souvenirs to bring back home.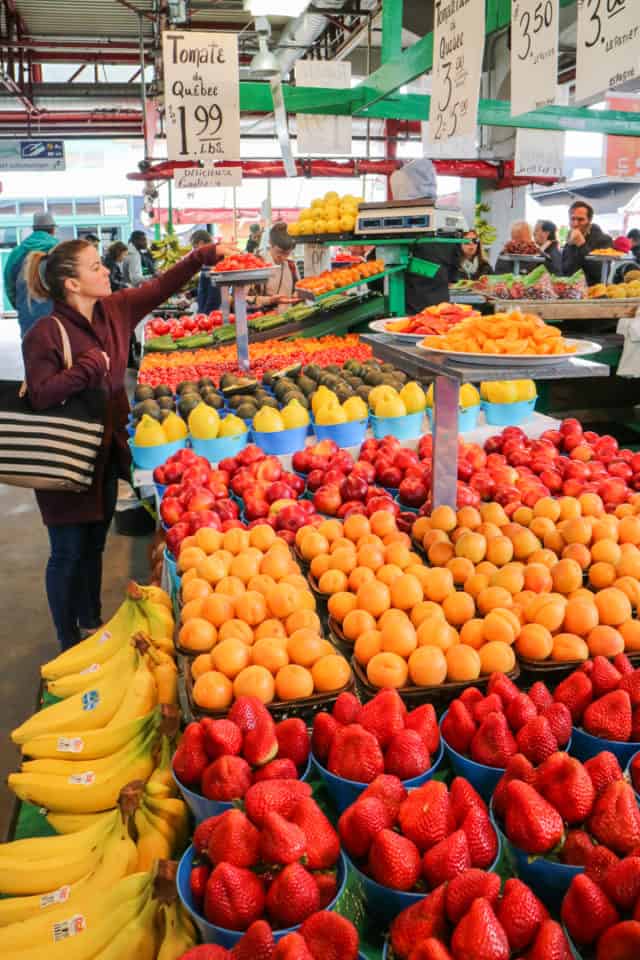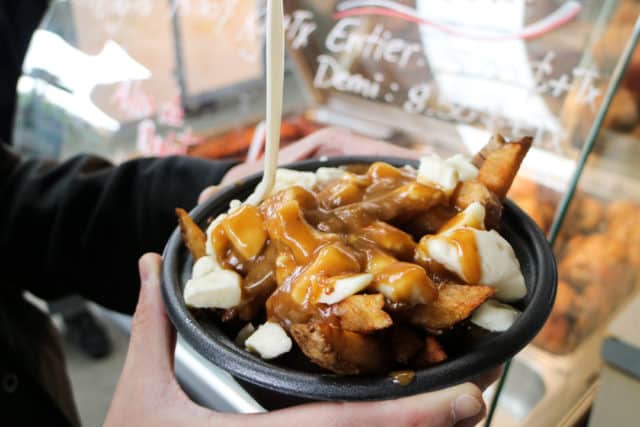 10| Schwartz's
Schwartz's is one of the iconic restaurants in Montreal. It is so famous that there's always an insane lineup outside the door. But trust me, their delicious smoked meat sandwich ($9.6) is well worth waiting for! The perfectly fatty, juicy meat, piled up high in between fresh rye bread will completely blow your mind (and taste buds!). Forget about sharing, you will want one all to yourself!
Pro tip: bring cash. And order a can of cherry cola and a pickle to complete your smoked meat experience.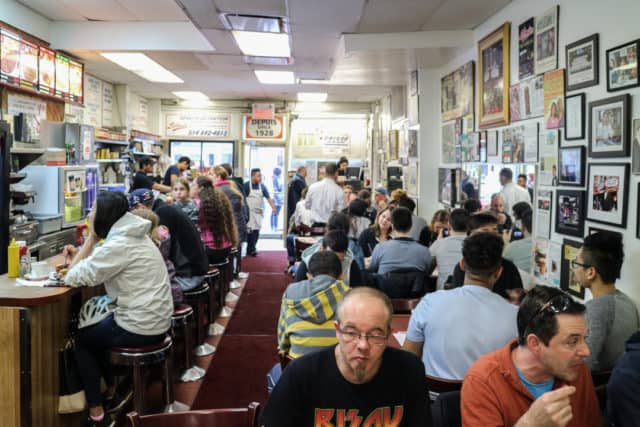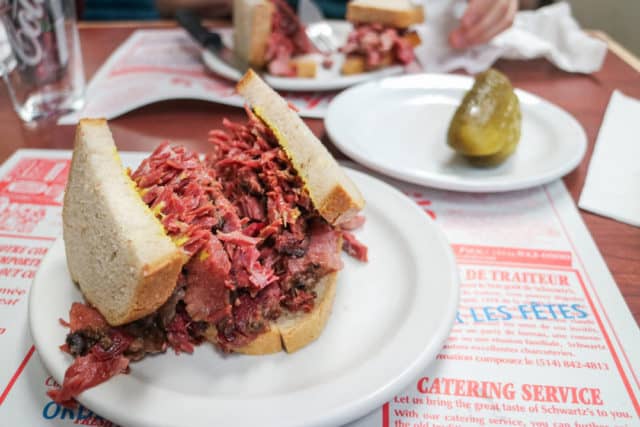 11| Le Mousso
Attention foodies: Le Mousso is a restaurant you do not want to miss. This gastronomic restaurant serves only one tasting menu which remains secret until the evening ($65 for 7 courses, with an option to add 2 other courses for extra). Chef Mousseau-Rivard is extremely talented and his innovative spirit and sharp skills shine through every dish he creates. The food combines appearance, smell, taste, and texture to send your taste buds straight to heaven. You will leave with an amazing taste sensation!
Pro tip: reservation is highly recommended.
12| Au Pied de Cochon
If you're into foie gras, Au Pied de Cochon is the place to go! This popular spot, owned by Chef Martin Picard, caters to serious carnivores and is known for its extraordinarily rich, decadent fare. You can find foie gras on almost everything, including burger, pizza, and chicken nuggets! For first-timers, start with foie gras nigiri ($20), foie gras poutine ($24), and duck in a can ($44). You won't regret it!
Pro tip: reservation, reservation, reservation. Book it at least one month in advance!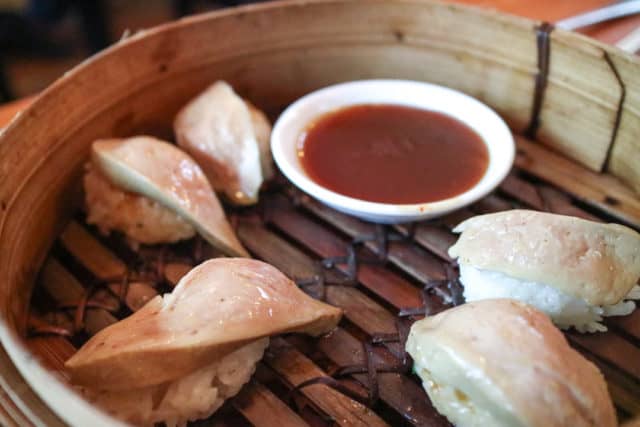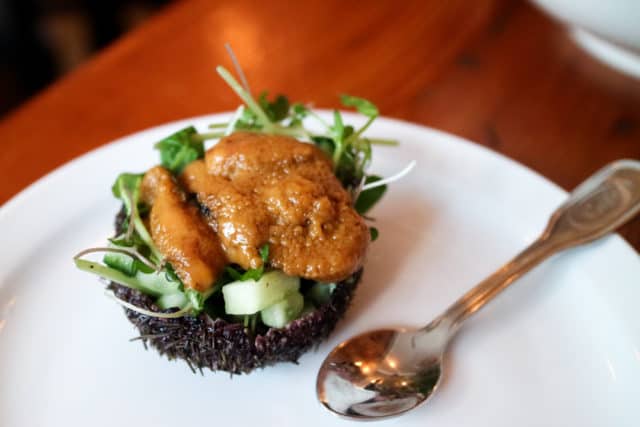 13| Rustique
Got sweet tooth? Check out Rustique. This adorable bakery/cafe is a gem for serious pastry lovers. Specializing in pies, Rustique offers a rotating selection of delicious seasonal flavors. You can order them in full size or in small-bite size. These flaky, buttery pies will leave a lasting impression and fulfill your gluttonous need!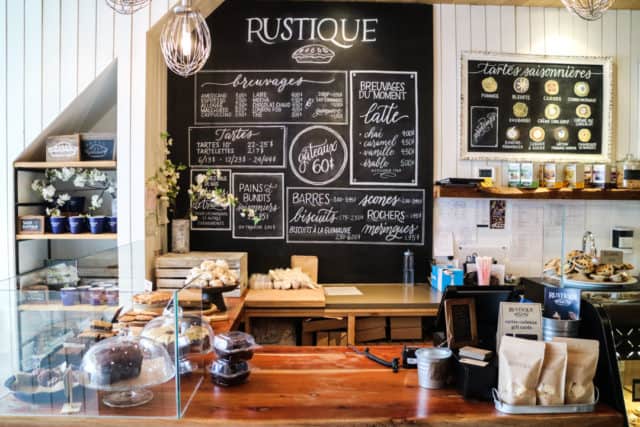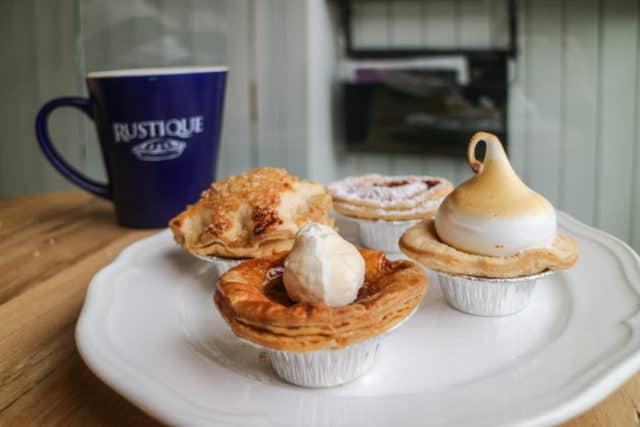 ---
Have you been to Montreal? What are your top picks in the city?