This site uses affiliate links and we may earn a small commission when you use our links and make a purchase without incurring additional fee yourself. Many thanks for supporting this website. Please see our disclosure page for more details.
Nova Scotia is a must-visit on your East Coast Canada road trip. Besides its jaw-dropping scenery and bountiful wildlife, the Canadian Maritimes province is a taste-tempting destination where senses are awakened. Lobsters, scallops, oysters, wines – all these and more delicious treats can be found across the province.
Want to spice up your summer vacation in Canada? Add these 17 spots on your Nova Scotia road trip and discover the unique taste of this coastal region!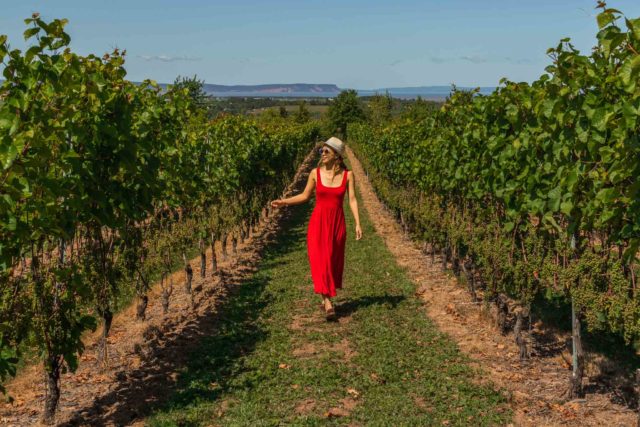 Before diving in, we encourage you to participate in one (or more!) of the following three foodie trails, designed to help you eat and drink your way around Nova Scotia! If you collect 3 stamps or more, you are eligible to enter prize draws!
⇢ Good Cheer Trail: there are over 50 locations across the province you can sample locally produced wine, beer, cider, and spirits.
⇢ Lobster Trail: a list of outstanding locations to try the freshest lobster dishes and lobster-related experience across the province
⇢ Chowder Trail: notable spots to sample a warm, comforting bowl of seafood chowder!
Don't have time to read? Save THIS PIN on your Canada Travel or Foodie Travel board on Pinterest so you remember to come back later!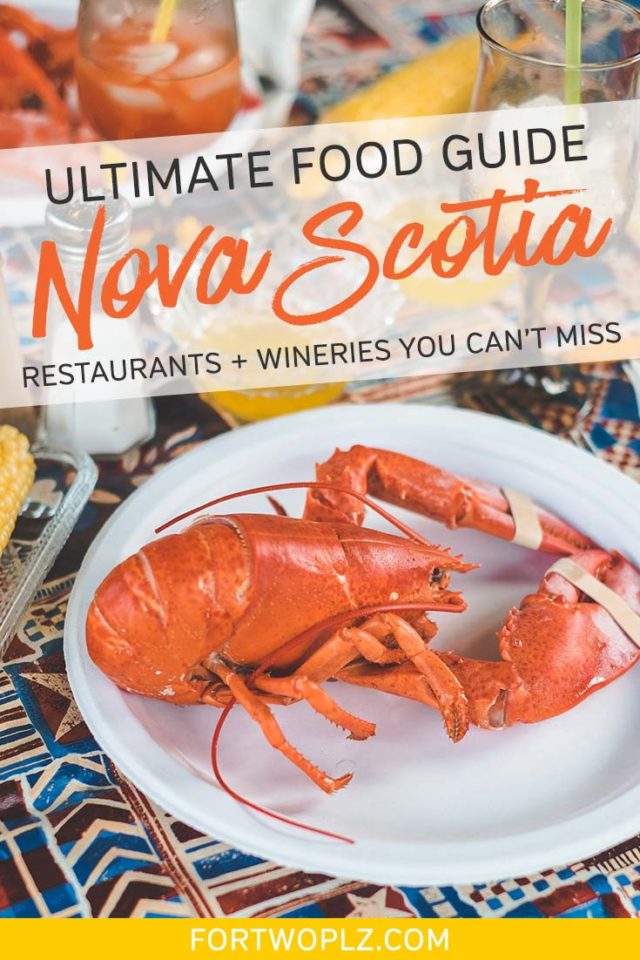 Stop 1: Five Fishermen – Halifax, NS
Start your Nova Scotia holiday at The Five Fishermen, one of the top seafood restaurants in downtown Halifax. It has been serving exceptional East Coast seafare since 1975. Everything is outstanding here: from exquisite Nova Scotia lobsters to the meatiest freshest oysters, but what particularly impressed us was its seafood chowder chock full of scallops, shrimp and halibut. It is hard to top!
The lobster kinilaw is also a must-try. The creative take on Filipino kinilaw features a bowl of finely chopped lobster meat mixed with ataulfo mango, shallots, rice wine vinegar and chives, served with crispy corn tortilla chips on the side. It's pleasantly refreshing and will awaken your appetite.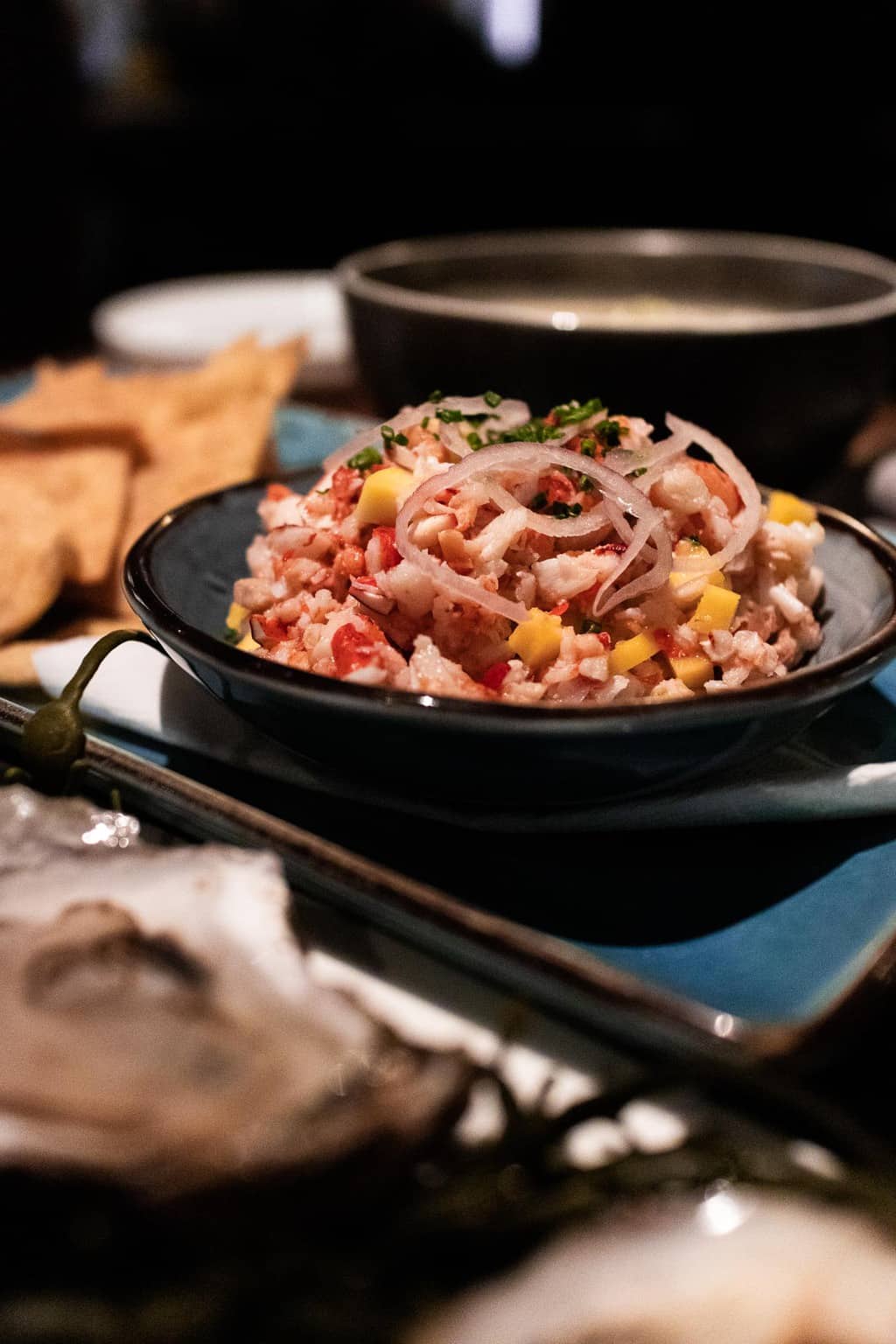 Aside from being one of the best places to eat in Halifax, The Five Fishermen also has a reputation for being the most haunted place in the city. The property was once a funeral home for two disasters – the Titanic and the Halifax explosion. In case you see or feel something spooky, you'll know why. With great food and great atmosphere, we recommend this spot on every Nova Scotia road trip.

[irp posts="10245″ name="36 Hours In Portland, Maine: Foodie Edition"]
Stop 2: Press Gang – Halifax, NS
Press Gang is another one of our favourite restaurants in Halifax, Nova Scotia. The famous Halifax oyster bar is a great place to slurp and savour a wide selection of super fresh, high-quality Atlantic oysters from New Brunswick, PEI, and Nova Scotia.
While at Press Gang, we encourage you to go beyond oysters and dive into other menu items. Tasteful seafood dishes like escargot bourguignon in garlic butter & white wine cream and seared scallops with green pea puree will make you come back for more!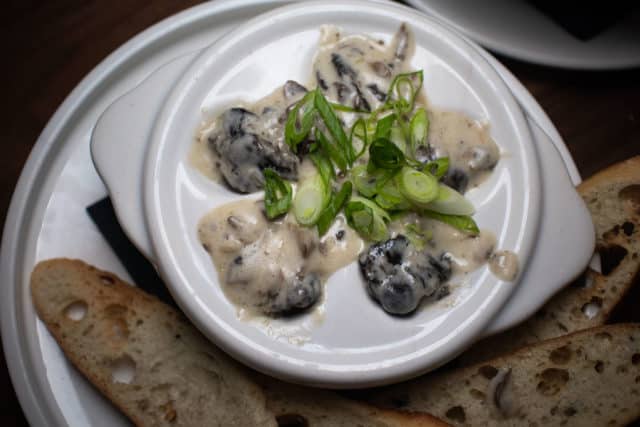 Stop 3: King of Donair, Halifax, NS
You can't leave Halifax without trying its official food – the Halifax Donair!
How does this late-night snack become the city's official food? The history dates back to 1970s when a Greek immigrant named Peter Gamoulakos brought the gyros to Halifax. But the original recipe (grilled lamb and tzatziki sauce) doesn't seem to appeal to Nova Scotians' palate. So he swapped lamb for spiced ground beef and substituted tzatziki with sweet, garlicky sauce. This unique recipe was an instant hit, and that's how the famous Halifax Donair was born!
Many places serve Donair, but the best place to try the authentic Halifax Donair is the King of Donair, founded by Peter Gamoulakos. The Quinpool Road outlet is the very first donair shop in Canada! Their Donair comes in all forms – in pita, poutine, pizza, and even egg rolls!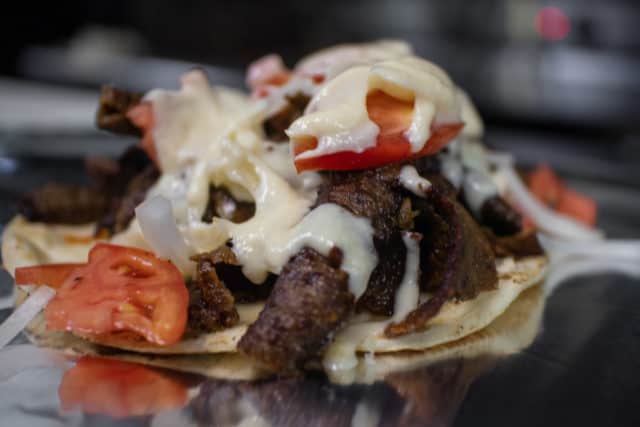 [irp posts="8545″ name="Plan Your Own Quebec City Food Tour By Hitting These 13 Spots"]
Stop 4: Halifax Seaport Farmers' Market
The best way to get an overview of what the region has to offer is by visiting local markets. The most popular market in Halifax is The Halifax Seaport Farmers' Market.
Located on the waterfront, the indoor food market is a bustling hub for handmade and homegrown products. Expect to find nearly 140 vendors selling a good selection of local meat, produce, spirits as well as a wide variety of artisan products including jewelry and crafts. You can even get lobster roll there! (Though for the best lobster roll in Halifax, we recommend heading over to Halifax Waterfront and order from the kiosks!)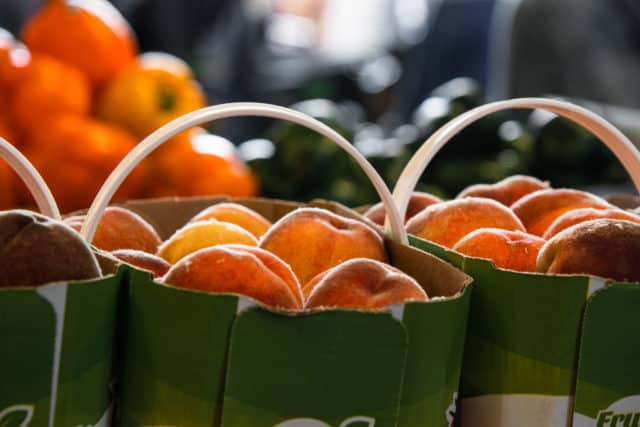 Right beside the market is Garrison Brewing Company. Sit down and sample their craft beer or go on a tour, it's your choice. This Halifax brewery offers tours any day of the week starting at 5 pm (reservation required).

[irp posts="11051″ name="Nova Scotia Photography Guide: 13 Best Places For Landscapes & Culture"]
Stop 5: Nova Scotia Lobster Above Board Experience nearby Oak Island
Oak Island, Nova Scotia is a must-see on an Eastern Canada road trip. Made famous by the TV show "The Curse of Oak Island," the mysterious privately-owned island continues to attract treasure hunters and visitors year after year. Guided Oak Island tours are offered, but the truth is they are usually sold out within minutes the tickets go on sale.
Why not book an exclusive boat tour and explore the island by boat? Oak Island Resort offers Lobster Above Board experience combining the mystery tour with a culinary adventure!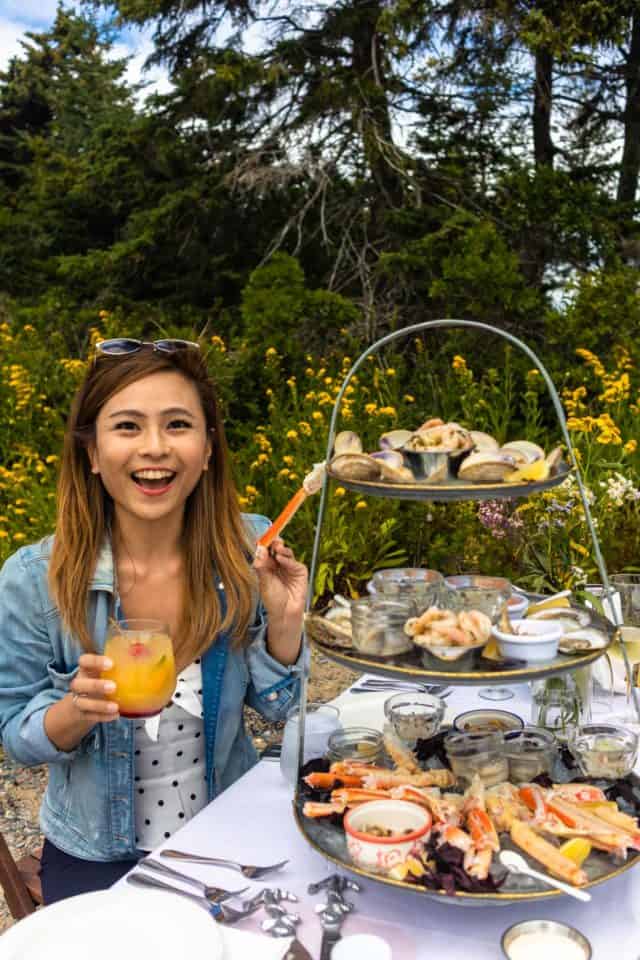 On the sea excursion, the skipper will explain the Oak Island history, share the legend of the Oak Island Money Pit, and answer any questions you might have (e.g., did they ever find anything on Oak Island?).
After the Oak Island boat tour, you will be transported to a secluded island for a 4-course seafood feast. Every dish is prepared onsite by select chef and specially created to highlight the incredibly fresh seafood that Nova Scotia is famous for.
Get ready to indulge yourself in lobster, scallops, oysters, clams, and snow crab, and celebrate the flavours with locally sourced wines. The elegant table setting, coupled with stunning ocean views, makes for a truly unforgettable dining adventure!
Don't have time to finish reading? Save THIS PIN on your Canada Travel or Foodie Travel board on Pinterest so you can refer to it later!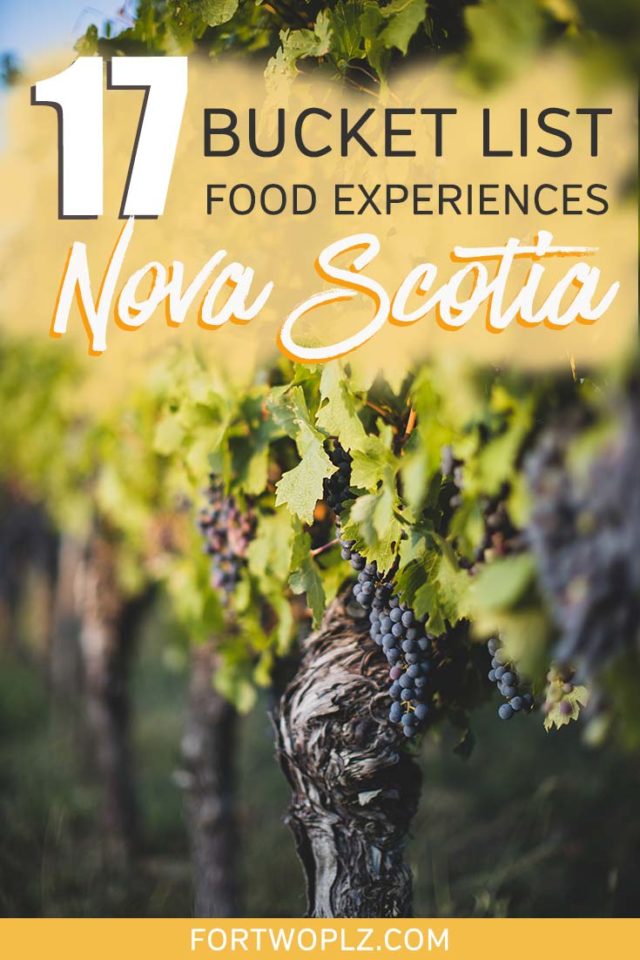 Stop 6: Annapolis Valley Wineries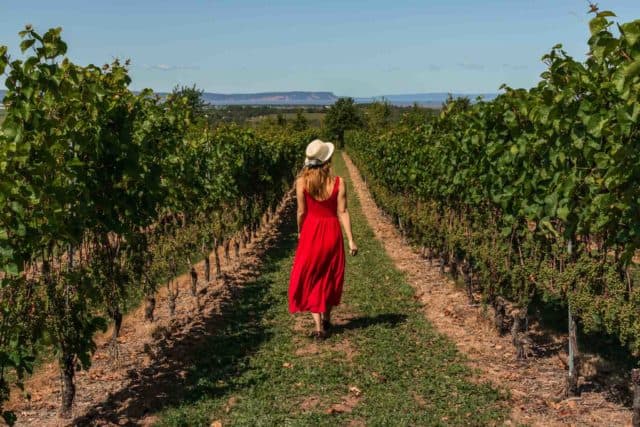 Nova Scotia is known for producing crisp aromatic white wines to complement the fresh seafood. To get a taste of the Nova Scotia wines, make a trip to the charming town of Wolfville in Annapolis Valley!
There are 7 wineries in Wolfville. While each Wolfville winery is unique, all the wineries (except L'Acadie Vineyards) produce Tidal Bay, a wine appellation for Nova Scotia intended to highlight the white wines of the region. To obtain the Tidal Bay designation, the wine must meet a set of criteria including using 100% Nova Scotia grown grapes and contain no more than 11% alcohol.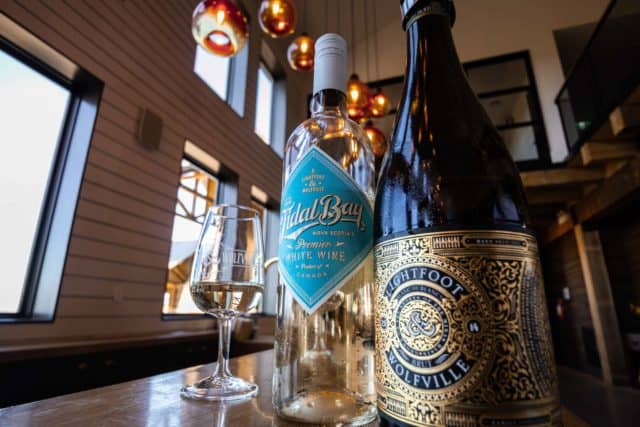 Below, we have put together a map of the wineries in Wolfville. Some of our favourite includes:

⇢ Benjamin Bridge: their Brut Reserve 2008 has put them on Gordon Ramsay's radar and is served in his 3-Michelin star restaurant in London. Their iconic sparkling wine, Nova 7, is beloved by many. We even bought some to bring back home!

⇢ Domaine de Grand Pré Winery: one of the oldest wineries in Nova Scotia. Their onsite restaurant, Le Caveau, is internationally and nationally recognized. We loved their Moscato!

⇢ Lightfoot & Wolfville Vineyards: certified organic vineyards, practicing biodynamic viticulture. Besides wine tasting, we encourage trying their clam pizza!

Most vineyards' tasting bar opens daily. Some even have public guided tours.

We recommend going on your own instead of joining one of the Nova Scotia wine tours so you can do it at your own pace without any pressure. In the case where you worry about drink driving, the Magic Winery Bus serves as a good alternative. The Wolfville wine tour takes you to five wineries around Wolfville and Gaspereau Valley areas and you get to choose where to hop on or hop off!

[irp posts="7459″ name="Peller Estates: Best Winery To Visit at Niagara-on-the-Lake"]
Stop 7: Annapolis Cider Company
An exceptional tasting experience can be found at Annapolis Cider Company in downtown Wolfville. The cidery draws inspiration from local wineries and microbreweries and takes hard cider to the next level.
In-store, you will be impressed to find a wide array of signature, premium, and creative ciders ("Something Different") – all using locally-sourced, 100% Annapolis Valley apples. They even make ice cider for those who prefer a more intense flavour! Order a tasting flight and discover your favourite.
You can also tour the facility and learn about the cider-making process.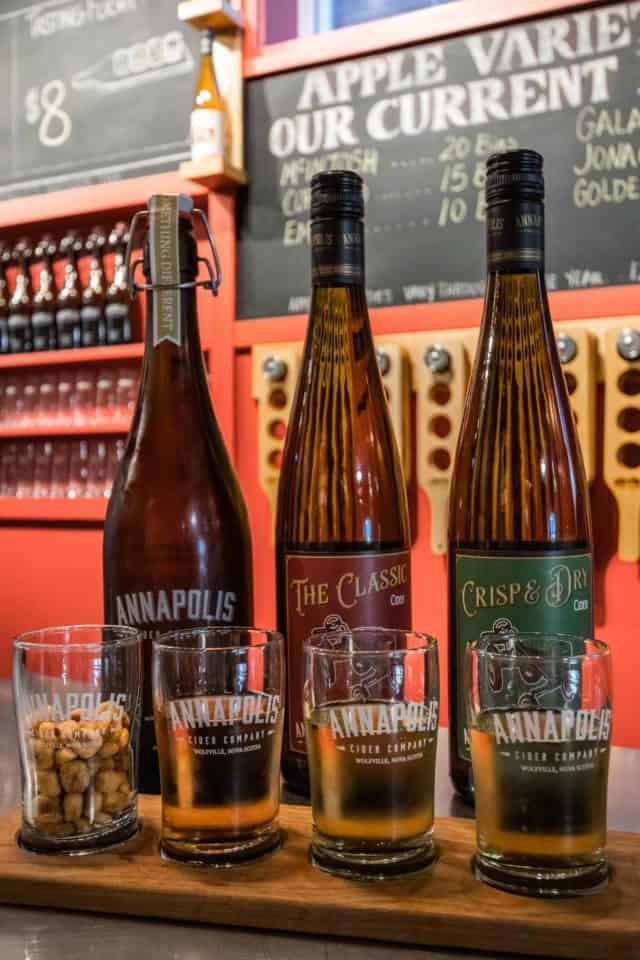 Stop 8: Digby, NS
No foodie trip to Nova Scotia would be complete without a visit to Digby. Delicious giant scallops [comparable to the huge scallops we tried in Osaka, Japan] have put this quaint town on the map and earned it the title of "the Scallop Capital of the World."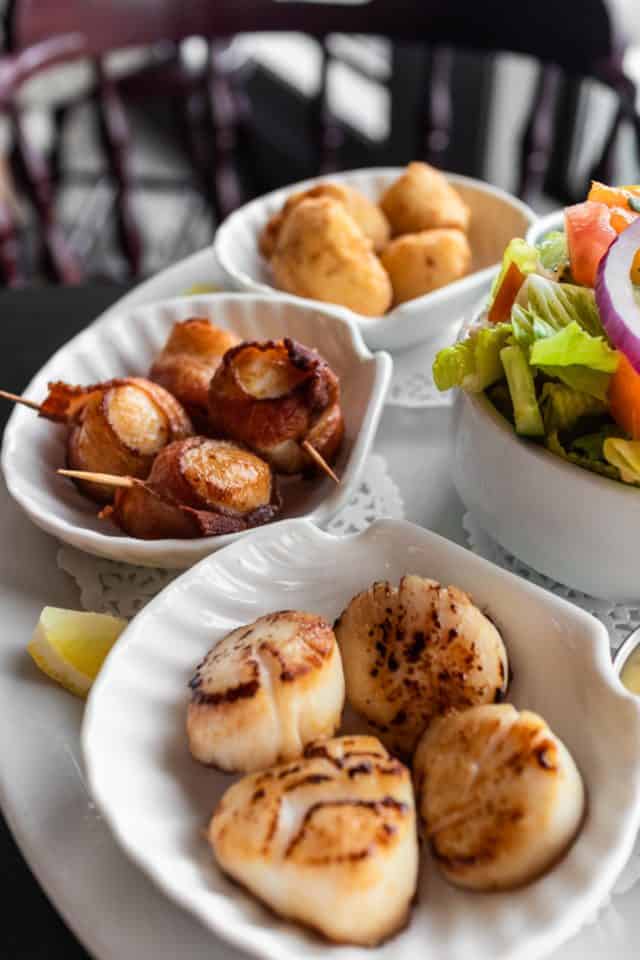 Digby scallops can be found on most restaurant menus. Pan-seared, bacon-wrapped or deep-fried, you can have them in any way you like. You can even order it for breakfast in your omelet! Wheelhouse Seafood and Pasta and Fundy Restaurant are the two we've tried and recommend.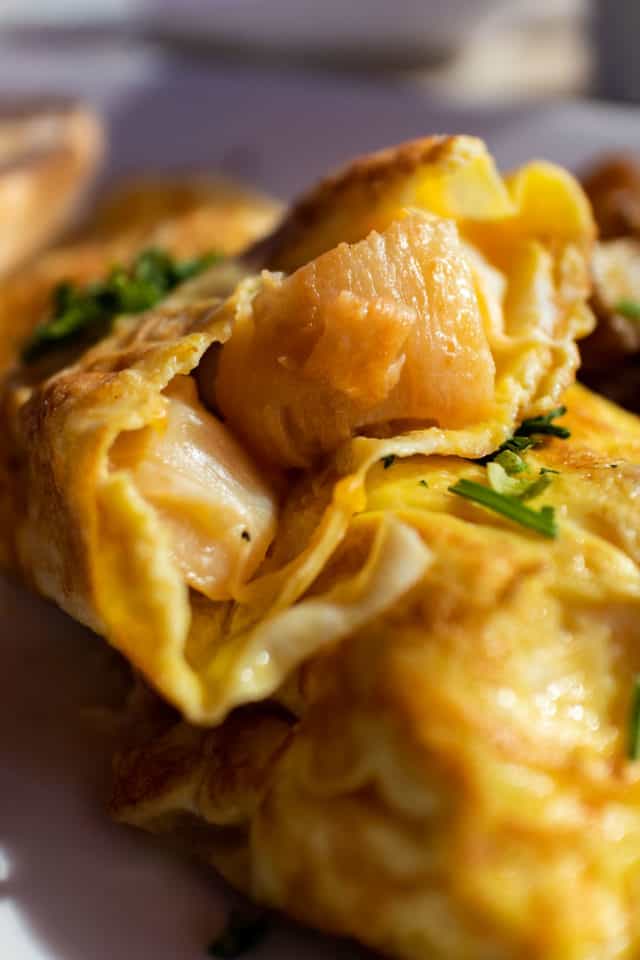 While in Digby, don't forget to drive over to Digby Neck to see whales. It is one of the best places for whale watching in Canada. The nutrient-rich waters of the Bay of Fundy are filled with plankton, attracting many species of whales. That's why the location promises the best whale watching in Nova Scotia!

[irp posts="8432″ name="Best Things To Do In Quebec: Let's Go Whale Watching in Tadoussac!"]
Stop 9: La Cuisine Robicheau, Saulnierville, NS
The southwest coast of Nova Scotia (aka Acadian Shore) is home to many Acadian communities with strong Acadian French cultural heritage. Today, you can still find restaurants serving traditional Acadian dishes.
Visit La Cuisine Robicheau and sink your teeth into creamed lobster– a true local specialty served over hot buttered toast. It will blow your taste buds away! Adventurous eaters can give the bizarre delicacy, rappie pie, a try.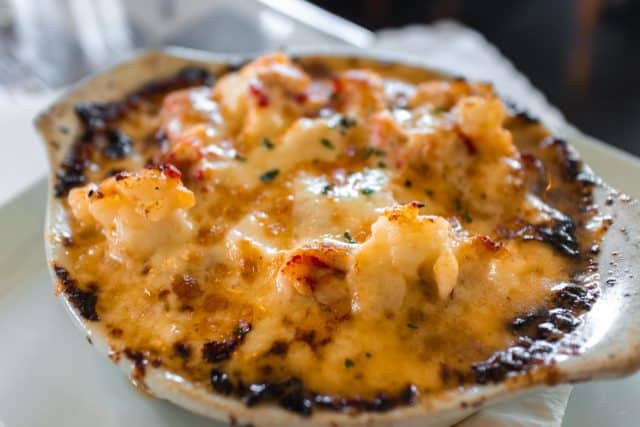 [irp posts="9487″ name="12 Sensational Stops For The Best Food In Lafayette, Louisiana"]
Stop 10: Captain Kat's Lobster Shack, Barrington, NS
When it comes to lobsters, you can't skip over Barrington, Nova Scotia. The town bills itself as the Lobster Capital of Canada, supplying 40% of Canada's lobster harvest.
Captain Kat's Lobster Shack is the perfect place to get a complete lobster experience. The lobster shack features an extensive menu of top-notch lobster dishes. Lobster fondue, lobster bruschetta, stuffed lobster tail, lobster poutine, just to name a few.
Not sure what to order? Just go with their award-winning lobster roll – you won't regret it!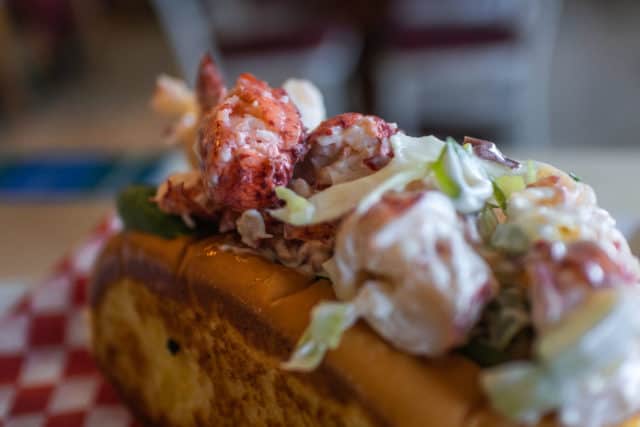 If time allows, make a trip to Cape Sable Island. The Hawk Beach sits at the southernmost tip of Nova Scotia. The secluded beach is the best birding area in the province. From there, you can see Cape Sable Lighthouse, the tallest one in Nova Scotia!
Stop 11: Lightkeeper's Seafeast at Cape Forchu Lightstation, Yarmouth, NS
The Evangeline Trail is one of the most scenic drives in Nova Scotia. The charming route takes you along the seaside all the way to Yarmouth, Nova Scotia with a view of the Cape Forchu Lighthouse – the most photographed lighthouse in Nova Scotia!
You can explore Cape Forchu Lighthouse your own OR kick it up a notch, join Lightkeeper's Seafeast and make it a dining adventure.
This unique foodie experience begins at the Yarmouth waterfront where you will meet your Acadian host, private chef, and sommelier. Fresh shucked oysters and aperitif welcome you aboard the fishing boat to take you through the harbor to the mighty Cape Forchu Lighthouse.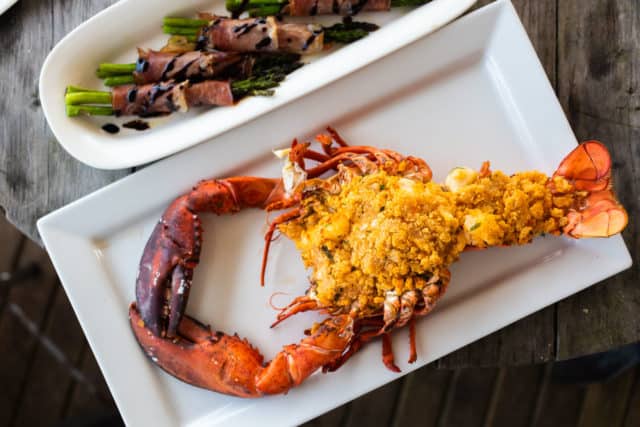 After arriving at Cape Forchu, savour fresh seafood (think seafood-stuffed lobsters and steamed mussels!) paired with award-winning Nova Scotia wines as you hear live Acadian songs and seafaring stories. In between courses, take time to explore the rugged landscapes and watch the crimson sunset.

Cape Forchu Lightstation is also a certified Starlight Tourist Destination so if the sky is clear, you will get a chance to see the stars at the nearby observatory and speak with a dark sky expert!

[irp posts="10970″ name="22 Unmissable Stops On A Québec Road Trip To Gaspé Peninsula"]
Stop 12: Heritage Brewery, Yarmouth, NS
You will come across a ton of craft breweries in Nova Scotia. Each has its own uniqueness, but if you'd like to try something special and quirky, we recommend Heritage Brewery in Yarmouth.
Heritage brews a wide range of styles with a focus on big flavours. Whether you like citrusy taste or roasty, chocolate-like aroma, there's something for everyone.
But if spicy is what you crave, you should sample their Angry Blonde Jalapeno Ale. It is fermented with fresh jalapeno and habanero peppers and will leave you with a noticeable heat!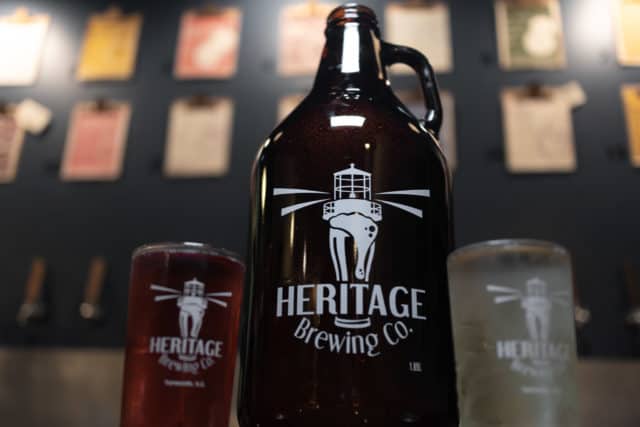 Stop 13: Grand Banker Bar & Grill, Lunenburg, NS
Lunenburg, nestled along the shores of southern Nova Scotia, is one of the top Canada tourist attractions. As a UNESCO world heritage sites in Canada, the old town has inherited a rich legacy of cultural heritage. There are no doubt many exciting things to do in Lunenburg, but from a food perspective, eating the Lunenburger is a must!
The mouthwatering, hearty burger is served at Grand Banker Bar & Grill, generously stacked with six ounces of local ground beef, smoked mozzarella, smoked bacon, and Nova Scotia lobster. That's not it – the burger is finished with a bacon-wrapped scalloped on top! Every bite is packed with East Coast flavour.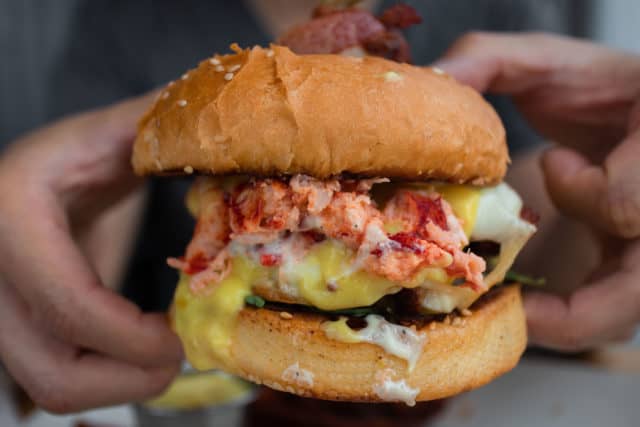 [irp posts="6820″ name="13 Places You Must Visit in Montreal"]
Stop 14: Half Shell Oyster Bar, Lunenburg, NS
We hope you're not sick of seafood yet because we've got another dining option for you. The Half Shell Oyster Bar is a great place to eat in Lunenburg. They dish up all kinds of seafood there – oysters, mussels, lobsters, black tiger shrimp, crabs, and scallops round out the menu.
You can't go wrong no matter what you order, but if you asked us what is a must-try, we would pick the crab diablo. Chilies, cilantro, garlic, and white wine add plenty of punch to the chunky, meaty Jonah crab claws. The taste is absolutely addicting!
Long waits are common at dinnertime so we recommend reserving a table in advance.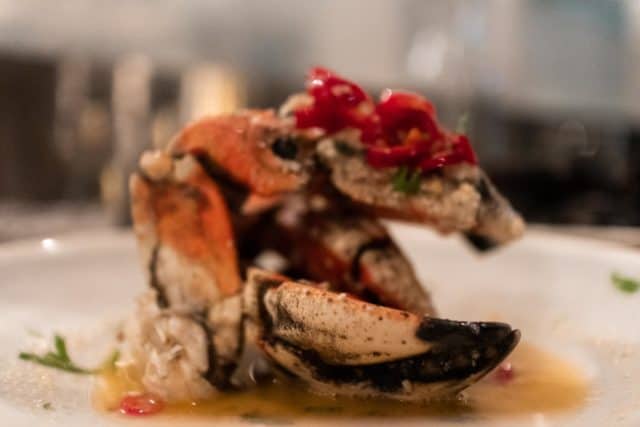 Stop 15: Ironworks Distillery, Lunenburg, NS
Ironworks Distillery is a paradise for spirit drinkers. The Lunenburg micro-distillery creates an impressive array of handcrafted, premium-quality of gins, rum, vodka, and liqueurs. The team prides itself in sourcing locally Nova Scotian ingredients as well as keeping all its production in the 19th-century former marine blacksmith's shop.
Daily distillery tour will take you behind the scenes, see how spirits are made, and finish with a guided tasting of a selection of products.
Their Rum Boat Rum, unlike any other rum out there, is added with some ocean "flavour." After fermenting and distilling, the rum barrels are brought to their floating boat off the Lunenburg Harbour and aged at sea for two to five years. The waves and ocean breeze are said to give the rum a richer, more complex flavour.
A nod to pirate life, Ironworks also partners with Barque Picton Castle to sending a few rum barrels on an around the world journey on a tall ship. The Around The World Rum just returned this June after visiting 21 countries in 18 months and are currently available for purchase on their website.
Stop 16: Saltbox Brewing Company, Mahone Bay, NS
Among all the fun things to do in Mahone Bay, a visit to the Saltbox Brewing Company does not disappoint! This microbrewery serves one of the most unique craft beers in Nova Scotia – the lobster beer (aka Crustacean Elation)!
Yes, you heard it right! It is not an artificial lobster flavour. The brewing process actually involves using an entire lobster in the fermentation stage. Sipping on the beer, you can actually smell and taste the essence of lobster! Crustacean Elation is seasonal and only available while supply lasts.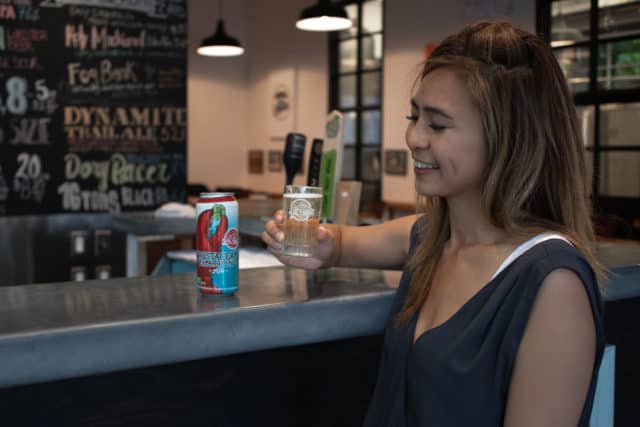 Stop 17: Cooking with the Kilted Chef in Pictou, NS
The best foodie experience is the one that makes a positive change to your life. In Nova Scotia, you can spend a day cooking with Alain Bossé, the Kilted Chef and Atlantic Canada's culinary ambassador, in his kitchen in Pictou.
The full-day, hands-on workshop starts with sourcing ingredients from local farmers, butchers, abattoirs and fish purveyors. You will learn the benefits of buying local, a concept Chef Bossé firmly believes in, and find out how to select ingredients for the recipes.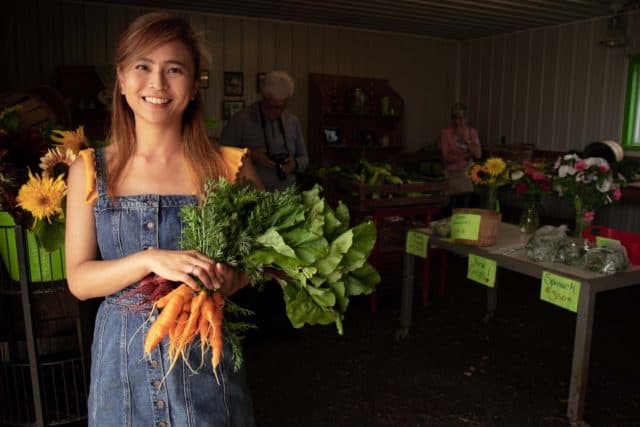 After the market visit and a light lunch, preparation work for the 4-course dinner begins. Chef Bossé will first guide you through fundamental knife skills such as handling knives as well as the different cutting techniques. Then, you will learn about preparing each recipe and have a task assigned to you.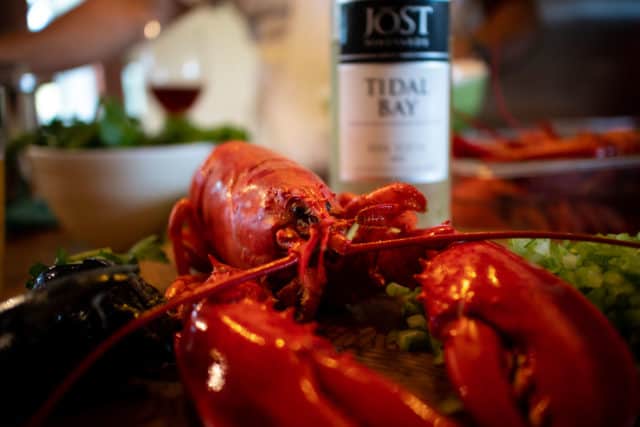 Throughout the day, you will not only master a few of Chef Bossé secret recipes (including seafood chowder), you will level up your cooking skills with essential tips on cooking lobster and scallops. The action-packed day wraps up with a feast showcasing your hard work! You will no doubt go home a full belly!!
---
That's how you plan a Nova Scotia holiday around food – like a pro! We hope all these tasty spots and experiences have inspired you to book a Nova Scotia holiday!
For more details on where to go and what to see in Nova Scotia, please visit the Tourism Nova Scotia website or connect with their social media channels on Facebook, Instagram, Twitter, and Pinterest.
Enjoy this post? Save THIS PIN on your Canada Travel or Foodie Travel board on Pinterest so you can come back to it later when you plan your trip!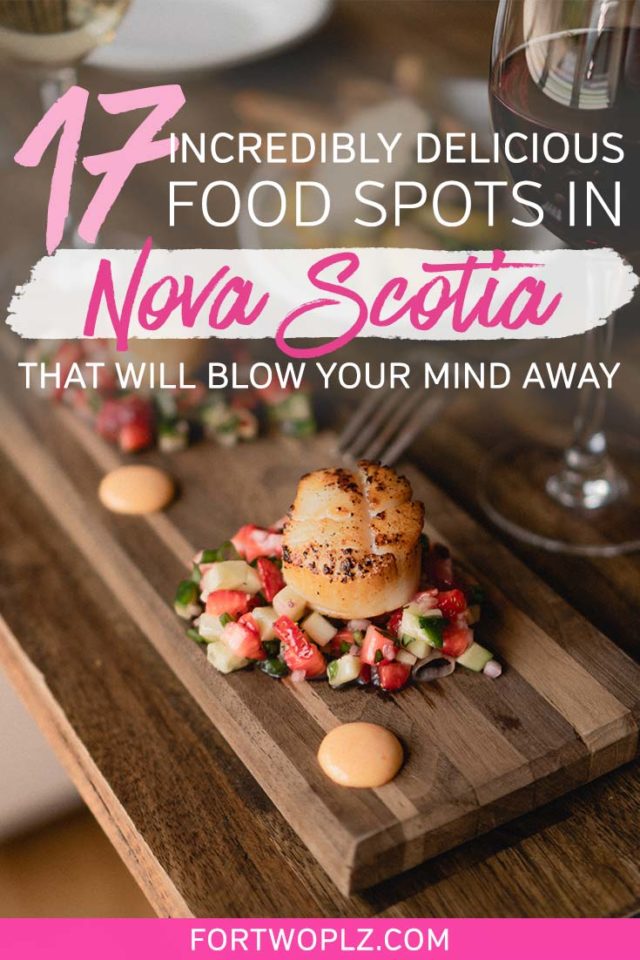 Disclaimer: We are hosted by Tourism Nova Scotia. As always, all opinions on For Two, Please are our own and we only recommend brands that we 100% stand behind.