This site uses affiliate links and we may earn a small commission when you use our links and make a purchase without incurring additional fee yourself. Many thanks for supporting this website. Please see our disclosure page for more details.
Vancouver has become a classic Canadian bucket list destination for many reasons. Surrounded by ocean and mountains, Vancouver is filled with endless fun and exciting things to do in every season. It's a city deal for outdoor enthusiasts. But Vancouver also has a thriving food scene that highlights multiculturalism, fresh seafood, and local ingredients. For this reason, it's safe to say it is a foodie destination you can't afford to miss in North America. If you love food as much as we do, then this Vancouver itinerary is for you. Follow along and explore with us the best food spots in Vancouver in 3 days!
Need more than three days on your vacation? Take a day trip to Victoria, where you can see gorgeous cherry blossoms all over the city in the Spring.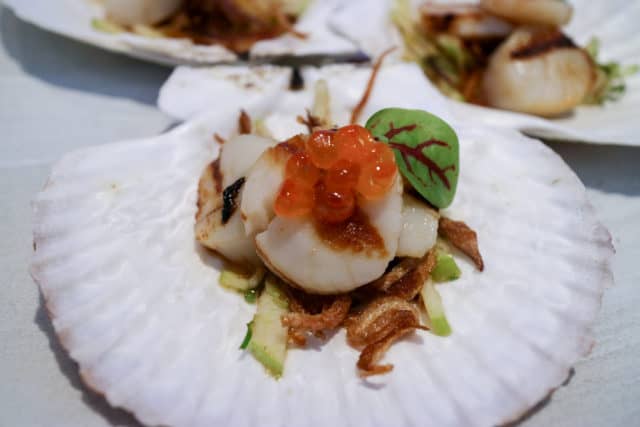 Day 1
Morning: Good morning, sunshine! Looking for the best cafe in Vancouver? Then, grab a cup of joe at JJ Bean.  This well-loved Vancouver-based coffee chain strives to provide the freshest, best-tasting coffee possible. You know it walks the talk when it has opened up so many coffee shops in Vancouver and has even expanded to Toronto!
Now that you've got your caffeine fix, it's time for some sightseeing. Olympic Village in False Creek is a good place for a morning stroll. Previously the athletes' village for the Vancouver 2010 Winter Olympic Games, this neighborhood has become a buzzing community with exciting restaurants, cool art installations and plenty of green spaces. Spend some time strolling along the shoreline and take in the stunning waterfront views of False Creek!
Later, hop onto the Aquabus or False Creek Ferries (the dock is located across from Science World, right in front of Tap & Barrel) and take a leisurely trip across False Creek.
Stop at Granville Island – one of Vancouver's top attractions. Wander through this trendy district and explore artisanal products and locally-made foods. Granville Island Public Market is a must-see and the best place to purchase souvenirs. You can find smoked salmon, exclusive teas, gourmet chocolate, B.C. wines as well as First Nations artwork!
Lunch: Hungry yet? Stop by Fable in Kitsilano for a delicious meal. It was recommended by our friend as the best brunch spot in Vancouver and has quickly become our new favourite! The restaurant celebrates the farm-to-table concept. All dishes use fresh, seasonal and local ingredients with the goal to connect diners with the source of their food.
Their spaghetti & duck meatball is a must try! We also recommended canned tuna, roasted king oyster mushrooms, and pappardelle with pork bolognese.
Afternoon: Make your way to Yaletown. Sits along the Seawall, this hip district overlooks the harbour and city skyline. Go for a bike ride or a stroll along the Seawall as you soak up the picturesque views.
Yaletown is also one of the best shopping areas in Vancouver – actually, it is known to many as Vancouver's little SoHo! The neighborhood is brimming with high-end boutiques, fashionable shops, and galleries. It is the perfect place to stock up your wardrobe!
One of our favourite things to do in Yaletown is hitting up the happy hour specials at Rodney's Oyster House. They offer a large selection of fresh oysters at only $1.5 each from 3pm-6pm!  It is not the cheapest, but their oysters are consistently plump and juicy. That's why we repeatedly go back for its oyster happy hour whenever we are in Vancouver!
[irp posts="280″ name="Rodney's Oyster House (Vancouver)"]
Dinner: End your day at Vancouver's best Italian restaurant, Savio Volpe. They share their love for Italy by creating family-style dishes that are meant to be shared. Their menu showcases simple yet flavorful dishes from various regions across Italy.
It is hard to give recommendations as their menu changes daily based on whichever ingredients are in season. But you can't go wrong with dine alla famiglia ($55 pp) – a customized 5-course sharing menu chosen by the chef!
Day 2
Morning: Fuel up for the day at Twisted Fork Bistro, the best breakfast place in downtown Vancouver. This French-inspired restaurant serves up hearty brunch that does not disappoint. Their food is made from scratch with locally-grown ingredients, so you're guaranteed the freshest and highest quality possible. The smoked-salmon benny is a crowd favourite and a must try!
Ready for some action? Head over to Stanley Park and bike along the Seawall trail. As you cruise along the scenic bike path, you will encounter many Instagram-worthy stops, including Prospect Point, totem poles, Brockton Point Lighthouse, Girl in a Wetsuit sculpture, and Beaver Lake.
Note: The loop is 10 km long and starts in Coal Harbour. We recommend renting a bike near the entrance of Stanley Park. The bike rental we went with is Spokes Bicycle Rentals, conveniently located at the corner of Denman and Georgia Streets.
Looking for fun things to do in Stanley Park? Consider getting up close and personal with the marine life at Vancouver Aquarium, exploring the gardens, or soaking up the sun on the beach! In the summer, make sure you get to these attractions early to avoid the crowds.
Lunch: Make a pit stop at The Teahouse in Stanley Park. The wide selection of food choices will help you stay energized. Accompanied by a breathtaking view of English Bay, it is more than just a meal!
[irp posts="8835″ name="2 Day Itinerary For A Super Scenic Drive From Vancouver To Whistler"]
Afternoon: After returning the bike, walk through the lush green spaces in Coal Harbour. This quiet neighborhood is a popular location to watch seaplanes taking off and landing.
Slowly make your way to Canada Place – an iconic landmark in Vancouver's downtown harbourfront. Not only is this a prime photo spot for that postcard-perfect shot, it offers many activities for visitors to enjoy.
Why not take a simulated flying ride at FlyOver Canada for an unforgettable journey across Canada? Or admire unbeatable views of the city from Vancouver Lookout? These experiences will make your Vancouver visit extra memorable.
[irp posts="8756″ name="Vancouver Date Ideas: 10 Romantic Things To Do In The Summer"]
Treat yourself to a luxurious afternoon tea at Fairmont Hotel Vancouver. The 3-tier tray is filled with sweet and savoury miniature pastries that will make your mouth water.
If that is too much for you, opt for soft-serve ice cream at Soft Peaks instead. As one of the best dessert places in downtown Vancouver, they serve up silky smooth ice cream – a sure way to get your taste buds tingling!
Dinner: Food at Ask for Luigi is out of this world. Specializing in handmade pasta, this popular restaurant in downtown Vancouver strives to offer a true taste of Italy. Each plate is carefully crafted to impress even the most sophisticated palate. Our favourites include fried cauliflower and rigatoni alla bolognese.
[irp posts="10590″ name="10 Fun Weekend Getaways From Vancouver For Couples"]
Day 3
Morning: Start the day with an exceptional breakfast at Cafe Medina. This Mediterranean-inspired eatery is one of Vancouver's best breakfast places. Many people come here for their Liege-style waffles, but we recommend the fricassee instead. With braised short ribs, roasted potatoes, eggs, and applewood smoked cheddar, you will have all the energy and nutrients you need to jump start your day.
Next thing on your agenda: visit Vancouver's top attraction, Capilano Suspension Bridge. It's the perfect place to surround yourself with nature. But first, test your nerve on the swaying bridge, suspended 137m above the river!
Adventure-seekers should brave the Cliffwalk. The narrow walkway that hangs high above the canyon will sure get your heart racing!
[irp posts="7004″ name="Greatest Adventures Around the World for Adrenaline Junkies"]
Other attractions inside the park worth exploring include the Treetop Adventure and Raptors Ridge. We recommend 2-3 hours for your visit as there is so much to see and do at Capilano Suspension Bridge Park!
Note: Capilano Suspension Bridge is located in North Vancouver. A complimentary shuttle is available from downtown Vancouver at Canada Place, or at one of the hotels (Blue Horizon, Hyatt Regency, or Westin Bayshore). No reservation needed.
Lunch: When it comes to the best ramen in Vancouver, Marutama is at the top of our list. This Japanese ramen chain is known for its creamy chicken broth – prepared daily every morning. Paired with the homemade noodles, you have a perfectly balanced bowl of ramen with a chewy texture and rich flavour!
[irp posts="3235″ name="Marutama Ra-men"]
Afternoon: Want to do some shopping? Look no further than Robson Street. This famous shopping street in downtown Vancouver is packed with designer shops and fashion boutiques. It's the perfect destination to upgrade your look.
Take a break and indulge in delicious treats at Nero Belgian Waffle Bar. Whether it is light and crispy Brussels waffle or the dense Liege waffle, Nero never fails to hit the sweet spot. Their drool-worthy waffles, loaded with sweet and savoury toppings, easily makes it one of our favourite dessert places in Vancouver.
If you have room for a second dessert, try Thierry. From decadent macarons to lip-smacking cakes, the patisserie delivers pure delight in every bite.
Dinner: Vancouver is known for fresh seafood and authentic sushi. WIth more than 600 sushi eateries in the city, how do you pick the best? Miku, Minami, and Tojo's are some of the popular options. But for the best quality and value, Ajisai is our top pick for sushi restaurants in Vancouver.
The busy sushi bar offers a wide selection of sushi, sashimi, and rolls. Every time we visited, the fish was so fresh that melted all our worries away!
Have a more restricted diet? Don't worry. Vancouver has plenty of gluten free eateries for you to select. Looking for a bit more diversity? Check out the Spice Trail in Surrey for a variety of international options.
---
We hope this Vancouver itinerary has inspired you to explore the city's bustling food scene. To help you plan your next trip, we partnered with GPSmyCity for a giveaway!
GPSmyCity Giveaway
GPSmyCity is a handy app (available in iOS and Android) that features 6,500 self-guided walks in 1,000+ cities around the world. Each city walk comes with a detailed travel route plotted on an offline map, so you can explore the local highlights and hidden gems on your own.
From now till September 7th, you have a chance to win an annual subscription for GPSmyCity (normally costs $18.99 at the app store). This will give you access to all the walking tours in 1,000+ cities worldwide for one year!!
To enter the contest, use the widget below:
[giveaway id=8800]
The contest will remain open until Sept 7th, 2018. 10 lucky winners will be announced on the very next day. Good luck!
Disclaimer: Special thanks to Tourism Vancouver for providing complimentary bike rentals from Spokes and tickets to Capilano Suspension Bridge. As always, all opinions on For Two, Please are our own and we only recommend brands that we 100% stand behind.