This site uses affiliate links and we may earn a small commission when you use our links and make a purchase without incurring additional fee yourself. Many thanks for supporting this website. Please see our disclosure page for more details.
Food lovers tend to turn to big cities when they are looking for a culinary escape. Big-name chefs often open shops in Metropolitan cities like Vancouver, so it makes sense that they are travellers' top picks. But if you are looking for diverse and authentic cuisine, big cities are not necessarily the best places to go!
Recently, we went on a short trip to Surrey, BC, and had our minds blown away! The variety of ethnic cuisine available in this city is truly unbelievable!
If you are serious foodies, or just looking for somewhere unexpected for your culinary getaways from Vancouver or to Lower Mainland, check out Surrey! This place promises to take you on an around-the-world food tour–without leaving Canada!
Join us and let us show you how fun (and delicious) a weekend road trip from Vancouver to Surrey could be!
Why Surrey Makes a Perfect Weekend Getaway from Vancouver
It goes without saying that there is no shortage of incredible BC getaways you can take. Vancouver island, Garibaldi Provincial Park, and the Sunshine Coast all boast stunning scenery and make wonderful destinations for a West Coast road trip. So what makes Surrey stand out? And why does it deserve to be on your radar?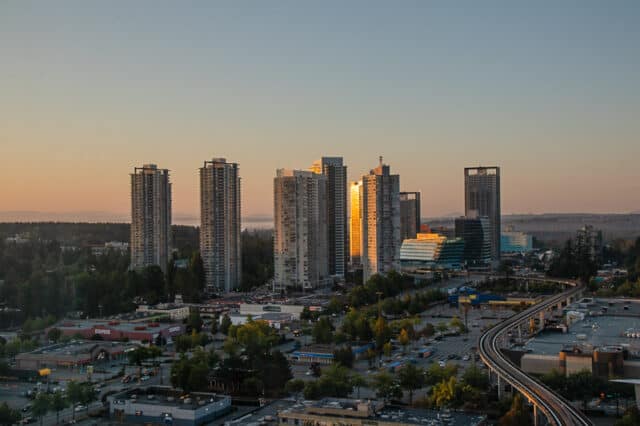 ⤑ Home to diverse ethnic communities. Surrey, the second largest city in Metro Vancouver, hosts an amazingly diverse population. The multicultural landscape is reflected in its food scene, making eating around the world not a dream! Want to find a bona fide Indian/Jamaican/Korean/Afghan meal? Just hit up the Spice Trail and you are all set!
⤑ A large city with 6000+ acres of green spaces. "Concrete jungle" is a synonym for most cities, but not Surrey. With over 250 parks within its border, Surrey earns the name of City of Parks, offering more than 300 kilometres of trails and paths for locals and visitors to enjoy!
⤑ Only 30 minutes from Vancouver! Surrey is only a short car ride away from downtown Vancouver–a huge plus for those who don't want to drive far for a change of scenery. If you are coming in directly from Vancouver International Airport or Abbotsford International Airport, without stopping in Vancouver, it takes just 40 mins by car.
Important Things to Know When Planning Short Road Trips from Vancouver
⤑ Rent a car. You can reach Surrey via public transport (e.g. SkyTrain), but it is not the easiest way to get around once you've arrived in the city. Attractions are quite spread out. We recommend renting a car so you can stay on track with your itinerary!
⤑ Stay up to date with local road conditions. Spring and summer are busy seasons for road maintenance. It is important to know the road and weather conditions you'll be facing. Consult DriveBC for the latest updates on highway conditions and road closures.
⤑ Check business hours. Some attractions and businesses do not operate at regular hours. Others require advance bookings. Make sure to double check business hours ahead of time as you plan your itinerary to prevent disappointments!
⤑ Add festivals and special events to your itinerary! One of our favourite ways to connect with the destination we visit is through local events and festivals. Research what's happening by visiting the destination's official tourism website.
Surrey hosts many events throughout the year including The Cloverdale Rodeo & Country Fair, Fusion Festival, and Surrey Festival of Dance. Find out more on Discover Surrey's event calendar.
Day 1 in Surrey
Morning: Blackie Spit Park, Crescent Beach
Kickstart your Vancouver weekend getaway to Surrey with a relaxing visit to Blackie Spit Park. The seaside park by Crescent Beach offers scenic views of the Fraser River and Point Roberts in the United States, and is a popular playground for outdoor enthusiasts.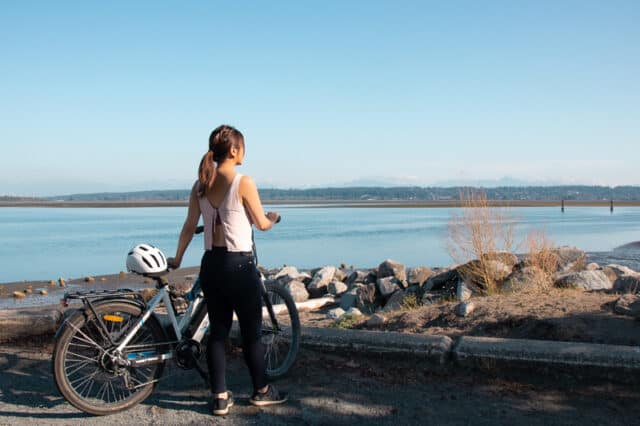 People come here for all kinds of water activities–from paddleboarding to sailing around the Southern Gulf Islands to swimming. If you don't fancy getting yourself wet, ebiking is a laid back option combining sightseeing and light exercise!
Urban Pedal offers e-bike rentals and delivery service to your desired location, and they will come pick up when you're done – super convenient for tourists!
Blackie Spit is also a fantastic place to embrace nature and spot wildlife. Those who are into birdwatching will be delighted to learn that the park is located on the Pacific Flyway migratory route, just like Iona Beach in Richmond!
Millions of birds (and over 200 unique species) that travel from Alaska all the way to Patagonia in southern South America will stop here throughout the year to feed on nutrients in the Mud Bay, care for their young, mate, and hibernate!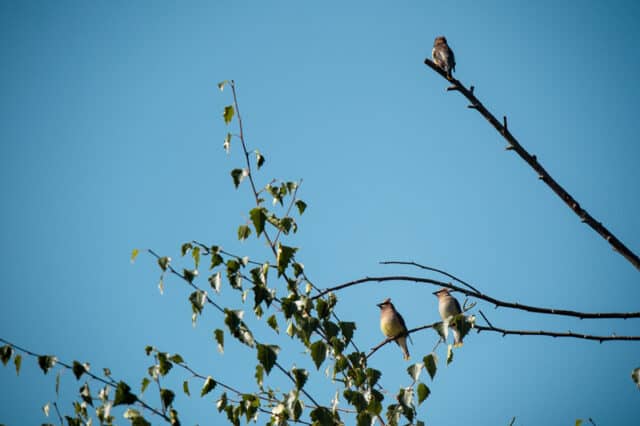 Bring your binoculars and camera, hop on an ebike, and cruise along the 5-km nature trail. You will be surprised by what you hear and see! No prior birding experience? No problem – apps like Merlin, BirdNET, and ebird.org are helpful tools to get you started on your birding journey!
Afternoon: The Cabin, Historic Stewart Farm
What we loved about Crescent Beach was its low-key beach town vibe. Enjoy the slower pace as you wander the boardwalk, visit the pier, and explore the idyllic town. It reminded us of one of the best weekend trips from Vancouver we took a few years ago to Prince Rupert.

Stop by The Cabin for a hearty lunch. The eatery dishes out Pacific Northwest style cuisine. With it being so close to the water, you can easily find fresh seafood to indulge in.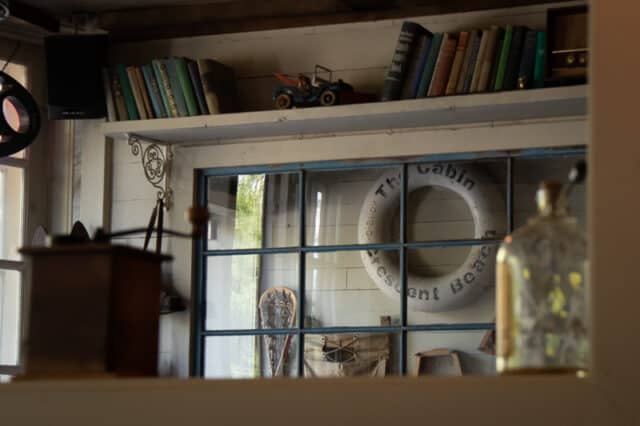 Fish tacos, halibuts & chips, steamed mussels, and seafood cioppino hotpot, will make your mouth water and tummy rumble with excitement!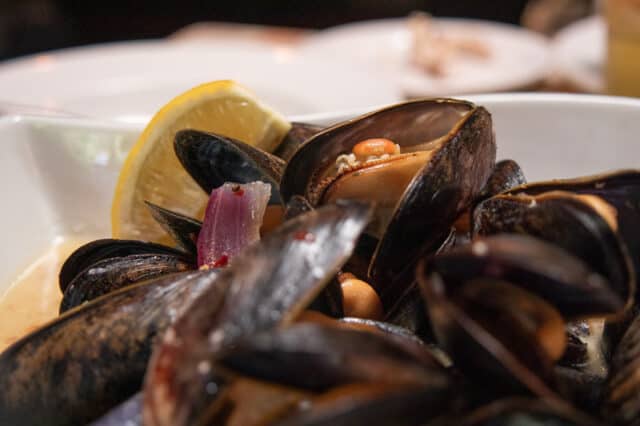 After lunch, experience local farm life with a trip to Historic Stewart Farm. The Victorian farmhouse, located within Elgin Heritage Park by the Nicomekl River, will give you an insight into what life was like in the 1890s.
In addition to the main farmhouse, there are 7 other heritage buildings including heirloom gardens and orchards, a barn, and a threshing shed.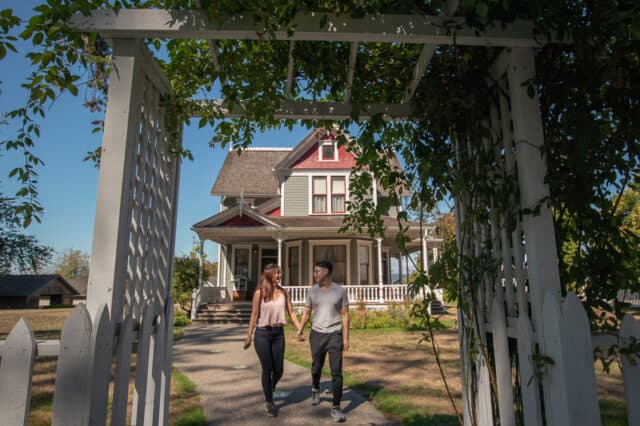 For the best experience, we recommend booking a full site tour. A costumed guide will tour you through the grounds and tell you the story of the Stewarts!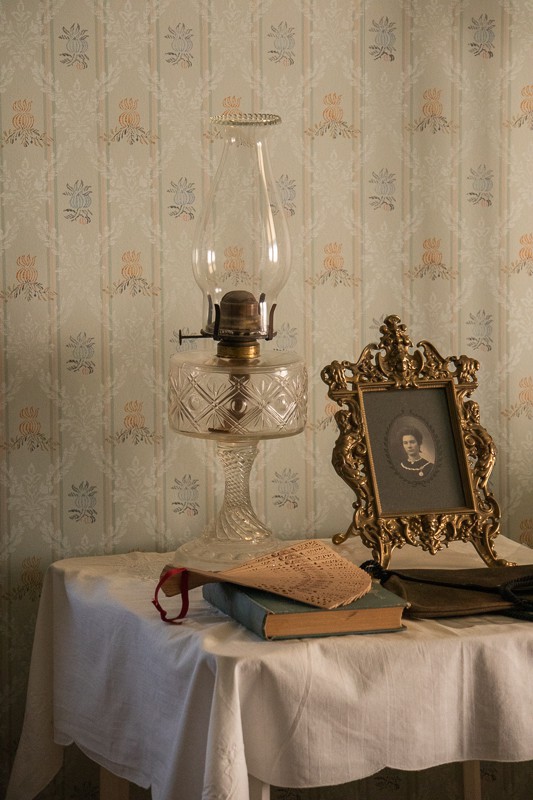 To further enrich your visit, check to see if there are any ongoing programs at the heritage site. Hands-on lessons in the kitchen, wreath making, history talks, and paranormal stories are just a few fun activities they run!
Evening: Sunnyside Acres Urban Forest, Afghan Kitchen
Remember when we mentioned all the green spaces you can find in Surrey? One is located just five mins away from Historic Stewart Farm called Sunnyside Acres Urban Forest.
The 130 hectare park is a natural second-growth forest regrown after a timber harvest in the early 1900s. Sunnyside Acres became an urban forest in 1988 and was one of the first designated urban forests in Canada!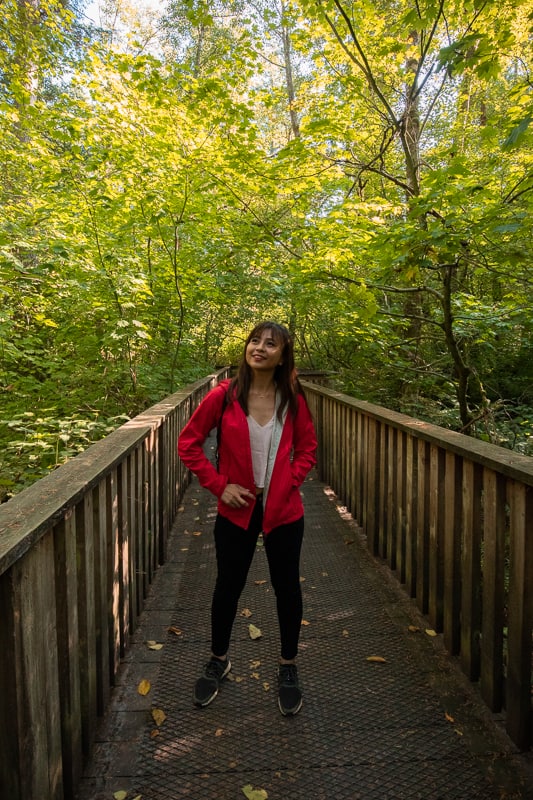 Today, you can see rare orchids, colorful vine maples, chickadees, woodpeckers, coyotes, black-tailed deer and much more inhabiting this wooded area. The park has a large network of trails you can enjoy and see how much wildlife you can spot.
To start, we recommend taking the 4-km interpretive trail (~1 hour) with 12 stops of interest. Each stop introduces you to the features that make Sunnyside a unique urban oasis. Careful: have a physical map in hand (or download the offline Google map) so you don't get lost in the park like we did!
After all that exploration, a delicious dinner is exactly what you need as part of a romantic getaway near Vancouver. Head over to Afghan Kitchen, a featured restaurant on the Surrey Spice Trail, for a memorable middle eastern meal.
We hope you're hungry – because the portions here are humongous and you'll have a hard time deciding what to order.
If you have never had Afghan cuisine before, start with an order of Bolani, a fried flatbread stuffed with potato, herbs and spices. It's fingerlicking good when dipped in chutney and yogurt.
Aushak is a must try. It's Afghanistan's take on dumplings, usually served on holidays or at special gatherings. These delicious bites are handmade and filled with vegetables like leeks, spinach, cabbage, and carrots, topped with dollops of split peas and yogurt. Hearty and bursting with flavours, you will find it impossible to stop after just one bite!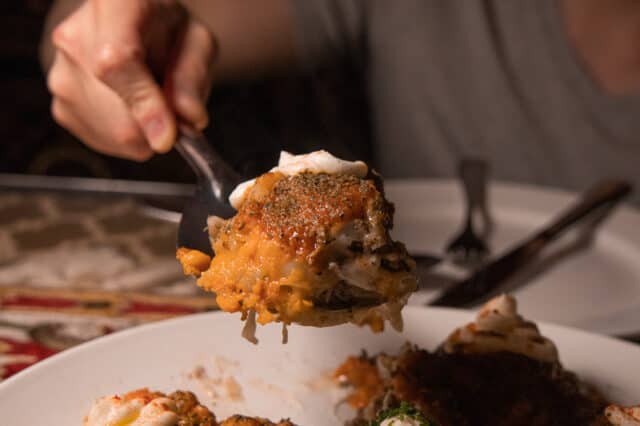 For meat eaters, you do not want to miss the lamb shank. Slow cooked in tomato stock, the meat simply falls off the bone. The kebabs are also a hit – they are marinated overnight and grilled over charcoal!
Cocktail menus feature alcoholic-drinks with an afghan twist. As you may or may not know, Afghans don't drink alcohol, so if you want an actual Afghan drink, we recommend choosing the saffron tea.
Be sure to save room for desserts. You will not want to miss mum's recipe. No one except the owner's mom knows exactly what's in it. At a first glance, it looks like a pound cake covered in cream frosting and almond, but it tastes so airy and sweet-licious that you will not want to share!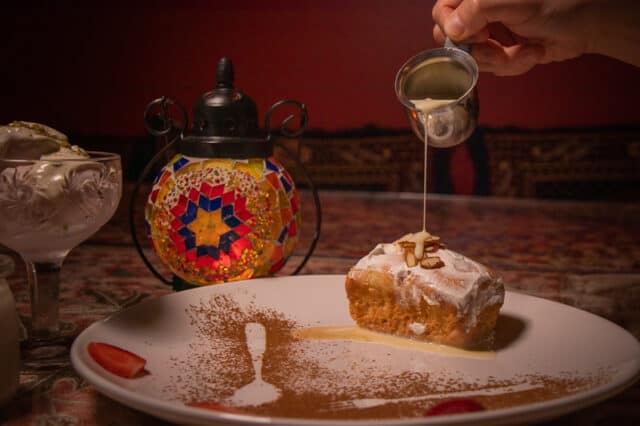 Day 2 in Surrey
Morning: Green Timber Urban Forest
Start your morning at Green Timber Urban Forest, one of Surrey's largest parks! It might not be as long as the Juan de Fuca Marine Trail on Vancouver Island, but the park has over 10 km of nature trails, enough to walk off all the calories you consumed last night!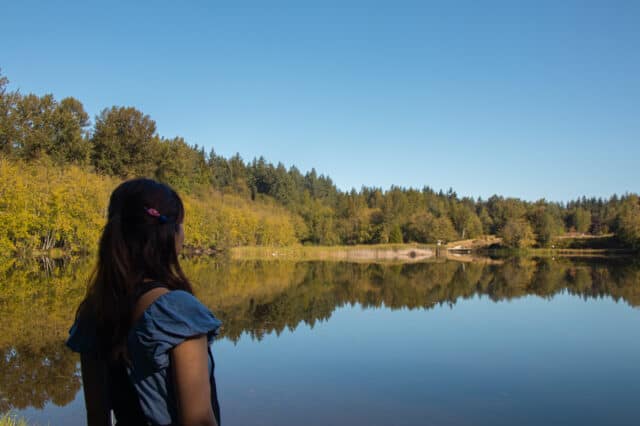 Unlike Sunnyside Acres, the entire forest of Green Timber was clear cut by 1930. But immediately after, reforestation began by the provincial government to restore the park.
Today, the oasis offers over 452 acres of wetlands, glassy lakes, meadows and forested trails for locals and visitors to explore. You will find lots of people fishing for rainbow trout by the lake (provincial regulations apply).
As you meander through the urban forest, pay close attention to wildlife – you could catch sight of osprey, garter snakes, Pacific tree frogs, or barred owls.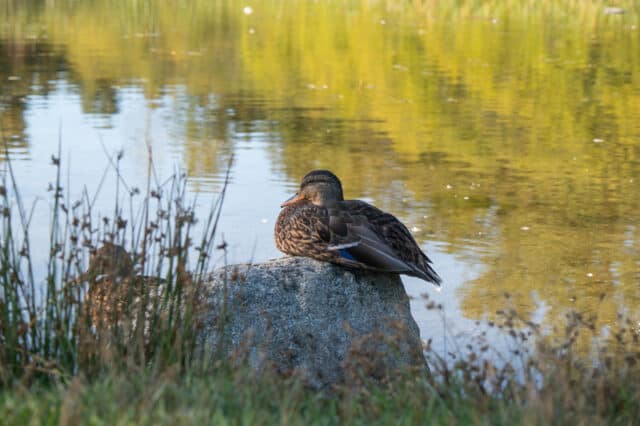 Afternoon: Chacha's, Honeybee Centre
Continue on our foodie adventure along the Surrey Spice Trail and pop in to Chacha's Tandoor & Grill for authentic Northern Indian food.
Northern Indian fare is mainly characterized by its spices and the use of tandoor oven. Chacha's is a perfect place to get a genuine taste of the northern regional cuisine.
Popular dishes like Kathi rolls (meat rolled in Indian flatbread) and vegetarian momos (steamed dumplings stuffed with aromatic spiced stir-fried veggies) are good representations of what you can find on the streets of India.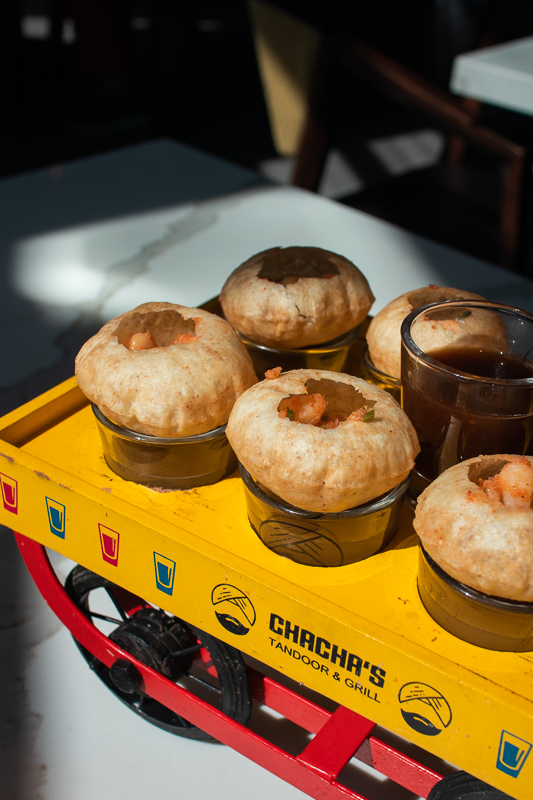 Originally from Delhi, gol gappy shots are a savory appetizer worth a try. Liquid-filled shot glasses topped with stuffed crispy puffed balls, this vegetarian snack offers a complex sweet, tangy, and sour flavour profile. It could be a bit challenging to eat on your first try. All you need to do is pour some of the liquid from the shot glass into the hole of the crispy ball and eat it whole!
And of course, authentic masala chai is a staple here, served hot and unsweetened with sugar on the side.
Speaking of sugar, we personally prefer honey. In Surrey, there is a commercial honey farm, Honeybee Centre, open for the public to visit!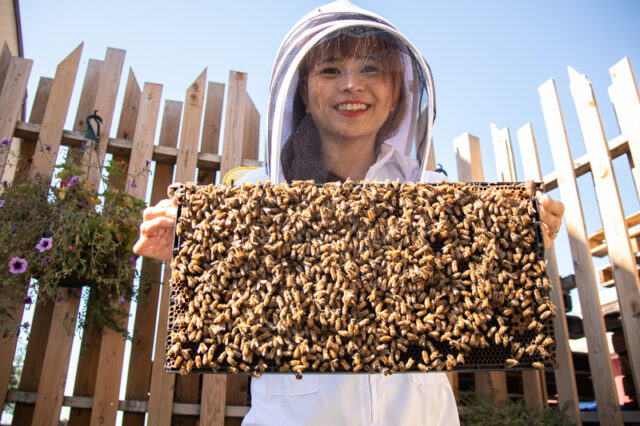 They have been harvesting wildflower honey since 2000 and have a wide variety of interactive programs for visitors to partake in. Whether you are into honey extraction or beeswax candle making, Honeybee Centre helps you to explore and learn all about honeybees! After your visit, you will know exactly how you can play a part in bee conservation in your daily life!
Aside from educational programs, there is also a shop onsite selling honey bee products in all forms, including unpasteurized honey, infused honey spreads, and soaps!
Evening: Cloverdale, Di Reggae Cafe
If time permits, spend some time around Cloverdale, one of the oldest neighborhoods in Surrey. Wander through its historic main street and stop by one of the quaint shops.
The Museum of Surrey and BC Vintage Truck Museum are top attractions for history buffs to visit.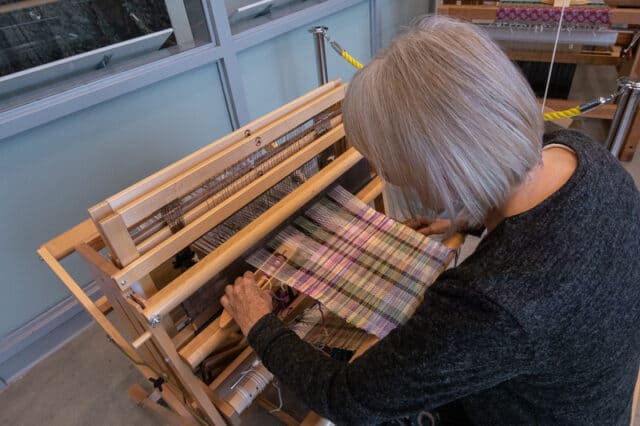 In the evening, have a real taste of Jamaican food at Di Reggae Cafe. From appetizers to desserts, it will awe you with flavours and spices. Traditional Jamaican patty and tender oxtail are popular picks. Pair the food with Jamaican-flavored soda and you will be instantly transported to the Caribbeans!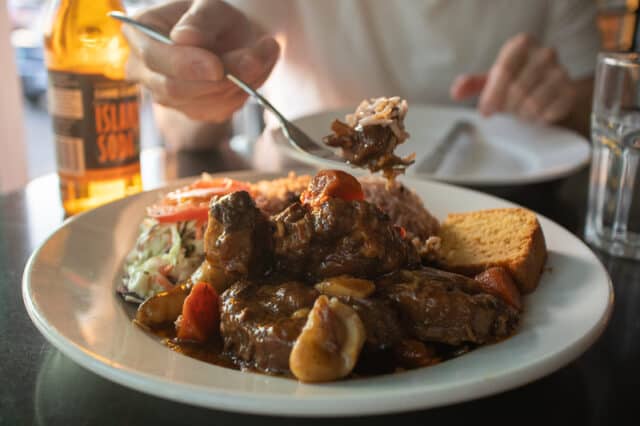 Want to try Mexican food instead? We recommend Guacamole Mexican Grill, a women-owned restaurant. They serve genuine Mexican dishes like fried birria tacos, poloze (traditional soup), and pupusas (stuffed corn tortillas) that are not commonly found in North American Mexican joints!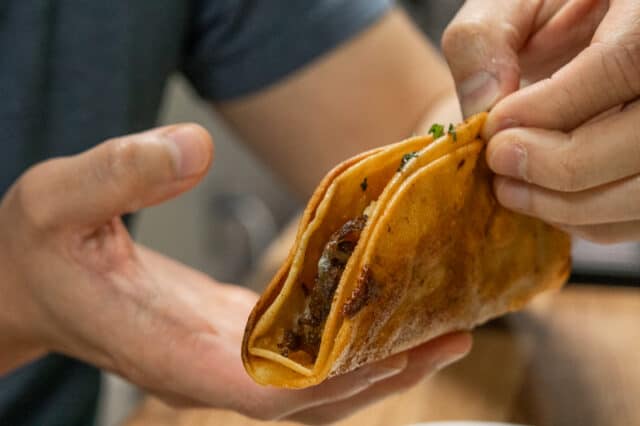 Best Things to Do in Surrey, BC, Aside from The Spice Trail
Wondering what else there is to do in Surrey?
Here are some activities for you to consider:
Golfing – practice your swings and putting techniques at one of the 9 golf courses!
Whale watching adventures – tours depart from Crescent Beach Marina. Best times to view whales are spring and summer in between April and October.
Mountain biking – bike parks with tracks and trails can be found across the city.
Urban Safari Rescue Society – the facility cares for over 350 exotic animals surrendered to them. Learn about the animals they rescued and why they are important to the environment. Open by appointment only.
Best Place to Stay in Surrey for Couples
For a luxury stay, we recommend Civic Hotel, an Autograph Collection Hotel, located in Surrey City Centre just steps away from the SkyTrain station. If you ever need to head to downtown Vancouver, it is only a quick subway ride away!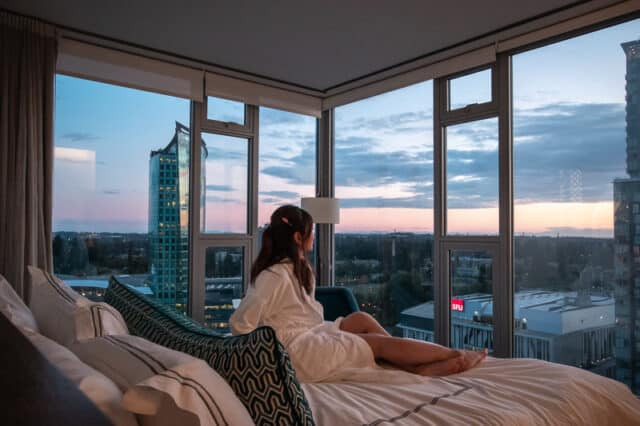 The hotel also pampers you with many modern amenities: including an outdoor pool, a hot tub, a 24-hour fitness center, a restaurant (serving New Canadian food), and a cafe.
Guest rooms are spacious with floor-to-ceiling panoramic windows, offering stunning city views throughout the day. We stayed in a corner room and our washroom looks directly out to the mountains in Burnaby – probably one of the best washroom views we've ever had!
---
Surrey really surprised us with the variety of ethnic cuisines available, some of which we had never tried in our life! This article features only a fraction of Surrey's Spice Trail. We encourage you to head over to Discover Surrey's website to explore more options to add to your international dining experience.
Next time you're in Vancouver and in need of a quick getaway, instead of Salt Spring Island or Bowen Island, consider Surrey! Driving the Sea to Sky Highway and visiting Howe Sound and Horseshoe Bay might seem appealing, but for a true foodie adventure, Surrey definitely stands out as an unexpectedly pleasant experience.