This site uses affiliate links and we may earn a small commission when you use our links and make a purchase without incurring additional fee yourself. Many thanks for supporting this website. Please see our disclosure page for more details.
Summer is the season that reminds us to come alive. This is especially true in Alberta where the sun doesn't set until 10 PM! The glorious sunshine awakens nature and wildlife, unveiling the diverse and striking landscapes that we often don't realize exist! There is no shortage of fun things to do in Alberta, Canada in the summertime.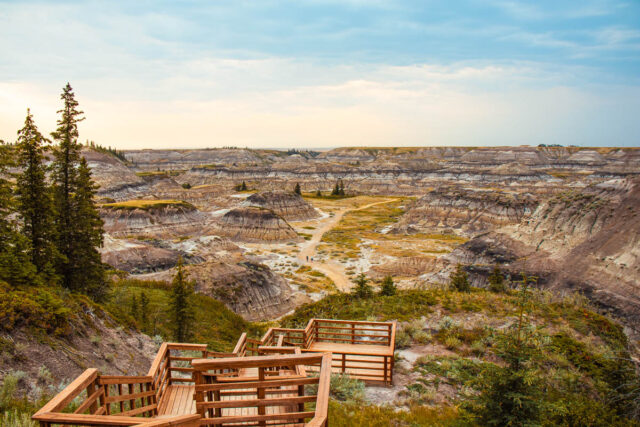 This past summer, I embarked on a 8-day road trip to southern Alberta with my friend Sherri from Kamloops, BC. We made our way from Edmonton to the Canadian badlands, from rolling farmlands to the Rocky Mountains — and the incredible scenery around every corner left us in awe!
Below, you can find the highlights of our southern Alberta road trip: a list of 25 things you must do when visiting Southern Alberta in the summer!
Pssst, if you need to rent a car, we highly recommend using Discover Cars to find the cheapest car rental deals from major brands such as Hertz, Avis, Alamo, and Budget!
What is Considered Southern Alberta?
If you're not familiar with the geography of Alberta, Canada, your first question may be "what counts as southern Alberta?"
When Albertans talk about "southern Alberta," they are loosely referring to the region south of Red Deer, a city about halfway between Calgary and Edmonton.
Going by this definition, cities like Calgary, Lethbridge and Medicine Hat are part of southern Alberta, as well as four UNESCO World Heritage Sites (Dinosaur Provincial Park, Head-Smashed-In Buffalo Jump, Writing-On-Stone Provincial Park, and Waterton-Glacier International Peace Park).
Kananaskis and Banff National Park, despite being located west of Calgary, aren't part of the southern Alberta region. They are often referred to as Alberta's Rockies, along with Jasper National Park.
Southern Alberta Map
Here's the map of Southern Alberta to give you a visual representation of the region:
What is Southern Alberta Known For?
What exactly is there to see in southern Alberta?
I get this question all the time from friends outside the province.
At first it may seem like the area is made up of just flat wheat fields and ranchlands, but the region actually has an abundance of attractions for outdoor enthusiasts and nature lovers. Believe it or not you can see mountains, forests, prairies, canyons, Canadian Badlands and foothills – all in one place! That's what draws thousands of visitors to the area every year, not to mention major film and TV productions often choose southern Alberta as shooting locations.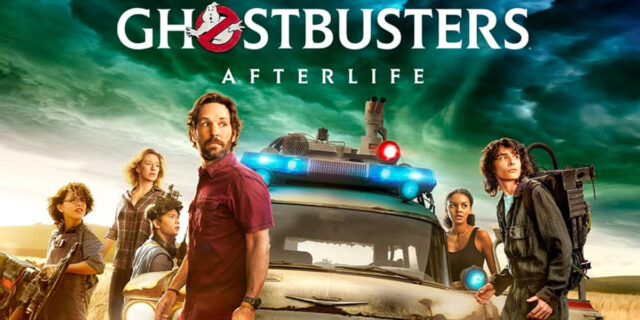 Oh, and did I mention that southern Alberta contains four of the six UNESCO World Heritage Sites in the province?
Is Southern Alberta a Desert?
No, not entirely. As mentioned in the previous section, you can find mountains, forests and prairies in southern Alberta as well.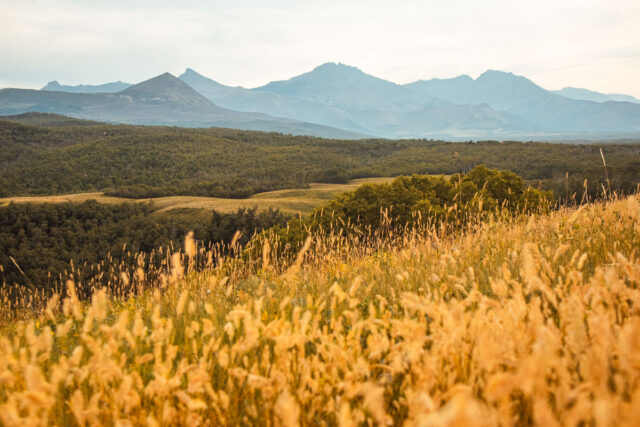 However, as you travel east from Dumheller to the Saskatchewan border and south to the United States, you will come across multi-hued canyons and wind-sculpted hoodoos, as if you have stepped into a distant alien world. This region is known as the Canadian Badlands, a place where dinosaurs walked the earth 75 million years ago!
What is There to Do in Southern Alberta in the Winter?
This article showcases what there is to do in southern Alberta in the summer.
In the winter, most parts of Alberta turn into a winter wonderland, where you can enjoy wintery activities like cross-country skiing, snow shoeing, skiing, snowboarding, skating, and ice fishing!
25 Top-Rated Things to Do in Southern Alberta
1| Explore Alberta's rugged badlands at Dry Island Buffalo Jump Provincial Park
The western part of Alberta is lined with snow-capped peaks and towering mountains. As you journey towards the east, the landscape is equally impressive and yet so different that it feels almost like travelling to outer space.
Dry Island Buffalo Jump Provincial Park gives you a taste of the otherworldly Martian-esque landscape. This little-known secret gem located near Trochu has a surreal appearance, covered with coulees and hoodoos. Walking through the park lets you feel as if you're in a sci-fi movie!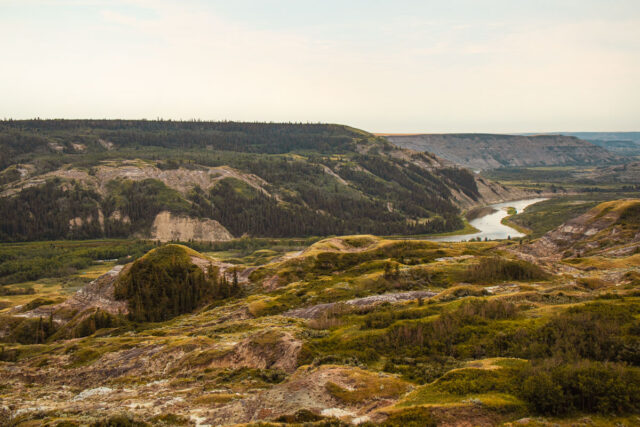 The geological formation is not the only reason this park is special. It is also an ancient buffalo jump site where Cree native people drove herds of bison over the cliffs to sustain their daily life.
A popular activity to do here is to hike on the informal trails which meander through glacier carved badlands topography. You can also launch a boat (or a river tube) at the day use area and paddle along the Red Deer River.
2| Learn all about dinosaurs at Royal Tyrrell Museum
Die-hard dinosaur fans will be elated to learn that the Royal Tyrrell Museum has one the world's largest collections of dinosaur skeletons. It's the perfect place to come face-to-face with Canada's mightiest dinosaurs!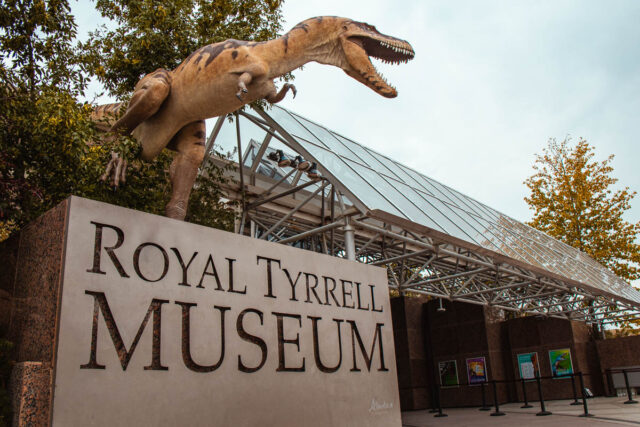 As Drumheller's top attraction, the museum is devoted exclusively to palaeontology. Aside from the impressive indoor exhibitions, Royal Tyrrell Museum also runs fun, interactive hands-on programs on- and off-site for all ages (yes, that includes adults!) during the summer months to get a deeper understanding of these prehistoric creatures.
Read more about the Royal Tyrrell Museum in our exclusive blog post!
3| Admire the unique rock formations at Horseshoe Canyon
A visit to the Horseshoe Canyon is a must when you're near Drumheller.
Named for its horseshoe shape, the canyon provides an excellent opportunity to experience the mixture of ruggedness and beauty in the badlands.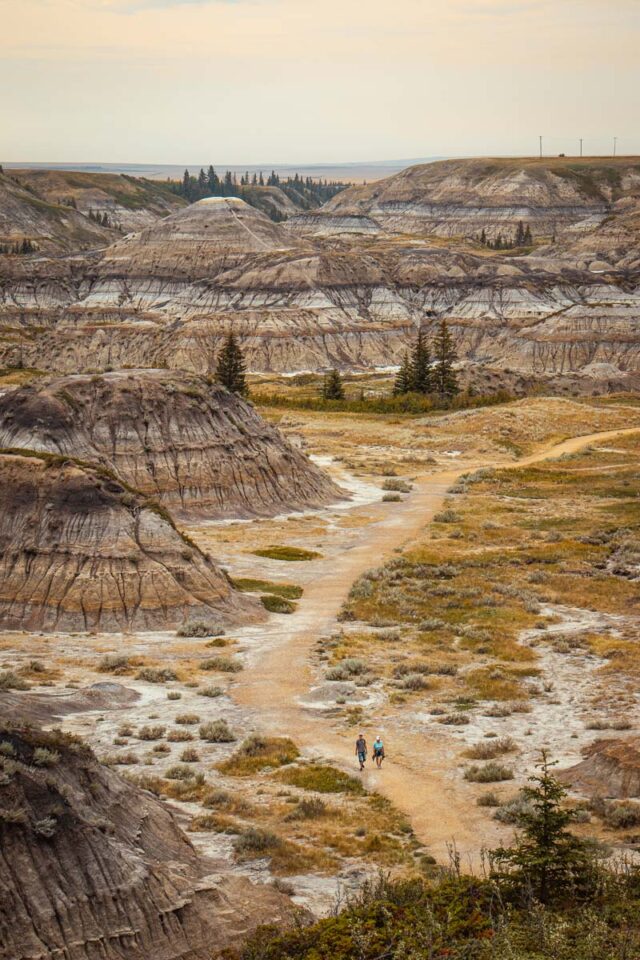 Near the parking lot, there are a few observation decks to take in the views of the dramatic landscape.
However, if time and energy levels permit, we strongly encourage you to venture down into the canyon. You can find the entry to the official hiking trail off to the right of the parking lot. The trail is only 0.8 km long one way, but there are many side trails going off in different directions.
Although the canyon is open year-round, the best times to hike are April through September.
4| Visit the tiniest church in Canada: Drumheller's Little Church
A fun place to stop by during your trip to Drumheller is the Little Church!
This tiny little space of worship is just 3.4 m (11 ft) high and 2.1 m (7 ft) wide – smaller than our bathroom! They say it seats 6 people at a time, but we think they probably mean 6 little kids.
The church is open to the public and free to enter. People can even reserve the church for a ceremony!
Want to explore more of Drumheller? Our Drumheller post showcases what else you can see and do in this town!
5| Go on a fossil hunting safari in Dinosaur Provincial Park
A trip to the Canadian Badlands is not complete without spending some time exploring Dinosaur Provincial Park.
Noted for its striking badland topography and highest concentration of Cretaceous fossils in the world, Dinosaur Provincial Park is not only home to the Tyrrell Museum Field Station, but has also been designated a UNESCO World Heritage Site.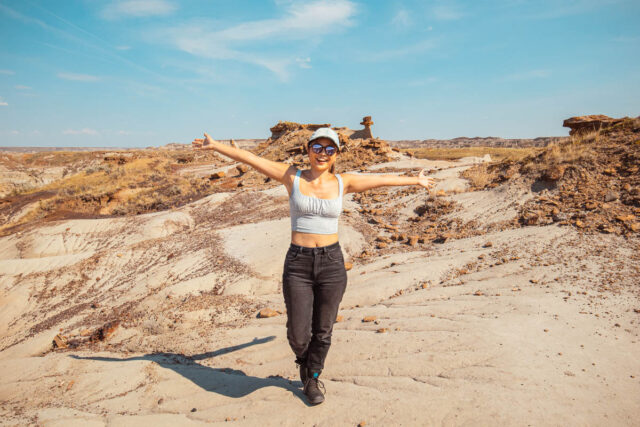 This is probably our favourite place in the southern Alberta region!
You are free to explore the park on your own, but we highly recommend signing up for a guided tour. A tour not only provides a more educational, enriching experience, but also gives you access to the restricted area (where only staff and scientists are allowed!).
On a previous trip, we participated in the Centrosaurus Quarry Hike (2.75 hours) to a former dig site that contains the remains of hundreds of horned dinosaurs!
For more in-depth details, read about our tour experience at Dinosaur Provincial Park and why this is one of the best day trips in southern Alberta!
6| Discover one of Canada's most significant engineering feats: Brooks Aqueduct
As you drive across southeastern Alberta, you will see vast amounts of farmlands everywhere you look. This view may lead you to wonder, "how did farmers irrigate the lands, especially back in the olden days?!"
The answer lies at Brooks Aqueduct, an enormous concrete structure easy to spot for anyone visiting the area.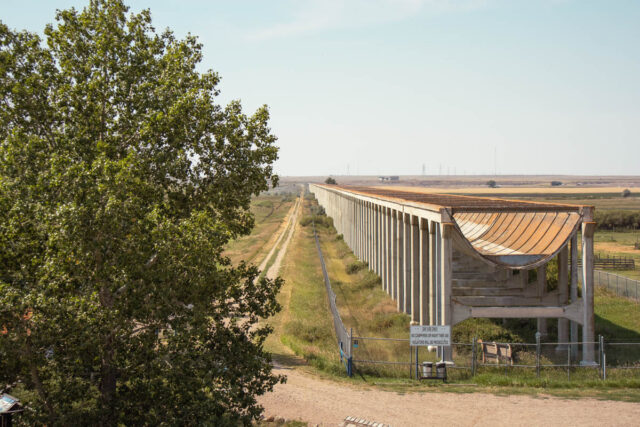 This national historic site might feel like an attraction off the beaten path in Alberta; however, the century-old structure served as a vital link in the irrigation system to provide water to the surrounding arid farmlands.
When you see the pillars suspended 20 metres above ground, stretching 3.2 km wide across the valley, you will wonder how humans built it 100 years ago?!
7| Step back in time at Calgary's Heritage Park
Heritage Park is one of our favourite Calgary attractions. We have visited at least five times over the past few years and always find something new and amusing to see or do every time we visit.
The park is Canada's largest living history museum. To us, entering the museum takes you back in time to see what life was like here in western Canada from the 1860s to 1950s.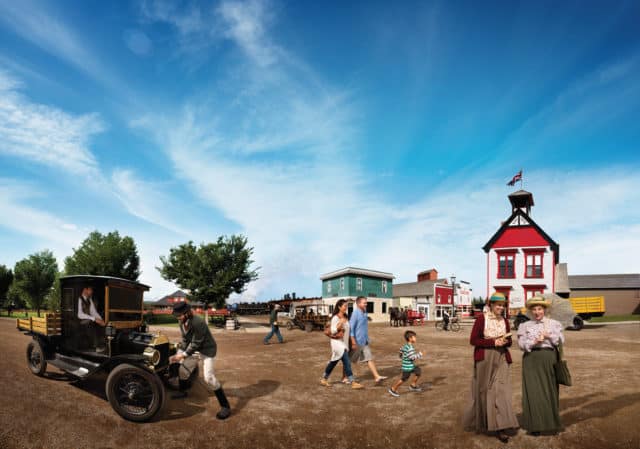 You can spend the day hopping on the vintage train, making your own old-fashioned ice cream, or setting sail on a paddlewheel boat while watching history unfold before your eyes. Remember to check their event calendar for seasonal activities so you don't miss out on special programs!
Since 2021, the park has added a few new areas to explore, including Prospect Ridge (where you can pan for gold and head deep into a coal mine) and a working veterinary office at the stable!
Before you go, make sure to stop by the Selkirk Grille for a hearty meal or to sample what the indigenous dish "bannock" tastes like!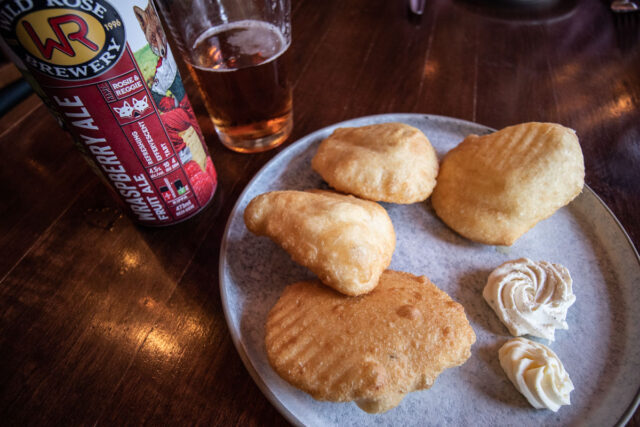 8| Have a fun encounter with science at Calgary's TELUS Spark
When you hear "Science Centre," you probably imagine a place for nerds and assume it's too sophisticated for non-techies like us who can't even memorize the periodic table… But TELUS Spark makes science fun for everyone with interactive exhibitions!
So what do they have for us adults?? Here are a few things you might like:
Birdly VR experience: transform into a Kepodactylus (flying reptile) and take a trip through the sky!
Spark After Dark: an adult-only evening series filled with everything you love: food, drinks, ice cream, music, and science!
Infinity Dome theatre: watch a movie or live planetarium show on a 360-degree, 8K resolution screen!
Flint the Robo Dog: catch Spark's official education ambassador roaming around the science centre, and help teach her new tricks!
Astronaut ice cream: grab a planet-inspired ice cream cone to beat the heat!
There is currently no hop on hop off bus in Calgary. If you're looking for transportation, why not explore Calgary in a vintage-styled sidecar with a guide?
If you would rather see the city on your own, check out our two-day Calgary itinerary for ideas and inspirations.
9| Set sail and explore Waterton on a boat cruise
Waterton may be the smallest national park in the Canadian Rockies, but don't let its small size fool you. It has been declared, along with Glacier National Park in Montana, a Biosphere Reserve (meaning it represents one of the world's important ecosystems) and a UNESCO World Heritage Site!
One of the best ways to explore Waterton is on the water, and you can easily do so by hopping on a scenic boat tour with Waterton Shoreline Cruises.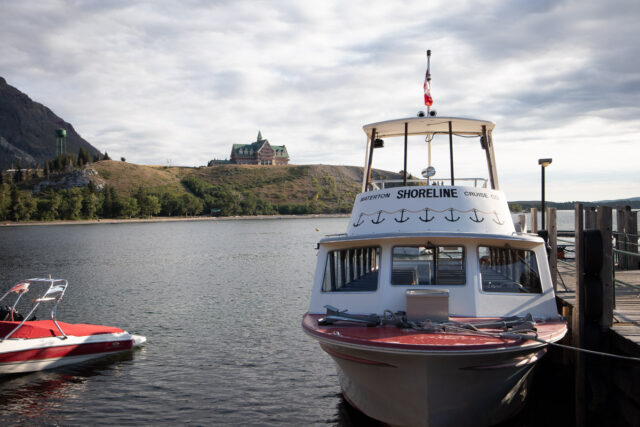 Throughout the 75-min boat ride, you'll admire the majestic scenery, hear stories about the area, and cross the Canada-US border (without a passport!). On a lucky day, you might even spot some wildlife on the shore!
The boat runs from May through October. Schedule is subject to change depending on weather conditions. We recommend purchasing your tickets at the ticket booth on the day of the tour as the weather in Waterton can change quickly from one hour to the next.
10| Hike the scenic trail of Red Rock Canyon in Waterton Lakes National Park
Want to do one of the coolest activities in Waterton? Then go hike the Red Rock Canyon! To get there you will need to drive up the 16-km (10 miles) Red Rock Parkway. Visit in June to see the especially beautiful wildflower season when an amazing variety of colourful plants cover the entire meadow.
Once you arrive at Red Rock Canyon, follow the 0.7 km Canyon Loop to take in the beauty of the deep-red rocks and rushing water! Notice how the lush green trees stand in stark contrast to the red rocks.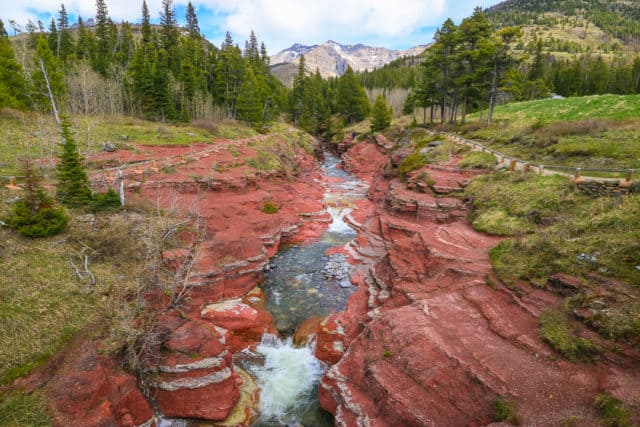 11| Go paddling on Waterton's Cameron Lake
Cameron Lake is a hidden gem in Waterton, located just 16km (10 miles) from the townsite on Akamina Parkway.
The glacier-fed lake is crystal clear and teeming with abundant wildlife! You can hit the trail and hike along the lakeshore. Or better yet, rent a boat and enjoy the water at this serene, subalpine lake!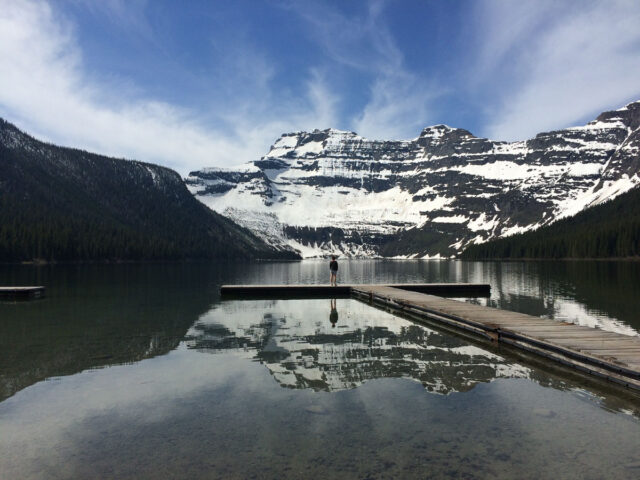 Canoes, kayaks, SUP, pedal boats and row boats are available for rent from mid-June through mid-September at the Cameron Lake Boat Rentals.
12| Watch bison roam in Waterton
We can't leave out the wildlife while visiting a national park!
We want to let you in on our little secret: the best place to see wildlife in Waterton is the bison paddock loop (open in spring, summer and fall)!
Take a drive along this short, scenic route off Highway 6, and you will often see herds of bison roam within the fenced enclosure. It is a magical experience even if you can only view from a distance!
Note: When driving on the Bison Paddock Loop Road, make sure to GO SLOW and STAY INSIDE your vehicle. Getting out of your vehicle is prohibited.
13| Treat yourself to an afternoon tea at Prince of Wales
A visit to the Prince of Wales Hotel is A MUST on your trip to Waterton.
The grand old railroad hotel is an iconic attraction in the park. The National Historic Site stands tall on a hill, providing breathtaking views of picturesque Waterton lakes and the surrounding mountains!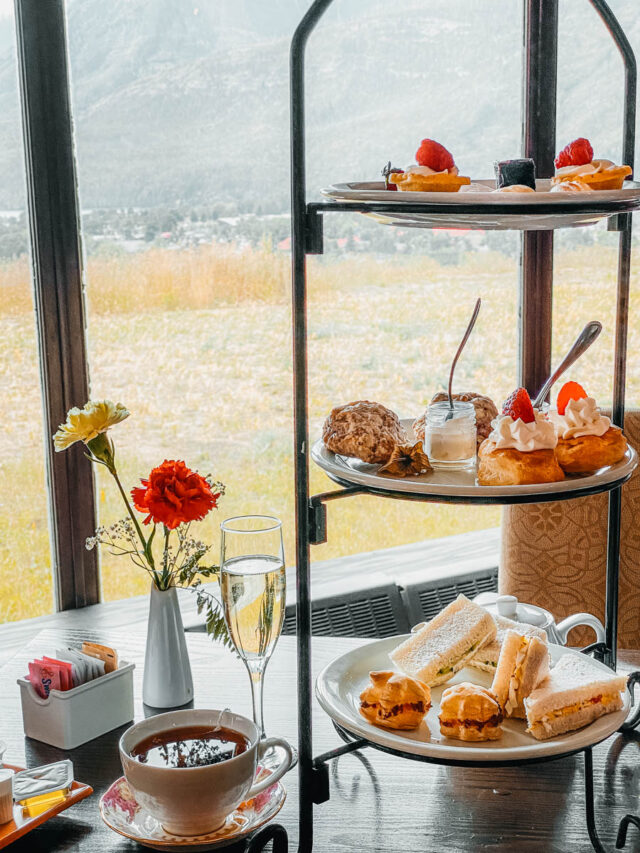 Our favourite way to spend our time at Prince of Wales is having a high tea there. Nothing beats an unhurried afternoon of delectable treats, accompanied by a mesmerizing mountain-lake view!
Note: The hotel opens seasonally from mid-May to mid-September.
14| Watch sunset over Lethbridge's High Level Bridge
Situated conveniently close to 4 UNESCO World Heritage Sites, Lethbridge is the hub of southern Alberta for outdoor travellers. The sunny city has much to offer when it comes to sightseeing. For one, it hosts the longest and highest trestle bridge in the world!
Visiting the Lethbridge Viaduct should be on your list of top things to do in Lethbridge. Commonly known as the High Level Bridge, the structure soars 96 metres (314 ft) above the Old Man River and reaches 1.6 km (5327 ft) long! Can you believe that the 1909-built bridge is still in use today!?
You can find trails in the valley that take you up close to the foot of the bridge. Indian Battle Park is one of the many places with a closer view of the viaduct. While we were there, we saw many locals strolling, jogging, or walking their dogs nearby.
If you prefer viewing the High Level Bridge from a higher vantage point, we recommend going to the Galt Museum. From there, you can see the entire magnificent structure. At sunset, the beautiful golden light makes the view even more magical!
15| Have a meal inside Lethbridge's decommissioned water tower
Want a front row seat to the prairie city's badland landscape? Head towards the Water Tower!
Once used to supply Lethbridge with clean drinking water, the historic landmark is now a restaurant (called Water Tower Grill & Bar) with a stylish atmosphere serving casual cuisine from lunch to late.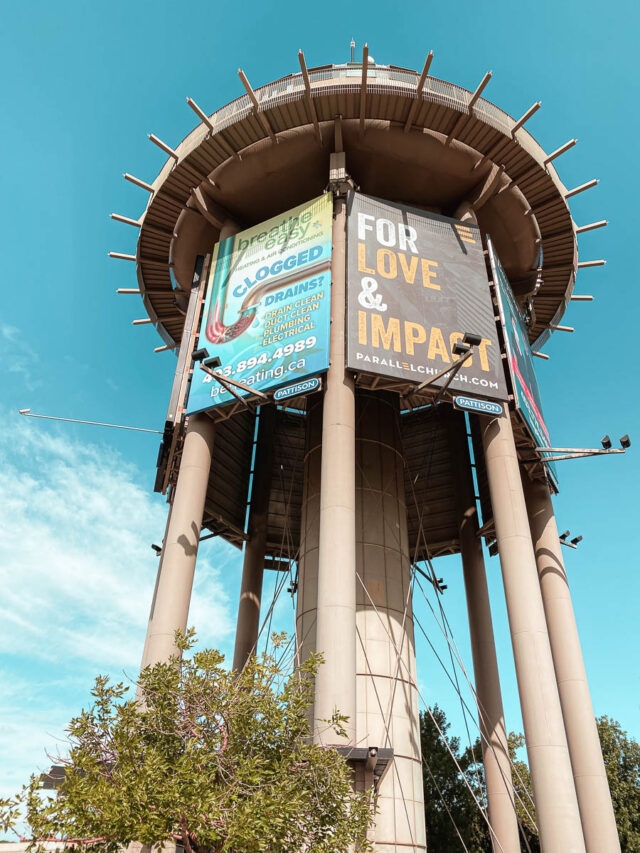 The restaurant doesn't revolve but it does have a 360-degree balcony for you to admire the city from every possible angle!
16| Wander through Nikka Yuko Japanese Garden in Lethbridge
It may seem random to find a Japanese garden in the small Canadian city of Lethbridge. But the southern Alberta city actually has a diverse and multicultural community and the Nikka Yuko Japanese Garden reflects the cultural diversity and harmony in the city.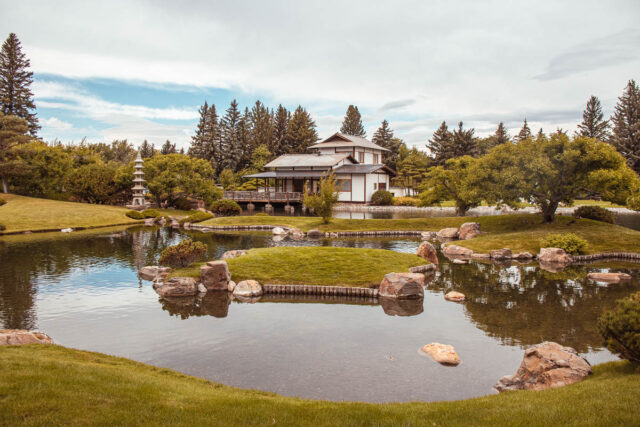 The 3.75-acre garden was built to celebrate Canada's Centennial in 1967 and as a symbol of friendship between Japan and Canada.
You will find a peaceful oasis while walking through the sculpted Japanese garden. Stone lanterns, wooden arched bridges, carefully manicured trees, the bell tower and tea house will transport you to a zen state of mind.
We love this place's rich cultural programming with events like outdoor yoga, a traditional tea ceremony, taiko performances, and language learning!
17| Go hot sauce tasting at Lethbridge's Beyond Hot
Love hot sauce? Then you'll need to stop by Beyond Hot.
We stumbled upon this hot sauce store and it turned out to be one of our most memorable stops on our trip!
Shelves and shelves of hot sauce from North America fill the store – one wall displays hot sauce from B.C. to P.E.I., while the other is filled with those from the U.S.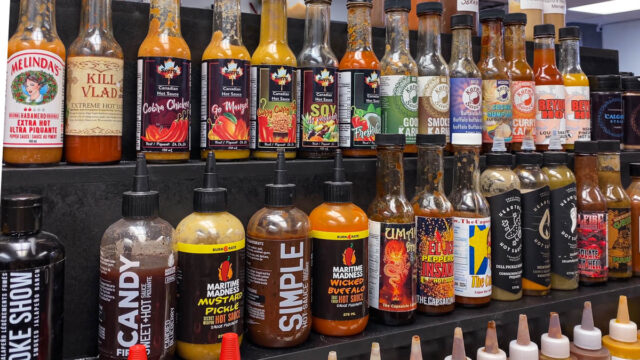 If you're not sure where to start, we encourage visiting the tasting tables to sample different kinds to find ones that please your taste buds.
Aside from hot sauces, the store also sells spicy dry rubs and other interesting spicy products like spicy popcorn, spicy jelly beans and more!
We guarantee that you won't leave empty-handed!
18| Get first-hand accounts of Canada's deadliest rockslide: Frank Slide
One of the best day trips from Lethbridge is a drive through Crowsnest Pass.
Crowsnest Pass, or "The Pass" as the locals call it, represents a collection of five historic mining towns located along Highway 3. The area is bursting with things to see and do for those who want to experience the region's history, and one place that really struck our heart is Frank Slide.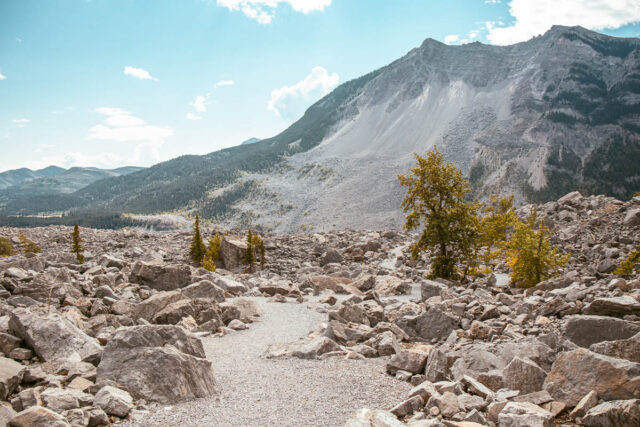 Unlike any other Alberta tourist places, the horrific Frank Slide disaster site tells a tragic story of the human impacts of coal mining. The 1903 rockslide buried part of the mining town of Frank in just 90 seconds, costing the lives of at least 92 people. It is Canada's deadliest rockslide to date.
Most believe that the weak rock layers on Turtle Mountain were made weaker by the action of coal mining.
To learn more about this natural disaster, we recommend paying a visit to the Frank Interpretive Centre, which offers dynamic interpretive programs and presentations that shed light on the disaster of Frank Slide.
19| Admire Alberta's Niagara Falls: Lundbreck Falls
Do you know Alberta has its own Niagara Falls? Let us present to you… Lundbreck Falls!
This scenic attraction near Pincher Creek in southeastern Alberta features a series of waterfalls of the Crowsnest River near the settlement of Lundbreck.
No hiking is required to view the waterfalls as it is located close to Highway 3A. From the observation platform, you can see the rushing Crowsnest River fiercely plunge 12 m (39 ft) into a deep pool in the canyon below.
It is hard not to notice how these beautiful u-shaped falls bear a resemblance to the famous Niagara Falls in Ontario.
For a closer look, follow the path down into the limestone gorge.
20| Learn about bison hunting technique at Head-Smashed-In Buffalo Jump
Earlier in this post, we mentioned a "buffalo jump." What exactly is a buffalo jump? And how did aboriginal people use this technique to hunt bison? A visit to Head-Smashed-In Buffalo Jump, one of the top Alberta, Canada attractions, will answer all your questions.
This archeological site, located near Fort MacLeod, is one of the oldest and best-preserved buffalo jumps. Native people on the Great Plains practiced the buffalo jump hunting method here for nearly 6000 years!!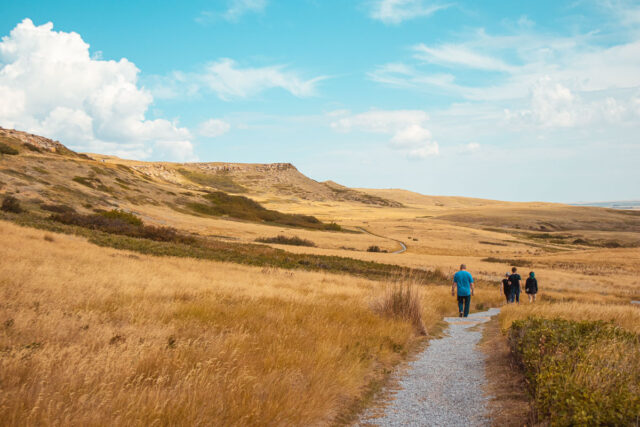 In recognition of this, it was designated a world heritage site by UNESCO in 1981.
The Head-Smashed-In Buffalo Jump Interpretive Centre provides insight into the plains buffalo culture, including what was required in the communal bison hunts to lure buffalo from the gathering basin into the drive lanes, and finally over the cliffs.
Make sure to explore the interpretive trail outside the centre for a clear view of the jump from the top of the cliff and a panoramic view of the prairie. On one of our visits, we saw a buffalo herd roaming nearby!
21| Have a taste of the sweet Taber corn
The town of Taber is known as the Corn Capital of Canada, famous for its sweet corn due to the large amounts of sunshine it receives.
A sweet, crisp cob from Taber is a sought-after late summer treat for Albertans. It is so sweet that you don't need any butter!
Taber corn is sold throughout Alberta during the month of August (sometimes into September depending on the season). You can only find Taber corn at local farmers markets, corn stands, and corn trucks.
22| Eat & drink your way through Medicine Hat
Medicine Hat may be a small city, but it holds many great food spots for serious foodies!
Here are some of the places we love in town:
23| Take a selfie with the World's Tallest Tepee
You will come across countless "World Largest" roadside attractions in Southern Alberta: World's largest dinosaur, world largest geese, world's largest gold tee, world's largest chess board, you name it.
One that is exceptional to see in person is the World's Tallest Tepee, the Saamis Tepee!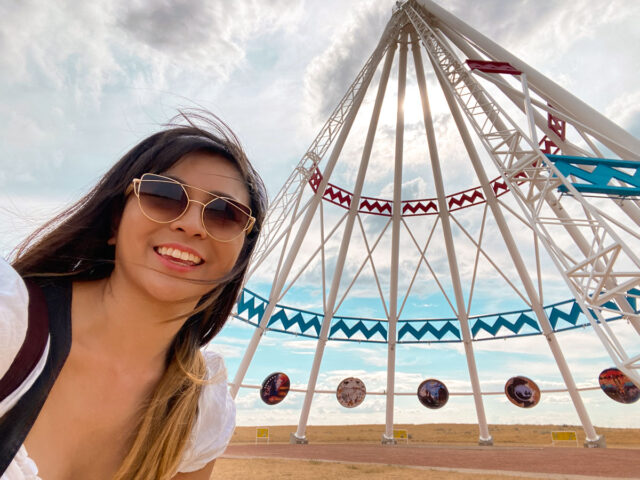 Standing more than 20 stories high with a diameter of 50 m (164 ft), the Saamis Tepee is Medicine Hat's most prominent landmark and a tribute to Canada's native heritage.
The structure is built entirely of steel to withstand the extreme temperatures and strong winds in the area, ringed with 10 large story-boards depicting aspects of native culture and history.
Take a souvenir selfie with the tepee and see if you can fit the entire tepee in the frame!
24| Investigate the mystery of Red Rock Coulee
Imagine seeing random huge spherical rocks in the middle of the prairie. Can you guess what happened?
Alien attack? A natural disaster? Treasures left over from the ice age?
Anyone who's into geology or bizarre things will find Red Rock Coulee fascinating. I am not gonna deny, it is one of the coolest things to do in Medicine Hat!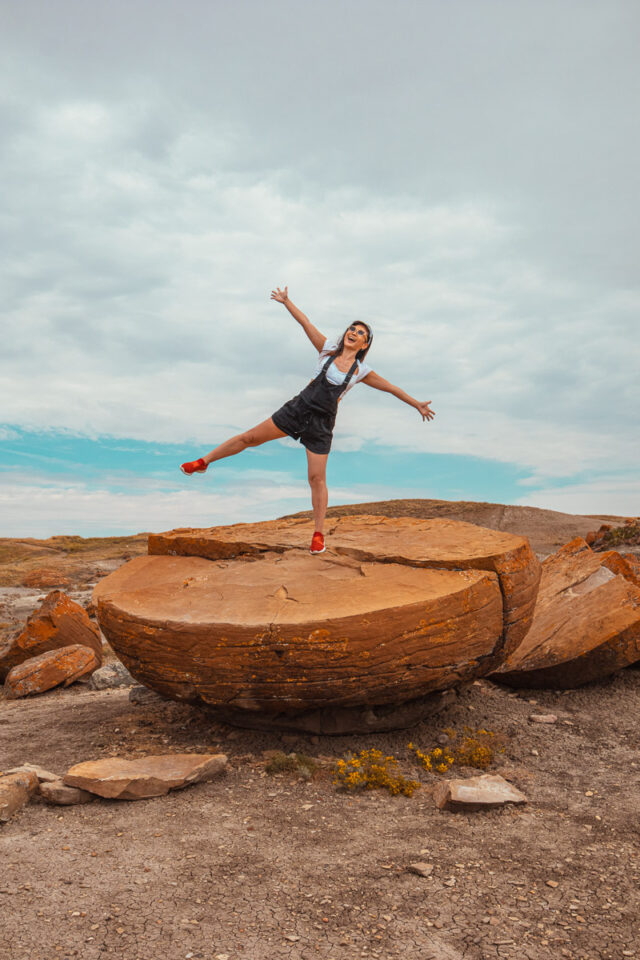 Located in a Provincial Natural Area about 40 km southwest of Medicine Hat, Red Rock Coulee looks like it came straight out of a space film. It gives you an otherworldly feel, as if you have wandered onto the surface of Mars.
The area contains large spherical reddish boulders (called concretions) covering 800 acres, some of which measure 2.5 m (10 ft) in diameter!! Several are perfectly round like an onion and others are broken up into pieces.
If you take a closer look at the rock, you may be able to see their "growth rings" (layers of sediment deposition) and fossilized shells, leaves or bones. These clues tell us that the red rocks were indeed formed millions of years ago by prehistoric seas.
Okay, it may not be as interesting as our alien attack theory, but it is unquestionably a great geological wonder to see!
25| Explore native pictographs and petroglyphs in Writing-on-Stone Provincial Park
One of the most interesting Southern Alberta activities we've done is explore the petroglyphs (carvings) and pictographs (paintings) that cover the sheer sandstone cliffs at Writing-On-Stone Provincial Park.
Known as Áísínai'pi in Blackfoot, Writing-on-Stone is Alberta's newest UNESCO World Heritage Site. The designation was given in July 2019 to recognize its cultural significance.
The park lies just north of the Canada-US border in the Milk River Valley and tells the stories of the Blackfoot First Nation peoples who lived in this region for at least 10,000 years.
You are free to explore the hoodoo hikes nearby and even paddle or float on the river.
However, the best way to experience Writing-on-Stone is by participating in a guided tour with Alberta Parks. The knowledgeable guide will take you through the historic site and into the restricted area to take a closer look at the rock art, learn about the meaning of these ancient symbols, and discover why the Blackfoot people considered it a sacred place.
Where to Stay on Your Southern Alberta Road Trip?
Calgary: Fairmont Palliser
Fairmont Palliser is our top choice for staying overnight in Calgary. The luxury four-star hotel is centrally located, making it easy to explore downtown Calgary, the bustling 17th Avenue, and many other attractions!
Fairmont Palliser is a truly special 1914 historical building designed with the characteristic Chicago school look. A night at Fairmont Palliser feels like stepping back into simpler times. But don't worry, the interior has been newly renovated so guests can enjoy all modern conveniences including a 24-hours fitness centre, spa, indoor swimming pool, and onsite restaurant.
Drumheller: The Tyrannosaurus Rest Bed and Breakfast
You won't find any high-end hotels in the small town of Drumheller. Instead of hotels, we recommend a B&B!
Tyrannosaurus Rest Bed and Breakfast is a top rated accommodation in Drumheller. The century-old home oozes character and retro charm and has been recently restored to face a new century!
Each of the four guest rooms is uniquely different, but all come with a private bathroom, high speed Wi-Fi and air conditioning! Common areas like the library, parlour, dining room, and yard are all available for guest use.
And you know what? Breakfast is included in the room rate! What a steal!
Waterton: Bayshore Inn & Spa
Have you ever dreamt about waking up to sunrise over a lake? Then Bayshore Inn & Spa in Waterton is for you!
The rustic hotel sits on the shores of the beautiful Waterton Lake. No matter which room you stay in, you are guaranteed to have either a lakefront or a sweeping mountain view.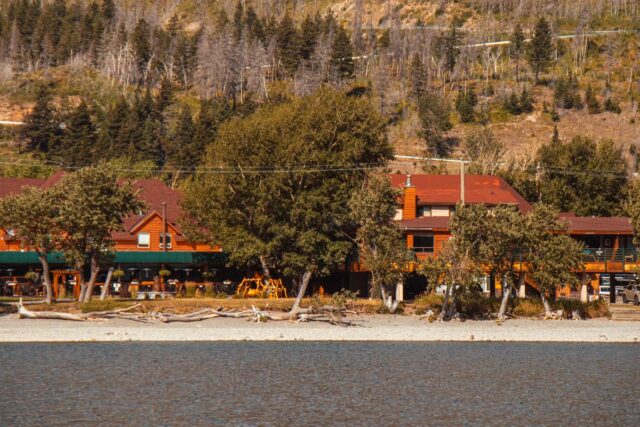 Each room comes equipped with a coffee maker, mini-fridge, TV, WiFi, and air conditioning. Our favourite part of staying at Bayshore Inn & Spa is the private balcony where we indulged in beautiful nature and amazing views.
Attached to the Bayshore Inn & Spa are other services including a full service spa, laundromat, and a gift shop. When it comes to food, the hotel has got you covered, day or night, with four dining options: Lakeside Chophouse & Wine Bar, Thirsty Bear Kitchen + Bar, Red Rock Trattoria, and Starbucks Glacier Bistro.
Lethbridge: Sandman Signature Lethbridge Lodge
What I love about Sandman Signature is its location. Situated in the heart of south Lethbridge, the 3-star hotel is only minutes away from top Lethbridge attractions such as the High-Level Bridge, Fort Whoop Up, and Galt Museum, making it super convenient for travellers.
Unlike other hotels in Lethbridge, Sandman Signature is a tropical oasis in the middle of the Canadian badlands where the guest rooms look out onto a lush indoor courtyard. You can take advantage of the splendid garden, hot tub, indoor pool, and gym during your stay.
Rooms are spacious, clean, and modernly furnished with a range of amenities including microwave, mini fridge, cable TV, coffee maker, WiFi, and air conditioning to make you feel at home.
Make sure you stop by the Italian Table for a meal. The award-winning restaurant serves a family-style menu featuring flatbreads, pastas, and classic Italian fare that you will surely love.
Medicine Hat: Medicine Hat Lodge
Imagine having a water park, casino and spa right inside your hotel. If that sounds right up your alley, then you need to book a stay at Medicine Hat Lodge.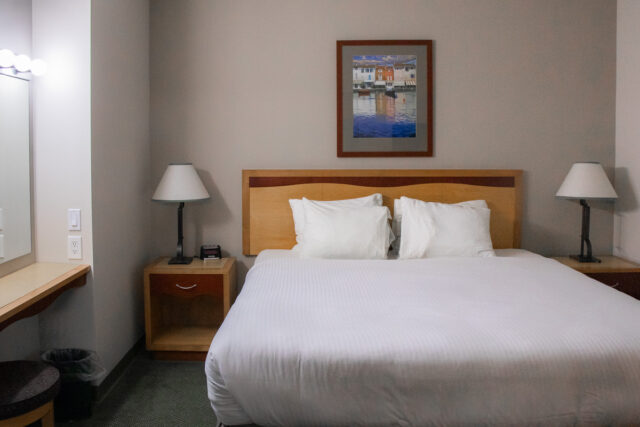 The four-star resort is part of the Trademark Collection by Wyndham boasting spacious guest rooms. Couples will be delighted to find the bathroom comes equipped with a double vanity which is hard to come by in southern Alberta hotels (no more fighting over the sink!).
In addition to a giant indoor waterslide park, spa and casino, the hotel also has three dining options, a 24-hour gym, and a fashion boutique under the roof. In the morning, you can enjoy a complimentary hot breakfast buffet at your leisure!
Have Extra Time? Here Are Places to Go in Southern Alberta
Glamping at Eau Claire Distillery
Gin and glamping? Heck yeah!
This year, Eau Claire Distillery started hosting glamping experiences at their property in Turner Valley. Perfect for those who want to enjoy being outside while drinking the night away!
Visit the World Famous Gopher Hole Museum
Looking for something quirky? Check out the Gopher Hole Museum located in Torrington!
Inside the attraction, you'll be greeted by over 70 stuffed gophers (squirrel-like rodents) posed to depict the history and daily life of the town. You will find gophers dressed as a hairdresser, a preacher, and even an RCMP officer!
Tour the Bellevue Underground Mine
Bellevue Underground Mine provides an opportunity to explore a now defunct mine. The guided tour takes you 1,000 feet into the mine, 150-feet below the surface, to learn about the Crowsnest Pass' booming mining history.
Note: the tour is seasonal and usually runs from late May to early September.
Enjoy the warm lake and beach at Kinbrook Island Provincial Park
The park is just 90 minutes east of Calgary, offering a real treat on a sunny day for birding and boating!
Explore the trails at Cypress Hills Interprovincial Park
As Alberta's first designated Dark Sky Preserve, the park is undoubtedly the best location to stargaze in southern Alberta – thanks to its high elevation and lack of light pollution. You may even see northern lights!
Every August the Royal Astronomical Society of Canada hosts a Summer Star Party on the Saskatchewan side of the Interprovincial Park. The event is one of the largest gatherings of stargazers in Canada!
Advanced astronomers may want to consider crossing the border to Saskatchewan. There you'll find a dome observatory with a 14" Celestron and two portable Dobsonian telescopes!
Beyond Southern Alberta: Other Cool Things to Do in Alberta
Northern Alberta
Looking for things to do in northern Alberta? Why not stop by Alberta's capital city, Edmonton! Also known as the Festival City, Edmonton provides the perfect place to soak up the summer festival atmosphere. Read about what you must do in Edmonton in this post!
For dinosaur lovers, Grande Prairie cannot be missed. At the Philip J. Currie Dinosaur Museum, you can find a fascinating collection of large dino skeletons that were found in the nearby Pipestone Creek.
If seeing the northern lights is on your bucket list, then head towards Fort McMurray. It is one of the best places in this hemisphere to spot the northern lights. Aim to visit between late September and early May for the best view.
Last but not least, consider a trip to Wood Buffalo National Park, Canada's largest national park and a UNESCO World Heritage Site. It is also home to the largest free-roaming, self-regulating wood bison herd left in the world.
Alberta's Rocky Mountains
The Canadian Rockies are travellers' all time favourite. On this blog, we have written extensively about the region in every season!
Check out our articles on how to escape the crowd in Banff, how to spend a day in Lake Louise and what you must see in Jasper National Park!
Don't have time to plan a trip to Banff? Book a call with us and let us help you plan your Banff vacation!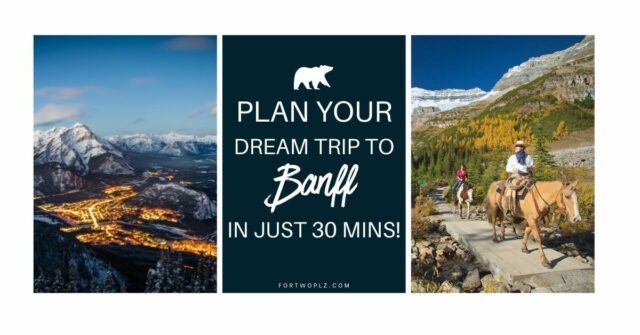 What to Pack for your Southern Alberta Road Trip?
Here's a list of what you should pack in the summer:
Active tops or gym tops
Lightweight summer shorts
Hiking pants
Hiking socks
Hiking boots
Bug spray
SPF 50+ sunscreen
Water bottle
Portable cutlery set