This site uses affiliate links and we may earn a small commission when you use our links and make a purchase without incurring additional fee yourself. Many thanks for supporting this website. Please see our disclosure page for more details.
Any die-hard dinosaur fan out there? Make Royal Tyrrell Museum a stop on your trip to Canada! With over 130,00 fossils and 40 complete dinosaur skeletons ranging from over 500 million years ago to the more modern mammals, the Royal Tyrrell Museum offers a truly spectacular learning experience for the young at heart!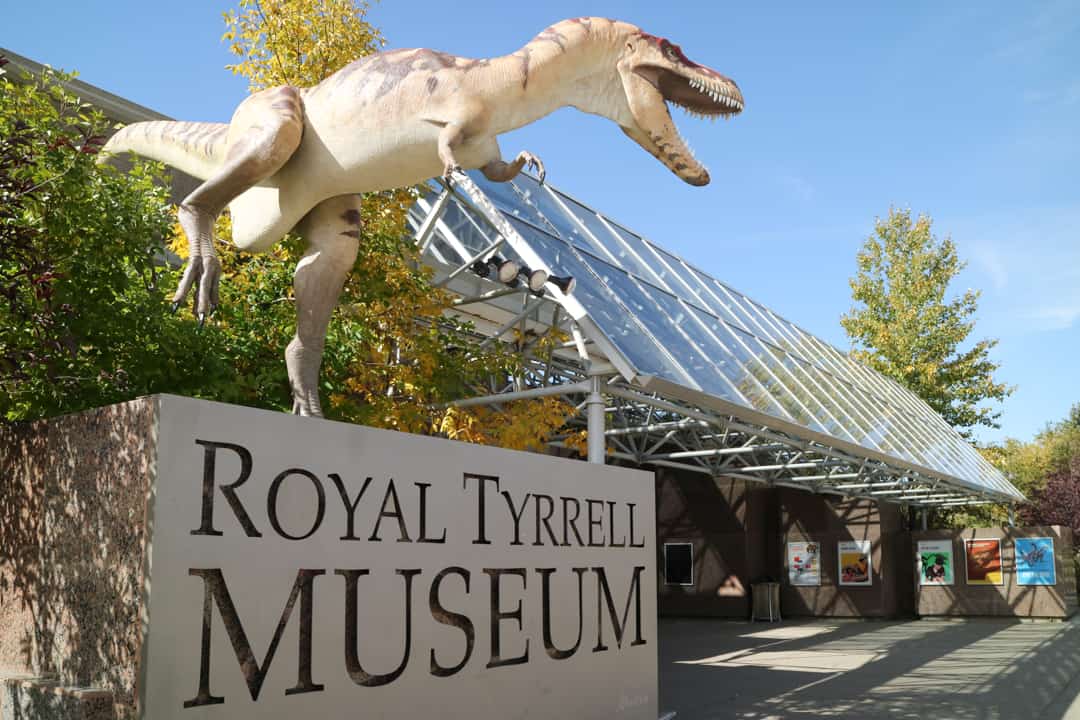 Driving 6 km northwest of Drumheller, you will arrive at the Royal Tyrrell Museum, Canada's only museum devoted exclusively to paleontology, standing amidst the rugged Southern Alberta badlands. This world-renowned museum and research facility houses one the world's largest collections of dinosaur skeletons, making it the perfect place to come face-to-face with Canada's mightiest dinosaurs!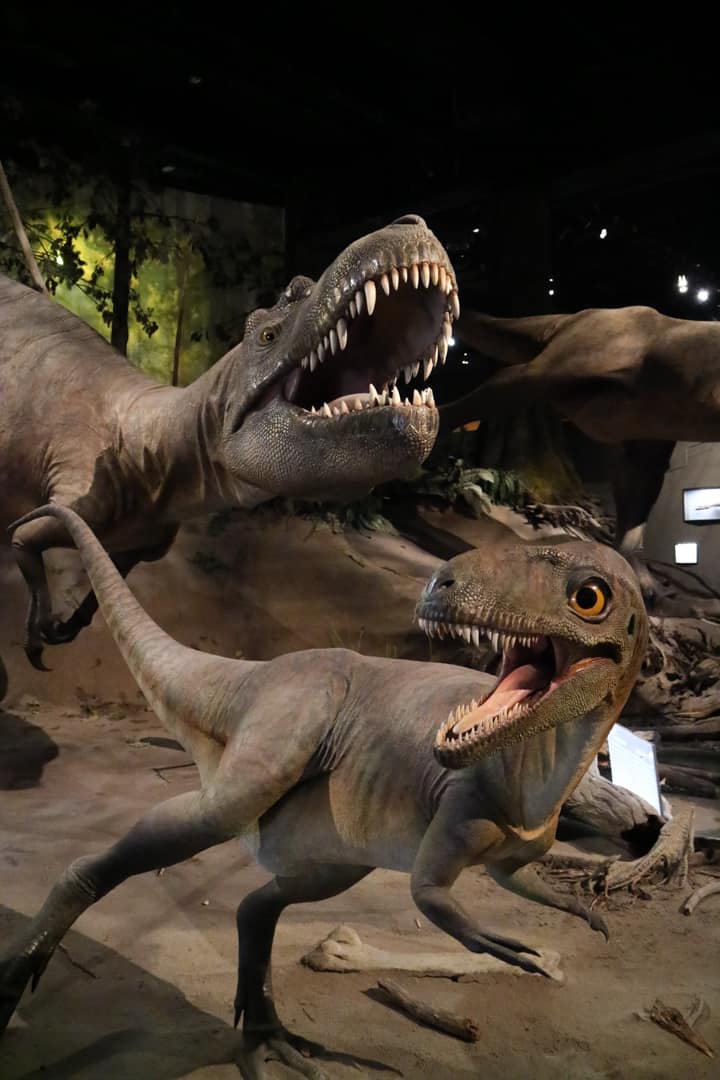 [bctt tweet="Come face-to-face with Canada's mightiest dinosaurs @RoyalTyrrell museum! #explorealberta #ttot" username="fortwoplz"]
History of the Museum
How exactly did the museum come into existence? It all started in 1884, when Joseph Burr Tyrrell, a geologist, discovered extensive coal deposits in the Red Deer River valley. He and his team stumbled upon a 70-million-year-old carnivorous dinosaur skull not too far from where the museum now stands. Tyrrell's find, named Albertosaurus sarcophagus ("flesh-eating lizard from Alberta"), was the first of its species ever found and was of great scientific significance that the museum was named after him when it opened in 1985.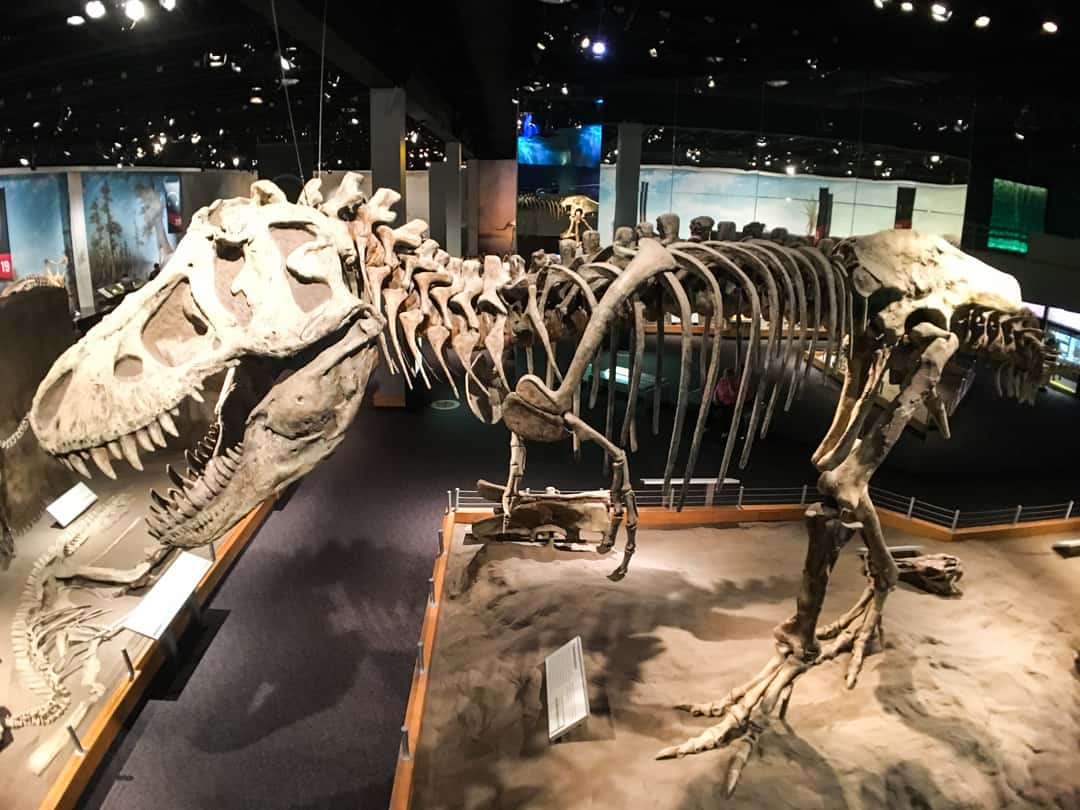 Indoor Exhibits and Activities
The nine ever-evolving galleries will take you on a journey through time. Thousands of fossils are displayed in realistic settings to bring the prehistoric past back to life. From huge land dinosaurs and massive sea creatures to tiny insects, the exhibits will provide you a basic understanding of 3.9 billion year history of life.
Highlights include:
Dinosaur Hall, featuring one of the world's largest displays of dinosaurs, most of which were discovered in Alberta.
Cretaceous Garden, which is filled with plants found in the fossil record and allows you experience to what ancient Alberta landscape was like for dinosaurs.
Just opened this year is the Foundation's exhibit, introducing the field of paleontology and explaining the critical role the Royal Tyrrell Museum plays in the preservation and scientific study of fossils globally.
What I loved most were the educational short videos playing throughout the museums to educate us about science and evolution!
In the summer, fun, interactive hands-on programs are offered to make the learning experience more enjoyable. For example, you can make your own fossil replica in a workshop and learn the differences between fossils and casts; have a sleep over at the museum and snore with the dinosaurs; or, experience the trill of excavation at a simulated dig site!
Outdoor Activities
Just outside the museum, a 1.4 km lookout trail will take you through Midland Provincial Park. The interpretive signs along the way recount the glacial forces that sculpted the badlands from 70-million-year-old layers of sedimentary rock. Guided tours are offered if you'd like to learn more about the history of the Canadian Badlands and the dinosaurs that used to inhabit the lands!
Pro Tip: The museum is open year-round, but it is extremely busy during the summer months. The museum offers extended hours from May to September. To avoid the crowd, it is highly recommended to visit in the evenings during these months.
---
Even if you don't have the slightest interest in dinosaurs, you will come out feeling impressed by the museum's vast collection of fossils. With so much to explore indoor and outdoor at the Royal Tyrrell Museum, you can easily spend several hours touring the many exhibits!
About Royal Tyrrell Museum
Website: http://www.tyrrellmuseum.com/
Hours: 9 am-9 pm (mid-May to August); 10am-5on (October to mid-May); 10 am-5 pm (September)
Tickets: Adult $18; Youth $10
Pin it for later!
[one_half]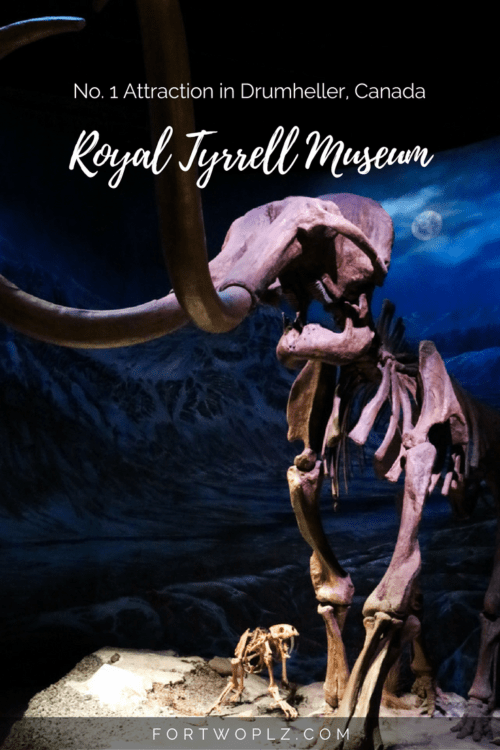 [/one_half]
[one_half]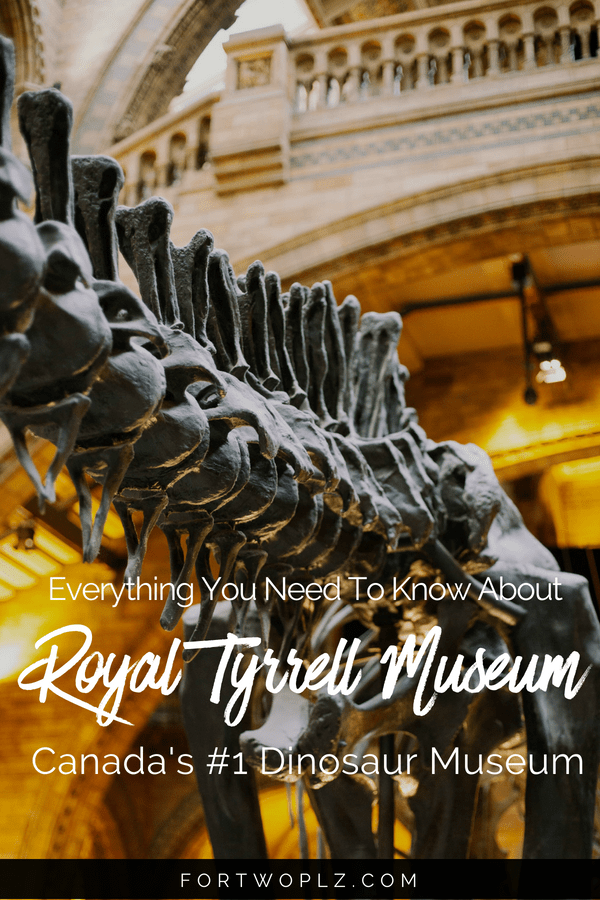 [/one_half]