This site uses affiliate links and we may earn a small commission when you use our links and make a purchase without incurring additional fee yourself. Many thanks for supporting this website. Please see our disclosure page for more details.
We are all familiar with "farm-to-table," but have you heard of "farm-to-car"? To me, automobiles have always been strongly associated with metals, plastic, rubber, petroleum, etc. When Ford Canada invited me to a sustainability feast at Calgary Zoo to learn how they incorporate food items in the production of Ford vehicles, I was intrigued. Soy are used in the seat cushion foam? Wheat straw is used to reinforce storage bins? Coconut husks are used to make trunk mats? It was fascinating to learn how the food we eat at our dinner table ends up as an alternative to petroleum in car production. The dinner was absolutely mind-blowing and I am thrilled to share this experience with you!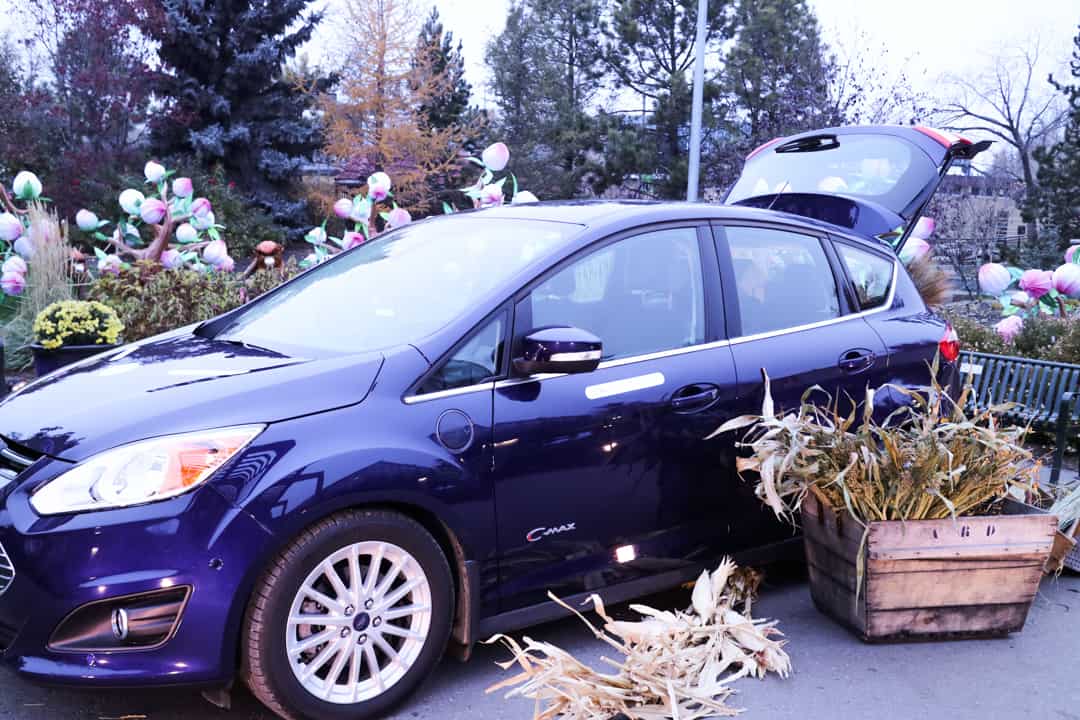 The dinner took place at Calgary Zoo's ENMAX Conservatory – a fitting location given the zoo's dedication to sustainability and reducing environmental footprint. The collaboration meal featured an impressive 4-course menu that I didn't expect at the zoo, using fresh ingredients grown at its own culinary garden.
Ford's Farm-To-Car Mission
So, how did Ford come up with the idea of incorporating plant-based materials into its vehicles?
In fact, Henry Ford was ambitious in combining agriculture with the auto industry in 1930s. He created 7400 acres of soybean farms in Southeast Michigan to start experimenting with making making plastic parts for automobiles. In 1941, he unveiled the "Soybean Car" at Dearborn Days, an annual community festival. However, the outbreak of WWII suspended all auto production and the experiment was abandoned.
Ford restarted the soy crop research in 2000. In 2007, the company introduced the auto industry's first use of soy-based foam in seat cushions and backs, and now, they are in every vehicle built in North America!!
Today, Ford incorporates several food by-products and bio-based materials in its vehicles. You can see cellulose tree fibers used in the armrest, Kenaf (a tropical plant) in door parts, wheat straw in storage bins, and coconut husks in trunk mats. Tomorrow, you might find tomato skins, corn and algae in the vehicle! All these work help reduce the use of petrochemicals and carbon emissions while creating light-weight vehicles that would improve fuel efficiency.
Recently, Ford announces its partnership with Jose Cuervo, the world's No. 1-selling tequila, to give agave fibers a second life. Researchers are testing and hoping to use them in interior and exterior components such as storage bins, air-conditioning ducts and fuse boxes. How exciting is that?!
[bctt tweet="Join @FordCanada at dinner table & learn how they incorporate food items in car production! #farmtocar " username="fortwoplz"]
Sustainability Feast
Now you're all caught up on what Ford's Farm-To-Car is about, let's dig in to a hearty meal!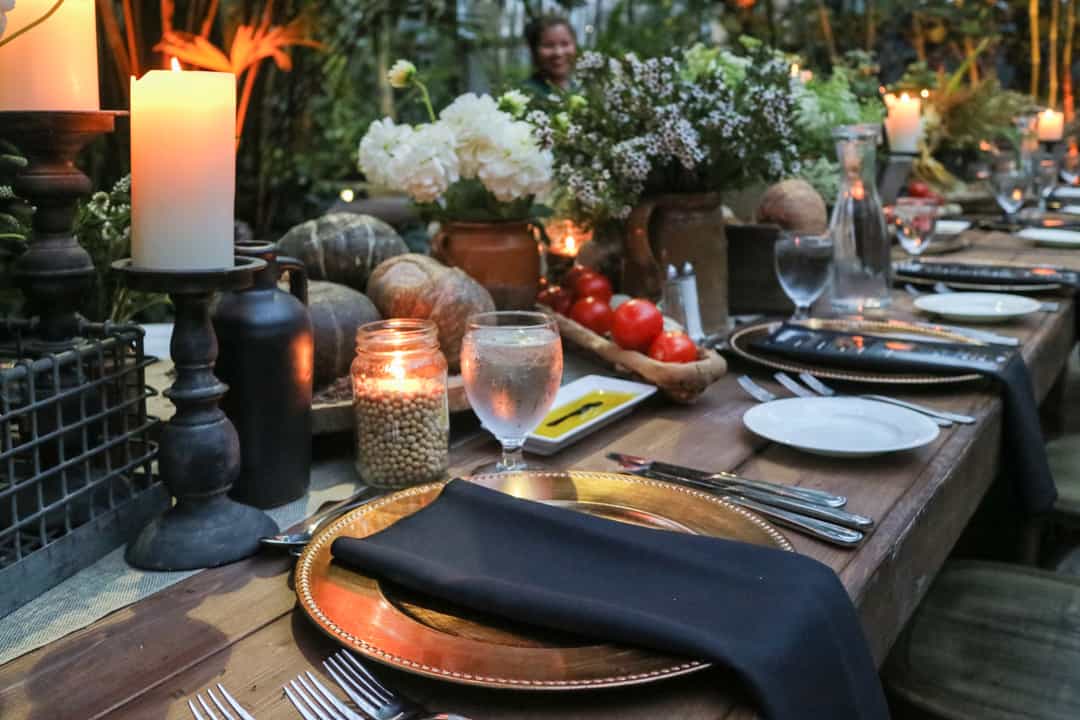 1st course
Served in bamboo, the first dish featured dandelion greens, apple wedges, roasted beets, mulled red wine and sugar cane gastrique, pumpkin seed brittle.
The main ingredient here that connects with Ford's farm-to-car mission is: dandelion. Partnering with The Ohio State University, researchers at Ford are investigating ways that dandelions can be used as a natural alternative to synthetic rubber.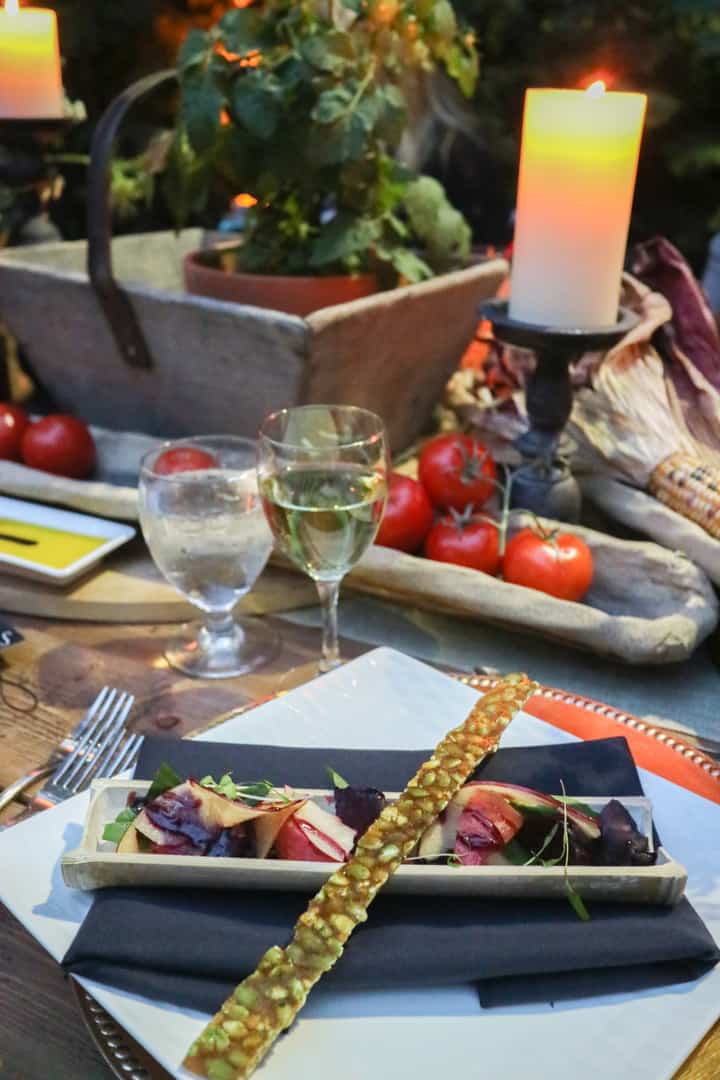 2nd course
Next up was miso glazed sous vide ling cod, served with grapefruit segments, coconut yam puree, wilted frisee, and soy custard with soy foam.
Soy is the star here. Besides seat cushions and backs, soy foam is used in 85% of headrests produced in North American and the headliner on the Ford Escape!
Speaking of Ford Escape, have you read about my recent adventure to Drumheller with the 2017 Ford Escape? Kev and I are SO impressed with its new tech features!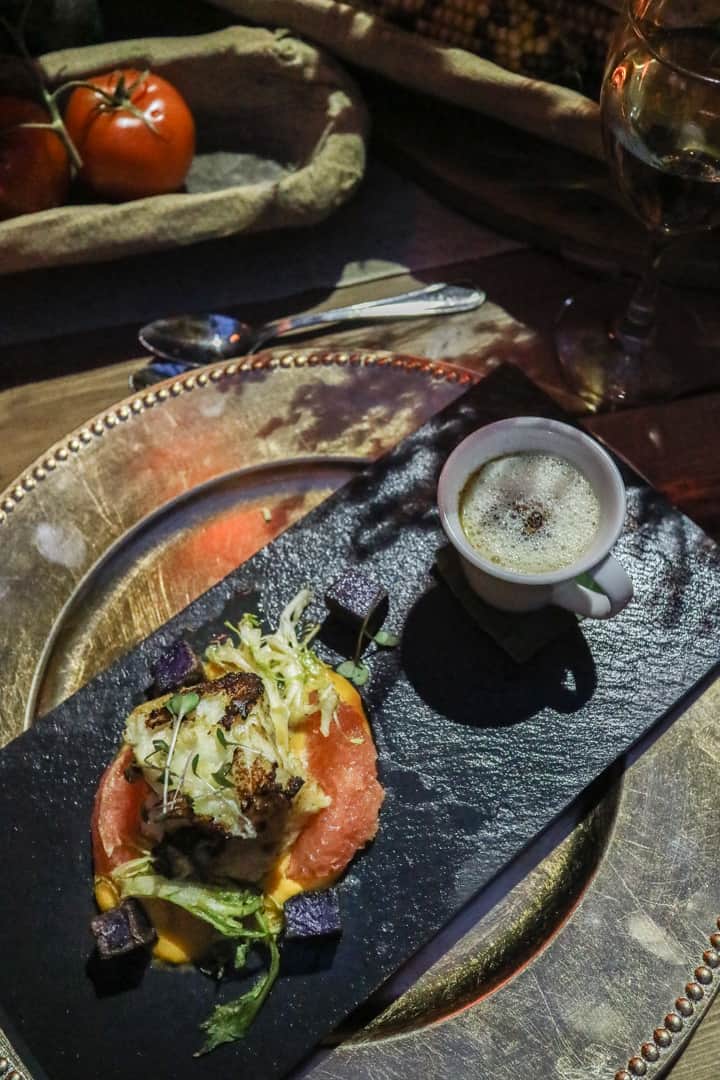 Palate cleanser
For palate cleanser, the zoo dished out coconut midori sorbet as a fun twist on the retro dessert, baked Alaska.
Do you know that coconut fibers are used in trunk liners and as reinforcement in molded plastic parts?!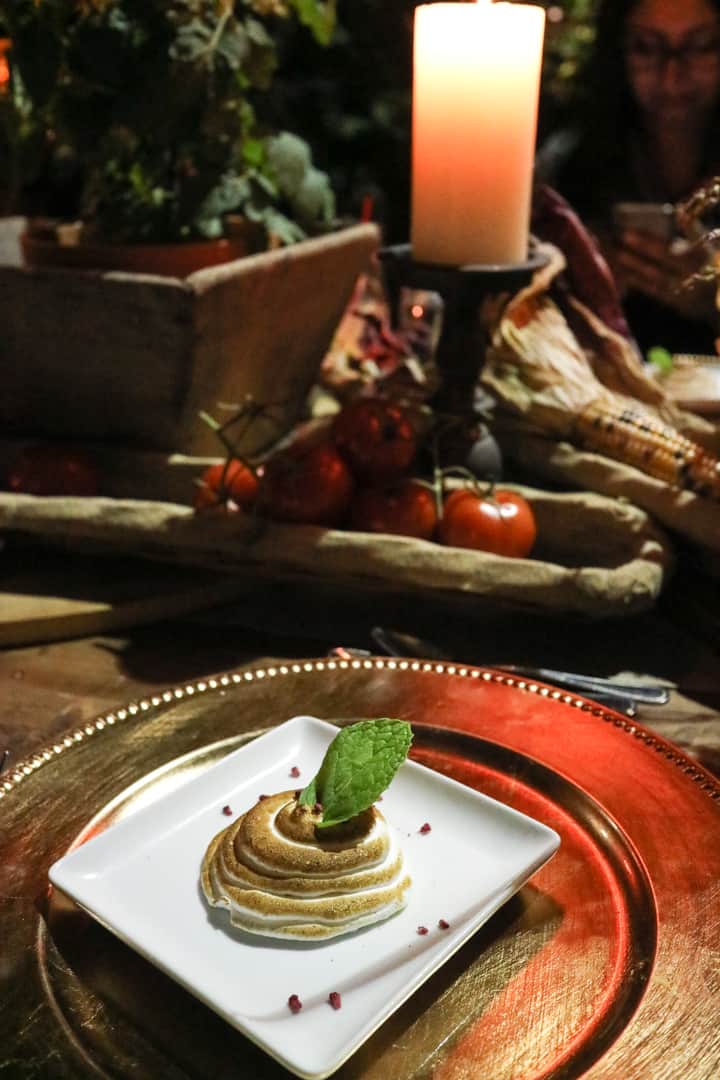 3rd course
The main dish combined wheat grass smoked veal striploin, with potato dauphinoise, vanilla bean "sugar cane" glaze, microgreens, seasonal vegetables and puffed wild rice.
The exciting news about making pop bottles entirely out of sugar cane fascinated me! And Ford plans to recycle these sugarcane bottles in interior fabrics including seat cushions, backs, headrests, door panel inserts and headliners! Recycled renewable resource? That's double environmental friendly!
Also, wheat straw, the waste byproduct of wheat, is used to reinforce plastics. In Canada, Ford partners with University of Waterloo and southern Ontario farmers for the wheat straw needed to mold the Flex's two interior storage bins. By working with local suppliers, the company is able to utilize localized material to decrease transportation costs, which in turn reduce our carbon footprint.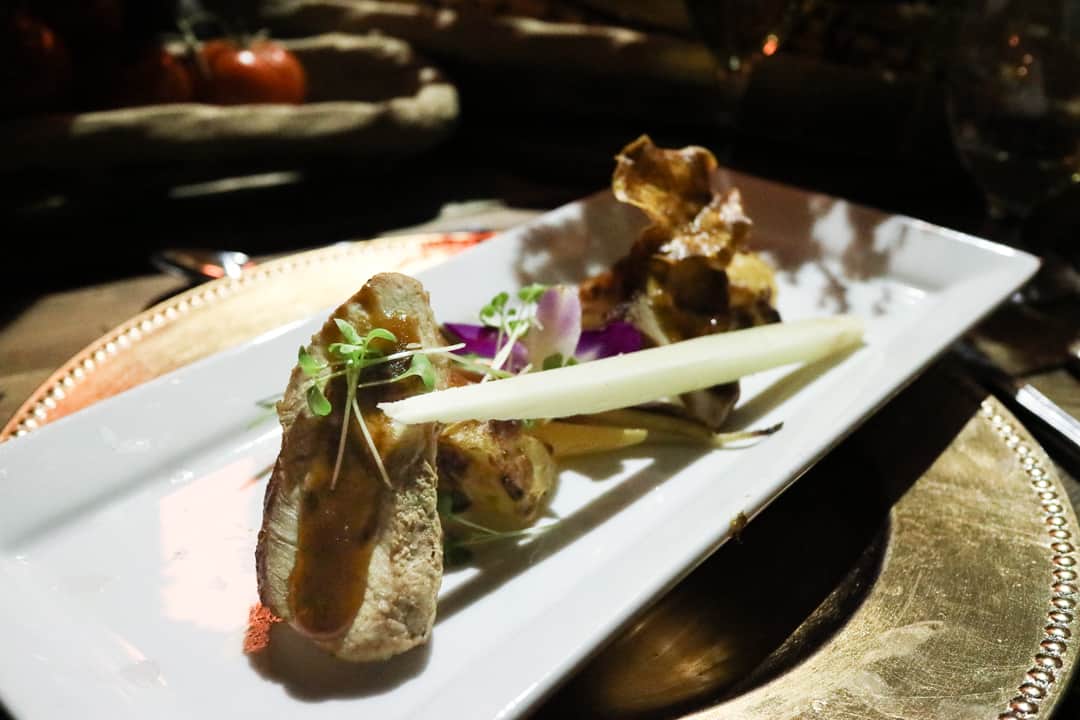 4th course
Last but not least was the deconstructed s'more. Torched vanilla marshmallow was paired with graham shortbread cookie crumbs, dark chocolate ganache, lemon curd, and vanilla gelato.
Cellulose that is used as a gelling agent in this dish is adopted as filler for plastic to replace the fiberglass material used in the floor console substrate.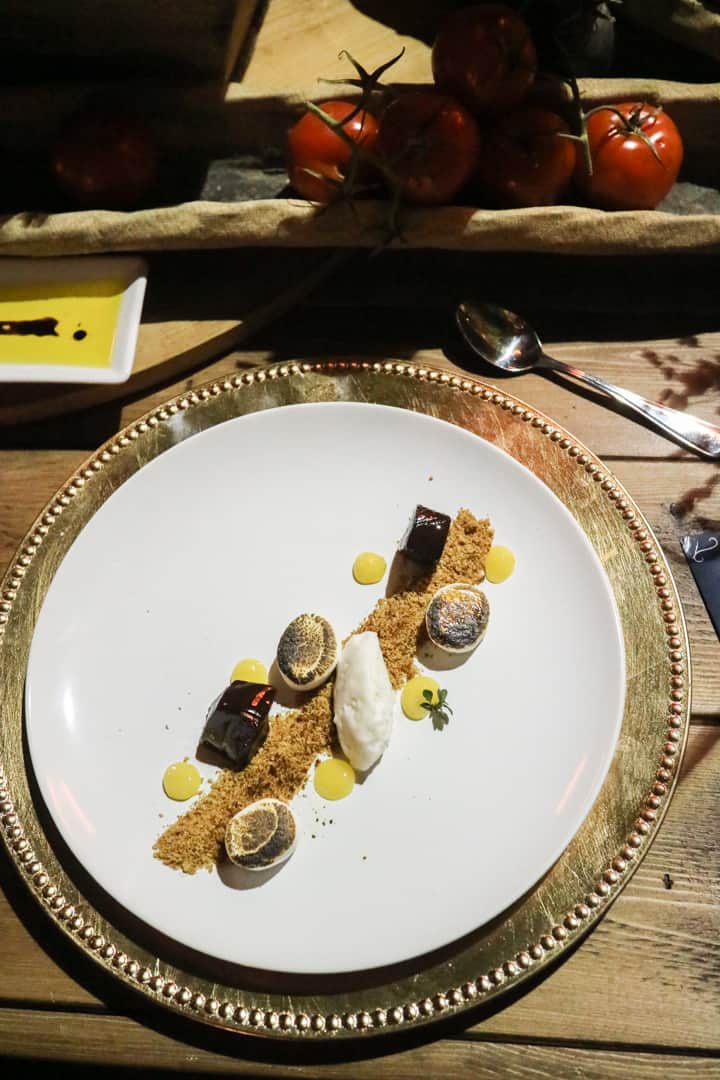 ---
How creative was it to use delectable dishes to demonstrate Ford's ongoing farm-to-car initiative? These mouth-watering food did not only satisfy my tummy, but also amazed me that it could be used to make greener vehicles. Now, do you believe me that you can eat your car? 😉