This site uses affiliate links and we may earn a small commission when you use our links and make a purchase without incurring additional fee yourself. Many thanks for supporting this website. Please see our disclosure page for more details.
I'm not gonna lie – Kev and I had long given up on finding good sushi in Calgary. In this land-locked city, seafood often comes with a hefty price tag and is usually not fresh. When we received the invitation to an omakase sushi dinner at Goro+Gun, we had our doubt. However, throughout the evening, Chef Tomo Mitsumo surprised us with an extravagant tasting experience featuring the freshest and tastiest seafood. Coupled with sake pairing, it was a dinner that we will not forget!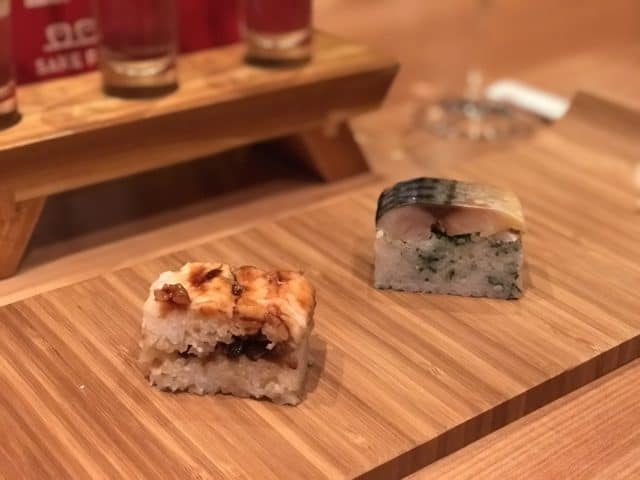 Pre-Dinner Sake Flight
What would be more suitable for serving with sushi than sake? To complement the well-crafted meal, General Manager Amane Kanai brought out a flight of sake for tasting! Before our actual omakase sushi dinner, he gave us a short Sake 101 lesson.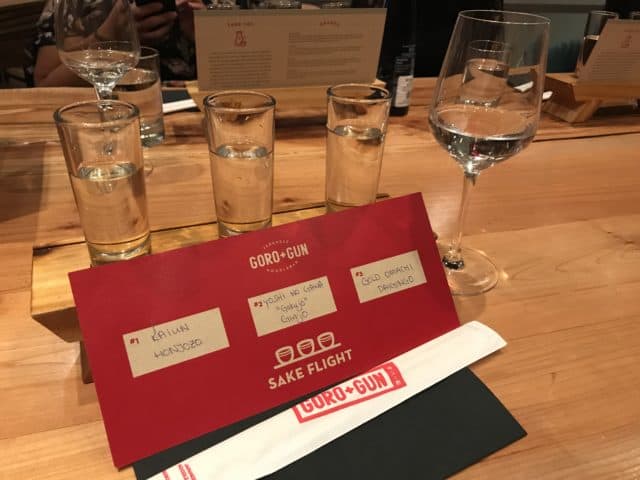 First and foremost, what is sake?
Sake is a Japanese alcoholic beverage made out of fermented rice. To make sake, sake brewers (toji) combine 4 main ingredients: rice, water, mold spores (koji) and yeast. After ~one month of fermentation, water is normally added to dilute the alcohol content to 15%. Then, sake is bottled and "aged" for about 6 months before release.
How many different grades of sake are there?
You can enjoy sake in 4 different grades, determined by the brewing method and rice polishing rate (i.e. how much of the rice grain is milled away before used in sake production). Each grade yields a unique flavour profile, but in general, the more the rice is milled, the more smooth, elegant and refined the sake.
Junmai: pure rice sake with no distilled alcohol added. It is usually full-bodied and slightly acidic. Best served at room temperature or hot. Pairs well with ramen!
Honjozo: brewed with rice that is milled to at least 70% of its original size. A small amount of alcohol is added at the final stages of production. Lighter and more fragrant than Junmai Sake. Best served warm or at room temperature.
Ginjo: brewed with rice that is milled to at least 60%. Light and delicate, often with aromas of floral and fruity notes and a softer finish. Best served chilled or at room temperature.
Daiginjo: the best of the best! Rice must be milled to at least 50%. Extra care is taken in the production process. It gives a complex, clean and fragrant taste. Best served chilled or at room temperature.
What did we try?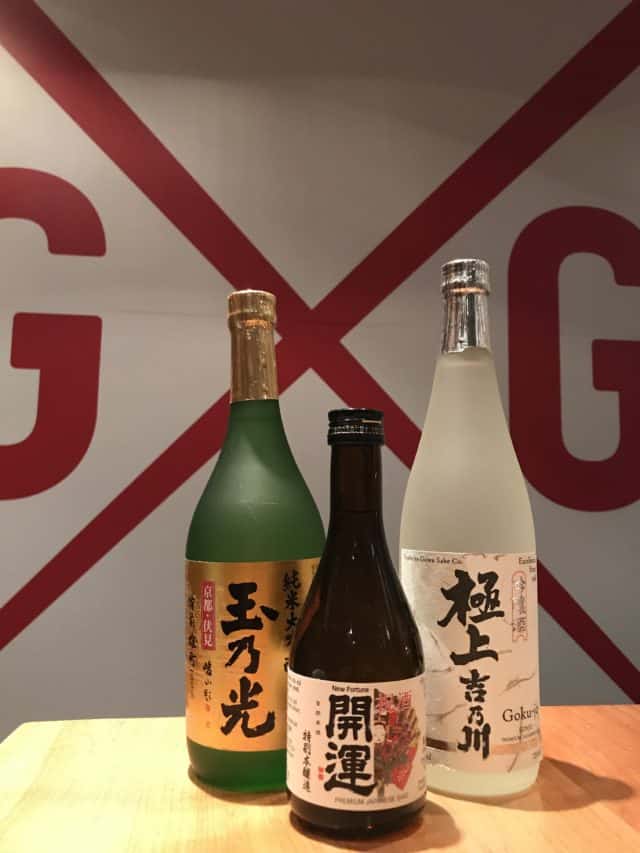 Like wine, sake can taste so differently brand by brand, grade by grade! At the dinner, we tried 4 different sakes:
Kaiun Honjozo:  This sake had a refreshing, rice-prominent flavour, ended in a bright, crisp finishing.
Yoshi No Gawa Gokujo Ginjo: This fragrant sake initially filled the palate with tones of apricot and peach. Then, led to a light and dry palate with mild green apple and hints of licorice!
Tamanohikari Gold Omachi Daiginjo: We were impressed by its well-rounded, silky texture. A slight hint of fruitiness unfolded with each sip.
Mio Sparkling Sake: We were obsessed with this sparkling sake! Especially with its sweet aroma and fruity flavour. It is as dangerous as icewine!
[irp posts="4896″ name="Argentine Wines X Brazilian BBQ: A True Taste of South America"]
12-Course Omakase Sushi Dinner
Omakase? What's that?
People often misinterpret omakase as a tasting menu. By saying "omakase," you are literally saying "I'll leave it up to you" and entrusting yourself to the sushi chef. You're giving the chef the creative freedom to present a memorable tasting sushi experience based on the freshest ingredients available.
In Calgary, Goro+Gun is the best Japanese restaurant for an unforgettable omakase meal! With the talented Chef Mitsuno in-house (he used to work in a Michelin-starred restaurant in Osaka for 7 years!!), you're guaranteed the finest culinary creations.
How was our omakase sushi experience?
Our tasting at Goro+Gun reflected the freshest meat and best quality fish selections possible. From the scrumptious hotate (scallop) to melt-in-your-mouth buttery aburi toro (seared tuna belly) to ultra-tender wagyu beef, the exceptional quality blew our mind!
[bctt tweet="Up for a 12-course omakase sushi experience? Try this place and you'll not regret!" username="fortwoplz"]
I bet you have never had salmon with roasted tomato before. Neither had we, but this unexpected combination created a surprisingly delightful taste! The unique combinations of ingredients, toppings, and sauces Chef Mitsuno chose surprised our tastebuds—each bite was a celebration for our palate!
The 12-course omakase sushi starts at $50 per person and $65 with a flight of three sakes. At the end of the meal, you can expect a mouthwatering Japanese dessert to wrap up the feast.
---
Are you up for an authentic omakase sushi meal? Then reserve a seat at Goro+Gun! With Chef Mitsuno's skills and experience, it is no doubt the best Japanese restaurant in Calgary for this experience.
Disclaimer: This post is written in partnership with Goro+Gun. As always, all opinions on For Two, Please are my own and I only recommend services that I 100% stand behind.