This site uses affiliate links and we may earn a small commission when you use our links and make a purchase without incurring additional fee yourself. Many thanks for supporting this website. Please see our disclosure page for more details.
How often do you get to meet a celebrity chef? Rarely, I'm guessing – unless you work in the culinary industry. Lucky us, earlier this month, we had the chance to meet not one but six Canada's top chefs at the 6th Annual Plate Swap, sponsored by S. Pellegrino! It was a wonderful evening of delicious food, meaningful conversation, and a great cause! Today, let me take you behind the scenes at Calgary's Model Milk for an exclusive look at this charitable foodie event.
What is Plate Swap?
Plate Swap is among S. Pellegrino's continued efforts to promote fine dining culture. Over the years, S. Pellegrino has shown a strong commitment in supporting homegrown talents through initiatives such as mentoring rising chefs with the Young Chef Competition, sponsoring Michelin activations throughout Canada, and continually providing local chefs with brand partnerships.
In its 6th year, Plate Swap is a signature event hosted at Model Milk to raise awareness and money in support of Brown Bagging for Calgary's Kids program.
[irp posts="7171″ name="Date Night in Calgary: Southern BBQ Sunday Supper at Model Milk"]
Every year, a rotating group of top chefs will come together to present an exciting multi-course dinner with wine pairings. Proceeds from the dinners will go directly to feeding the city's children in need. This annual event is always a huge success and has fed over 75,000 kids thus far!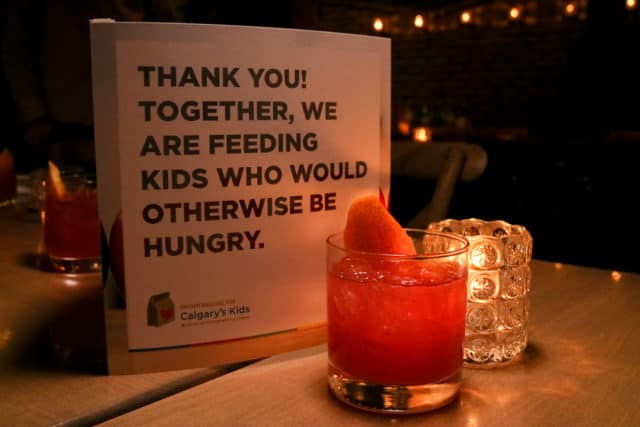 This year's event was an exciting one, bringing together 6 top chefs from some of Canada's most celebrated restaurants! Unlike any other food event, the chefs are tasked to reinterpret each other's dish in a creative way. Working with a combination of ingredients with which they might not be familiar, their culinary skills and creativity are really put to the test!
Highlights of Plate Swap 2018
6 Canada's top chefs, all in one room – the evening was a feast to remember! It was especially so when celebrity chef Matty Matheson played host to entertain us through the 6-course dinner. With his wit and humor, there was no such thing as a dull moment!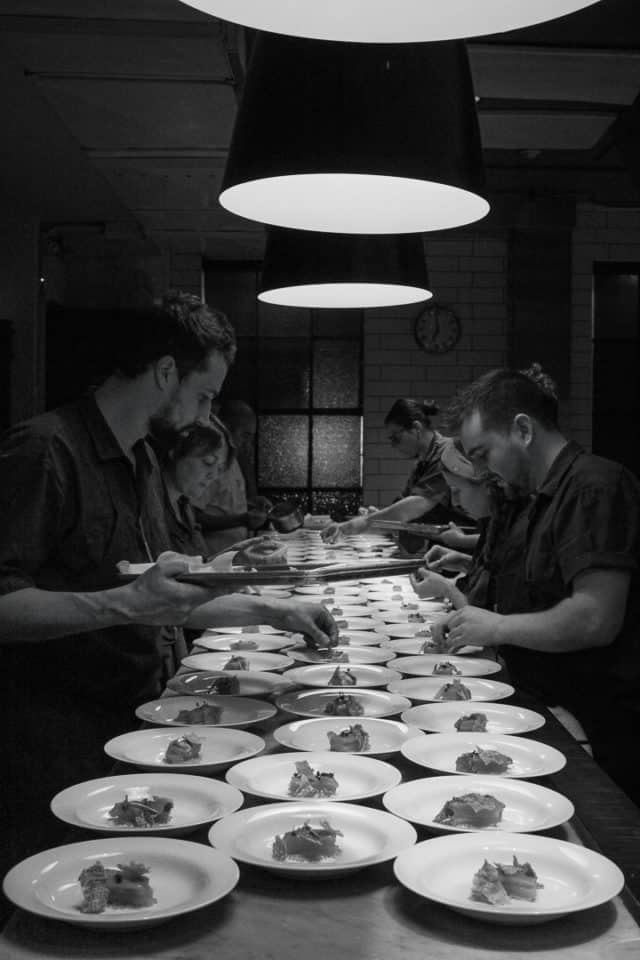 1st Course
First up, chefs Daniel Hadida and Eric Robertson (Pearl Morissette, Jordan, ON) presented a light appetizer that immediately caught everyone's attention. Pulling ingredients from one of chef Charlotte Langley's dishes, this beautifully prepared food showcased trout from the Canadian Rockies. It was all about the harmony of flavours and textures. The light, juicy smoked trout, layered with the nutty-sweet squash, brought a burst of comforting flavours that were perfect for this time of the year. In addition, the peach added a slight perfume to complement the smokiness of the fish. The roe brought ocean freshness and released a briny pop in the mouth.
Wine pairing: N/V Jo Landron "Atmospheres," Folle Blanche/Pinot Noir, Loire Valley, France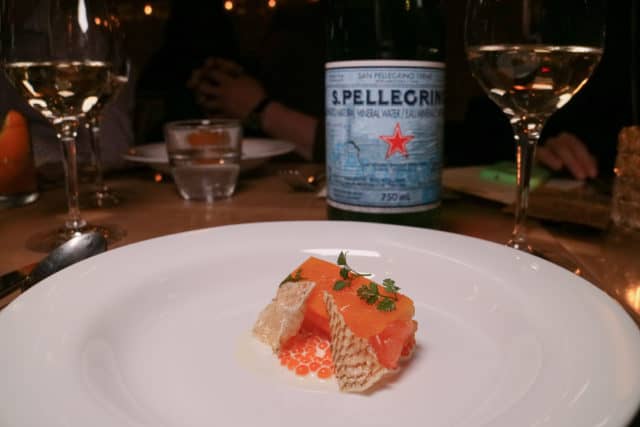 2nd Course
Next, chef Justin Leboe (Model Milk, Calgary, AB) reworked chef Jesse McCleery's dish and used potato as the main ingredient to capture the taste of the sea in a unique way. Using crème fraiche, fermented cream and seaweed, the steamed potatoes took on a smooth buttery texture with a tiny hint of the ocean. Salmon roe, ash from smoked kelp, and briny oysters further augmented the ocean flavor while the tangy pickle of radish and cucumber provided a refreshing balance and a wonderful crunch.
Wine pairing: 2016 Pra "Otto," Garganega, Soave, Veneto, Italy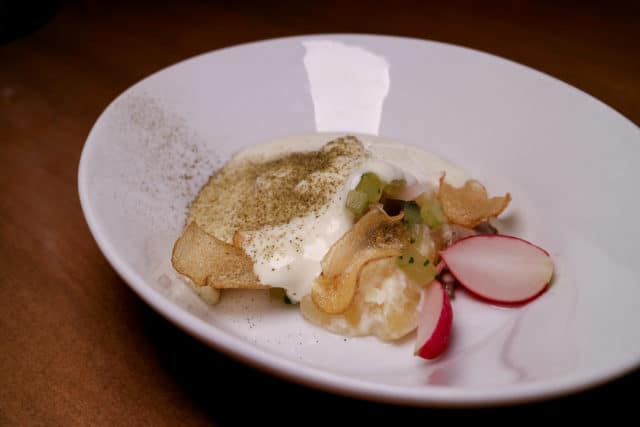 3rd Course
We had gotten a taste of tasty seafood and we were hungry for more! Chef Charlotte Langley (Scout Canning, Toronto, ON) did not disappoint us with her poached mackerel, originally created by chef Neil McCue. The carefully poached mackerel impressed us with its unbelievably clean taste and ultra-tender texture. To enhance the delicate taste of the fish, whipped cream cheese, horseradish, parsley, and dill were added to excite our taste buds. On the side, the rich, crunchy croquette coated in roasted sunflower seeds complemented nicely to the dish.
Wine pairing: 2016 Blason, Sauvignon Blanc, Loire Valley, France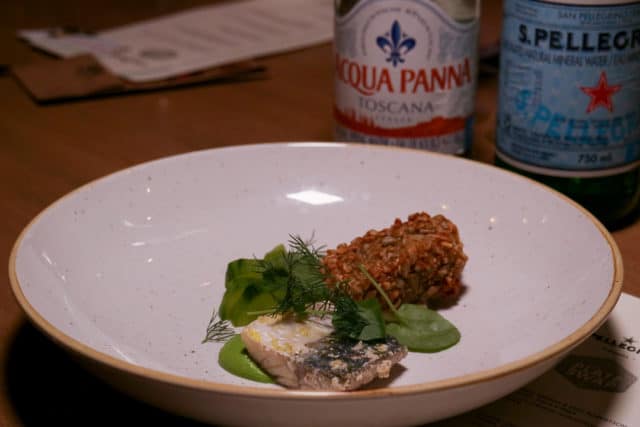 4th Course
Just as we thought we could use some red meat, chef Jesse McCleery (Pilgrimme, Galiano Island, BC) dished out his reinterpretation of chefs Hadida and Robertson's salted pork neck. Compared with the previous dishes, McCleery's creation was much heavier and stronger in taste. The salt-cured pork neck, which was a bit too intense to consume on its own, paired perfectly with the sweet jerky-like carrots. Cooked in persimmon jus, the carrots took up the fruit's delicate sweetness and soothing aroma, which balanced out the smokiness and saltiness of the pork. We loved how the slight sweet citrusy from the grand fir oil helped brightened up the dish.
Wine pairing: 2016 Weingut Huber, Rose of Zweigelt, Traisental, Austria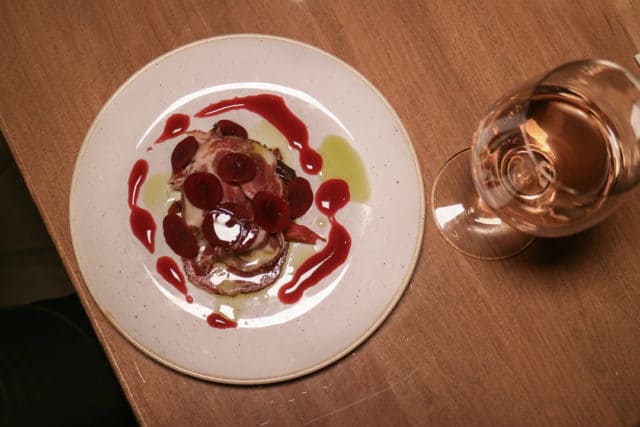 5th Course
The highlight of the evening was when chef Neil McCue (Whitehall, Calgary, AB) presented his Alberta Hoggett, using chef Leboe's ingredients. The lamb was braised to melting tenderness. It simply fell apart when pulled with a fork! To our surprise, the meat had no gamey taste whatsoever – perhaps because it's Alberta grown, or because it was glazed in miso. Whatever the reason is, it got us hooked! The collard greens, together with stilton and celeriac bread pudding, made the perfect accompaniments to the hearty meat dish.
Wine pairing: 2014 Pierrick Harang "Le Bio Balthazar," Syrah/Grenache Noir, Minervois, France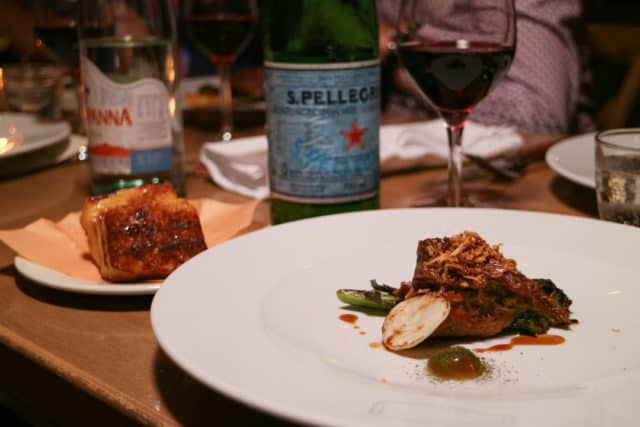 6th Course
The night ended with the irresistible mille feuile from Model Milk, filled with mandarin curd and walnut.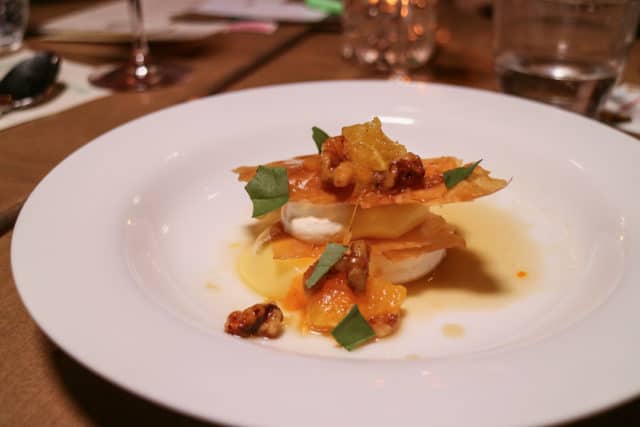 Through the Chef's Lens: Interview with Chef Justin Leboe
What does this event mean to the chefs? At Plate Swap, we had the opportunity to meet with chef Leboe from Model Milk, Calgary and learn about his thoughts on this special event.
Q: What is the most challenging or exciting element for you when preparing for this event?
J: Unlike any other chef collaboration, you have to show up and cook someone else's food, so you have to have to put your best foot forward. At the same time, you also want to see what another talented chef did with your dish. For me, I'm always curious to see what somebody did to ours.
Neil from Whitehall got our dish this year. I was watching him earlier and the dish looked stunning. But in a hundred years, it is not something I would have thought of making. It is a lot of fun that way.
Q: What is the most memorable takeaway from this event for you?
J: Honestly, the most memorable part for me is at the end of the event, when we start calculating how much money we have raised for the charity. Because it [Brown Bagging for Calgary's Kids] is such a unique charity and because of the way the charity works, we usually know how much money we've raised by the end of the event, and for each dollar we raise, we feed one child. Having that tangible result and knowing that we've fed 15,000 kids in one night by the time we're cleaning down the kitchen – that's the best part for me, hands down.
Q: One of the S. Pellegrino's goals with Plate Swap is to foster fine dining culture in Canada. What changes have you noticed in the restaurant industry over the past few years?
J: Fine dining itself has changed so much over the last 10 years. One major change is the definition of fine dining, driven by the young generation. In comparison to baby boomers, we [Millennials and Gen X] define fine dining differently. We eat food differently than our parents. Instead of eating 14 dishes in a tasting menu format, we appreciate eating in family style with 3-4 dishes on the table. We want to taste a lot of things all at once. We don't want to eat 2 bites, wait for 25 mins for the next course, eat 2 bites, and wait for 25 mins for the next course. Our generation doesn't dine out the same way as our parents and I think what's really going to happen is that we are going to define the parameters of fine dining for us.
[irp posts="4820″ name="Teatro: Fine Dining Made Affordable"]
Post-Event: Enhancing My Moments with S. Pellegrino
Thanks to S. Pellegrino, the event has provided many unforgettable moments for me. In particular, the creations from Canada's top chefs have inspired me to discover new flavours and share them with the person I love the most, Kev!
Using chef Langley's ingredients – trout and squash, I decided to play with flavours and create a dish of my own! We often eat baked trout at home. To break the routine, I tested out a few ways to add squash to the equation. After a few tries, I settled on toasted squash rounds because of its sweet, caramel taste. Instead of roasting it in the oven, I used a toaster to keep it easy and interesting.
To enhance the flavour, I spread a thin layer of cream cheese on the squash, along with some cucumber slices. At the end, chopped fresh dill was sprinkled on top for a tangy, refreshing taste.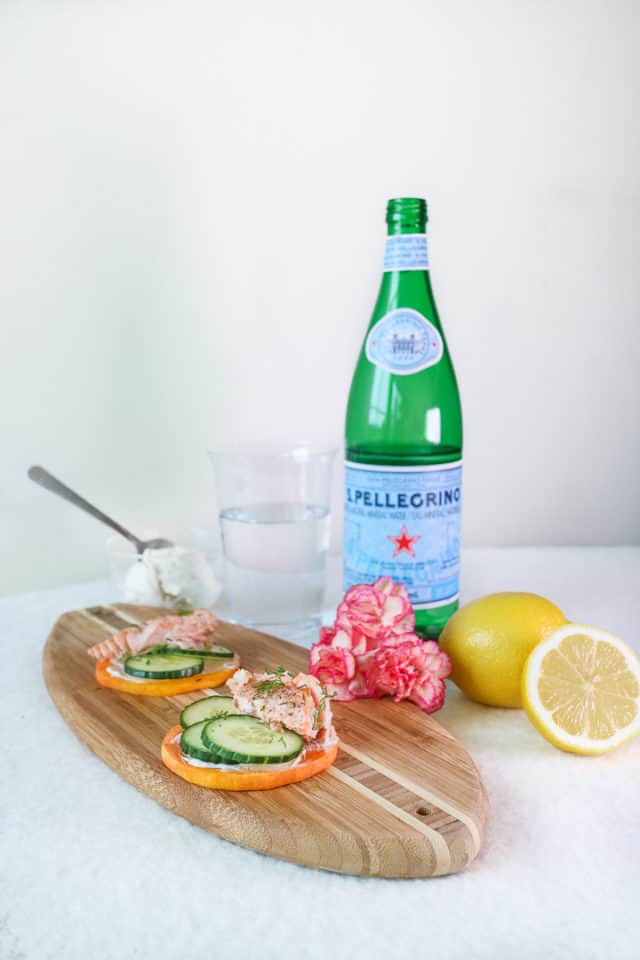 These appetizer bites were a breeze to put together. Kev gave it two thumbs up! With S. Pellegrino's lively bubbles, it brought out the best in this dish!
If you want to give it a try, here's the recipe:
Trout-Squash Appetizer Bites
Preheat oven to 190°C.
Coat a sheet of aluminum foil with a thin layer of cooking oil and place the trout filet on foil.
Season the trout with salt, pepper, and juice from half a lemon.
Melt 2 tablespoons of butter in the microwave, then stir in 2 cloves of minced garlic. Drizzle it over the trout evenly.
Fold up the foil and make a packet.
Bake in the oven for about 15-20 minutes.
Peel squash and slice into ¼"- thick rounds.
Place the rounds into the toaster and set the dial to medium. Toast it 2 times, until the edges to turn brown and the middle is soft. (You will need to test out your own toaster and adjust the dial.)
Spread a layer of cream cheese over the squash. Add slices of cucumber and a small piece of baked trout. Sprinkle freshly chopped dill. Bon Appetit!
---
It was our first time attending Plate Swap and we had a blast! The food had absolutely blown our taste buds away! Moreover, the event had also opened up some meaningful conversation. We can't wait to be back again next year!
Tell me – have you been to any charitable event like this before?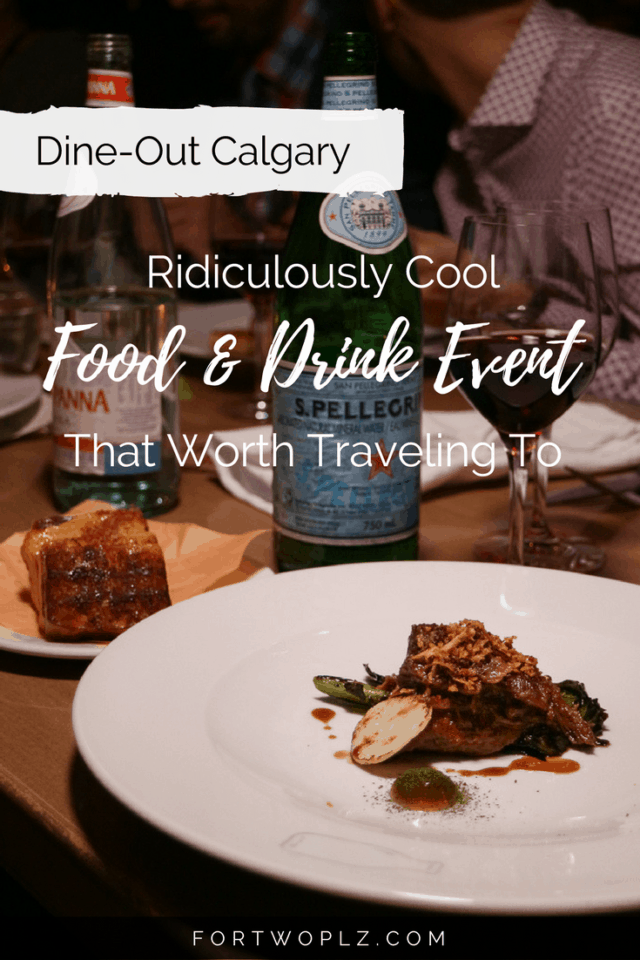 Disclaimer: This post is written in partnership with S. Pellegrino. As always, all opinions on For Two, Please are my own and I only recommend brands that I 100% stand behind.