This site uses affiliate links and we may earn a small commission when you use our links and make a purchase without incurring additional fee yourself. Many thanks for supporting this website. Please see our disclosure page for more details.
Costa Rica is known for spectacular landscape and exotic wildlife, providing the perfect playground for adventurers and nature lovers. But with so many different things you can do in a single trip, it can be overwhelming. What's worth seeing, doing and spending money on? In this post, we highlighted 16 fun activities that promise to make your Costa Rica trip unforgettable, especially if you plan on visiting in November!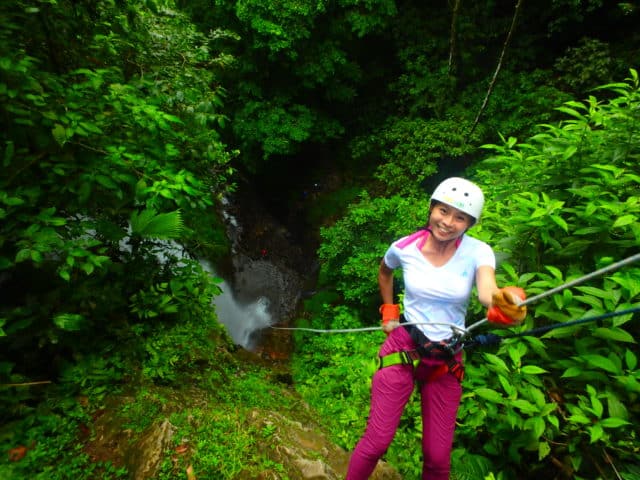 16 Unforgettable Things To Do In Costa Rica In November
1| Whitewater Rafting Down Rio Pacuare
Ready for some world-class rafting in Costa Rica? Then whitewater rafting down Rio Pacuare is not to be missed. Rated one of the world's best whitewater rafting destinations, Rio Pacuare offers a perfect blend of pristine wilderness and adrenaline. Originating high in the Talamanca Mountains, Rio Pacuare flows through dense jungles and spectacular gorges before reaching the Caribbean Ocean.
The 108km river has 3 commonly run sections, varying in degree of difficulty from Class II to V rapids. Monkeys, sloths, exotic birds and jaguars can be spotted along the way. You can choose an action-packed single day trip or a more relaxed multi-day package with a stay at a remote eco-lodge. No matter which one you choose, the trip will give you plenty of thrills to remember!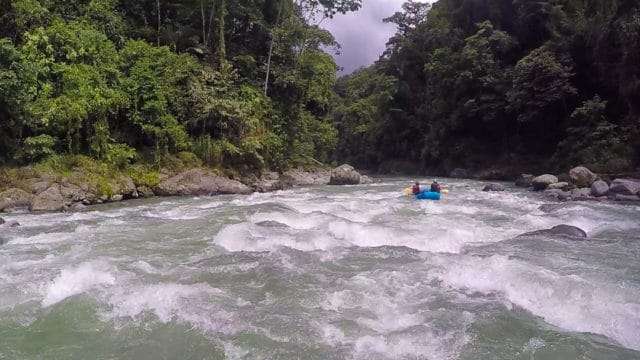 We joined the 29km one-day run with Exploradores Outdoors, which took us through a total of 52 exciting rapids and the scenic Huacas waterfall! It was possibly one of the most exhilarating ways to view the jungles of Costa Rica!
Pro tip: There are many tour operators running the Rio Pacuare whitewater rafting tours. The 2 most popular and reputable ones include Exploradores Outdoors and Rio Tropicales. Both have bilingual guides. However, Rio Tropicales only offers transportations to/from San Jose whereas Exploradores provides transportation to/from Puerto Viejo and La Fortuna in addition San Jose. Also, Exploradores has tours almost everyday, but that's not the case with Rio Tropicales.
[irp posts="7797″ name="15 Dos and Don'ts When Planning A Trip To Costa Rica"]

2| Visiting A Coffee Plantation
Coffee drinkers, rejoice! If you want to know what good coffee tastes like, Costa Rica is the place to enjoy cups of perfectly balanced coffee.
Why is Costa Rican coffee so good? Many factors, including high altitude, fertile soil, cool climate and steady rainfall, contributed to its success. In addition, Costa Rican coffee farmers only grow Arabica – the premium beans with the best flavor!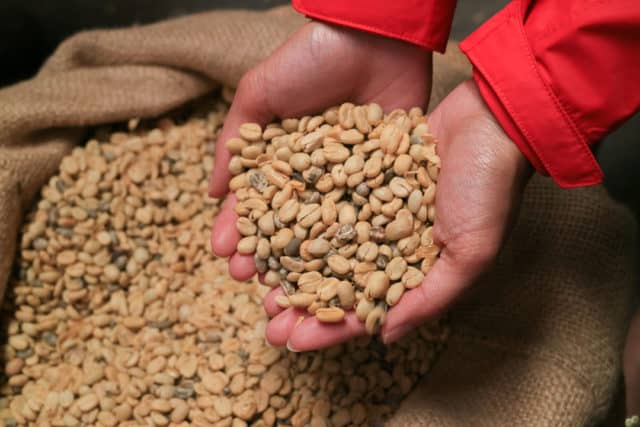 Costa Rica has eight different coffee-growing regions, each yielding unique characteristics and distinct flavour profiles. There are several coffee plantations in Costa Rica that offer coffee tours. One of the most famous ones is Doka Estate in Alajuela. The 75-min tour (USD $22) will teach you all about the coffee production process, from growing, harvesting to processing. You'll also get a chance to do a coffee tasting!

3| Interact With Wildlife at La Paz Waterfall Gardens
If seeing wildlife is your main goal, you will not want to miss a trip to La Paz Waterfall Gardens.
This 70-acre eco-park is home to 5 picturesque waterfalls and the world's largest butterfly observatory. With 3.5 km of walking trails, you can venture deep into a cloud forest and a rainforest, giving you an opportunity to see some of Costa Rica's most exotic animals, including free-roaming hummingbirds (26 species!), poisonous frogs, colorful toucans, mischievous monkeys and many more!
Note: None of the animals in La Paz Waterfall Gardens has been captured to be exhibited. All are rescued animals and cannot be released back into the wild.

4| Safari Float Down the Rio Frio
A leisurely way to see wildlife is going on a safari float! Compared to whitewater rafting, this is a much calmer experience, giving you plenty of time to observe wildlife!
The tour typically begins early in the morning because that is when the birds and animals are the most active. You will be picked up from your hotel and taken to Rio Frio in the Caño Negro Wildlife Reserve.
On this nature and wildlife tour, you will float down the tranquil river on a rubber raft, manned by a naturalist guide. A wide array of birds and animals will welcome you to the tropical forests. You may see howler monkeys, Jesus Christ lizards, caimans, iguanas, toucans, kingfishers, and more. Don't worry if you can't recognize any, the professional guide pay close attention to the jungle and make sure you don't miss a thing!
There are a few tour operators you can go with. We booked ours with Jacamur and loved how knowledgeable our guide was! After the tour, we even paid a visit to a local villager's house and enjoyed some traditional Costa Rican snacks!

5| Soak in Arenal's Volcanic Hot Springs
Taking a soak in the hot springs is a good way to relax your muscles after a day of exploration. Costa Rica is home to five active volcanoes so there is no shortage of hot springs you can visit in the country!
The most well-known hot spring area is the La Fortuna (Arenal) region. Thanks to the nearby Arenal Volcano, there are a number of natural hot springs throughout the area. In fact, many hotels feature hot springs and thermal pools onsite. The one we highly recommended is The Springs, which boasts 28 spring-fed pools of varying temperatures and sizes! Hotel guests have free access to the pools. Alternatively, you can purchase a Hot Springs Day Pass (starting at $60 for 2 days).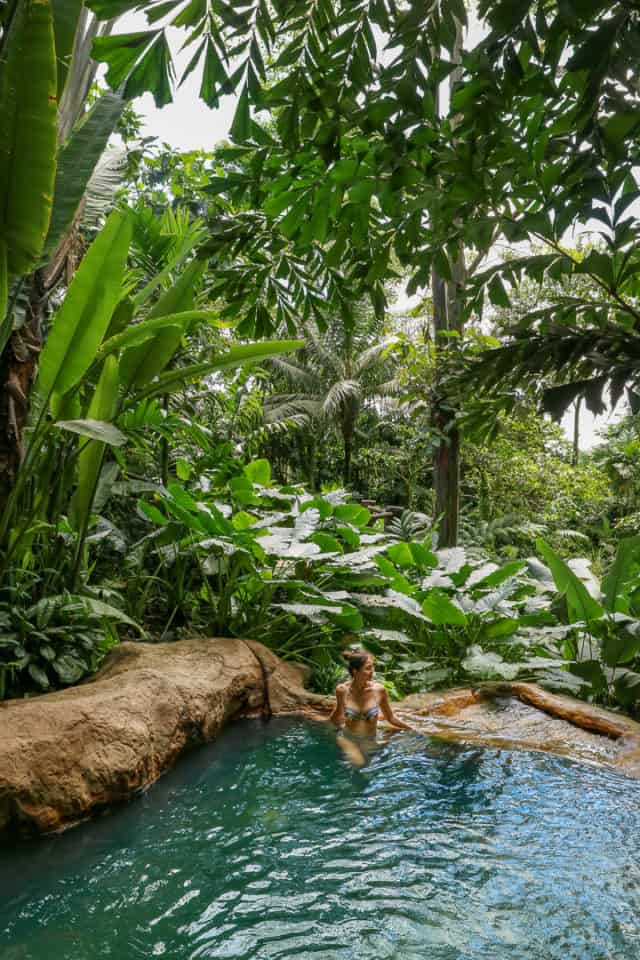 [irp posts="7819″ name="Costa Rica Honeymoon: Most Romantic Hotel In La Fortuna, Arenal"]

6| Explore the Jungle After Dark
One of the most unforgettable things to do in Costa Rica is exploring the jungle at night. Because more than 60% of the wildlife in Costa Rica are nocturnal, a guided night walk gives you a good chance to see unique creatures that you would otherwise never witness.
Night walk at a rainforest or at a cloud forest? That's a tough question. Kev and I went on a night walk in Arenal and Monteverde, and we saw completely different animals.
In Arenal, we ventured into the rainforest after dark and came face-to-face with red-eye tree frogs, spotted blue-jeans poison-dart frogs, and encountered a northern cat-eyed snake. We even fed an adorable 2-toed sloth! In Monteverde, we followed the local guides from Finca Modelo and explored the cloud forest's wide variety of biodiversity. Kinkajou, nine-banded armadillo, scorpions, Alston's mouse opossum, orange-kneed tarantula were just a few creatures we found at night!
[irp posts="7780″ name="Best Monteverde Hotel For Luxury Travelers: Room With A Killer View"]

7| Walk Through Hanging Bridges
Another way to immerse yourself in nature and search for wildlife is to go on a nature walk through hanging bridges. Most of the hanging bridge networks are found in Arenal and Monteverde. The beautiful series of suspension bridges and trails in Monteverde and La Fortuna will take you deep into the forests to discover what nature really has to offer.
If you're in La Fortuna, we strongly recommended a visit to Mistico Arenal Hanging Bridges Park. The 3.2km-long trail through a private rainforest reserve overlooks the Arenal Volcano and is surrounded by nature and wildlife. Along the way, there are 16 bridges, 6 of which are suspension bridges. You can choose to tour the park at your own pace or join a tour with a naturalist guide. To get the most out of your visit in the rainforest, we advise you to explore with a naturalist guide who will teach you all about native plants, birds, insects, and animals!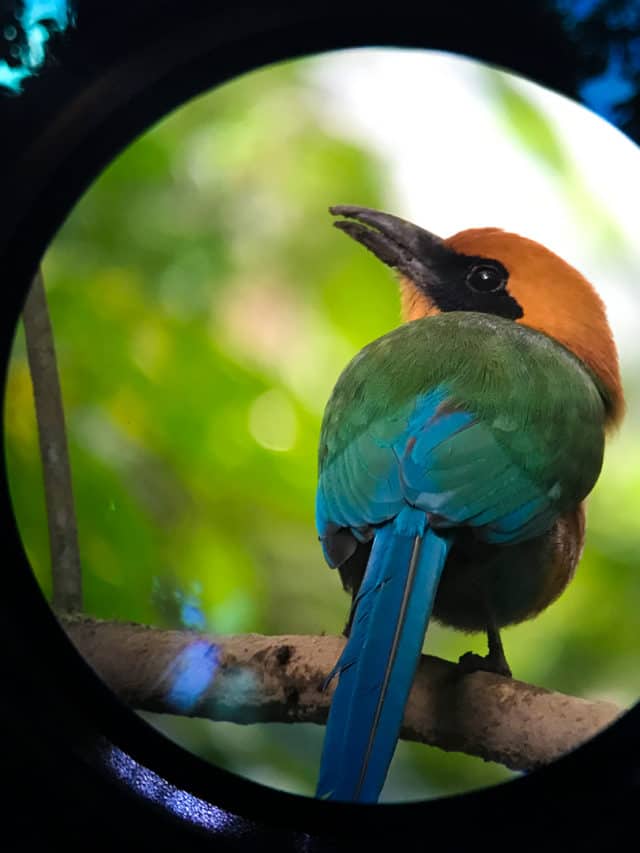 8| Rappel Down Rushing Waterfalls
Have you tried waterfall rappelling? If not, get on it!
Waterfall rappelling is one of the boldest adventures you can experience in Costa Rica. Imagine hiking deep into a rainforest and cascading down refreshing waterfalls and jungle walls! The spectacular scenery will make a feast for your eyes and get your heart pumping!!
In Arenal, we challenged ourselves with waterfall rappelling for the very first time! We had our fear and doubt at first, but the guides at Pure Trek Canyoning did a fantastic job keeping everyone safe and putting our minds at ease. We conquered 4 rappels and a monkey drop in half a day. It was a blast!
Pro tip: Make sure you wear proper outfit for rappelling, which includes closed-toe shoes (such as keen sandals) and quick dry clothing. Also, bring a towel and a spare change of clothes.

9| Stay Overnight at a Cloud Forest
A trip to Costa Rica is not complete without a visit to the cloud forests. It is a true paradise with an astoundingly diverse wildlife. Although you can visit the forests in a day, the best time to see wildlife is in the early morning so an overnight stay is definitely preferable.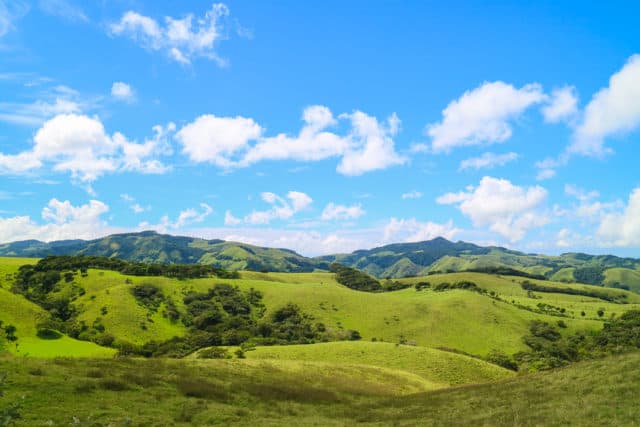 Staying at a cloud forest will leave you with unforgettable memories. You will see clouds floating just outside your windows, hear birds chirping early in the morning, and sometimes you will even spot monkeys climbing a tree! Aside from that, there are so many adventures available in the cloud forests (continue reading below)!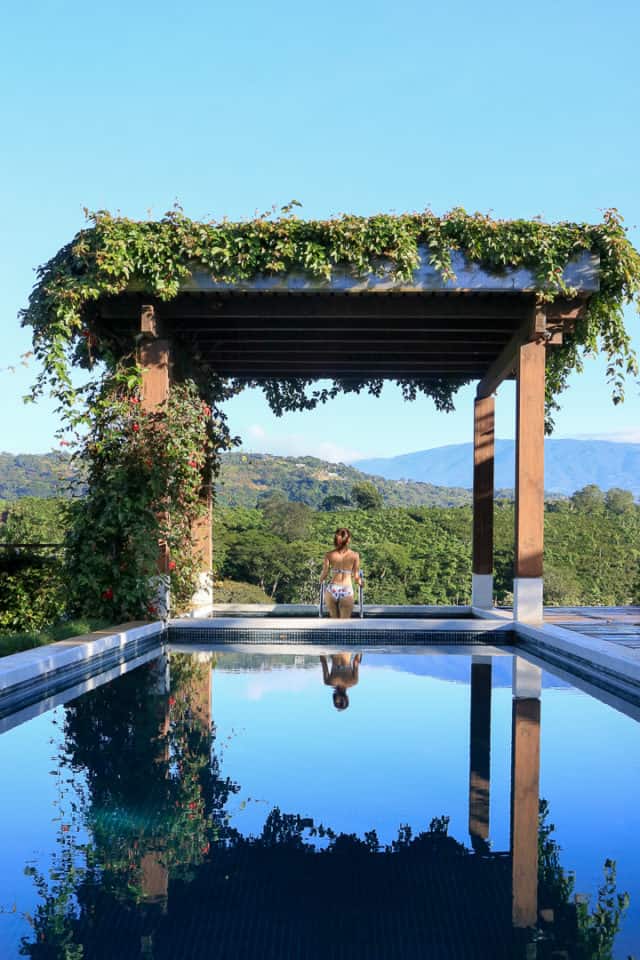 If you fly into San Jose, consider making a trip to Asclepios in the nearby city, Alajuela. There, you can experience cloud forest up close. In Monteverde, Hotel Belmar is our top choice!
[irp posts="7780″ name="Best Monteverde Hotel For Luxury Travelers: Room With A Killer View"]

10| Flying Across The Top of the Cloud Forests
You can zipline in many different places throughout Costa Rica, but nothing beats flying directly through the clouds and seeing the forest canopy up close!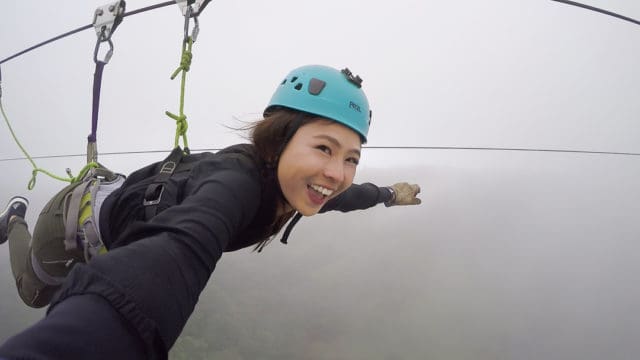 In Monteverde, Kev and I had the time of our lives braving the longest zipline in Latin America with 100% Aventura. From one end of a mountain to the other side, we soared through the jungle on 8 ziplines and flew like a Superman on 2 cables. The most thrilling part was screaming our lungs out over the Mega Tarzan swing, which swang to a height of 45m!!! You can see why this clinched the top spot on our list of the most unforgettable things to do in Costa Rica!

11| Experience the Adrenaline of Fiscus Treetop Climbing
If you're looking for something unique, try fiscus treetop climbing!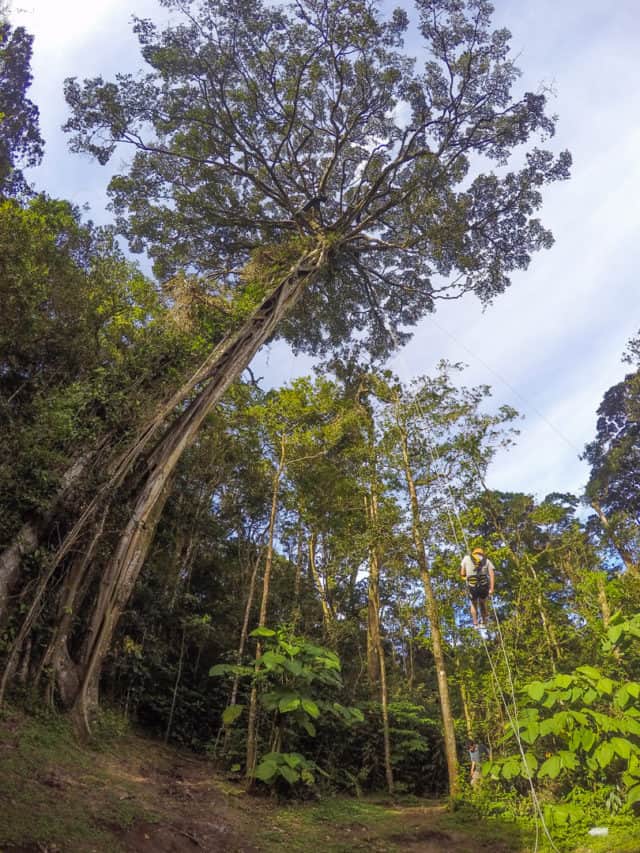 Fiscus tree is the coolest tree we've ever seen: it's hollow inside with aerial roots entwined in the form of a vertical tunnel. The easiest way to get the top of a fiscus tree is by climbing through the inside. Most people choose to do it another way: through the metal rings on the outside of the tree. This requires a lot more energy. If you want something more intense, try ascending through a suspended rope. It is a total body workout!
In Monteverde, we took on the exhilarating challenge of treetop climbing with Finca Modelo Ecologica and did not regret giving it a shot! We were secured with safety harnesses during the whole time. When we arrived at the top of the 40m-tall fiscus tree, the view of the misty cloud forest was gorgeous! It's an aerial forest adventure not to be missed in Costa Rica!
[irp posts="7932″ name="Two Weeks In Costa Rica: An Action-Packed Itinerary For First-Timers"]

12| Search For Costa Rica's Secret Waterfalls
There are so many incredible waterfalls in Costa Rica. Famous ones include La Fortuna Waterfall, Rio Celeste Waterfall, and La Paz Waterfall, just to name a few. With an influx of visitors, these beautiful spots have become easy to get to, but the downside is that they are super touristy. Imagine other people blocking your shots? THAT is a big no-no.
Want to escape other tourists and get that perfect Instagram picture? Why not explore hidden waterfalls? Before setting off on our 2-week Costa Rica road trip, we did an in-depth research online and found a waterfall in Guanacaste that's hidden away. Some consider this little oasis Costa Rica's most beautiful waterfall and we couldn't agree more!
I won't reveal the name of the waterfall here as we'd like to keep it hidden. Shoot me a message if you're REEEEALLY planning to check it out.

13| Go Beach Hopping on an ATV
We've covered the jungles, now off to the ocean! For an unforgettable journey, you have to go beach hopping in Costa Rica!
Costa Rica has spectacular shorelines on both the Pacific and Caribbean sides. Plenty of untouched beaches are waiting for you to uncover. However, as previously mentioned in my Costa Rica trip planning post, the beaches in Costa Rica do not connect with each other. So you can't really drive along the coast from one beach to another.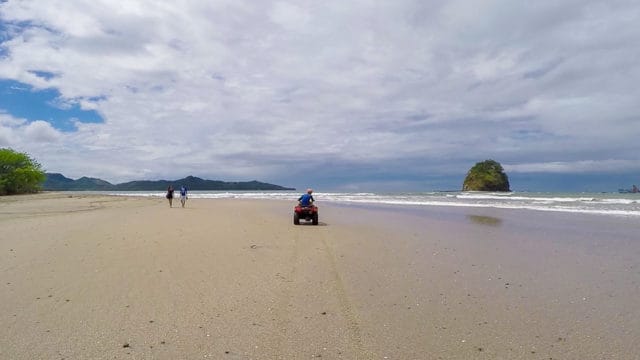 The best solution is renting an ATV. Hop on a four-wheeler and get ready for some serious off-road fun! You will wind through hidden trails and scenic vistas on your way to some of Costa Rica's most secluded beaches!

14| Partake in a Turtle Nesting Tour
Turtle nesting is a highlight for animal lovers, and Costa Rica is one of the best places in the world to witness this natural spectacle!
Turtles nest along both the Atlantic and Pacific coastlines. Of the world's 7 sea turtle species, 5 can be seen in Costa Rica. These include Leatherback, Green Sea Turtle, Hawksbill, Olive Ridley, and Loggerheads. Each species has its own season and preferred nesting grounds. For this reason, you can observe turtles nearly year-round!
Tortuguero National Park on the northern Caribbean coast, Gandoca-Manzanillo Wildlife Refuge on the southern Caribbean coast, Ostional Wildlife Refuge on the Nicoya Peninsula, Playa Grande just north of Tamarindo, Ballena National Marine Park along the Central Pacific coast, and Osa Peninsula are some of the hotspots to see turtles.
To protect the turtles, most turtle nesting sites require visits with a certified guide. The guide will take you on a nighttime walk on the beach to search for turtles coming ashore to lay eggs. While you're waiting, you will learn fascinating facts about sea turtles.
Note: sighting is not guaranteed. If you're lucky enough to encounter a nesting turtle, make sure you watch from a distance and don't disturb it!

15| Learn Costa Rican Cooking from a Local Chef
If you think Costa Rican cuisine is all about rice and beans then you're wrong! There are many other delicious local eats that people don't talk about. Why not learn to cook these traditional dishes from a local chef?
When in Costa Rica, Kev and I took a cooking lesson at Casa Chameleon. We had the opportunity to connect with a Costa Rican chef who demonstrated 3 authentic Costa Rican dishes while we relaxed and enjoyed the feast! Now, we have a basic knowledge of how to prepare a Costa Rican meal, we are eager to replicate at home.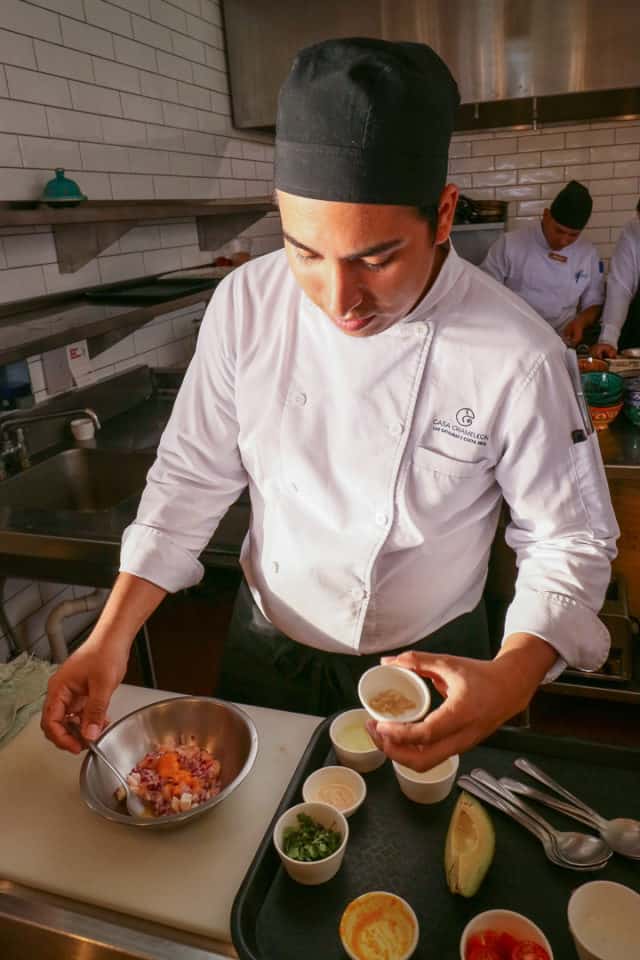 [irp posts="7840″ name="Casa Chameleon Las Catalinas: Best Costa Rica Adults Only Resort"]

16| Go Underwater and Explore the Colorful Marine Landscape
Costa Rica not only has a rich biodiversity on land but also in the ocean! Thanks to the clear waters in both the Pacific and Atlantic oceans, you can spot all kinds of marine life underwater – from puffer fish, dolphins, to giant manta rays!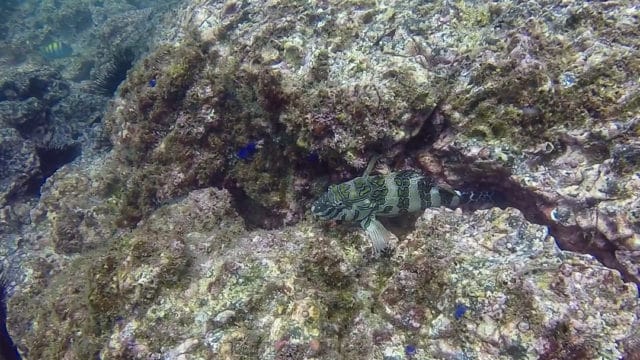 Kev and I went diving with Deep Blue Diving in Playa del Coco, Guanacaste and were amazed at the abundant schools of fish we saw. The marine animals were very unique, compared to other dive locations we had been to in the world!
Even if you don't scuba dive, we highly recommended snorkeling. Popular locations to snorkel and scuba dive in Costa Rica include Gandoca Manzanillo Wildlife Refuge, Cahuita National Park, Cano Island, Catalina Islands, Gulf of Papagayo, and Golfo Dulce.
---
This list highlights all the activities we did in Costa Rica in November. With so many unforgettable things to do in Costa Rica, there's no doubt your trip to Costa Rica will fill with fun memories!
Which activity are you looking forward to trying the most?
Disclaimer: This post is written in partnership with Asclepios, Finca Modelo Ecologica, Mistico Arenal Hanging Bridges Park, and 100% Aventura. As always, all opinions on For Two, Please are my own and I only recommend brands that I 100% stand behind.