This site uses affiliate links and we may earn a small commission when you use our links and make a purchase without incurring additional fee yourself. Many thanks for supporting this website. Please see our disclosure page for more details.
Costa Rica has quickly emerged as the top destination for adventure lovers. If you're reading this post, it is likely that you're planning a trip to Costa Rica. To get you started, here are a few things you need to know before traveling to Costa Rica!!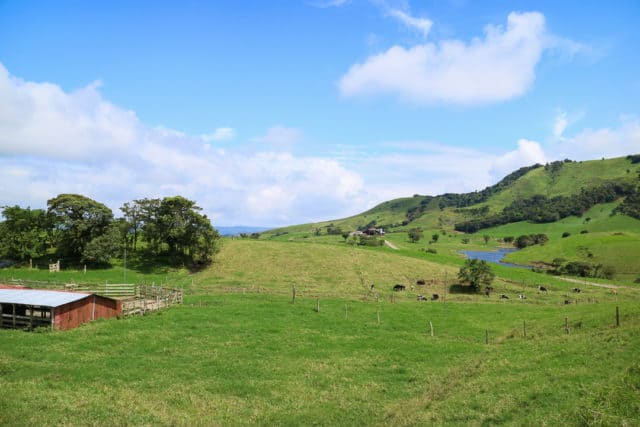 This post contains affiliate links, meaning if you book or buy something through one of these links, we may earn a small commission (at no extra cost to you!).
Top Tips For Planning Your Costa Rica Trip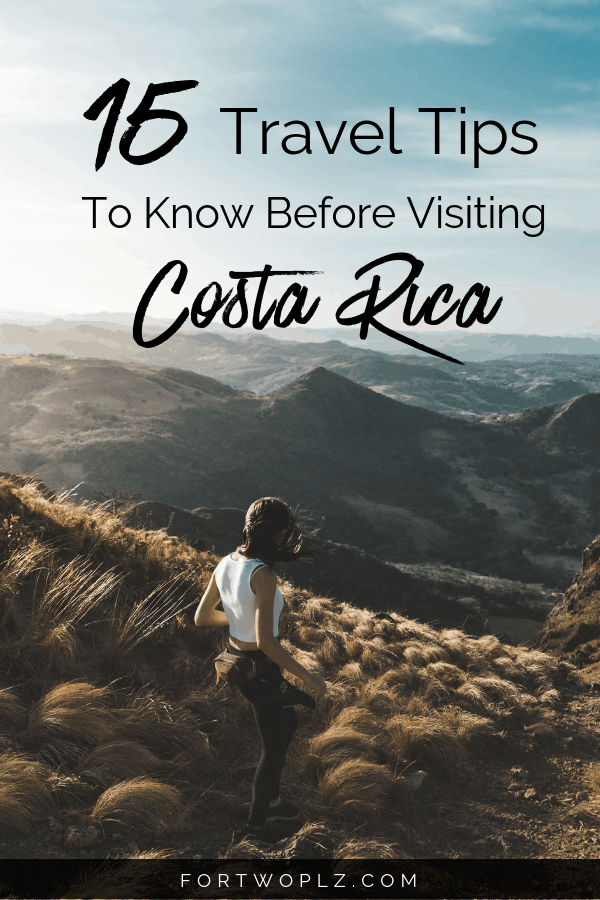 1| Get Ready To Spend Money
Let's face the truth: Costa Rica is not cheap. Actually, Costa Rica is one of the most expensive countries to visit in Central America.
Take gas prices, for example. It costs approx. USD$1.07 a liter, which is 48% more expensive than in the USA and 22% more than in Canada! Tours average around USD$100 per person per day.
Why so expensive? It is probably because of the high prices of importing fuel and goods as well as the heavy import taxes. All these are transferred to the cost of traveling in Costa Rica. So make sure you adjust your travel budget accordingly!
If you're curious, check out this Costa Rica Travel Costs page detailing how much it costs to visit Costa Rica.
2| Allow More Than One Week In Costa Rica
Costa Rica may look small on the map, but don't let its small size fool you. There are so many places to see and adventures to be had – from its gorgeous beaches, misty cloud forests, extraordinary wildlife, lush rainforests to active volcanoes. It is impossible to see Costa Rica in merely a week. On our recent trip, we spent 2 weeks in Costa Rica – every day packed with activities – and we still feel we barely scratched the surface!
Our advice is: plan a minimum of 2 weeks in Costa Rica. It is a good amount of time to explore 3-4 places without feeling too rushed. You can add extra days if you want to cover more ground.

[irp posts="7932″ name="Two Weeks In Costa Rica: An Action-Packed Itinerary For First-Timers"]
3| Visit During Rainy Season
Most people choose to travel to Costa Rica during the dry season (December-April) so that they can enjoy the nice sunny weather. But that comes with a price – it's busy and expensive!
Why not visit during the rainy season (May-November) instead? You will run into rain showers, but in return, you'll be rewarded with thinner crowds, greener landscapes, cooler temperatures and cheaper rates! Also, most tours run year round. Even for whale watching and turtle nesting tours!
Note: the weather really depends on what part of Costa Rica you are visiting. For example, when we visited in early November, it rained almost every day in Arenal, but was bright and sunny in Monteverde!
[irp posts="7763″ name="Luxury Hotel Near SJO Airport That Won't Break The Bank"]
Pro tip: pack a light water-resistant rain jacket and bring a waterproof backpack when visiting during the rainy season.
4| Ditch Roaming. Buy A Pre-Paid SIM Card Instead.
Want to stay connected during your trip in Costa Rica? Buy a prepaid SIM card. It is cheap and easy!
You can get one at both SJO and LIR airports. Look for the Kolbi service desk. This mobile carrier is the largest in Costa Rica and has great connectivity around the country. You can buy 500MB data for USD$10 for one week, or 2GB for one month for USD$20.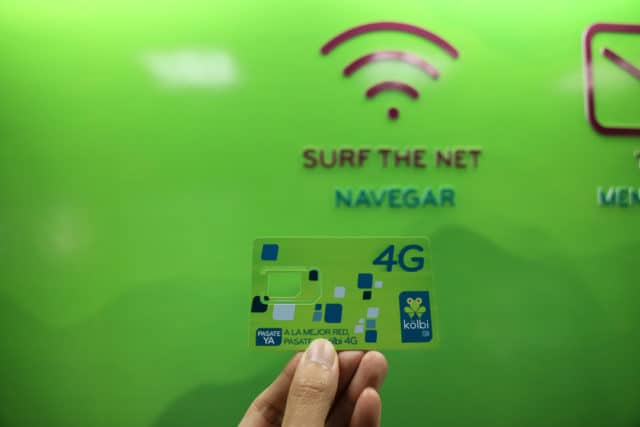 Pro tip: 2GB should be more than enough to last you 2 weeks in Costa Rica. If you need more, you can top up at any store that has the Kolbi logo on the window. Simply ask for "recarga," give the staff your phone number, and tell them how much money you want to top up.
5| Forget Google Maps. Download WAZE.
In North America, we rely heavily on Google Maps for navigation. But in Costa Rica, everyone uses WAZE. This free app is similar to Google Maps in searching for the best route. On top of that, it also gives you of real-time traffic updates, including accidents and police warnings!
6| Rent A Car
Typically, we avoid driving in a foreign country. But to maximize our sightseeing time and have the ultimate freedom to go wherever and whenever we would like, we decided to book a car rental. And that was the BEST DECISION we've made on our trip.
However, renting a car in Costa Rica can be tricky. We had come across many complaints about hidden fees while doing our research. After sifting through the options, we decided to go with Adobe Rent A Car – largest and most reputable car rental company in Costa Rica!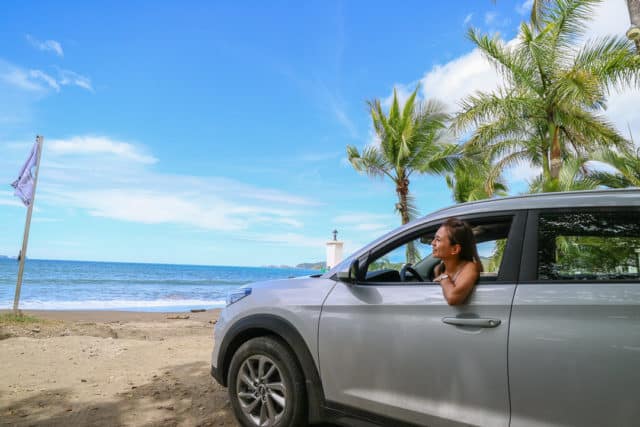 Why Adobe Rent A Car?
Renting from Adobe is easy and stress-free. They are transparent in their quote. This means you know exactly how much you will be charged when you pick up the car (no surprises!). There is NO license plate fees, environmental fees, airport fees or any other "mandatory" fees that other car rental companies make their customer pay. The only mandatory fee is the Liability Insurance (PLI), required by law. More comprehensive insurance like Collision Damage Waivers (LDW) and Total Protection (SPP) are available, but optional.
Another reason we chose Adobe is that they make it possible to enjoy a one-way trip. Our itinerary was arranged in a way that we had to fly into SJO and fly out of LIR. We thought this might be an issue given that our outbound flight was scheduled to leave at 6am (before their office hours). After explaining our situation, the Adobe staff was very accommodating. With more than 16 offices across Costa Rica, they are flexible to have the car picked up and dropped off at different locations. On the day, the staff waited at the office early in the morning for the drop-off and drove us at the airport!
On top of all that, they have a wide selection of vehicles for hire, all of which are less than 2 years of service!
Our experience with Adobe Rent A Car was exceptional. We highly recommend them to anyone looking to hire a car in Costa Rica!
How's Driving In Costa Rica?
→ Driving in Alajuela & San Jose: Traffic is terrible during the daytime. Pay attention to unpredictable and reckless drivers. Watch out for motorbikes.
→ From Alajuela to Arenal: Hilly at times, but roads are well paved with a few potholes here and there. Try not to drive at night as there is no street light.
→ From Arenal to Monteverde: Make sure you drive a 4×4 vehicle. The last 1/3 of the drive turns into pothole-ridden dirt and gravel roads. The roads in Santa Elena town are paved though.
→ From San Jose to Liberia/Guanacaste: The main Route 1 is generally well-paved. In between Canas and Liberia, there is a 4-to-6 lane highway. Other parts are 2 lanes.
7| Book Domestic Flights If Short On Time
Flying within Costa Rica is expensive, but if you're short on time (or don't want to drive), domestic flights may be a sensible option.
Costa Rica has 2 local airlines: Sansa Airlines and Nature Air. They fly out to as many as 13 different destinations within the country, and it generally takes 30-45 minutes! Both airlines use small propeller planes that can hold between 12-19 passengers only.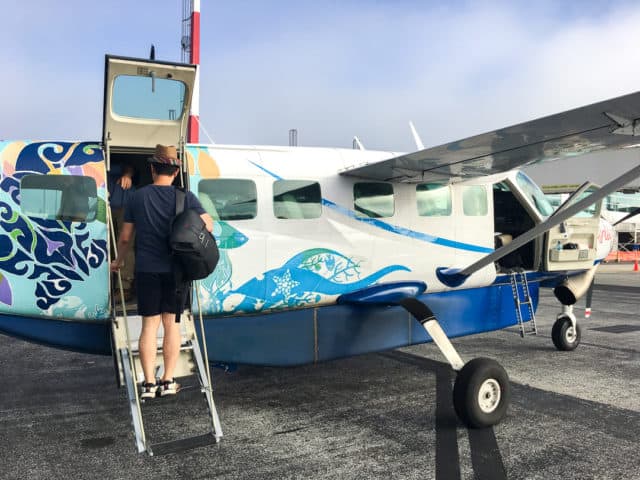 We flew with Nature Air once from LIB to SJO and it took us only 50 mins. Even though we spent a total of USD$300 on the tickets, it was money well spent to skip the 4 hours of driving back on the same route. Plus, Nature Air has large windows, giving us an unobstructed view of Costa Rica's lush mountains, beaches, and volcanoes from above!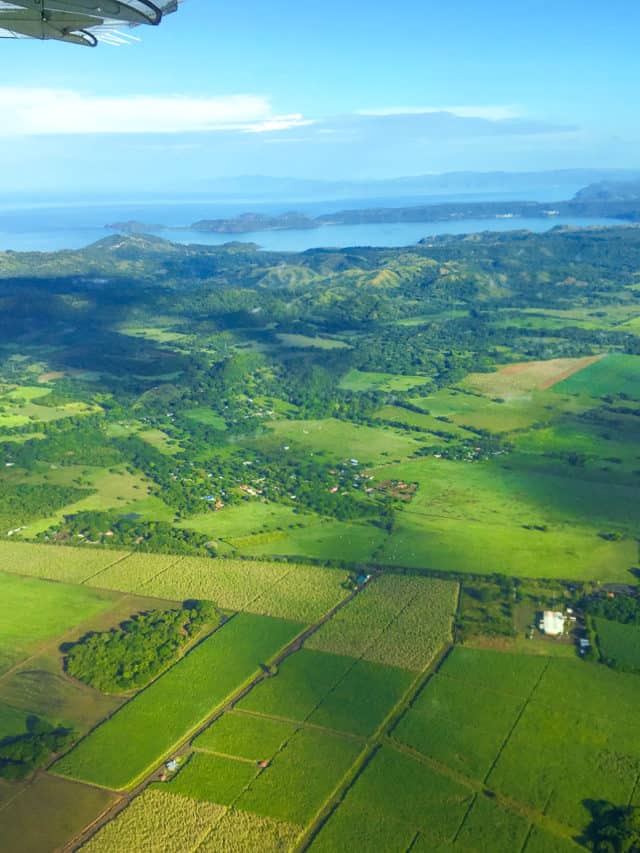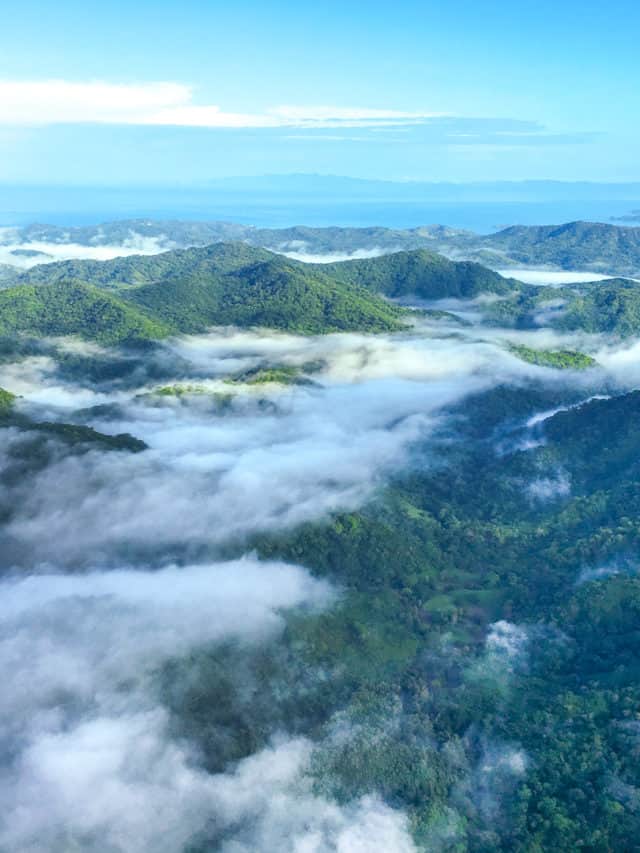 One important thing to note is the small luggage allowance per person. At check-in, if your baggage exceeds their size and weight restriction for carry-on (and they are VERY strict about it), you will need to pay extra to have it checked.
8| No Need To Exchange Colones Beforehand
US dollars are widely accepted in Costa Rica, especially at hotels, restaurants, and tour agencies. Even at local supermarkets! So there is absolutely no need to exchange Costa Rican Colones in advance.
If you need Colones, go to the banks for the best exchange rates. Or, pay in USD at restaurants or supermarkets and get the change back in Colones.
Pro tip: Keep some coins for the tolls if you plan to drive. We encountered a toll booth when driving from San Jose to Alajuela.
9| Tipping Is Not Required
It is not customary to leave a tip. At restaurants, a 10% service charge is included in your bill. Tour guides, drivers, housekeepers usually do not expect an additional tip for their service.
10| Tap Water Is Safe To Drink
Yes, it is perfectly safe to drink tap water!
11| No Spanish? No Problem.
English is widely used in most tourist destinations. Having said that, it is always useful to know some Spanish, especially if you want to eat at a soda (local diner).
The Spanish phrase you will hear a lot in Costa Rica is: Pura Vida. It means "pure life," but it is commonly used to mean hello, goodbye, and everything's great. Remember that!
12| Follow The Experts: Join Guided Naturalist Tours
It is true that you can go on self-guided hikes and tours at many places. But you will see so much more than expected if you join the experts on guided tours.
At the Mistico Arenal Hanging Bridges Park, we joined the specialist on a walk who pointed out a variety of bird species, animals and insects along the way. If we visited on our own, we wouldn't have spotted ourselves and gotten these amazing pictures and videos of them!
Although guided naturalist tours are a bit more expensive, they will leave you an unforgettable memory!
Note: many of these tours include hotel pick-up and drop-off so there's no need to worry about transportation.
[irp posts="7864″ name="The Adventurer's Guide: 16 Unforgettable Things To Do In Costa Rica"]
13| Order Seafood, But Know That Shrimps Are Expensive
Costa Rica has plenty of fresh seafood, but do you know that shrimps are very very expensive?
Fishing techniques such as trawling kill turtles and destroy coral. So, to protect the marine resources, the government has put a halt to the use of trawler nets to catch shrimp and other unselective and destructive fisheries. That is why shrimps are expensive in Costa Rica.
But not to worry, there are so many other delicious seafood available for us to enjoy at inexpensive prices!
14| Don't Miss Out On Local Healthy Snacks
Make a trip to a local supermarket and you'll realize Ticos (Costa Ricans) love cassava chips, yuca chips and plantain chips. They are addictingly delicious! You can find a variety of them on the shelves, sold under the brands PRO and Soldanza.
Toasted corn snacks by Jacks Picaronas are popular among the locals as well.
Coffee aficionados, check out Cafe Britt. This brand is known for their coffee and gourmet chocolates. The chocolate covered coffee beans, dark chocolate covered pineapple, and dark chocolate with creamy nut filling are a few of our favorites!
15| Go Beach Hopping? Keep In Mind That…
One of the fun things to do in Costa Rica is going beach-hopping. However, the beaches may seem close to each other on the map, but are actually far to drive to.
This is because there is no actual "road" connecting the beaches so you can't really drive along the coast. You will have to drive out of the beach town and go back to the main road first before you can head towards the next beach community.
You may find some people attempting to drive their car onto the sandy pathways leading up to the beaches. Don't do that. We have seen cars got stuck there and people had to push them from behind.
Pro tip: Instead of driving, rent an ATV. That is the fastest way to beach hop!
---
We hope you find these tips helpful for your Costa Rica trip planning. If you have any questions, feel free to ask them below!
Disclaimer: This post is written in partnership with Adobe Rent A Car. As always, all opinions on For Two, Please are my own and I only recommend brands that I 100% stand behind.