This site uses affiliate links and we may earn a small commission when you use our links and make a purchase without incurring additional fee yourself. Many thanks for supporting this website. Please see our disclosure page for more details.
Would you go on a hike to uncover 71-million-year-old dinosaur fossils? When I was researching activities to partake on our road trip to Canadian Badlands, I was overjoyed to find that Alberta Parks offers numerous interpretive programs for visitors to explore the remarkable landscapes of Dinosaur Provincial Park in Southern Alberta. As the world's richest dinosaur fossil site, Dinosaur Provincial Park is a true paradise for fossil hunters. Removing fossils is strongly prohibited, but uncovering never-before-seen fossils will without a doubt make an incredibly terrific memory. That's why when I found vacancies for the Centrosaurus Quarry Hike, I quickly clicked on the 'reserve' button. It should be all good, right? No no no…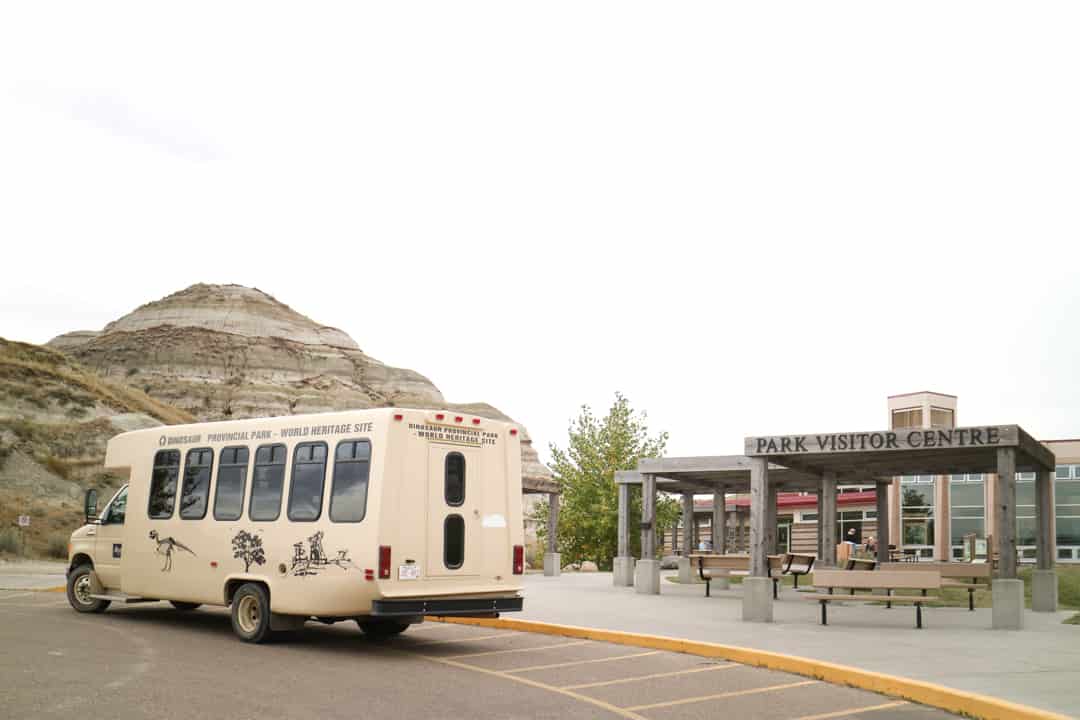 Immediately after I made the payment, confirmation email detailing the ticket pickup location and meeting time arrived at my inbox. It was then I took a closer look at where it really is located on the map, and realized… Dinosaur Provincial Park is NOWHERE NEAR Drumheller (the heart of the Canadian Badlands which is widely recognized as Dinosaur Capital of the World)!! The two locations are 2.5 HOURS away. Since our hotel was in Drumheller, that means we would need to make a day trip just for the hike and spend at least 5 hours driving on the highway!!
Poor Kev. I felt terribly sorry for making him drive for so long. But as soon as we approached the park and descended into the valley, we saw a world truly like no other stretched before us. All our fatigue dissipated. Breath-taking scenery, unearthly rock formations and cool cottonwoods… it's worth all that driving in one day. If you haven't been to Dinosaur Provincial Park, make it your next destination. Here are the reasons why:
01| It is a UNESCO World Heritage Site
Nestled 48 km northeast of Brooks, Alberta, Dinosaur Provincial Park is home to more than 44 species of dinosaurs that roamed the earth 75 million years ago. The Park was declared a World Heritage Site in 1979 for 3 reasons:
the exceptional abundance and diversity of dinosaur and other vertebrate fossils
the largest and most spectacular badlands in Canada
the endangered river edge habitat, including extensive groves of plains cottonwood trees that provide critical living space for many bird species.
02| It connects you with the nature
Leave your day-to-day life behind and venture into the rugged badlands! Surrounded by deep and winding canyons, multi-coloured eroded sediment layers of sandstone, and hoodoo rock formations, it is hard to not be amazed by the beautiful moonscape-like topography.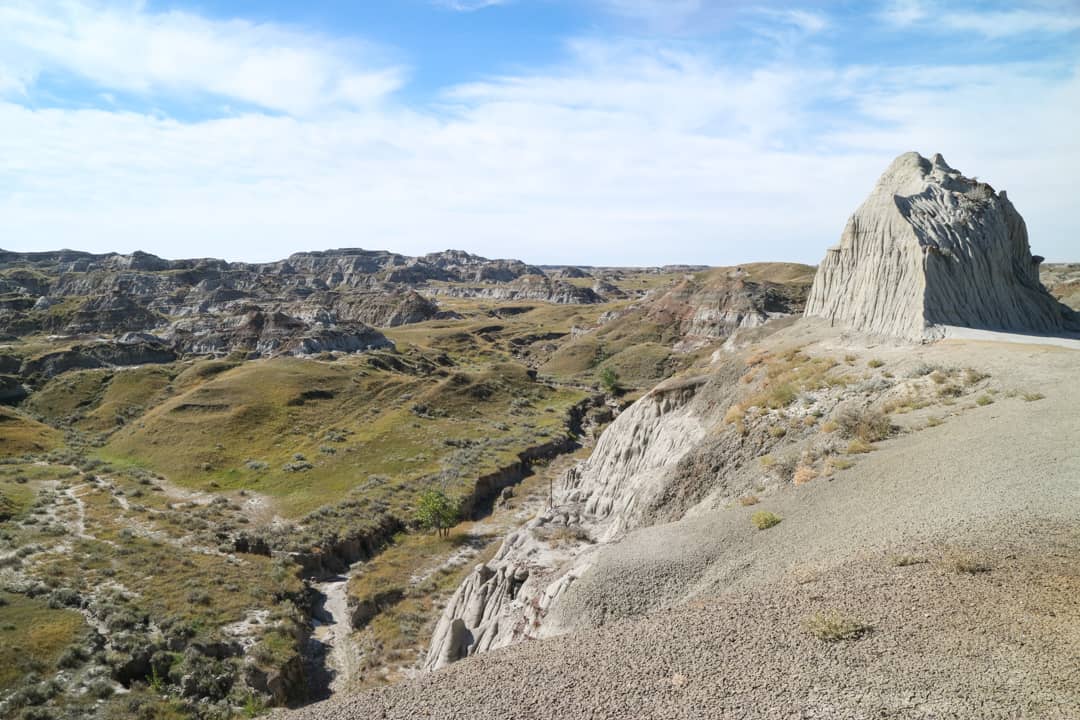 Equipped with nearly 200 campsites for tents and RVs, Dinosaur Provincial Park really brings you closer to the nature. Despite the harsh, desert-like environment, the Park supports a rich bio-diversity. Several species of cactus can be found here along with the plans cottonwood trees, blue grama grass, sage and Saskatoon bushes. Over 165 species of birds can be seen, including the ferruginous hawk and golden eagle. Of the animal world, you can see cottontail rabbits, mule deer, pronghorn antelope, coyotes, weasels, porcupines, red fox and bobcats!
Pro tip: May-June is great for bird-watching; mid-June for flowering cactus; September for fall foliage.
03| It is a paradise for landscape photography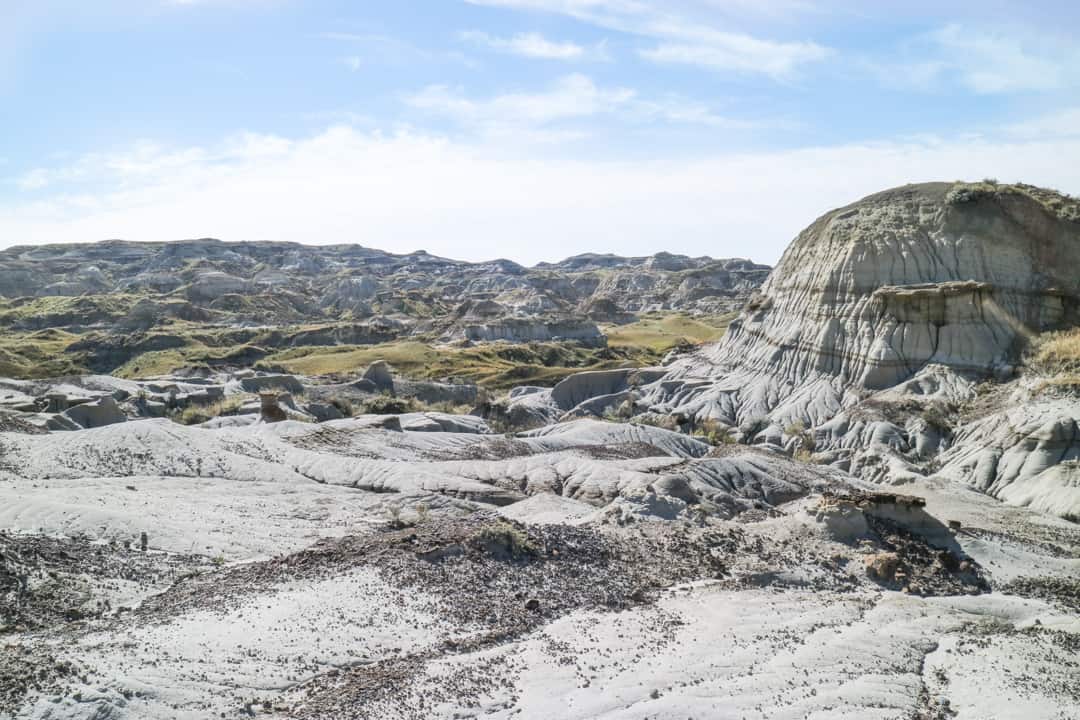 Dinosaur Provincial Park is for sure a favourite place for photographers both amateur and professional alike. Its stunning wilderness, dramatic colours, captivating shapes, and extreme weather make it the most unusual and photogenic place to explore and photograph. To capture the mystery and magic of this place, head out early in the morning or late afternoon when the the light is soft and casts a warm glow on the landscape.
Pro tip: Join the Sunset Tour which will take you into some of the secret areas of the Natural Preserve for a quieter nature experience.
04| It hones your skill as an amateur palaeontologist
Want to participate in a fully authentic dinosaur dig? This is your chance! Join a guided tour to explore the restricted areas of this rugged badlands. With an experienced technician as your guide, you will learn the techniques of excavating dinosaurs and experience the excitement of fossil prospecting as you hike through the spectacular terrain of the badlands. Your work will contribute to the ongoing research at the Royal Tyrrell Museum. And who knows, your might make the next big fossil discovery!!!
Pro Tip: A large portion of the park is a Natural Preserve accessible only through guided programs (available from mid-May to mid-October). To participate in prospecting and excavation, you will need to join a tour. A variety of programs are available for all ages – outdoors or indoor, easy or strenuous, from less than one hour to multi-day. Reservations are highly recommended.
[bctt tweet="Be a fossil hunter & journey through Dinosaur Provincial Park – a UNESCO World Heritage Site!" username="fortwoplz"]
05| It provides clues to our planet's distant past
The Park is a giant laboratory of past life. Over 44 species, 34 genera and 10 families of dinosaurs from the late Cretaceous Period (75-77 million years ago) have been found here, including more than 500 complete skeletons. This is about 4-5% of the world's known dinosaur species.
Take a look around the park geology and you will find evidence that this area was once a lush coastal plain adjacent to the Bearpaw Sea. The climate was subtropical, similar to northern Florida today. Countless creatures flourished there – fish, amphibians, reptiles, birds, primitive mammals, and of course, dinosaurs.
But today, we see this desert-like landscape as a result of glacial melt-water from the end of the Wisconsin Ice Age, about 15,000 years ago. What exactly happened in between? How did the dinosaurs become extinct? Is it because of disease? climate change? Or meteor impact? The answer is hidden in the fossils as you journey through dry streambeds and sandstone ridges.
---
The eerily beautiful scenery at Dinosaur Provincial Park is captivating. And being able to see dinosaur fossils in situ is nothing short of mind blowing. I could think of many more reasons to convince you to come visit, but no reason for you to delay your trip.
Pin it for later!