This site uses affiliate links and we may earn a small commission when you use our links and make a purchase without incurring additional fee yourself. Many thanks for supporting this website. Please see our disclosure page for more details.
We always pass by Heritage Park whenever we drive to the Southern part of Calgary. At first, I thought it is a history museum of some sort. With no interest in learning about boring historical facts, the thought of visiting the park never crossed our mind. But thanks to Kev, we got a chance this summer to discover what the Heritage Park really has to offer. His clinic organized a summer picnic there so we received free access to the park!
First, we signed ourselves in at the booth at Heritage Town Square, which is located before the park gates and has a few stores (including retail shops, portrait studio, cafe and restaurant) you have access to without park admission.
Got our admission tickets. Grabbed the park map and event schedule. Now let's get the party started!!
The Heritage Park is actually quite big. With more than 200 exhibits and attractions spread over the vast 127 acres of land, the park is a living historical village where you get to travel back in time and explore the history behind 3 key periods in Western Canada: the 1860s fur trading era, 1880s rustic pre-railway settlement and the bustling 1910s prairie railroad town. Walking through the park's 5 main areas (Antique Midway, Prospect Ridge, Village Center, The Ranch, and The Settlement), you will not only get to learn about Western Canada's past, but also have the opportunity to have fun and interact with nearly 100 years of history.
After reading the map and getting an idea of where we were, we decided to head towards Antique Midway first and get fed. That's where we could get our BBQ lunch 😛
On our way, we passed by old gasoline pumps outside Gasoline Alley Museum, the Famous 5 Centre of Canadian Women and a train station. (Ya, there's an authentic steam train running around the park!)
If you would like to ride the thundering steam train instead of walking, you can stop by one of the three train stations. The departure times are listed at the back of the park map. If you enjoy traveling by the sea more, you can also sail on a paddlewheel boat! No extra fee is needed.
We had only walked down one street and I was already enjoying myself 🙂 I got so excited about the animal statues and the vintage truck running on the road. Kev said I was so easily satisfied 😛
The Antique Midway features historical amusement park rides and games that are guaranteed to bring out some fun and friendly competition.
The prizes were not alluring enough so I took a pass on the games.
Personally, I am more of a thrill seeker. What do you think about taking a spin on the rides? 🙂
It was nice to enjoy the summer breeze on the Dangler Swings, which was built by a German manufacturer in 1920 and was the largest of its kind in Europe back then. It was later acquired by Jim Conklin who then donated the Dangler Swings to Heritage Park in 1984. Wow, this ride is older than both of us!
Swing, swing, swing up high! You can enjoy the beautiful lake view from here.
Any takers for the Caterpillar Ride? This old-fashioned ride spins around in a circle and then all of a sudden put you in the dark by dropping a "curtain" over you.
There are so many other rides in the midway to keep the kids entertained. Ferris wheel, carousel, the whip, boat swings…etc. You can easily spend half a day here.
Next, we came to the Village Centre, which recreates what a prairie town in the early 1910s might have appeared with staff dressed in traditional costumes.
Live country music certainly helps transport you back in time.
Guess where we were at now? The Candy Store!! Everything in this store is actually available for sale. Now treat yourself some old fashioned candy!
Look, I found an antique cash register! I wanted a cash register when I was a little girl because I loved the sound it made. Too bad this one isn't working anymore 🙁
Next door is the Harness Shop. Back in the day, everybody needed tack for their horses or oxen, so saddles, yokes, horse collars and harnesses were always in high demand.
The Harness Shop is also doubled as the general store, where gift items, figurines, jewellery, hats and dolls are sold.
Considering horses and oxen used as the main transportation back in 1900s, it is not surprising to find a blacksmith shop in the town, with a stable right next to it.
Are those real horses? We aren't sure. Kev said they are fake. I thought otherwise. It still remains a mystery.
We stopped by for a live demo of blacksmithing at the blacksmith shop.
Guess what was the standard price for 4 horseshoes?
50 cents! And 50 cents to shoe a horse.
Haha, I found this detailed one-page instruction for shoeing a horse. I'm keeping it in case I'm considering to become a blacksmith one day 😛
With new settlers and businesses coming into town, professional practices also try to set foot in the area. Let's check out the law office and dentist~
Hmmm… I am pretty sure I don't want people peeping through the window while I get my teeth checked out. A little privacy please 😛
Aren't you curious what Calgary Town Hall looked like back in the day?
This is a replica of the town hall as it appeared in 1885. This two-storey building housed a police office with jail cells, a council chamber, a clerk's office and a tiny courtroom!
If you get tired and don't want to wait for the train or the boat, hop onto the horse-drawn wagon across the street from the town hall. It gives you a relaxing tour around the park. The only downside is you'll need to endure the scorching summer heat.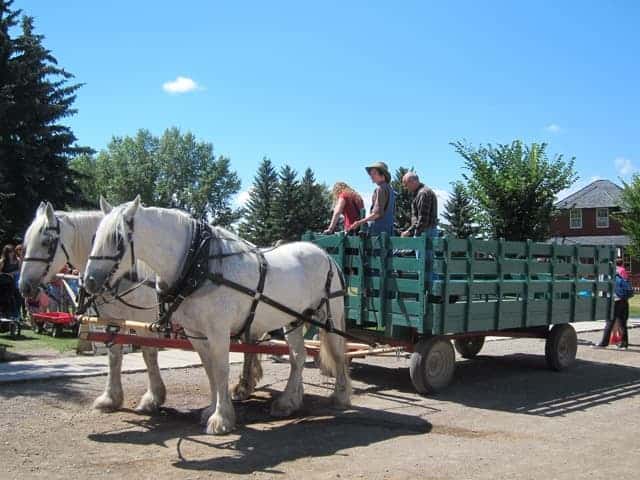 On our way towards The Ranch, we stumbled upon an interesting place which offers barber services in a pool hall. The staff was very nice to let Kev into the barber shop and give him a shave 😀 (JK, no shaving involved, just posing)
Have you ever wondered how much a house costed back then? Below is a milled-lumber house built in 1910. After sawmills were set up, frame houses made of sawn lumber took much less time and effort to build. The material costed less than $1,000.
Inside the house is a cute little store packed with extensive collection of housewares. All available for sale!
Around the corner, we found the Cocrane Fire Hall, which was built in 1909 and housed 2 fire engines, a bedroom for the night watchman, and a meeting room for the town council. Do you know that the fire chief was paid $5 per month while the job also required him to act as constable and sanitary inspector?
After quite a walk, we finally arrived at The Ranch! Here is where you find the barn, ranch house and animals. Wish I could ride on one of the horses XD
We went inside the Ranch House and took a look at the rooms with display of antique furniture, bedding, and clothing.
I was quite surprised to see a turning table in the dining room. It is such a Chinese thing to have. Not something I would expect to see in a Western household.
The animal skin fur rug on the floor scared me. The animal head looked so horrifying!
Continuing our tour southward, we walked along the railroad track and arrived at Hudson's Bay Company Fur Trading Fort.
This is where First Nations trappers came to trade their furs in exchange for various goods from the Europeans.
It was somewhat cruel and frightening to see so many animal furs lying on the table.
Walking down the path, we hit a few interesting sites in The Settlement.
The Gleichen School, which was built in 1888, provided education for the children of railway men, ranchers, farmers and government officials. Aboriginal children did not attend this school. It did not give out grades or formal exams. (how lucky!) Oh, here's a fun fact- Students brought water from home or drank either rainwater or melted snow because the well water at the school was too alkaline.
Want to go for a drink? Let's stop by Drew's Saloon, which was opened by an ex-U.S. army officer who came to Canada in 1884. He later turned it into a proper resting place for weary travelers.
We had a nice chat with the friendly staff who worked there. He took a photo of us sitting at the bar counter 😀
I am not sure if I would want to stay here overnight though. Their hotel rules are kind of harsh, especially #5 and #6 😛
Immediately after, we walked towards the First Nation Encampment, where canvas tipis were on display.
Tipis represent the home for First Nations people and their way of life. They are furnished with artifacts that show their lifestyle.
This is what it looks like inside. Fire camp in the middle and artifacts at the sides.
Those were the tools they used in their daily activities.
It was 2 p.m. We were right in time for the "Join the Mounties" event at the Berry Creek NWMP Post. This was my only chance to get recruited and trained as a North West Mounted Police Officer!!
After learning a few commands from the corporal and passing the physical exam, Kev and I successfully joined the mounties!!
Yup! That was me signing the contract to join the police force 😀
Right after, we rushed towards the Nightingale Colony House for the "Ice Cream Making" event that started at 2:30 pm.
All you need are a jar of butter, a jar of cream, bucket of ice cubes, and an ice cream mixer!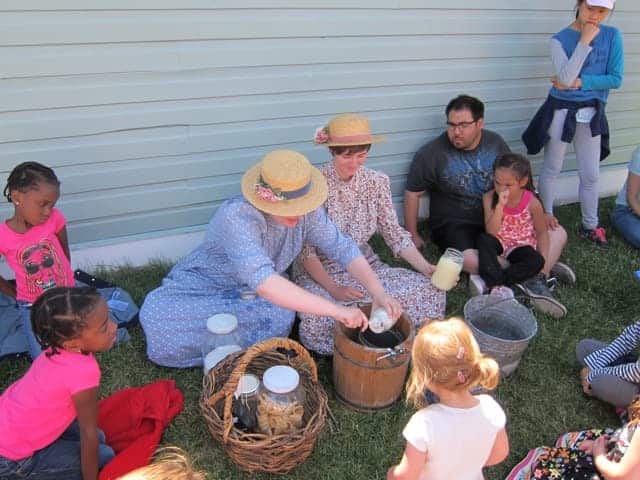 After spending a good 20 minutes turning the mixer, ice cream was ready to be served 😀
Yum!! Extremely creamy and rich!
On our way back, we stopped by the Post Office and learned that Calgary's first post office wasn't opened until 1883. Before then, the North West Mounted Police acted as the postmasters and helped distributed by the mails in the region.
Did you see the switchboard at the far corner? It is connected to 16 lines around the Park.
Before leaving the park, I had one more place I would like to go- the Gasoline Alley Museum, which has an array of vintage vehicles and unique gasoline pumps on display.
Pretending as a salesman, the staff tried to "sell" this automobile to us. It looks stunning, but it is unfit for our age. Don't you think so? 😛
It was truly a pleasant day out! There are so much to see at the Heritage Park. We rushed through most of the exhibits and didn't even have time to go on a boat cruise or train ride. We will come back and discover the unexplored!
Tips for those who are visiting the Heritage Park
Visit in the summer and on a sunny day: The Historical Village only opens in the summer from May to October and requires a bit of walking around the park. Moreover, a few daily events take place outdoor. Come on a sunny day in the summer to get the best experience. Don't forget to keep yourself hydrated at all time!
Plan to arrive early: As I mentioned earlier, the Heritage Park is huge and there's so much to see. Arrive early so you can enjoy your time there and not having to worry about running out of time.
Choose the events you want to attend and plan your trip around it: Event calendar and daily activities are posted on the official website. Prior to your visit, it is highly recommended to check out what events and activities interest you and plan your tour accordingly.
Enjoy and have fun! Don't freak out if you have no time for research beforehand. Keep an open mind and have fun!
About Heritage Park Address: 1900 Heritage Dr. SW, Calgary AB Official Website: http://www.heritagepark.ca/ Hours of Operation: Summer Season (mid-May to mid-October) – Historical Village: daily from 9:30am – 5pm, from mid-May to early September, then weekends only until October 10. – Gasoline Alley Museum: daily, 9:30am – 5pm Winter Season (Jan to mid-May) – Historical Village is closed – Gasoline Alley Museum: daily, 9:30am – 4pm Rates: Summer Day Rates- Adult $24.99; Child $12.99; Youth $17.99 Winter Day Rates- Adult $10.25; Child $5; Youth $6.35
---
I am bring this post to the #WeekendWanderlust linkup. Big thanks to Carmen's Travel Tips and other co-hosts. For more travel posts, please click on the image below~ Have a lovely weekend, everyone!