This site uses affiliate links and we may earn a small commission when you use our links and make a purchase without incurring additional fee yourself. Many thanks for supporting this website. Please see our disclosure page for more details.
Imagine being surrounded by spectacular mountains as you say your wedding vows with a stunning turquoise lake as a backdrop. I would die for a beautiful wedding in Lake Louise. Too bad, Kev and I already had our romantic moments in Taiwan. Yet, I would explore Lake Louise at anytime of the year, for any occasion.
Banff and Lake Louise's extraordinary natural beauty is incomparable; no wonder people called it Canada's Diamond in the Wilderness. This summer, our friends invited us to come along on a trip as they checked out a few wedding venues in the area. We immediately jumped at the opportunity to tour Lake Louise, even if it was just for a day.
Now, let's check out what amazing places and things you can do around the Lake Louise area!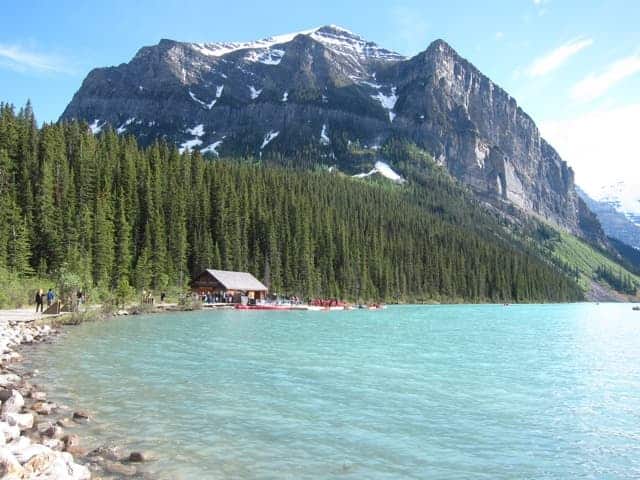 1| Taking the Lake Louise gondola to Mount Whitehorn
For grizzly bear viewing and a panoramic view of the Rockies, Lake Louise gondola is your best bet. A short 14-min ride, either in an open chairlift or a fully-enclosed gondola, will give you a chance to spot grizzly bears grazing on the slopes. Once up top (at an elevation of 2088m), enjoy the sweeping landscape of Lake Louise from a bird's eye view.
If you're feeling adventurous, explore the scenery on foot via several scenic hiking trails, ranging from 1.7 to 3.4 km round trips. Alternatively, you can join one of the three guided walks and learn about the natural splendour with a knowledgeable and enthusiastic guide (additional fees apply).
Pro tip: Grizzly bears and other wildlife, such as black & brown bears, big horn sheep and moose, are frequently spotted at Lake Louise Gondola from May to September. While sightings of wildlife can never be guaranteed, you can do a bit research beforehand using the Sightings Calendar to check which month has had the highest chance of sighting!
Duration: 1~5 hours (depending if you're doing walks & hikes)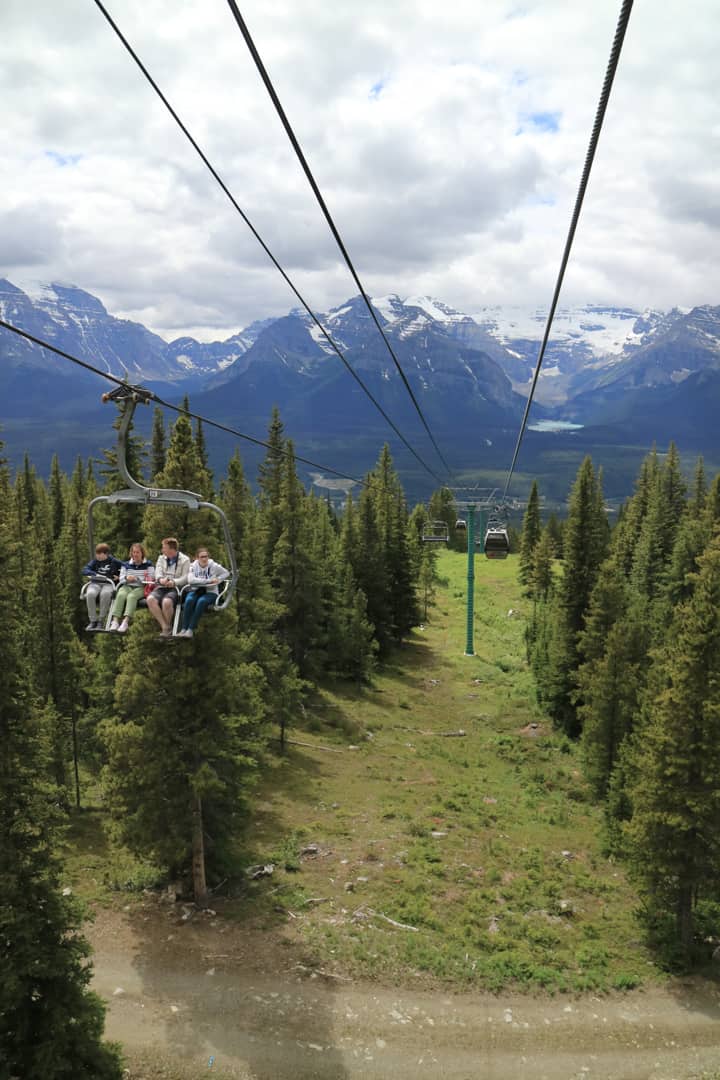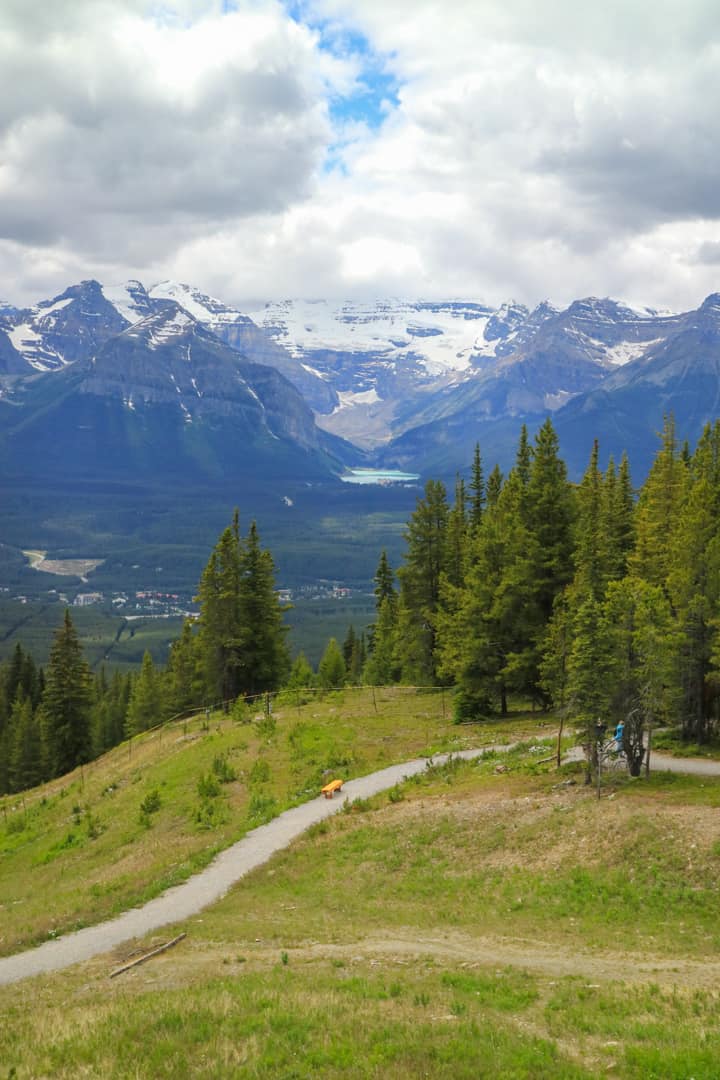 2| Dining at the Whitehorn Bistro while admiring Mount Temple
To make your visit to Mount Whitehorn more enjoyable, savour a gourmet meal on the expansive deck at Whitehorn Bistro. The upscale, contemporary menu features cheese fondue, signature seafood chowder, house made bison burger and many more, all of which are made from locally sourced ingredients. While you dine, breathe in the Canadian Rockies mountain air and admire the snow-capped Mount Temple, Lake Lousie, the Fairmont Chateau Hotel, and Victoria Glacier, which set the scene for an unforgettable day!
Pro Tip: Save a few bucks by combining meal with the gondola ride. The Ride & Dine Package ($52.95+tax) includes a roundtrip gondola ticket and $25 food & beverage gift card.
Duration: 1 hour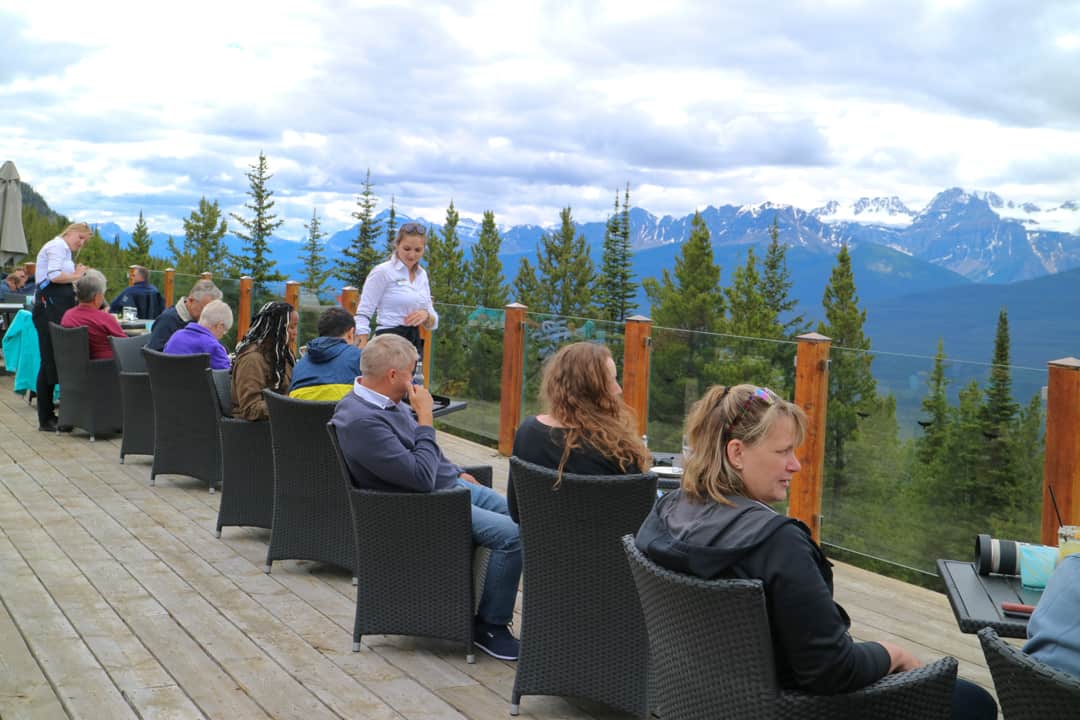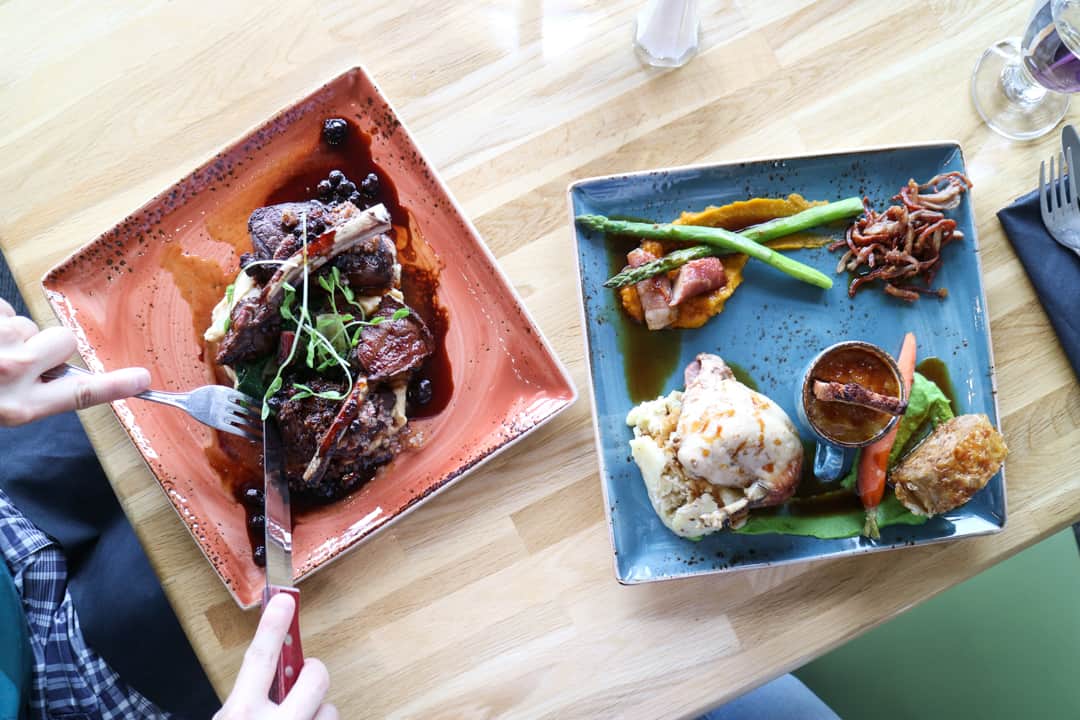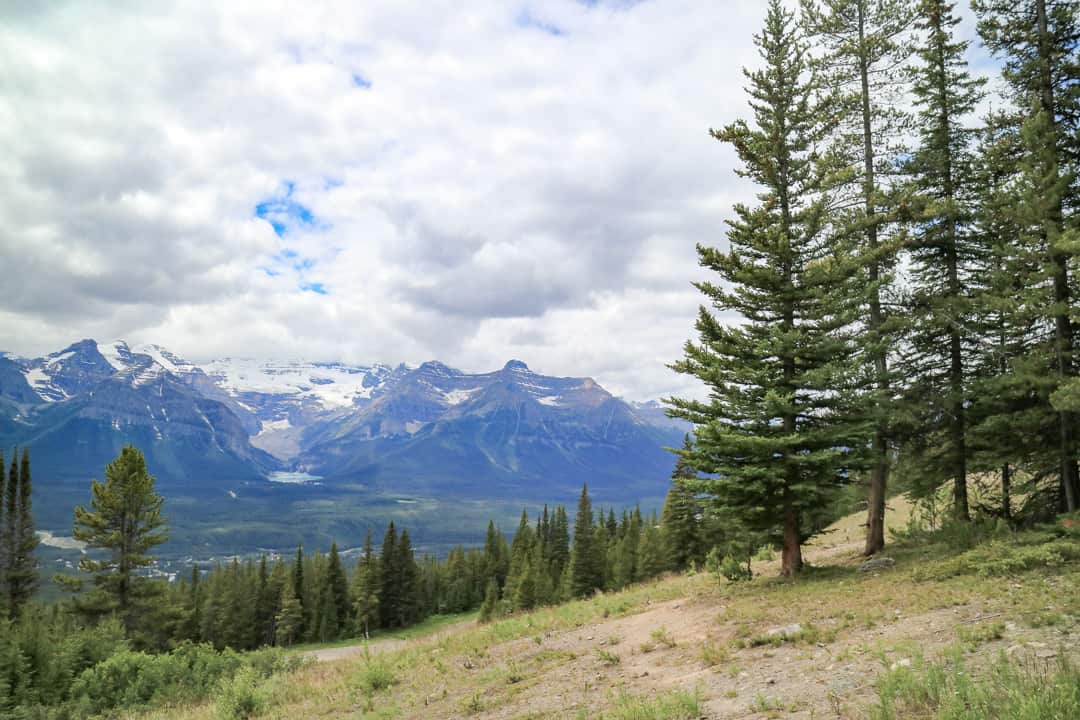 3| Canoeing on Lake Louise
Lake Louise is an outdoor enthusiast's paradise. Take part in the ultimate canoeing experience in Lake Louise, where you paddle through the turquoise water towards the mesmerizing views of the Victoria Glacier. Canoe rentals are available at the boathouse, operated by the Fairmont Chateau Hotel. You may rent a canoe at an hourly rate, combine the rental with a breakfast if you're a hotel guest, or book a trip with an experienced guide. So many options available to get up close and personal with the mountains! (For more information, check the hotel's rental page)
This summer, my friend, Chris Uyeda, from Seattle visited and explored the picturesque lake on a canoeing adventure! Doesn't his photo (see below) make you want to experience the beauty and tranquil water of the lake yourself?
Pro Tip: Lake Louise is buzzing with tourists all day long in the summer months. For a quieter experience, do the activity in the early morning (before the tourists arrive) or early evening (after the majority of them have left).
Duration: 30 mins~1 hour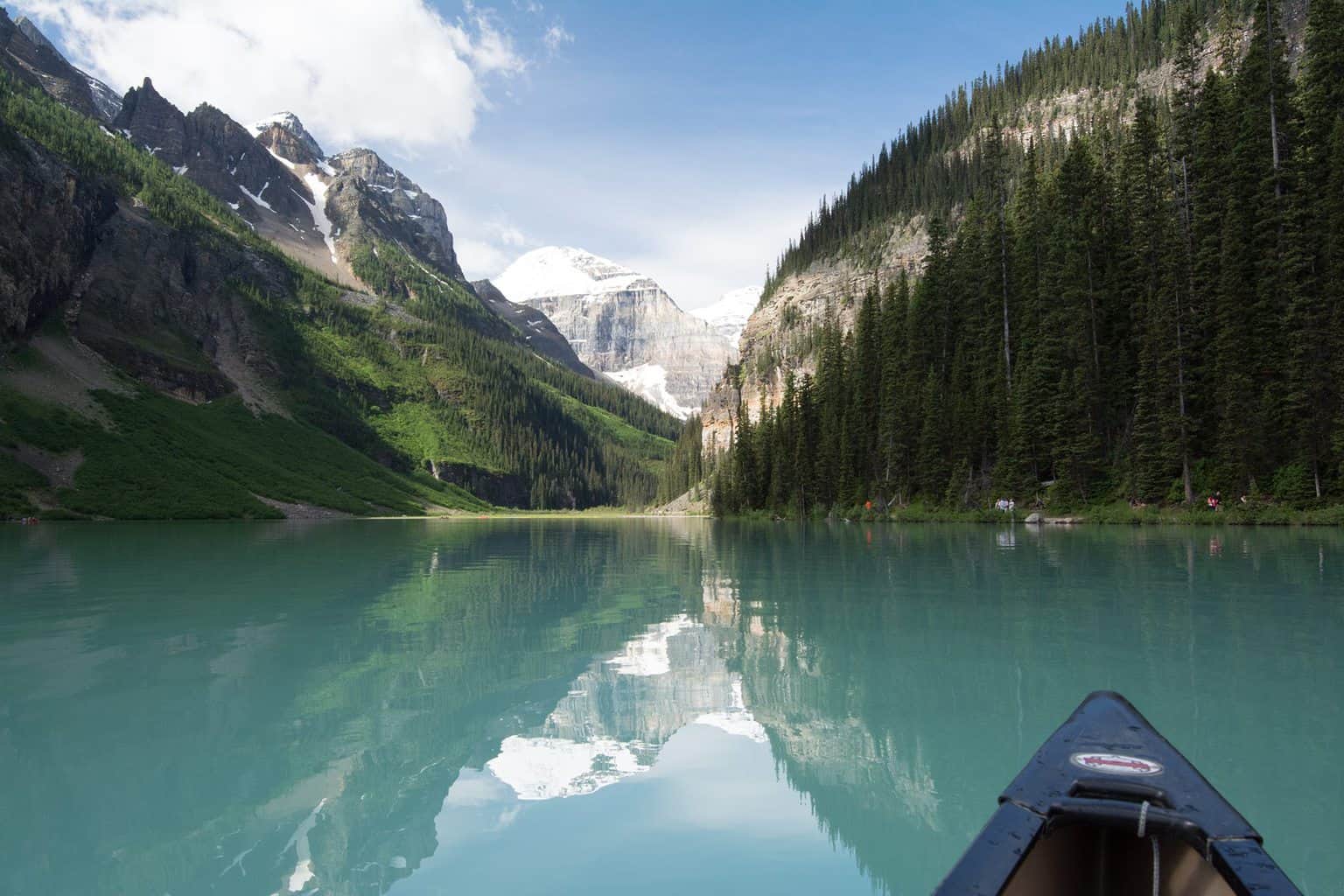 If you'd like to do some hiking and are physically fit, consider challenging the beautiful Plain of Six Glaciers hike!
4| Enjoying afternoon tea at The Chateau
Indulge in the most luxurious afternoon tea experience at the Fairmont Chateau. A standard high tea comes at $43 pp and includes an assortment of tiny savoury sandwiches and an elegant, tiered platter of delectable pastries, served with your choice of tea. On top of that, the lounge overlooks the scenic Lake Louise! Needless to say, the view is magnificent and provides a romantic setting for couples.
Pro tip: Afternoon Tea is served between 12 PM and 2:30 PM. Reservation is highly recommended.
Duration: 1 hour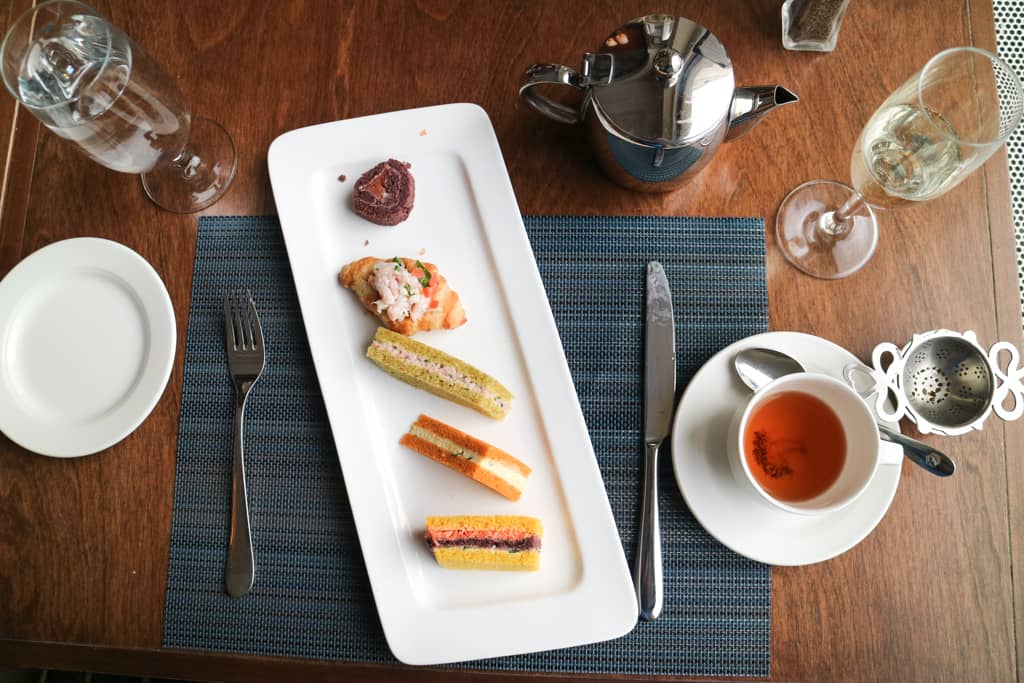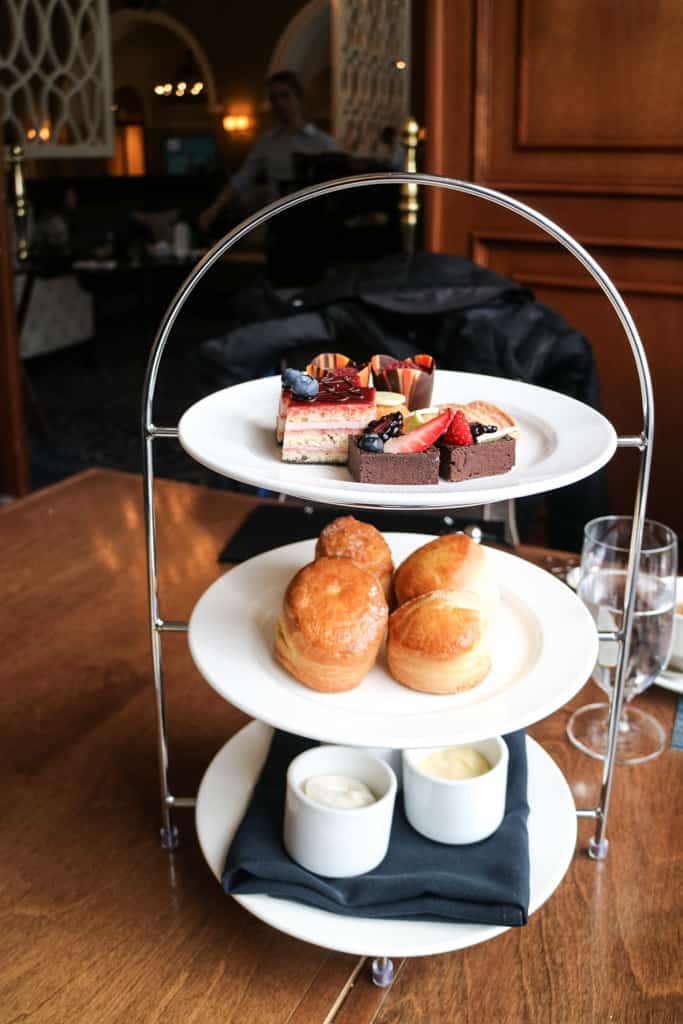 5| Capturing the 20-dollar view of Moraine Lake
Only 14 km away from the village of Lake Louise, some may say Moraine Lake is even more scenic than Lake Louise. Nestled in the majestic Valley of The Ten Peaks, Moraine Lake is utterly enchanting with rugged snow-capped peaks and surreal blue water. It is in fact one of the most photographed scenes in Canada and was featured on the back of the Canadian 20-dollar note issued between 1969 and 1979.
To get the best view of the Moraine Lake, hike up the Rockpile Trail (roughly 300 m) to a spectacular viewpoint. The sight of the astonishingly azure lake, enveloped by beautiful glacier mountains, will truly take our breath away!
Below is a picture of Moraine Lake captured by my friend, Chris Uyeda. Isn't it picture perfect?
Pro Tip: The road to Moraine Lake is blocked by snow in winter and is only accessible from June through September. To avoid the crowd, come during mid-week and before 10 am or after 5 pm.
Duration: 40 mins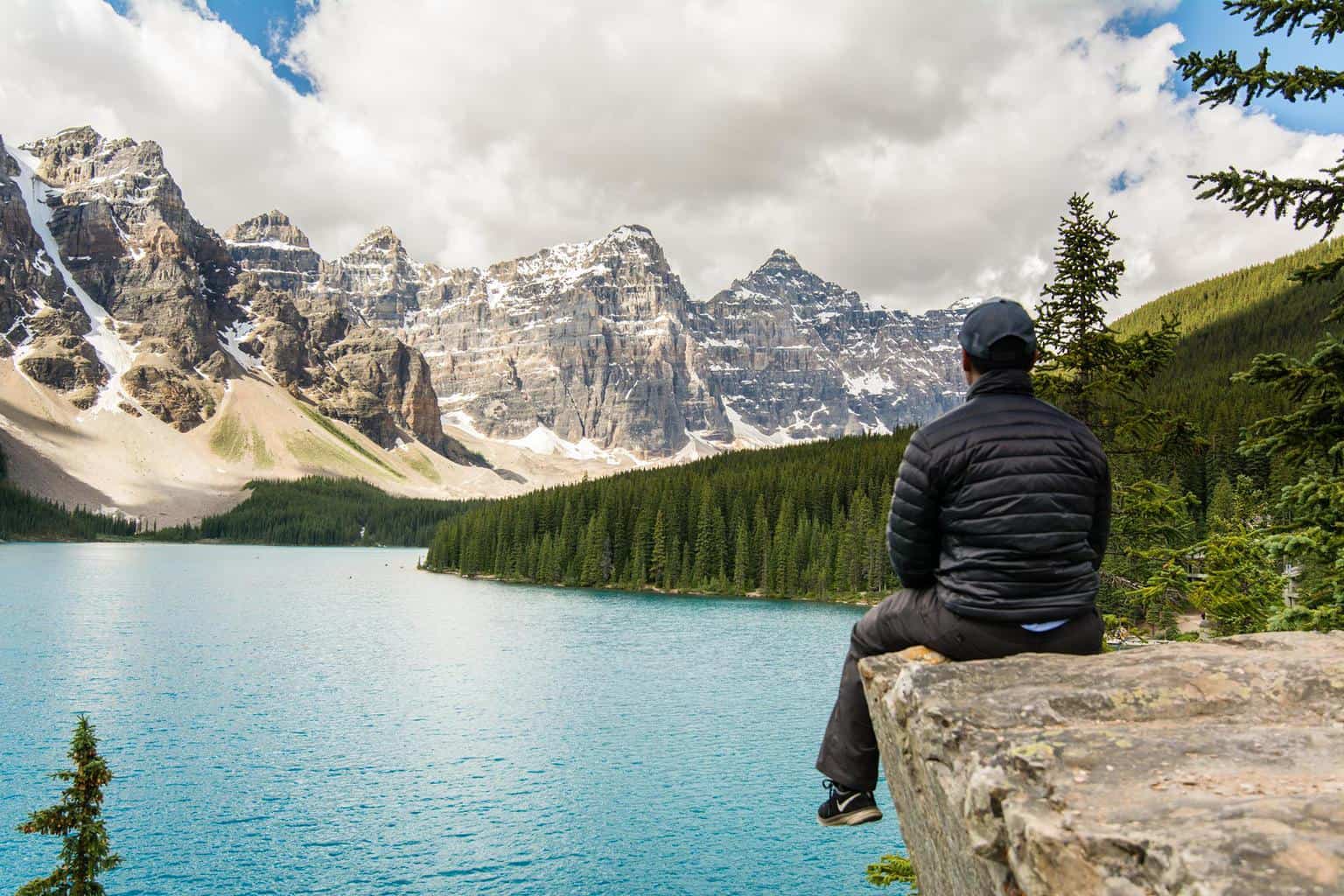 ---
Lake Louise offers a wealth of exciting activities to keep you entertained. Although autumn has already arrived, it is not too late to enjoy the activities listed above. Lake Louise gondola and Moraine Lake will remain open until earlu October. It's your chance to get the last blast of summer at Lake Louise, a UNESCO World Heritage Site!
Planning to visit in winter instead? Check out my winter adventure for inspiration on what you can do when Lake Louise turns into a winter wonderland!
If you have more time in the Canadian Rockies, don't miss the opportunities to explore more of Banff, a highlight of Southern Alberta, or even travel to the nearby Jasper National Park!
[one_half]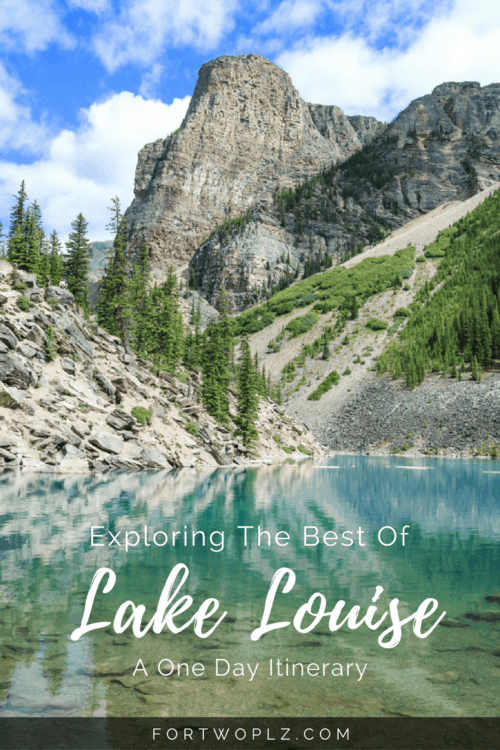 [/one_half]
[one_half]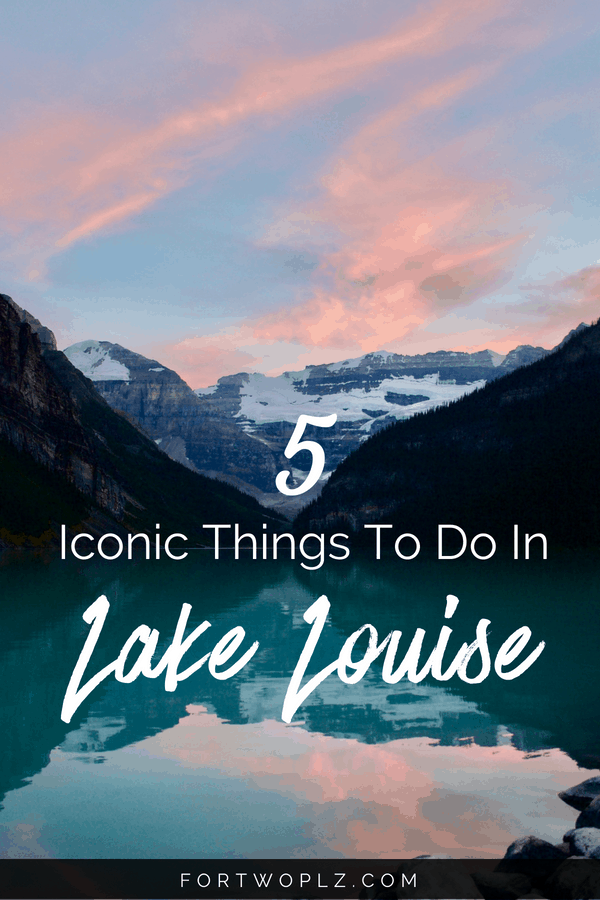 [/one_half]