This site uses affiliate links and we may earn a small commission when you use our links and make a purchase without incurring additional fee yourself. Many thanks for supporting this website. Please see our disclosure page for more details.
Many people know Alberta because of the magnificent Canadian Rockies. I'm sure you've seen pictures of the awe-inspiring mountain views, sparkling blue lakes and towering waterfalls. Canadian Rockies are probably the most photographed and visited mountains in the world, and for good reason. But Alberta is so much more than that. Traveling east will take you to the mysterious Canadian Badlands, a region with otherworldly coulee landscapes and hoodoo rock formations, rich deposits of dinosaur fossils, and significant coal and gas resources. It has some of Alberta's most unique attractions and is considered the ideal place for the ultimate road trip!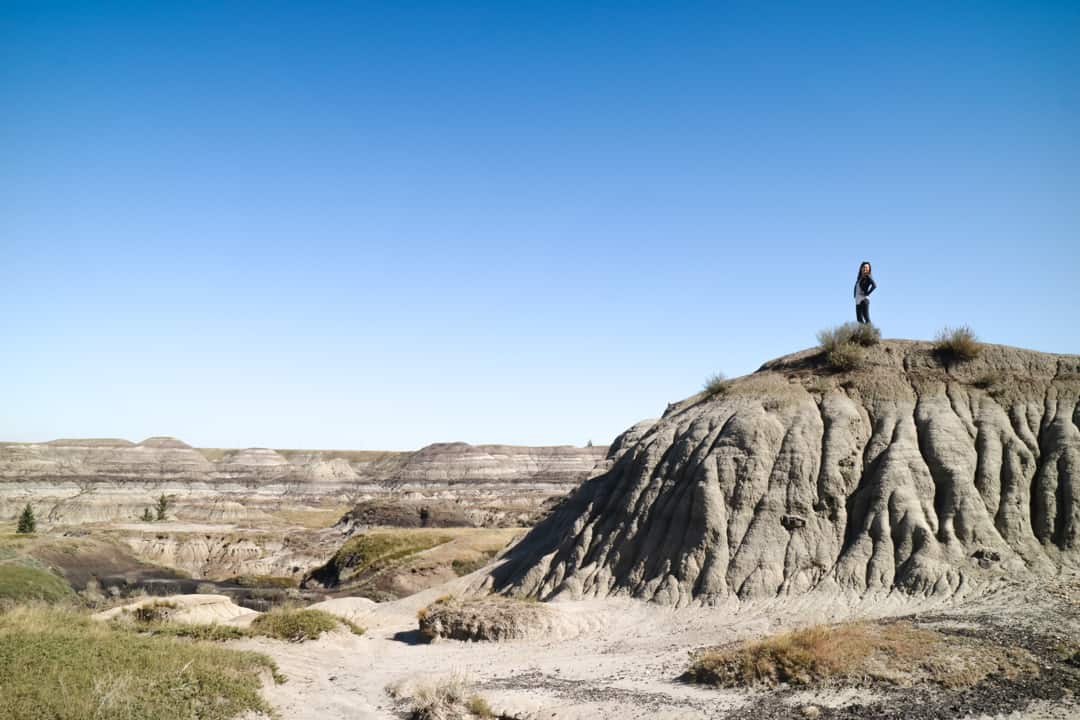 Earlier this month, we teamed up with Ford Canada to embark on an action-packed road trip to the Canadian Badlands. We were incredibly grateful for the opportunity to go behind the wheels in 2017 Ford Escape Titanium and set off on a 48-hour journey into Canada's "Wild West." Starting from Calgary, we ventured into Drumheller (Dinosaur Capital of the World), East Coulee (a once-booming coal mining town), and Dinosaur Provincial Park (a UNESCO world heritage site).
In today's post, I will be highlighting the best things to do and eat in Drumheller, along with our favourite features of 2017 Ford Escape that made our road trip even more fun and enjoyable! Sounds good? Let's begin the adventure!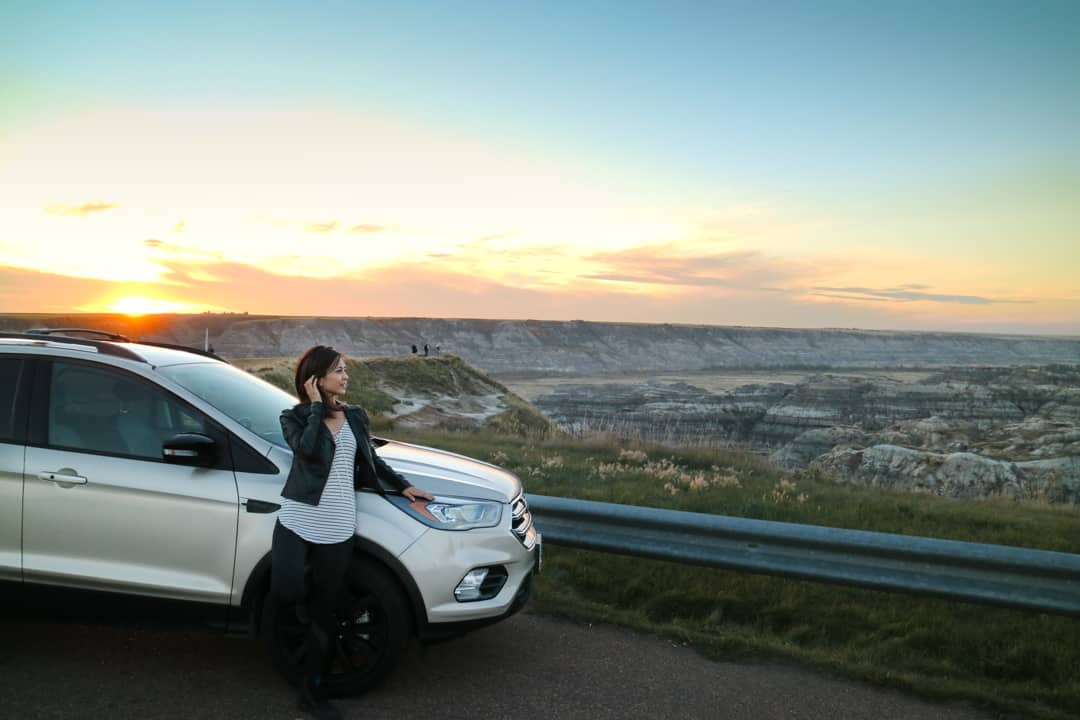 Kick-starting our adventure with 2017 Ford Escape
Before we take off, let me introduce you to our travel companion – 2017 Ford Escape Titanium. It is not just an ordinary Titanium model, but one with a sleeker and meaner look. Dressed to impress with the new Sport Appearance Package, this Titanium features striking black exterior accents and partial leather-trimmed sport seats with contrast stitching.
One of the most important things while we're out and about is staying connected. We were impressed with Ford's SYNC 3 connectivity platform, which enabled us to mirror features from our phone onto the 8″ touchscreen of the vehicle. Once we were connected with Apple Carplay or Android Auto, we were able to access apps to make calls, listen and reply to messages, play music, and get turn-by-turn navigation via Apple or Google Maps. How convenient is that!
Another cool feature we enjoyed was the SYNC connect technology. After downloading the FordPass app onto iPhone, we could use it to remotely start, lock and unlock, and locate the vehicle, as well as checking fuel level!
Things to do in Drumheller
Alright, time to get down to business. Here is a list of best things to do in Drumheller:
Doing a short morning hike at Horseshoe Canyon
The drive to Drumheller from Calgary is only 90 minutes. On the way there, you will see a great deal of prairie farmland and wide-open spaces. About 17km prior to reaching Drumheller, make a sharp left turn onto Township Rd 284 off Highway 9. Soon after, the landscape will take a very sudden and dramatic change.
An isolated pocket of badlands appears amidst the golden prairie. The scene from the outlook point above Horseshoe Canyon is astounding. Named for its horseshoe shape, the canyon provides an excellent opportunity to experience the mixture of ruggedness and beauty in the badlands. If you are up for an adventure, follow the hiking trails and venture down into the depths of canyon. You will be fascinated with the striking geological formations and the colourfully banded sedimentary rocks.
Pro tip: It can get up to 40°C in the summer. Protect yourself with sunscreen, water, hat and bug spray. If you plan to hike, bring a pair of hiking shoes. It's best to visit in the morning to capture that beautiful sunrise.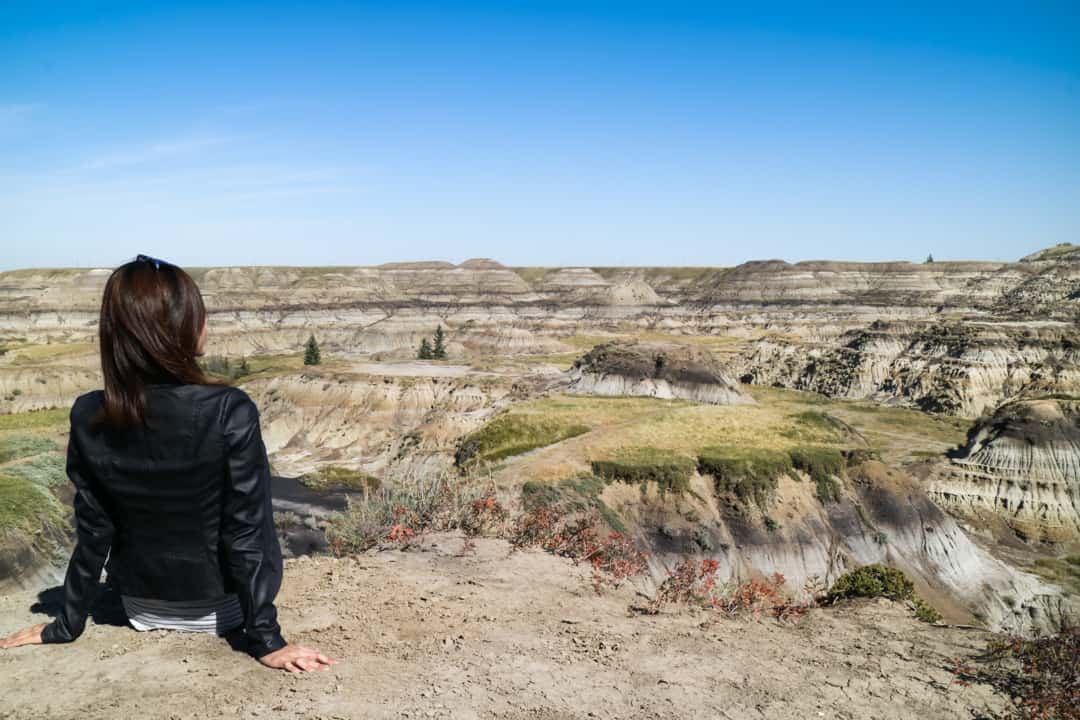 Standing inside the mouth of the World's Largest Dinosaur
Another 15-min drive from Horseshoe Canyon will take you straight into the Town of Drumheller. Make a stop at the World's Largest Dinosaur, a 26m-tall and 46-long T.rex replica that is approximately 4 times larger than the real thing. Climb up the stairs for a small fee ($3+tax) into its mouth for the stunning river valley view!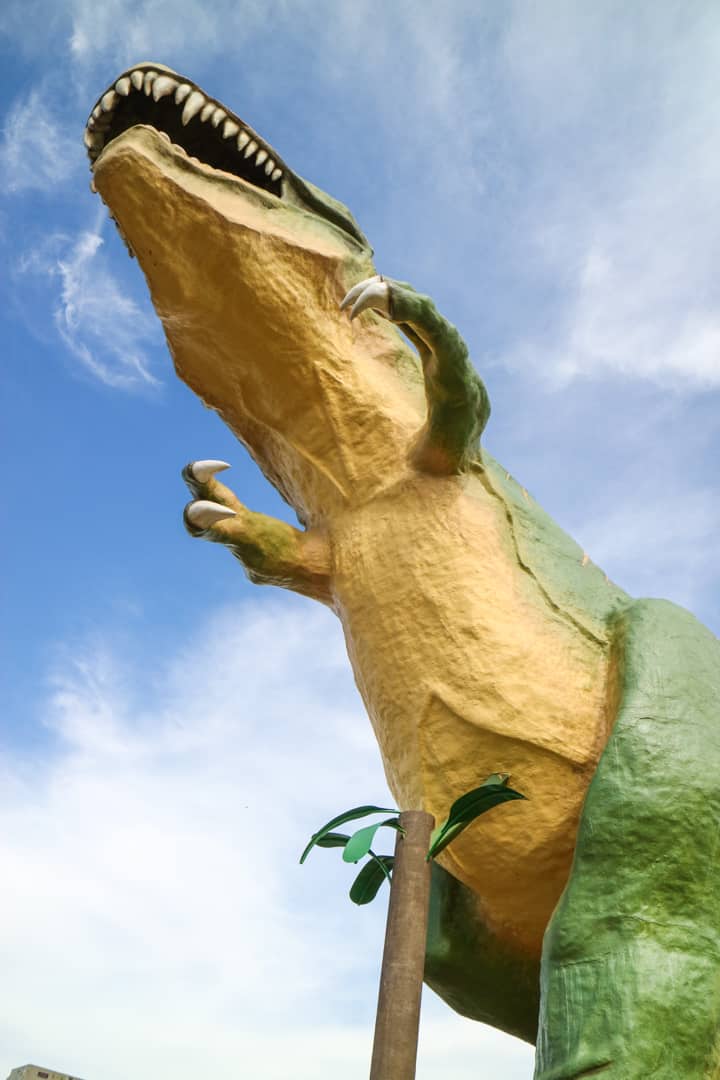 2017 Ford Escape Feature: The Town of Drumheller can get a little congested at times. Our favourite feature while driving in the heavy traffic area is the automatic stop-start technology, which turns the engine off when we're idle at traffic lights and seamlessly restarts it when releasing the brake. An easy way to increase fuel efficiency and reduce CO2 emission!
Uncovering ancient mysteries at Royal Tyrrell Museum of Palaeontology
Want to learn more about the the creatures that roam southern Alberta more than 69 million years ago? Then a visit to the Royal Tyrrell Museum is a must! Not only is it renowned for having one of the world's largest collections of complete dinosaur skeletons, it also serves as a center for palaeontological research and learning. The museum really brings the prehistoric past to life with a collection of over 125,000 fossils, including Albertosaurus, the first dinosaur discovered in the area.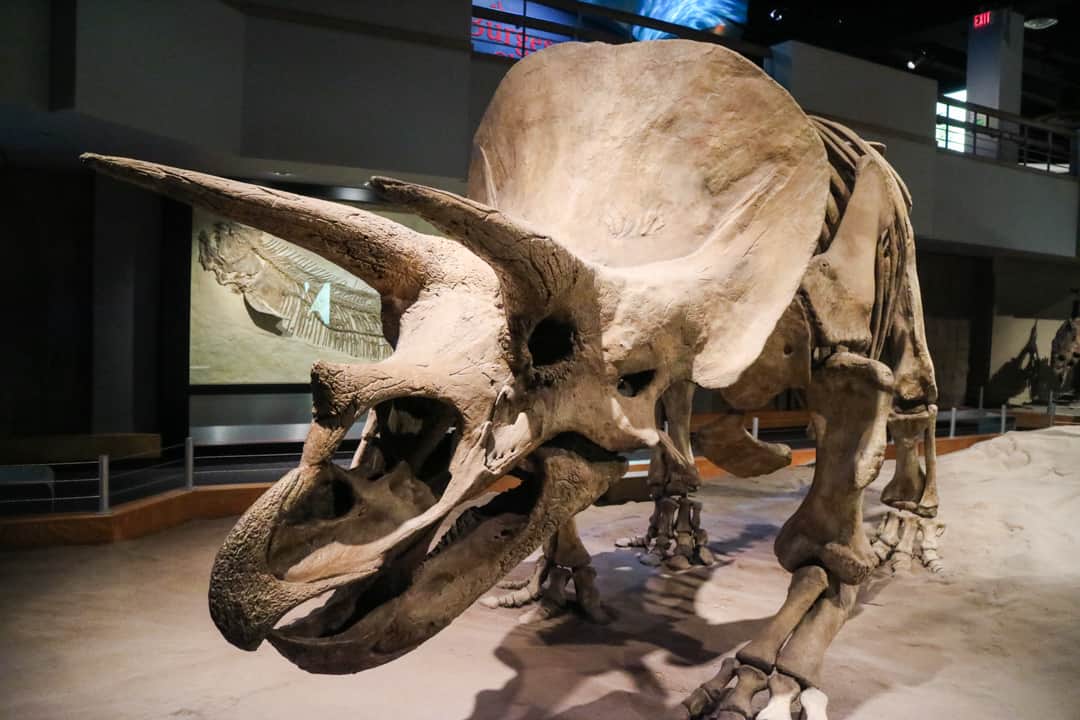 2017 Ford Escape Feature: Parking stalls at the museum are a little tight and parking a SUV can be intimidating. Luckily, the vehicle comes with the blind spot information system which detects traffic behind us when backing out of a parking space. With cross-traffic alert, it perfectly mitigates all blindspots on the vehicle!
Watching sunset at Horsethief Canyon
16 km north of Royal Tyrrell Museum, the North Dinosaur Trail will take you to the breathtaking Horsethief Canyon. The name "Horsethief" comes from the local legend that thieves in the 19th century hid stolen horses in these canyons of the Red Deer River valley, later rebranded and smuggled them to the United States.
Sunset at Horsethief is especially gorgeous with otherworldly landscapes of coulees, hoodoos and river valleys stretched out in front of you.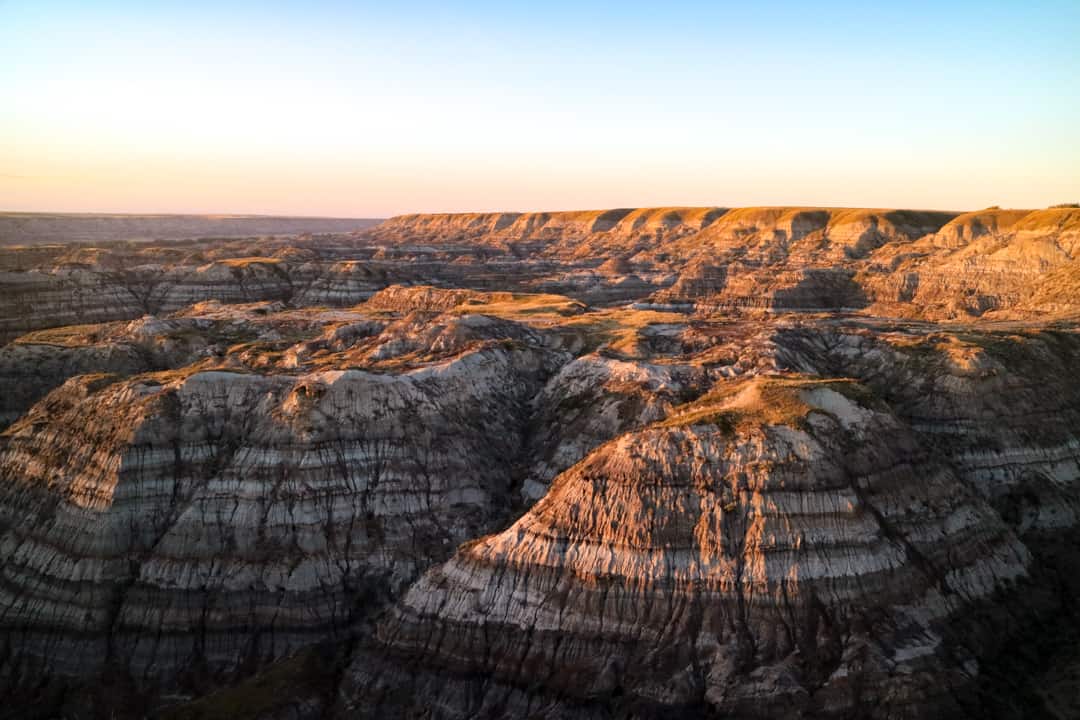 Places to eat in Drumheller
For breakfast, I recommend stopping by WHIFS Flap Jack House. Specializing in waffles, hamburgers, ice Cream, flapjacks and salads, the place is the ideal spot to start the day the old-fashioned way.
For an authentic Vietnamese meal, nothing beats the Vietnamese Noodle House. You can find an assortment of Vietnamese dishes, including salad rolls, spring rolls, pho, vermicelli and rice dishes.
Featured on Food Network's You Gotta Eat Here, Bernie and the Boys is a popular burger joint in the area, best known for the generous portions and 60+ flavours of hand blended milkshakes. Their hearty gourmet burgers and legendary milkshakes are sure to please!
Sublime Food and Wine is great dinner option for fine dining. The restaurant dishes out divine Canadian dishes and offers the best view of the World's Largest Dinosaur when the sun goes down.
---
Our journey to the Canadian Badlands was fun and smooth with the new Ford Escape, which connected us with authentic adventures. The list above sums up most of the fun activities in Drumheller but only highlights the beginning of our great adventure.
For the next post, we will escape the ordinary, explore the mining history of East Coulee, and venture into the rugged badlands of Dinosaur Provincial Park! Stay tuned!
Disclaimer: This post was written in partnership with Ford Canada to promote 2017 Ford Escape. As always, all opinions on For Two, Please are my own and I only recommend products that I 100% stand behind.
Pin it for later!