This site uses affiliate links and we may earn a small commission when you use our links and make a purchase without incurring additional fee yourself. Many thanks for supporting this website. Please see our disclosure page for more details.
Continuing on our Canadian Badlands road trip, we drove 2 hours southeast of Drumheller to Dinosaur Provincial Park and started a journey back in time to explore the world of dinosaurs. On the way, we stopped by East Coulee, which was once a thriving coal mining town with a population of over 3000. Hearing the tales of the miners, we saw the wild history of coal mining brought to light. Standing amidst the vast and remarkable landscape and being surrounded by exposed layers of rock formations, we started to imagine what the place looked like 69 millions ago when dinosaurs inhabited. Now, let me take you through this adventure in 2017 Ford Escape and unlock the secrets hidden in the Canadian Badlands.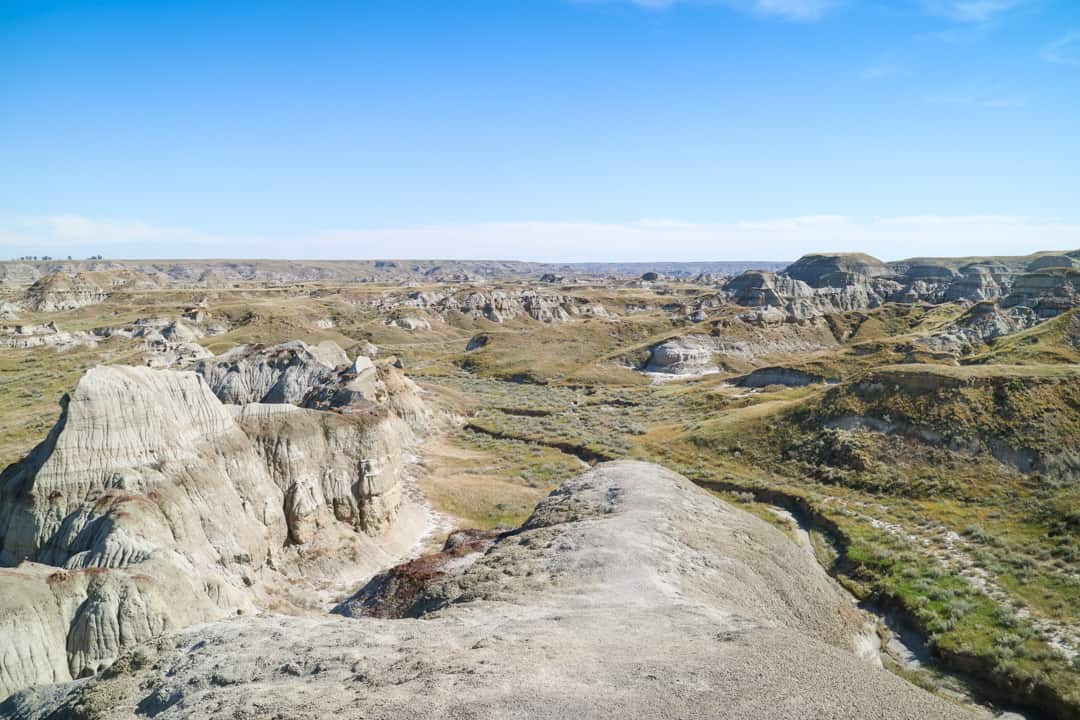 Hitting the road with 2017 Ford Escape
Open the moonroof, turn up volume, it's time to get gone! We were so glad that the good weather held out during our trip. Soaking up rays of sun as the sun shined down through the panorama vista moonroof and listening to our favourite tunes on the 10-speaker Sony audio system, it was a relaxing sanctuary to cruise down the roads in 2017 Ford Escape. Even better, the vehicle came equipped with acoustic noise-reducing windshield, making the cabin exceptionally quiet!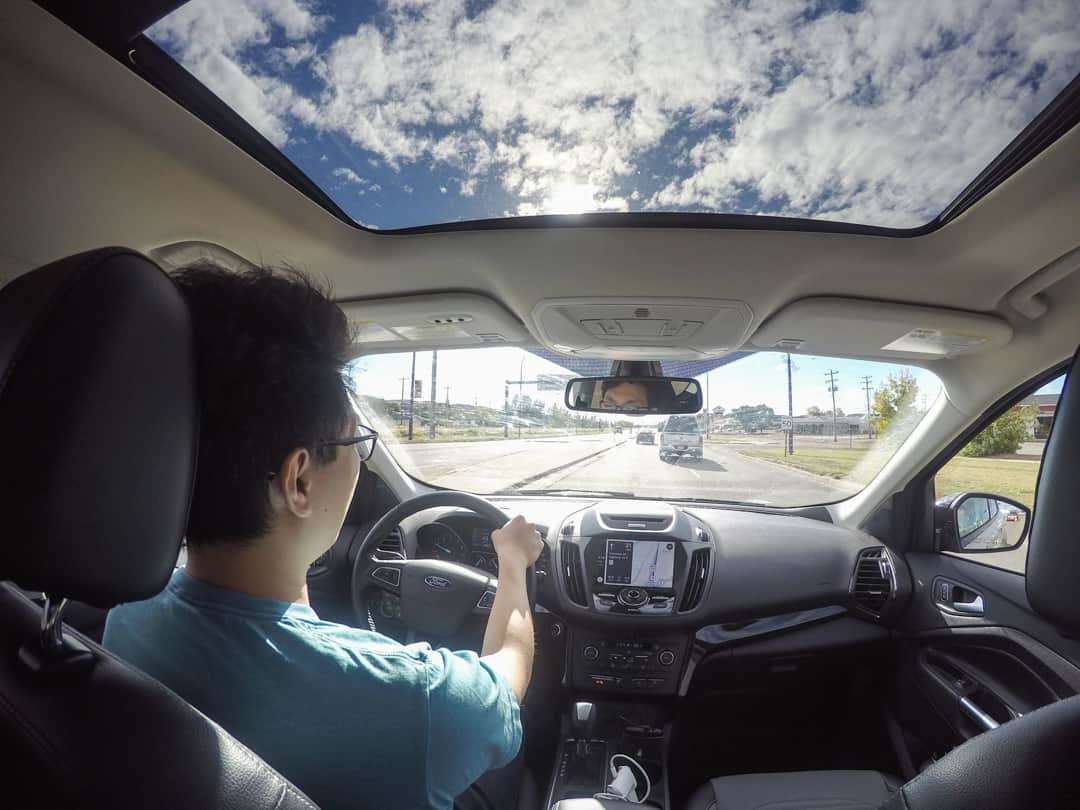 Must-see attractions in and around East Coulee
The route from Drumheller to East Coulee is a short one. Drive along the Red Deer River and you will encounter a few historical landmarks:
Star Mine Suspension Bridge
Constructed in 1931, the bridge was originally built for the coal workers to reach the Star Mine across the Red Deer River. Now, the 117-m long pedestrian suspension bridge is a popular sight-seeing spot. Across the suspension bridge over the Red Deer River, a myriad of trails leads to the great badlands terrain through property of the long-abandoned Star Mine. On the river bank, locals often gather there for fishing!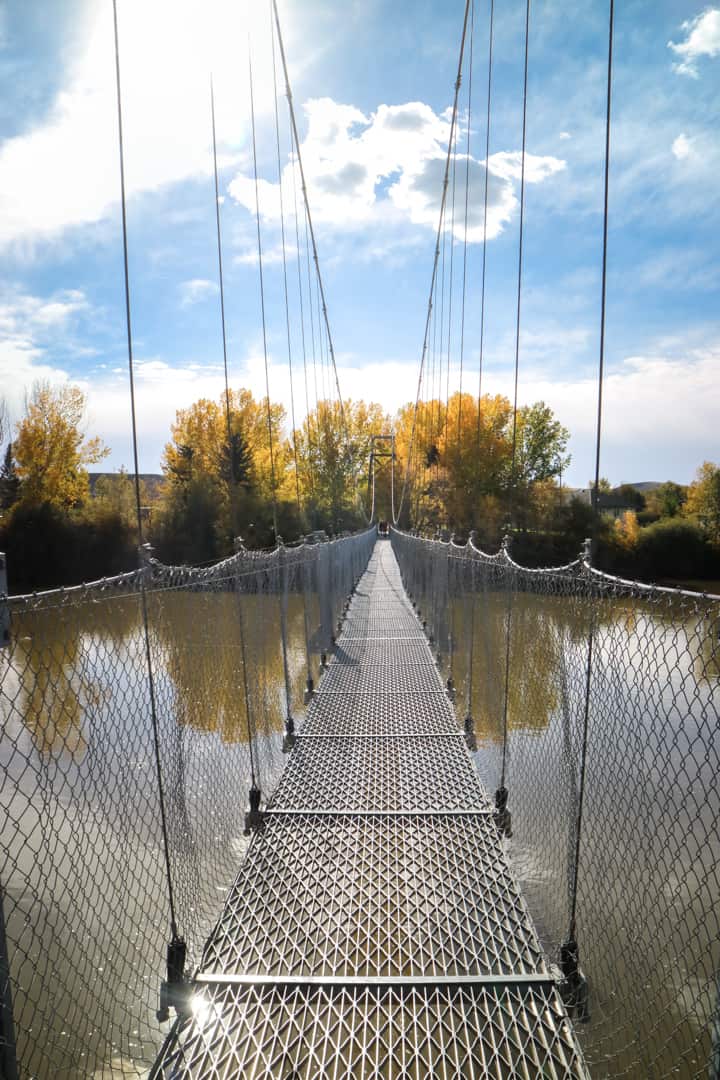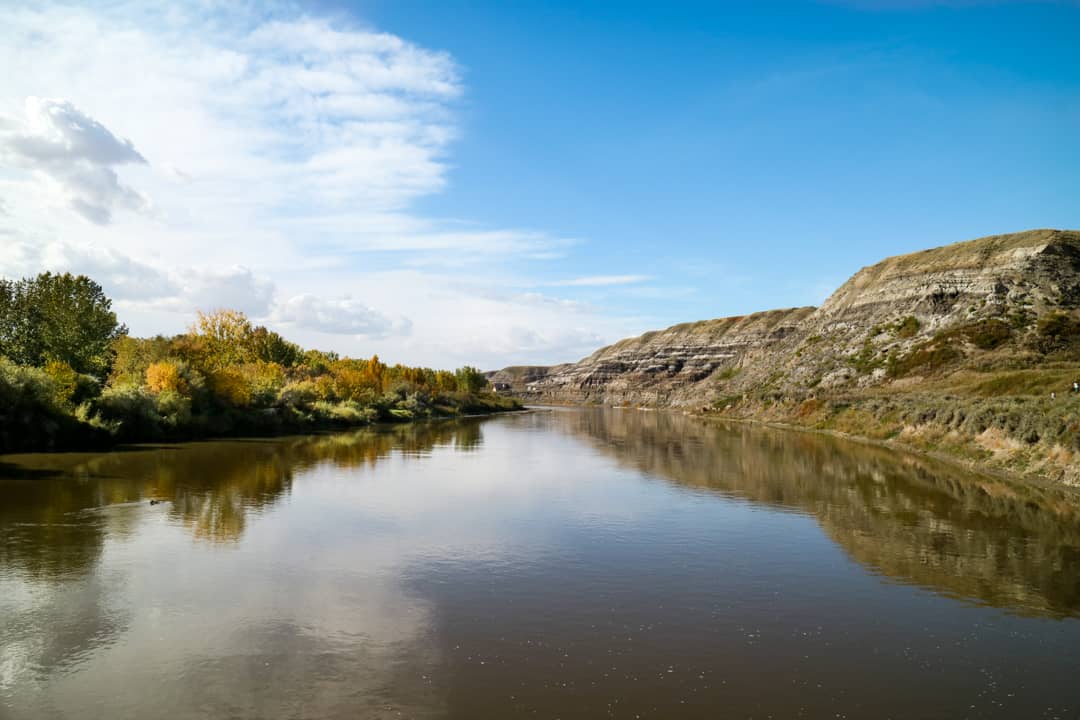 Hoodoo Trail
'Hoodoos' are tall rock pillars consisted of relatively soft sedimentary rock topped by harder, less easily eroded stone. Shaped like mushrooms, they are internationally recognized icon of the Canadian badlands. The Hoodoo Trail is a scenic loop that gives you a chance to explore the hoodoos up close and personal. Also, it is the perfect location to get a selfie with the hoodoos! Various stations with information signs are staged along the trail, providing more details on the area, history and local geography.
Atlas Coal Mine
In the early decades of the 20th century, a chunk of the money flowing into energy markets went towards coal. At that time, it was discovered that the hills just outside Drumheller contained rich coal reserves. Exploration for viable coal mining deposits began in the region. Many immigrants flocked to nearby communities, including East Coulee, in search of work and population in these towns soared. Could you believe that at the heights of boom, 139 mines were operating in the Drumheller Valley?!
Starting from 1950s, people started shifting from coal to natural gas as a heating fuel. The demand for coal began to reduce, resulting in the closure of many Drumheller area mines. The Atlas Mine remained open until 1979 and was one of the last mines to be shut down in the region.
Designated a National Historic Site in 2002, the Atlas Coal Mine takes you through the everyday life of a coal miner in a uniquely authentic way. You can join guided tours to explore the original mine buildings, hike up the inclined conveyer tunnel to the mine entry, or even climb to the top of the eight-storey-high wooden coal tipple!
Pro Tip: There are so many different ways to tour the site. If you have a few hours to spare and can't decide which tours to take, I highly recommend buying a day pass ($40)!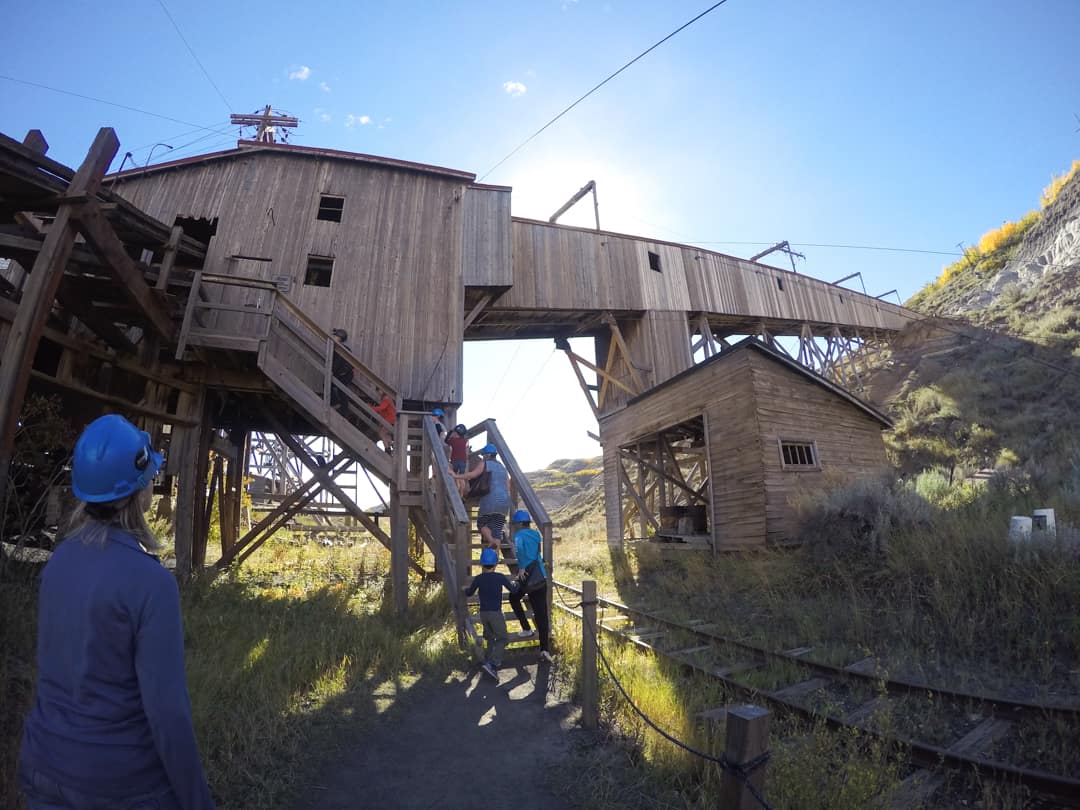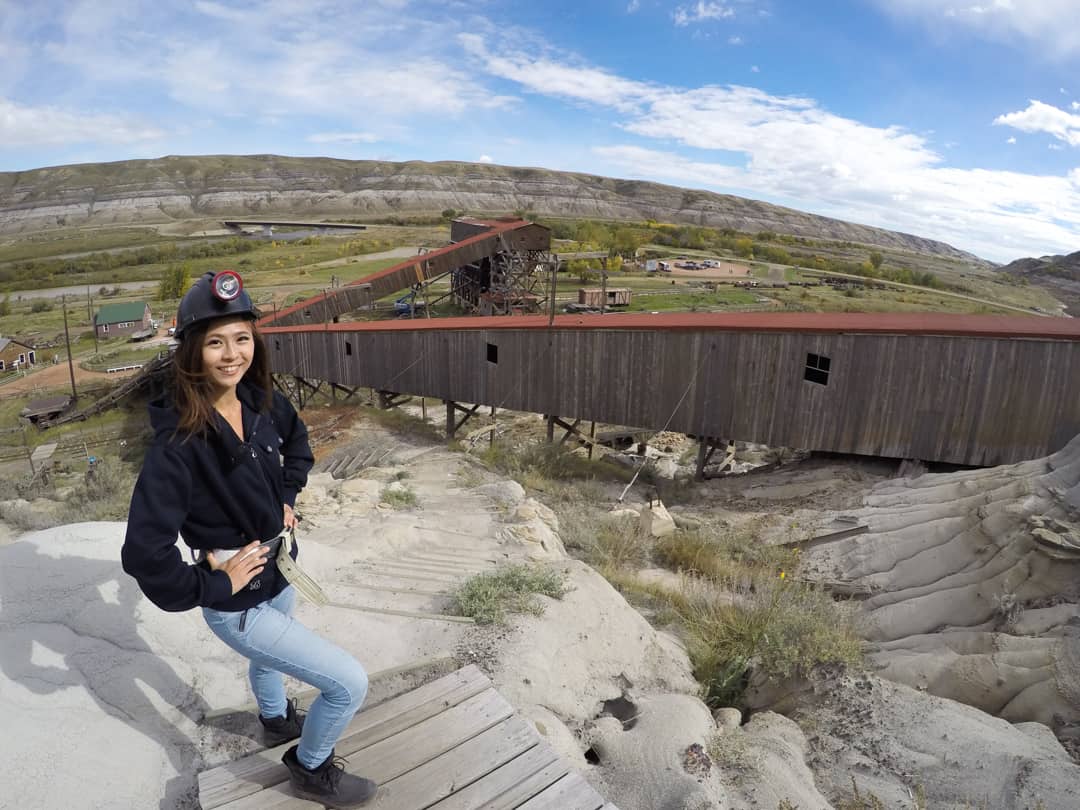 East Coulee School Museum
A quick visit to East Coulee School Museum can give you a better picture of what life was like in a coal town. The museum, once an 11-room school built for the coal mining families of East Coulee, walks you through the history of the miners and their families from 1930 to 1959.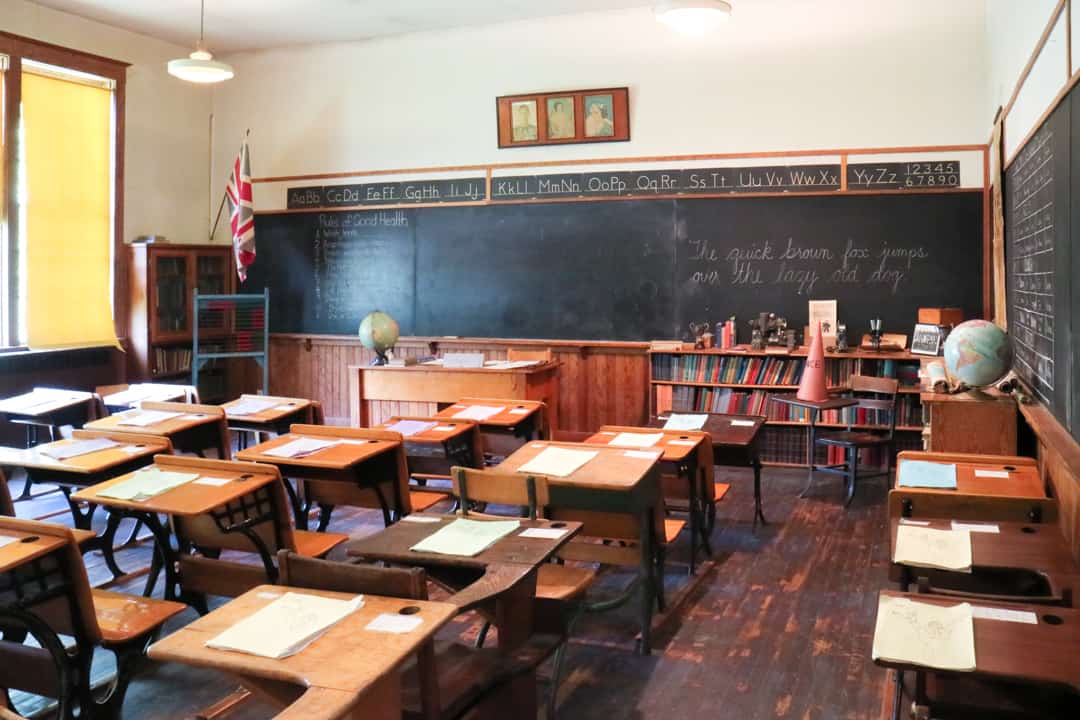 2017 Ford Escape feature: The 1.5-hour drive from East Coulee to Dinosaur Provincial Park took us through wide open prairies. Of all the newest features, perhaps none is more convenient than adaptive cruise control when driving on the open road. The feature let us select the speed and distance we wanted to maintain from the vehicle in front of us. When traffic ahead slowed down, we automatically slowed down, and resumed the preset speed when traffic picked back up.
With adaptive cruise control, we didn't have to worry too much about potential collision. It is coupled with collision warning with brake support to alert us of an impending collision with the vehicle ahead. If it detects the imminent collision, the brakes would precharge and increase sensitivity for maximum stopping power. What an incredible safety feature!
Dinosaur Provincial Park, a UNESCO World Heritage Site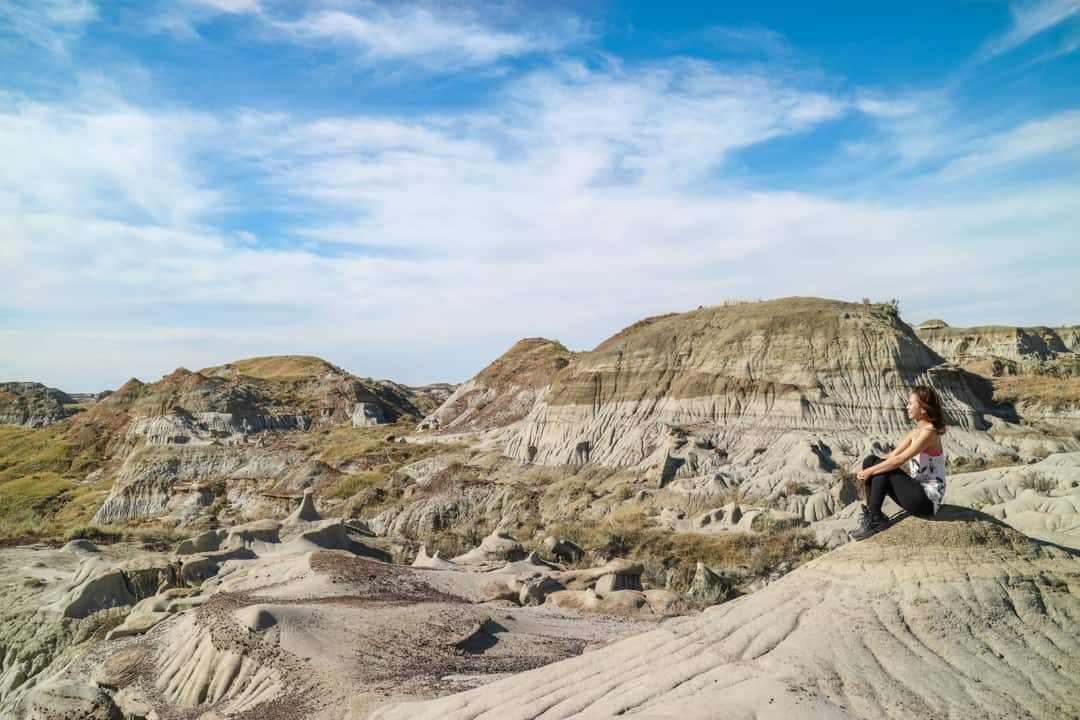 A trip to the Canadian Badlands is not complete without visiting Dinosaur Provincial Park. Noted for its striking badland topography and highest concentration of Cretaceous fossils in the world, Dinosaur Provincial Park not only is home to the Tyrrell Museum Field Station, but has also been designated a UNESCO World Heritage Site. It is an ideal place to view the fascinating geology and delve into ancient history.
The park offers a variety of interpretive tour programs for visitors of all ages. For an educational, enriching experience, I highly recommend joining the Centrosaurus Quarry Hike (2.75 hours, $18), which takes you into the park's Natural Preserve to a former dig site that contains the remains of hundreds of horned dinosaurs!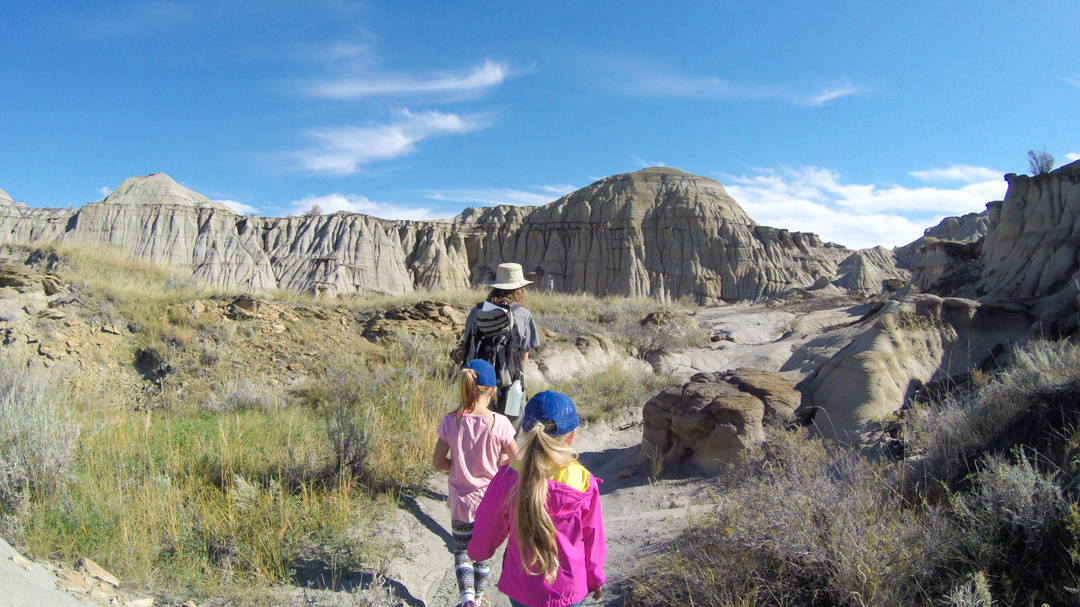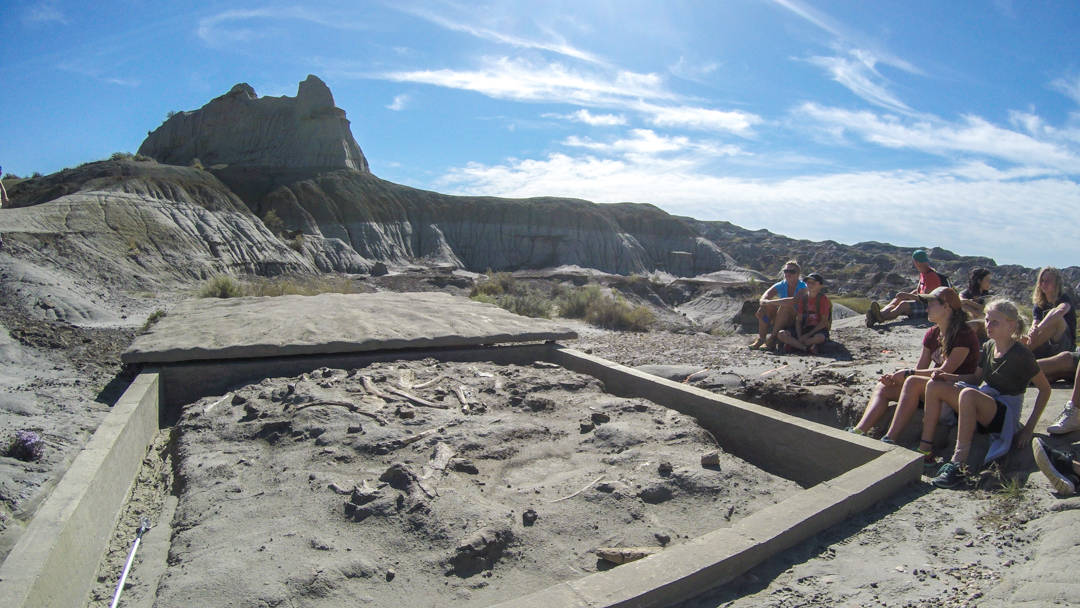 [bctt tweet="Trip to Canadian Badlands isn't complete without a visit to Dinosaur Provincial Park! @Albertaparks #explorealberta" username="fortwoplz"]
2017 Ford Escape feature: The area went pitch black as night fell in the badlands. There was no street lights on the highway, but we were not worried. The HID headlamps on the 2017 Ford Escape Titanium improved visibility of our path by offering crisp, white illumination of the road. Along with the adaptive cornering function, the headlamps turned with the direction of the steering wheel, giving us a better view of what's ahead. Speaking of steering wheel, the vehicle comes equipped with heated steering wheel to make driving on a cold day more enjoyable.
For many of us, an abundance of trunk space is an essential quality. The new Ford Escape offers tons of space in the back with the rear seat folded, perfect for road adventures. And its hands-free, foot-activated power liftgate makes accessing that space so simple. With our arms full and our Intelligent Access key in a pocket, we only needed to kick our foot underneath the rear bumper and the liftgate automatically opened. How convenient!
---
Our Canadian Badlands adventure couldn't be better without 2017 Ford Escape! Its inviting interior and advanced technology features made our travel so fun and smooth. We enjoyed every minute of our time in the badlands and I hope you enjoy reading about it! I wish these photos inspire you to visit Drumheller, East Coulee and Dinosaur provincial Park soon! It is truly a natural wonder.
Disclaimer: This post was sponsored by Ford Canada to promote 2017 Ford Escape. As always, all opinions on For Two, Please are my own and I only recommend products that I 100% stand behind.
Pin it for later!
[one_half]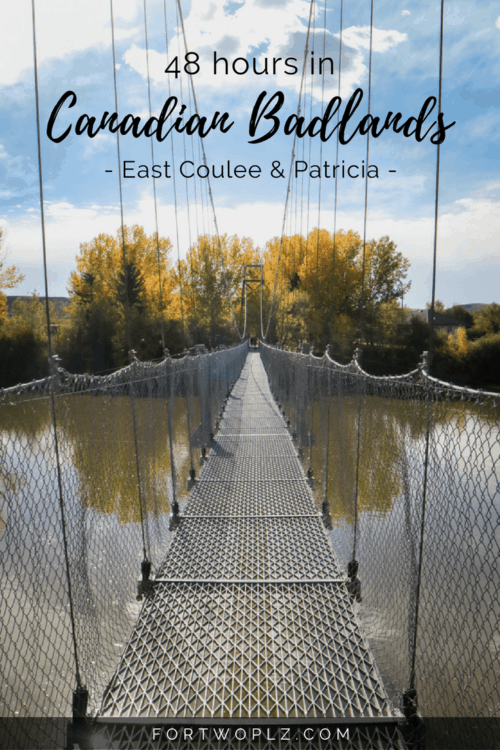 [/one_half]
[one_half]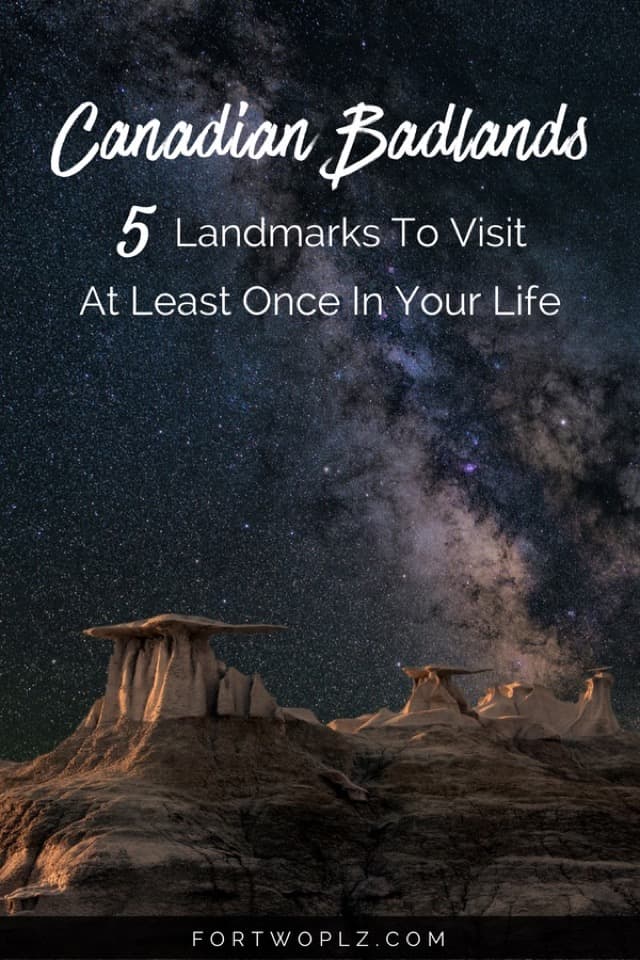 [/one_half]