This site uses affiliate links and we may earn a small commission when you use our links and make a purchase without incurring additional fee yourself. Many thanks for supporting this website. Please see our disclosure page for more details.
Why hunt for the best afternoon tea when you can receive true royal treatment at Fairmont? In celebration of the Royal Family's recent visit to Canada, Fairmont Hotels & Resorts collaborates with Chef Darren McGrady to launch the special Royal Champagne Afternoon Tea menu, featuring authentic, beloved recipes enjoyed by the royal family. Last week, I was honoured to join Fairmont Palliser for an exclusive preview of the royalty inspired menu. Sampling a delicious array of tempting treats in the historic splendour of the lounge, the afternoon tea left me feeling like a queen. Today, I am truly excited to share with you this once-in-a-lifetime experience that can't be missed!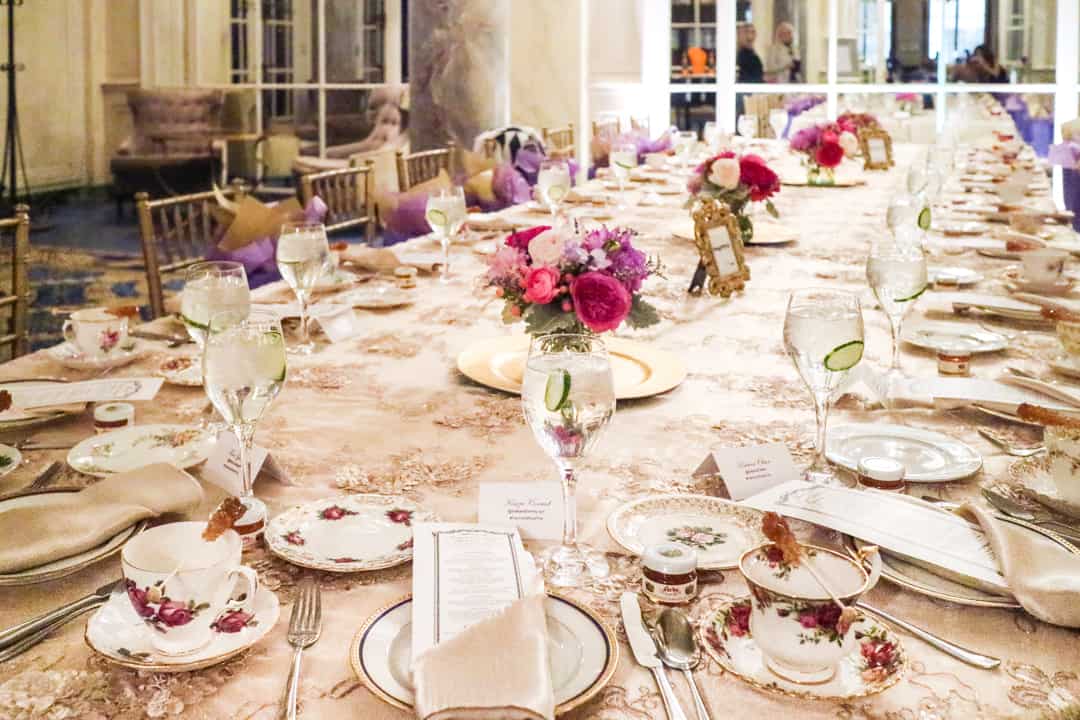 About Chef Darren McGardy
I know you're eager to take a peek at the offerings, but before we dive in, I'd like to introduce you to a very important person who makes all this possible – Chef Darren McGrady. Serving Queen Elizabeth II, Princess Diana, and Princes' William and Harry for 15 years, no one is more suitable than Chef McGrady to design a royal-themed menu inspired by the royal family's classic favorites.
So, what was his role in the royal kitchens?
Chef McGrady started serving the royal family in 1982 and for 11 years, he cooked for the Queen, the Duke of Edinburgh and many visiting dignitaries and royalty at Buckingham Palace. He also spent much of his time traveling with the royal family around the world.
From 1993-1997, he worked as a private chef to Princess Diana at Kensington Palace. His responsibilities included taking care of Princess Diana's, William and Harry's daily menus, as well as catering many events.
Now, Chef McGrady is based in Dallas, Texas and concentrates on his own personal chef business, Eating Royally.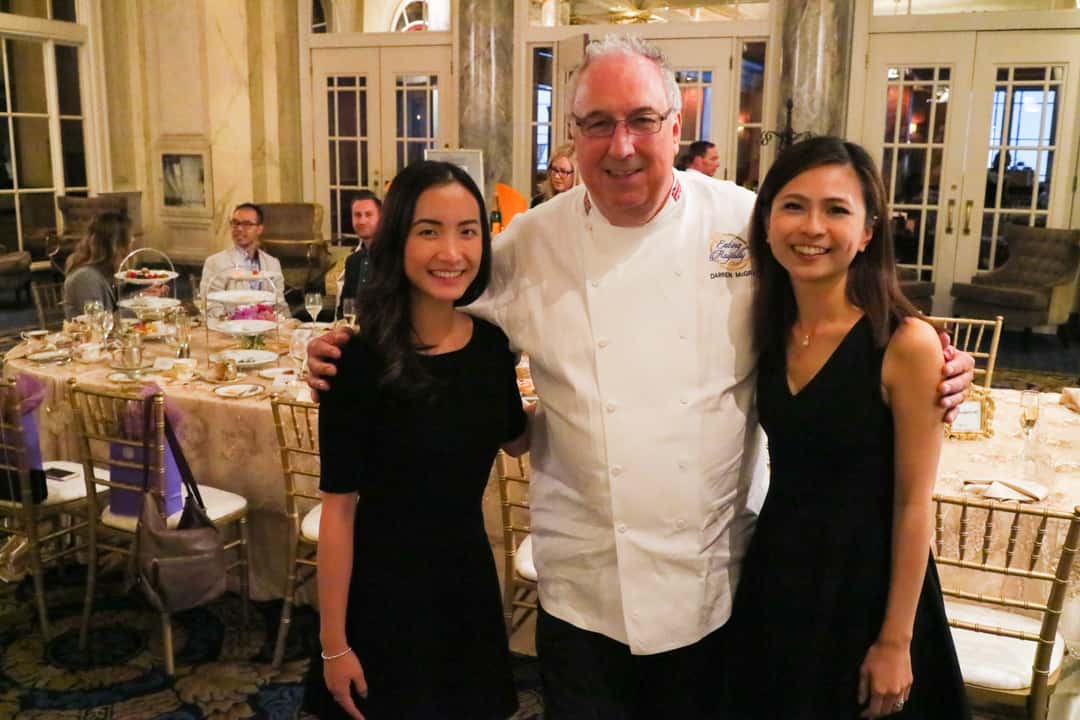 The Royal Champagne Afternoon Tea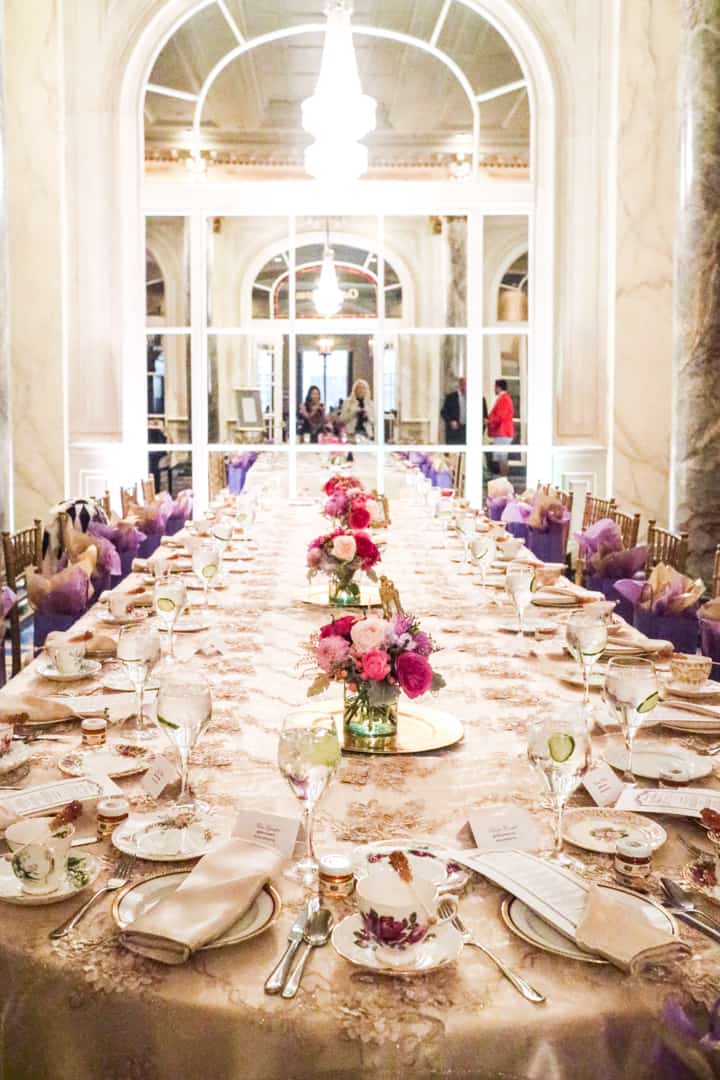 Want to know what are Her Majesty's favourites? Princess Diana's favourite sandwich? Or Prince William's grooms cake? Then you're at the right place!
Each and every one of the sweet and savoury options from the Royal Champagne Afternoon Tea has a story. Hearing Chef McGrady tell the stories satisfied my curiosity about the royal family. And it really showed how much efforts he has put into designing the menu so that we could all have an exceptional experience.
Now, let me walk you through this special afternoon tea and the fascinating stories behind the treats!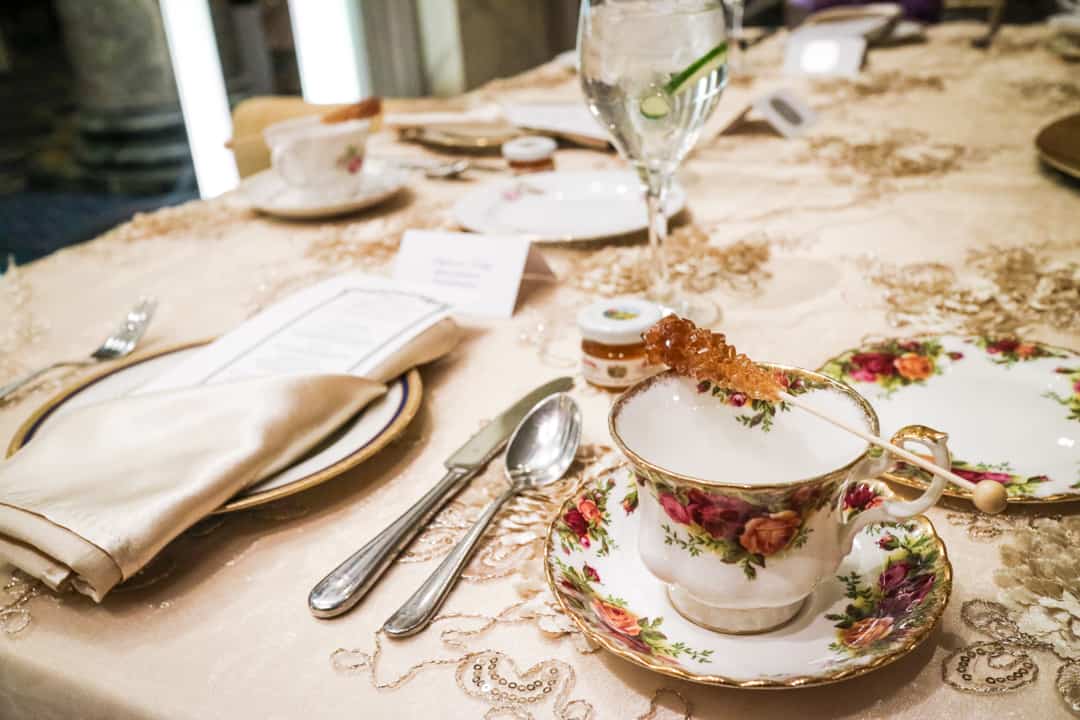 [bctt tweet="Pamper yourself w/ a royal afternoon tea @Fairmont_PAL! @DarrenMcGrady #fairmontroyaltea #yyc" username="fortwoplz"]
Champagne
Grab a glass of Veuve Clicquot Ponsardin Brut N/V France and feel regal! This crisp, dry wine amazed me with fruity notes and aromas of brioche and vanilla. It was a great wine to kickstart the meal as the flavour really ravished the palate!
Sandwiches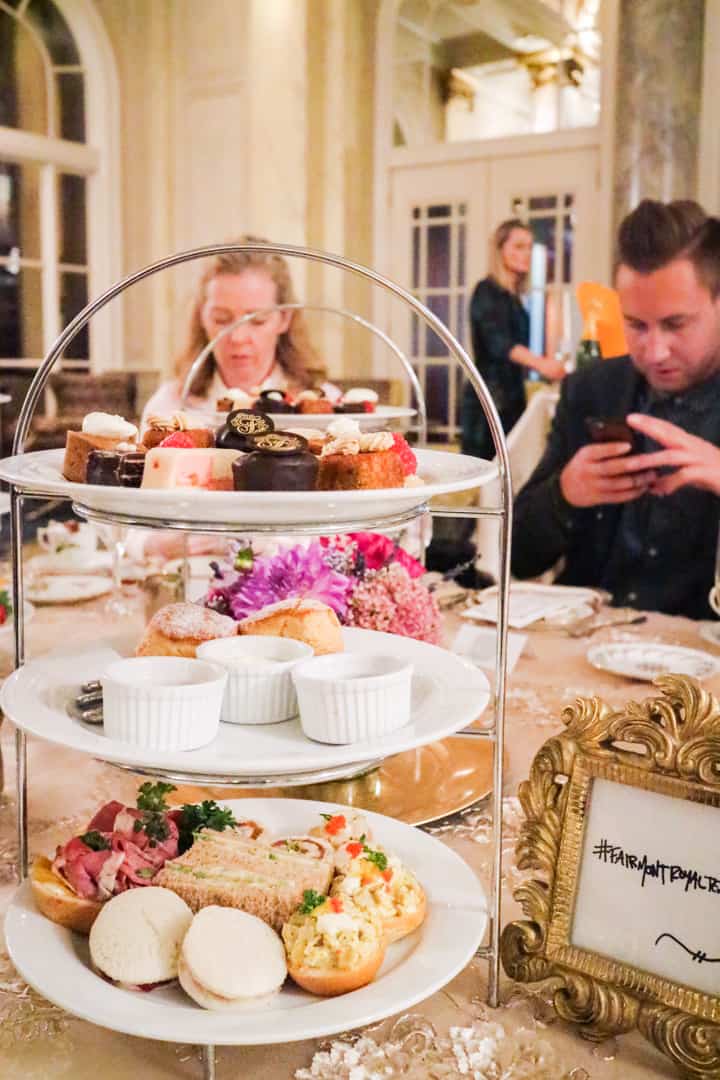 Dainty finger sandwiches, scrumptious scones and delicate sweet treats. The three-tier curate stand was filled with sweet and savoury delights. EVERYTHING looked heavenly, which made it really difficult for me to decide where to start!!
As Chef McGrady pointed out that sandwiches should be eaten first, followed by the sweets, I decided to act proper and follow the etiquette. Alright, time to savour the sandwiches!
Atlantic Salmon Gravadlax with Suèdoise Sauce: This is one of the most popular sandwiches served at Balmoral Castle where so much fresh salmon was caught by members of the royal family that they cured their own gravadlax for canapés and tea sandwiches. It is also my favourite of all!
Sage Derby with Tomato: Sage Derby is one of Britain's oldest cheeses and often on Buckingham Palace garden party menus when tomatoes were in abundance.
Coronation Chicken with Mayonnaise Brioche: Bridge rolls were a favourite of Queen Elizabeth, the Queen Mother. Coronation chicken has been on the palace menu since 1952 and Queen Elizabeth II coronation.
Roast Beef with Golden Beetroot & Horseradish Crème Fraîche: Princess Diana loved healthy beets and the combination of the beef and horseradish with them.
Potted Shrimp with Warm Melba Toast: This is a Balmoral Castle treat for the fall. Seasoned butter and the ramkins of potted brown shrimp are in a perfect balance and are melt-in-your-mouth addicting!
Jam Pennies: This is a favourite sandwich of Queen Elizabeth II and her sister Princess Margaret when they were growing up in the royal nursery. Still on the royal tea menu today, it is the only sandwich that is served round – cut into a circle the size of the old English penny.
Pastries
By the time I finished the sandwiches, I was pretty full. Yet, it was too early to give up because the sweets just looked SO tempting and irresistible.
Scones with Clotted Cream & Fraise des Bois Compote: Scones were the only teacake that appeared on the royal menu everyday. Alternating between plain one day with raisin the next. They made the fraise de bois compote with berries picked from the Balmoral Castle gardens and it lasted the rest of the year for the other royal residences. It tasted fabulously light and fluffy – completely blew my mind!
Vanilla Bean Shortbread: A favourite of Lady Sarah Armstrong Jones, Princess Margaret's daughter. Chef McGrady would make a dozen large ones for her to take back to college with her when she visited The Queen.
Raspberry Tartlets with Lemon Cheese: This is a popular tea pastry served in Scotland, especially when The Queen and princess Margaret had been raspberry picking.
Earl Grey Fruitcake: A favourite of Prince Philip. He enjoyed this cake with soft salted butter.
Chocolate Biscuit Cake: Her Majesty would have one large cake that she could cut into herself everyday. Sometimes a fruitcake, other times a ginger cake, lemon sponge cake, or something similar. The chocolate biscuit cake was her favourite and the only "cut cake" that she requested the following day and the next, until it had all gone. It is also Prince William's favourite cake too. So much so that he chose the recipe as his grooms cake when he married.
Caramel Banana Cake: A popular recipe made at Kensington Palace for Princes' William and Harry as young children. They both loved any recipe with bananas in and this became one of their favourites.
Battenberg Cake: Sarah Ferguson, The Duchess of York loved this cake and would request it every time she came to Buckingham Palace.
Chocolate Birthday Cake: This is THE royal birthday cake. A family recipe passed down from royal chef to royal chef and dating back to Queen Victoria's chef. The only thing that has changed since then is the type of chocolate used today. Every member of the royal family had this chocolate birthday cake for their birthday including Her Majesty who had it twice a year for her birthdays in April and June.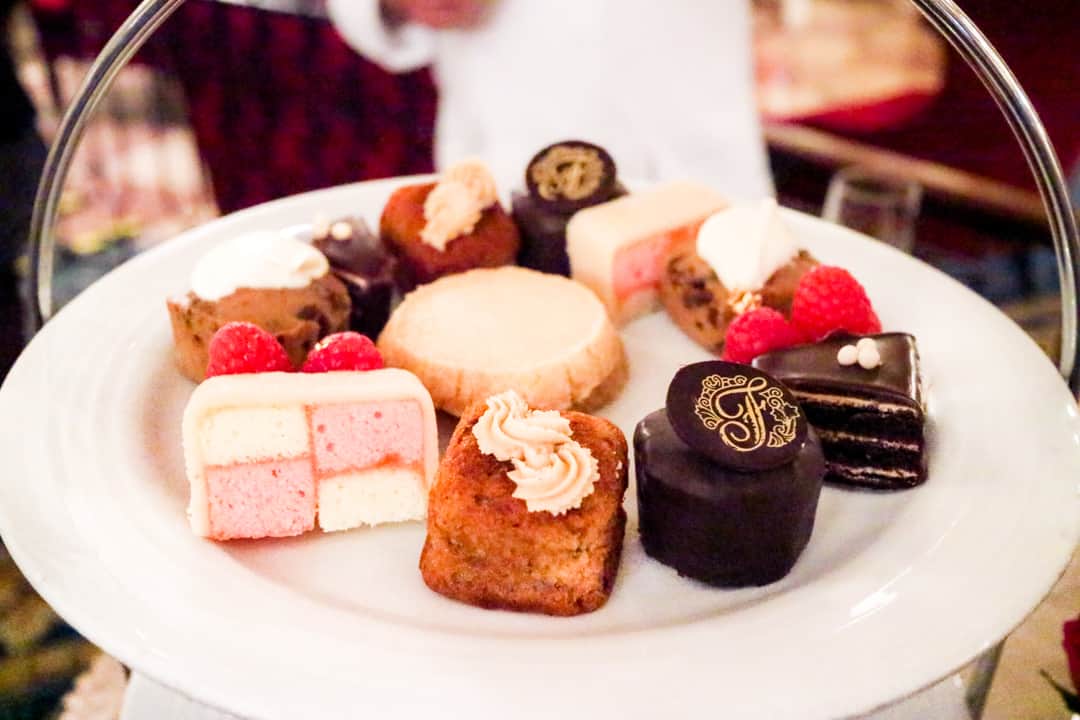 Tea Selections
As for tea, 4 different flavours are available to choose from. Each has its own charm and unique character.
Organic Cream Earl: A classic afternoon drink, tempered with wickedly delicious cream flavour.
Rose Pouchong: Princess Diana's favourite. Layered 5 times with rose petals, this tea delivers a delicate and ethereal rose character.
Castleton Darjeeling: It yields a unique muscat-like fruity aroma and flavour with a delicate strength.
Lapsang Souchong 1919: Disguised with a strong gunpowder smell, this smooth tea will surprise you with a clean, sweet taste.
My top picks are rose pouchong and lapsang souchong! Both are of top quality and rarely seen around Calgary.
---
Are you ready to pamper yourself with a Royal Champagne Afternoon Tea? For the months of October and November 2016, you are welcome to enjoy this very special royal tea (approx.$45) at selected Fairmont locations: Fairmont Empress (Victoria), Fairmont Palliser (Calgary), Fairmont Banff Springs, Fairmont Chateau Laurier (Ottawa), and Fairmont Royal York (Toronto).  It is a treat you won't ever forget!