This site uses affiliate links and we may earn a small commission when you use our links and make a purchase without incurring additional fee yourself. Many thanks for supporting this website. Please see our disclosure page for more details.
If you have already made it to Banff National Park, you will not want to miss the opportunity to explore Jasper! After hitting all the attractions in Banff, Monica and I hit the road again and headed north along the Icefields Parkway. The spectacular scenic drive took us deep into the Rocky Mountains, wide glaciers, and impressive valleys until we arrived at Jasper National Park. From outdoor activities, wildlife watching to sightseeing, there's never a dull moment. Wondering what to do in Jasper in fall? These 10 activities are not to be missed!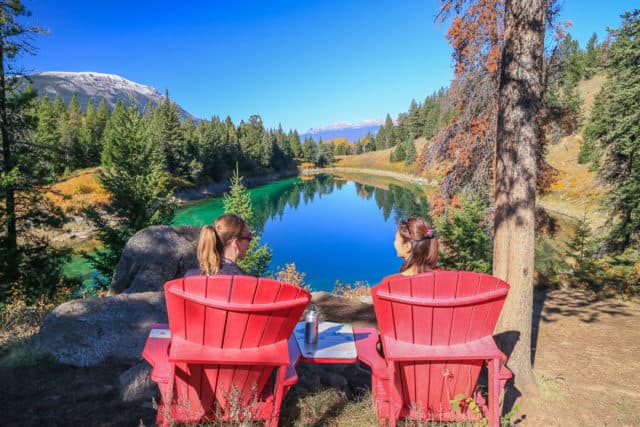 Top 10 Things to Do in Jasper in Fall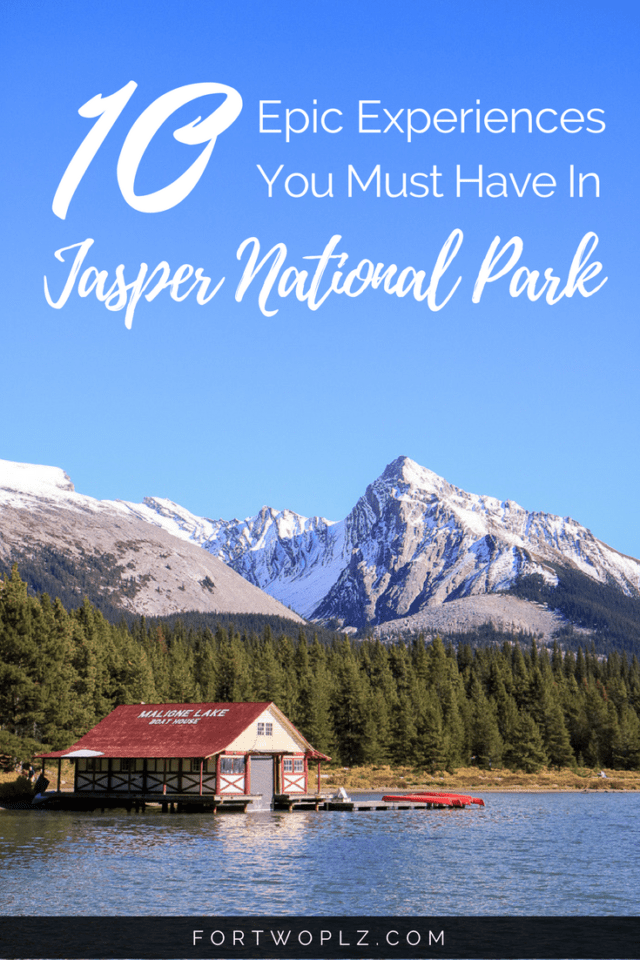 1 | Walk on Athabasca Glacier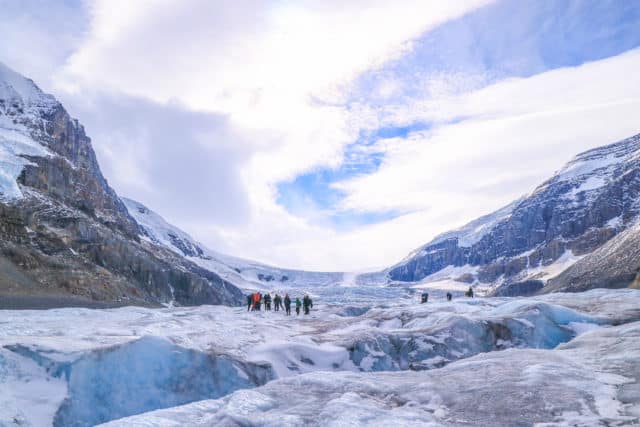 When thinking about what to do in Jasper, glacier walking is the first thing that popped into my head. Imagine how cool it would be to stroll on a glacier! We were extremely lucky to have Athabasca Glacier readily accessible to us. So, when we found out Athabasca Glacier Icewalk offers guided ice walk tours at the Columbia Icefield, we immediately jumped on this precious opportunity to hike on 10,000-year-old thick ice!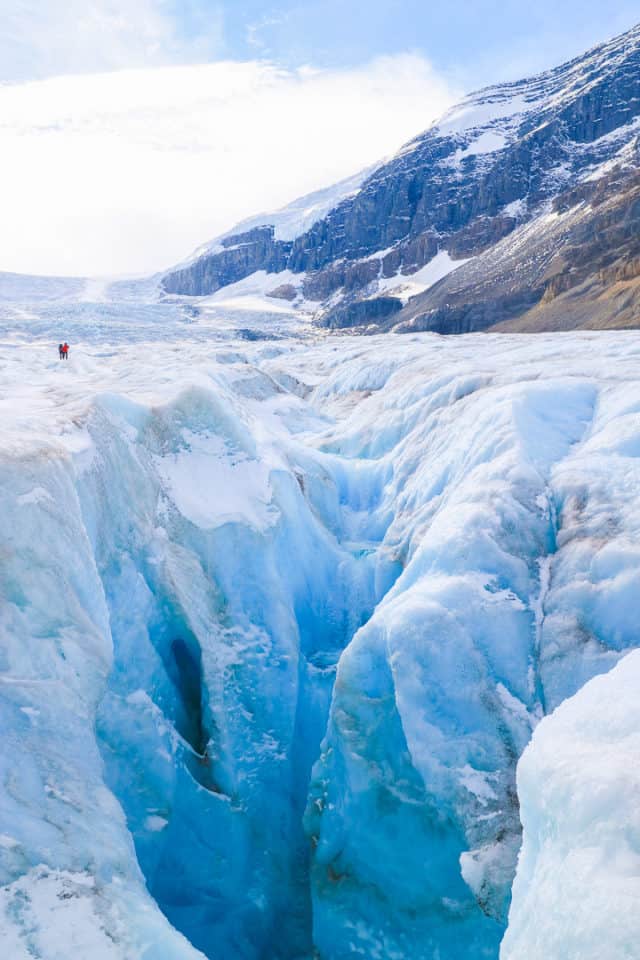 Athabasca Glacier has kept us in awe with its ice-carved landscapes. The rugged terrain, bottomless crevasses, and icy blue creeks are evidence of Mother Nature at her most raw and powerful form. Standing on the massive glacier amidst towering mountains, we couldn't help but feel small and insignificant. At the same time, we were rendered speechless.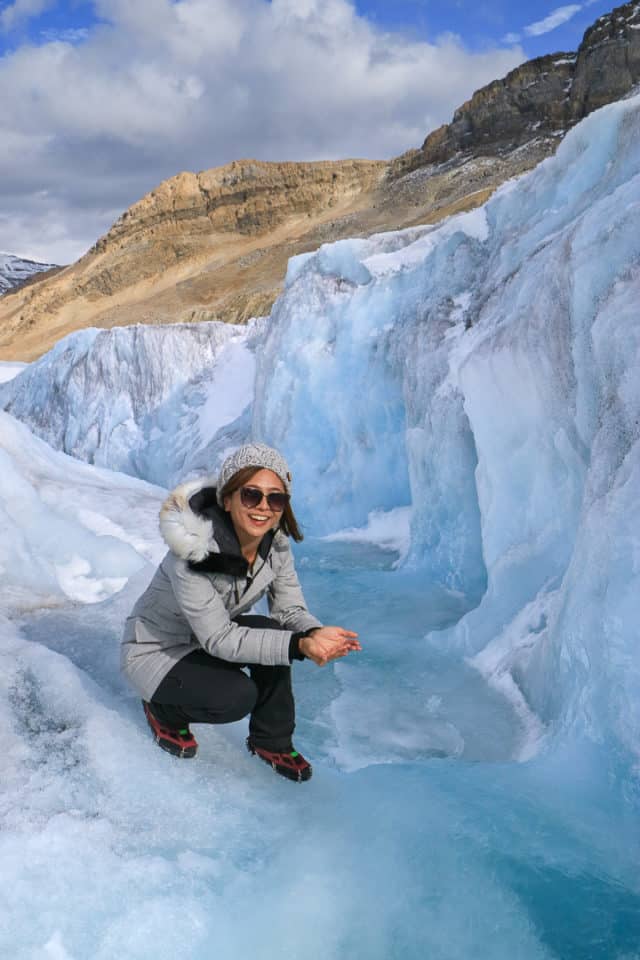 Everyone should do the guided ice walk at least once! This is undoubtedly one of the best things to do in Jasper and will leave you with memories that will last a lifetime. Remember to bring an empty bottle. Because you'll want to bring back the fresh glacier water as the souvenir!
Note: You do not need any prior experience to participate in an ice walk. The 3-hour tour is fairly easy. Consider staying overnight at Glacier View Inn so you don't feel rushed. Or you can stay at one of these luxury accommodations in Jasper.
2 | Chase Waterfalls at Beauty Creek
There is an endless amount of waterfalls in Jasper National Park. For waterfall fanatics, consider the Beauty Creek hike to Stanley Falls! This short, scenic trail will take you through a narrow canyon and a cascading set of 8 waterfalls!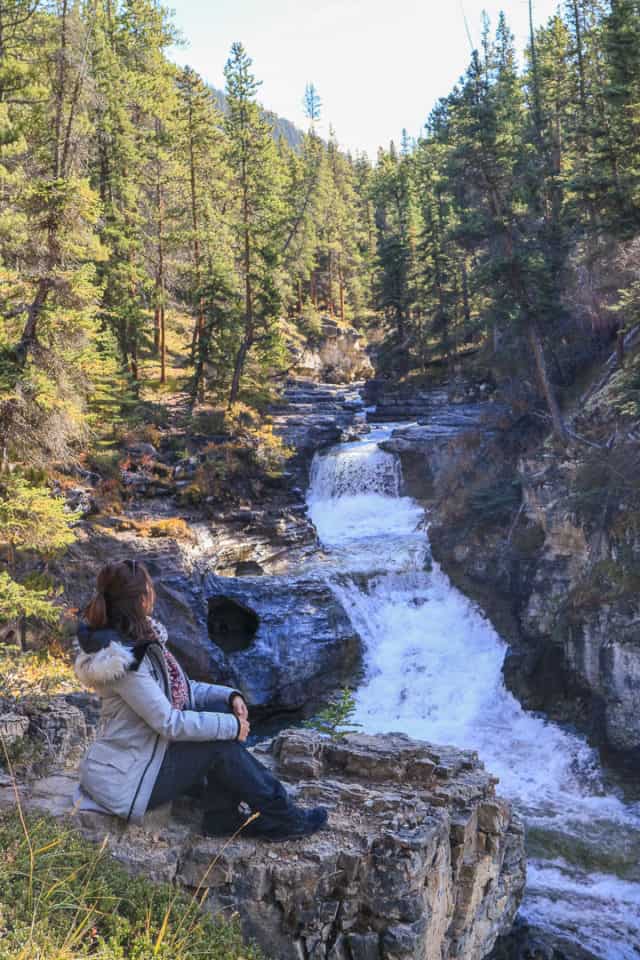 The best part is that this is not a crowded tourist attraction so you'll have the falls all to yourself. This hike is about 4 km return so be sure to set aside 2 hours for this activity.
Note: Finding the trailhead can be challenging. Drive 15.5 km north of the Columbia Icefields Center and there will be a small, unmarked parking area on your right. You'll see a small hiker sign, that's all. Follow the trail that meanders through the woods and it will lead you to the waterfalls!
[irp posts="11261″ name="10 Unexpectedly Fun Date Ideas In Edmonton: The Foodies Edition"]
3 | Admire the Breathtaking Athabasca Falls
Is a hike too much for you? I've got a better option: Athabasca Falls.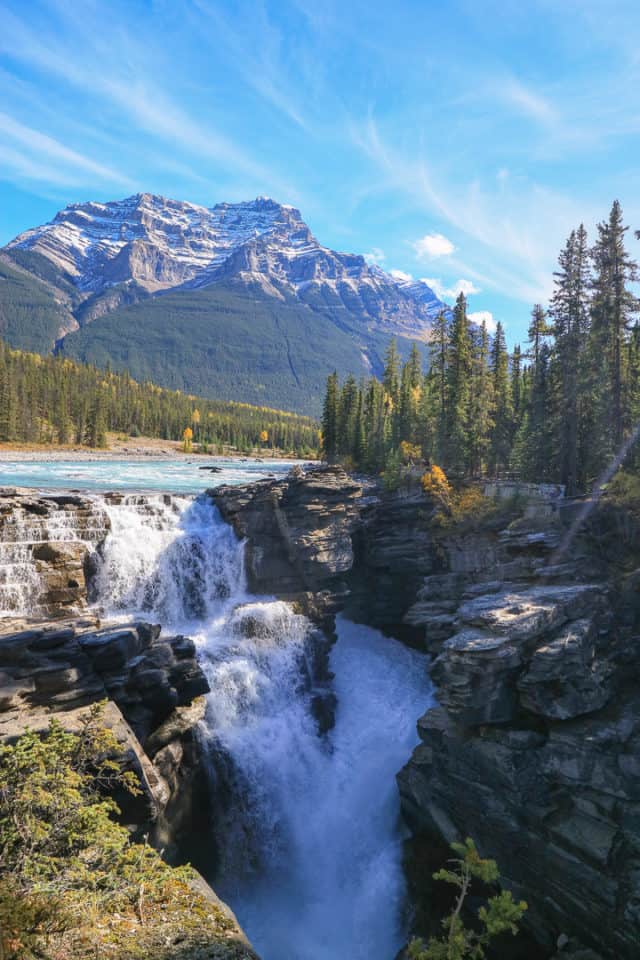 This 23-meter falls might not be the tallest in the Canadian Rockies, but it is the most powerful! Standing close, you will feel the roaring sound vibrate your chest and the mist dampen your face.
Set against a scenic backdrop of forests and mountains, Athabasca Falls plunges into a deep canyon, creating a picture so stunning that looks almost unreal. Hike further down into the canyon to see how the powerful water has cut through the rocks over thousands of years!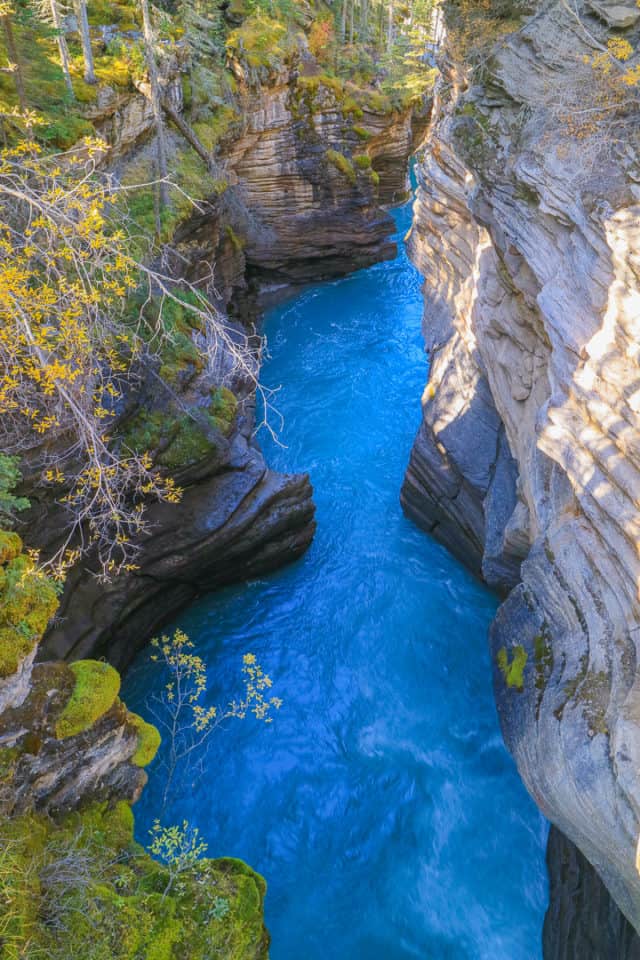 4 | Visit the Awe-Inspiring Sunwapta Falls
Another waterfall worth visiting is the Sunwapta Falls. Easily accessible via Icefields Parkway, Sunwapta Falls offers another opportunity to witness the rushing water up close.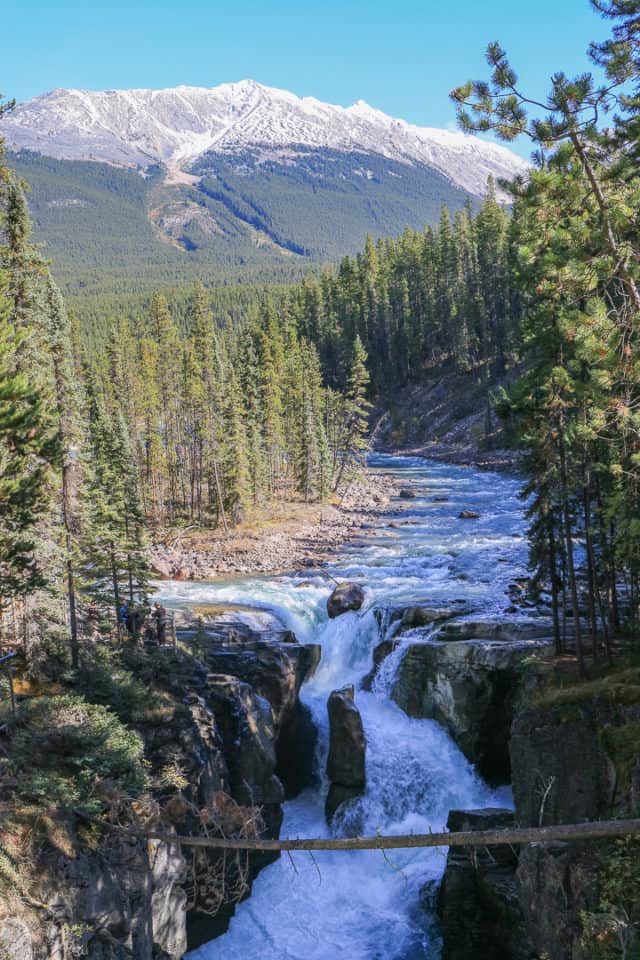 A short walk from the parking lot will bring you to the Upper Falls, where the turbulent flows drop 18 meters into a limestone gorge. If you desire to see more waterfalls, follow the 1.3 km trail through a dense forest. You will be rewarded with the lovely views of the 3 falls that form the Lower Falls.
5 | Hike the Valley of the Five Lakes
If you only have time for one hike in Jasper, make it the Valley of the Five Lakes. The 4.5 km loop leads you to 5 colorful lakes, each with a unique shade of jade and blue. Here, you can see the surrounding mountain peaks reflect in the peaceful waters. The pristine lakes and unrivaled beauty of the mountains will captivate you from the moment you arrive. It is tempting to stop after the first lake, but keep on going, because the views only get better and better!
Note: from the parking lot, follow trail 9a through a flowery meadow. You will reach the Fifth Lake first, then Fourth, Third and Second Lakes follow closely one after another. Afterwards, take trail 9b towards the First Lake and follow it to close the loop.
6 | Explore the Picturesque Maligne Canyon
Similar to Johnston Canyon in Banff, Maligne Canyon offers scenic viewpoints of cascading waterfalls. Walk down the canyon rim and listen to the calming sounds of rushing glacial water. The peaceful surroundings will leave you with a sense of zen that we all need! You can also see this gorgeous attraction on the Rocky Mountaineer train experience.
The trail crosses the canyon six times, with exceptional views of the canyon from different angles. However, the most spectacular sections are seen at first 2 bridges at the upper end of the trail, with the second bridge spanning across the deepest part of the canyon.
Pro tip: The hike to the first 4 bridges is short and easy. You can do it within an hour. If you want to see the 5th and 6th bridges but can't walk that far, drive along Maligne Road, there will be signs that take you right up to the bridges.
[irp posts="7620″ name="Planning A Canadian Rockies Road Trip: What To Do In Banff In Fall"]
7 | Kayak at the Tranquil Pyramid Lake
Want to capture that iconic paddling photo? Try Pyramid Lake.
Just 5 minutes from the town of Jasper, the idyllic Pyramid Lake is a magical spot for nature lovers. Lined with a thick forest along the shore, the lake sets against a truly awe-inspiring mountain backdrop, providing an unbelievably gorgeous setting for half-day excursions. Besides kayaking, you can also go canoeing, paddle-boating, and even mountain biking!
Note: Many visitors canoe at Lake Louise ($105/hr) or Moraine Lake ($95/hr). Why pay the expensive price when you can do it for only $40/hr at Pyramid Lake for an equally awesome view?
[irp posts="6098″ name="How to Tour Lake Louise in One Day (Summer Edition)"]
8 | Take a Scenic Boat Cruise to Spirit Island at Maligne Lake
If you ask me where is the most beautiful place in Jasper, I will tell you Spirit Island without a second thought.
To reach Spirit Island, near the center of Maligne Lake, you have to take a boat. Some people canoe or kayak (it will take 6-8 hours), but the easiest way is to hop on the Maligne Lake Cruise. The 90-minute boat ride will take you across azure-blue waters of Maligne Lake, pass a series of rugged mountains while cruising towards the photogenic Spirit Island.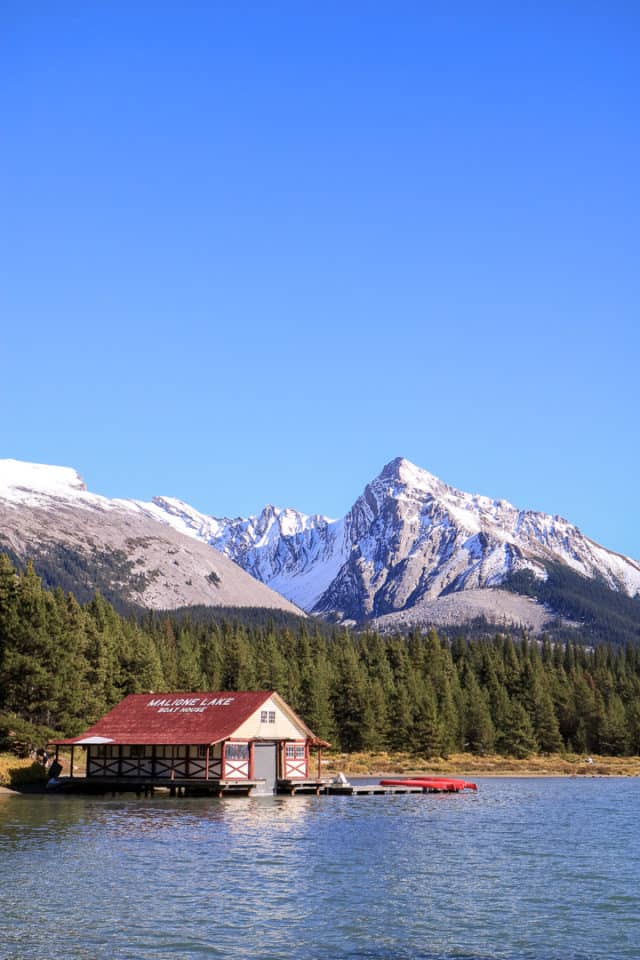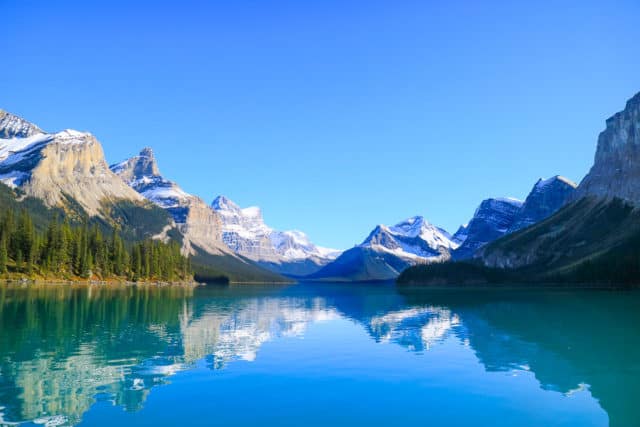 Once the boat pulls ashore at the dock, you'll have plenty of time for photos and a casual stroll. It is so out-of-this-world beautiful that you will not want to leave.
Pro tip: Take the late afternoon tour for best lighting for pictures.
9 | Walk Along the Cliff's Edge at Glacier Skywalk
Want to try extreme sightseeing? Check out Glacier Skywalk!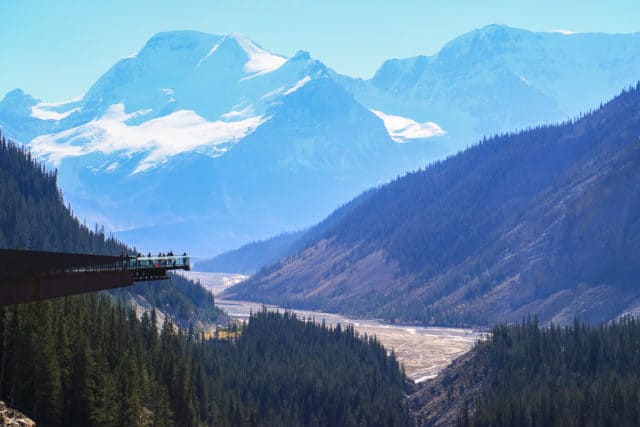 The 400-meter cliff-edge walkway promises a one-of-a-kind experience that will make you feel closer to nature. You can hear rushing waterfalls, watch birds fly, admire glacier-clad peaks, and even spot mountain goats!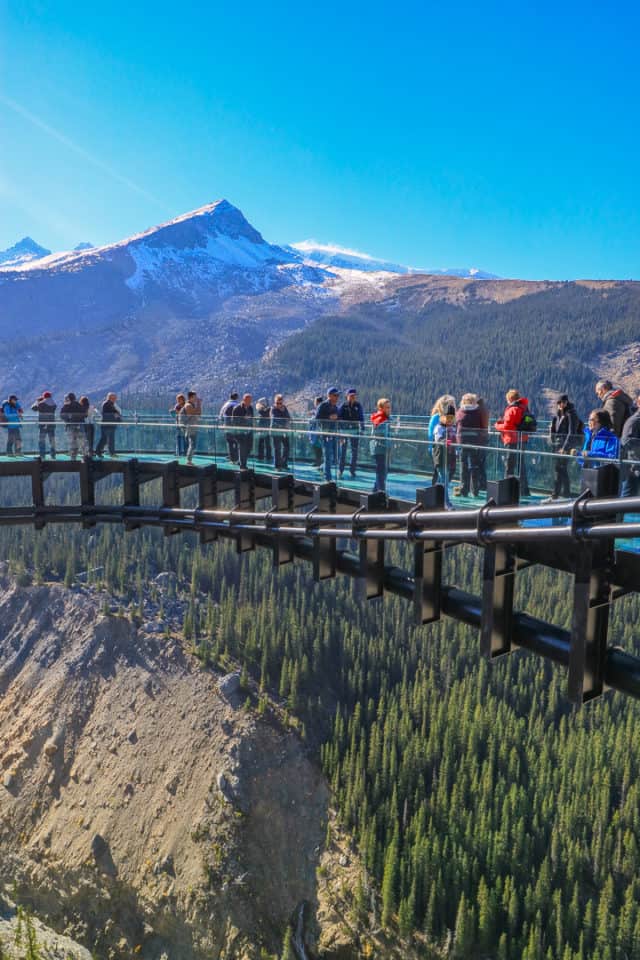 When you finally stand on the glass-floored observation platform, the magnificent mountain scenery, the stunning Sunwapta Valley, and the gorge 300 meters underneath are guaranteed to give you goosebumps.
10 | Enjoy Incredible Mountaintop Views From the Summit of Whistler's Mountain
For incredible views of Jasper and the surrounding mountains, head to the summit of Whistlers Mountain via Jasper Skytram.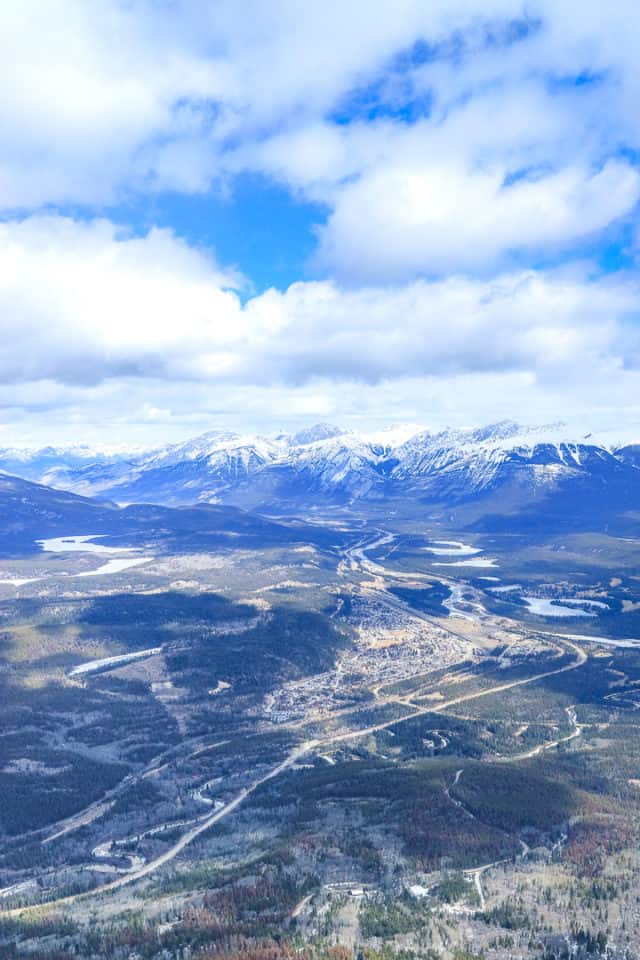 The longest and highest guided aerial tramway in Canada will transport you 2,277 meters above sea level, with fascinating views of six mountain ranges, glacier-fed lakes, and the Athabasca River. At the upper terminal, you can continue hiking to the summit (1.2km) for an even more spectacular view. This area has a high chance of wildlife sightings so don't be surprised if you see ptarmigan, pikas, or bighorn sheep!
---
Jasper offers a wealth of attractions for visitors to explore. Set aside 2-3 days to visit this area while road tripping through the Canadian Rockies. I promise – you will not regret it!
Disclaimer: This post is written in partnership with Brewster Canada and Athabasca Glacier Icewalk. As always, all opinions on For Two, Please are my own and I only recommend brands that I 100% stand behind.